Bathrooms are excellent rooms for experimenting with striking color schemes. Through wall colors, tile, flooring, accessories, and more, you can personalize a bathroom or powder room with a creative mix of your favorite colors. Take a cue from these bathroom color ideas to transform your bathroom into a stylish retreat.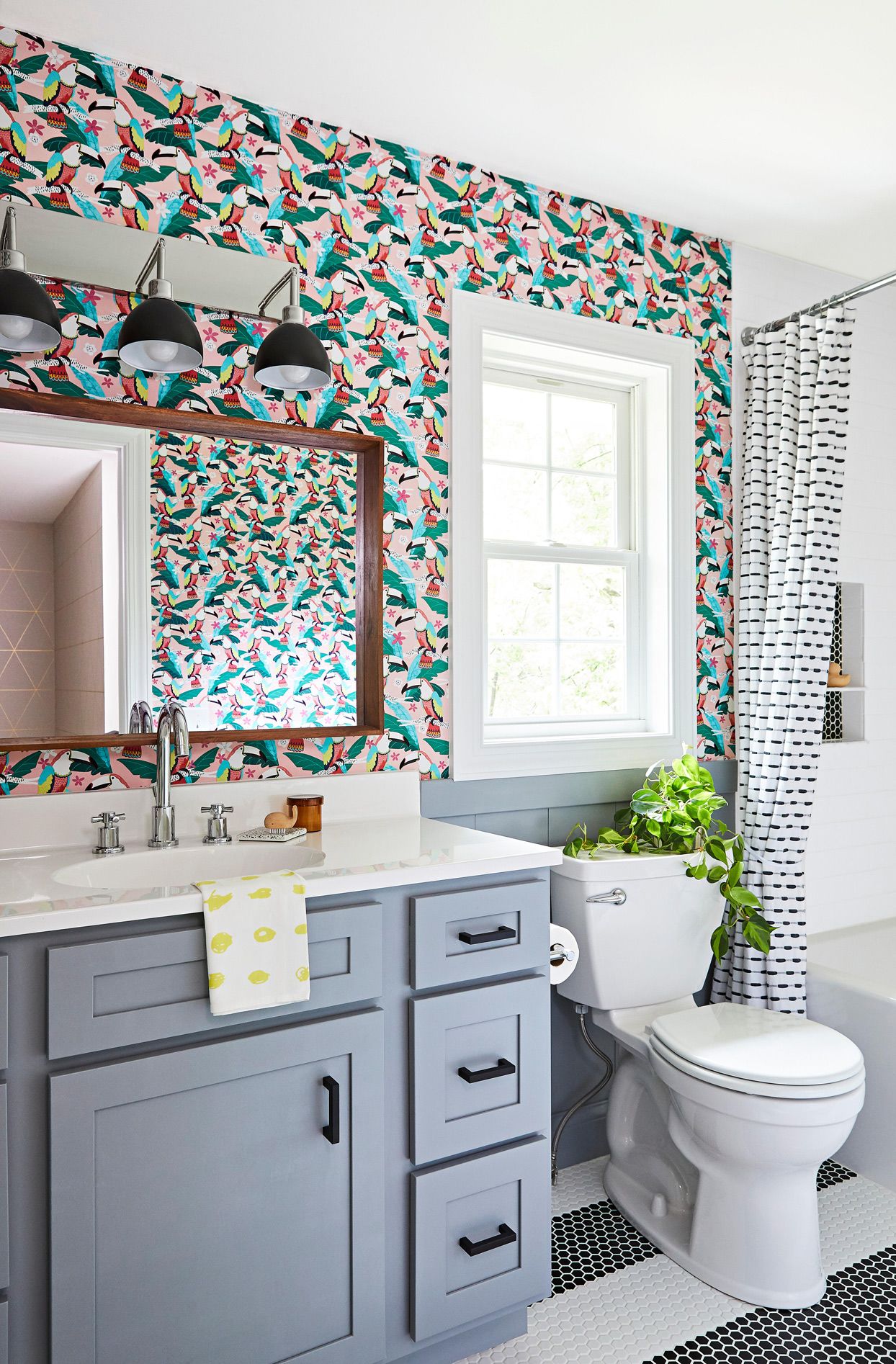 Powder Blue + Black + Tropical Brights

A toucan-patterned wallcovering sets a playful tone in this bathroom. The bright, tropical shades of pink, teal, and green are tempered with a muted powder blue on the vanity and wall paneling. Black accents appear on the striped tile floor, light fixture, and hardware to give the room a modern edge.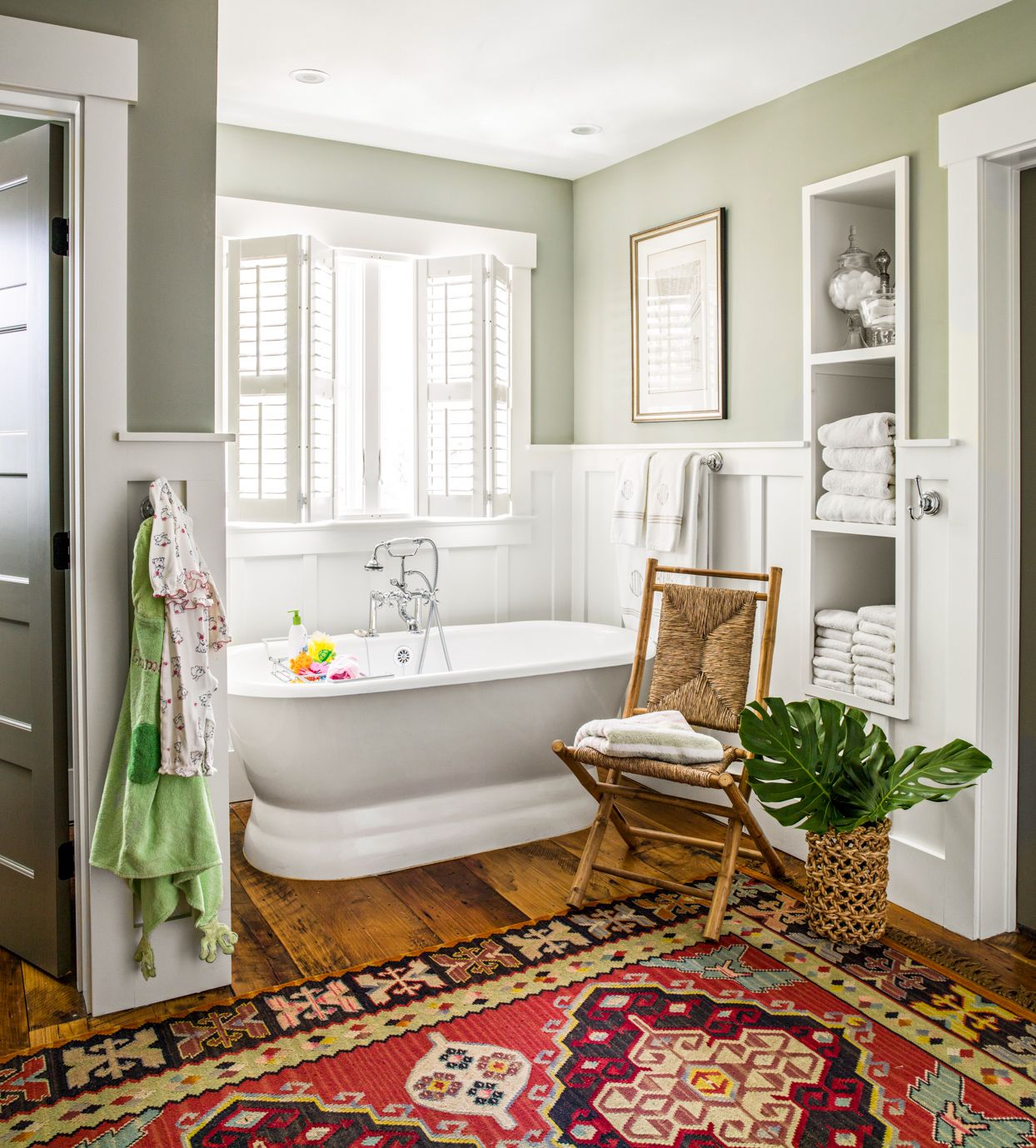 Soft Sage + Vintage Red + White

Pull bathroom color ideas from an existing piece of decor for a cohesive palette. This bathroom's color inspiration comes from a vintage rug that combines rich red with muted shades of green. A soft sage wall color picks up the accent hue, while wood floors and natural materials complement the other warm neutrals found in the rug. White trim and wall paneling provide crisp contrast.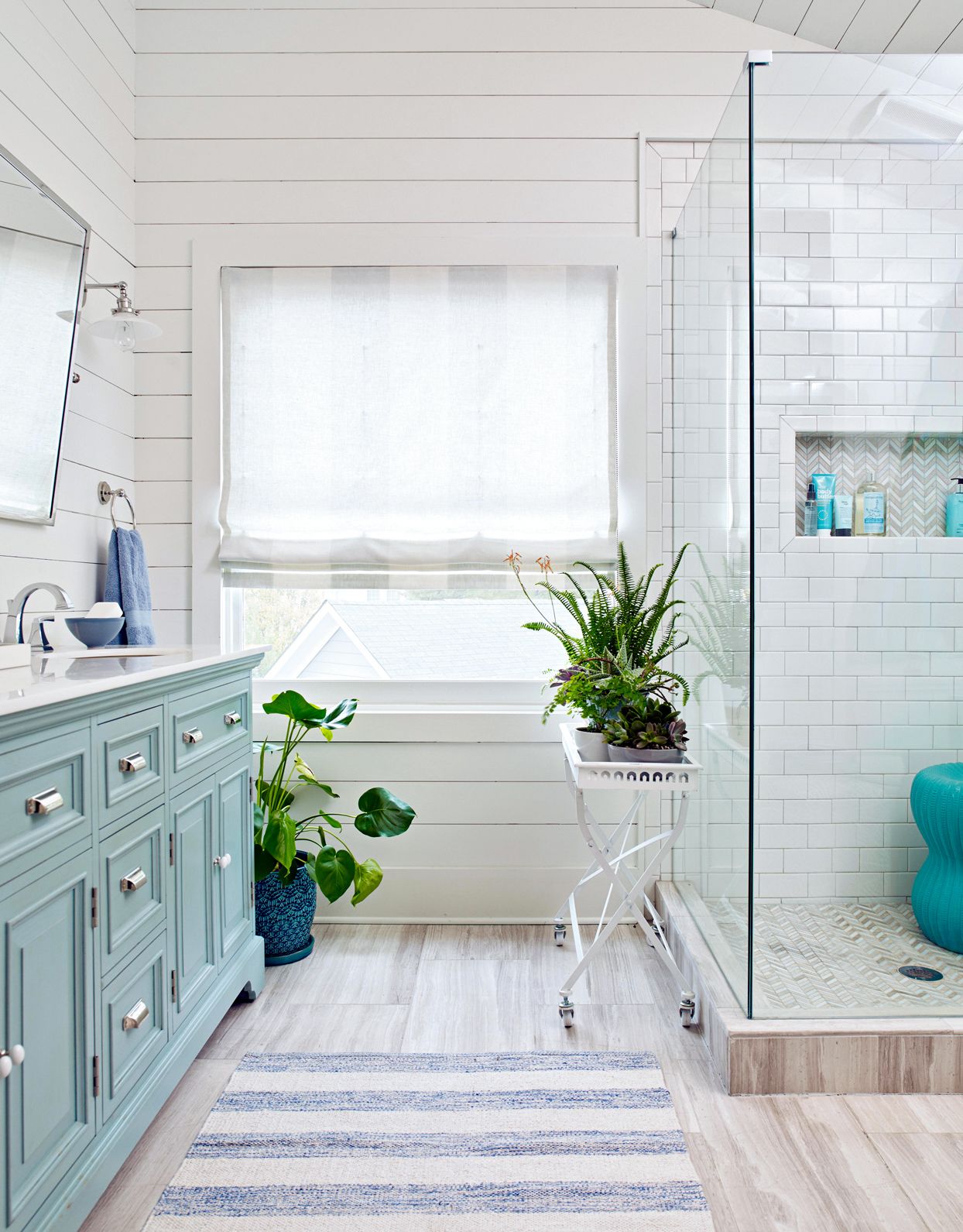 Aqua + Denim + Crisp White

Blue is one of the most popular paint colors for bathrooms. Play up the hue's calming attributes with soft shades of aqua and denim blue against a backdrop of crisp white. Here, shiplap walls and a subway-tiled shower provide a clean foundation, while turquoise accents and a painted vanity introduce color. A cooler shade of blue, seen in the rug, towels, and vanity accessories, blends well because it's the same intensity as the aqua color.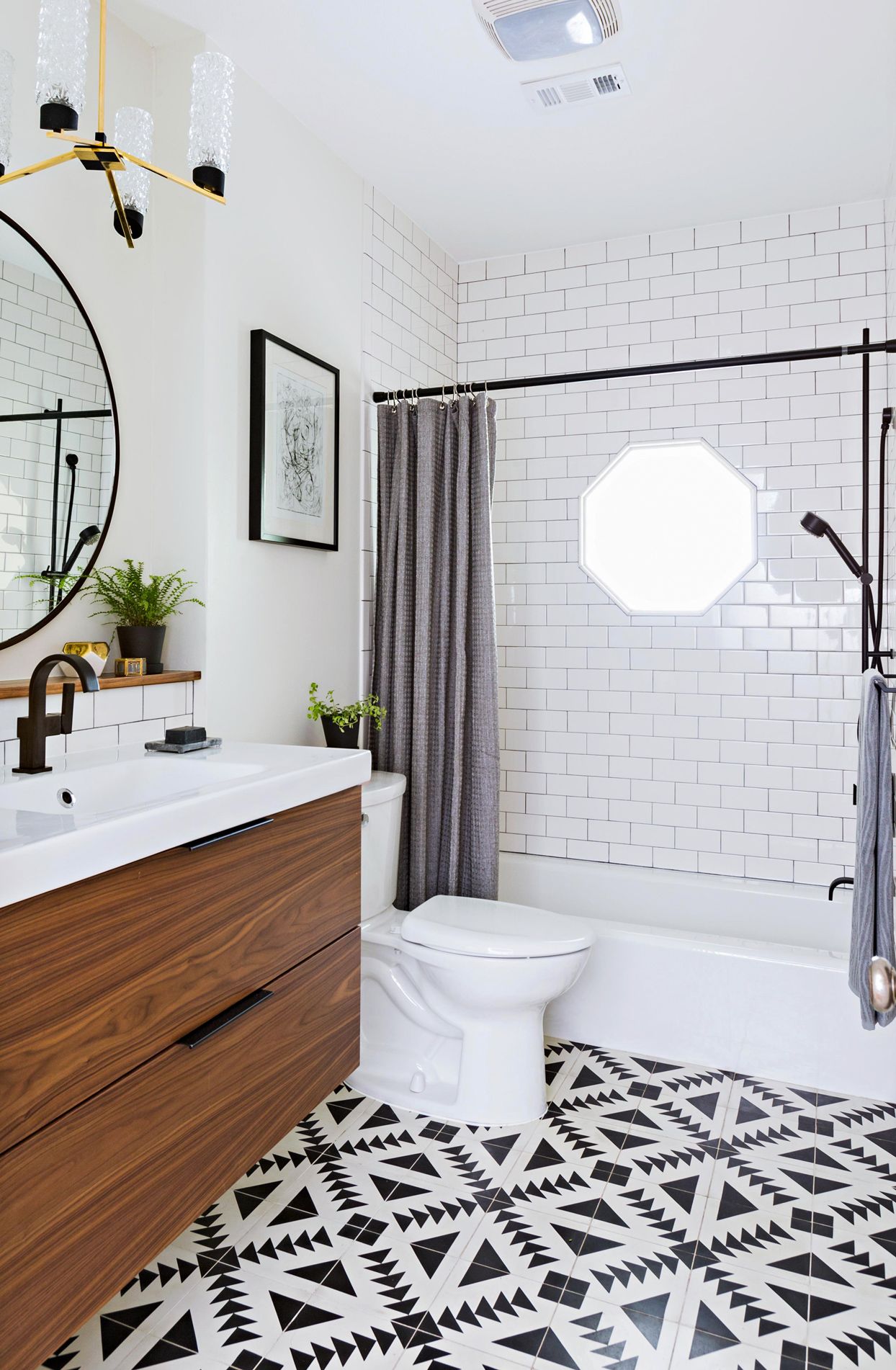 Black + White + Wood Tones

White-painted walls, wispy white countertops, and contrasting tile flooring look grounded with a collection of black accents in this master bathroom. Inexpensive accessories, such as the thin black frame and black terra-cotta pots, make this look easy to re-create. The bathroom's black-and-white color scheme draws a modern juxtaposition to its natural wood furnishings.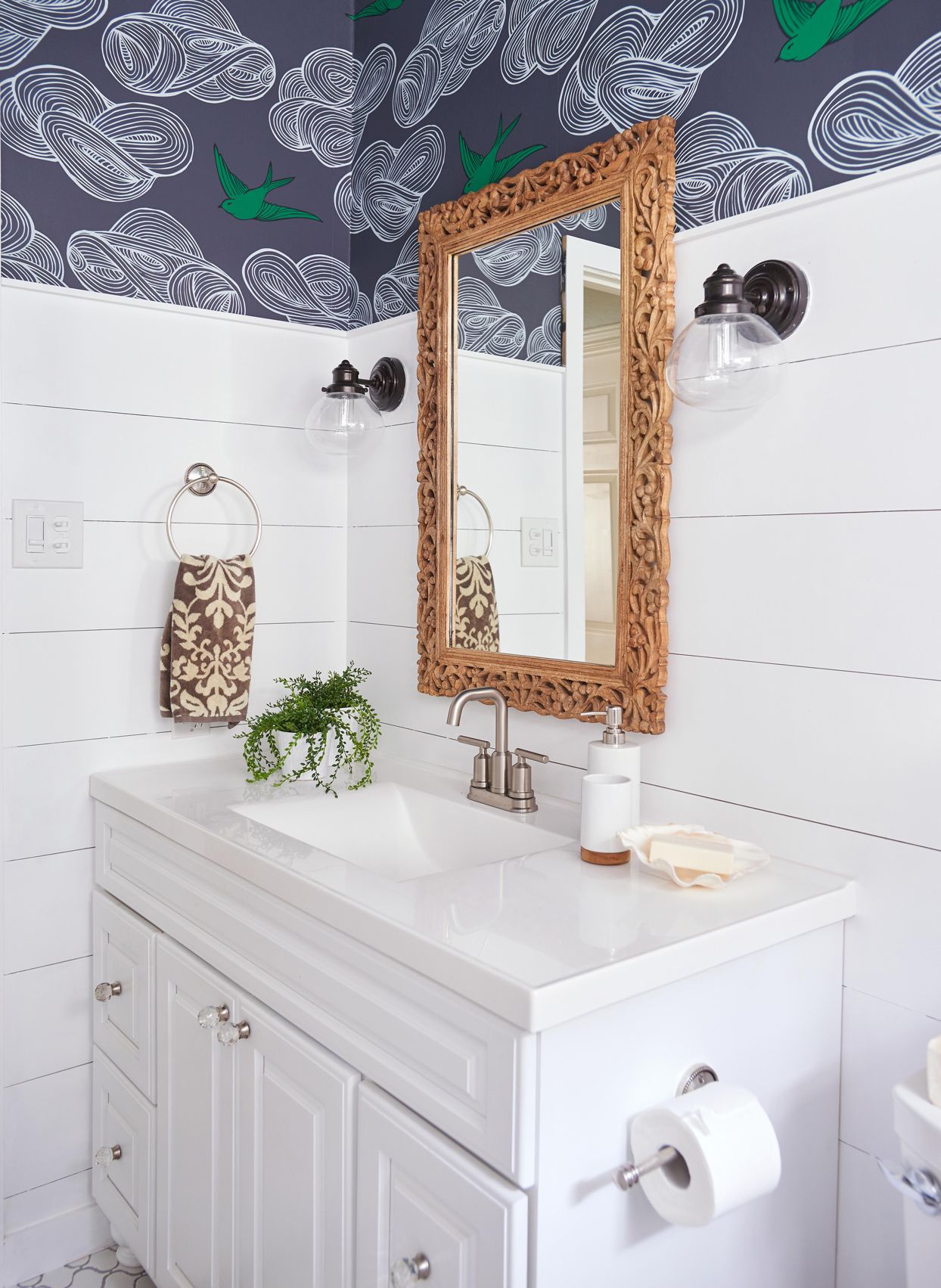 Grape + Forest Green + White

Add charm to a cottage bathroom with splashy purple and forest green. Seen here in a border of wallpaper, the colors stimulate without overwhelming and draw the eyes upward to visually expand the small space. Reflect the coziness of cottage style by installing crisp white shiplap beneath. Aside from extreme rough patches, don't sand down imperfections on your shiplap boards; the small bumps and scratches are what give it that rustic feel.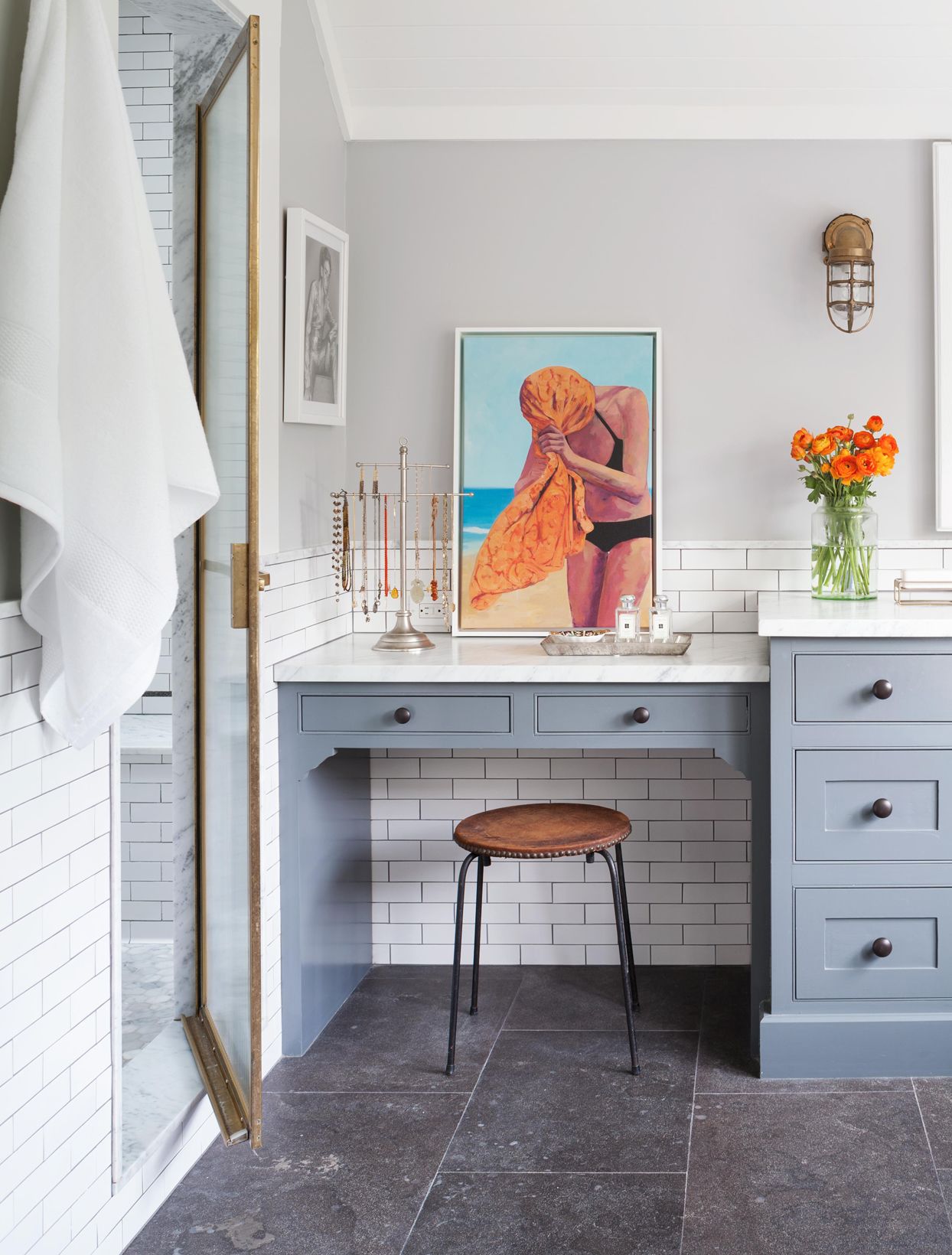 Cerulean + Orange + Chocolate Brown

Kick up calming blues with spots of energetic orange. Here, a blue-gray vanity color tempers the brightness of orange artwork and accessories. A rich brown stool and matching door frame cozy things up. Make this color upgrade easy on yourself by leaning artwork against the wall instead of reaching for the hammer and nails.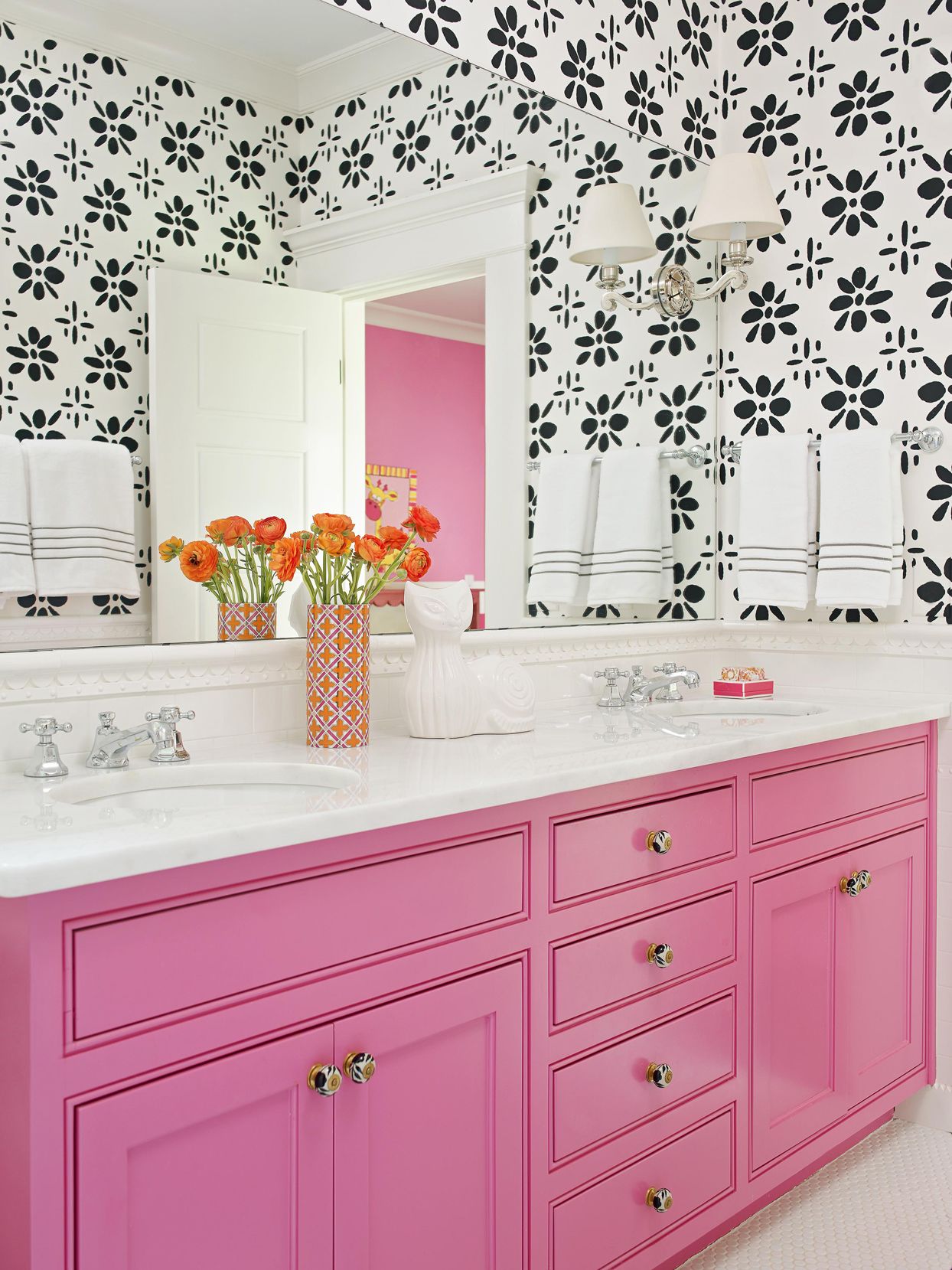 Bubble Gum Pink + White + Black

A splash of pink on the vanity and pretty black-and-white floral wallpaper provide feminine flair in this bathroom. Clean white countertops, polished-nickel accents, and funky hardware sparkle against the bubble gum pink vanity. Choose a paint with high sheen for a luxurious glossy look, but remember that with reflective paints, it is important to sand the surface well before painting.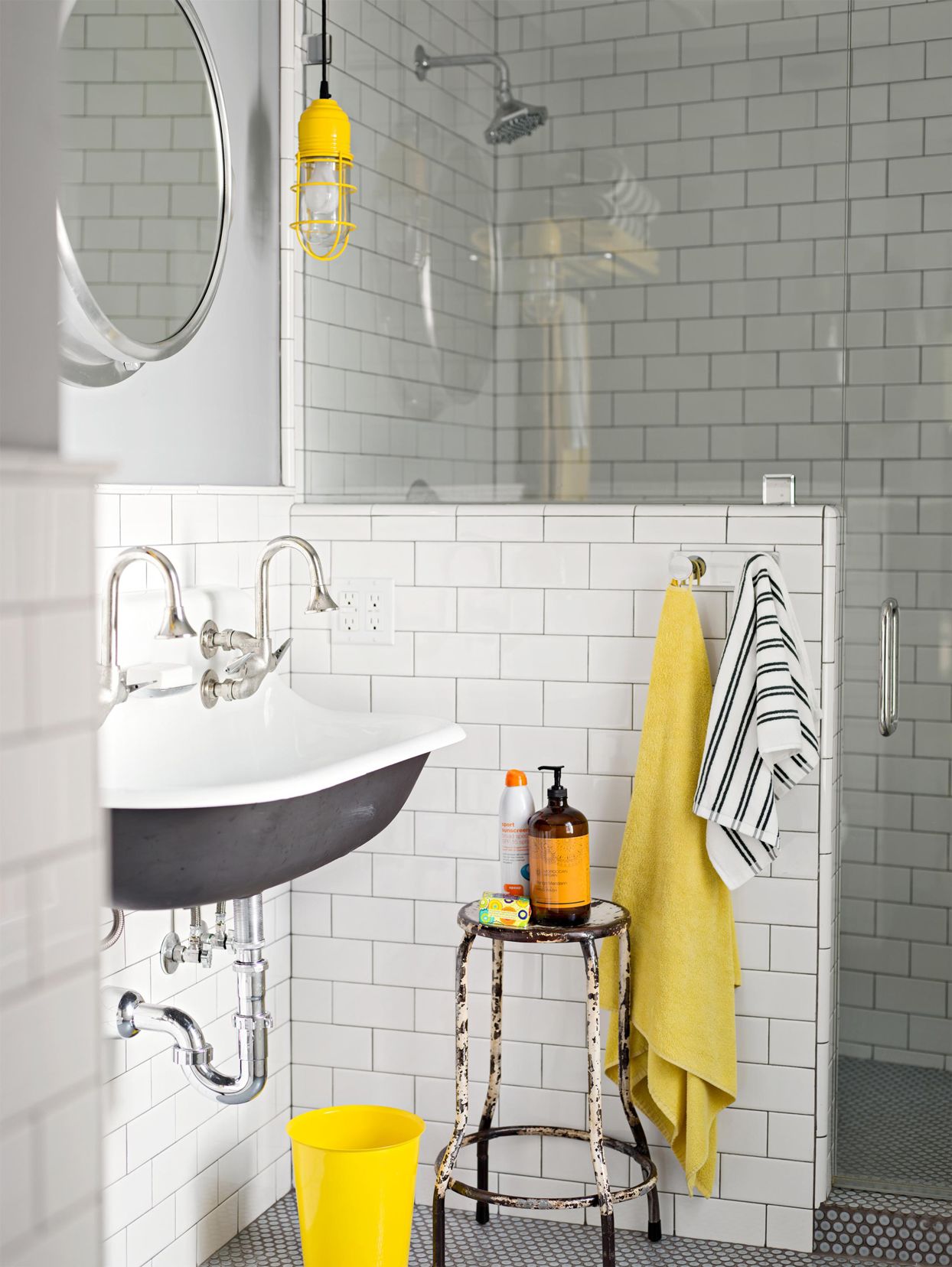 Matte Black + Yellow + White

This bathroom mixes classic white subway tile with vintage finds, such as the old farm stool and a refurbished wall sink. The underside of the sink is painted a matte black to add definition against all the white. Yellow and black accents dot the room.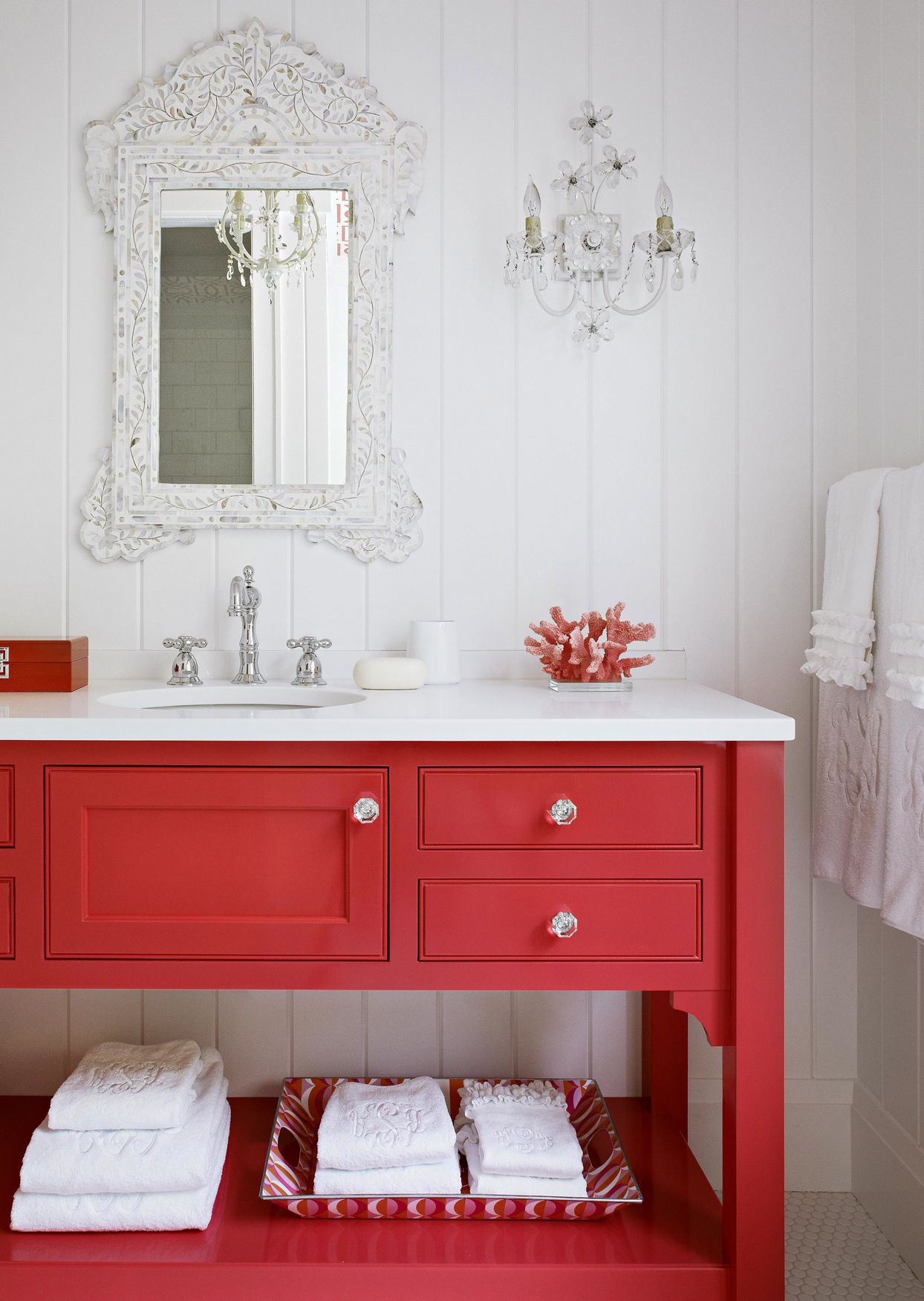 Fire-Engine Red + Crisp White

Don't be afraid to go bold with your bathroom color scheme. A bright red vanity shouts sophistication when paired with traditional accents like an ornate mirror, vintage chrome faucet, and sparkling wall sconces. Prevent a small space from becoming too busy by embracing loud color on a single item or wall. DIY these all-white wall accents with the help of an antique mirror and white spray paint. Use painters tape on the mirror to protect the surface.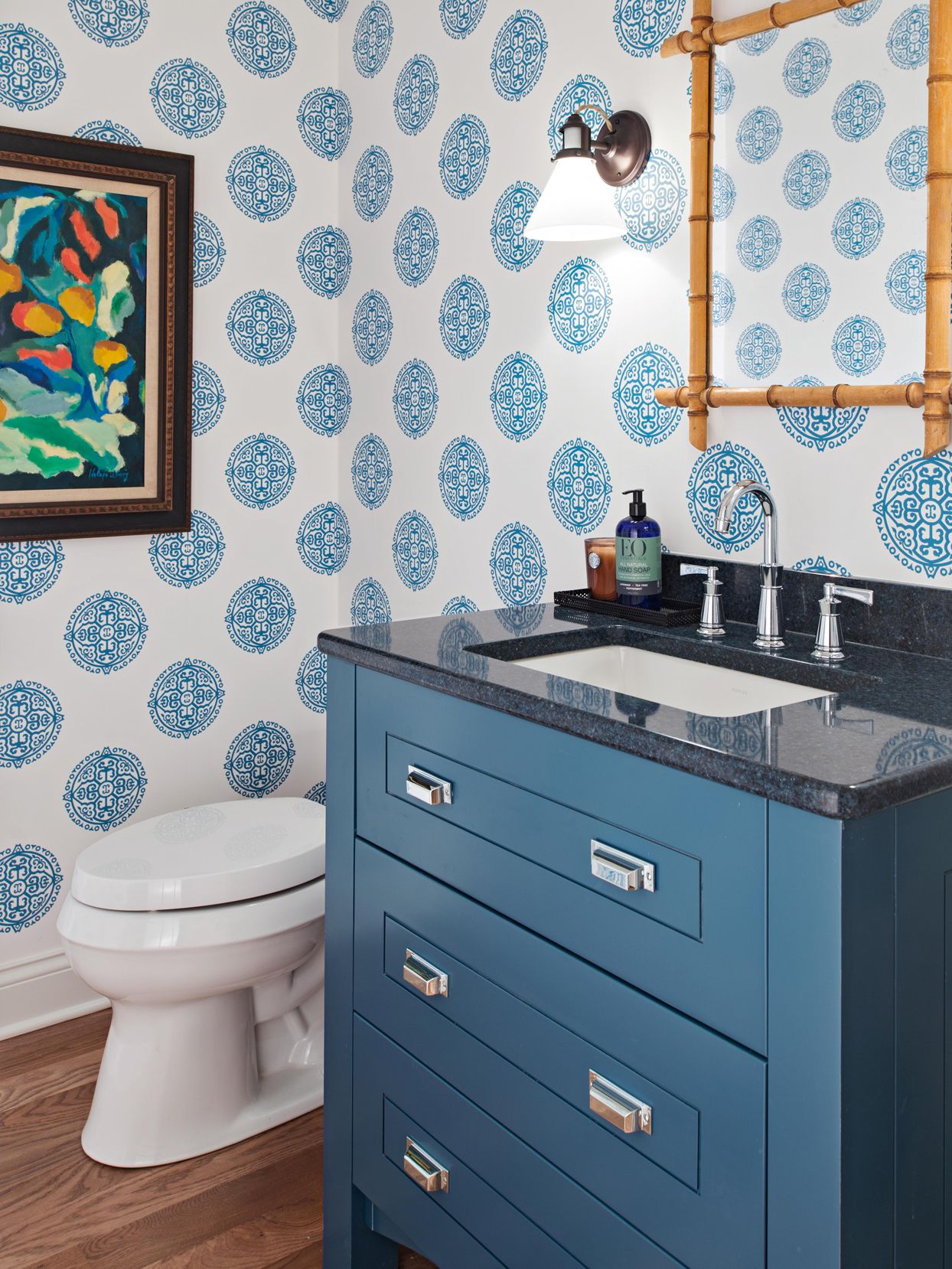 Blue + White + Black

Temper multiple shades of blue with monochromatic accents. In this powder room, blue patterned wallpaper provides a fun backdrop for a DIY dresser-turned-vanity painted in a similar shade. The satin paint on the vanity complements the black granite's polished sheen. The bathroom artwork incorporates both blue and black for a cohesive color scheme.