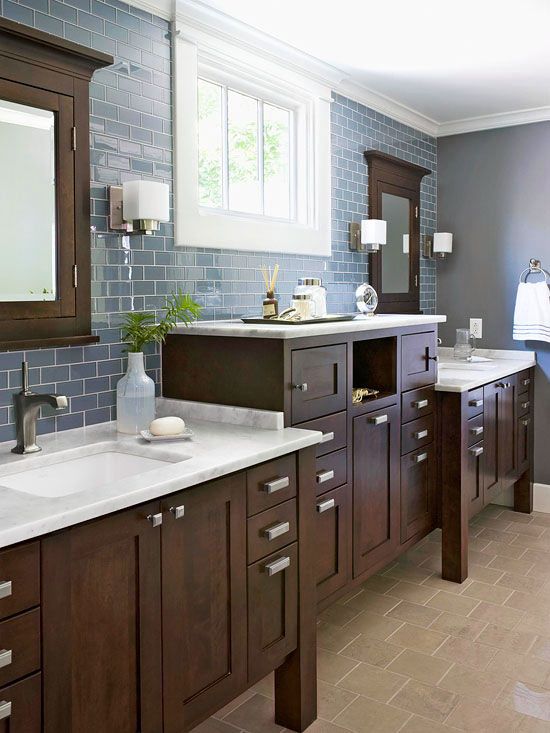 Formal Without the Fuss

In this bathroom, a symmetrically balanced arrangement of sinks, mirrors, and cabinetry looks graceful and elegant, formal but not fussy. The cabinetry features exposed legs, which gives it the appearance of freestanding furniture. The central storage unit separating the two sink areas features an arrangement of cabinets and drawers that can hold hand towels, hair dryers, toiletries, and more.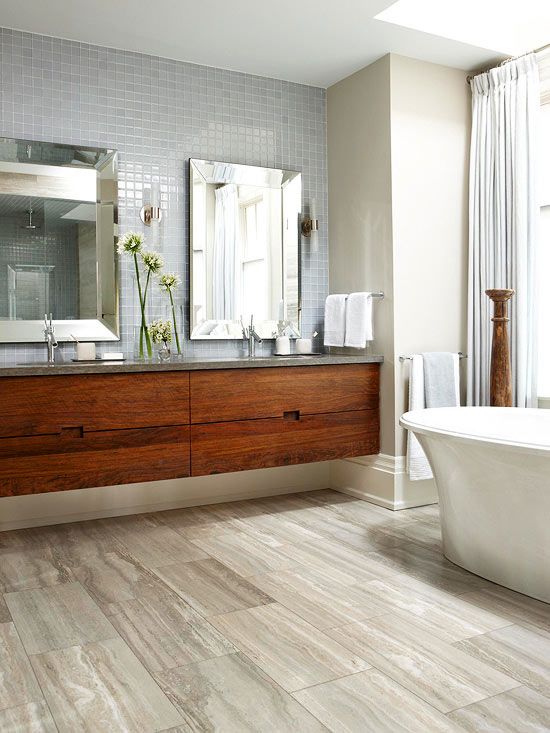 Warm Minimalism

This bathroom is all about simplicity, with the tiled vanity wall offering a textural counterpoint to the marble flooring and wall of windows. The vanity is reduced to a straight line of flat-front wooden drawers that benefit from a dark, warm wood grain. Floating the drawers above the floor emphasizes the gravity-defying vanity as a focal point.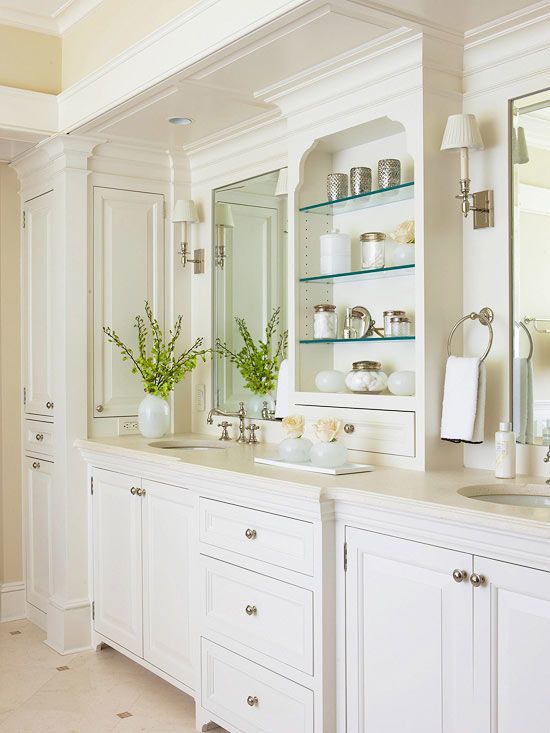 A Federal Case

Furniture-style feet on this built-in vanity trace their roots to the Federal Era. Crown molding and raised-panel doors define the tall cabinets flanking each side of the vanity as traditional, while recessed-panel door fronts and drawers in the central portion look a bit less formal. Painting the entire unit white also gives the traditional-style cabinetry a more relaxed appearance.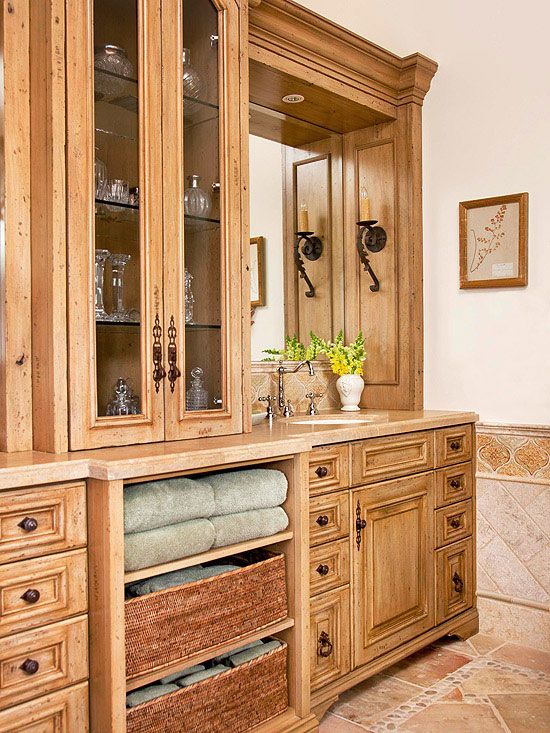 Arts & Crafts Inspiration

This built-in vanity, stained a medium brown, evokes the warm oak furniture made popular by the Arts and Crafts movement at the end of the 19th century. Slender molding outlines doors and drawers -- which are punctuated by round metal knobs -- create subtle surface variations. Furniture-style feet on the vanity suggest the look of an old dresser. Arts and Crafts cabinetry works especially well in bungalow-style homes or those where the decorating emphasizes natural materials, stained wood, and rustic simplicity.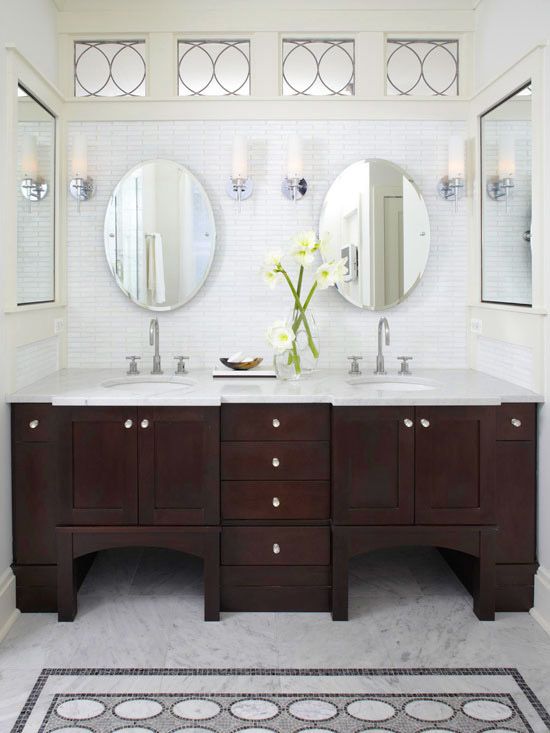 High Contrast

Decorating with white and other light neutrals is a surefire way to expand the look of a small bathroom, but sometimes the lack of color leaves the space feeling washed out and cold. This nearly all-white bathroom benefits from a dark wood vanity topped with a marble countertop. A panel of shallow drawers between the two sink areas provides varied storage for bathroom necessities.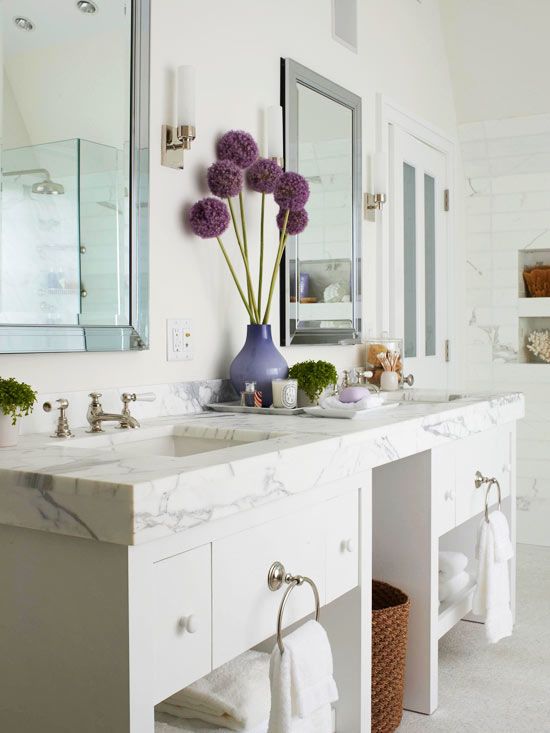 Chic Statement

Inspired by the idea of converting furniture into vanity, this bathroom combines a thick marble countertop and integrated sinks with clean-lined storage units below. The result is a sophisticated, glamorous look. The marble is repeated along another wall and in the shower surround, which lends cohesion to the space. The combination of stone and wood, along with glitzy chrome accents, gives this bathroom a highly-styled look.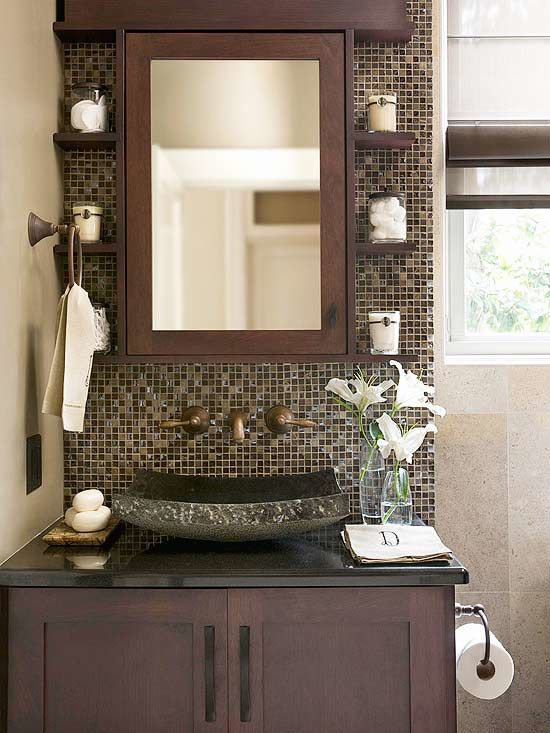 Small but Mighty

A wall of tiny mosaic tiles is punctuated by a dark wood vanity cabinet in this small bathroom. The cabinet's deep construction allows for plenty of storage despite the necessary undersink plumbing. A medicine cabinet hung above the countertop features a thick wood mirror frame and provides additional storage for small toiletries and soaps. The sculptural stone vessel sink atop the cabinet ensures the countertop always stays clutter-free.