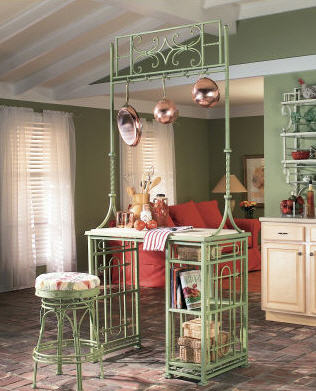 Features:
* Constructed of hand forged iron
* Multiple finishes available
* Stone top options
* Easily assembled without hardware or tools
* Built in pot rack
* Shelves for storage
* Seating available on either side
* Overall dimensions: 92" H x 40" W x 22" D
* Sizes are approximate and rounded to the nearest inch
Finishes:
Finishes for Protected Areas: These finishes have been used successfully both indoors and outdoors on covered patios.
* Natural Rust
* Sheer Metal
Finishes for Indoor Areas: These finishes are intended for indoor use only.
* Florentine Gold
* Crackle White
* Crackle Squash
* Crackle Green
* Crackle Red
Finishes for Indoor & Outdoor Use: These weather resistant finishes are specifically designed to inhibit rust in areas with excessive moisture, but are as appropriate for indoor use as outdoors.
* Summer Nights
* Red Clay
* Autumn Gold
* Spanish Moss
* Chestnut Brown
Note: This quality item is custom made for your order. Unfortunately, this means that orders cannot be cancelled or returned once placed, so please call our trained staff with any questions you may have prior to ordering - we will ensure that you get exactly what you need.