What tickled us the most: Ronsheim solved his staircase problem using both high technology--and the Amish.
The Indiana-based designer recently premiered his product and resulting company, Ascendings, at the Build Boston trade show. Core77 caught up with him afterwards for a brief interview on what makes these staircases so special and how he designed them.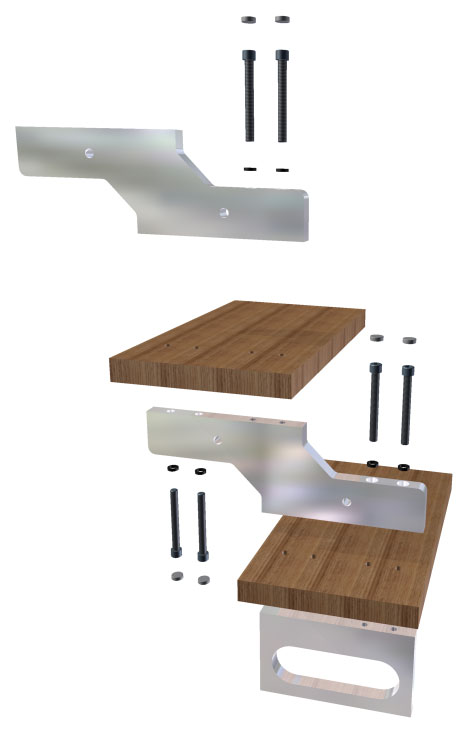 Core77: For those who aren't familiar with how staircases are built, what's the difference between your product and a standard staircase?
Ronsheim: The major difference from an Ascendings stairway and any other is the fact that the Ascendings stairway is modular in design. The modularity concept opens up many new doors. An example of that would be a remodel job in an existing structure, such as a condo or a loft. In most cases it is nearly impossible to rebuild stairways in this type of structure, due to the fact that most stairways are prefabricated and built prior to arriving at jobsite. It is then the responsibility of the builder to move that stairway into the building being remodeled. There have actually been cases where exterior brick walls have been removed so that a staircase may enter a building.
The Ascendings staircase is pre-engineered and prefabricated to a specific requirement. They are assembled at the factory to assure good quality control and ease of installation at the final destination. They are then disassembled and packaged, in many cases, in a crate that is not much larger than a desk. Obviously, when they reach their destination entry into any building is with ease. Assembly can usually take anywhere from 3 to 8 hours for the average staircase. So yes, this is a huge difference in what the industry has had to work with in the past.
The modular design brings some versatility with it, no?
We have found that we are virtually unlimited as to the types of structures that we may produce: Straight steps, curved steps, and so on.