Over two decades ago-long before founding a design company that specialized in retail spaces for multinational brands-the Czech entrepreneur Filip Žák visited Costa Rica for the first time. He was in his early 20s, a backpacker, only just setting out on a lifetime of travel for both pleasure and work that has, to date, taken him to some 70 countries. After selling the company in 2014, "I finally had a chance to decide what to do with the rest of my life," Žák reports. "And it left me the money I needed to build." Žák and his wife had already started laying plans for when that freedom finally came. They wanted to build a small resort someplace tropical but not overtaken by tourism. Someplace politically stable, with rich biodiversity and wildlife, and a culture and language different from their own Central European heritage but also recognizable. Costa Rica, with its lush jungle, mountains, and wild Pacific coast, seemed an obvious choice. Nearly three weeks of intensive land hunting there led to Bahia Ballena's Playa Hermosa, near the town of Uvita, where they purchased a 5-acre lot on an undulating, forested hillside with views to the ocean below.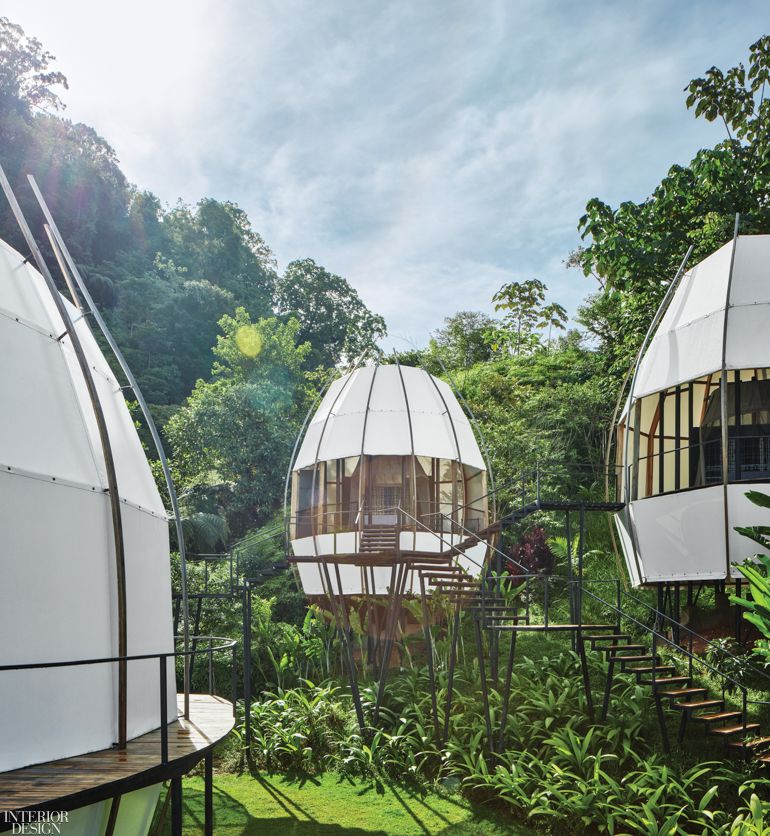 The pods sit on steel columns well clear of the lush ground vegetation. Photography by BoysPlayNice.

After building a brutalist villa for his family-an assemblage of concrete slabs, like ruins amidst the greenery-and a rentable steel-frame house he calls the Atelier, Žák became, as he puts it, "obsessed with tree houses." Flipping through a book on the subject, he spotted a never-built Swiss project comprising volcano-shape pods set in the Alpine woods, and immediately saw the possibility of adapting the scheme for his rainforest retreat, which he had named the Art Villas Costa Rica. Exploring the idea further led him to Martin Kloda and Hana Procházková, young Czech architects who founded their firm Archwerk.cz in 2012.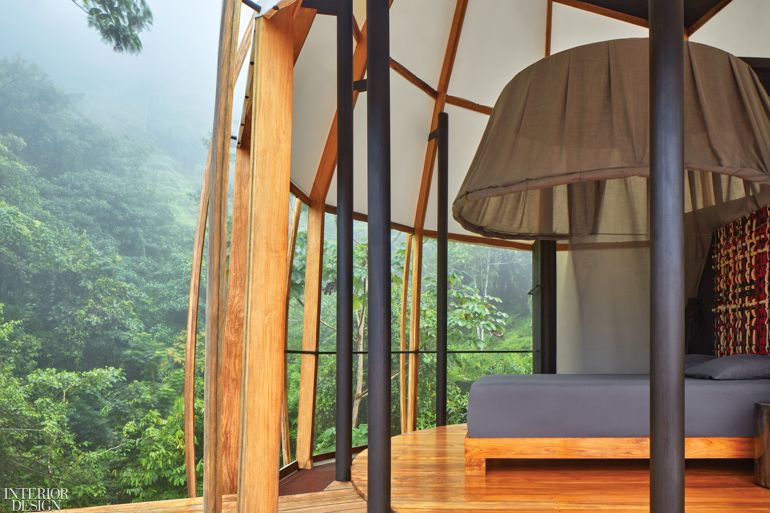 Uncanvassed sections of the frame create the sensation of sleeping in the treetops. Photography by BoysPlayNice.

Kloda and Procházková have built their practice around natural materials and made construction an essential part of the design process. Their work is based in simple geometric forms that they extrapolate out with the simplest possible components: wood beams, hammers, and nails. "We're not craftsmen-we're just architects," Procházková explains. "Because we usually build with our own hands, the designs have to be straightforward." For Žák's little colony of tree houses, the idea was to create structures that were not only responsive to the landscape but also "something that could be built by anyone," Kloda says.

Sitting high on steel columns, the five ovoid forms they devised-UV-resistant canvas stretched over teak frames-look like coconuts dangling above the canopy or buoyed lightly on a sea of a vegetation. Hence their collective moniker: the Coco.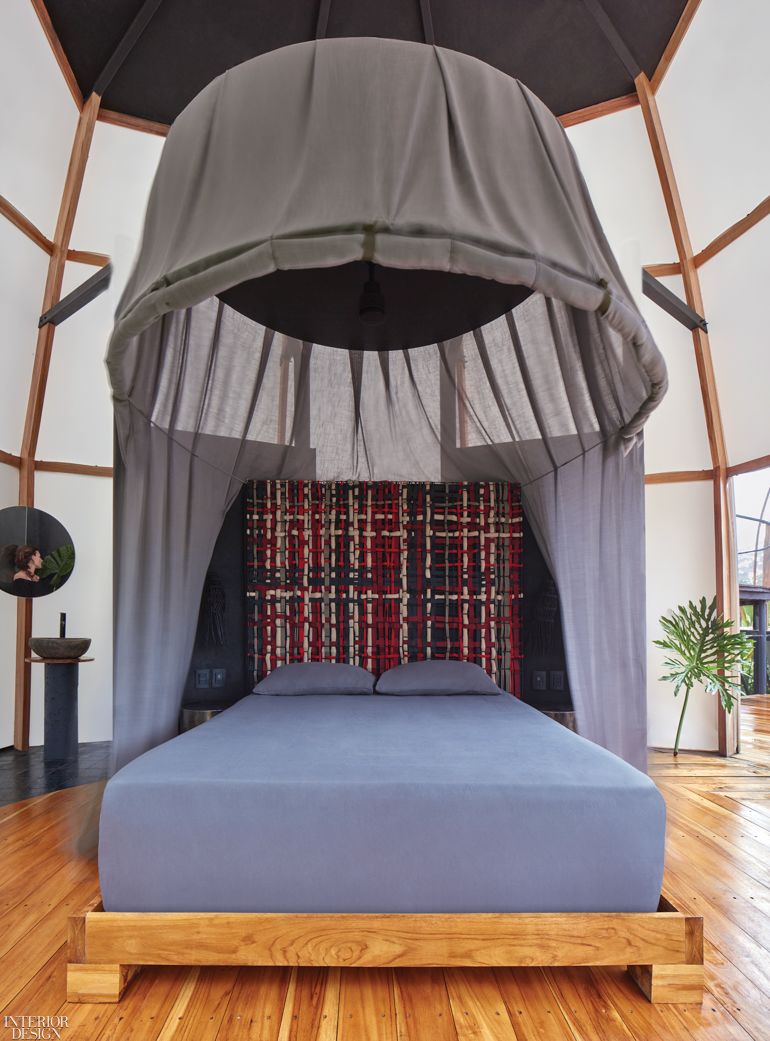 Its custom headboard is woven from cotton cord and straps. Photography by BoysPlayNice.

The pods are connected by light-as-air catwalks and stairs fashioned from teak, expanded metal, and steel, an infrastructure designed by another Czech firm, Formafatal, which also executed the Coco interiors-as it had for the two previous houses on the property. Founder Dagmar Štepánová, a trained engineer and architect, first visited Costa Rica seven years ago. "From that moment I dreamt of building something there that would follow the local atmosphere," she says. Shortly after, she got her first commission from Žák.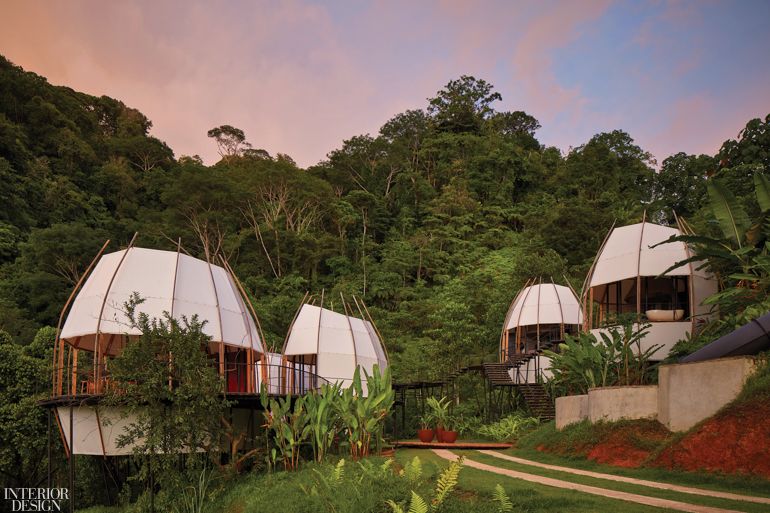 The pods are carefully oriented to allow for maximum openness while providing necessary privacy. Photography by BoysPlayNice.

For the brutalist-inspired family home, Štepánová used wood, water, and abundant greenery to bring nature into the spare, geometric interiors. She took the same approach for the Atelier down the hill, a Miesian pavilion clad in rust-color perforated-aluminum panels and topped by a green roof that makes it dissolve into the forest. For the Coco group-four small guest pods and a larger one for a kitchen and communal dining area-the challenge was reconciling opposites: how to create something both minimal and luxurious, radically open yet warm and private, a podium lifted over the forest and a nest settled close among its branches.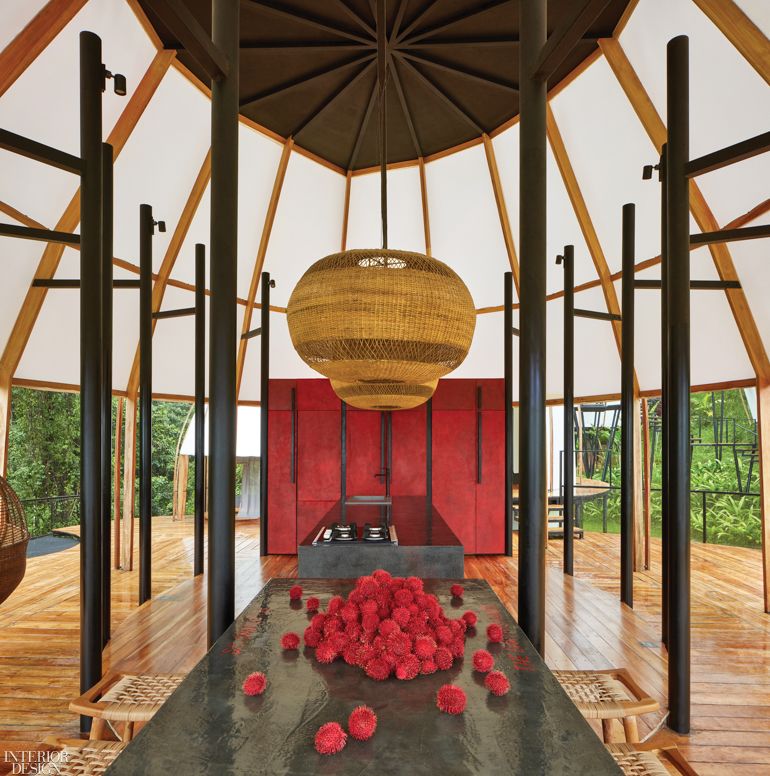 Natural rattan pendant fixtures are augmented with LED spotlights above the custom table, which is flanked by teak-and-rattan stools. Photography by BoysPlayNice.

Each guest pod encircles a slightly raised central platform on which a queen-size bed is set against a headboard woven from colorful cotton cord and straps that evoke the tangled vines of the rainforest. Overhead, a canopy of mosquito netting reads as a delicate sculpture in its own right, echoing the form of the surrounding canvas structure. Dressing and bathing areas with cement-tile flooring are located around the perimeter where, by rolling up the canvas wall, soaking in a freestanding terrazzo tub becomes an outdoor experience. The world beyond the slender teak frame-forest and fog, toucans and monkeys, the sound of the sea below, the wind in the treetops above-is distilled to its perceptible essence in a voyage through the realm of the senses. "That's the fun part of architecture," Žák says: "To explore."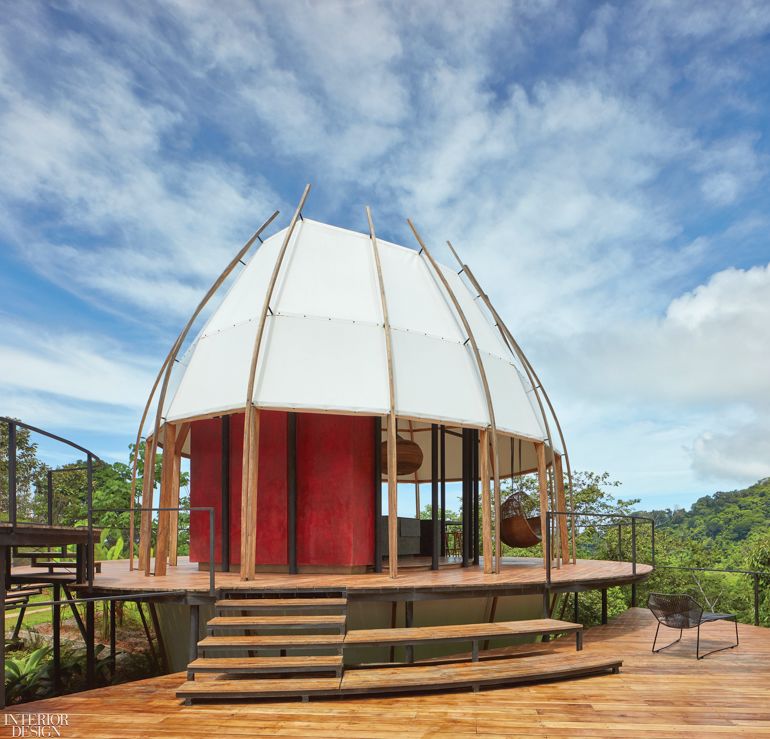 The fifth and largest pod houses a communal kitchen and dining area. Photography by BoysPlayNice.




Pod 1's shower has cement tile. Photography by BoysPlayNice.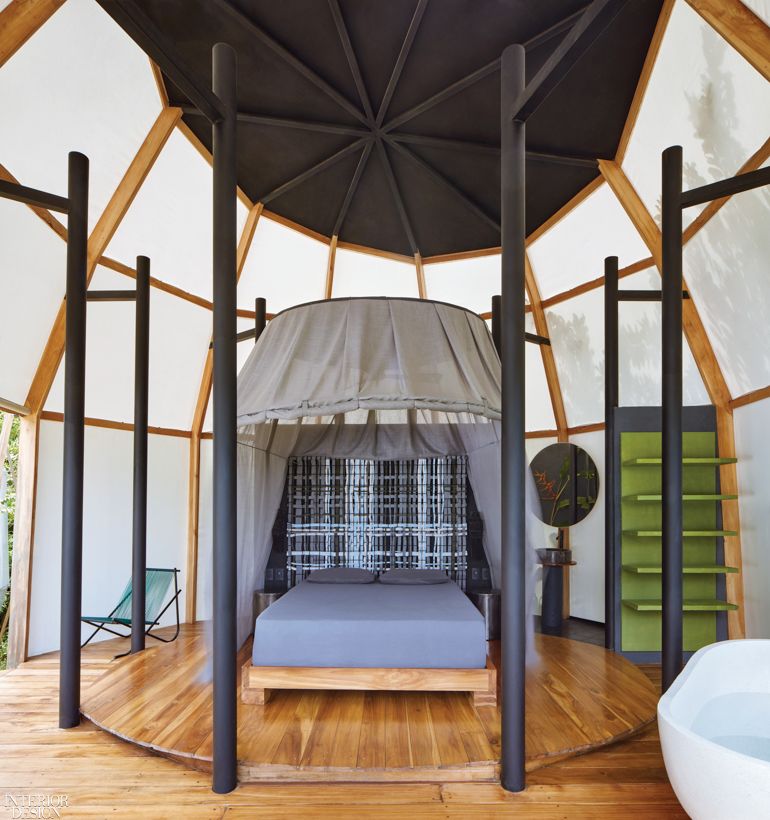 The custom mosquito net in pod 3 echoes the form of the enclosing structure. Photography by BoysPlayNice.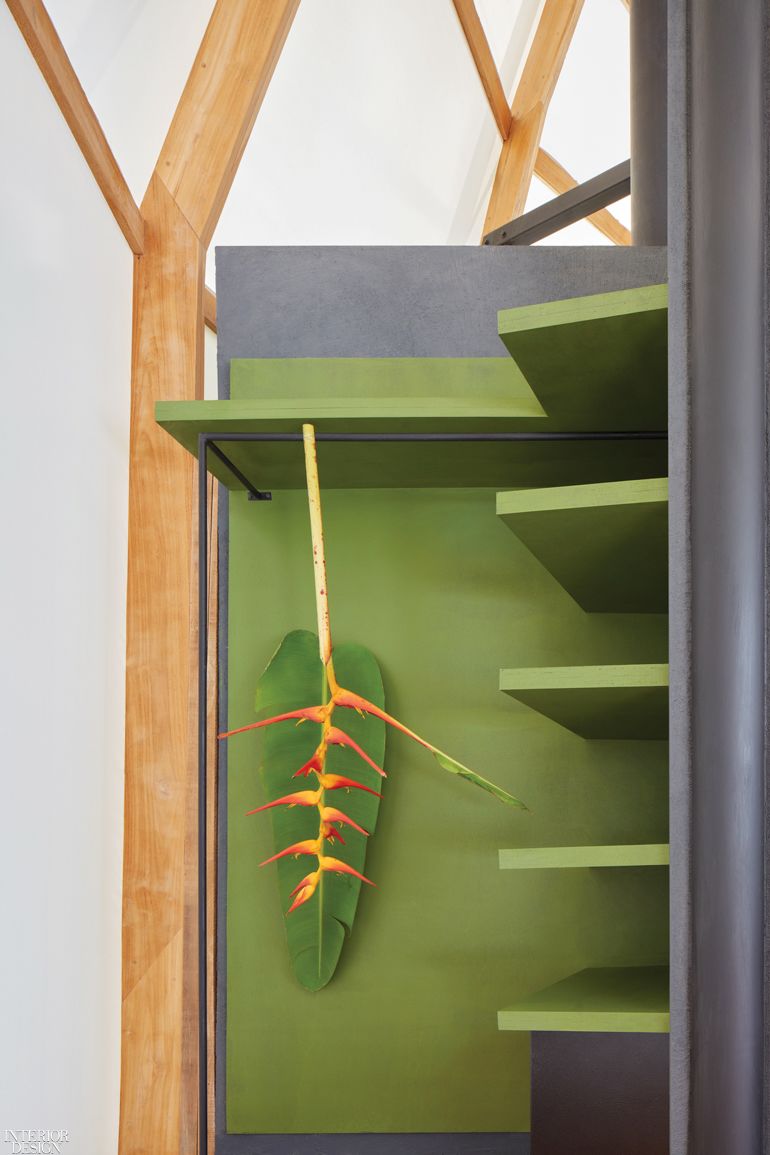 Built-in painted-plywood shelving outfits the dressing area. Photography by BoysPlayNice.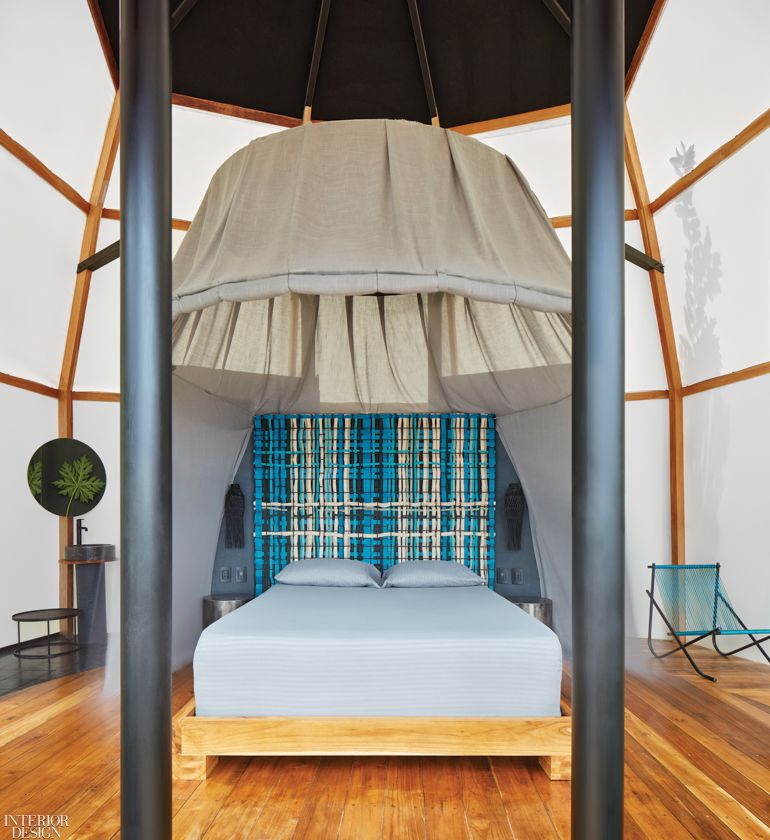 Pod 2's custom teak bed is framed by woven rattan sconces, polished-nickel nightstands, and steel columns that rise through the floor, also teak. Photography by BoysPlayNice.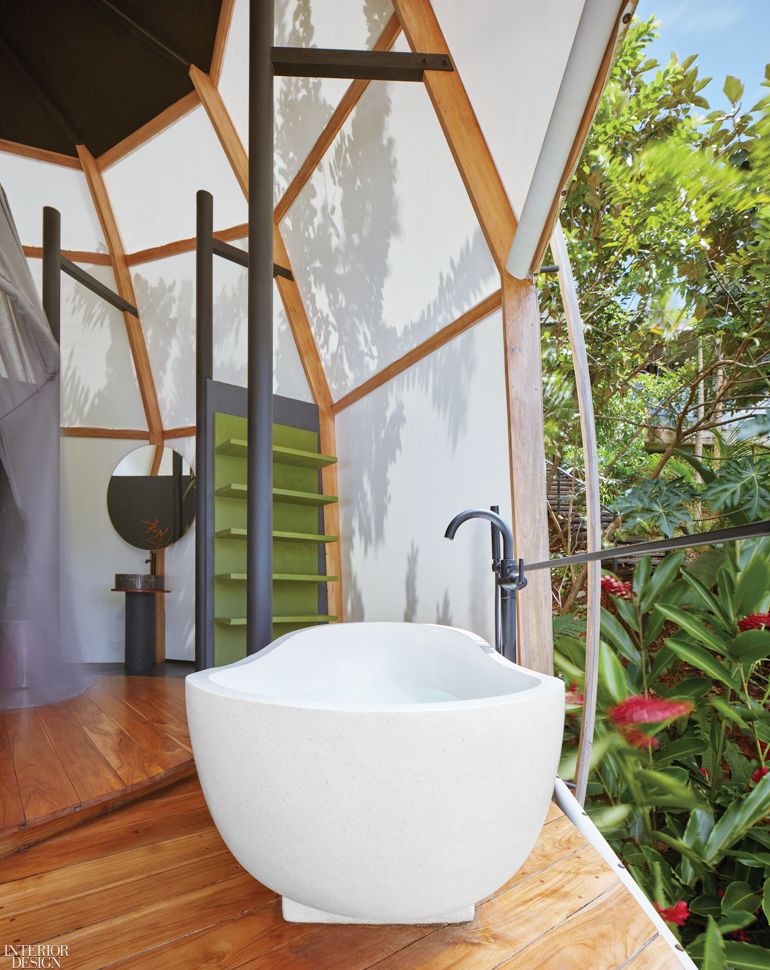 A soaking tub offers a partially alfresco bathing experience when the canvas panel is rolled up. Photography by BoysPlayNice.