Humans often discuss the importance of a good mattress by citing the fact that we spend roughly a third of our lives sleeping. For dogs, that number is even higher. Gabrielle Fadl, D.V.M., the medical director and veterinarian at Bond Vet veterinary clinic in New York City, says an average, healthy adult dog will spend about 50 to 60% of their time (or 12 to 14 hours per day) sleeping. Usually, your pup will divide this time into a few dispersed daytime naps as well as their nightly snooze alongside us humans.

Of course, the amount of sleep that a dog needs differ by age, breed, weight, health conditions, and physical activity. Puppies can sleep as much as 18 to 20 hours per day, and senior dogs commonly sleep more than younger adult dogs since their metabolism is slower. So just as a quality mattress is crucial for humans, the right sleeping surface is important for your pet's overall health, too. And for dogs dealing with conditions like arthritis, joint pain, or cranial cruciate ligament injuries, an orthopedic dog bed is the way to go, according to Fadl.

If you're wondering how to determine the right orthopedic bed for your pup, there are a handful of excellent options to go through. After combing through thousands of customer reviews, here are the nine best orthopedic dog beds to buy online this year. This list includes extra-large beds, choices that come with useful additions, like memory foam cushions, waterproof lining, and even bolsters. These orthopedic beds will work for any dog, big or small.
The 9 Best Orthopedic Dog Beds of 2021

Best for small to medium-sized dogs: Best Friends by Sheri OrthoComfort Deep Dish Cuddler Self-Warming Dog Bed
Best for large to extra-large dogs: Bedsure Large Memory Foam Orthopedic Dog Bed
Best option with a bolster: PetFusion Ultimate Dog Bed with Solid CertiPUR-US Orthopedic Memory Foam
Best with memory foam: Barkbox Memory Foam Mattress 3-Inch High-Density Dog Bed
Best waterproof: Brindle Waterproof 4-Inch Memory Foam Dog Bed
Best cooling: Bedsure Dog Bed with Orthopedic Egg-Crate Foam
Best self-warming: Furhaven Pet Plush Ergonomic Orthopedic Foam Mattress Dog Bed with Round Snuggery Hood
Most durable: Casper Dog Bed
Easiest to clean: Friends Forever Orthopedic Dog Bed

Fadl explains that the main advantage of an orthopedic dog bed is "relief from pressure on bones and joints. This provides comfort during sleep, and also makes it easier for a pup to get up and moving once they're awake, whether they're sore from arthritis, an injury, or another condition."

Some dogs, especially larger breeds and senior dogs with arthritis, are more prone to wounds on their elbows or other bony parts, so a dog bed could make things more comfortable. "As they sleep, the skin gets pinched and irritated between the bone and a hard sleeping surface. Dog beds with adequate support and cushioning can help prevent these pressure sores or allow them to heal," Fadl says. She notes that quality and durability, as well as positive customer reviews, are important factors to consider when selecting a dog bed.

Accordingly, the best orthopedic dog beds highlighted below all have five-star ratings from thousands of reviews. Plus, most of the beds are from popular brands you know and trust.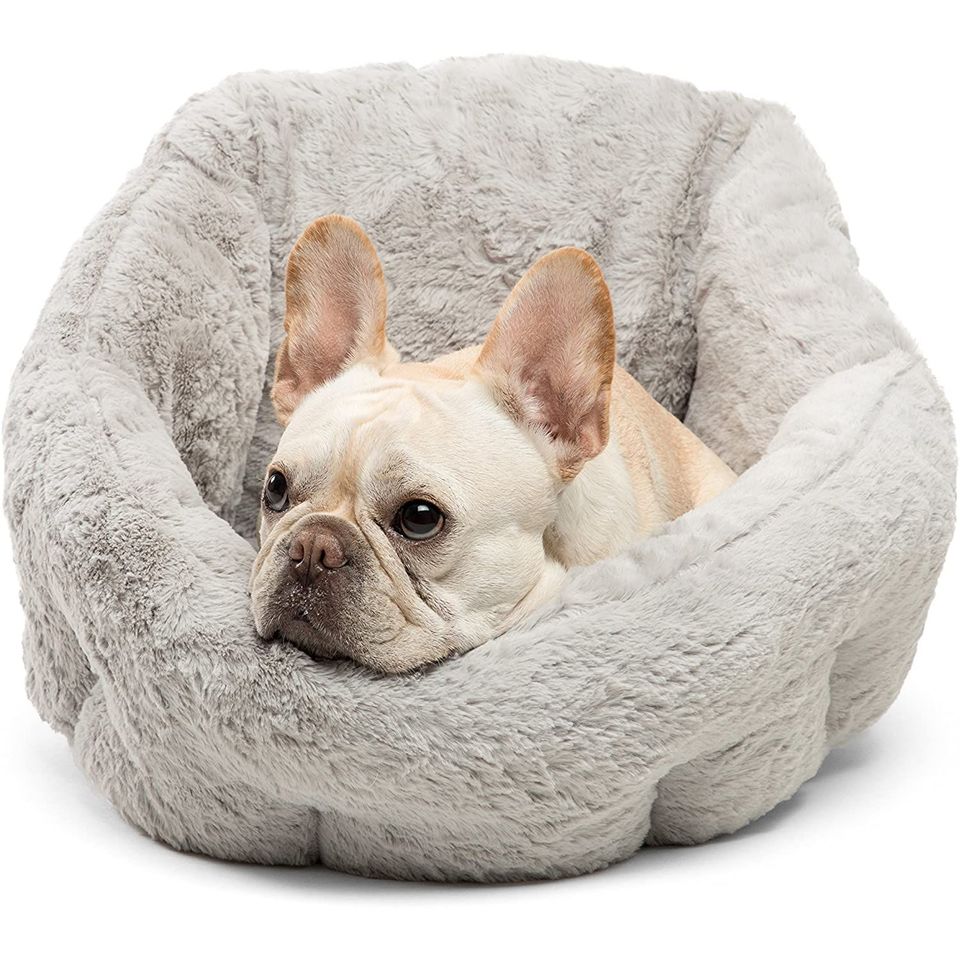 Best Orthopedic Dog Bed for Small to Medium-Sized Breeds

Made for dogs weighing 10 to 20 pounds, this small orthopedic dog bed stands out thanks to its unique sloped walls that provide extra support on the back and its lower bolster that acts as a headrest. The brand's "Deep Dish" design gives dogs who like to burrow a sense of security, and the bed has a warm, fuzzy fleece fabric that's incredibly cozy. Plus, it has a dirt- and water-resistant non-slip base and is machine-washable. This Best Friends by Sheri bed has more than 8,100 five-star ratings, with many calling it "super soft," "easy to clean," and "well-made." A reviewer who has a senior Miniature Pinscher said their little guy loves it. "He's dealing with some arthritis and overall joint pain that often makes it difficult for him to find a comfortable lying/sleeping position," the shopper writes. "The Deep Dish Cuddler (aka The Snuggy Bed) has been terrific—it took a day or so for him to figure out that it was a spot to sleep, but the first time he climbed in and laid down, he went right to sleep! It's the perfect size and structure to make him feel snug while giving him a comfy resting spot for his head and front paws when he curls up."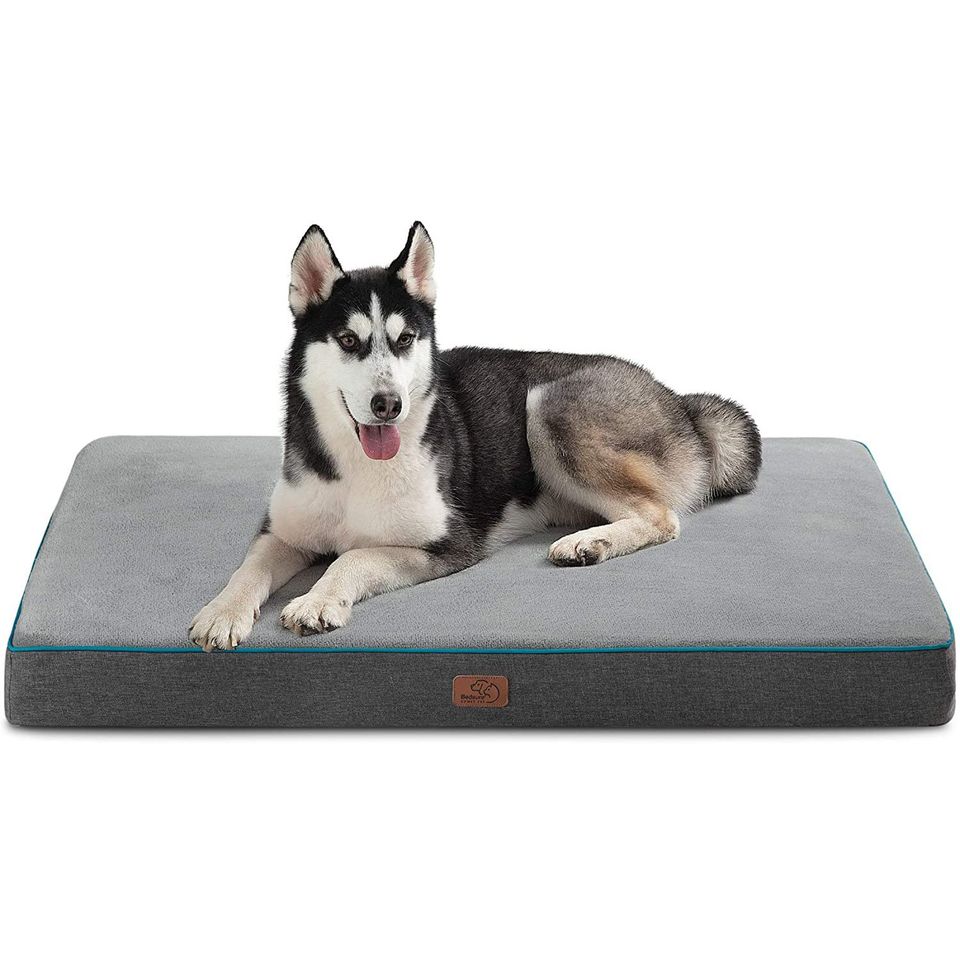 Best Orthopedic Dog Bed for Large to Extra-Large Breeds

With a 3-inch memory foam pad that molds to your dog's body, Bedsure's orthopedic dog bed is a supportive and plush surface that's best for large breeds suffering from joint pain or wounds on their elbows or bony parts. It has a flat surface that's easy for senior dogs to hop on to, and its rectangular shape is an easy fit for most pet crates. Plus, Bedsure's dog bed is entirely waterproof, with a removable outer lining that can be tossed in the washer to clean, as well as a full-coverage inner lining to protect the foam.

In Amazon's review section, shoppers have noted how great Bedsure's large memory foam orthopedic dog bed is for breeds like German Shepherds. Many raved about how well the memory foam holds up against heavy dogs (like one reviewer's 90-pound Goldendoodle). "He fits on it comfortably, with no room to spare," writes the shopper. "It's hard to find a dog bed that doesn't flatten out to the point of being useless. You can feel the hard floor through every dog bed I've ever bought, except this one."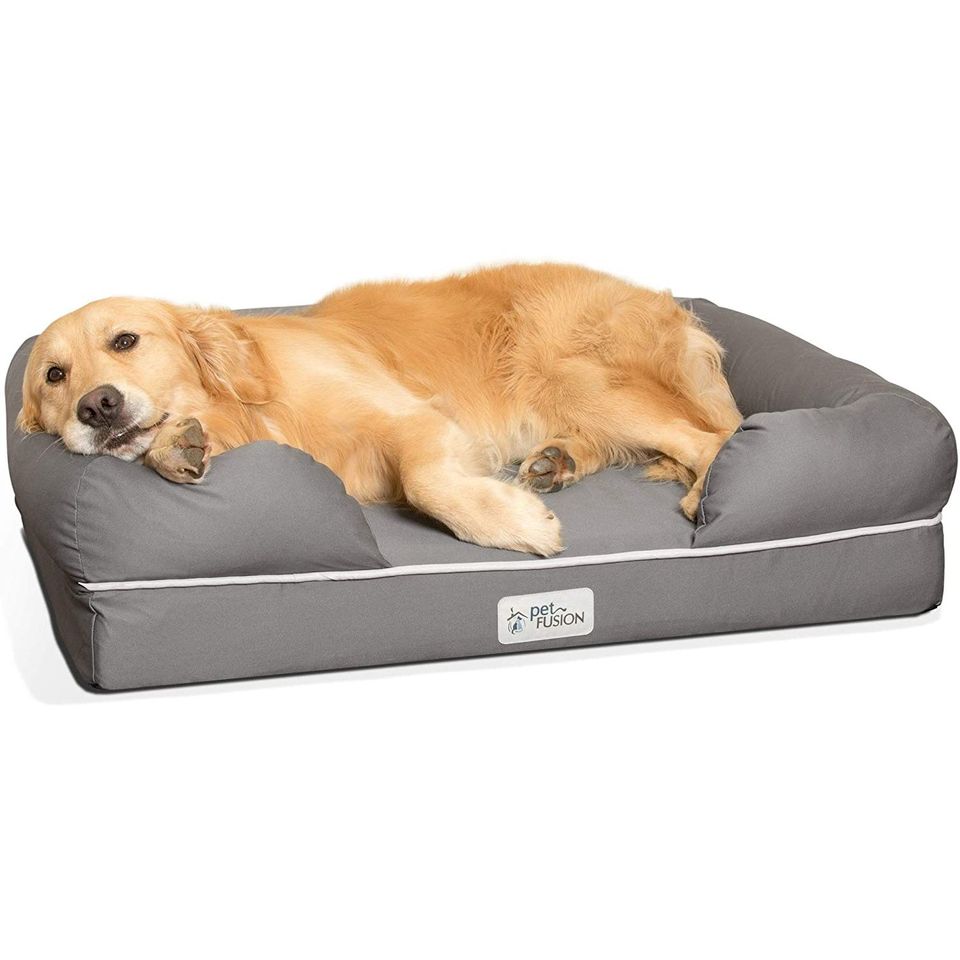 Best Orthopedic Dog Bed with Bolster

Deciding whether to buy a bed with the bolster is often something that owners grapple with when buying a bed. As Fadl explains, a bolster can help "provide a sense of security, perhaps because it makes the bed feel a little more like a den." Anxious dogs may prefer using one, while some may enjoy using it as a head or chin pillow. So if your dog loves something under its chin, then PetFusion's Ultimate Dog Bed, which comes with memory foam and fully-filled bolster walls, is a great choice.

This orthopedic dog bed features a four-inch-thick pad made with CertiPUR-US memory foam, meaning it doesn't contain any icky chemicals like lead, mercury, or formaldehyde. But perhaps the best part is its two-zipper design on the bolsters, making it incredibly easy to remove the bed's water-resistant outer cover for cleaning (the inner pad is covered with a waterproof liner, too). A reviewer calls it a "wonderful bed" for their dog with "old bones," adding that "the bolster is perfect for his head and neck. He's recovering from a shoulder injury, and it seems to help that so much as well."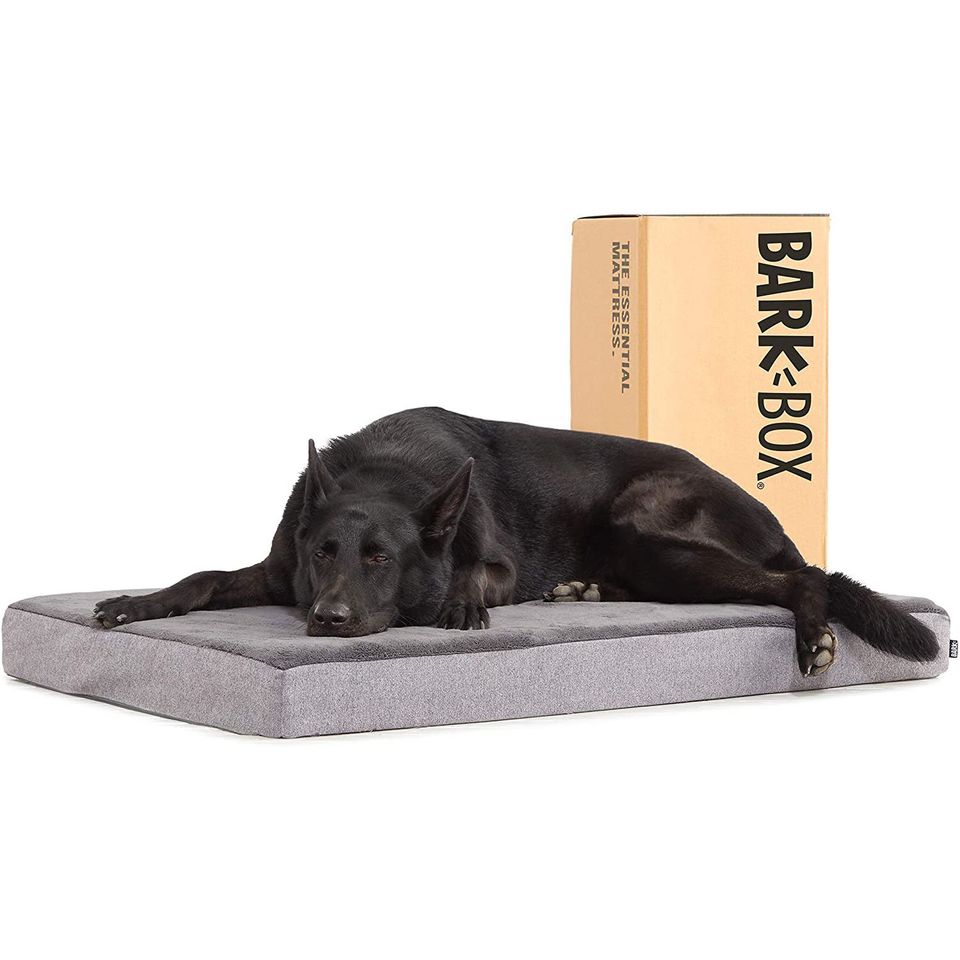 Best Orthopedic Dog Bed with Memory Foam

Most orthopedic dog beds come with memory foam mattresses, but Barkbox's three-inch high-density option takes the top spot for being an incredibly supportive bed with more than 20,000 five-star ratings. The bed is available in various sizes, from a 24-inch small option to a 50-inch version for extra-large pups. With one layer of temperature-regulating gel foam on top of another pressure-relieving memory foam pad, Barkbox's dog bed can help with body aches, joint pain, hip dysplasia, and arthritis. It's waterproof, too, and the removable cover is machine-washable.

One Amazon shopper writes that their 47-pound English Bulldog loves Barkbox's medium-sized bed. "It has been a good choice of bed to help relieve pressure points with her arthritis," writes the pet parent, "It has helped relieve the stiffness of her knees and hip joints after she wakes up from a nap. The bed is covered with a gray zip-around mattress cover that came with it. The cover is water-resistant. This is really helpful in keeping the mattress clean from minor spills such as drooling and sometimes licking her feet."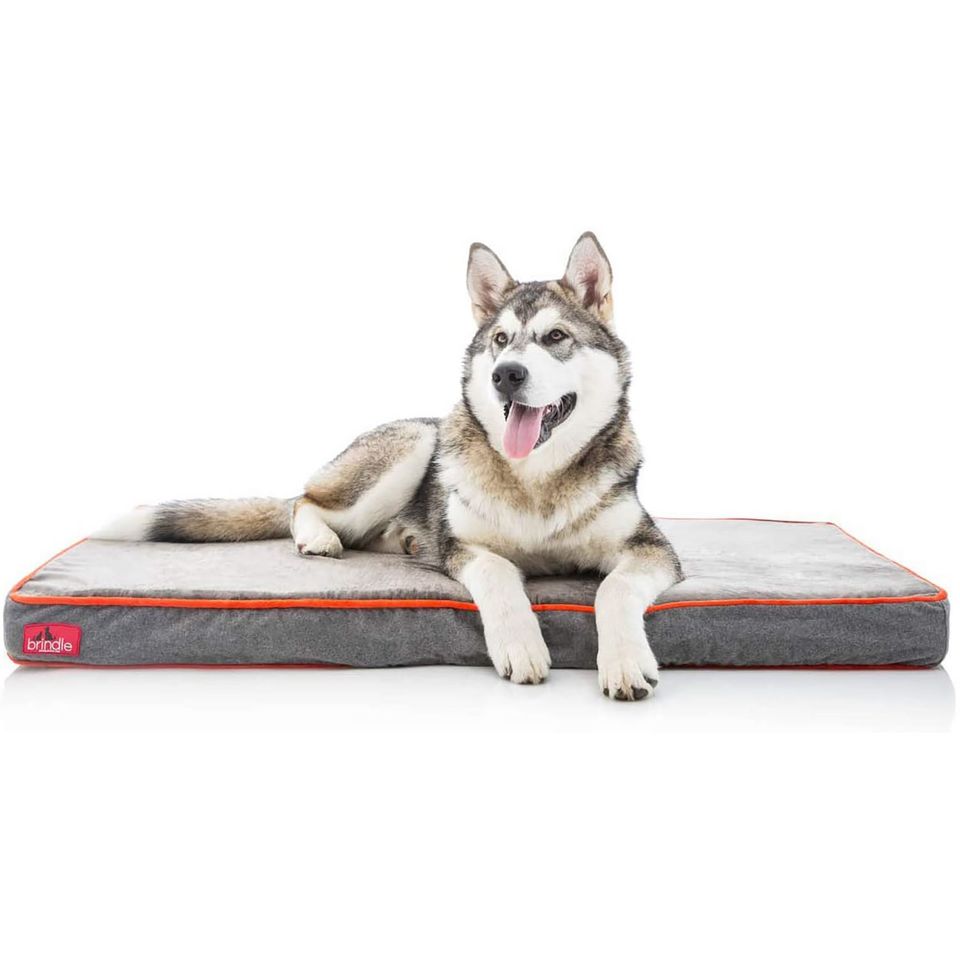 Best Waterproof Orthopedic Dog Bed

Fadl notes that keeping your dog bed clean is vital for general hygiene purposes and to avoid possible skin issues, adding that a "removable, washable cover helps in this regard." Most dog beds come with removable, washable covers, and Brindle's Waterproof Memory Foam Dog Bed is praised by shoppers for being an incredibly easy-to-clean option that provides tons of support.

With a 4-inch memory foam mattress, a removable water-resistant washable cover, and a waterproof interior lining, Brindle's dog bed is the ideal orthopedic dog bed to protect against all kinds of spills. It has a near-perfect 4.7-star rating from close to 4,000 shoppers, with one reviewer writing that they're "impressed with how easy it was to take the cover off, wash it, and then easily put it on." It also comes in various colors and sizes, and it offers options with bolsters for pups who prefer them.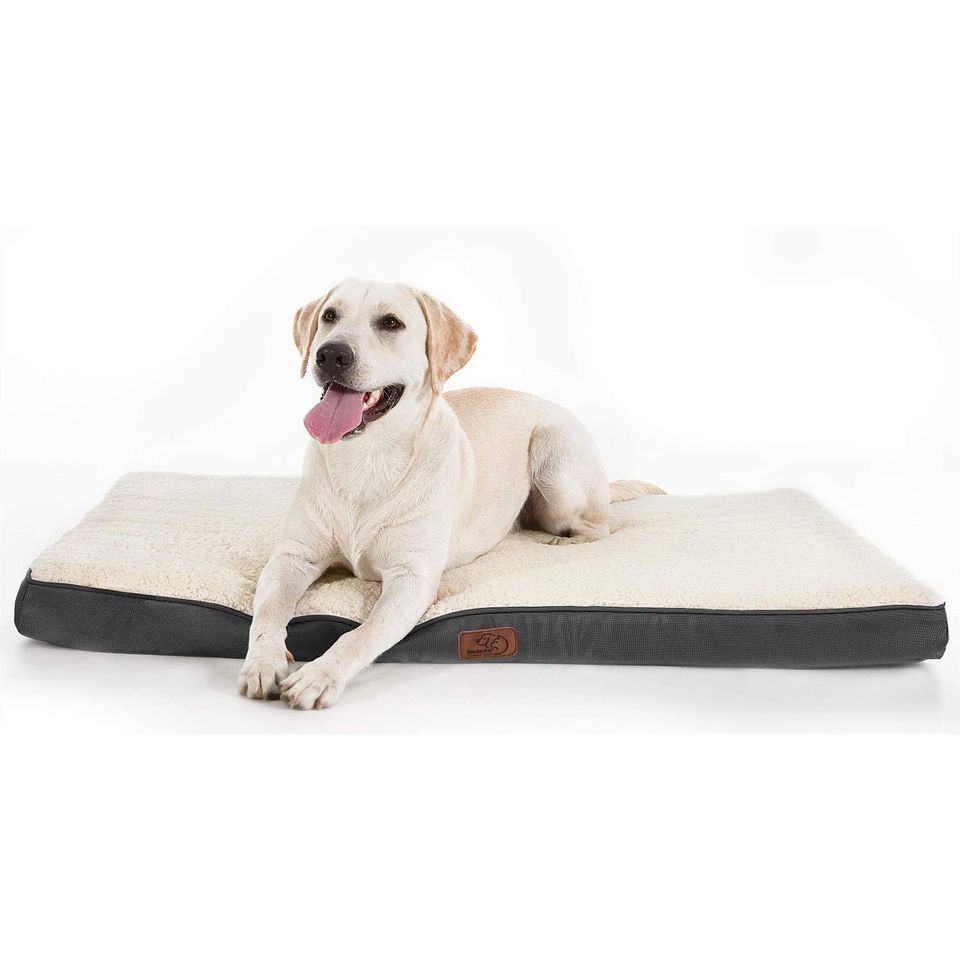 Best Cooling Orthopedic Dog Bed

Fadl says that some dogs, even those with arthritis, "prefer lying on the floor even if they're offered a very nice bed. This may have something to do with enjoying the coolness of floor tiles, so it may help to choose a bed that's designed for airflow and cooling effects rather than for warmth." If this sounds like your pup, consider Bedsure's reversible orthopedic dog bed, which includes both a fuzzy fleece topper and a cooling microfiber side. Like most great dog beds, its outer cover is machine-washable, and the mattress itself is made with supportive egg-crate foam that relieves joint pain, especially for older dogs.

Many pet parents on Amazon have raved about the Bedsure dog bed, more than 9,400 five-star ratings. One shopper writes that it was the perfect solution for her 55-pound dog, who "has thick fur and would rather lay on the wooden floor than on something soft because she prefers the coolness of the floor." Another bought it for their 86-pound German Shepherd. "Being a large dog and a German Shepard, it's not good for her to lay on a hard floor. We've looked at many dog beds trying to find one that fits our standards, and this one is exactly what we've been searching for," customer notes. "It supports all her pressure points with the thick egg crate pad, and the cover is made of durable high quality materials."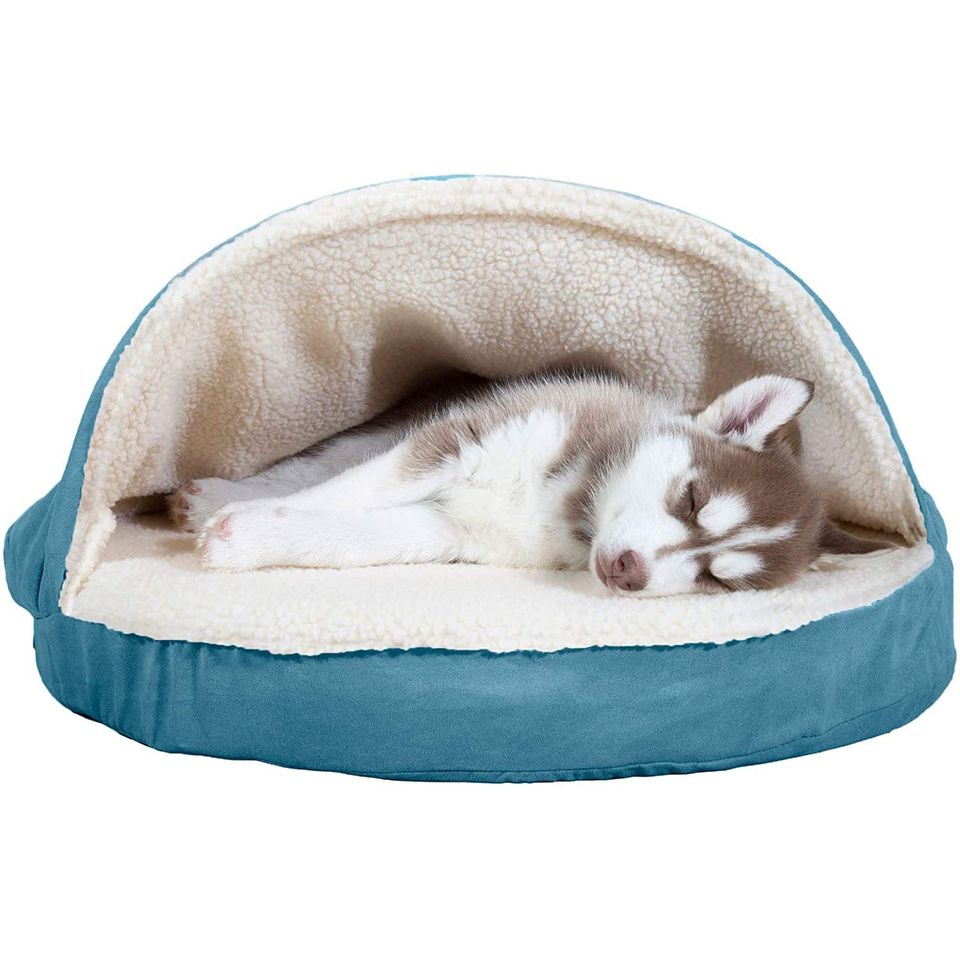 Best Self-Warming Orthopedic Dog Bed

Furhaven is a wildly popular brand on Amazon for its self-warming pet beds that require no electricity to heat up, and its ergonomic dog bed is the ultimate cozy option for pups to stay warm and have ample support on their joints in the winter. The plush bed is made with faux lambswool fleece that creates a fluffy sleeping surface, as well as a soft microsuede exterior that shoppers say is easy to clean. Even better, the bed comes with a hood that not only provides a nook for dogs who love burrowing but also acts as an extra layer of insulation for extra warmth.

Plus, the bed is made with CertiPur-US-certified foam that soothes pressure points and sore joints. A reviewer writes that the bed "perfect for dogs who like to burrow," while another said it has become their dog's "favorite bed." "The cover is very soft and retains the pup's body heat," said a third reviewer. "The three-inch orthopedic foam base is comfy and spongy, perfect for older pets with arthritis."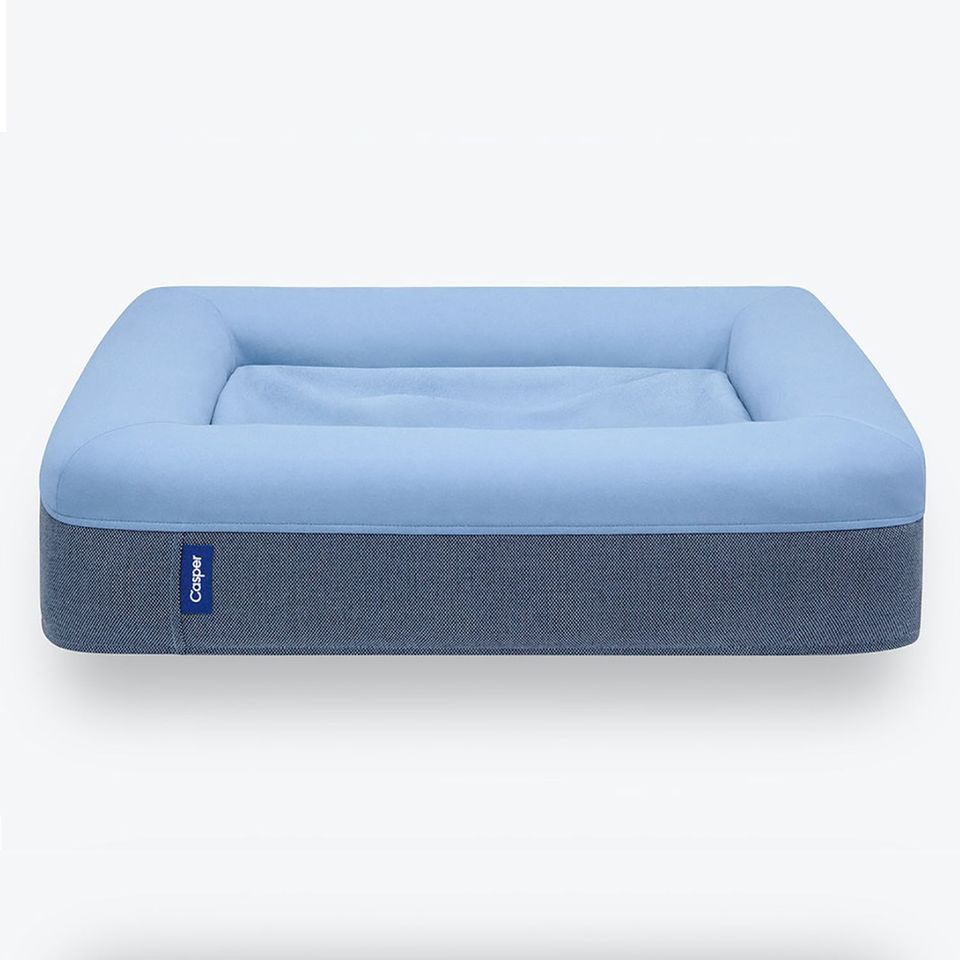 Most Durable Orthopedic Dog Bed

Casper might be known for its luxurious and incredibly comfortable mattress for humans, but judging by reviews, its dog bed is not bad either. Made with two layers of pressure-relieving memory foam and a durable microfiber cover, Casper's dog bed doesn't sink or sag over time and provides tons of support for dogs who need it. The scratch-resistant cover is machine-washable, too, and the bed comes in three sizes, with the largest fitting a dog up to 90 pounds.

Shoppers who have had the Casper bed for years say the bed is strong enough to withstand chewing. "This bed is totally worth the money," writes a reviewer. "It's firmer than other dog beds, so it took our dog a little while to get used to it, but soon he was laying on it all the time. The cover is machine washable and so easy to take on and off. He has gotten it plenty dirty, and it always comes out of the dryer looking brand new."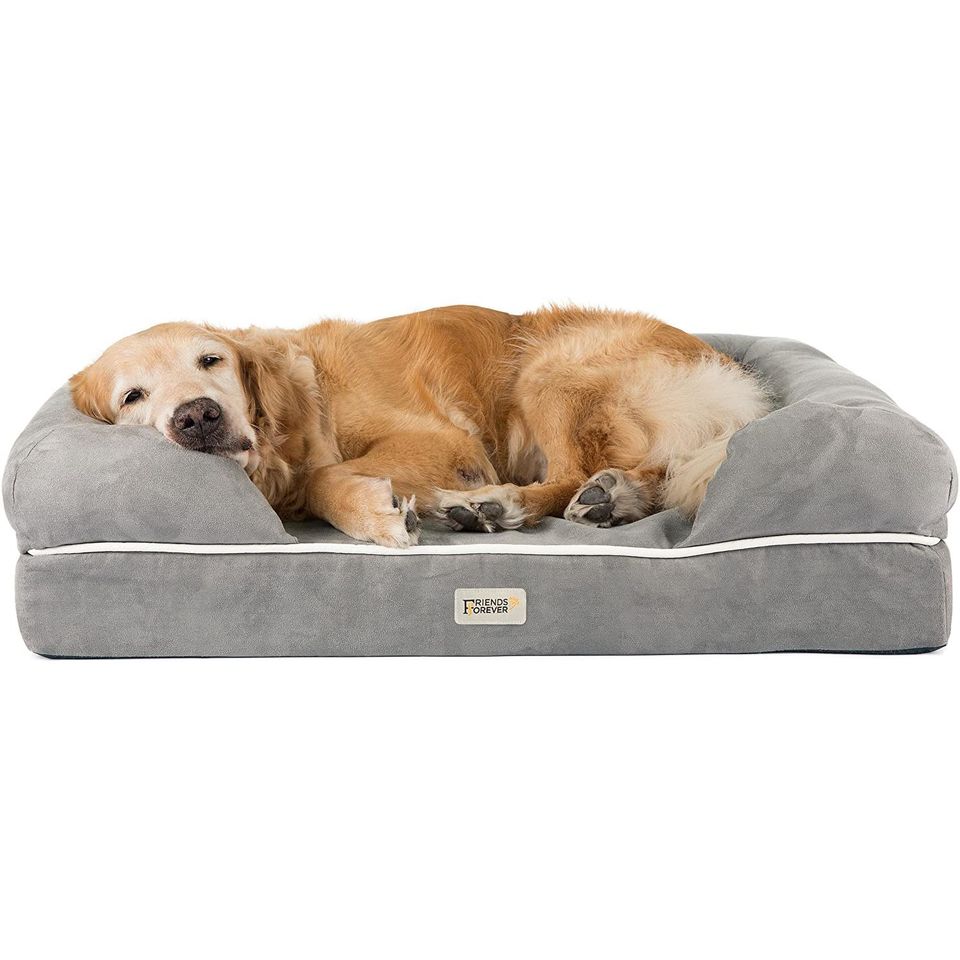 Easiest to Clean Orthopedic Dog Bed

Fadl stresses the importance of keeping your orthopedic dog bed clean, so having an easy-to-wash option makes things a lot easier for pet parents. And what makes Friends Forever's orthopedic dog bed simple to clean is its two-zipper design that allows you to easily remove the outer cover, especially around the bolsters. Designed with a durable anti-tear cover, the bed also has a water-resistant liner that's ideal for senior dogs suffering from joint issues or a leaky bladder.

Nearly 200 out of more than 2,500 reviewers have noted how easy it is to clean. A shopper calls it a "built-to-last comfy bed," and adds, "My dog loves the bolsters and it is incredibly soft. We've probably had it for a year or longer now, and it's still in great condition. It's incredibly easy to clean, you just unzip the cover and throw it in the wash. We've even gotten a new puppy since having it, and she has peed on it and when we took the cover off to clean it, we were impressed to see that no pee got through to the bed itself."