CHRISTINE PITTEL: Three islands! Why do you need three?
DIONNE TRIFIRO:
The first is kind of a mini-mudroom right by the back door. It has a bench where you can sit down and pull off your boots, a drawer for mail, and a counter for flower arranging just opposite one of the sinks. Then there's a prep island next to the Wolf range, the main refrigerator, and the main sink. The third island is more of a coffee bar, with stools facing the TV. The kids can do their homework or friends can sit there and have a glass of wine without getting in the cook's way. This is a large kitchen addition for a large family, and we broke it up into three areas to fit their day-to-day routine.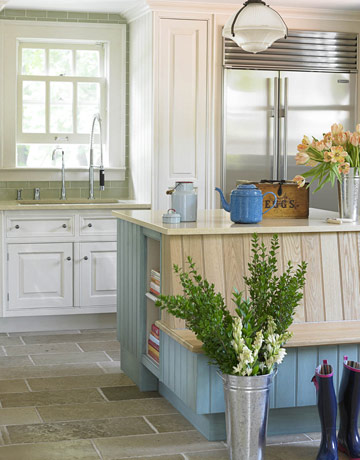 I notice you also broke up the cabinetry by doing several different finishes.
When you have a lot of cabinets, it's more interesting to vary them a bit. The oak was a logical choice for the two cooking islands, because it's hard-wearing and doesn't scuff as easily as paint. The cabinets against the wall were painted ivory, to blend into the background. Then a decorative painter from Smallbone — this is all Smallbone cabinetry — came out on-site and custom-mixed that beautiful duck-egg-blue paint to highlight the beadboard around the bench and the old-fashioned china cabinet. That made them look more like separate pieces of furniture, rather than built-ins. The house was built in 1913 and we wanted to keep that old-country-house feeling.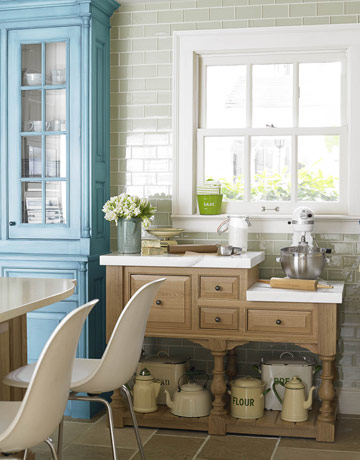 Did you ever think about paneling the refrigerators?
We had nothing to hide. After all, this is the 21st century and Sub-Zero has gone to a lot of effort to make them attractive. I did set the secondary refrigerator/freezer into the wall, and wrapped the main refrigerator with woodwork so the first thing you see as you come through the door is not the side of a refrigerator. But the front is quite appealing, especially when you have glass doors.