Located at the epicenter of four major wine-producing regions-the Russian River Valley, Dry Creek Valley, Chalk Hill, and Alexander Valley-the town of Healdsburg, California, has long been a favorite getaway for city dwellers looking for a diverse wine list and the serenity of the Sonoma Valley.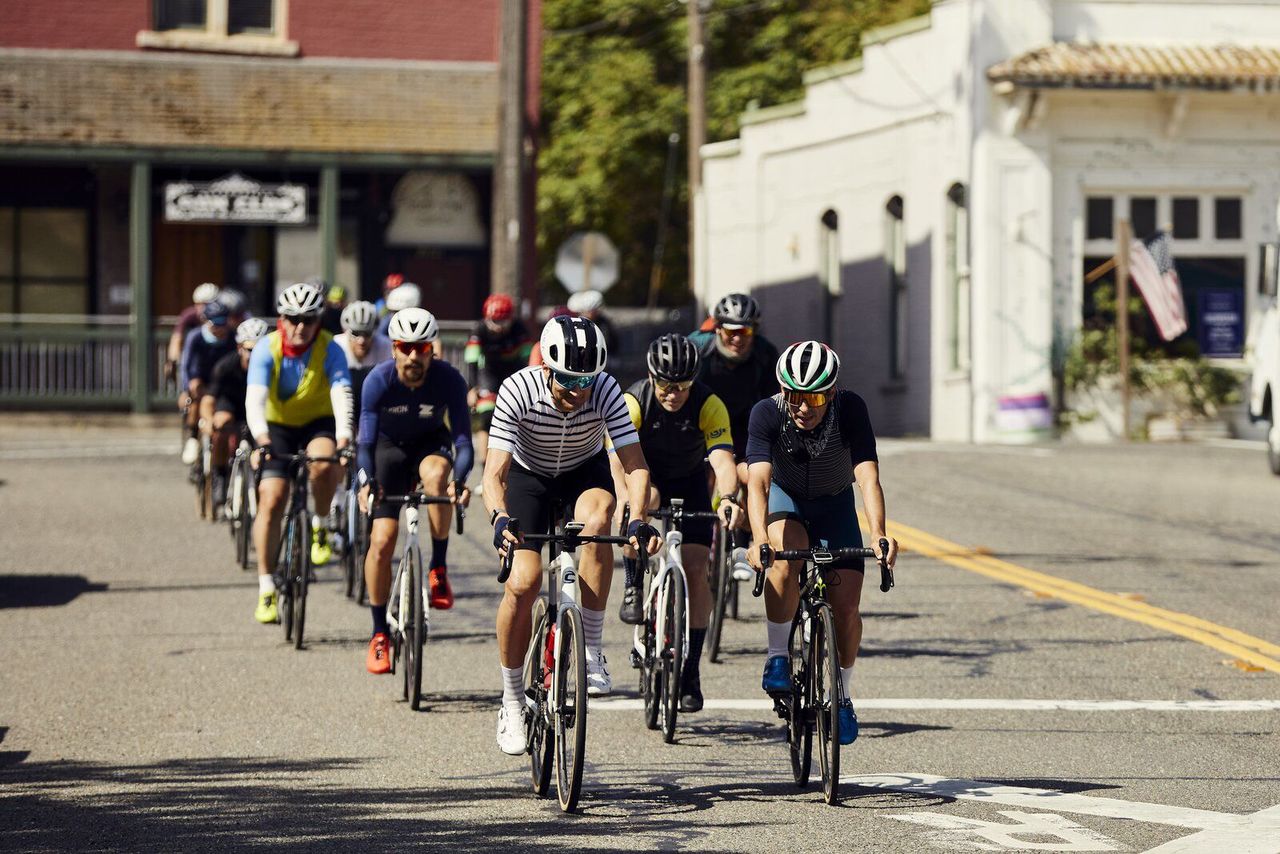 Former World Tour pro cyclist Ted King (left) leads a group ride from the Mill District Velo Club. The cyclists are among the few who've had the chance to peek behind the gates of The Mill District, still under construction, thanks to pop-up events in the old lumberyard.

But on a sunny Friday afternoon last May, a long line of cyclists pedaled through the outskirts of town, eschewing Healdsburg's historic downtown plaza for a grittier destination: a retired industrial site. One by one, the riders disappeared through an unmarked door at the back of an old kiln building, snaking past enormous fans to emerge in what will soon be Healdsburg's newest-and perhaps most attractive-neighborhood: the Mill District.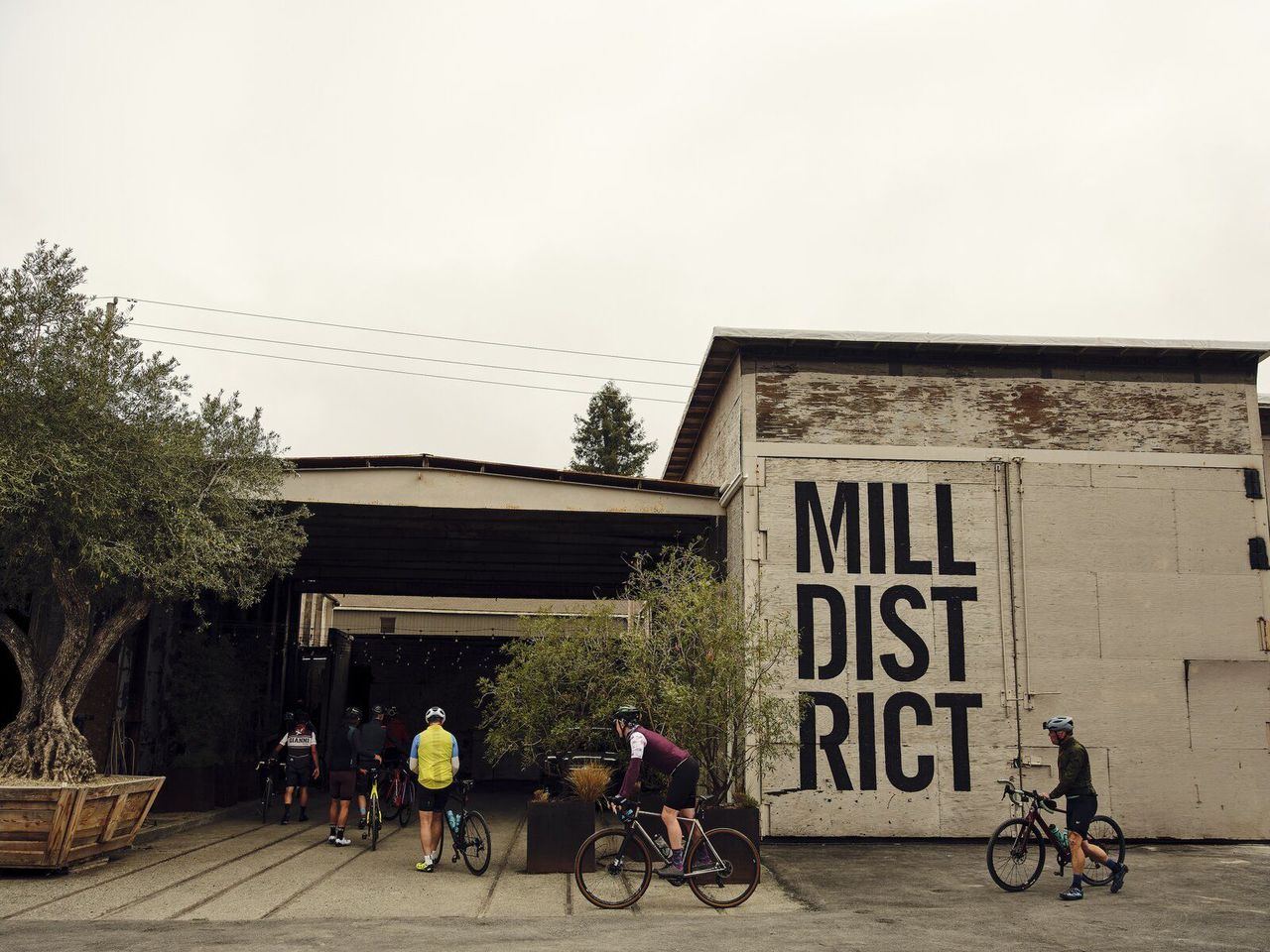 Cyclists return from a ride with the Mill District Velo Club in Healdsburg, California. The club officially launched in 2018, and this spring it hosted 17 events in five weeks, drawing 350 people in to ride Sonoma County's scenic roads, drink wine, eat food-and consider investing in the future of Healdsburg.

The site doesn't look like much from the outside. Its post-industrial vibe is authentic, not contrived, and you can almost feel the grit of sawdust in your teeth from its 170-year history as a lumberyard. For decades, the 10-acre plot had a Willy Wonka-esque aura; despite being less than a quarter-mile from downtown Healdsburg, very few people knew what went on behind its gates. But when lumber company Nu Forest Products quietly announced its intention to relocate to a larger site in 2015, Vancouver-based developer Replay Destinations snapped up the entire parcel, seeing the vast potential despite the machinery sheds and heavy equipment that dominated the space.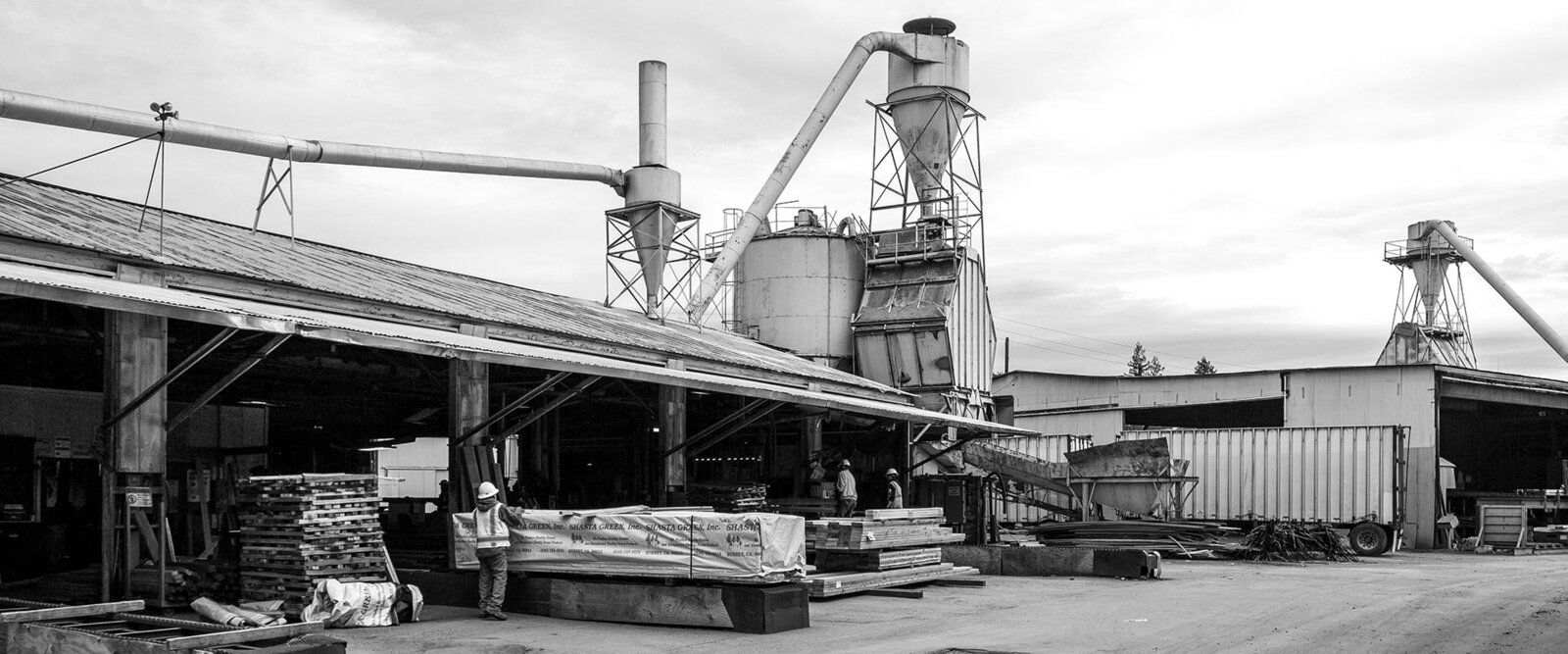 A historical view of what is now the Mill District when it was a fully operational lumberyard.

In January 2021, Replay broke ground on the Mill District, a new residential and mixed-use neighborhood that will have 39 residences by Seattle-based firm Olson Kundig, 41 affordable housing units for families making $60,000 or less per year by Oakland-based Michael Pyatok, plus a 53-key boutique hotel and landscape architecture design by San Francisco's SB Architects.

Grounded by towering heritage redwoods and punctuated by parks and gardens designed by San Rafael-based landscape architect VITA, over the next 10 years the Mill District will turn the former lumber yard into a pedestrian-friendly residential area with parks and green spaces that are open to all.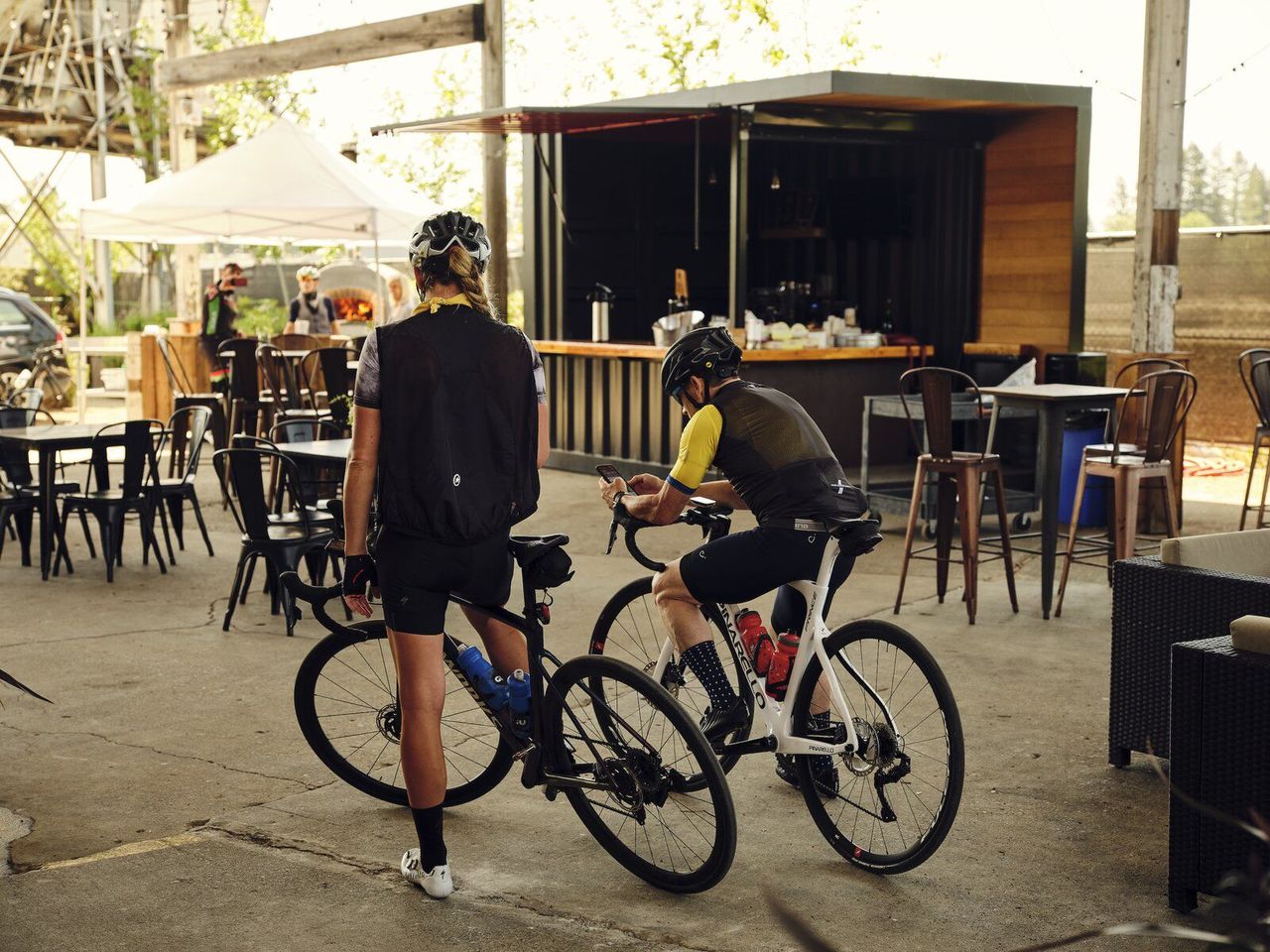 Two cyclists prepare to leave for a ride in front of the pop-up space used to host Mill District Velo Club events in Healdsburg.

One of Replay's first moves was to carve a space out of the lumberyard to host pop-up events for cyclists, who represent the Mill District's target demographic-active, engaged folks looking for a quiet, but vibrant getaway.

Olson Kundig owner and principal Kirsten Ring Murray quickly took up-and amplified-Replay's vision for a walkable, bikeable neighborhood. Chief among her priorities: uniting the existing downtown with its newest neighbors.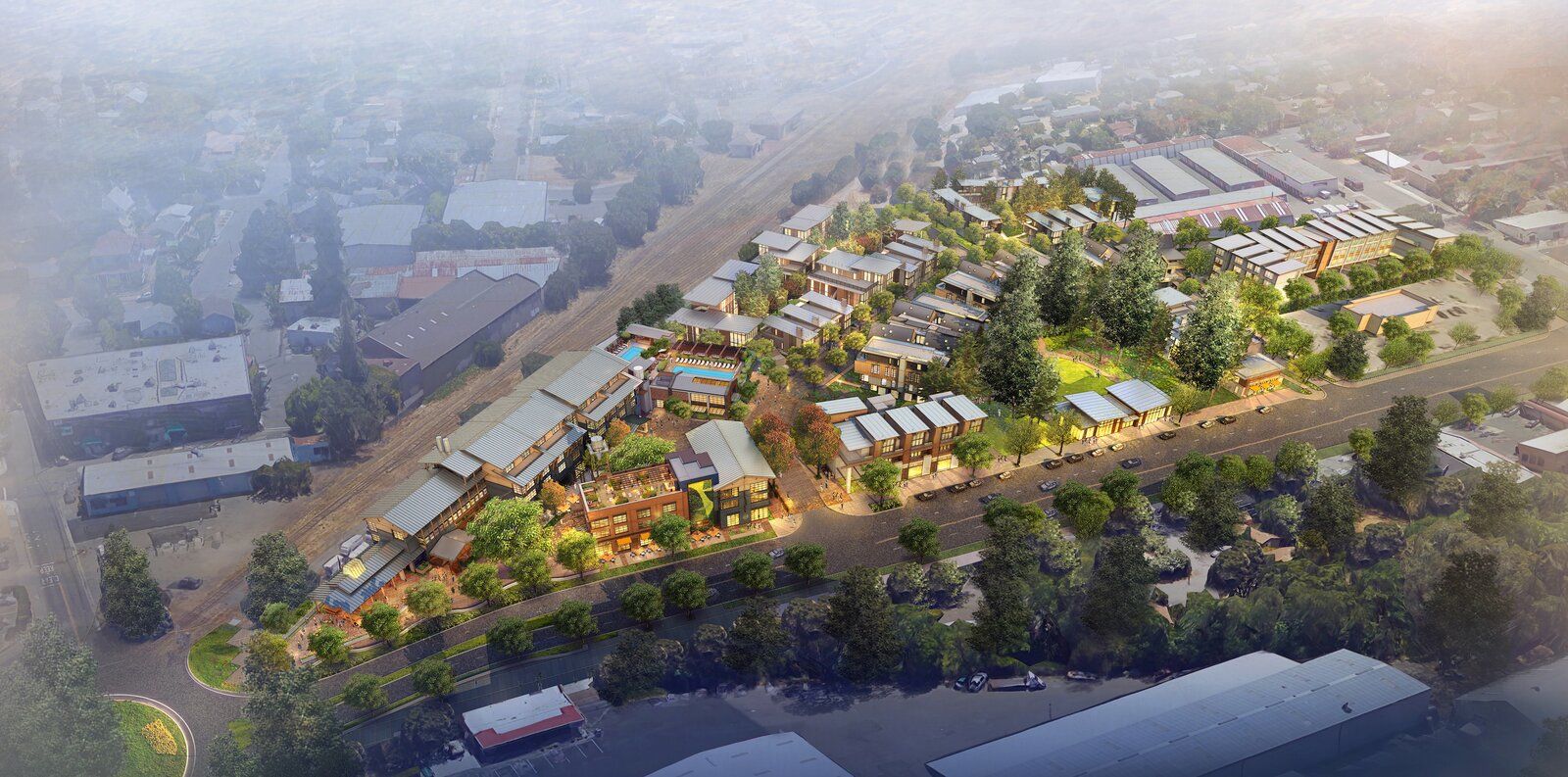 An aerial view of the Mill District, a new residential and mixed-use project in Healdsburg, California that will include the first affordable housing to be built in the city in 12 years.

"We wanted the Mill District to truly be a district-not just a development, but an extension of Healdsburg," Murray says. "So we prioritized the pedestrian experience in the planning phase, imagining people from Healdsburg enjoying this new, open space and thinking of it as an extension of the town, not somewhere that's completely separate from it."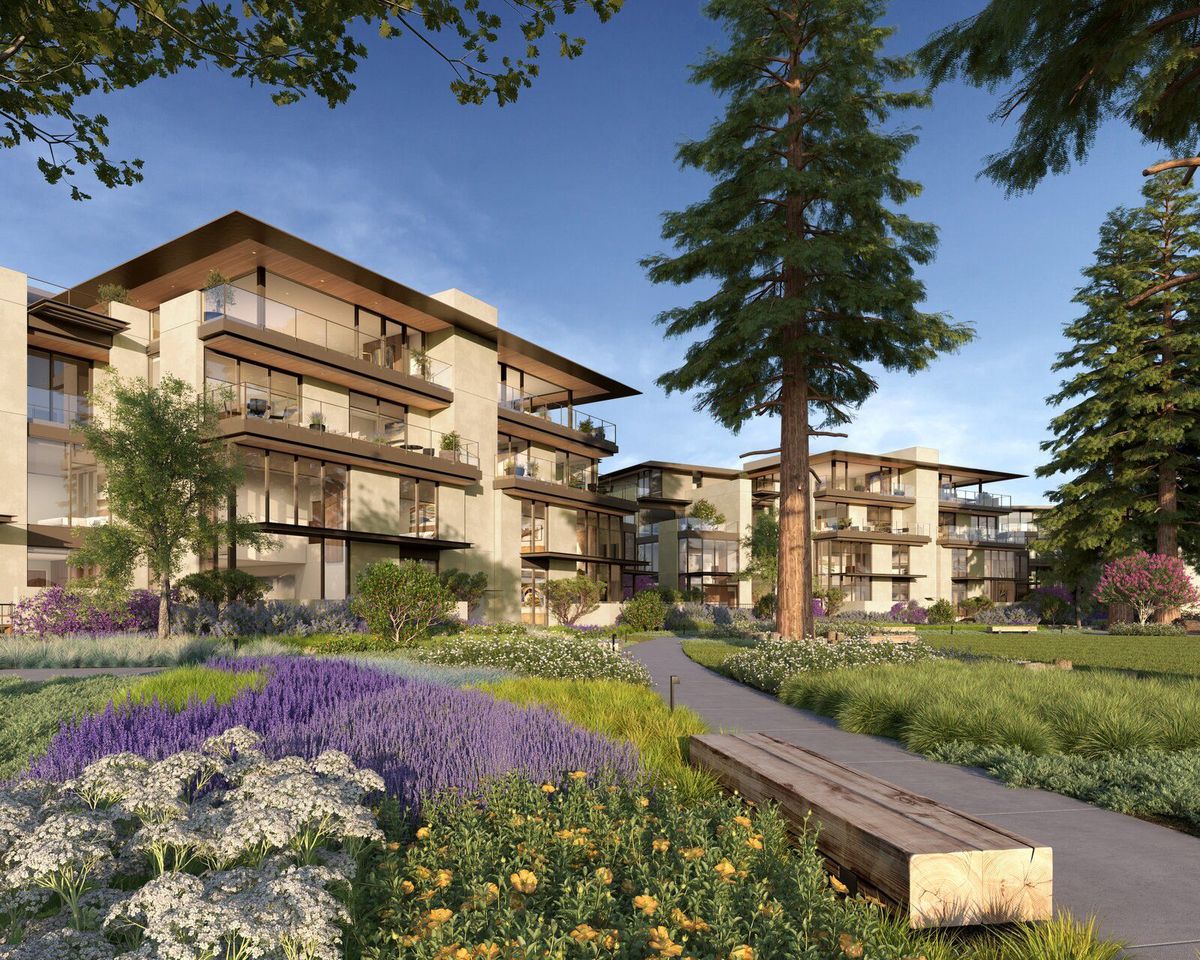 The view from The Preserve, a centrally located park that will be open to the public in Healdsburg's new Mill District neighborhood.

As such, the park-known as The Preserve-with its grove of 15 historic redwoods, will be a civic anchor for the new district, with the hotel and retail spaces, residences, and affordable housing units radiating out from it. Likewise, the 39 residences designed by Olson Kundig-a mix of townhouses, condominiums, and apartments known collectively as The Canopy-take their cues from the giant trees. Intimate courtyards, layers of plantings, and low walls flank the street-level dwellings, while expansive views of the mountains and hilltops influence the feel of the upper-level penthouses.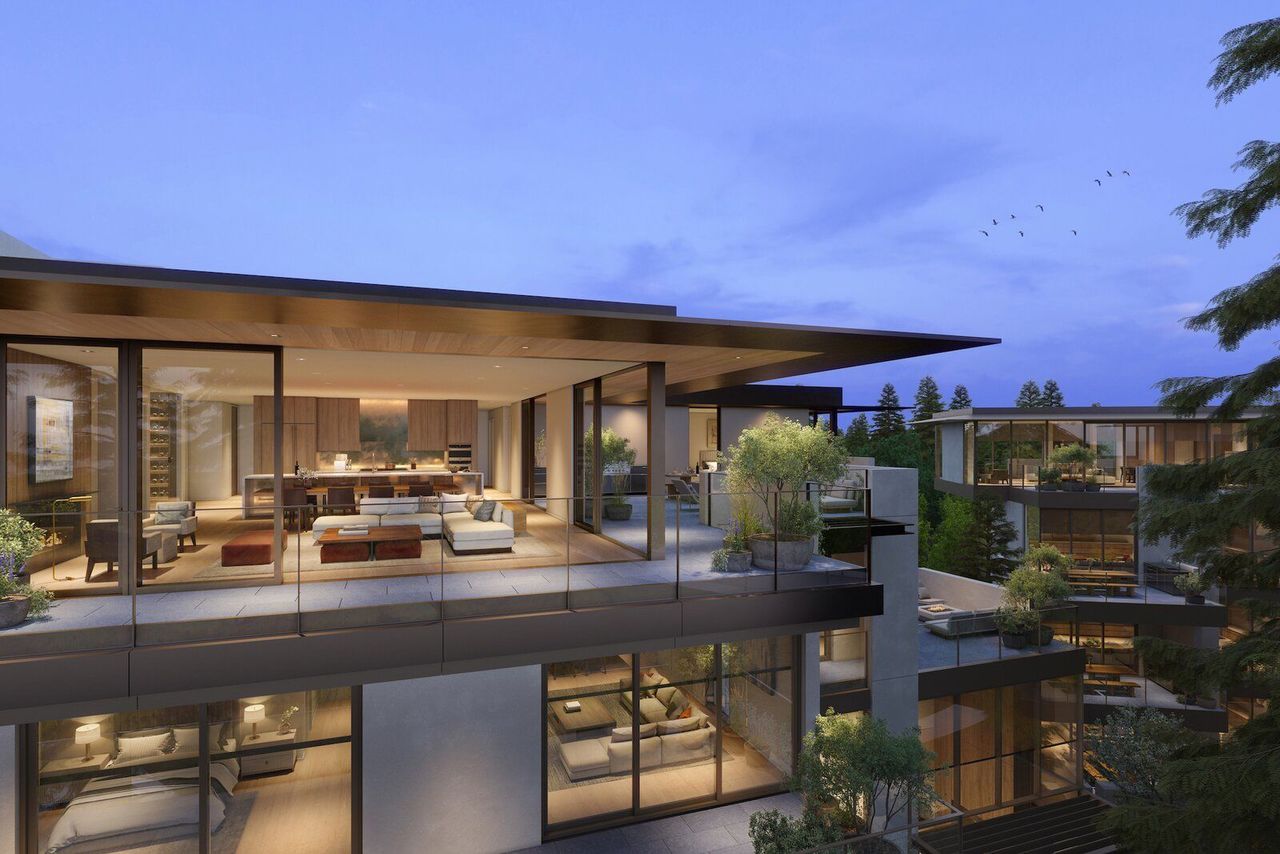 Designed by Olson Kundig, the penthouses place a strong emphasis on indoor/outdoor living in Healdsburg's Mill District.

"At the base, the units feel like civic row homes, but as you go up, the buildings become more exploratory, shaped by specific views and the canopy of redwoods that create both openness and privacy," Murray says.

She and her team also incorporated the palette of sunshine and shadow created by foliage, with lighter stucco colors on lower units transitioning to darker, bronze-colored cladding as the building gets taller.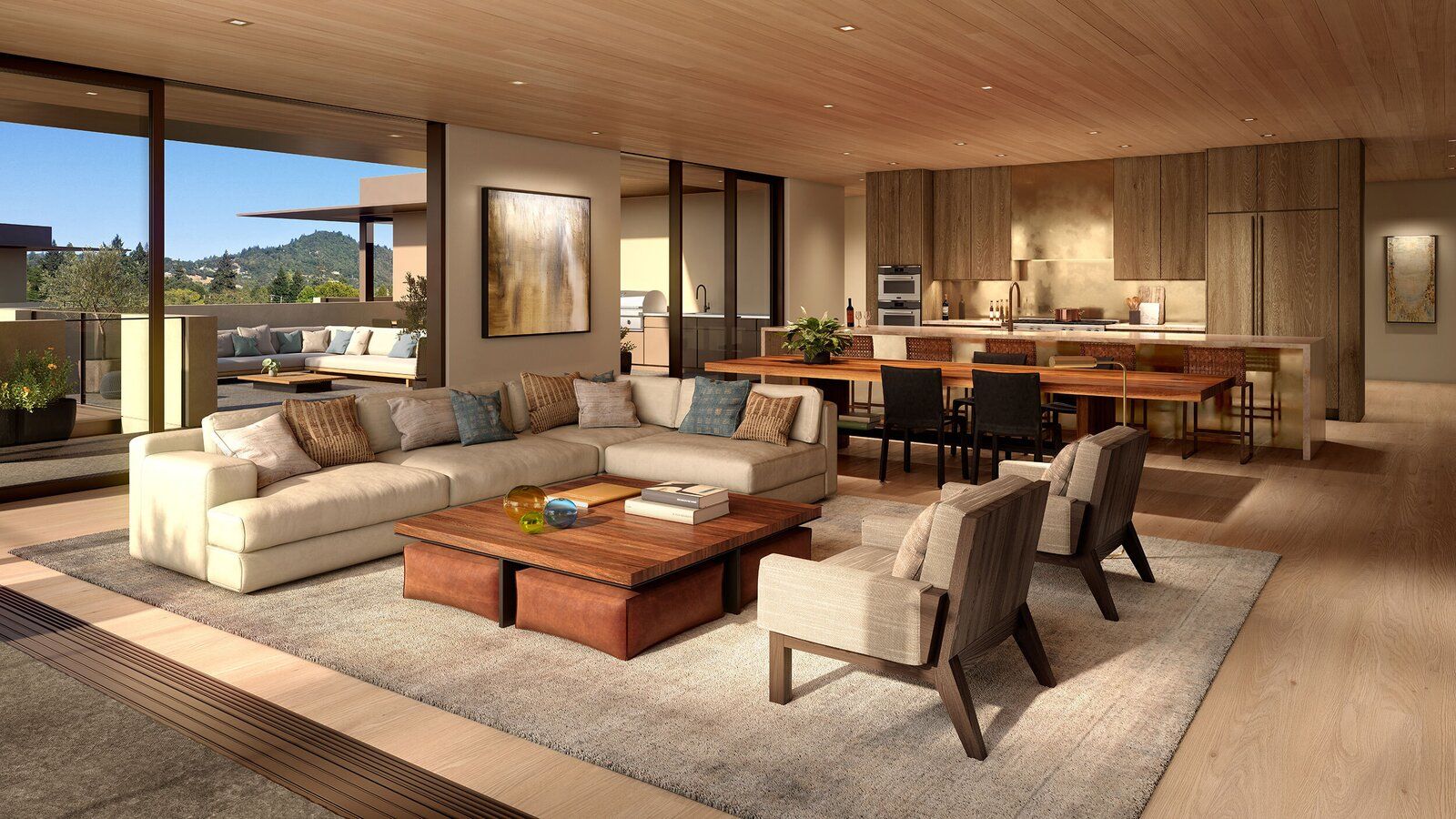 Sliding glass walls in the penthouses open to wraparound terraces looking out on the surrounding redwood trees.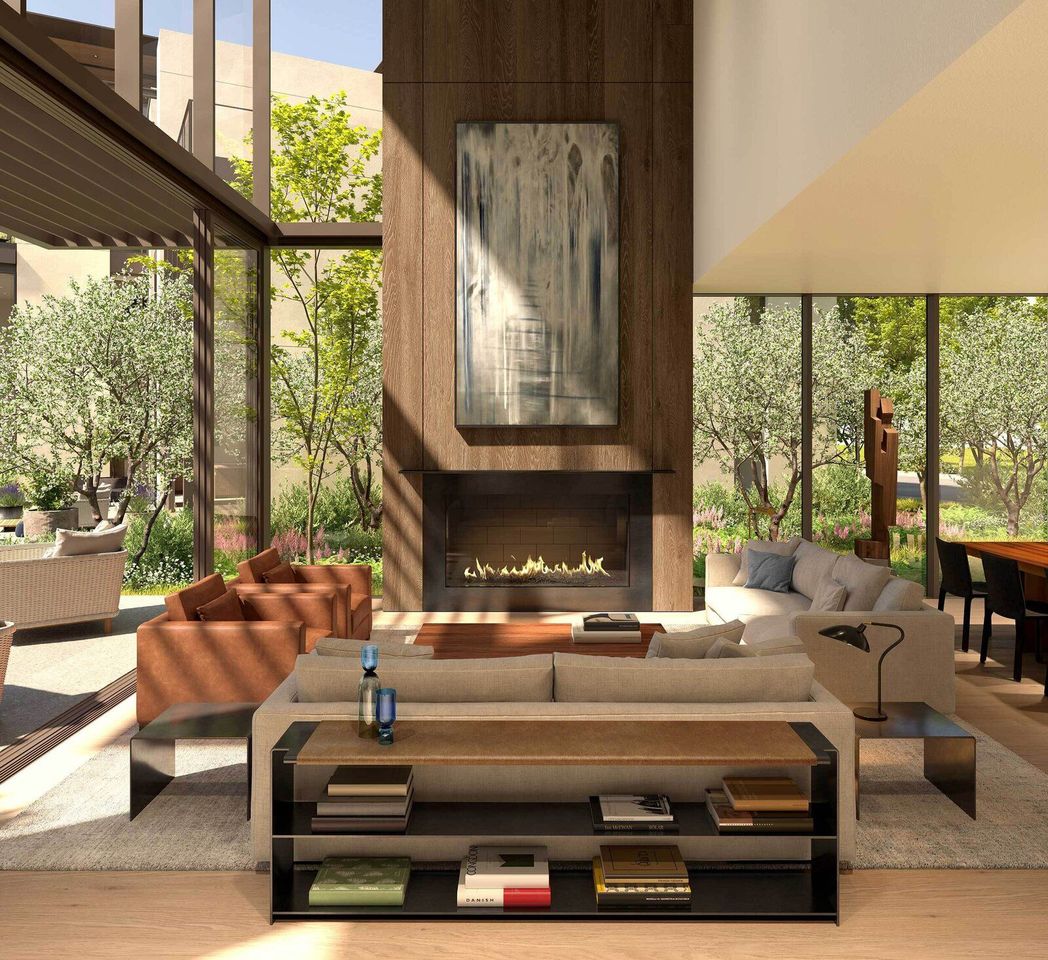 An interior view of a Garden Home, a two-level residence designed by Olson Kundig featuring patio culinary gardens, water features, fire pits, and double-height living rooms.

The interiors-also designed by Olson Kundig-similarly reflect a close attention paid to natural influences, with culinary gardens, sliding glass walls, and wraparound terraces easing the indoor/outdoor transition. And, it being wine and food country, Replay also called in a team from Healdsburg's three Michelin star–rated SingleThread Farm, Restaurant and Inn to advise on kitchen fit and finish, as well as on the culinary gardens providing fresh herbs and produce to residents.

While the market-rate residences and hotel will add options to an already overburdened housing market, the most underserved population in Healdsburg is the one that keeps it going: agricultural and hospitality workers. The Exchange, designed by renowned affordable-housing architect Michael Pyatok, is a publicly funded, 100% affordable-housing project featuring a mix of flats and townhomes in a four-story building adjacent to The Preserve. Scheduled to be completed by fall 2022, the Exchange will be the first to welcome new residents to the Mill District.

Of course, the challenge before Pyatok and his team was how to reflect and complement the high-end luxury exhibited by the other residences-but at affordable prices.

"There was no way we could utilize the materials they were using-no large sections of Cor-Ten steel, exposed wood, or standing-seam metal. You can't afford any of that for affordable housing-but with the proper sense of design and scale, you can do wonders with stucco and some hardwood," Pyatok says. "By employing some of the design aesthetic already in use in Healdsburg, we hoped this building would be seen as a relative or a cousin to the other high-end buildings in the Mill District."

Pyatok and his team, project manager Rachael Davidoff and principal Adrianne Steichen, also tried to be strategic about high-profile details.

"For example, we knew we couldn't afford any metallic sidings, but that we would have metal supports and frames for the PV panels," Pyatok says. "By choosing to display them, we could capture that respect for the machinery that's so common in agricultural regions like Healdsburg."

Likewise, Pyatok and his team salvaged an enormous redwood chalice-shaped structure once used to capture sawdust at the lumberyard. This "duster" will sit at the corner of the Exchange's vegetable garden, an attractive structural piece, and a kind of gateway into the Mill District development itself. Built onto a new steel structure, the duster will stand sentinel over the garden and a redwood trellis porch, a reminder of its past life as an industrial machine, and a symbol of the community to come.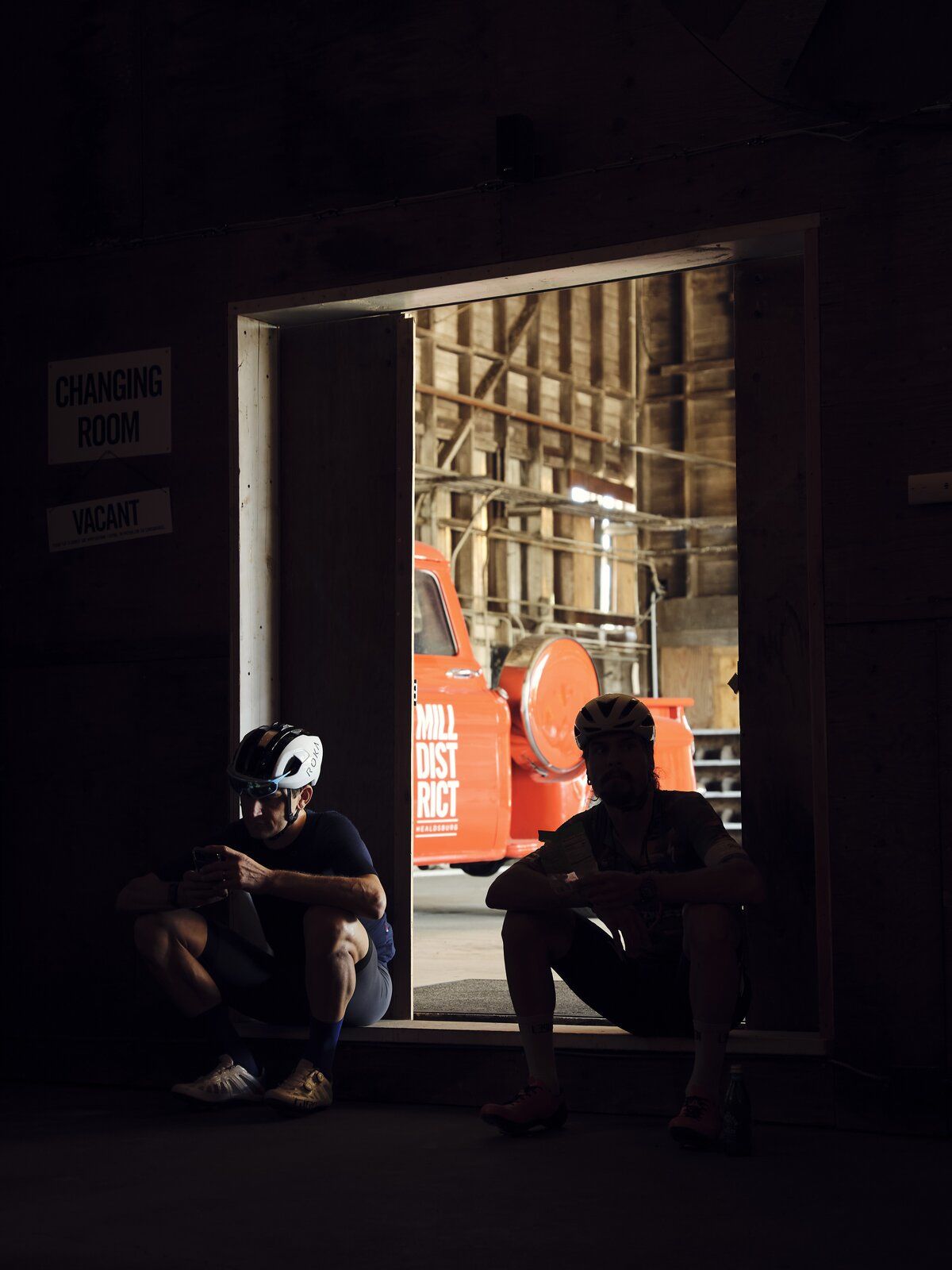 Two cyclists sit in the doorway between the Mill District Velo Club bike shop and its pop-up event space.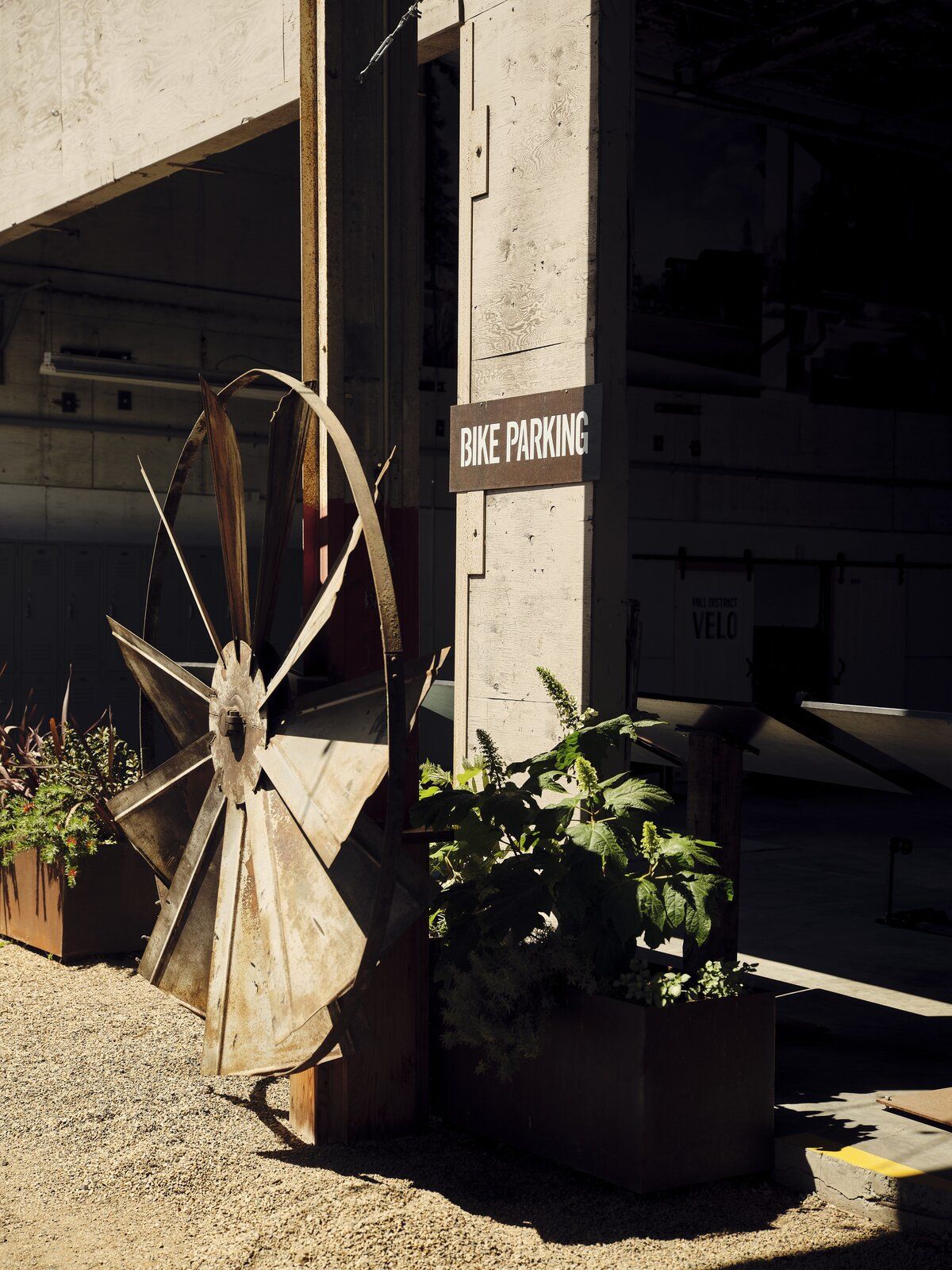 A large fan blade once used for drying lumber is on view at the Mill District Velo Club.