Nowhere else are the playful aesthetics of Los Angeles design/build studio Knowhow Shop best expressed than in Lighthouse, their recently completed office in Highland Park that doubles as a striking showpiece.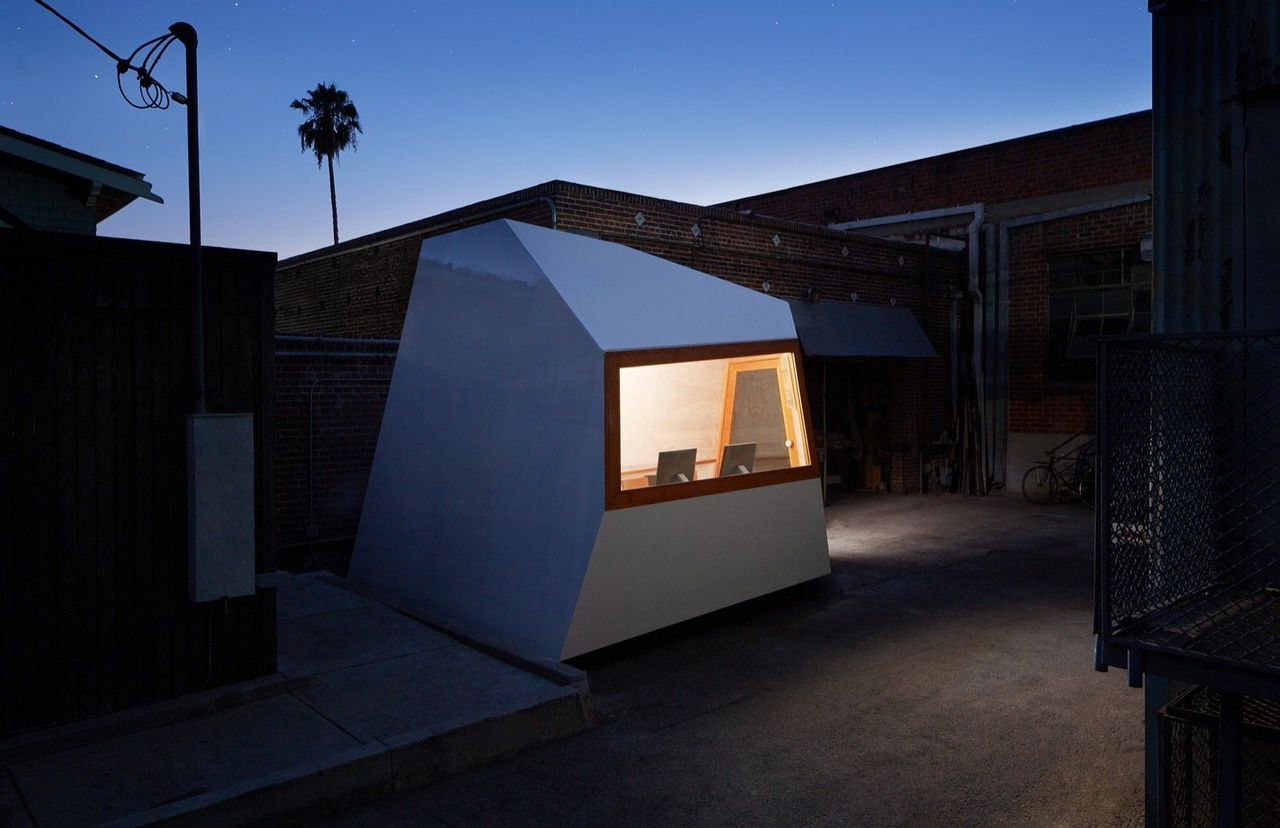 The Lighthouse office is clad in fiberglass with Awlgrip topcoat.

Sharply angular and experimental, the 154-square-foot micro-building pulls inspiration from a variety of sources including boatbuilding.

The core of the design, however, centers on custom-built SIPs (structural insulated panels) and a lightweight, prefabricated construction system that-in addition to its oversized glazed openings-inspired the building's Lighthouse name.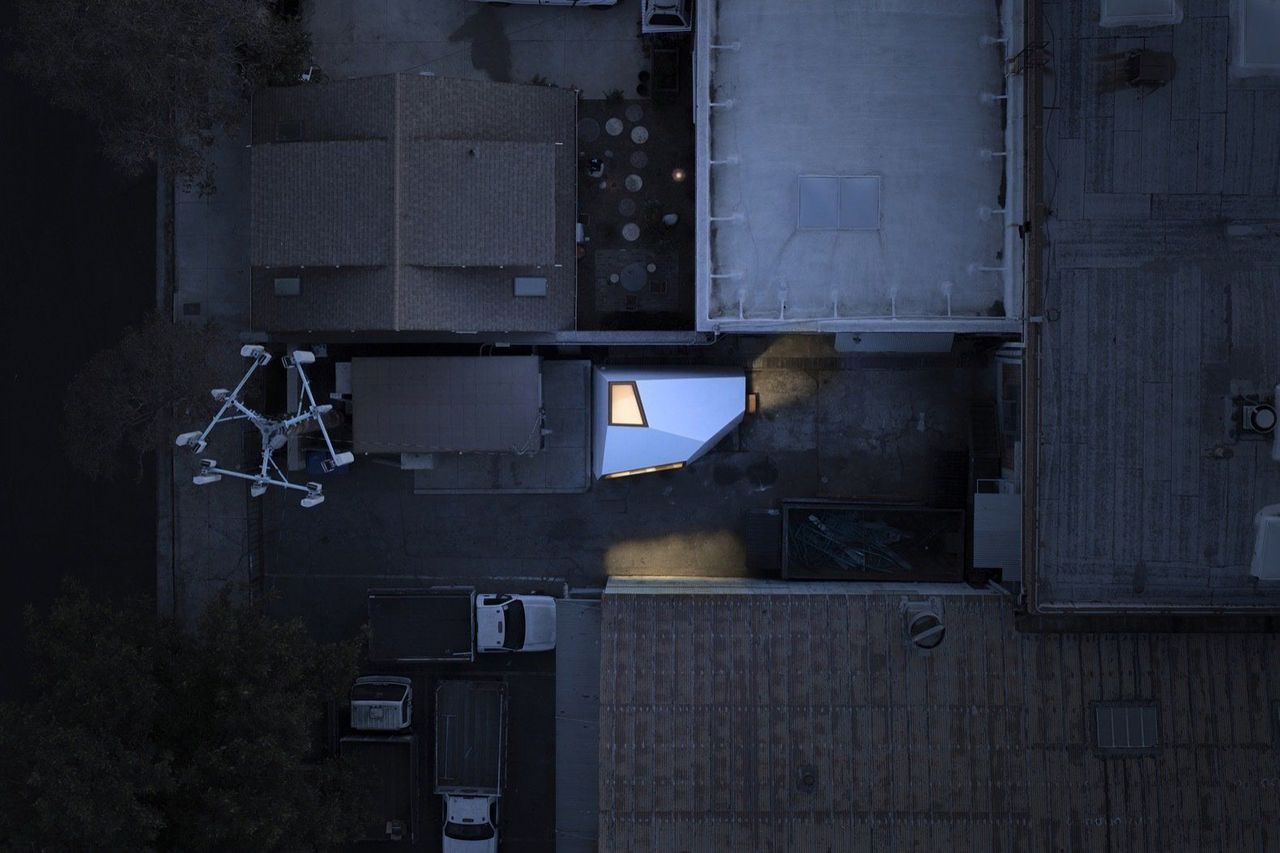 An aerial view of Knowhow Shop's shop-yard with the Lighthouse office and fabrication shop in Highland Park.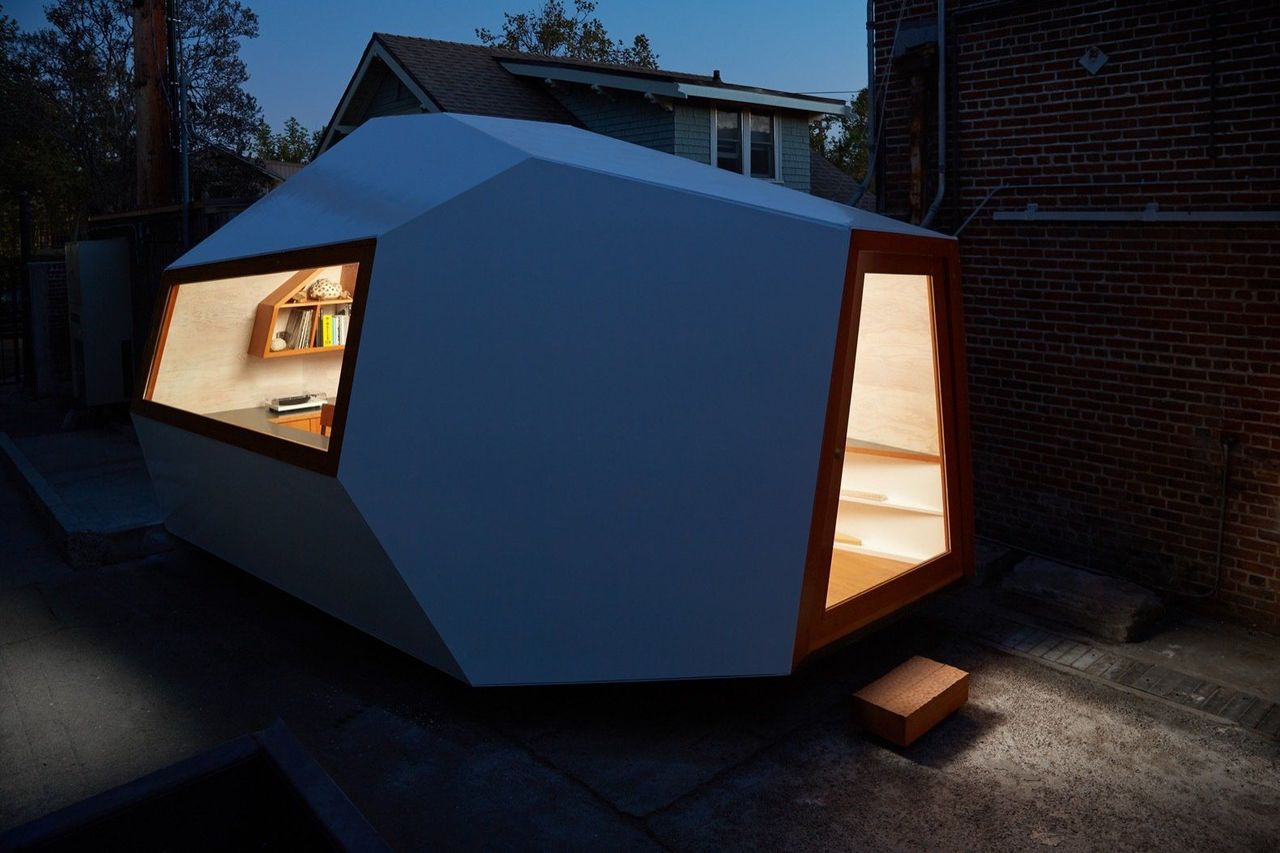 The oversized, glazed openings (Triview Glass) feature reclaimed Douglas Fir trim.

"This is not a project that we would have been able to hand off to a contractor to execute, so we bypassed the normal methods of architectural production, and relied on the most experimental potential of our design/build model," say founders Kagan Taylor and Justin Rice, who crafted the freestanding office to free up room in their fabrication and machine space.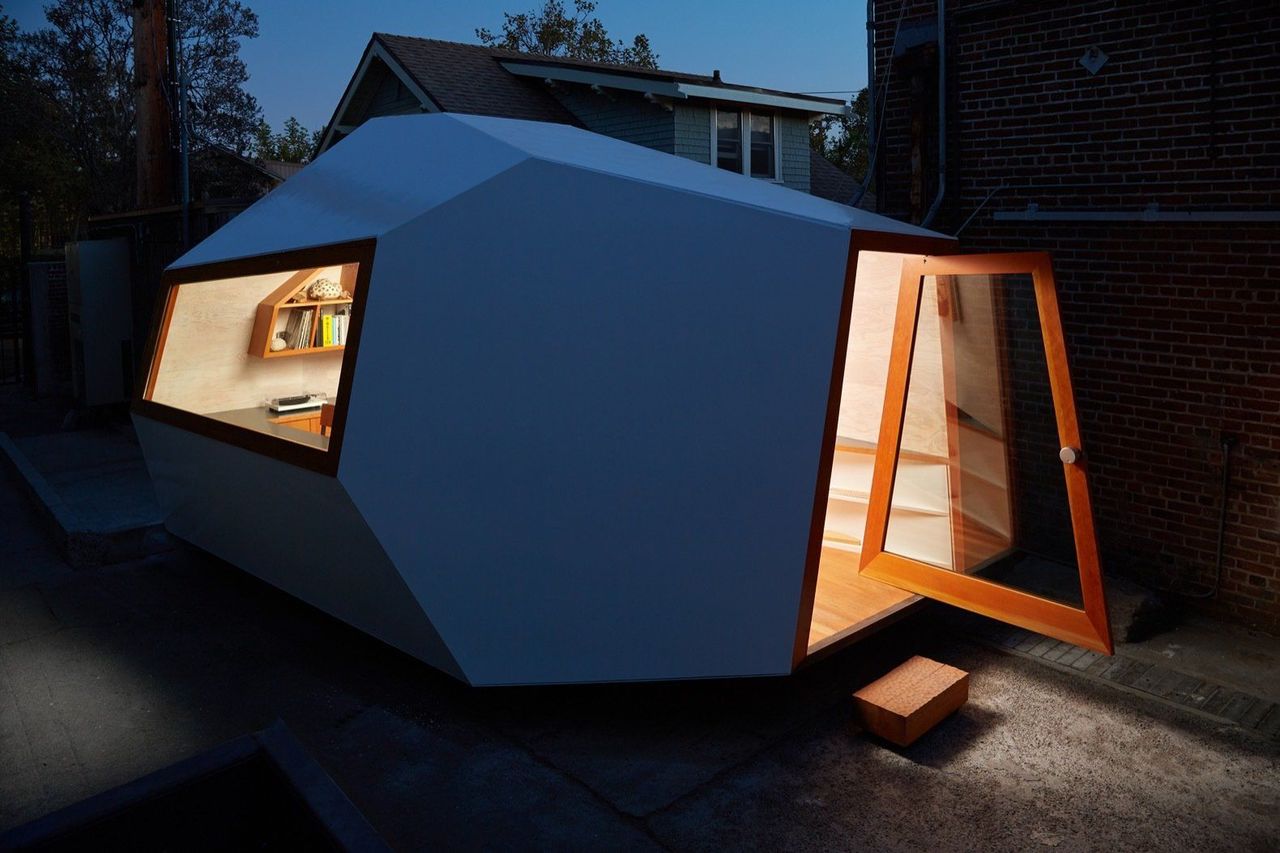 The custom front door eschews right angles and is equipped with an August Smart Lock.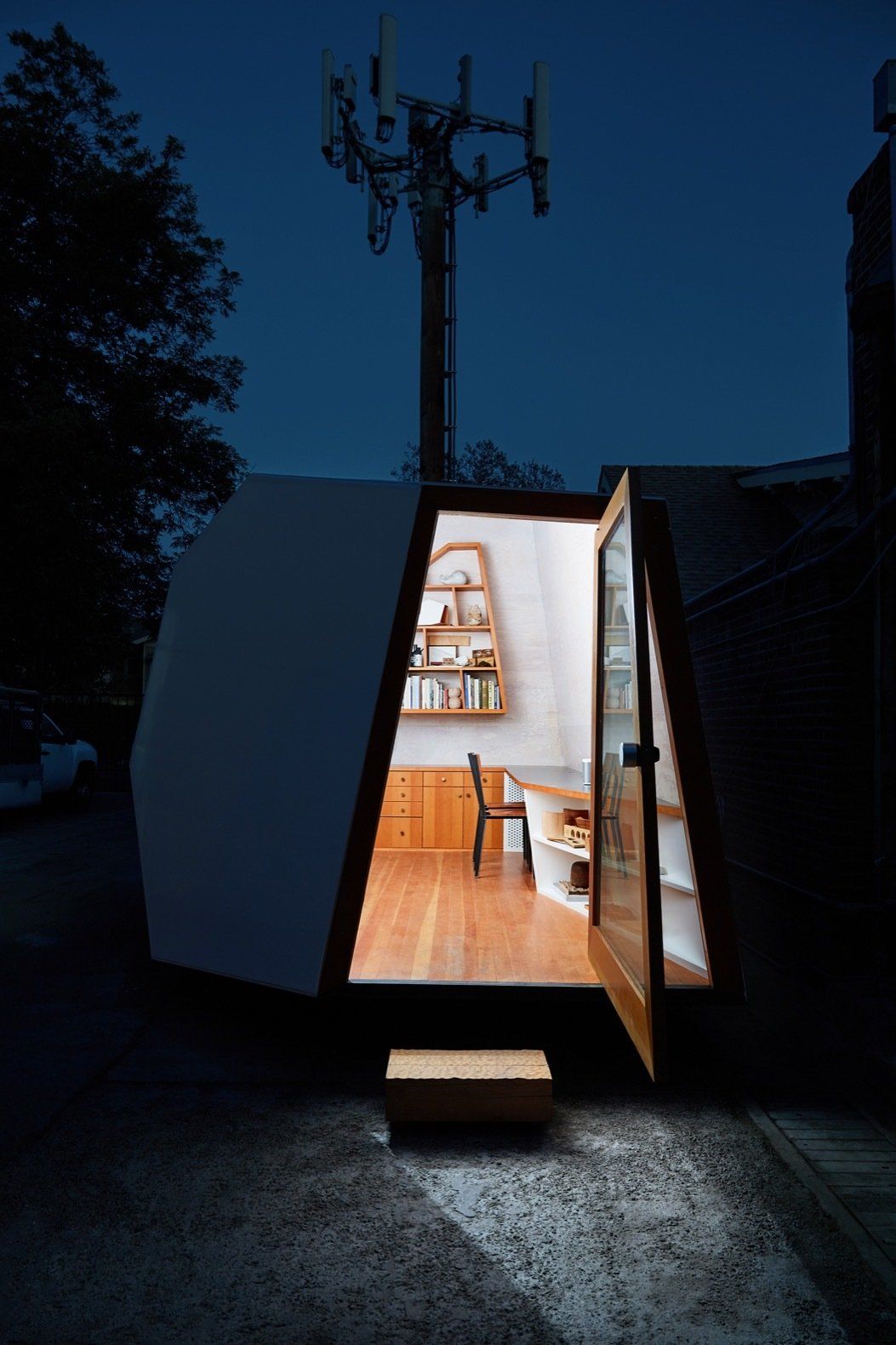 Taylor and Rice custom built the mitered SIPs that are joined with film-industry hardware in their shop next door.

Working with an approximate budget of $50,000 that includes time estimates, Taylor and Rice completed all of the work themselves in between other projects.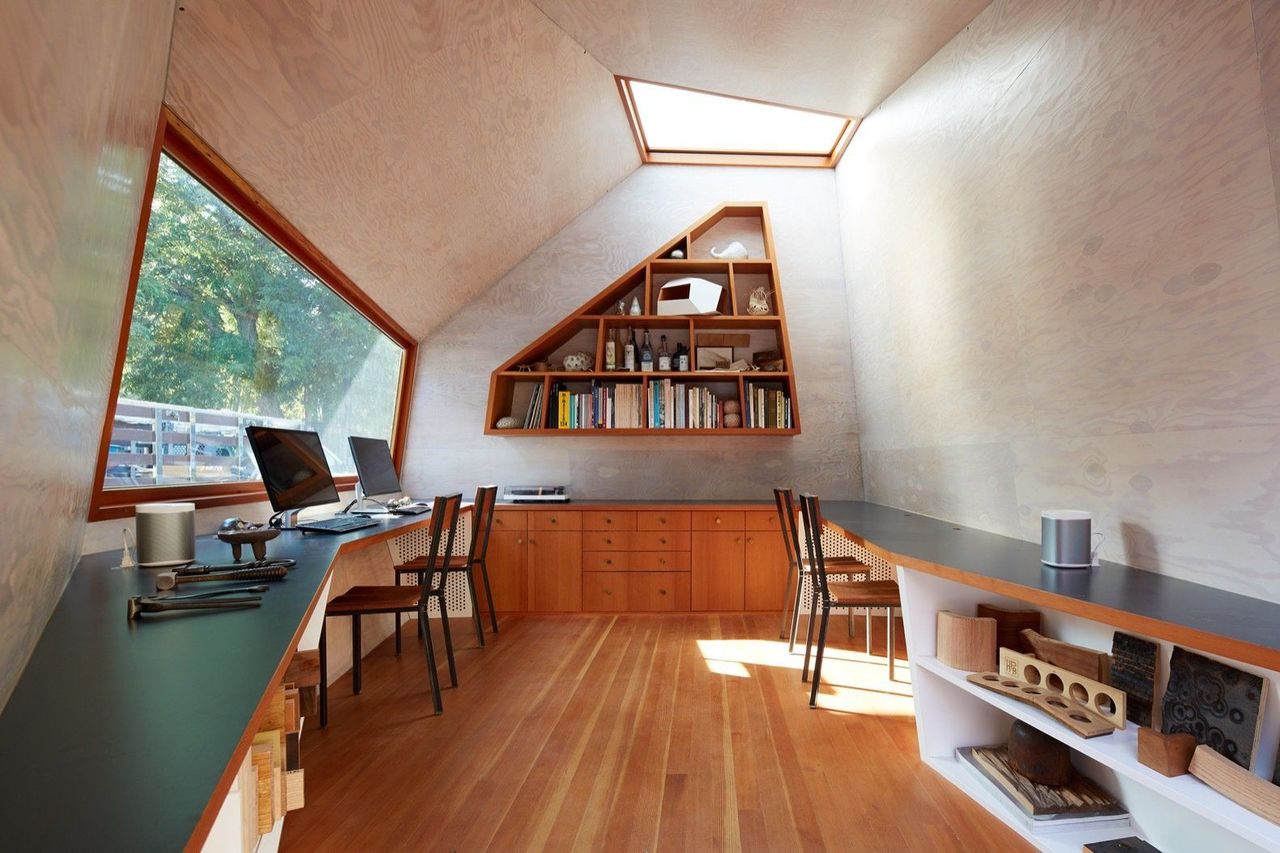 The custom-made skylight "marries traditional boatbuilding materials with details borrowed from a car sunroof." The worktops are Formica 2297 Terril.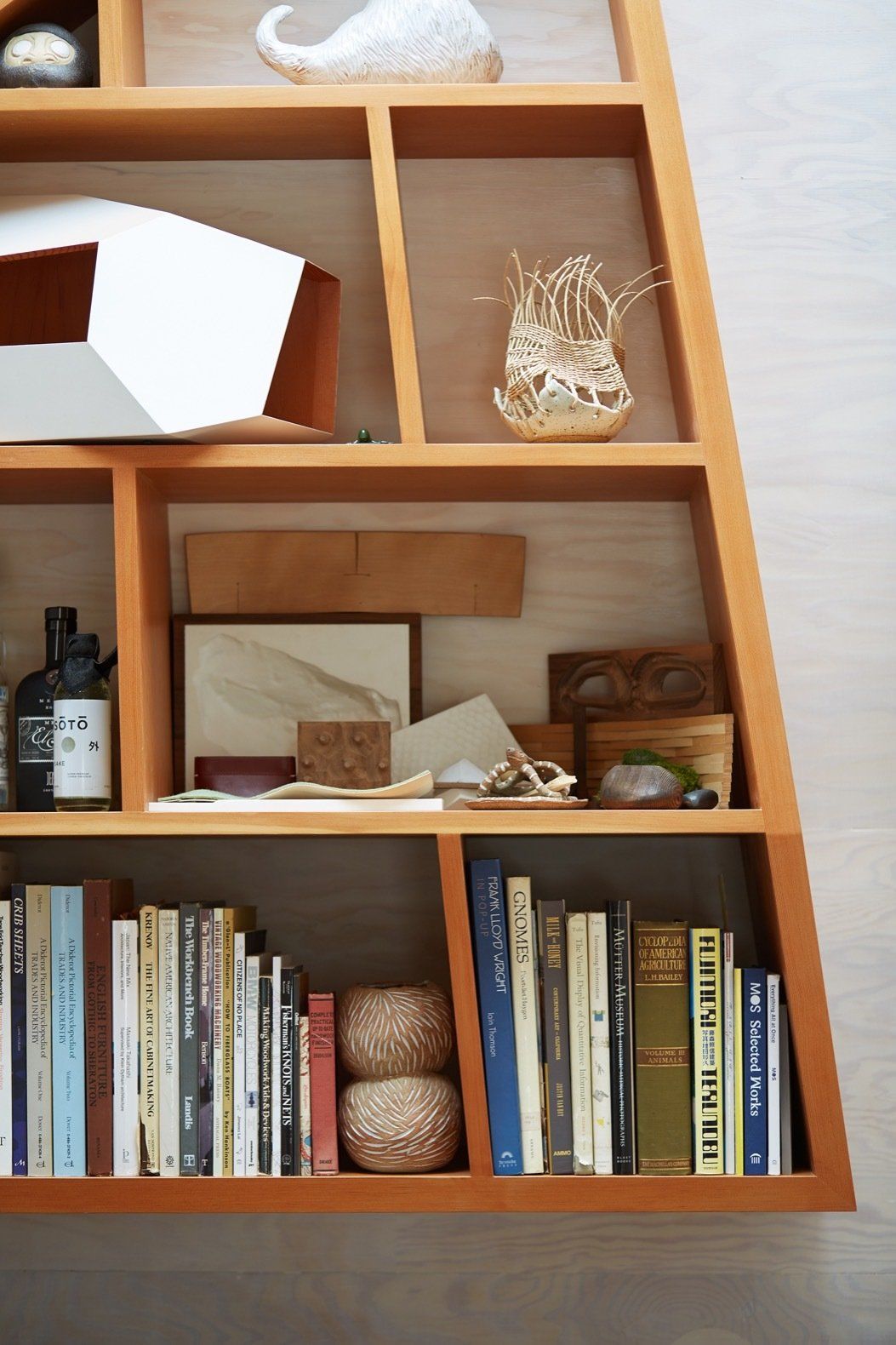 The custom Douglas Fir bookshelf echoes the angles of the office.

"We were interested in a designing a micro-building that included the most basic elements of architecture-door, window, skylight-and was constructed the way we would build a piece of furniture," note the designers, who not only built these elements on their own-trades they had never practiced previously-but also took up the challenge of installing the glazing, fiberglass, and topcoat, as well as the the interior fit-out and finishes.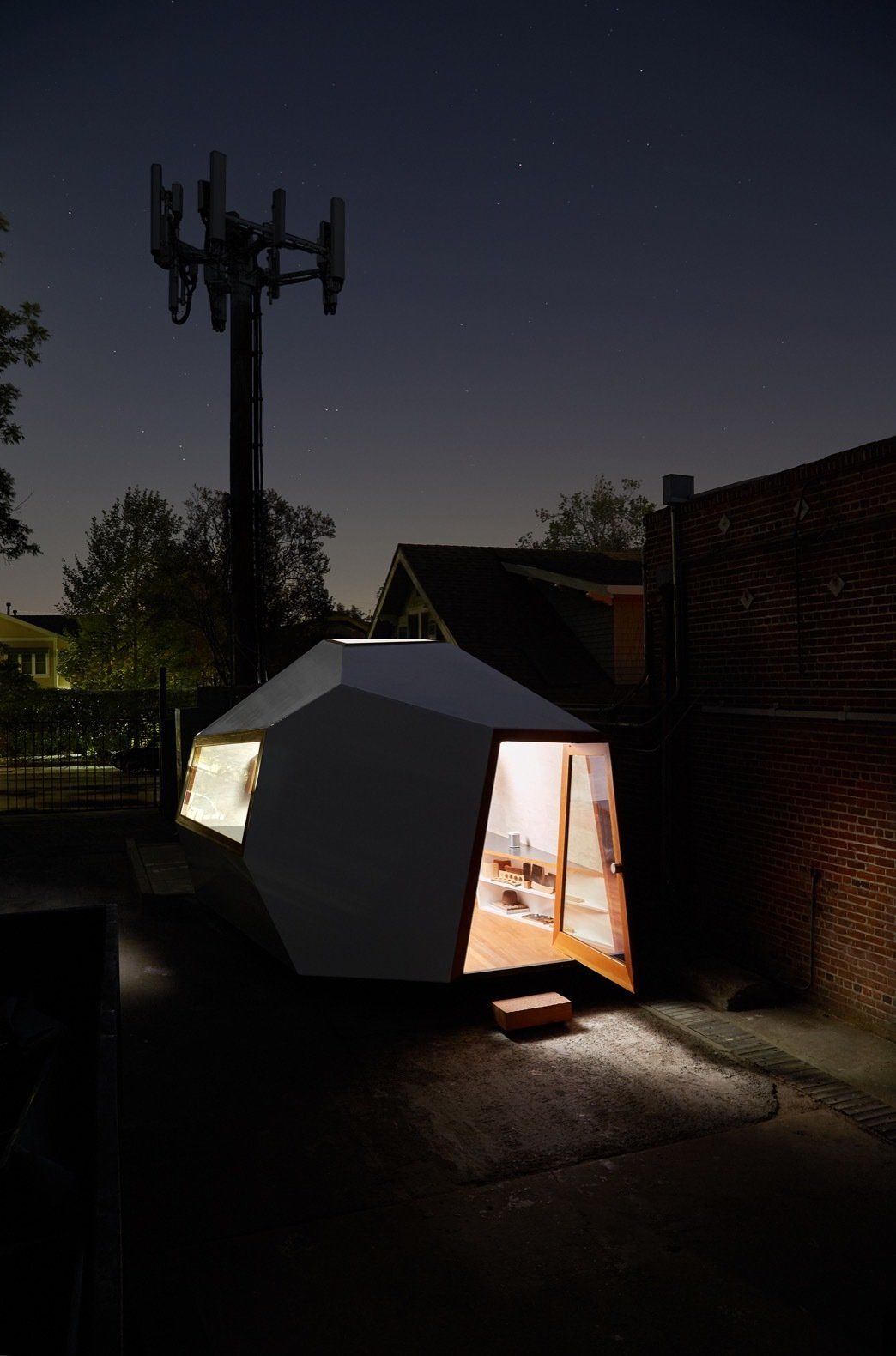 Set on industrial casters originally designed to support roll-off dumpsters, the tiny office can be easily moved around the shop-yard.

Made to be as flexible and mobile as a fabrication machine, the structure sits lightly on industrial casters instead of a traditional foundation. The asymmetrical wedge shape was partly informed by the clearances required to forklift a load of plywood into their shop.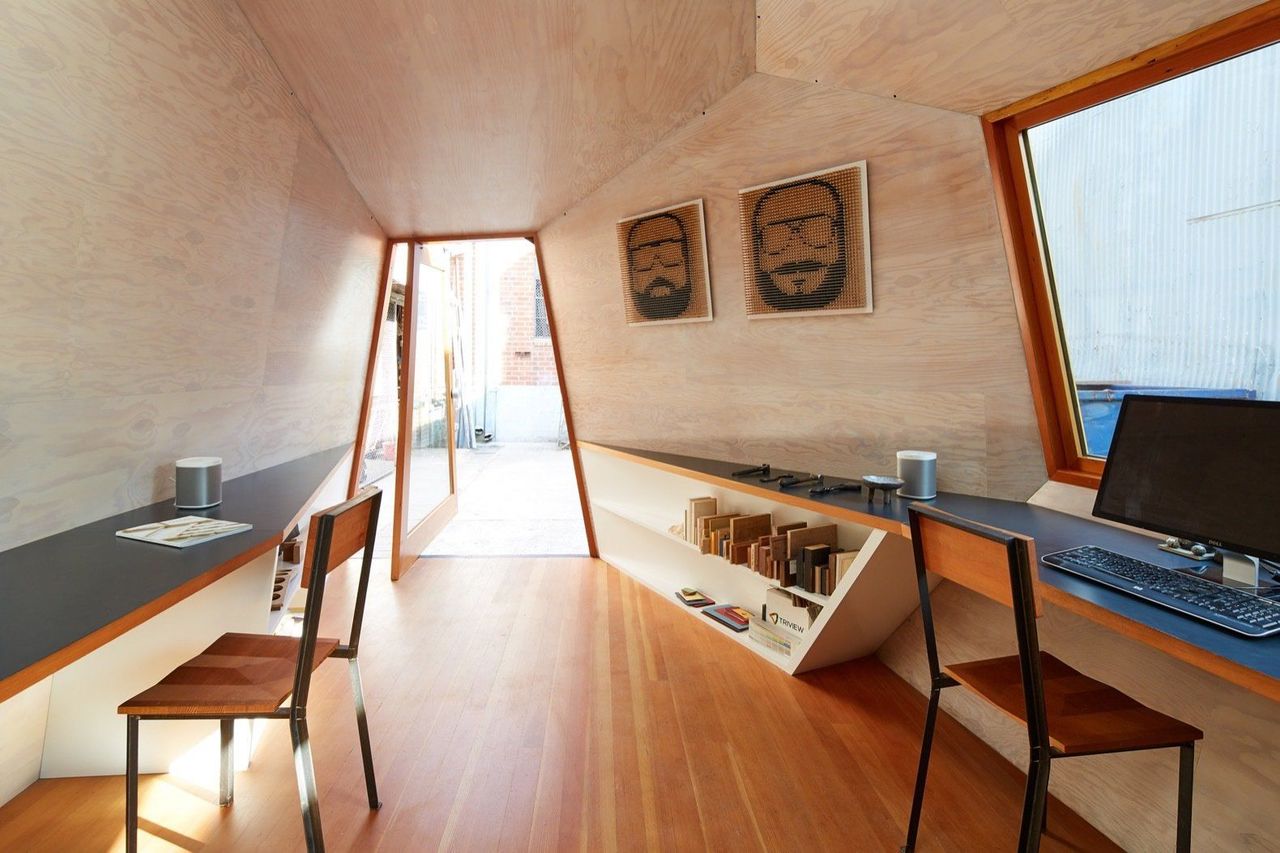 The floors are Douglas Fir with OSMO finish. The angled walls and ceiling are Douglas Fir Marine Grade Plywood with a whitewash finish.

"Lighthouse is an office for our business, a showcase of our craft, and an example of the huge potential within rethinking the way we design and build," say Taylor and Rice.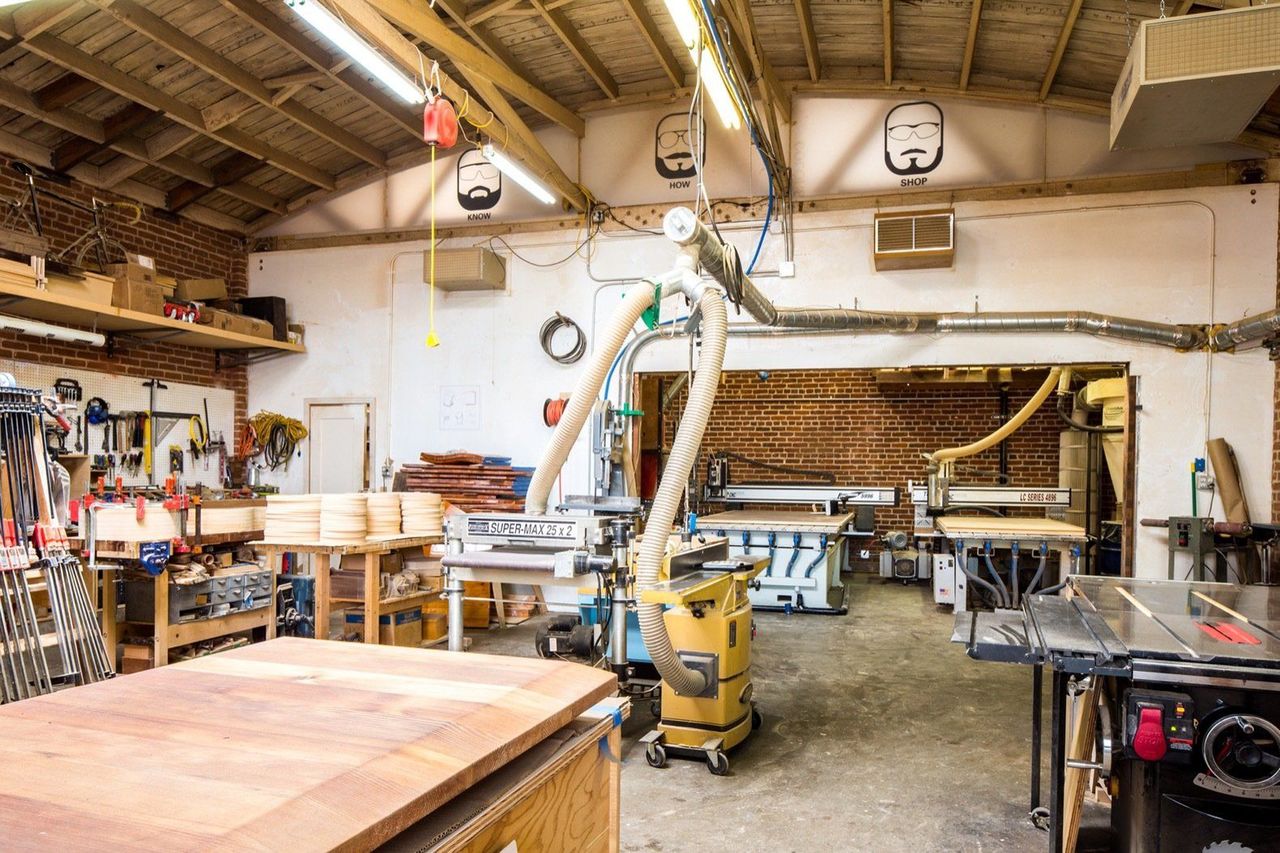 A look inside Knowhow Shop's fabrication and machine space. Moving the office out of this space freed up room for a second CNC router.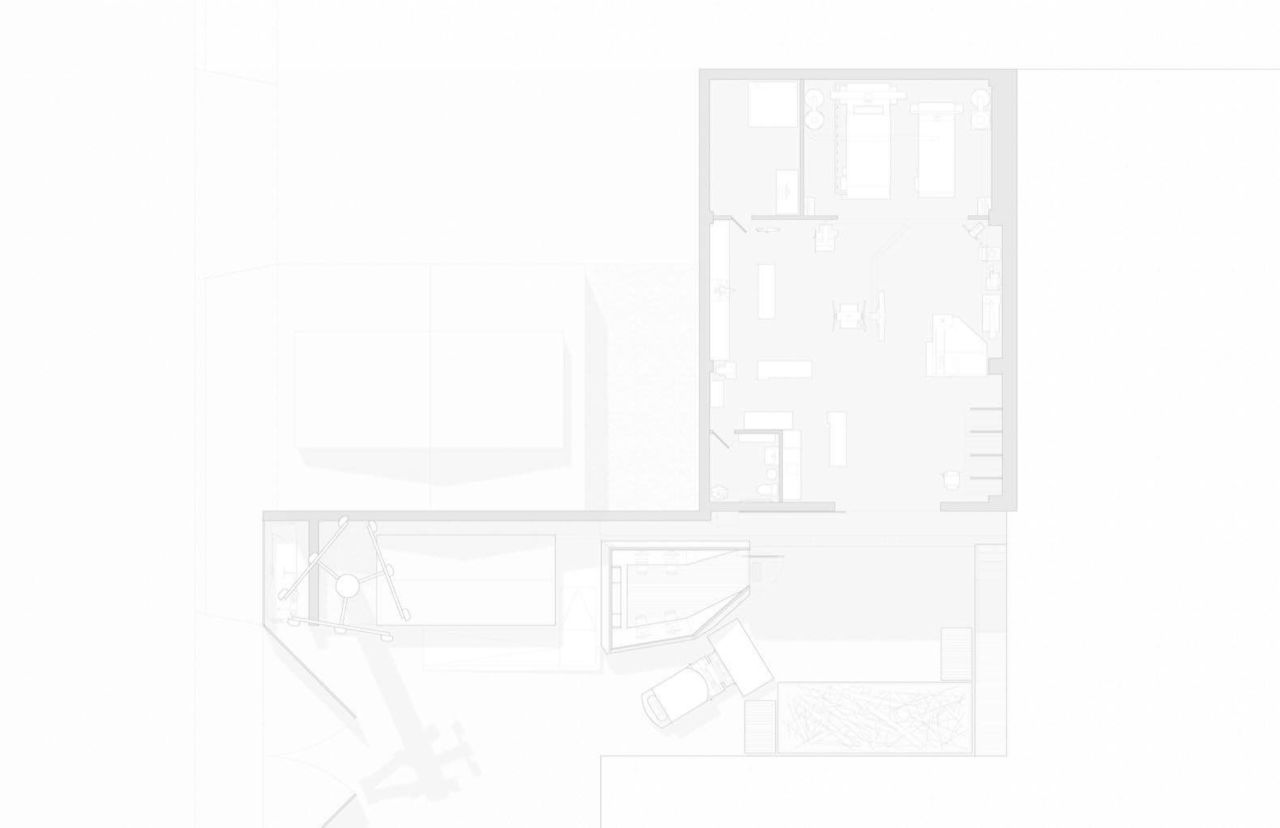 Knowhow Shop Lighthouse and fabrication space floor plan.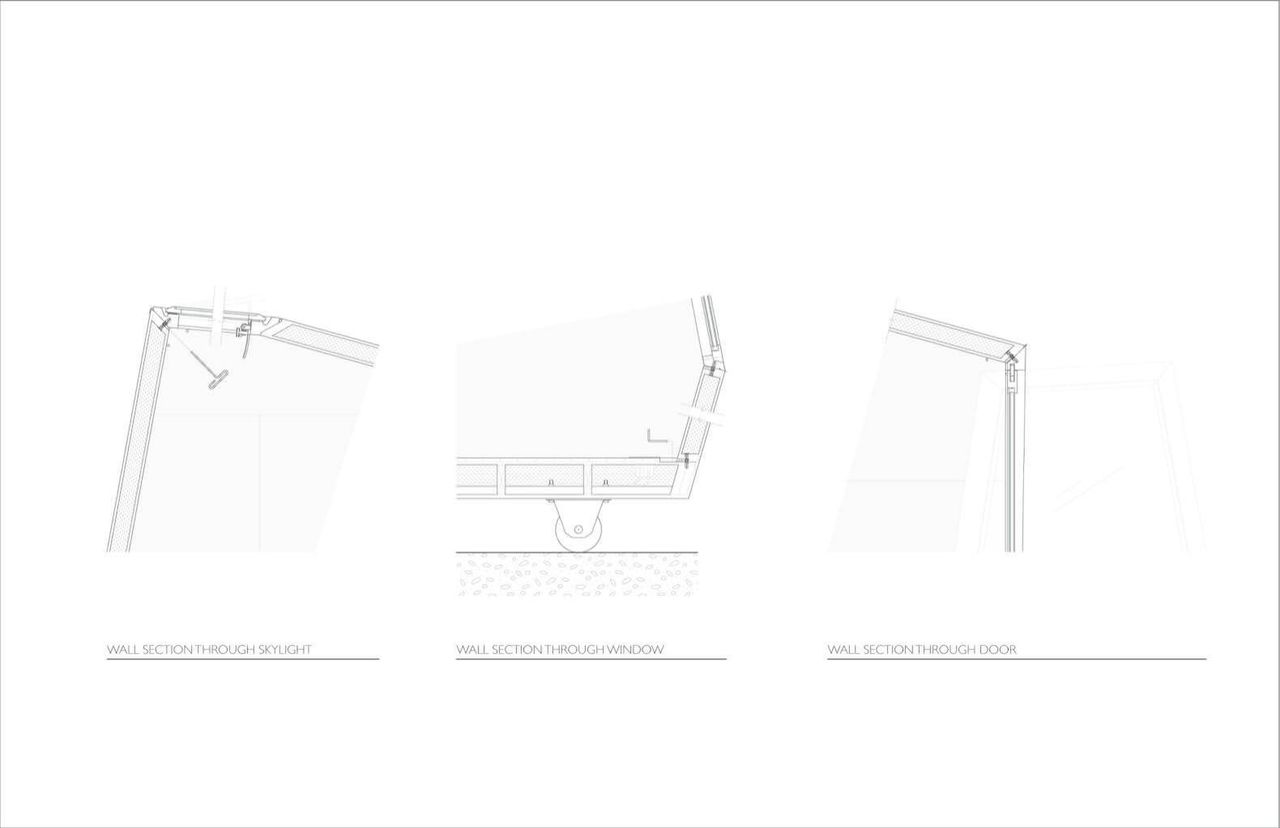 Lighthouse wall sections.