Mike and Megan Fishwick had always dreamt of building their own home. After their third daughter, Maple, was born, a fortuitous encounter with a plot of land in Suffolk Park, near Australia's world-famous Byron Bay, gave rise to that dream. "Megan rang me one day saying, 'You really wouldn't believe it, there's a block of land that backs onto a nature reserve with a little waterfall and wallabies hopping about. It's beautiful," he says. Soon after, the couple were signing papers and making plans for their new home.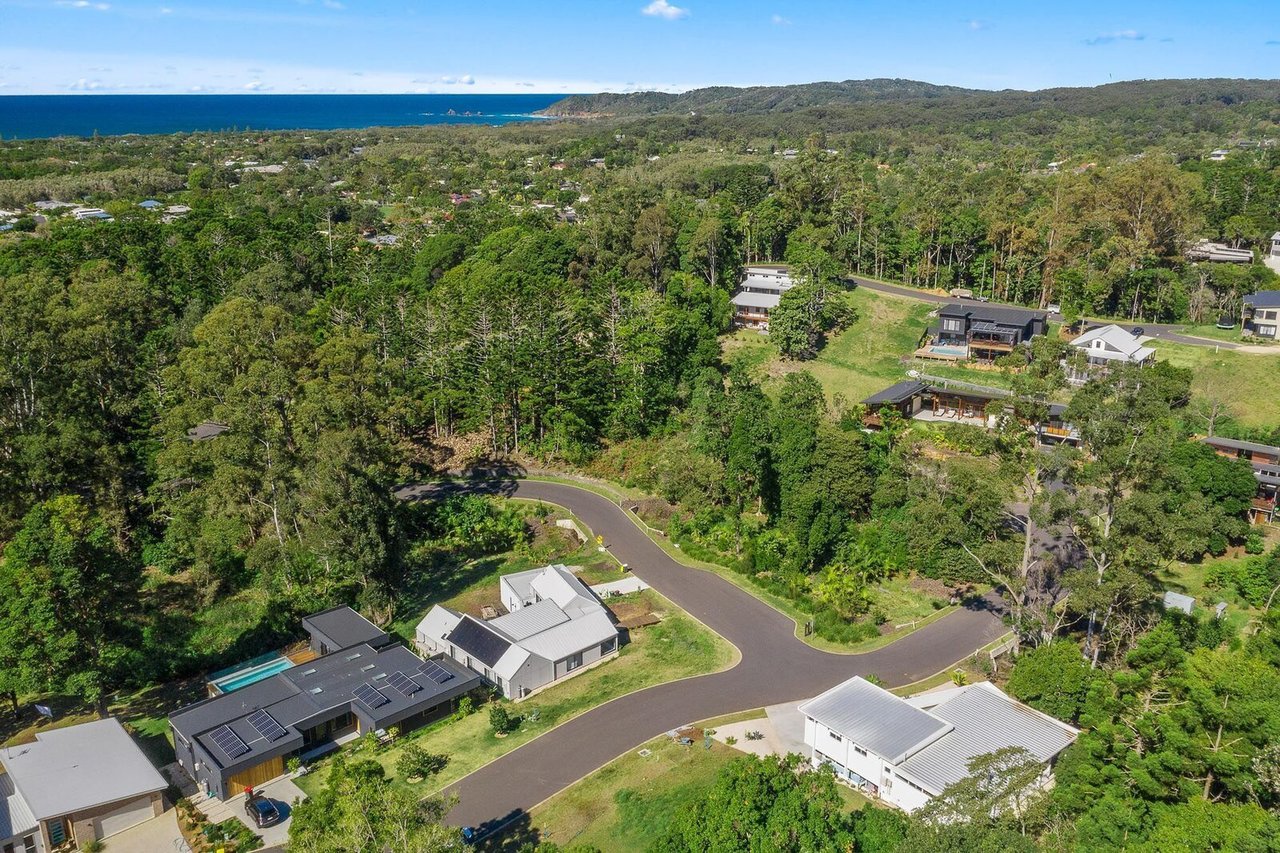 Suffolk Park Modern is set at the base of a nature reserve, nestled in an escarpment of pristine coastal Australian bushland.

Mike, who was a clothing designer for many years and currently manages the design team at an Australian clothing company called Thrills, sought inspiration from Ludwig Mies van der Rohe's internationally renowned Farnsworth House. He and Megan blended that influence with their combined love of midcentury modern design while incorporating the sprawling setting.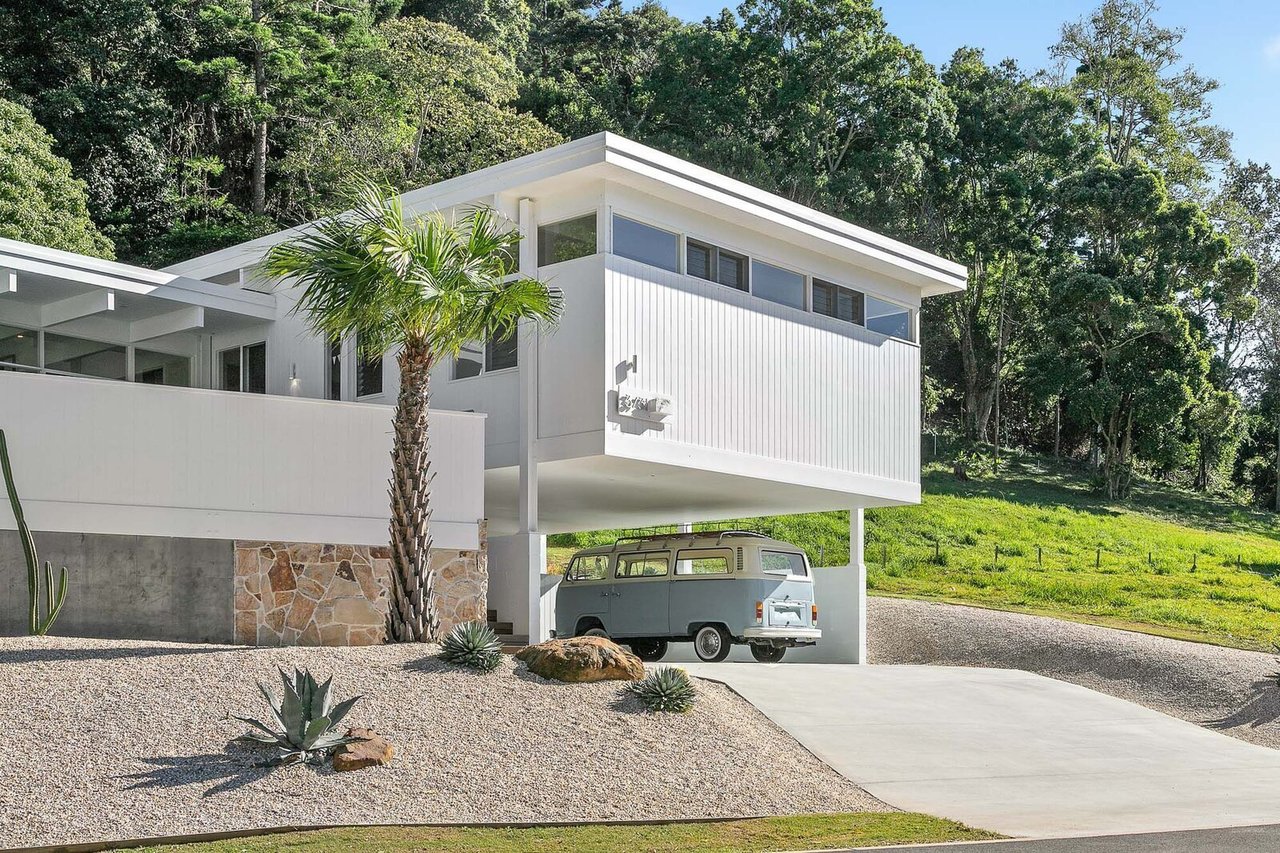 The Fishwick family home was inspired by Ludwig Mies van Rohe's Farnsworth House.

The property is nestled in an escarpment of pristine coastal Australian bushland at the base of Coopers Shoot Ridge. The couple wanted a minimal home and adopted Rohe's "less is more" design principle as they worked on the drawings.

"Megan and I planned, designed, and conversed over every square centimeter of our new home," he says. Together, they visited the property every day-and they even had it blessed by a local elder. "I did all the design, plans, and structural engineering drawings, and then actually built it as well without a builder or project manager," says Mike. "It was a massive undertaking for our entire family."

While the Fishwicks recently sold their home, today they look back on the property with nothing but pride and joy. "Not a day went by that I didn't marvel that I designed and built my family a home," shares Mike. "I can't tell you how much joy that brought me."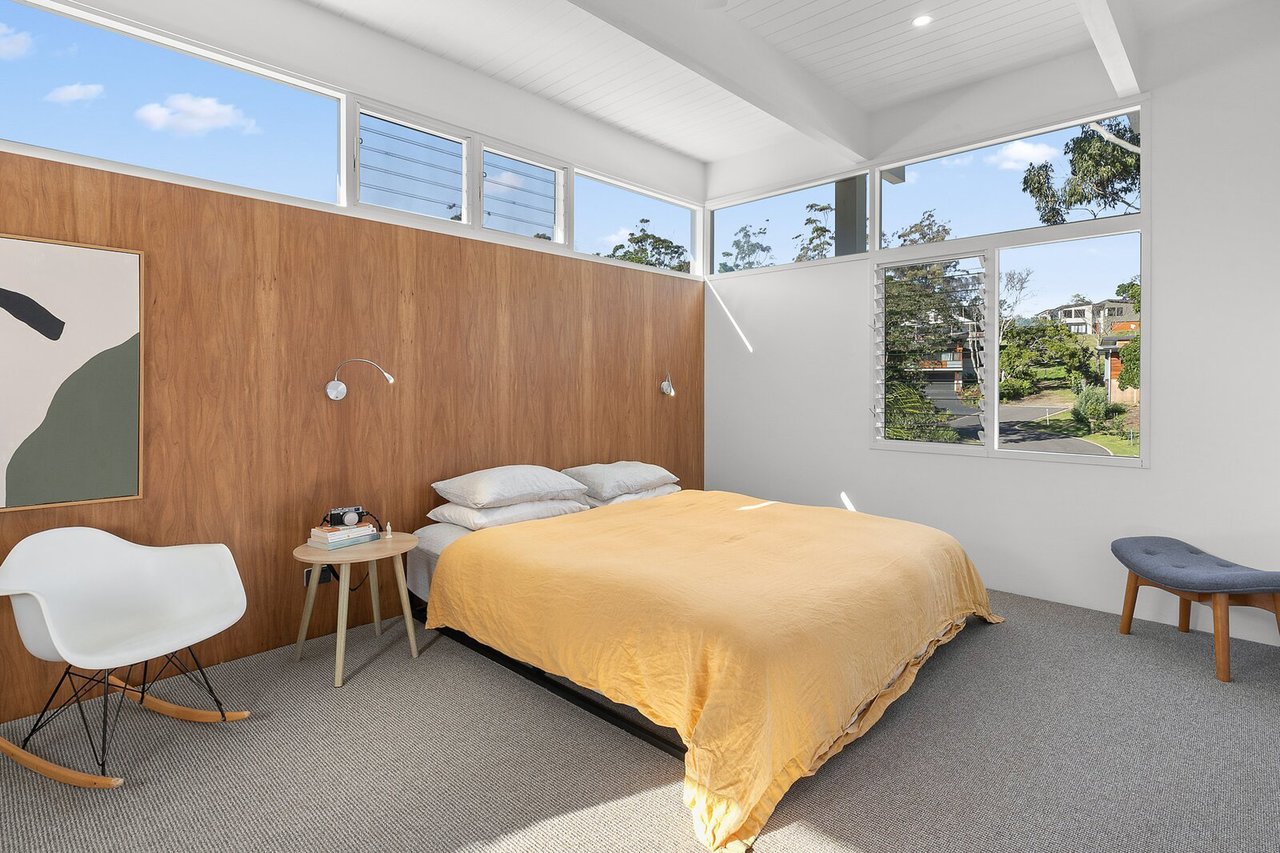 The sunny master bedroom encapsulates the couple's minimalist, midcentury aesthetic.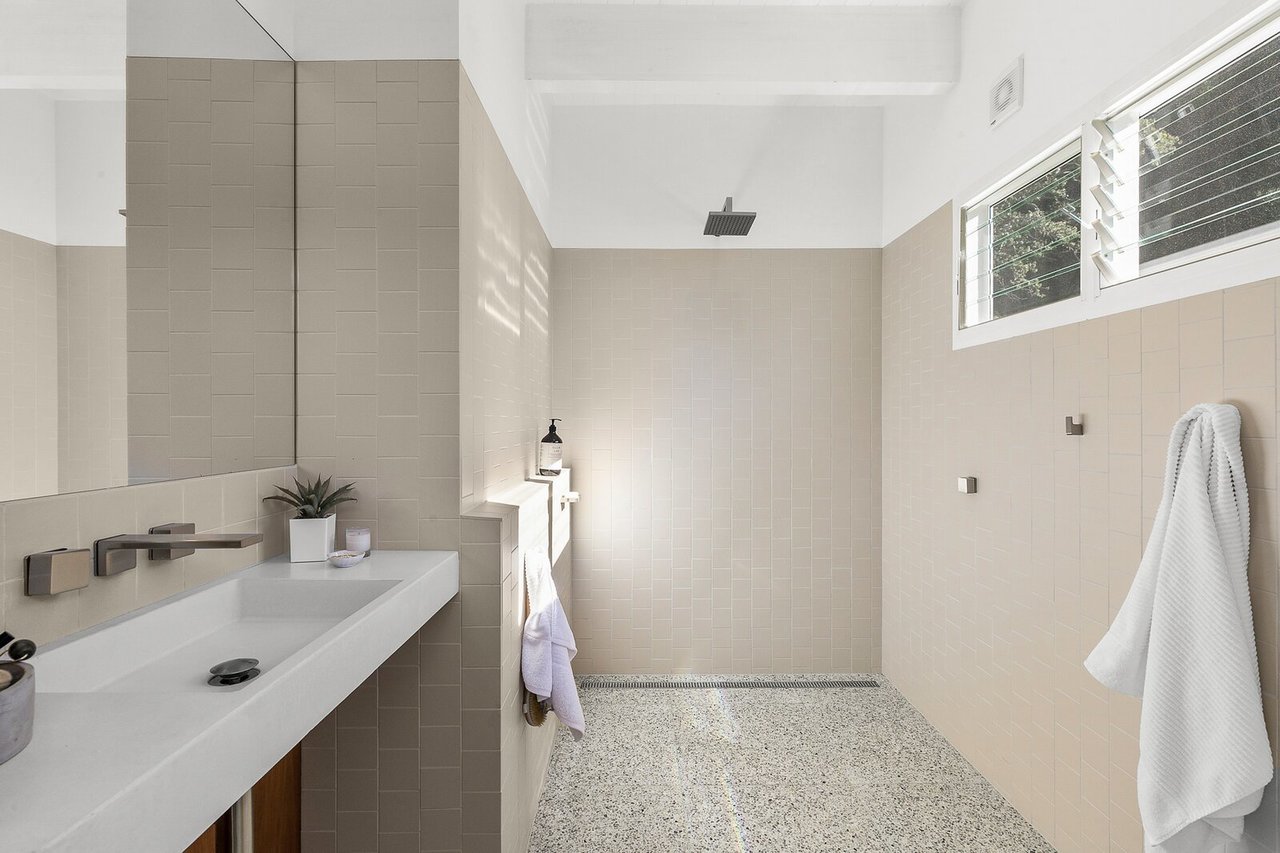 The neutral master bathroom with its terrazzo floor tiles.


Mike's appreciation for the handmade began during childhood. His father was a builder, and he grew up surrounded by tools and construction. "Passion for good design has always been a part of me," he says, be it motorbikes, cars, furniture, or architecture. "Mies van der Rohe said, 'We should attempt to bring nature, houses, and human beings together in a higher unity," recalls Mike. "This is what I feel we achieved with our home."

Interestingly, the 1,600-square-foot house was designed around a pod with no floor-to-ceiling walls in the central area. One side holds the kitchen sink, another the walk-in laundry. The back is the lounge room with the bookshelf, television, and entertainment area, and the fourth side is storage. The bedroom's design features a cantilever over the main section of the house, which gives it interest and the feeling of floating. The second bathroom is split, with a toilet and a shower/tub room, inspired by the Ace Hotel in Palm Springs.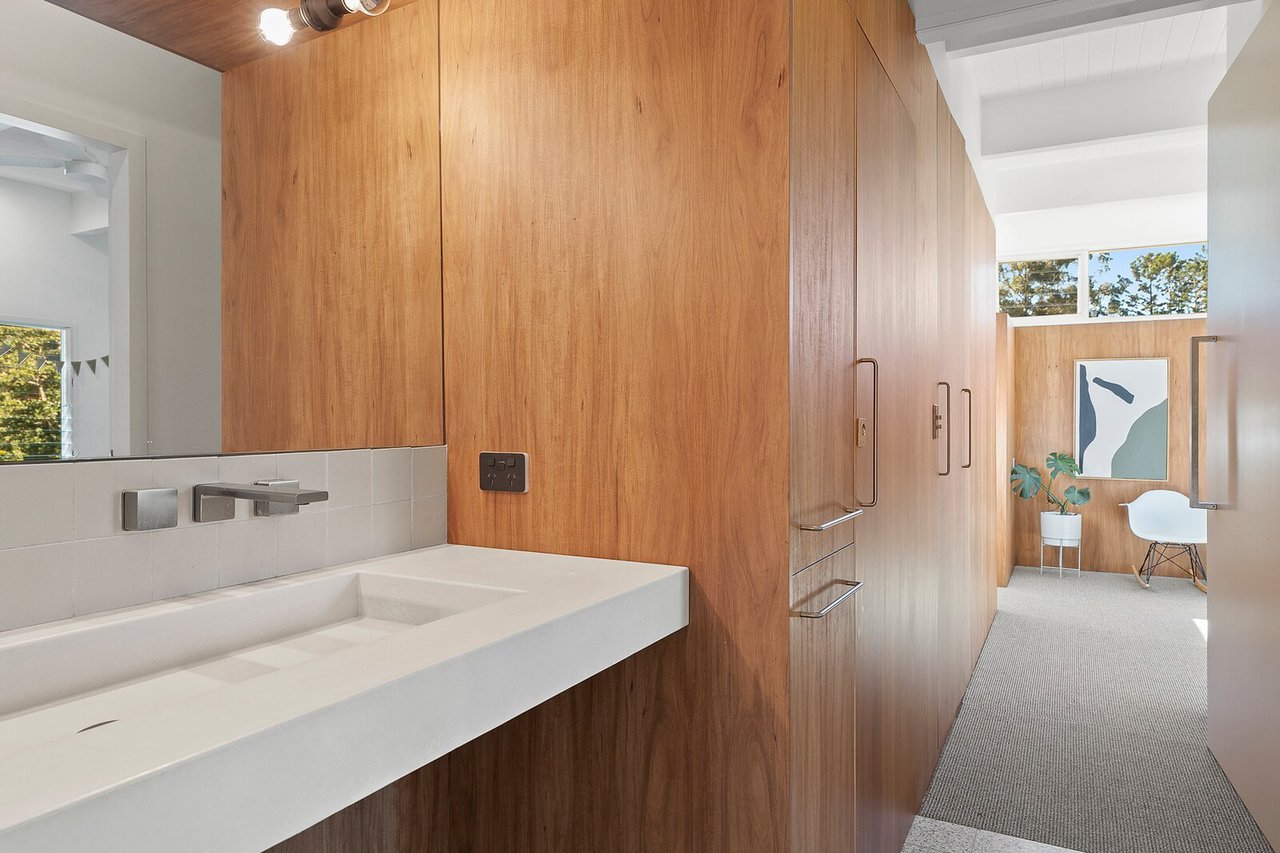 The couple installed a custom concrete wash basin in the hallway—a space-saving technique inspired by the Ace Hotel in Palm Springs.

While there was no wasted space in the house, the family gravitated toward their favorite rooms. For Megan, the kitchen overlooking the surrounding bushland was a steady source of inspiration, and the built-in bench seating was a popular perch for the girls while they cooked together.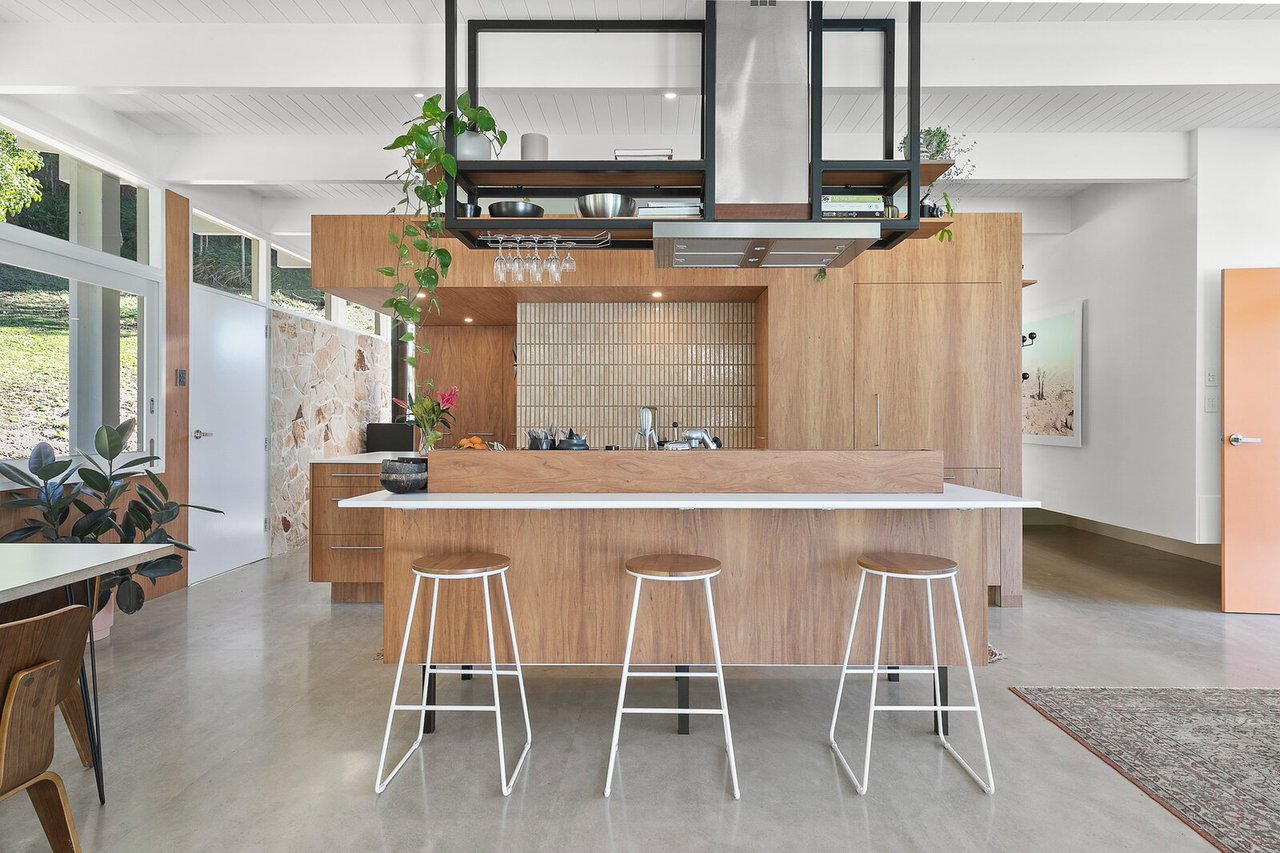 The wood-paneled kitchen features tiles made from Japanese finger mosaics.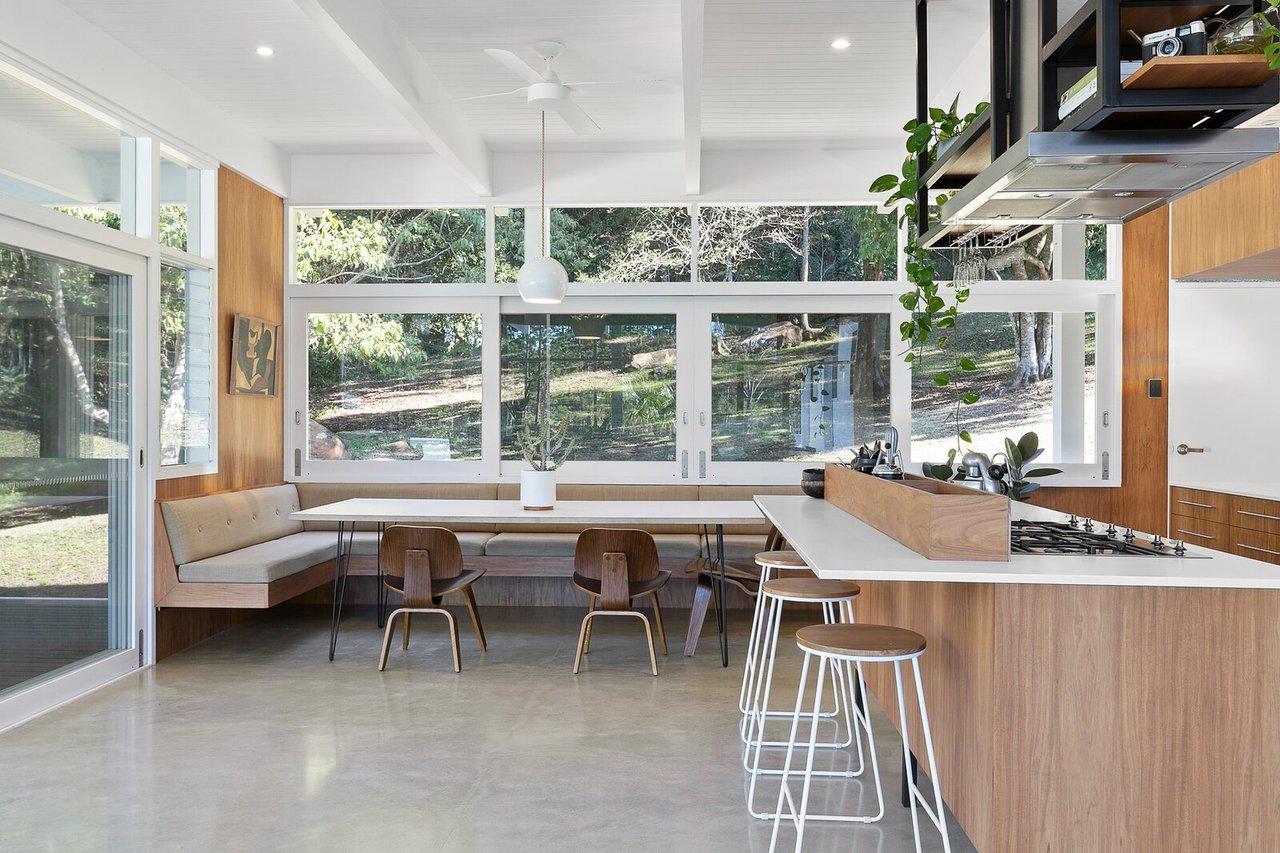 The kitchen bench seating was a popular perch for Ivy, Maple, and Violet, who liked to cook alongside their Mom.

For Mike, the lounge room, with its sandstone rock wall and inviting fireplace, was a place of comfort and inspiration.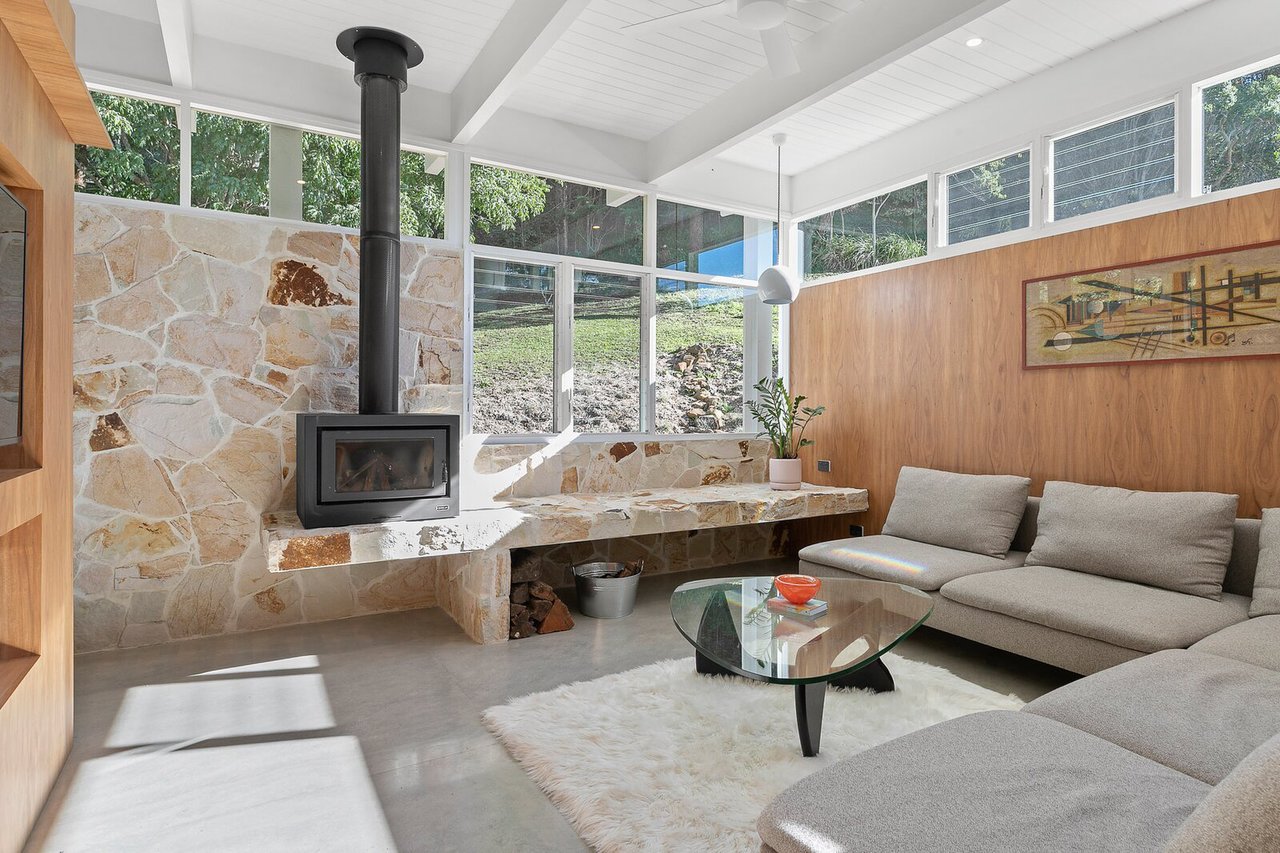 A view of the cozy lounge room, with its fireplace, sandstone rock wall, and windows overlooking the lush surroundings.

The girls, Ivy, Violet, and Maple, loved the family pool, their art space, and their bedroom, with its festive trapeze and stretched, vintage fabric from Tasmani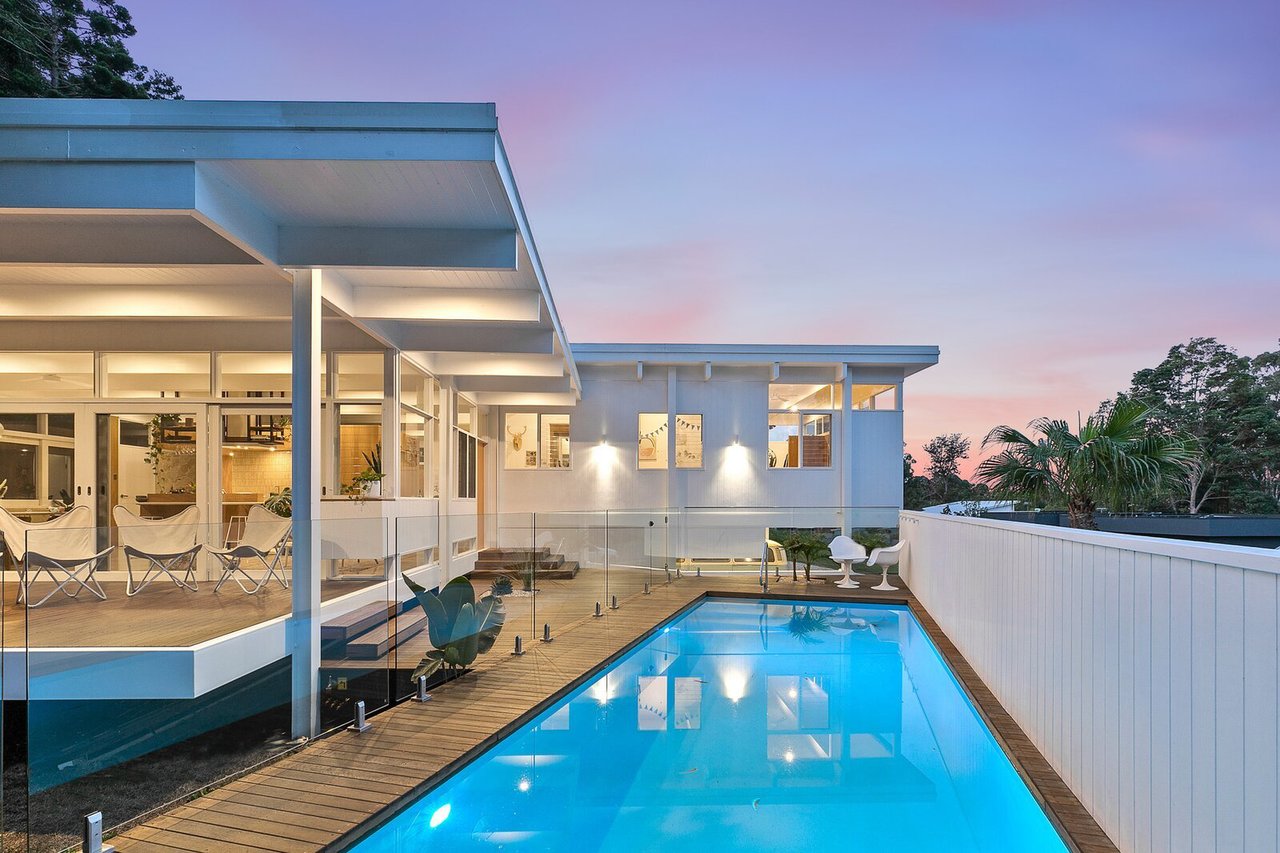 The family's pristine pool gleams under a pastel sky.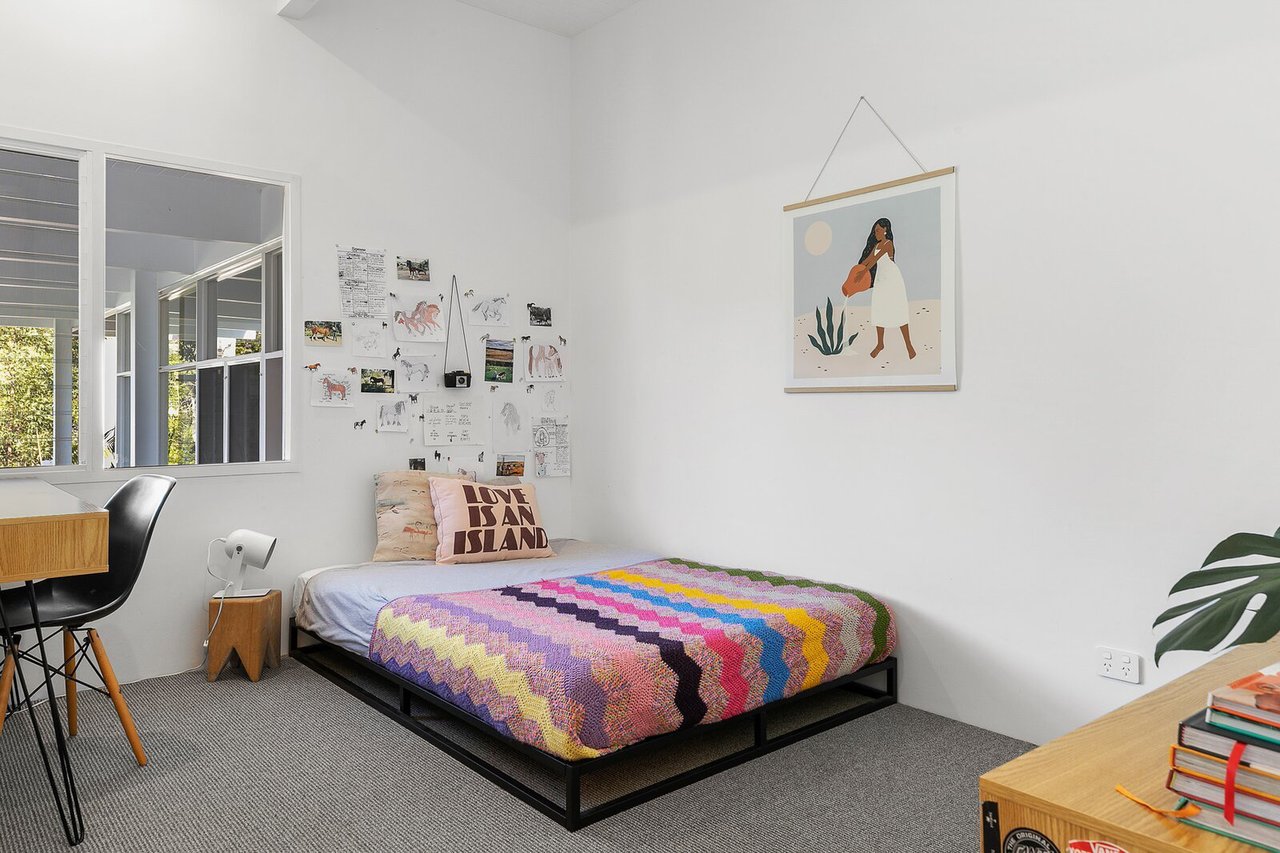 Ivy's bedroom is a source of joy, with its collaged art wall and colorful bedding.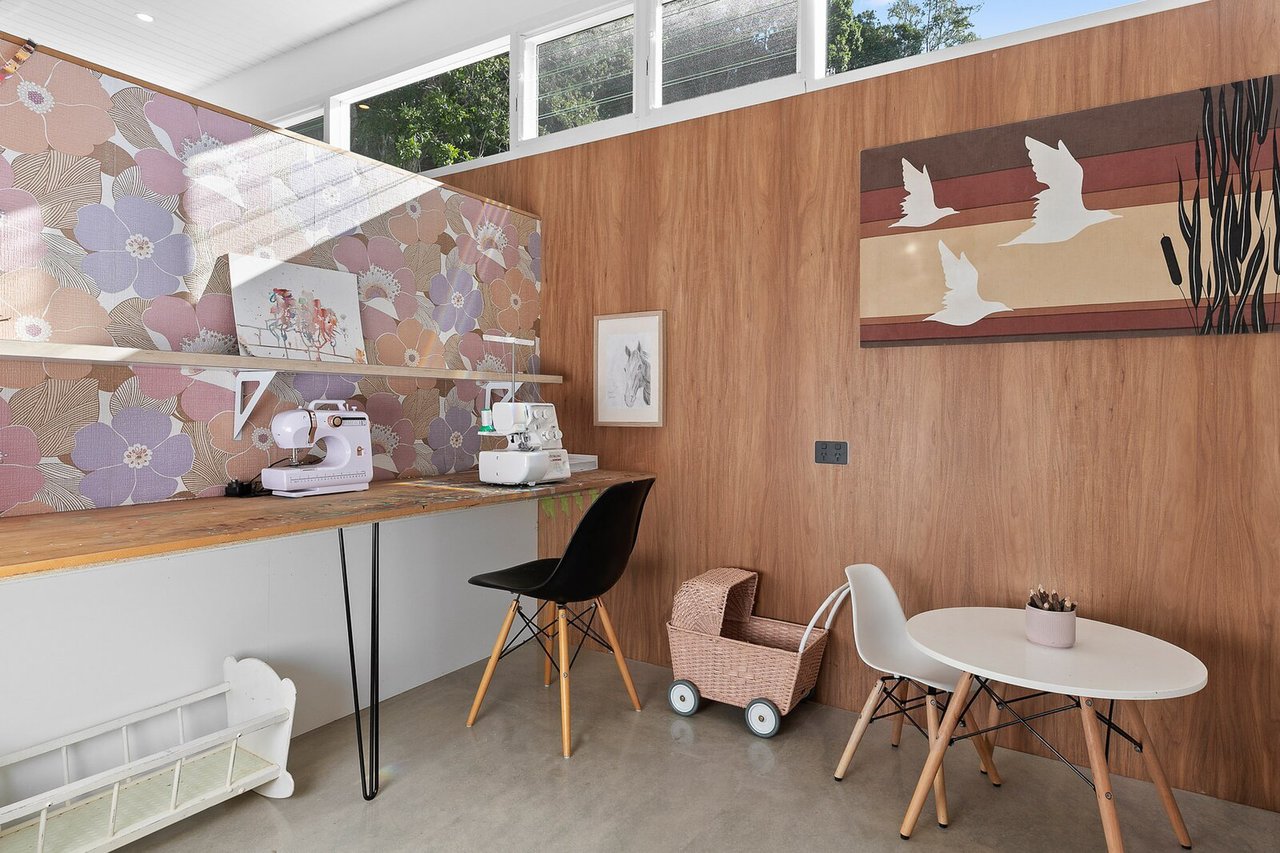 A whimsical playroom for the Fishwicks' three girls.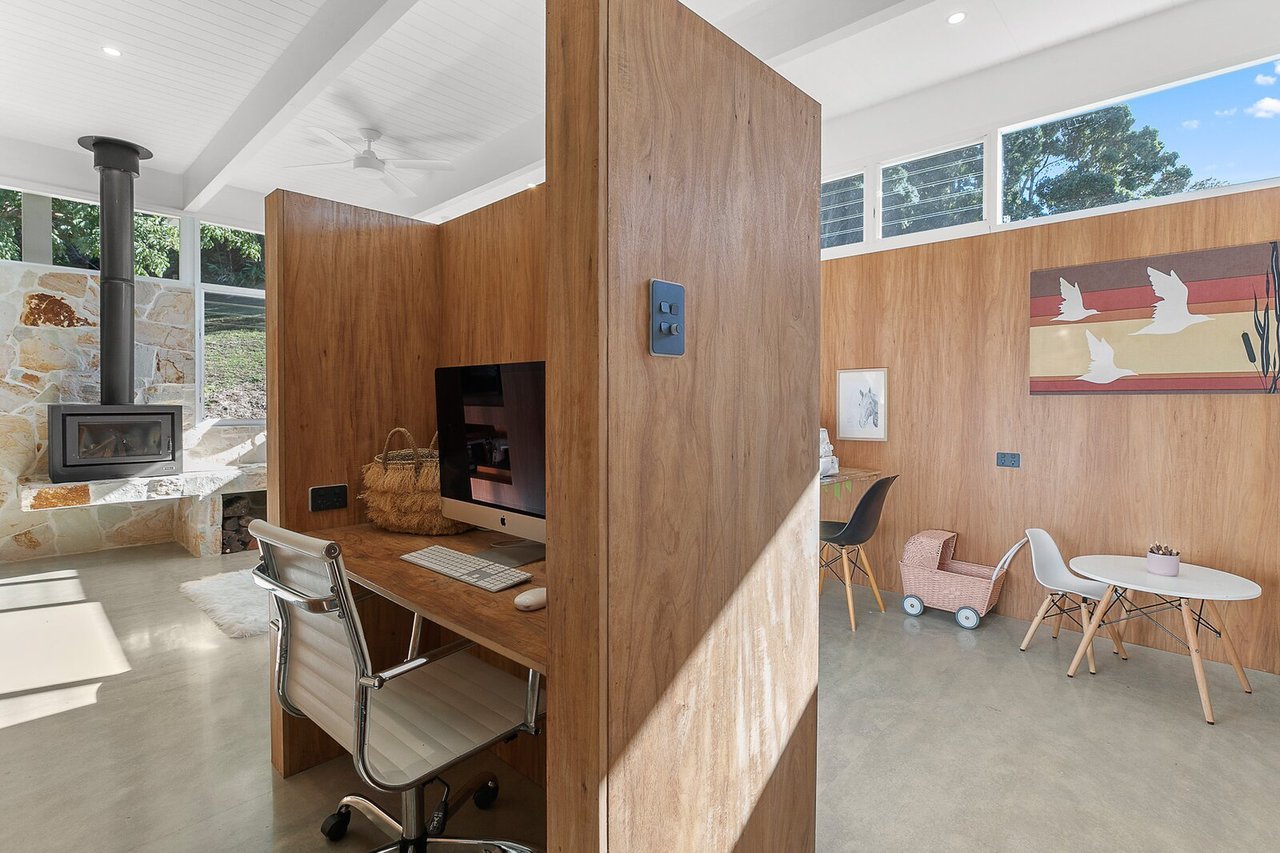 A private desk nook stands in the middle of the living area.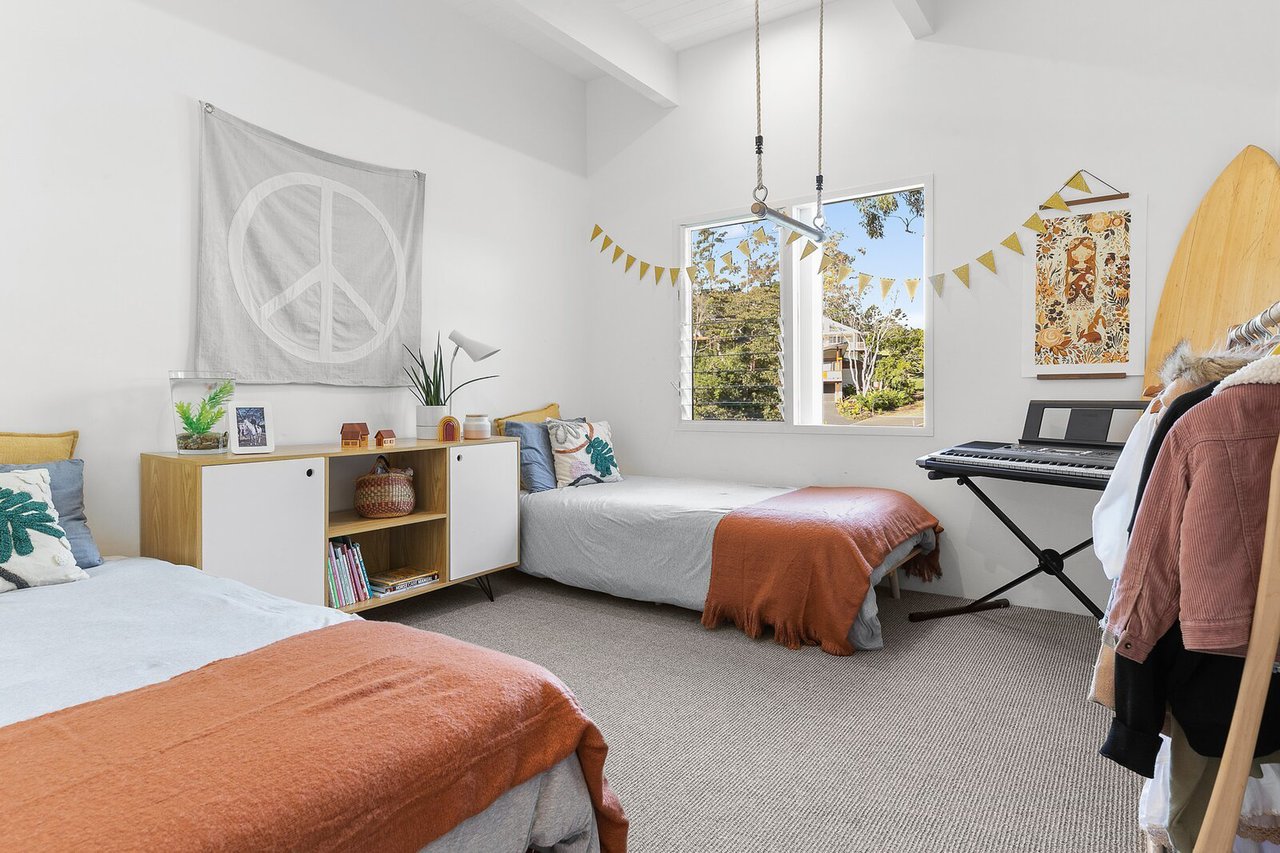 Maple and Violet's bedroom holds a keyboard and a whimsical trapeze.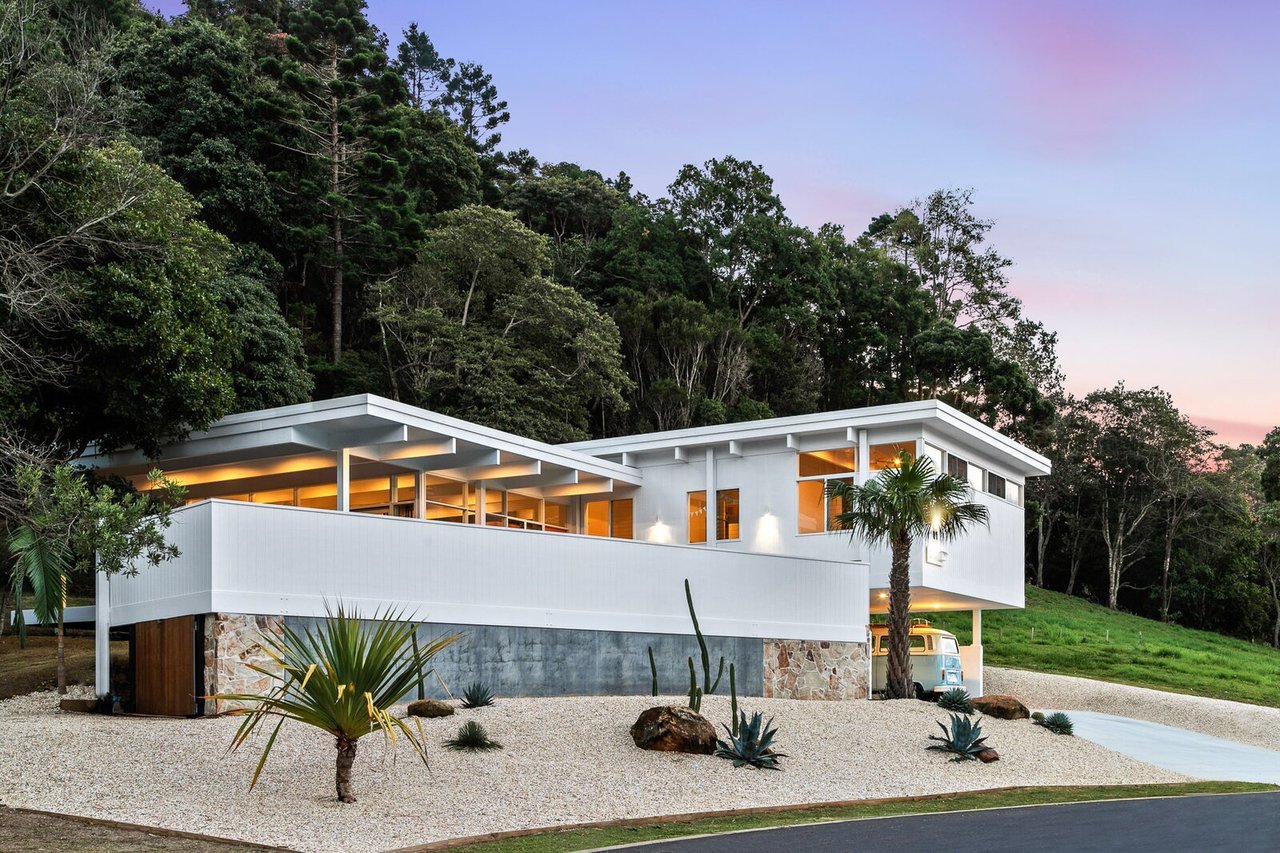 The garden was planned by Megan, who selected agaves amongst other plantings as a tribute to her California roots.

Thoughtful touches pervade the home's design-from the locally crafted windows and doors to the planted agaves in the garden, a tribute to Megan's California roots. The couple brought the outside in by using blackwood, a local species of timber, for their wood paneling. The kitchen tiles are finger mosaics from Japan. Everything has a story.

"A house is sort of my ultimate design achievement," says Mike. "I figured, designing and drawing a house couldn't be too different from designing a pair of shorts! In the end, I was right."