Dreams of summer cookouts motivated homeowner Jimmy Rathmanner to enlist Minneapolis-based builder Pat Noonan, founder of the Deck and Basement Company, to redesign the deck of his lakeside residence. "Jimmy envisioned bringing his family together around a fire pit and wanted separate places to lounge and dine, and to use as spillover office space for working outdoors," recalls Noonan.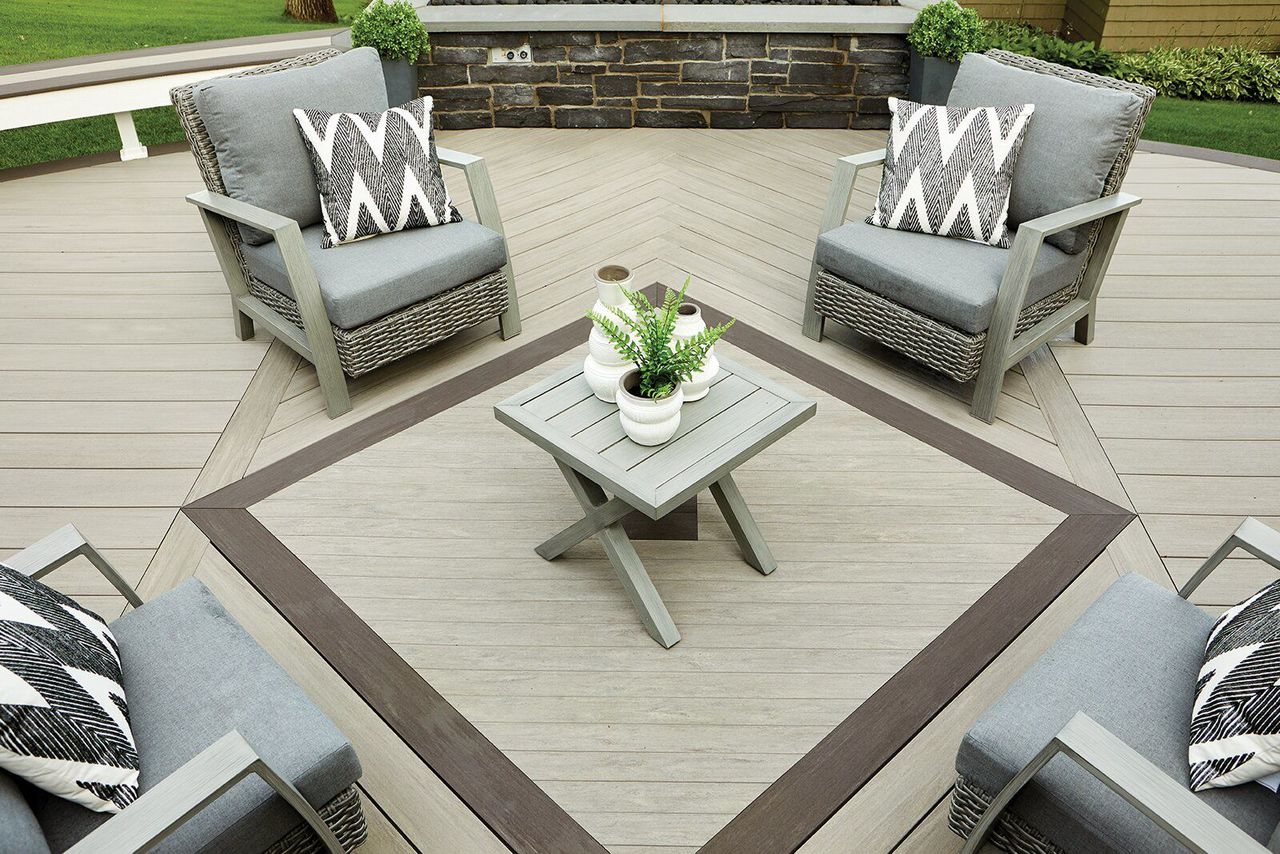 Sustainable, capped polymer boards from the TimberTech AZEK Vintage collection take center stage in this outdoor retreat built for entertaining.

Tasked with creating distinct yet fluid zones and given full creative freedom, the designer conceived a circular shape for the deck and divided it into three areas: a casual seating lounge at the center flanked by a grilling zone on one side and a formal dining area on the other. He says, "I thought a great, big circle would be soft and inviting as you come up from the lake, and it would provide plenty of room for people to sit on the rounded stairs."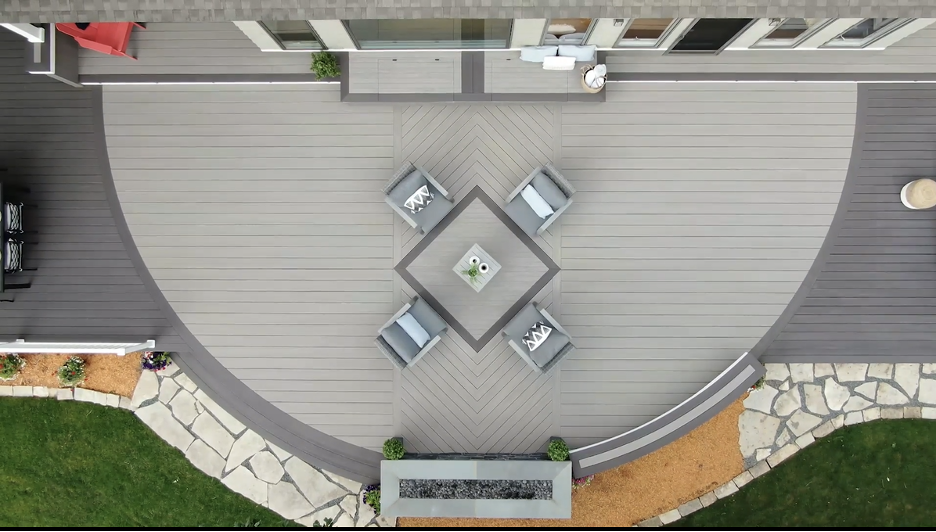 "I was able to define the spaces visually instead of using different levels," says designer and builder Pat Noonan of the AZEK Vintage collection inlay (pictured in Dark Hickory), which marks the focal point of the deck.

Noonan's design, a geometric study in contrasting shades of warm and even deeper gray, incorporates offset arrangements and an elegant herringbone pattern slicing through the deck's center. "We focus on creating clean, modern lines and symmetry," Noonan says of his approach.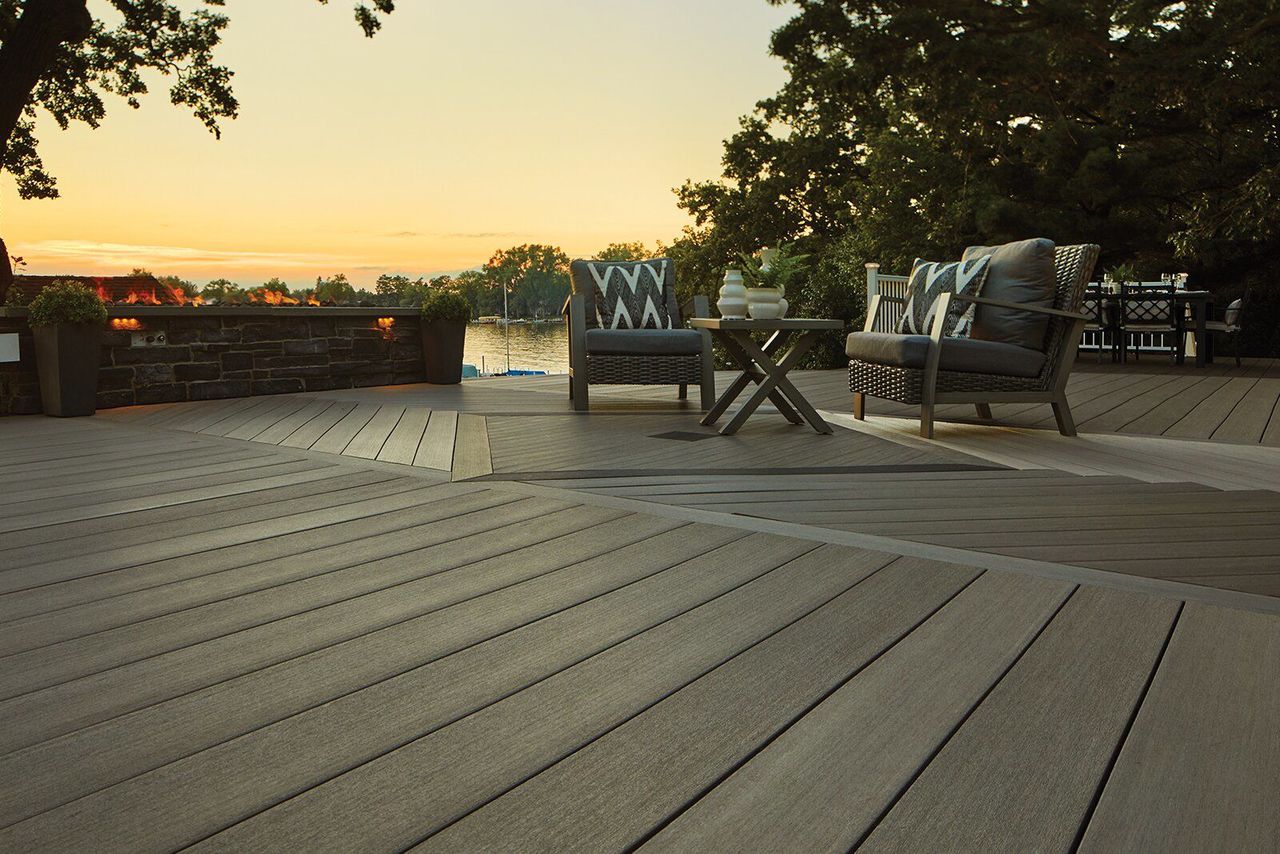 The deck's lively pattern creates the illusion of more shades of gray than were actually used. Its center incorporates herringbone inlay, which catches the light at sunset.

When it came to materials, Noonan turned to natural-looking capped polymer boards from TimberTech, opting for the beautiful, wire-brushed finish of its AZEK Vintage collection. "We live in one of the most extreme climates in the country," Noonan emphasizes, noting the durability of the product makes it even more appealing.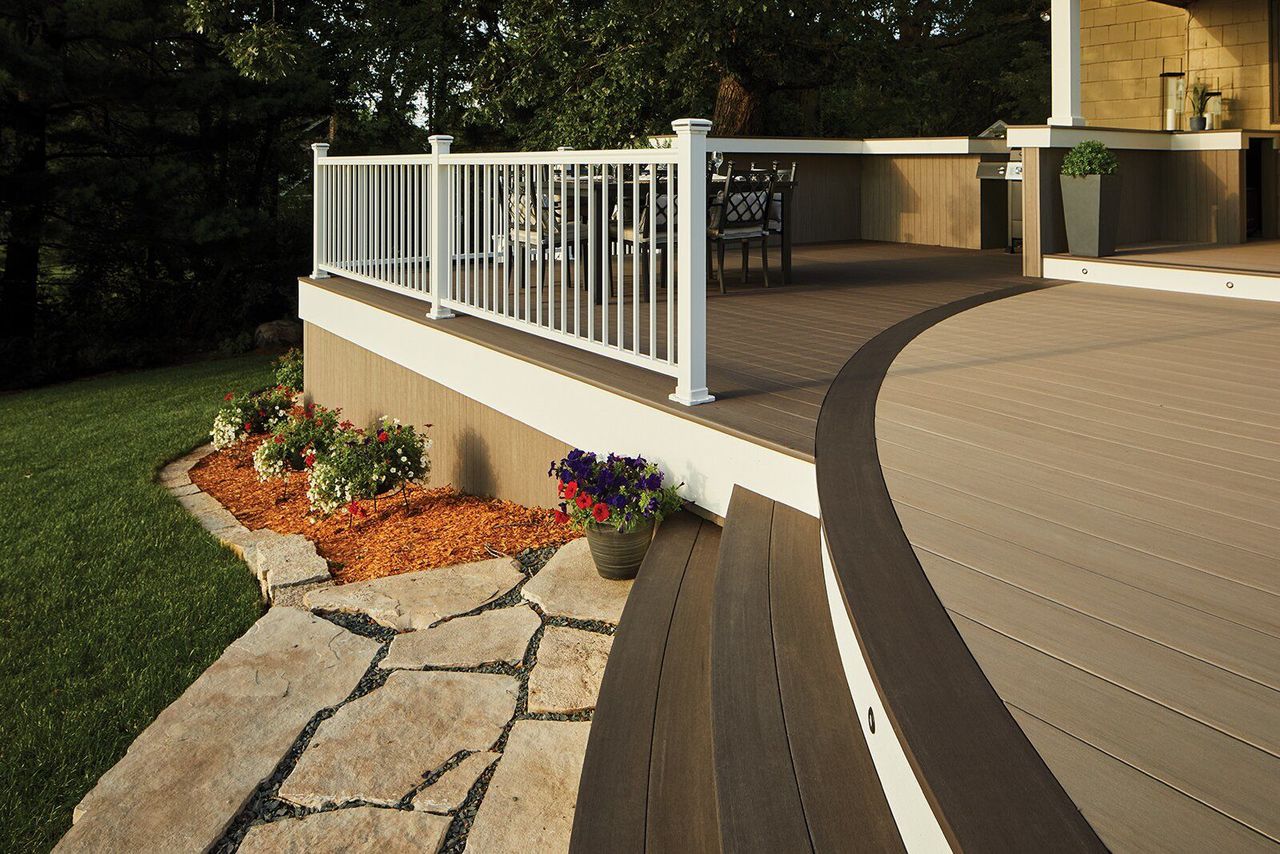 "Incorporating a deck-spanning curve helped soften the straight lines surrounding it," Noonan says of his design.

Another highlight of Noonan's design is the gentle curve of heat-formed inlay that defines the circle's perimeter and cascades down steps leading to the lake. Noonan admits that, although the concept came easily, implementing the curve proved challenging. "There was a lot of math and head-scratching due to the sheer size of it," he recalls.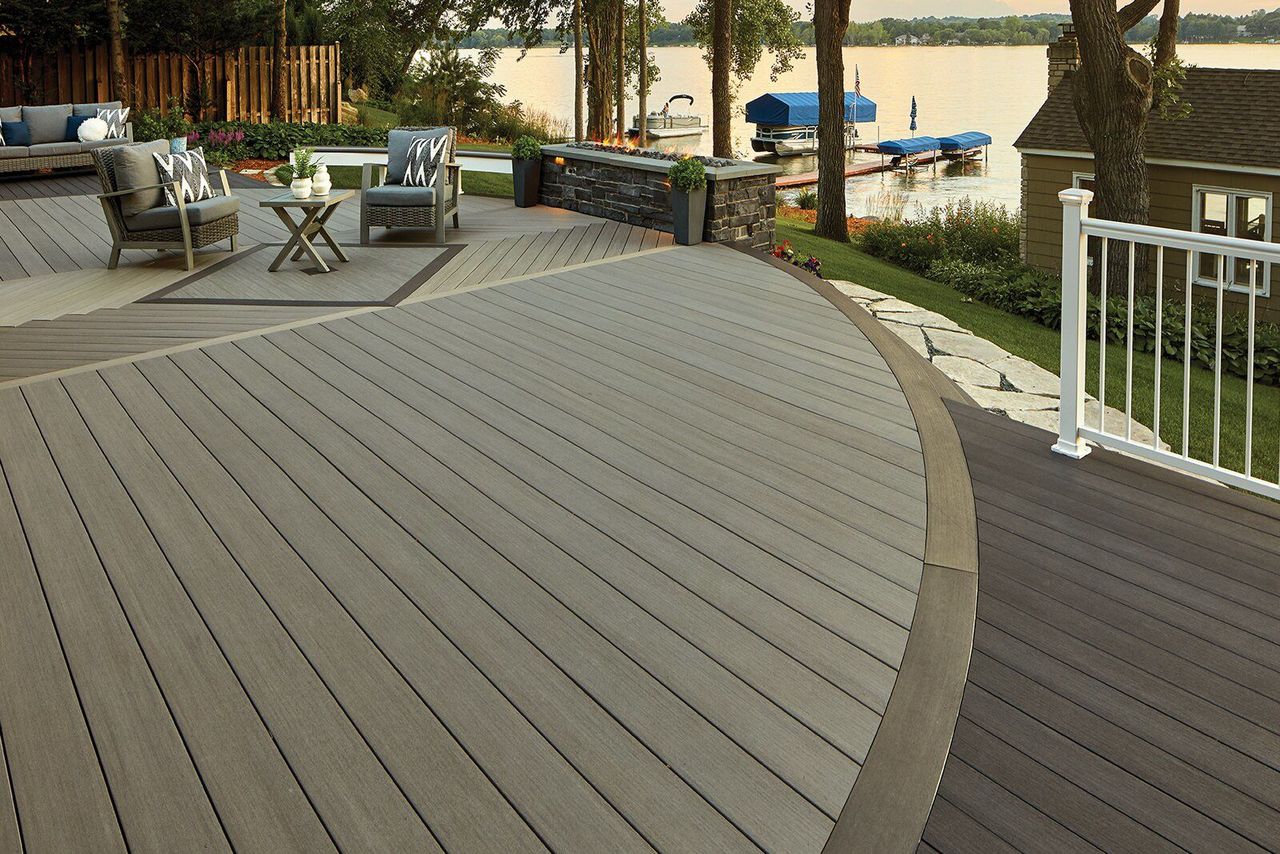 Made from majority-recycled material and available in five colors and three widths, the AZEK Vintage collection spares trees, has greater longevity than natural wood, and stays cooler in hot weather.

The result of Noonan's careful calculations and his refined design sensibility is a welcoming oasis the Rathmanners can enjoy for many years to come-a testament to the builder's artistry and expertise.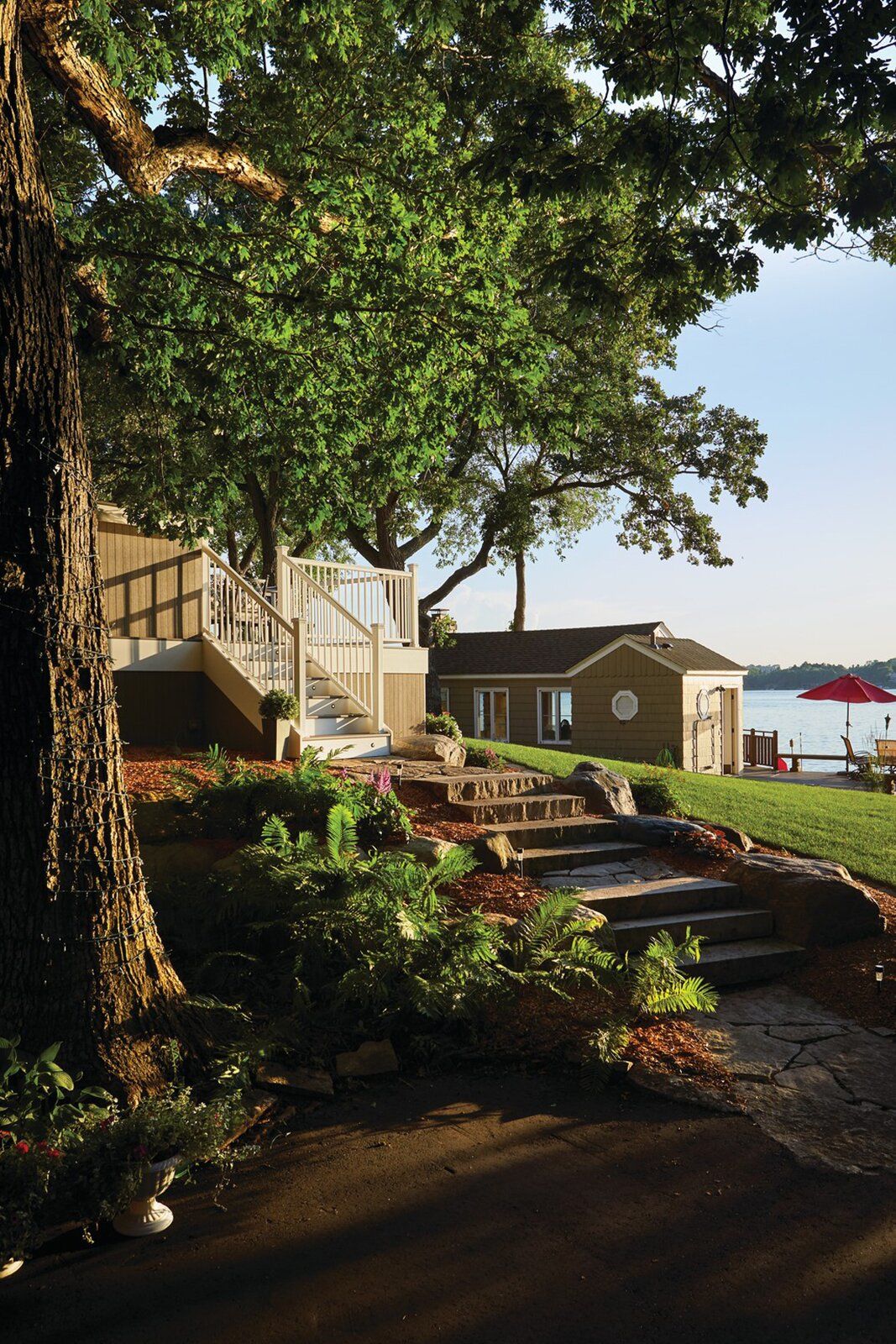 Just a stroll away from the lakefront, the deck is perfect for outdoor celebrations. Noonan notes that slip-resistance was a crucial factor in selecting TimberTech AZEK boards for the project, to safely accommodate "people in wet flip-flops running up and down the stairs."