After several years living at the same address in Newport Beach, California, architect Eric Olsen and his family were ready for a change. Rather than move, they decided to rebuild on the same plot-reorienting the new structure toward views of the Pacific Ocean and excavating 11 feet into the hillside to create a two-story sunken courtyard. The resulting floor plan allows natural light to flood the rear-facing living spaces, including a handsome kitchen that Olsen outfitted with moody hues of navy, grey, and wood tones.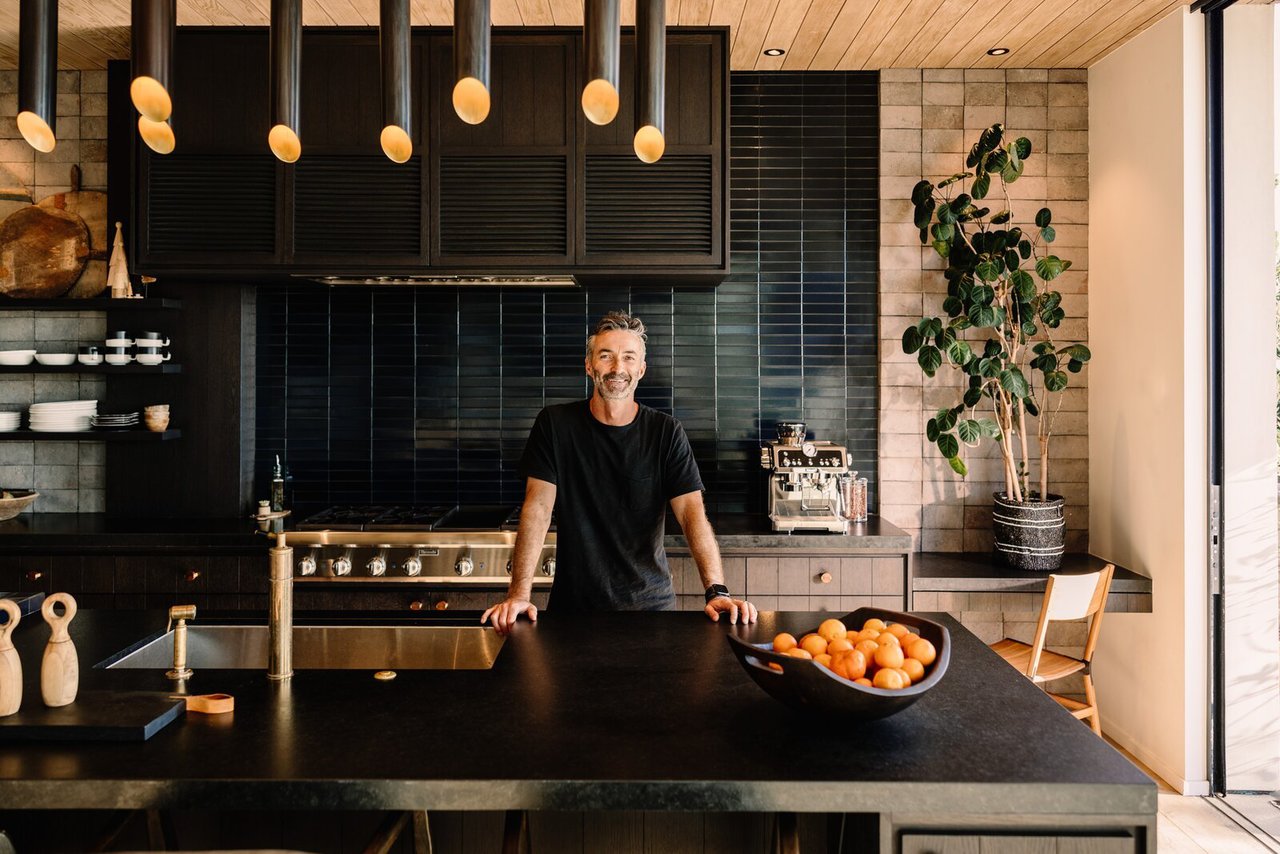 Architect Eric Olsen imagined a space that employs contrasting colors, textures, and shapes to create a warm and inviting interior. One of many such details includes a custom light fixture above the island, which he designed in collaboration with Buzzell Studios.

"Our home is certainly modern in terms of the emphasis on rectangular forms, as well as clean, horizontal and vertical planes; yet, the combination of tactile and organic materials creates a warm feeling," Olsen says. "For instance, we opted for steel windows and doors throughout the home, along with reclaimed French brick walls, stained Douglas fir ceilings, and dark-painted wall paneling-all of which works together to create a very textural, layered space."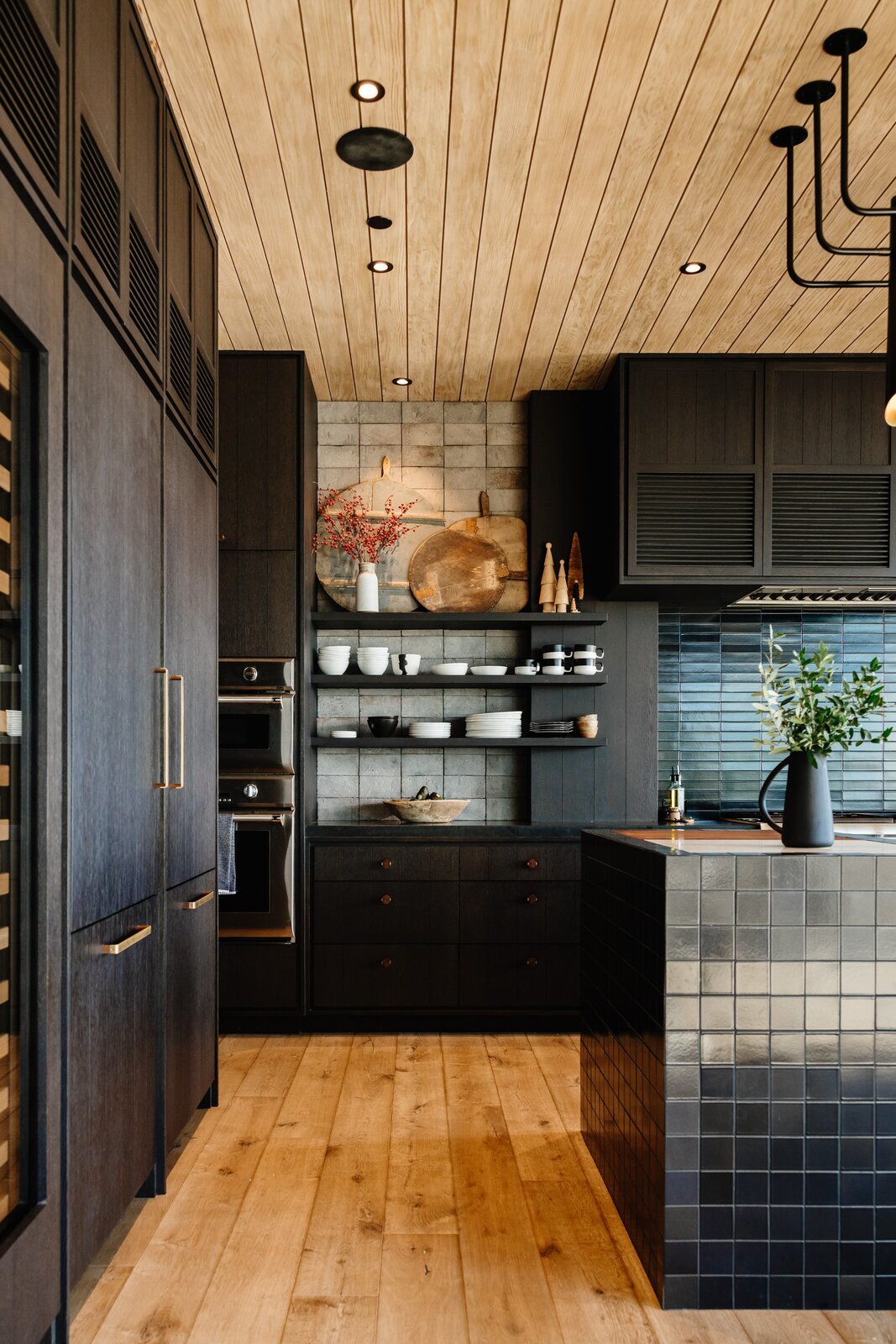 The kitchen features oak cabinets stained in a dark grey and navy tile from Heath Ceramics. These darker elements are balanced by the tongue-and-groove wood ceiling and floors, as well as ample sunlight entering through the steel-framed glass doors.

In many ways, Olsen's material choices harken back to the overall philosophy he brings to each project. "I always like to combine a number of different materials that not only vary in texture and color but also relate to one another-for example, juxtaposing dark and light, or smooth and rough," he explains. "The doors bring a ton of sunlight into the open-concept kitchen and living/dining room, so I designed the space with dark materials that would absorb instead of reflect a lot of that light."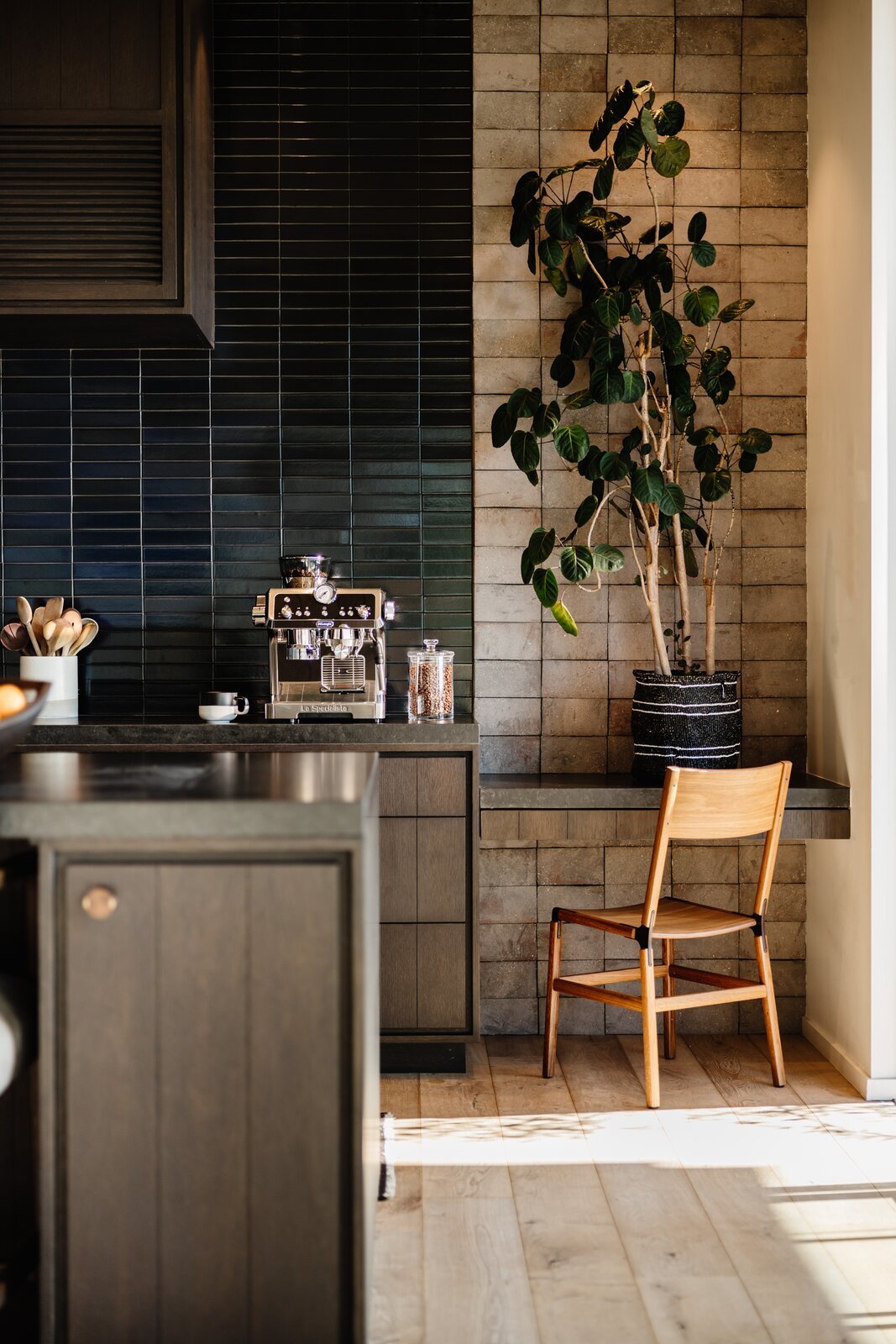 Flanking both sides of the backsplash are grey Heath tiles that were installed backwards to reveal the unglazed side. Leathered granite countertops add yet another contrasting texture within the space.

"When I was in college, I studied at the Institute of Architecture in Venice, Italy, for a year, and I was blown away by the work of Carlo Scarpa, a Venetian architect whose attention to detail and use of materials made his designs both approachable and emotional experiences," Olsen adds. "Similarly, I did not want our home to feel pretentious in any way; it needed to be a fun, comfortable family home."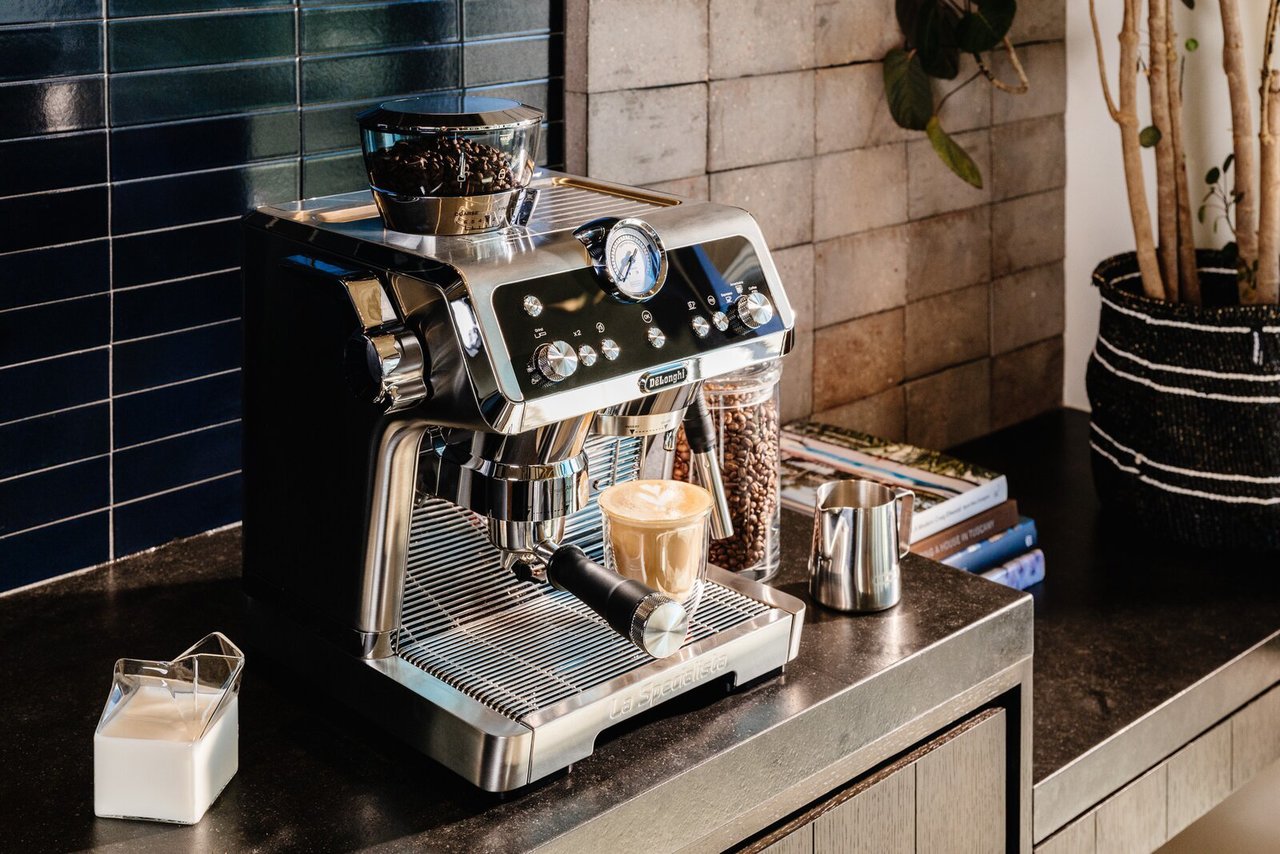 The kitchen also features a La Specialista Espresso Machine from De'Longhi, which allows Olsen to prepare the kind of bold espressos he recalls from his time in Italy. With variety and simplicity in mind, the La Specialista's easy-to-use features also provide café-quality lattes and cappuccinos at home, while a separate hot water spout enables the creation of authentic Americanos or teas.

Olsen's appreciation of design and detail extends to the everyday objects he and his family chose to surround themselves. "When the architecture of a home is on display, what you display in rooms such as the kitchen is also a very considered decision," he says. The Italian-designed La Specialista Espresso Machine from De'Longhi is a statement of purposeful design and craftsmanship in itself. Having easy access to authentic, espresso-based drinks also lends to the home's laid-back comforts.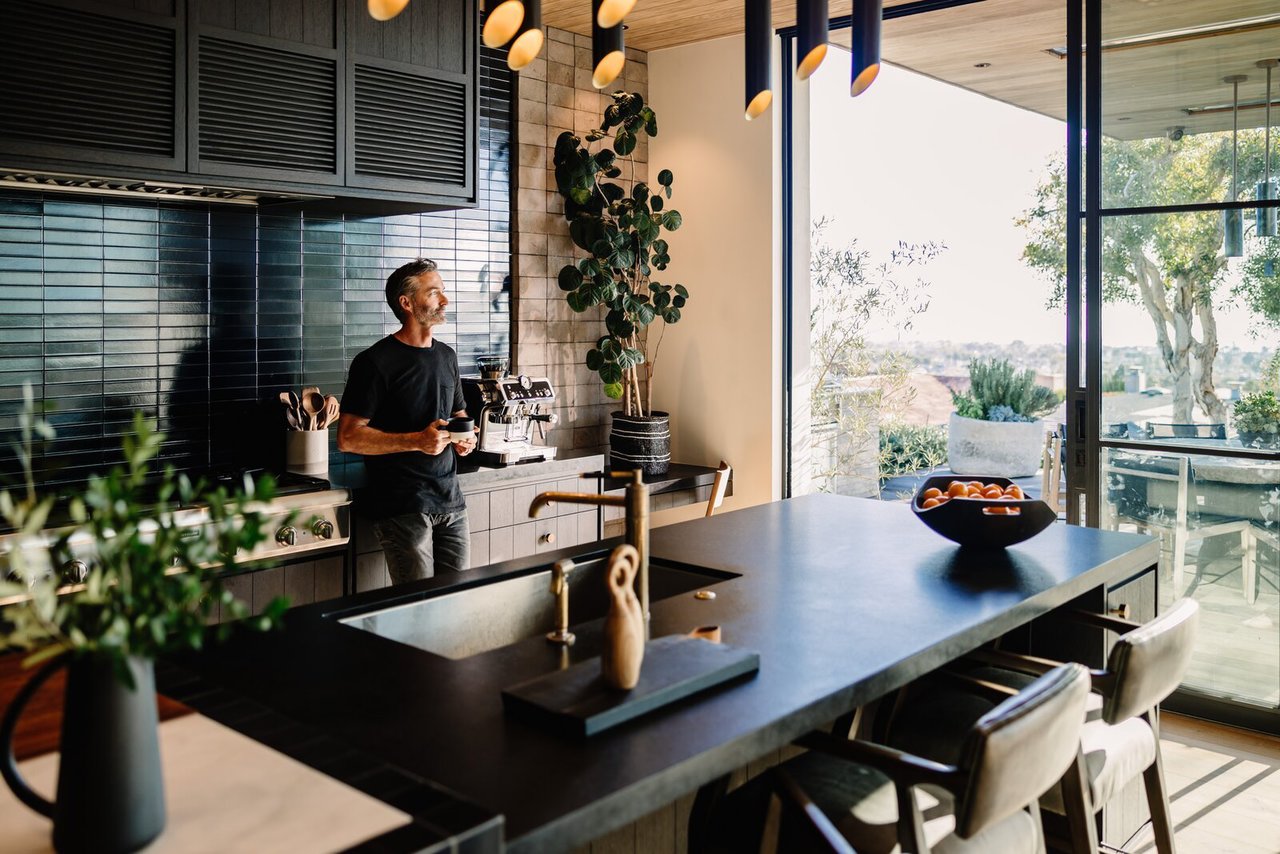 Olsen enjoys a cup of coffee made by the La Specialista machine. "It's the perfect fit in a kitchen that is personalized for our own style and life," he comments.

"There's a notion that a premium coffee-making experience is difficult to replicate at home," adds Maria Colon, VP of Marketing and Consumer Experience at De'Longhi. "The La Specialista offers features that assist in every stage of the coffee making process, ensuring the perfect, desired result. Yet there's enough flexibility for aficionados that are a bit more advanced."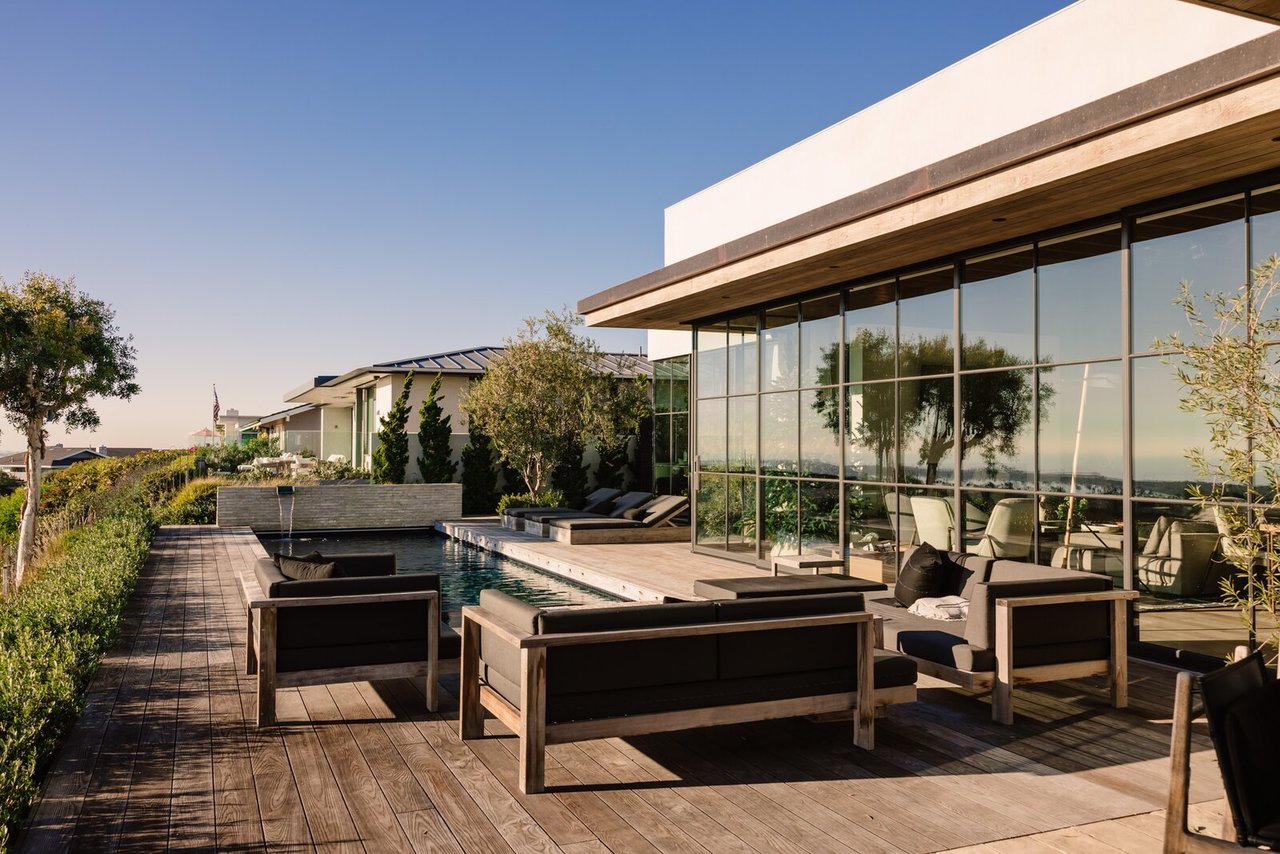 Another view of the glazed rear facade shows the wall of steel windows and doors that enclose the living area and kitchen.

As an architect, Olsen relishes the tactile experience, but appreciates things like the integrated sensor grinder for ensuring the optional bean ratio, or the Smart Tamping Station that applies just the right amount of pressure. The ritual of coffee making is also a sensory experience, one that he views as rewarding and calming, befitting the warmth of the home's living environment.