Architect Kenichiro Iwakiri had been searching for three years for a place to realize his concept of California-style living-viewed through an idealized Japanese filter-when he found the perfect place. Located in Chigasaki, an hour south of Tokyo on Sagami Bay, the house was a 40-year-old cottage that normally would have been torn down and replaced with a new one.

Instead of demolishing the house, he set out to do a light, energy-efficient retrofit with retouched finishes and comfortable outdoor features to capture the West Coast aesthetic.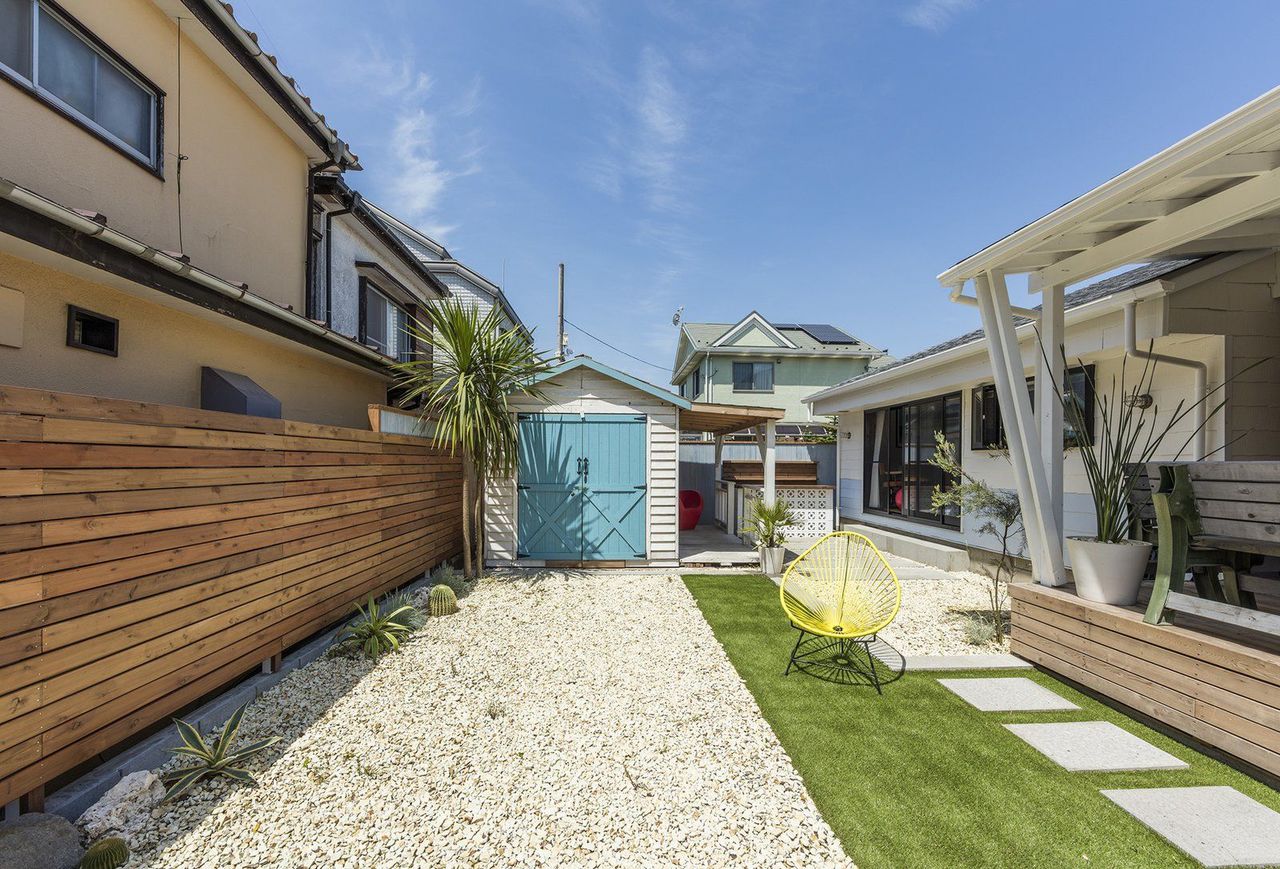 A cypress fence and white gravel borders a side yard with a row of grass .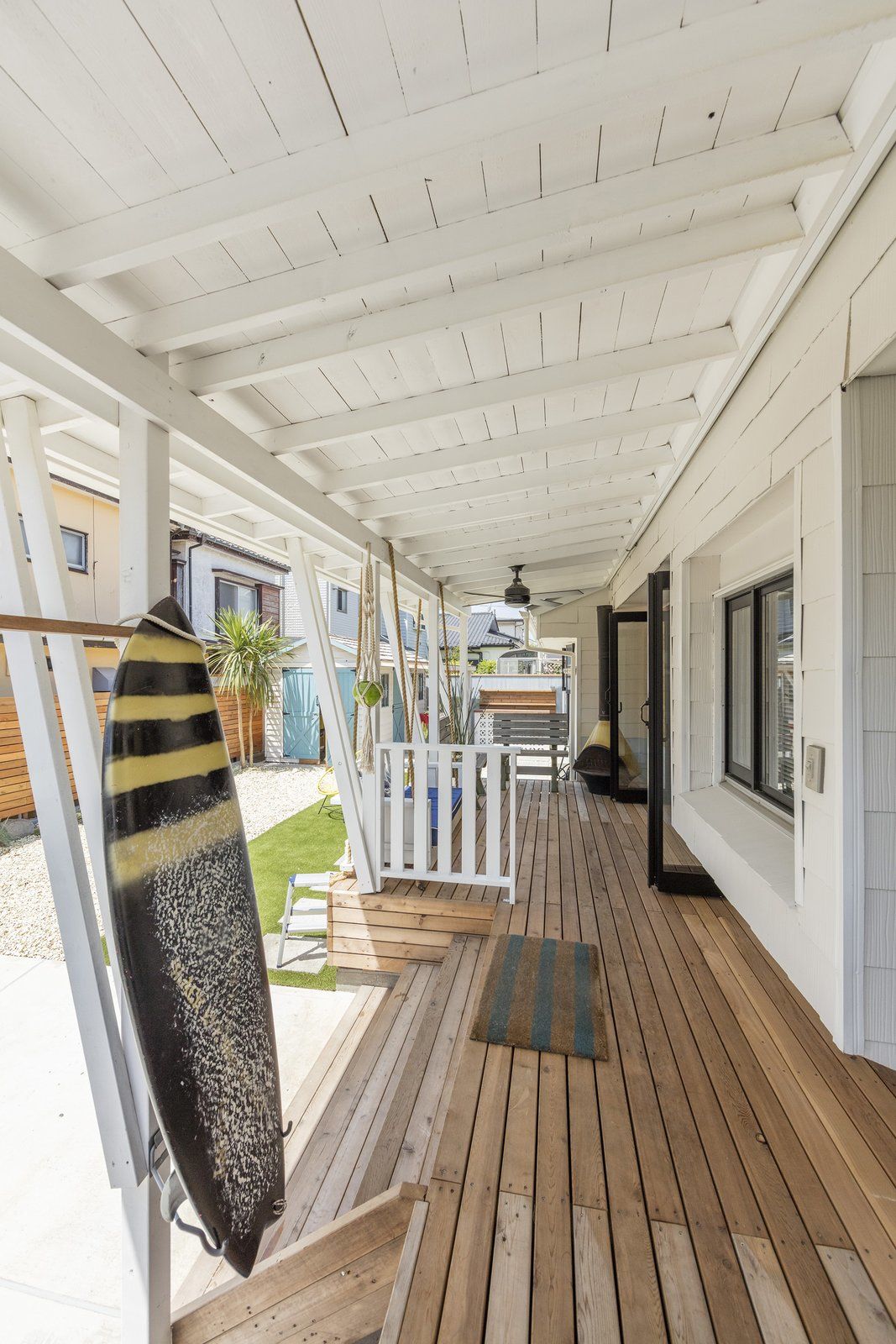 Folding glass doors open from the living room to the red cedar porch.

Iwakiri's company, California Komuten ("builder" in Japanese), has built around 200 homes in Japan since 2010, marketing the notion of an open and easygoing California lifestyle. The company is part of a larger media conglomerate that owns restaurants and cafes, and publishes hundreds of magazines for every imaginable lifestyle niche. Drawing upon this network, Iwakiri called on Yusuke Makino, editor of the magazine California Style that formerly belonged to the group, for advice on the home's concept.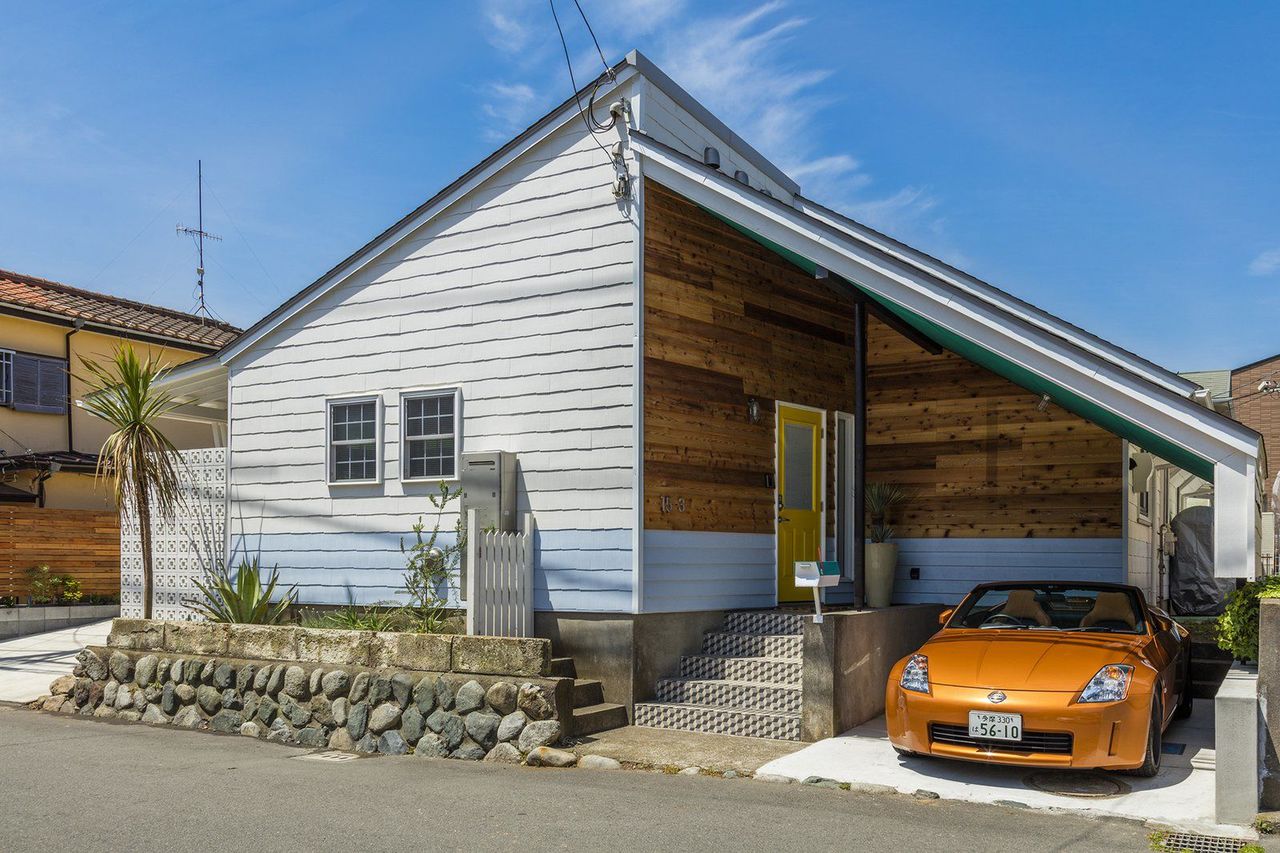 Beneath the sharply angled car park of the midcentury house, aqua-colored paint and exposed wood siding give a new look to the existing facade. The design team brightened the front steps with geometric tiles.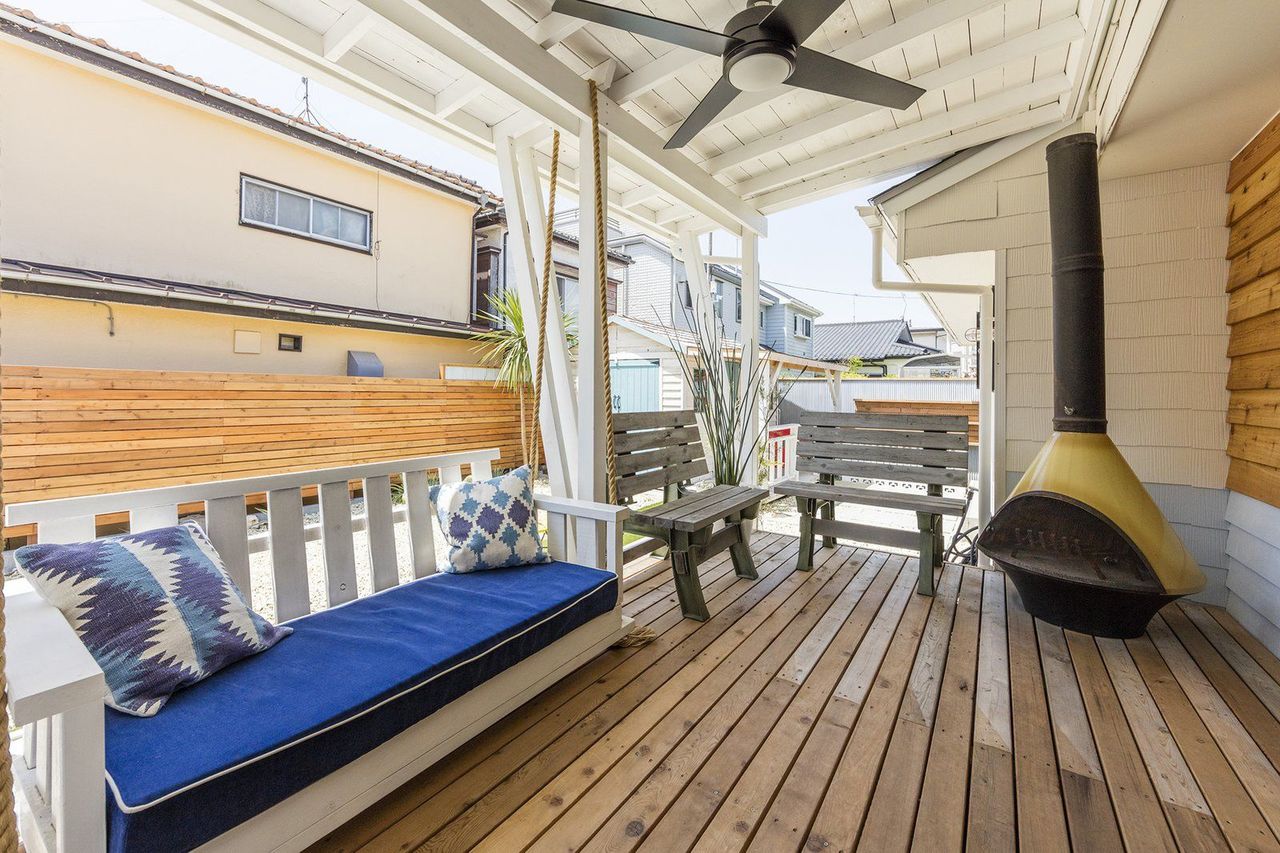 A vintage 1950s fireplace imported from Surfing Cowboys in Malibu adds heat and style to the side porch.

"So many Japanese people love the California lifestyle," Makino says. "Their image is of a California surfer that lives close to the ocean in a '60s- or '70s-style wood-sided house, even if it's not true. I think many surfer guys don't have money. They only love to surf. Sometimes they live in very cheap apartment. But the Japanese image of the surfer's home is a very nice, clean wood-facade house close to the ocean."

Makino recommended Los Angeles architects Design, Bitches for conceptual design advice. He had published their work for fashionable restaurants and cafes like Superba Snack Bar, Backyard Bowls, Verve, and the Coolhaus ice cream shops, which combines a clean minimalist modern aesthetic, Scandinavian blond wood finishes, bright colors, and detailed craftsmanship. Design, Bitches drew up a style sheet of accent colors, wood finishes, landscaping, and interior space planning to achieve the Californified Chigasaki Surf House.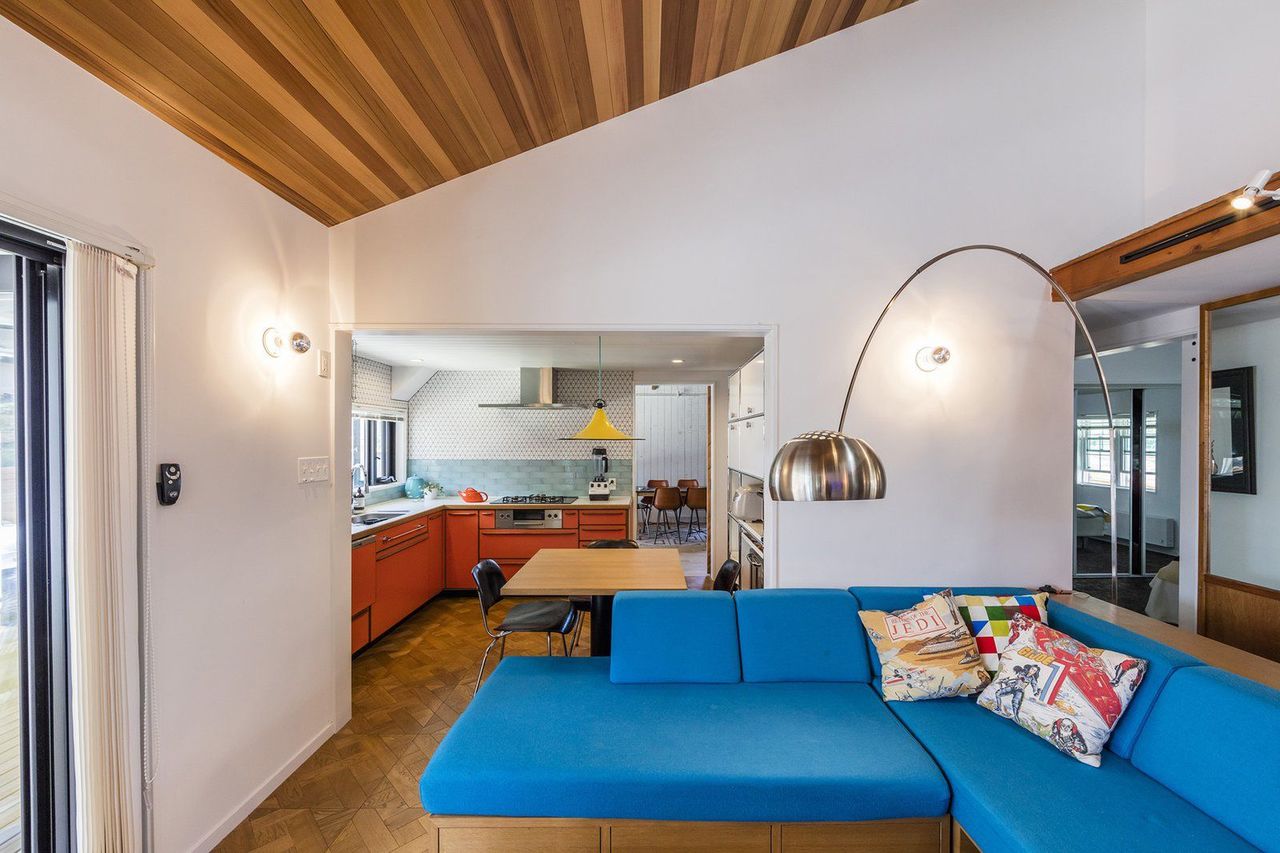 The home's interior is a colorful homage to '60s and '70s California surf shacks.




The ceilings in the living areas are covered with red cedar.

Inside, the living area has an open kitchen, dining area, and living room decked in parquet floors and topped with an exposed red cedar ceiling. Windows along the rear wall create an illusion of depth. The sectional sofa was custom designed by Iwakiri and manufactured by Factory Tool.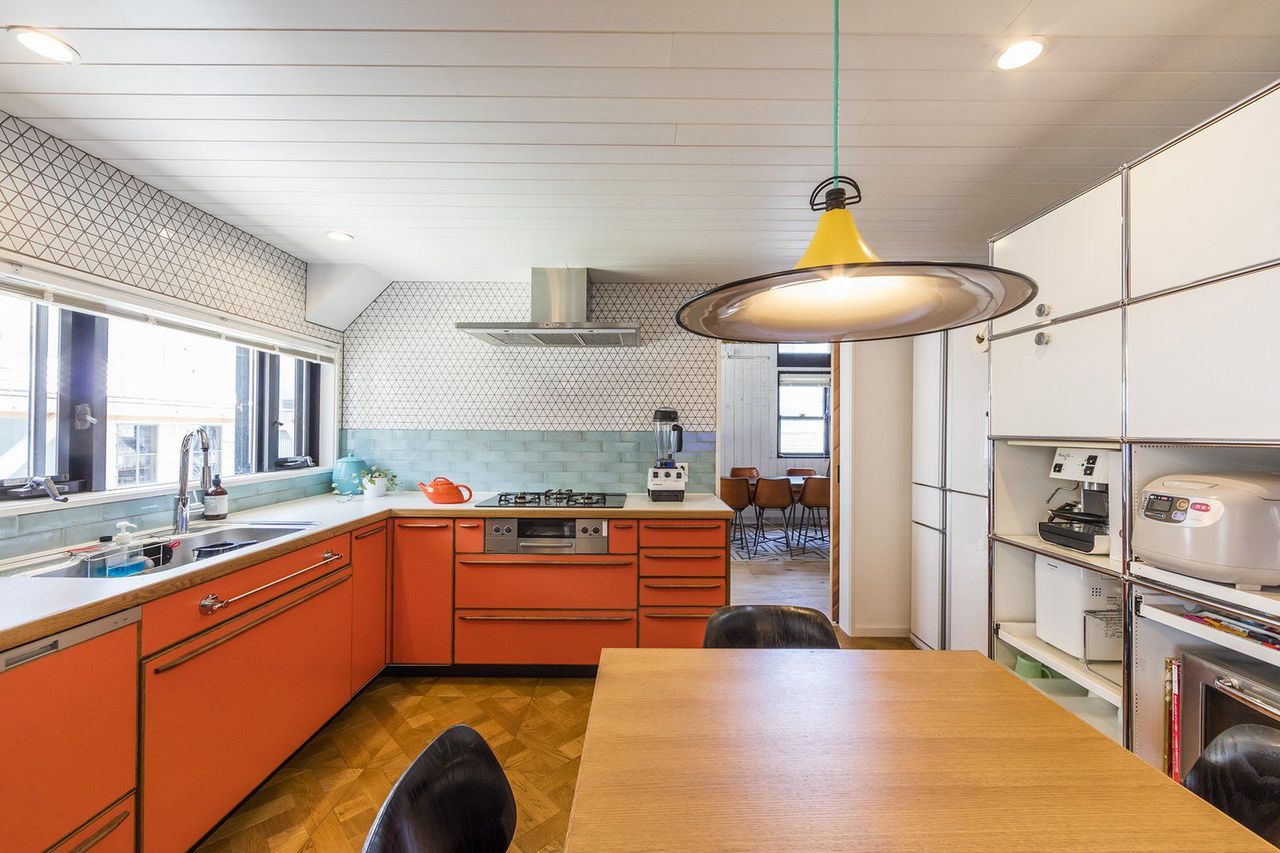 The orange custom cabinets in the kitchen were specially manufactured by Factory Tool.

The kitchen's orange cabinets were are also designed by the owner and made by Factory Tool of melamine plywood. Geometric tiles top a blue backsplash above the cabinets. A wall of Haller series shelving from Swiss USM provides additional storage.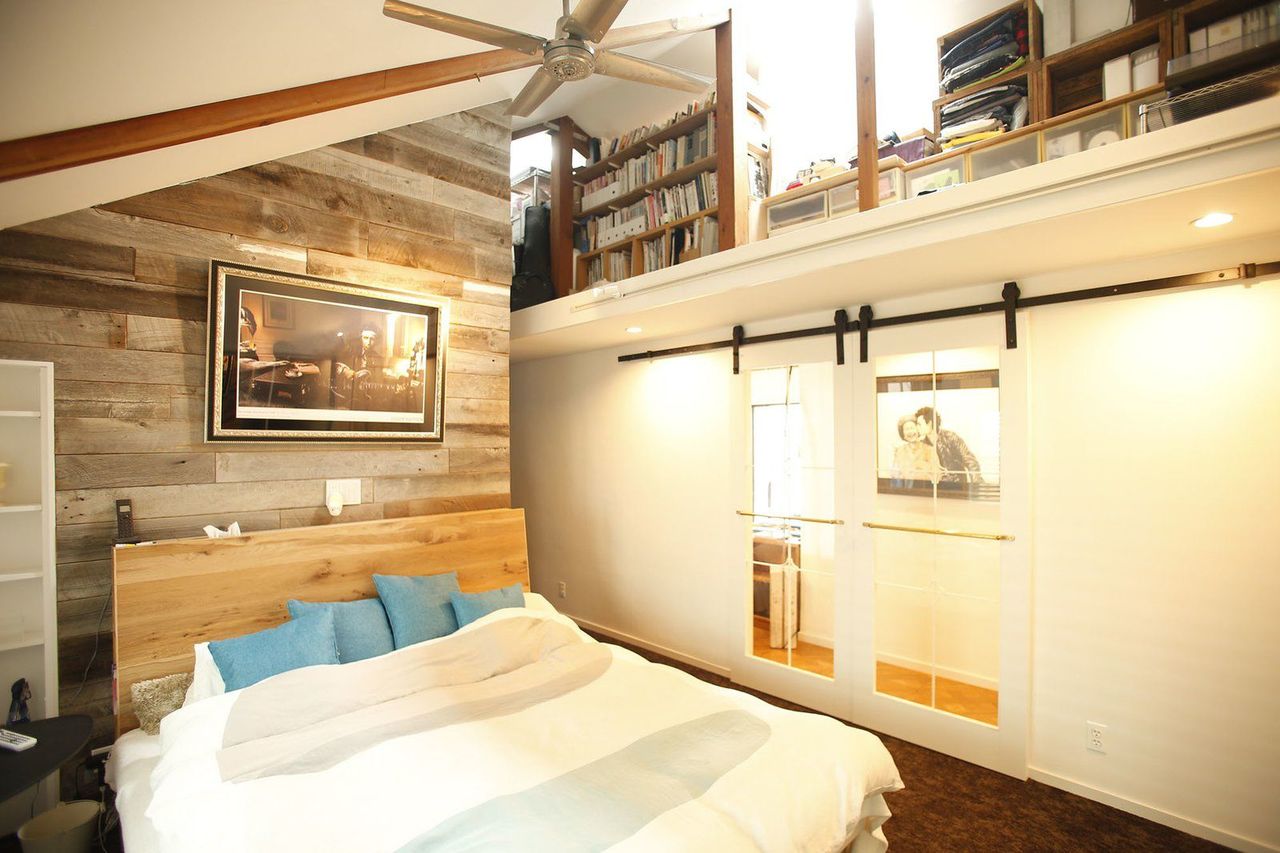 Reclaimed wood and lofted shelving trims the master bedroom.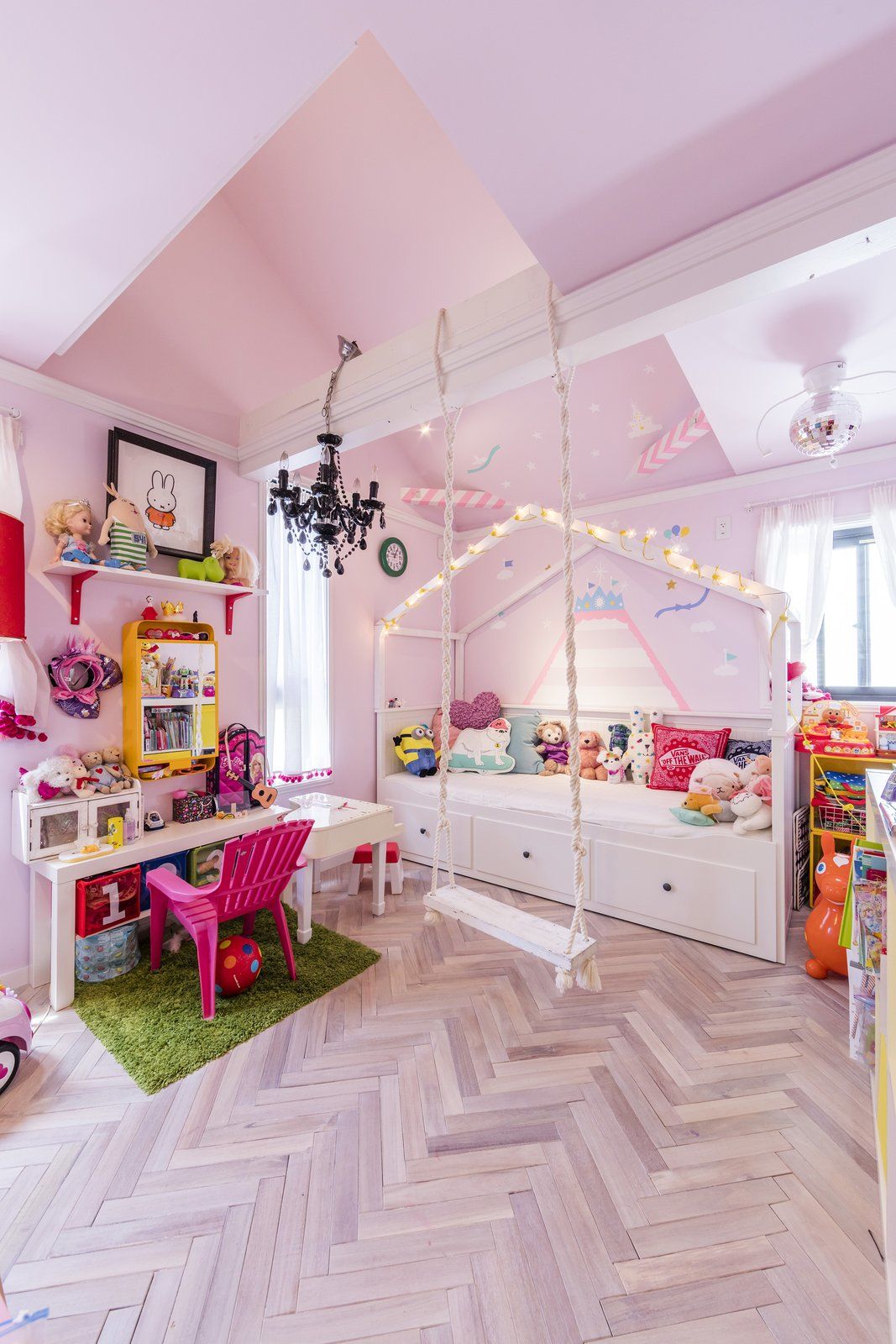 Herringbone floors and pink walls brighten the girl's bedroom.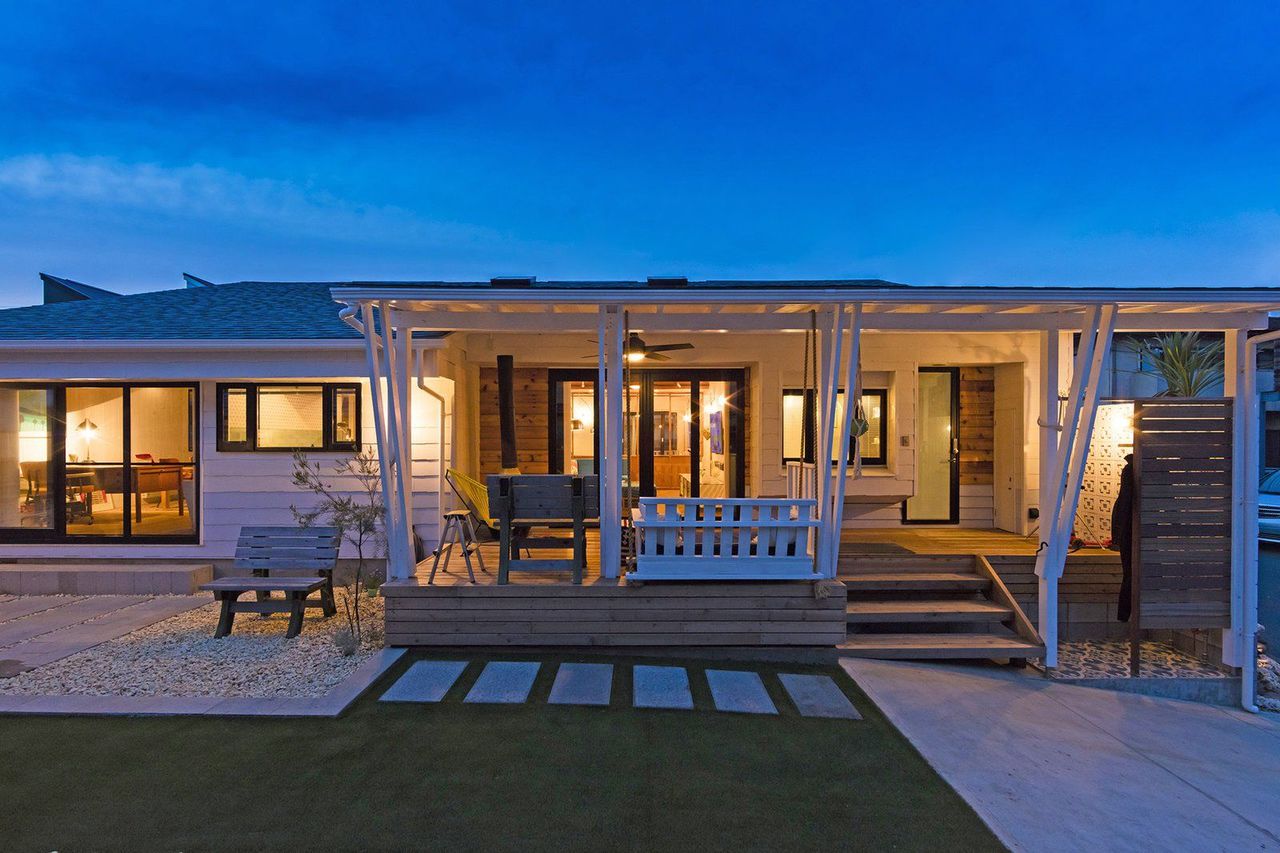 The added porch is a centerpiece of the home's inside/outside concept.

A strip of blue-gray paint wraps around the lower level of the home's siding. The red cedar side porch features a vintage 1950s fireplace and folding glass doors that complete the flow line from the living room to the outdoors. A cypress fence and white gravel borders a side yard with a row of grass, replacing block pavers.

The home has a key bonus feature: when he returns from the ocean, Iwakiri can take a hot shower outdoors on the back porch, and a keyless entry door opens directly into the bathroom.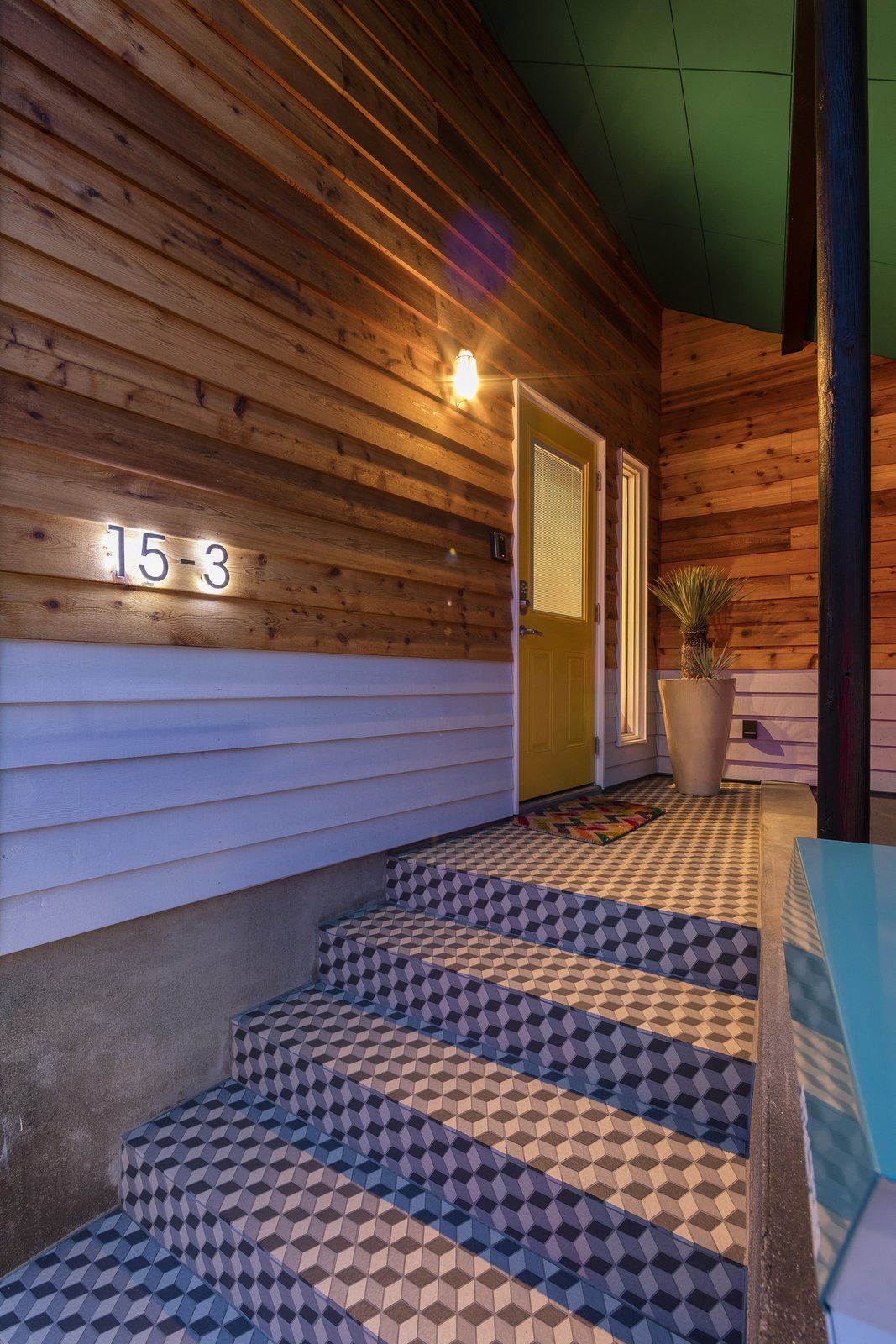 Geometric tiles cover the existing front steps in the covered parking spot.

Makino featured the house in California Style, and it became a prototype that informed Iwakiri's California Komuten houses, which promote an ethos he describes as "high sunny weather, comfortable climate all year round," and "creating a beautiful townscape where people can enjoy a rich life that fuses nature and the city."

They market the houses to people who want to live year-round by the sea rather than as second homes, but how closely the image corresponds to reality, we know not.