After completing a cork-clad extension to his terraced home in London, architect Richard John Andrews was ready to tackle his next project: an office in his back garden.

Creating a bespoke studio space would no doubt be a challenge-a limited budget, space constraints, and site conditions necessitated lightweight and low-cost materials-but Andrews, who prefers the flexibility of a self-build that could be used for both work and play, knew the endeavor would be worthwhile.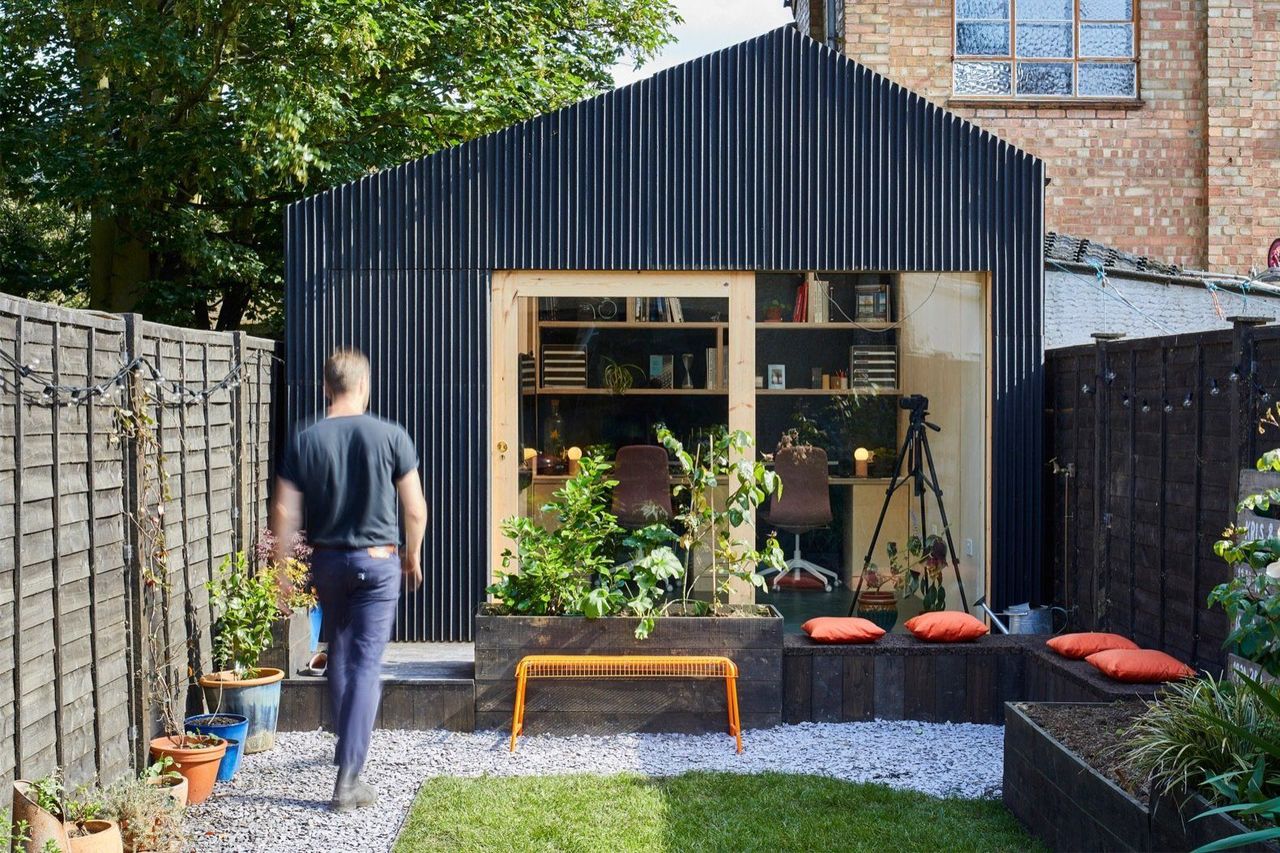 The Light Shed is wrapped in bituminous fiberglass corrugated mini profile cladding on battens with an UV open cladding membrane behind.

Since all construction needed to be handled on-site, Andrews developed a modular system of timber framing based on an eight-by-four sheet of plywood. He and an assistant prefabricated the lightweight panels complete with the structure, membranes, battens, and cladding of black lightweight corrugated fiberglass panels. The panels were installed by hand and bolted down onto a finished timber base structure supported on a foundation of small concrete pads poured in-situ.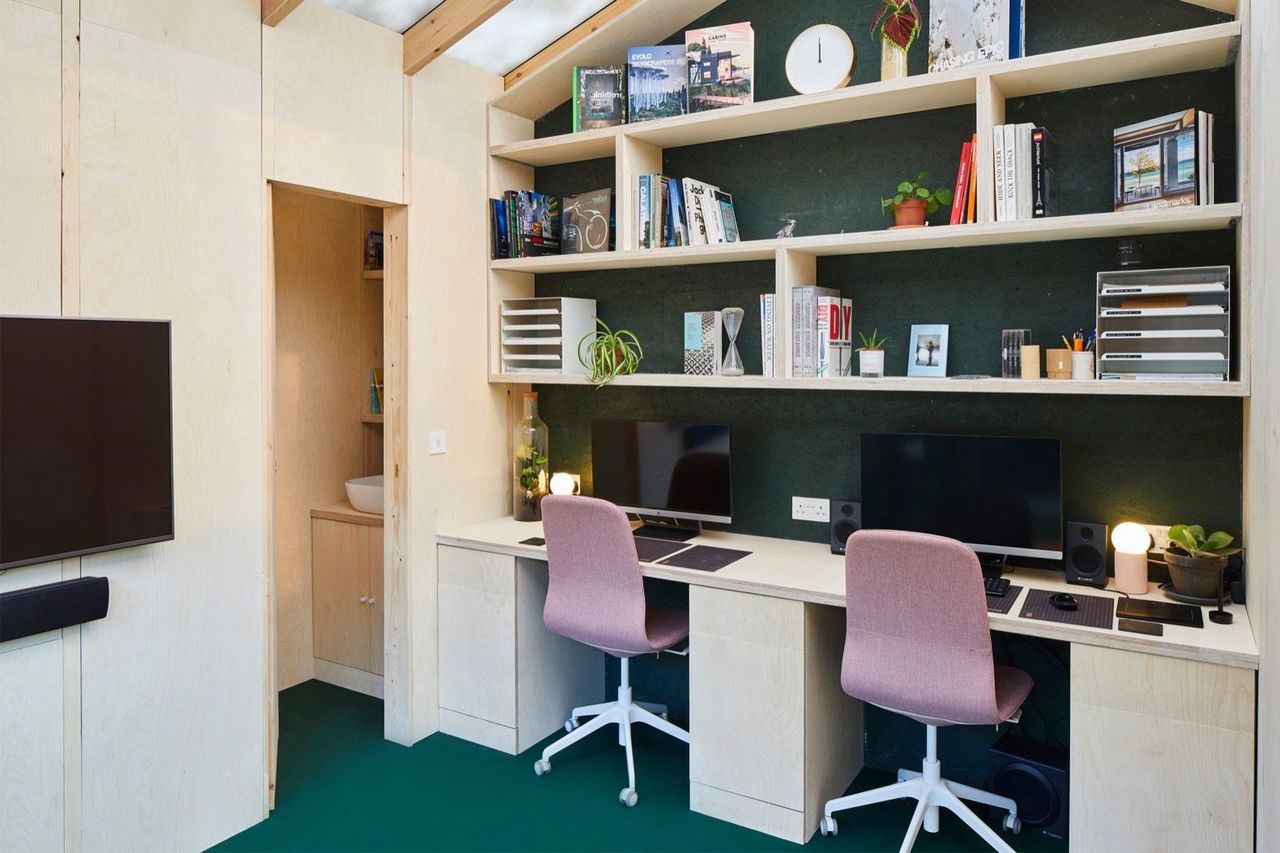 The compact 130-square-foot office interior offers enough space for two to three people. The insulated floors are lined with Monckton Green vinyl by The Colour Flooring Company.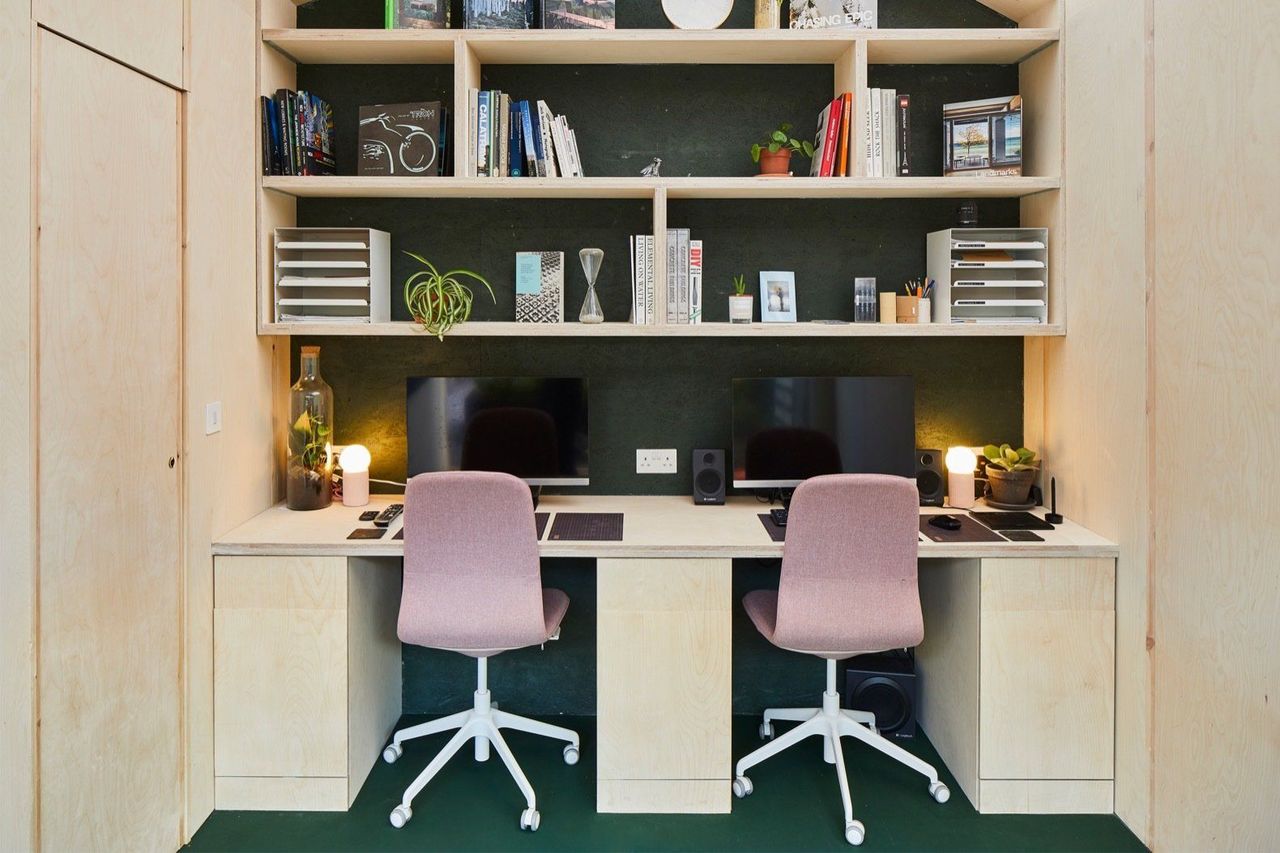 The bespoke joinery, desks, drawers, and vanity unit were also fabricated by Andrews on-site.

"As a project that was designed and built in-house, we had the unique opportunity to hone our knowledge of construction which will no doubt strengthen our approach to future work," says Andrews, who worked on the project on weekends and in his free time, and completed the office in 21 days across six months.

"Most importantly I wanted to create a comfortable and relaxed working environment as my practice's first dedicated studio space. The project has been a refreshing reminder of what can be achieved when scale and budget are limited."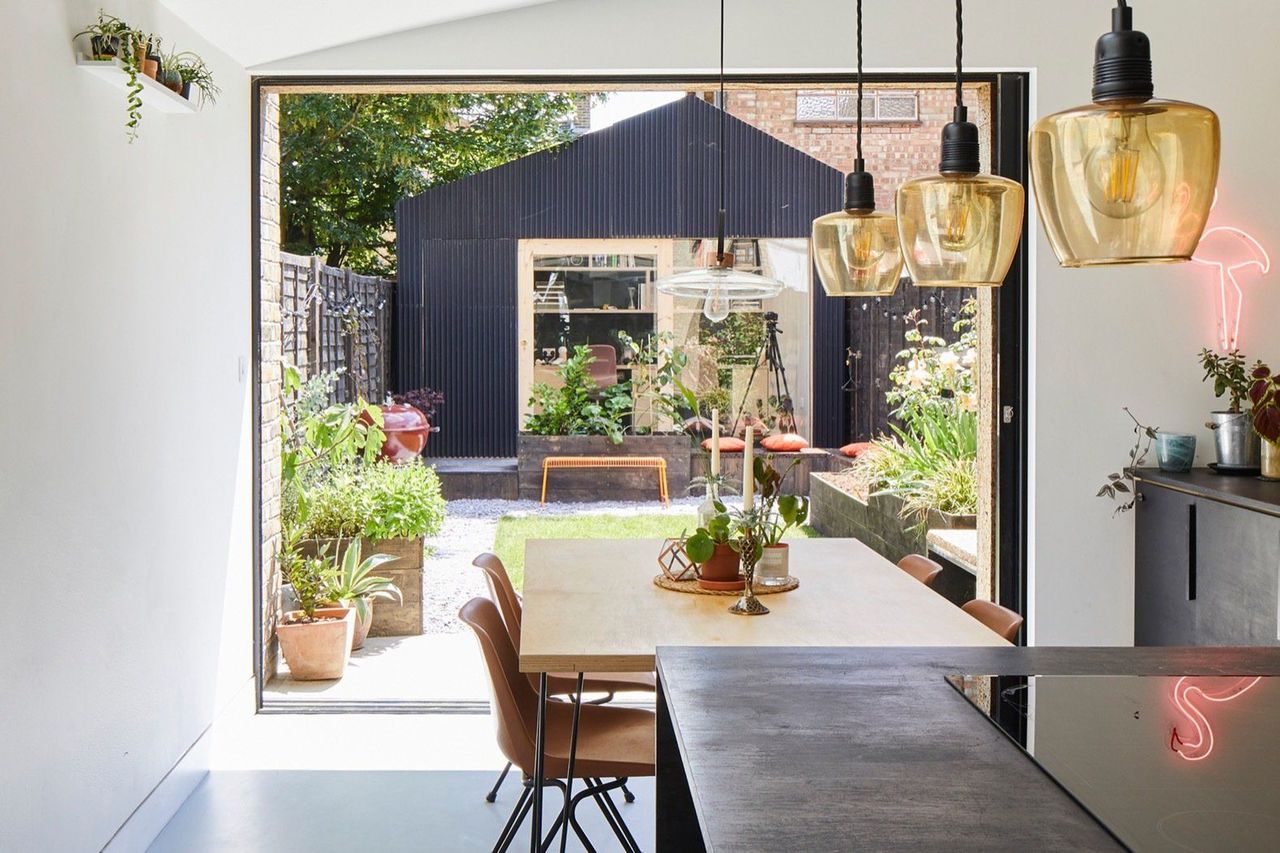 The view from Andrews' Cork House extension to the Light Shed.

Since everything would be fabricated on-site, the materials-mainly plywood-needed to be lightweight and small enough to hand carry through the house to the back garden. Though the material palette was simple and low-cost, Andrews successfully crafted a welcoming space that feels much larger than its roughly 170-square-foot size, achieved with a minimalist design, an abundance of natural light, and the bespoke glazed doors that pull in views of the outdoor landscape.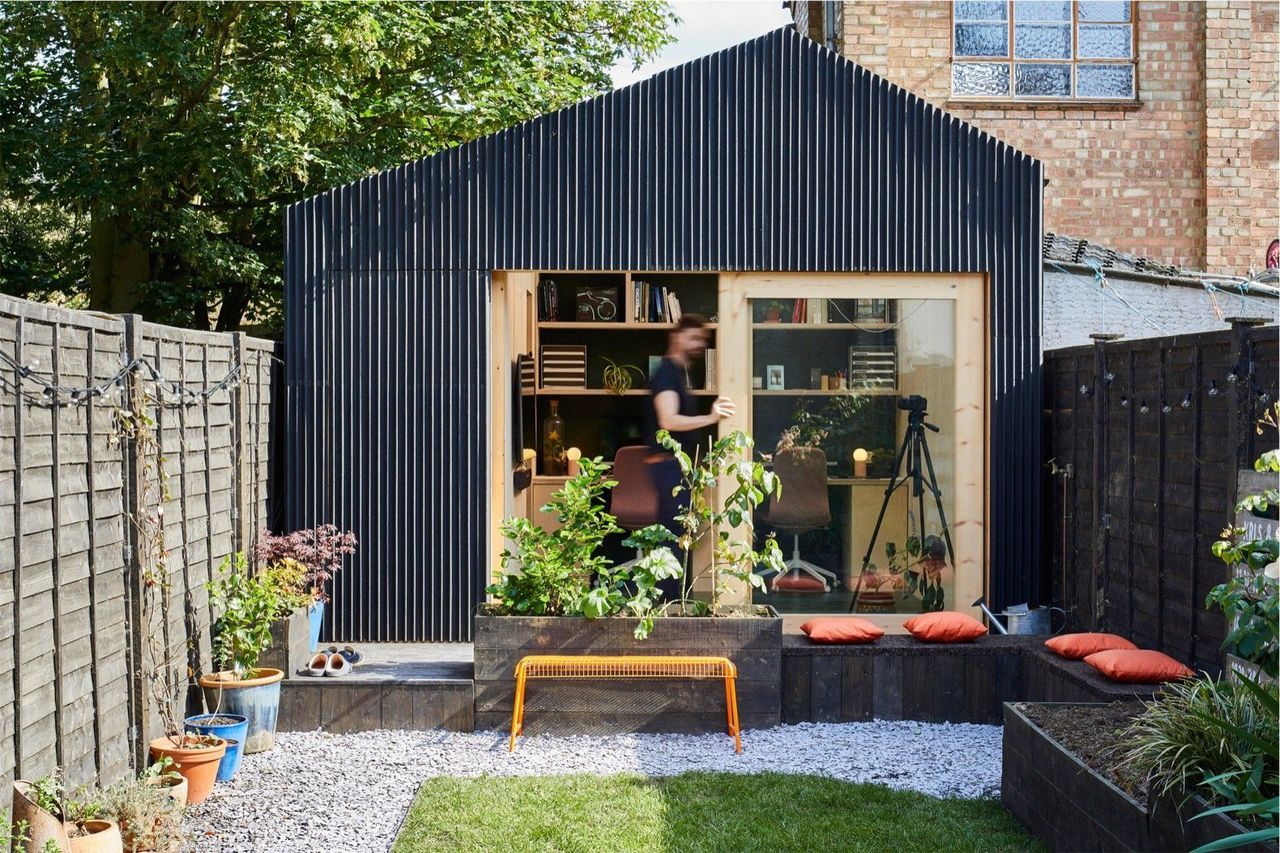 Andrews fabricated the bespoke sliding door system on-site using SDS London Sliding Door Gear. The timber is finished in OSMO UV Oil.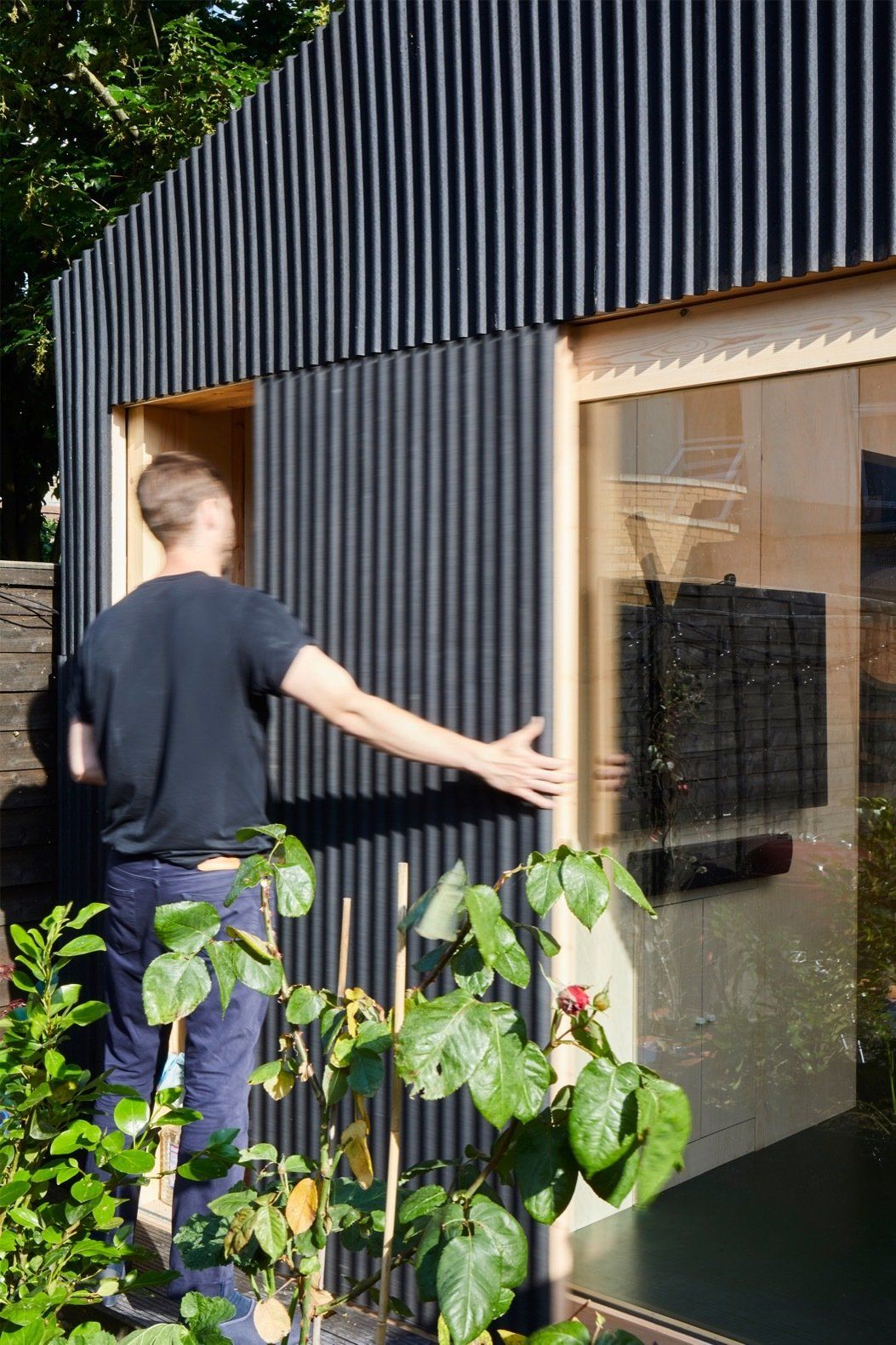 The bespoke sliding door system conceals a small storage closet accessed from the outdoor deck.

The interior is bathed in diffused light let in by polycarbonate rooftop panels that also inspired the project's name-The Light Shed. The soft lighting creates an ideal environment for model making, while harsh direct sunlight was strategically blocked on the east, south, and west sides.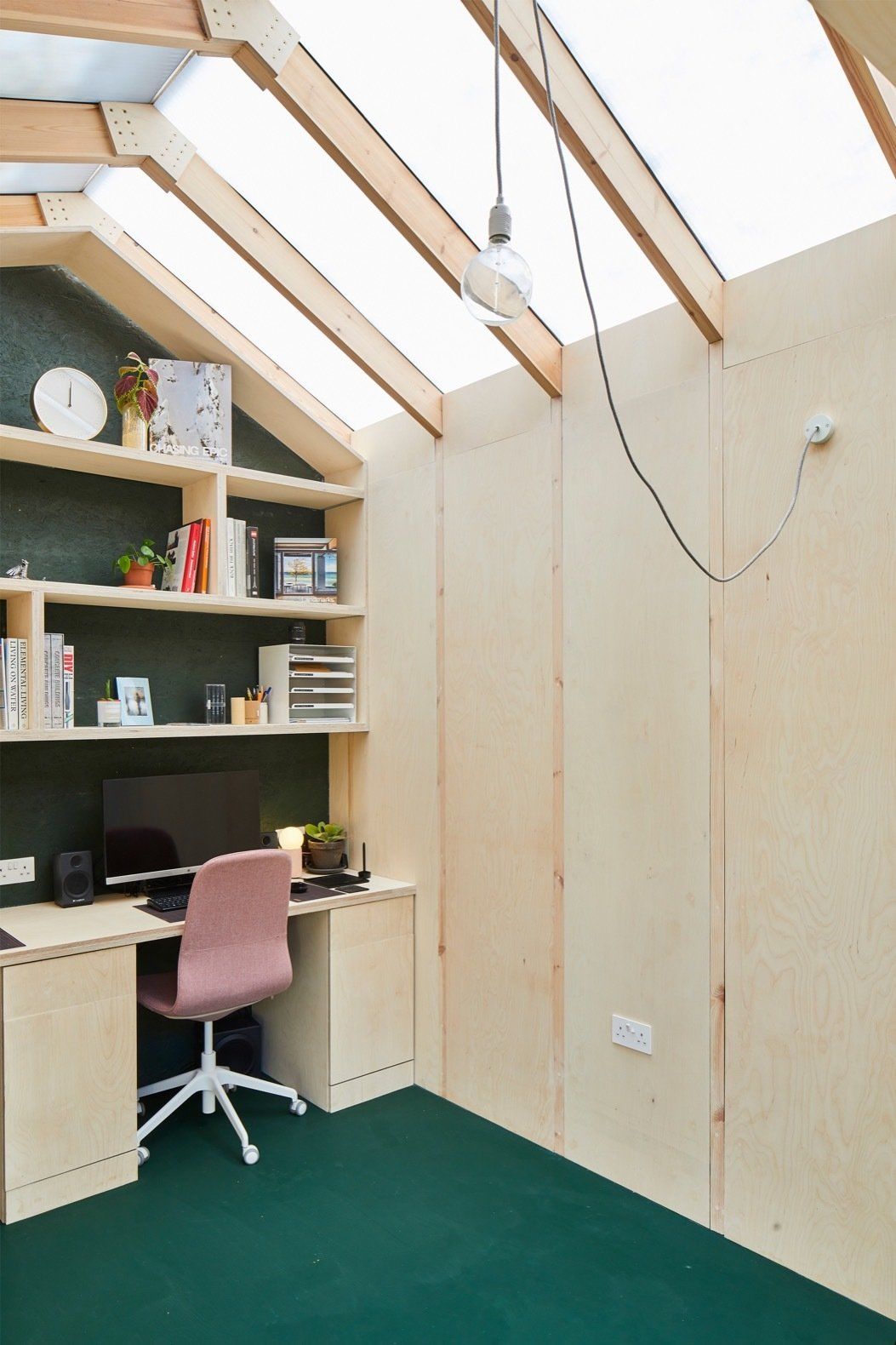 The exposed pine beams finished in OSMO oil support the polycarbonate opal/diffused panels set on aluminum glazing bars.

Securing planning was a straightforward process, says Andrews. "The council got behind the submission because they thought it was of high quality in terms of design. It is nicely proportioned within the small garden, still leaves a sensible amount of garden area which has been planted and integrated with seating, and is of ancillary use to the main house."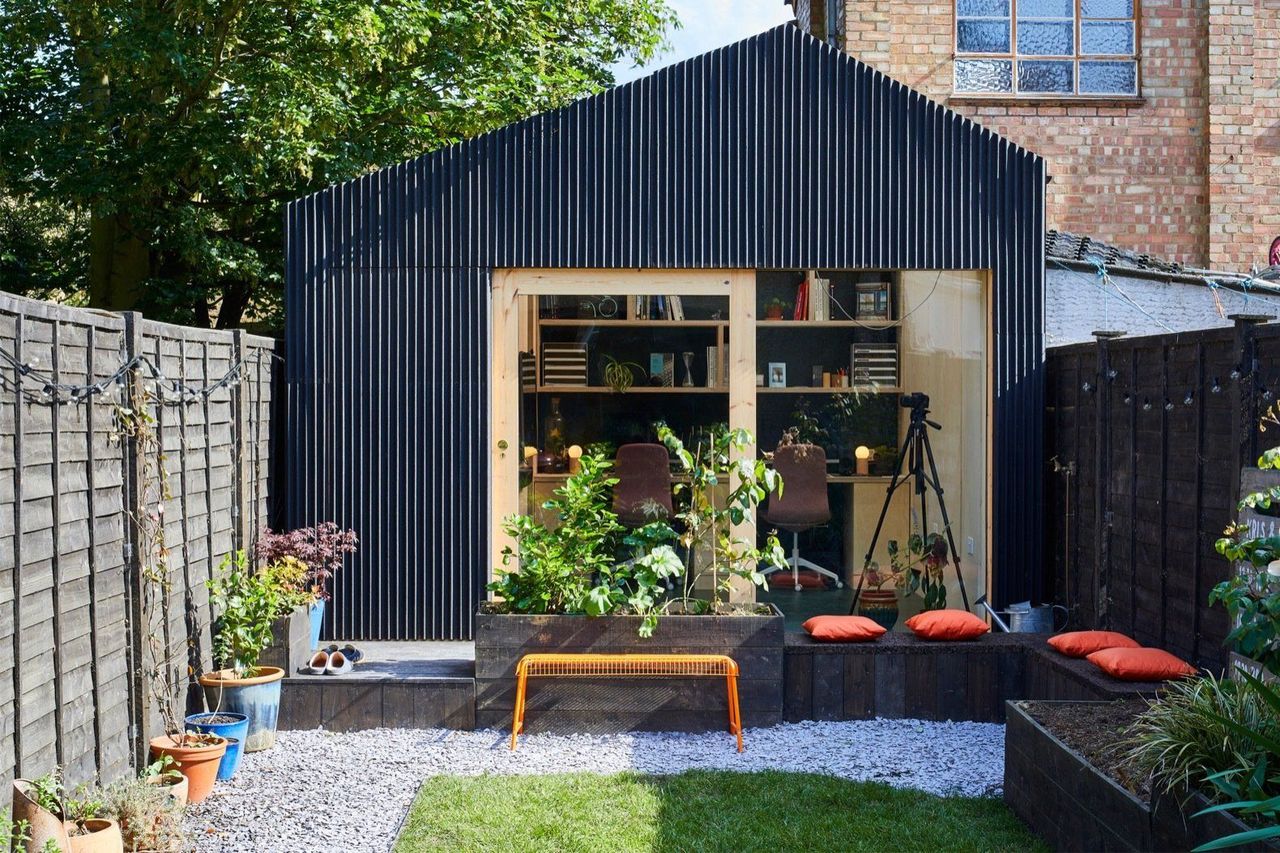 The mature sycamore tree informed the asymmetry of the roof, which also mirrors the roofline of the main house and helps blocks views into the back garden, which has been revamped with cork seating and planters.

Though Andrews knows his practice will inevitably outgrow the Light Shed's tiny footprint, he still welcomes the flexibility of the beautiful home office for family use. "If as a studio we can prove that such concept design successes are easy and inexpensive to realize, surely this approach can be discussed more positively instead of just something to overcome when designing an architectural intervention, no matter what the scale," he says.

"With current trends showing peoples' willingness to explore alternatives to creating additional space as a means of maximizing their home-life, the Light Shed offers a superior solution to the common garden shed or summer house at a similar cost."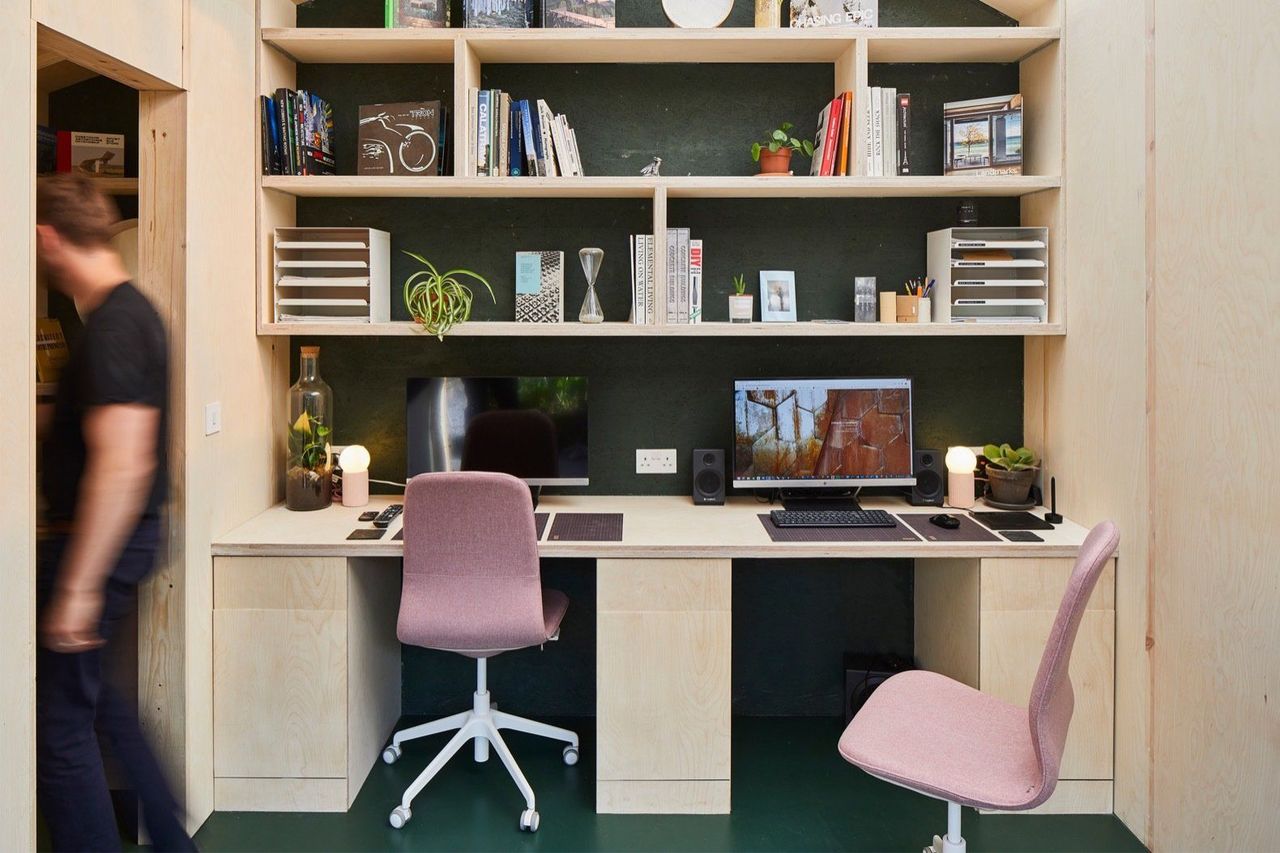 Superior insulation protects against temperature fluctuations. "We only require a Dyson Hot+Cold air to heat and cool the space. On really hot days, the large front sliding door system creates an opening of 2000mm (h) x 1300mm (w), which creates a very comfortable place to work and relax."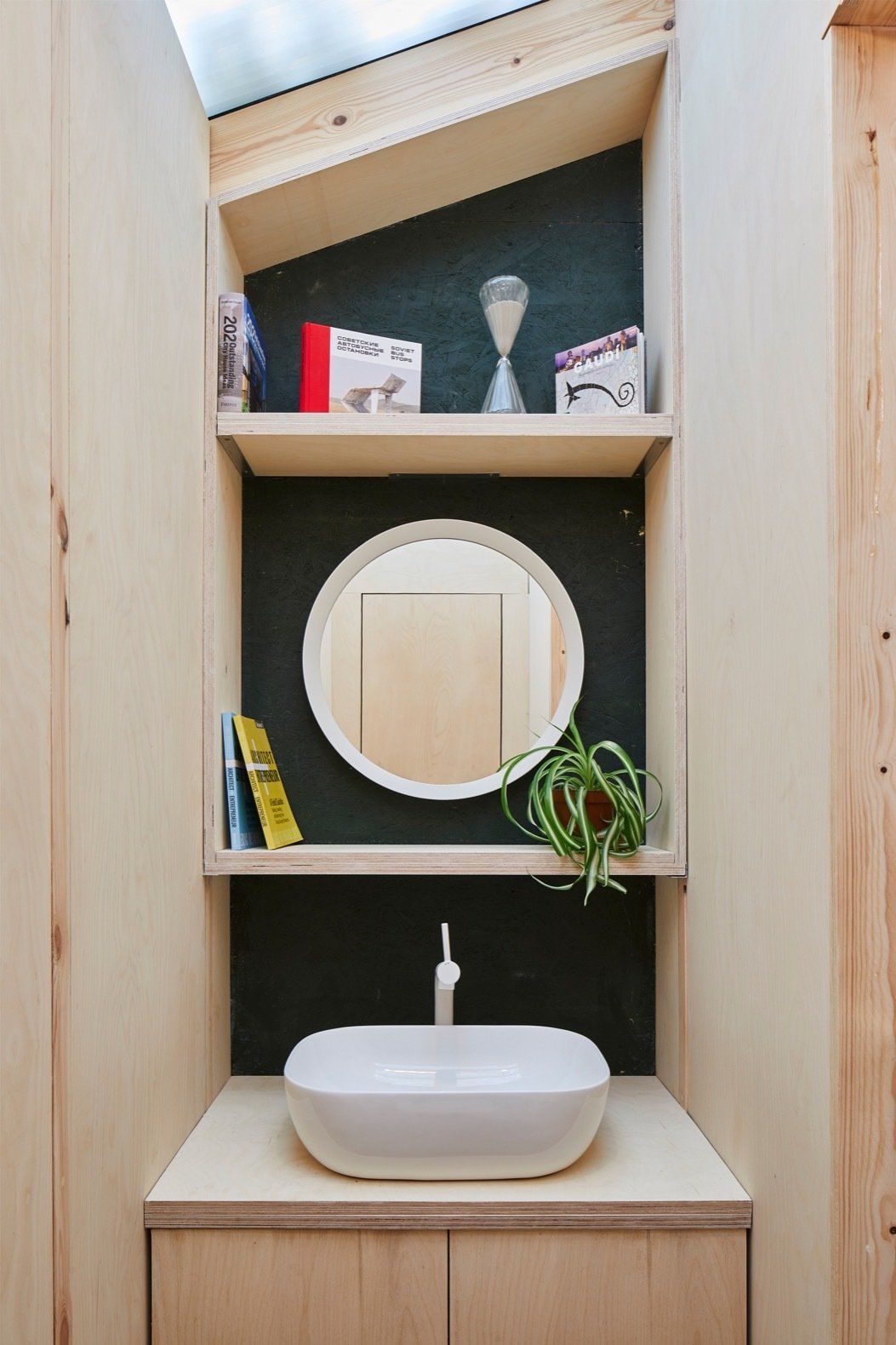 The office also includes a small bathroom.




The Light Shed ground floor plan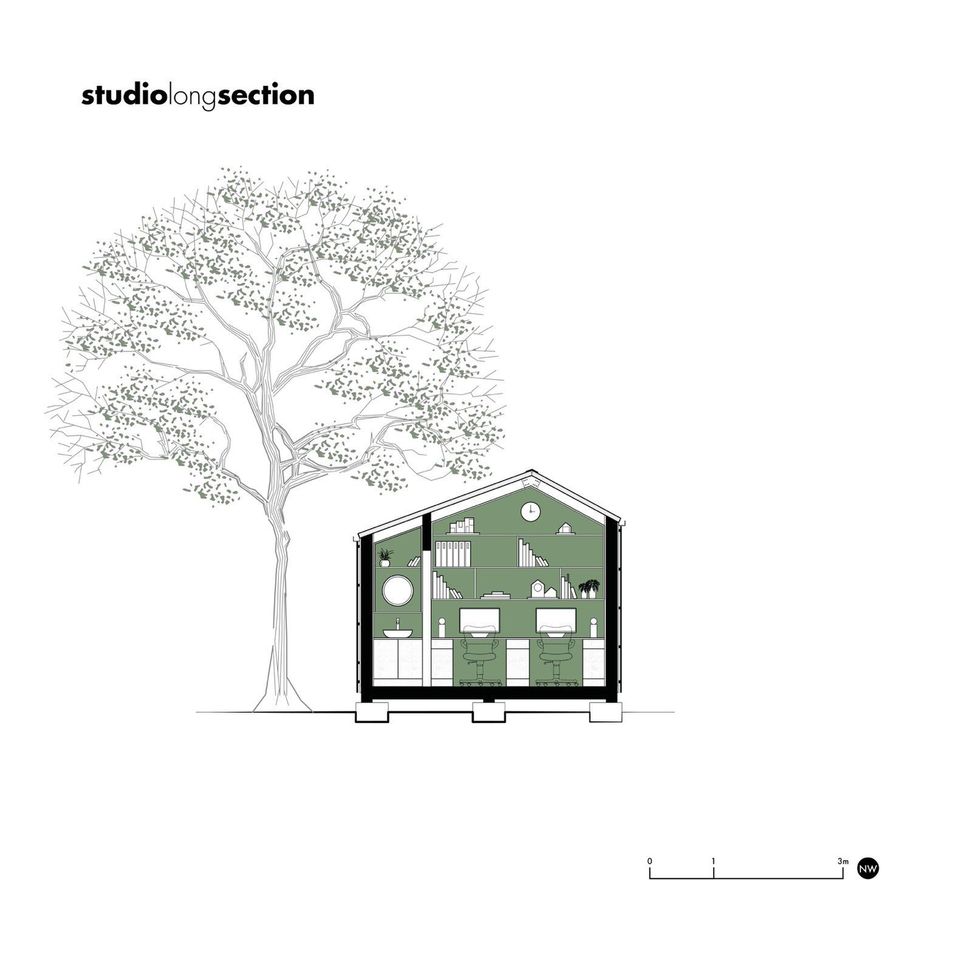 The Light Shed section