A recently finished houseboat is now up for grabs in London, England. Known as Olive, the 59-foot abode was designed in 2019 by its architect owners, and is currently docked at the Battlebridge Basin on Regents Canal.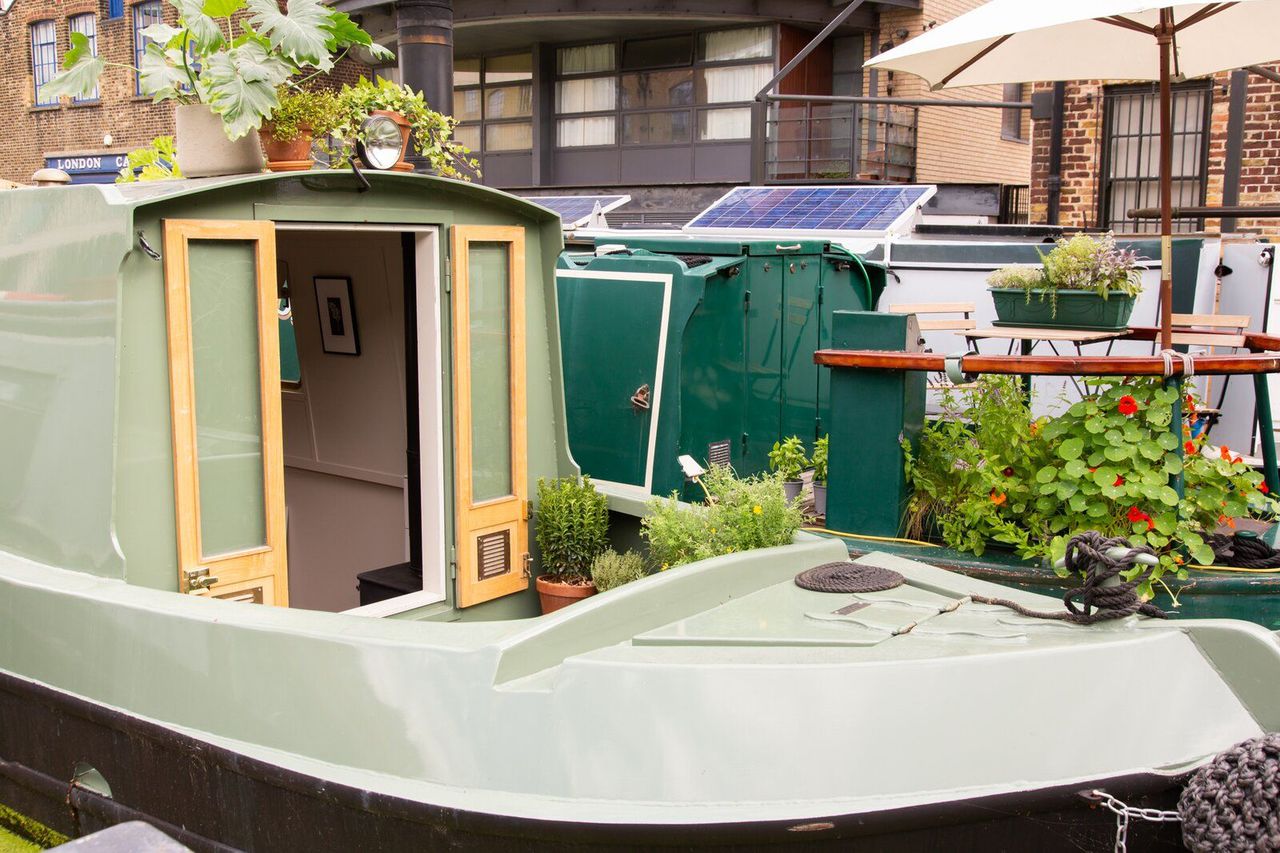 Complete with a fully insulated hull and two rooftop solar panels Olive-dressed in a fitting warm green-allows for easy off-grid living.

Despite its tiny footprint, the narrowboat is fully equipped for modern-day living with an open floor plan and bright, airy interior spaces. A charming outdoor seating area on the bow extends a warm welcome, and double glass doors lead inside, where wooden floors run throughout the living areas.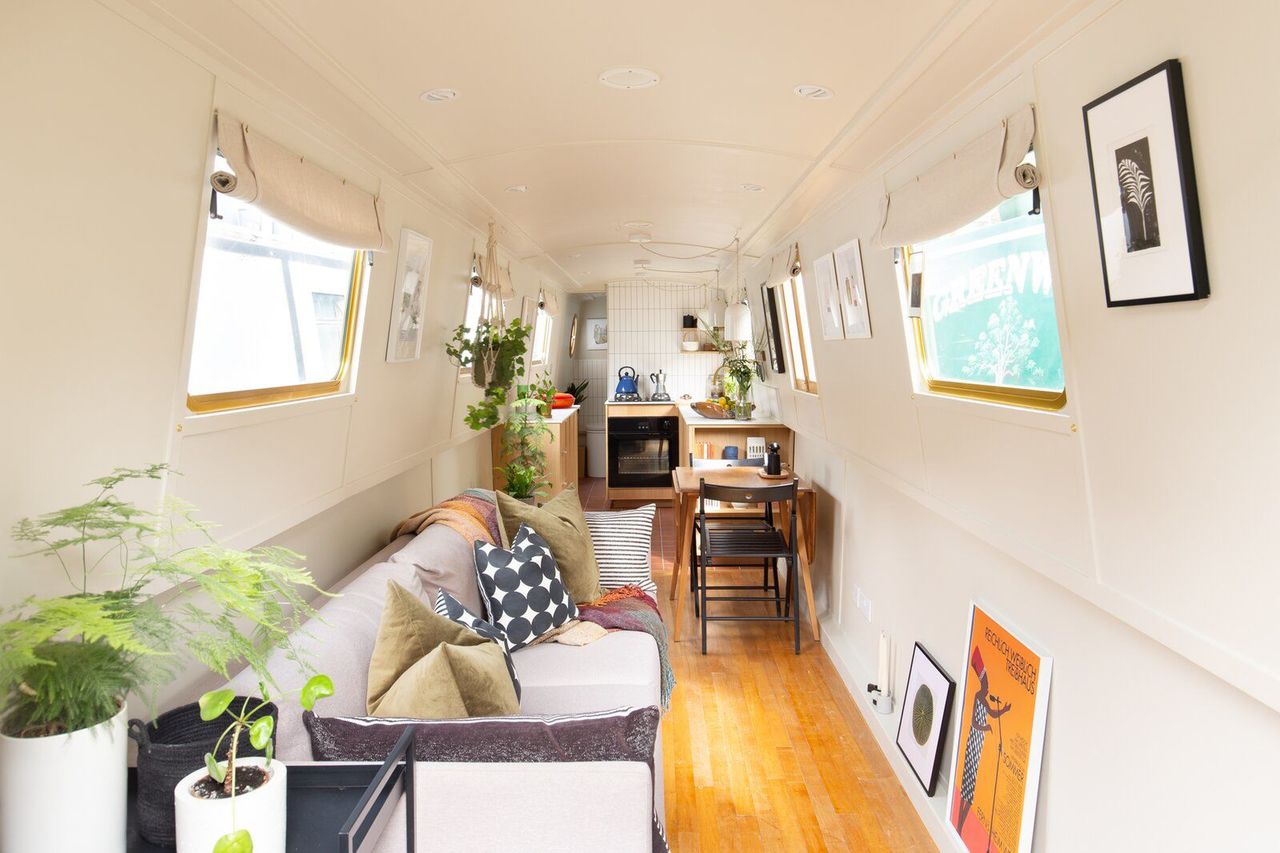 Eleven windows dot the exterior of the home, ushering ample natural light inside.

Past the sofa and two-seater dining table is a large kitchen with oak-faced cabinets, Fenix worktops, and all-new integrated appliances. White tiles stretch up and across the walls, forming a striking backsplash that complements the home's neutral palette.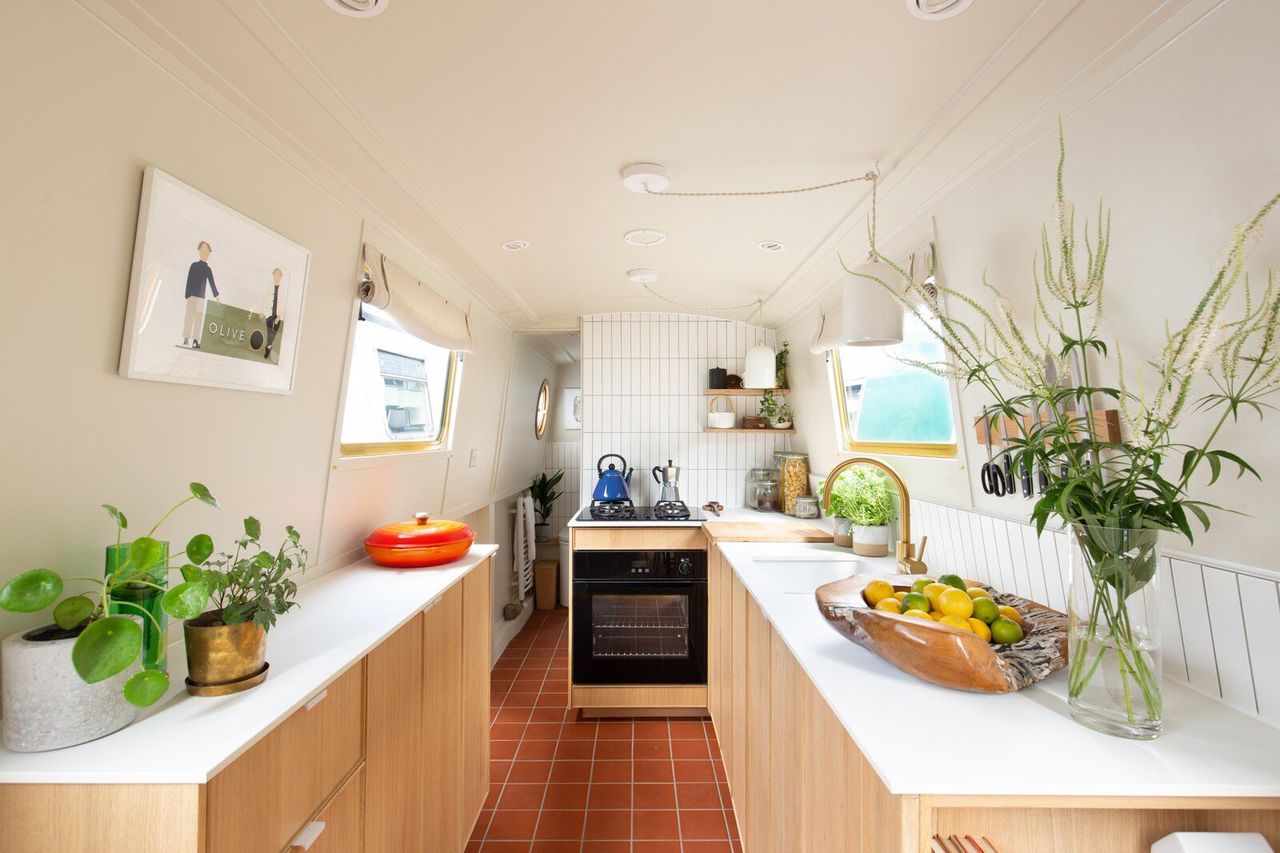 Long countertops flank the sides of the kitchen, providing plenty of space to meal prep.

"The quality of design is outstanding from both an aesthetic and practical perspective," notes listing agency Aucoot. "The result is a contemporary and timeless vessel in harmony with her fluvial surroundings."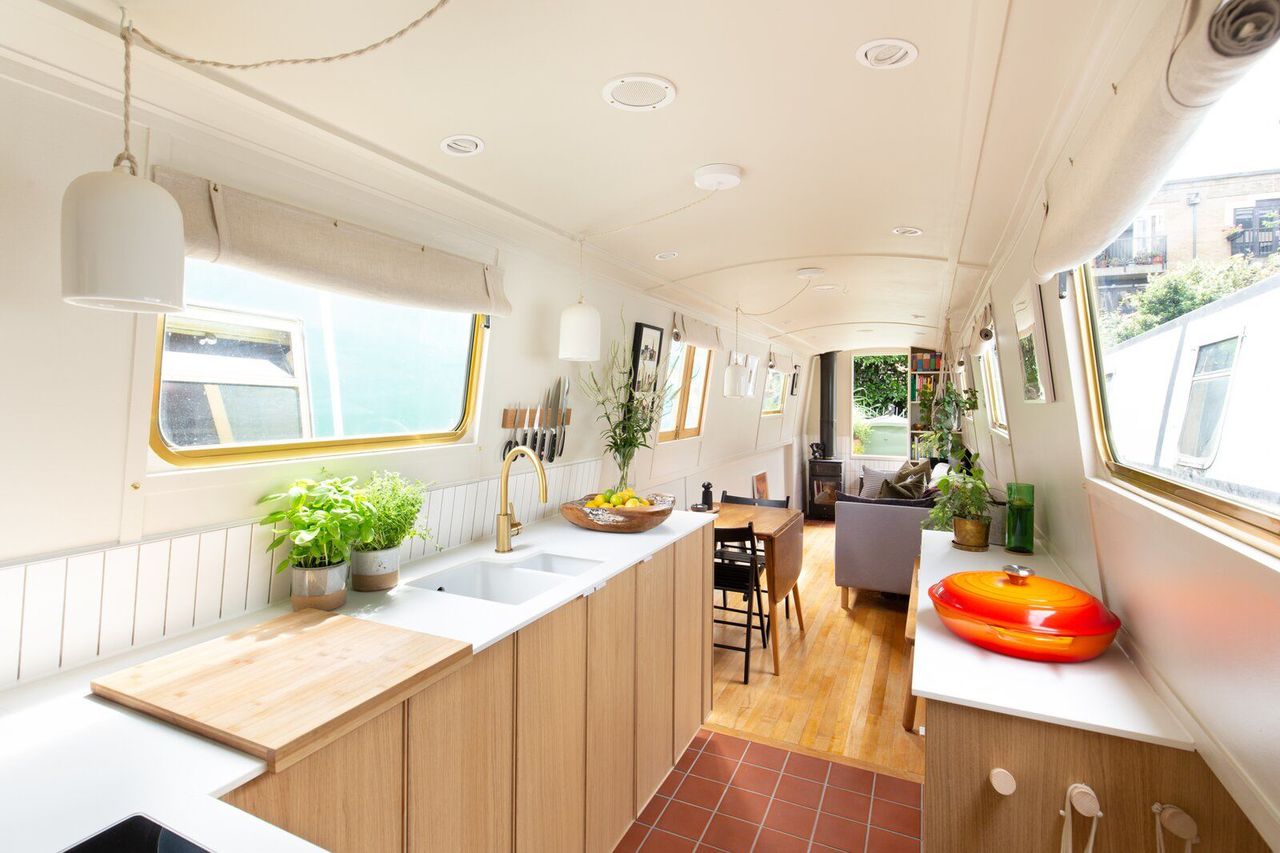 The view from the back of the kitchen looking toward the living room, where a multi-fuel stove sits near the main door. Quarry tiles, found at the entry, continue into the kitchen and bathroom.

On the opposite side of the kitchen is a sun-kissed bathroom with a quadrant shower, countertop sink, and an eco-friendly composting toilet. A 400-liter (105-gallon) water tank under the bow deck provides ample water for the bathroom facilities, as well as all of the home's appliances.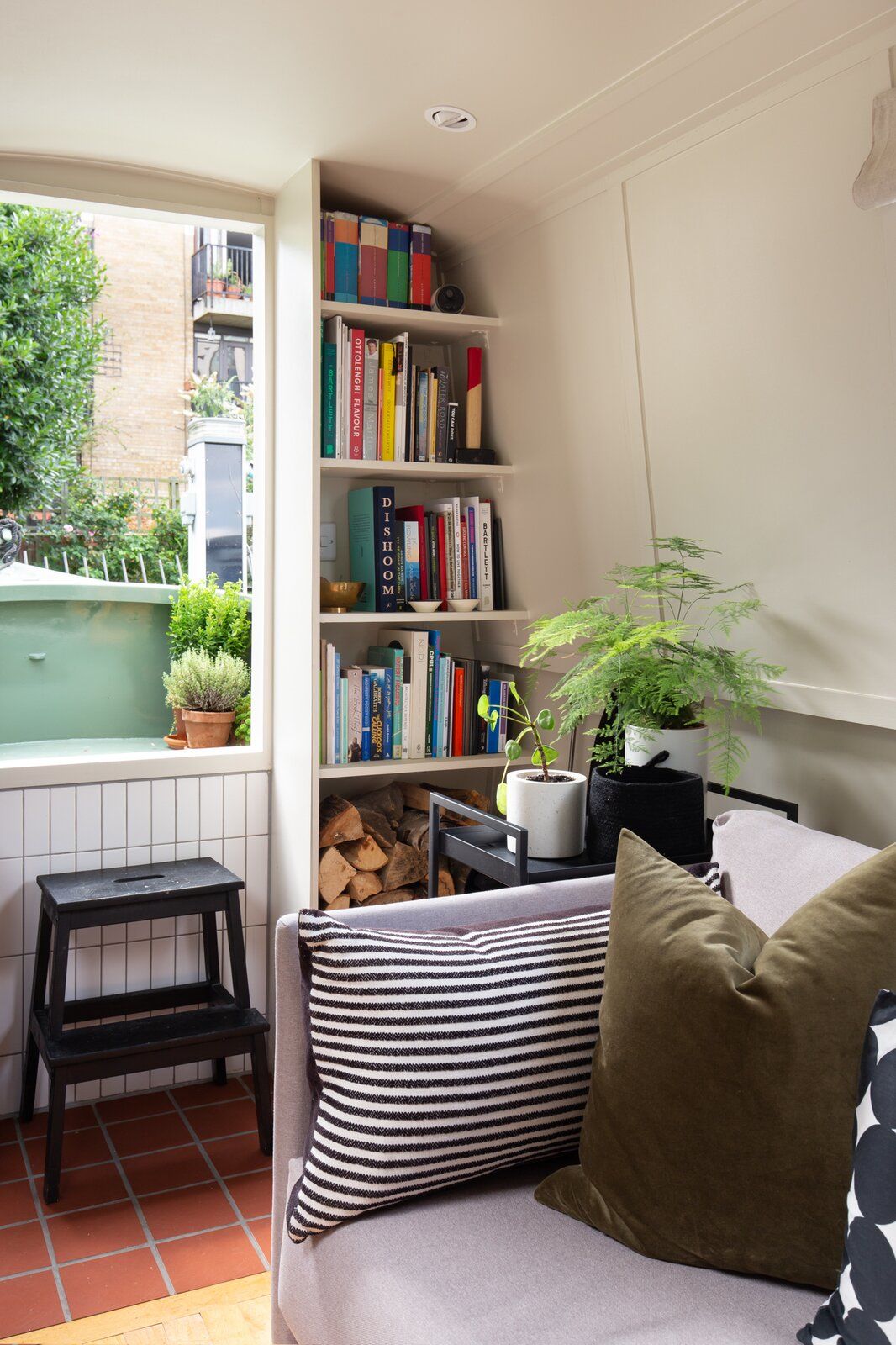 "Olive's designers have incorporated clever storage solutions and the flexibility of freestanding furniture throughout, helping to keep clutter to a minimum," states the listing agency.

Through the bathroom is the bedroom, located at the rear of the plan. With a minimalist style similar to the front-end living spaces, this private corner features a custom, built-in wardrobe and oak-lined portholes.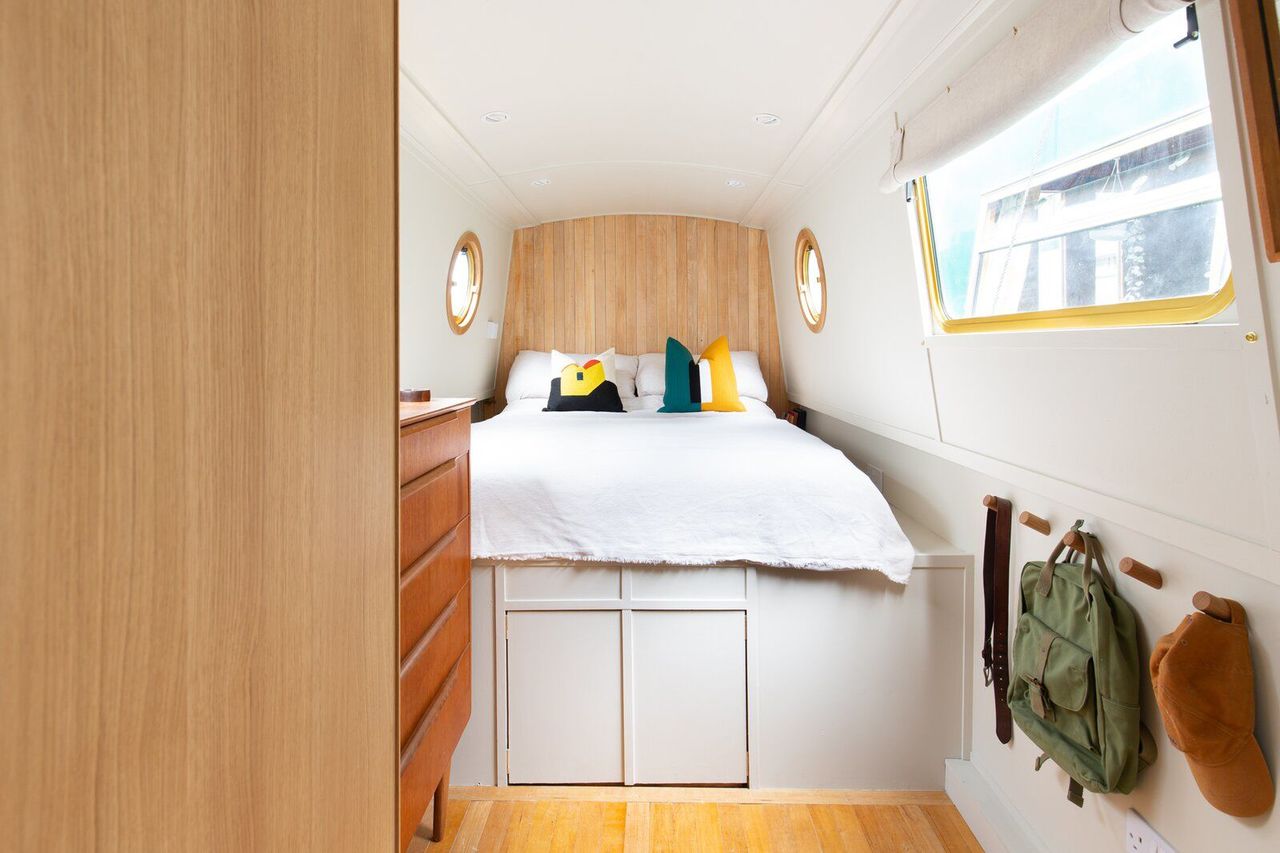 Additional storage can be found underneath the double-size bed.

According to the listing, the houseboat is equipped for both cruising and long-term shoreline mooring, although a mooring is not included in the sale. Scroll ahead to see more of the quaint home, currently listed for £125,000.

The bathroom is outfitted in the same white tiles as in the kitchen, creating a cohesive and calming aesthetic. Oak-lined portholes draw in light while framing the view.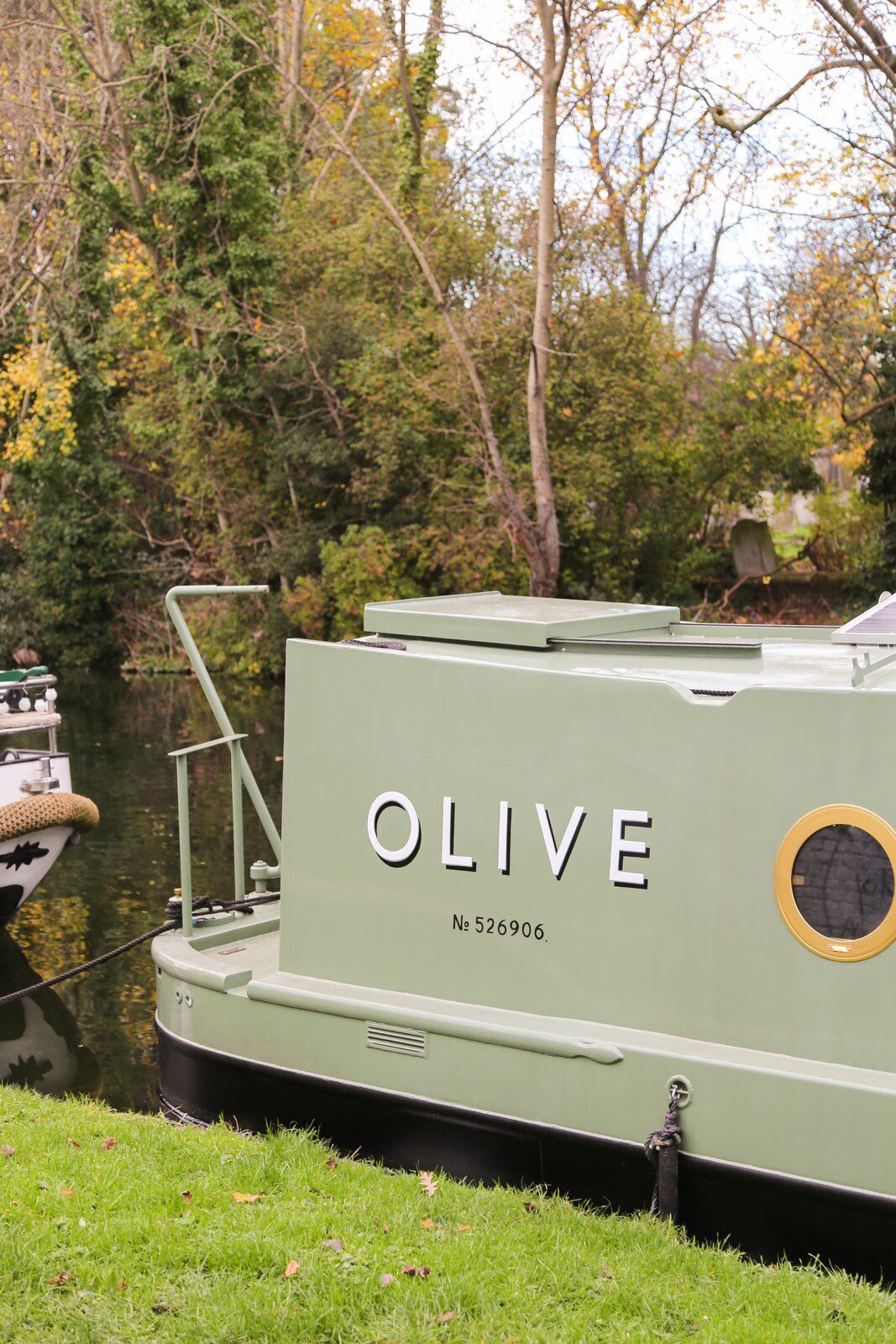 The boat comes with a 2019 Canaline engine, which can be accessed either externally from the rear stern or via a hidden door in the bedroom.