Each week, Mansion Global tackles a topic with an elite group of designers from around the world who work on luxury properties. This week, we look at how to add just the right amount of kitsch to liven up your home.

A lip-shaped sofa or a corn on the cob chair—whatever whimsical décor you're drawn to, it's bound to stir up conversation. The idea, however, is to create a good kind of chatter rather than snarky commentary.

"An unexpected item adds character and charm to a space by creating a moment," said Los Angeles-based designer Peti Lau. "Besides adding that fun factor, it tells a story."

Incorporating a conversation piece into your décor is the tricky part. Follow these tips from the design pros for creating a wow moment rather than an eye sore.


Complement Rather Than Compete

"I personally like to incorporate these fun pieces in small quantities, using just one or two so that they can speak for themselves and become a point of interest. For clients who are not too adventurous but want to dip their toes into kitsch, I always suggest they start by incorporating bold colors or a fun piece of art.

"The ideal situation is to plan the room with that one piece in mind, so that the rest of the color palette and the pieces work with it—and they aren't competing with each other.

"The best way to make it work for any space is to either keep it simple with a few pieces, or for more adventurous people, commit and go full overboard to make a real statement.

"Try to avoid using pieces that are overused or trendy. I am personally over the lips-shaped sofas. If you're really into them, try and find pieces that convey a similar aesthetic but that you'll still love a few years after."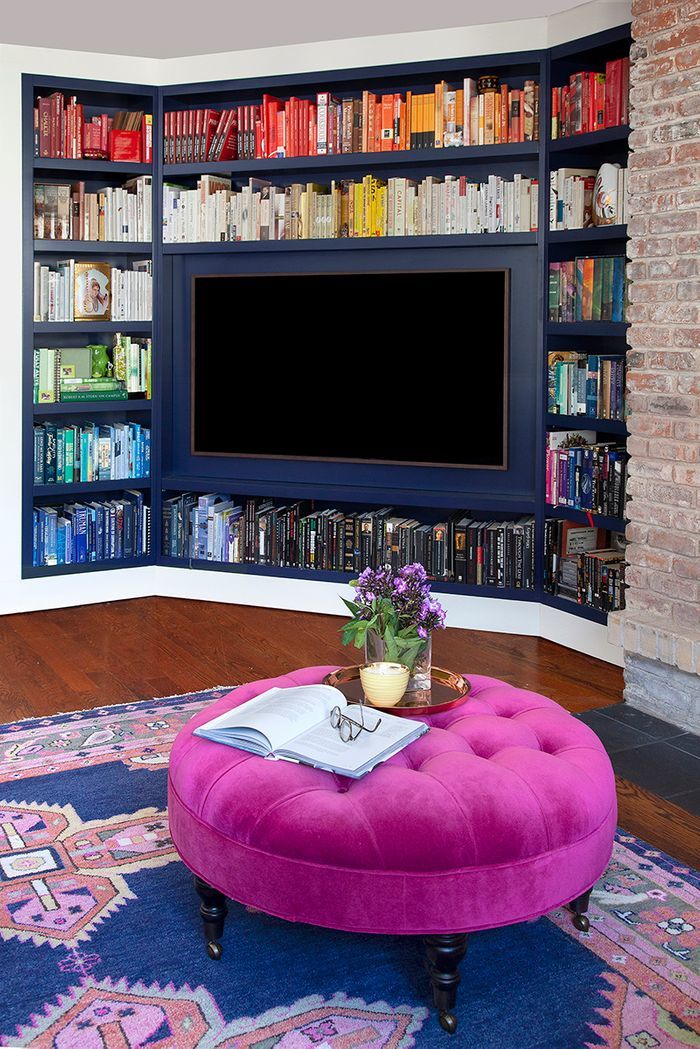 Designed by Rozit Arditi, an overstuffed ottoman takes center stage thanks to its vibrant color.


Strike a Balance

"I love using nature elements such as taxidermy to bring in that wow factor. I have a peacock in my living room. They are such beautiful creatures and I love what they represent.

"Incorporate one item if it's a large statement piece like a sofa or a table, but you can also create a juxtaposition of multiple items—small objects in a cabinet or a bookcase display, for example.

"The key to making them vibe with the rest of your decor is balance. There needs to be some element of neutrality to allow the statement pieces to be the star; the decor should support it.

"If you already have a vibe you are creating, I suggest bringing a smaller item into the space to create that 'aristofreak' vibe—that unexpected item or object to throw it off, yet somehow just works. It's about creating that perfect tension and balance. Stick with three colors that go well together. Typically, I find a bold color and then add two supporting colors that go well to balance the rest of the design.

"If you are not doing color, go for texture or a sculptural element. Texture is a great way to create a vibe. Textures that are soft or natural such as wood, rope or jute, and textures that are unique, like sculptural ceramics in tonal colors, really give that punch you are looking for."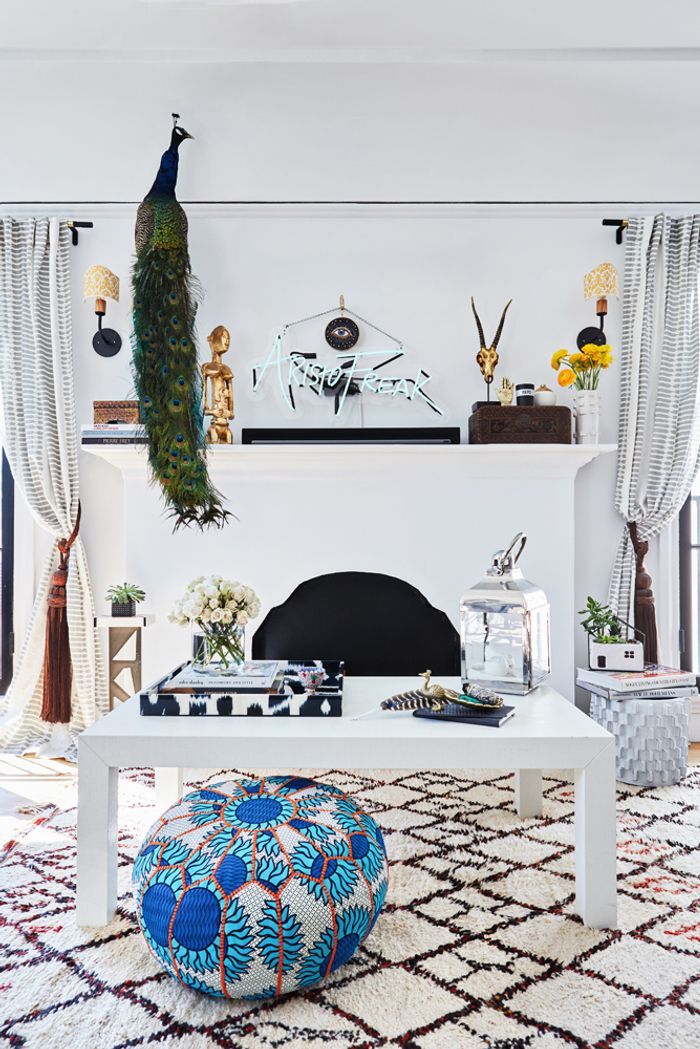 A peacock perched atop shelving furthers the eclectic vibe of a living room designed by Peti Lau.


Think of It as an Accessory

"Using unique items is the new modern statement piece. This look has to be done with intention. The unapologetic approach has given me a creative edge and set my personal style apart from other extremely talented contemporaries.

"The way I have incorporated these objects is simple yet takes some self-control on my part. For my clients, I think of an elegant woman in a monochromatic outfit as the furniture and the outstanding object the accessory—just as a fabulous handbag is used to complement the look. It's the 'red lipstick' approach.

"Placing the object in the center of the room is not my style. I always try to make it an extra surprise in the room. Japanese toys by KAWS or Murakami pillows can do the trick in a snap—depending on the clients' pocket depth of course."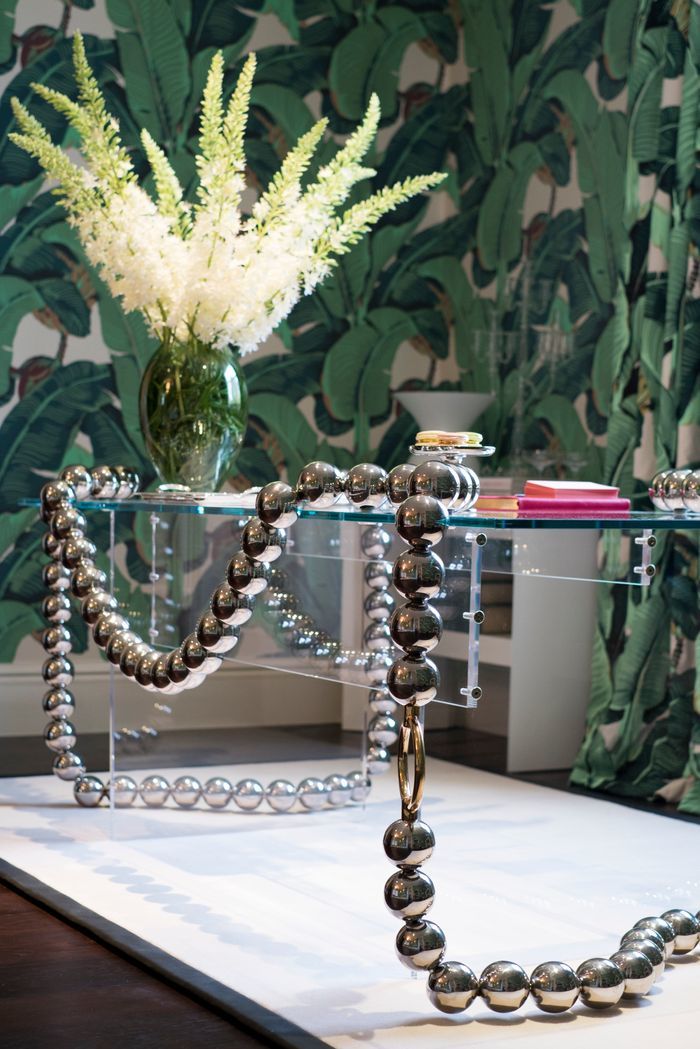 Designer Carrie Livingston dressed up a tabletop with an oversized strand of beads for an elegant-meets-eclectic touch.


Have Restraint

"Whimsy is in the eye of the beholder. We all go for what we are attracted to, for whatever reason, from our personal histories. You might fall in love with giant labware containers and put them with the Adam Face Pot from Group Partner because it makes you smile.

"A statement piece doesn't need to be fancy. You could place a ceramic German Shepherd on the coffee table next to a bunch of pink sweet peas. If you mix it up in a way that pleases you, it tells a personal story and that becomes the consistent element.

"For myself and my clients, I use 'Pee-wee's Playhouse' as a mental 'no man's land.' You want it charming, quirky and cheerful but never to cross the silly line. Have restraint by cutting yourself off and then revisiting. Have a high bar for what you let in the scene."