The impressive coastal estate where retired Hollywood actress Kim Novak lived during the 1960s and '70s is now up for grabs in Carmel, California. Complete with a main residence and guesthouse, the two-acre property sits on a rocky coastline that presents unobstructed views of the Pacific Ocean.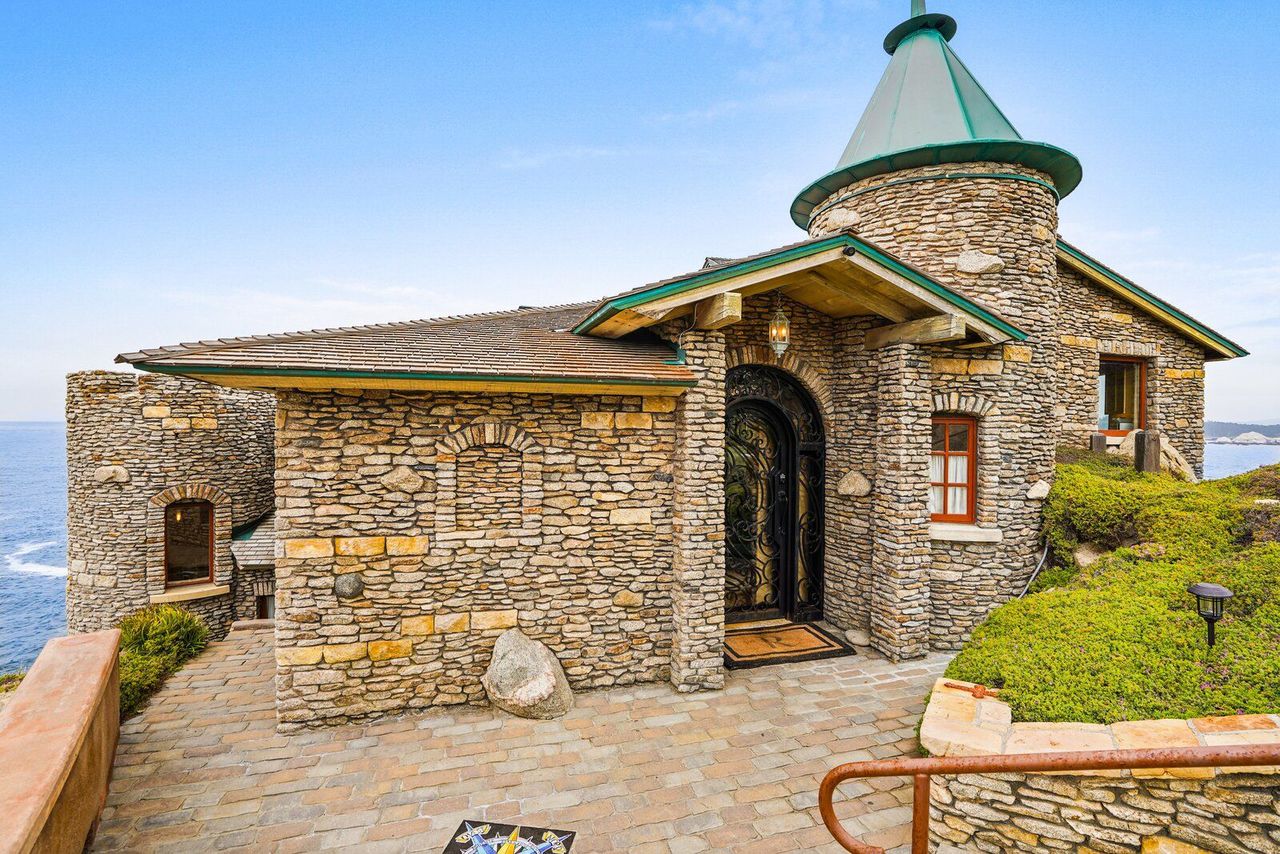 Dating back to 1957, the stone-clad residence rests on a two-acre parcel at the end of Spindrift Lane-a private, gated road along the rugged coast of Carmel, California.

Originally built in the late 1950s, the home has since served as a quiet, cozy escape-most notably for Novak, who is known for her starring roles in award-winning films such as Alfred Hitchcock's 1958 thriller Vertigo and the 1960 drama Strangers When We Meet. The Hollywood actress, who is now 88 years old, nicknamed the residence the Gull House when she lived on the property from 1961 to 1973.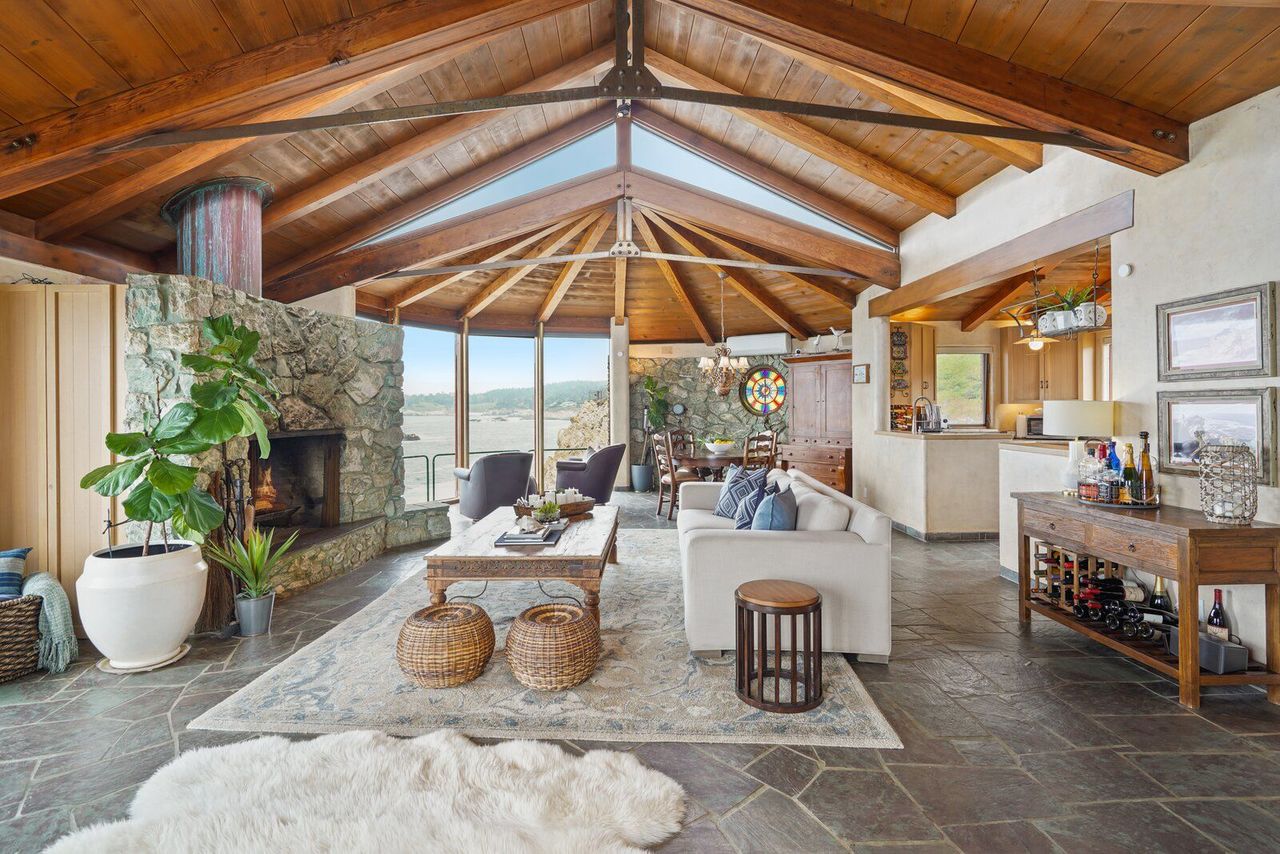 The main residence presents an expansive layout with vaulted ceilings and clerestory windows.

"The majestic sea is embraced in every corner of this oceanfront estate," notes listing agent Jonathan Spencer. "The property weaves into the fabric of the Carmel coastline, allowing you to feel one with some of nature's most wondrous creations, including soaring pelicans, swimming otters, and migrating whales."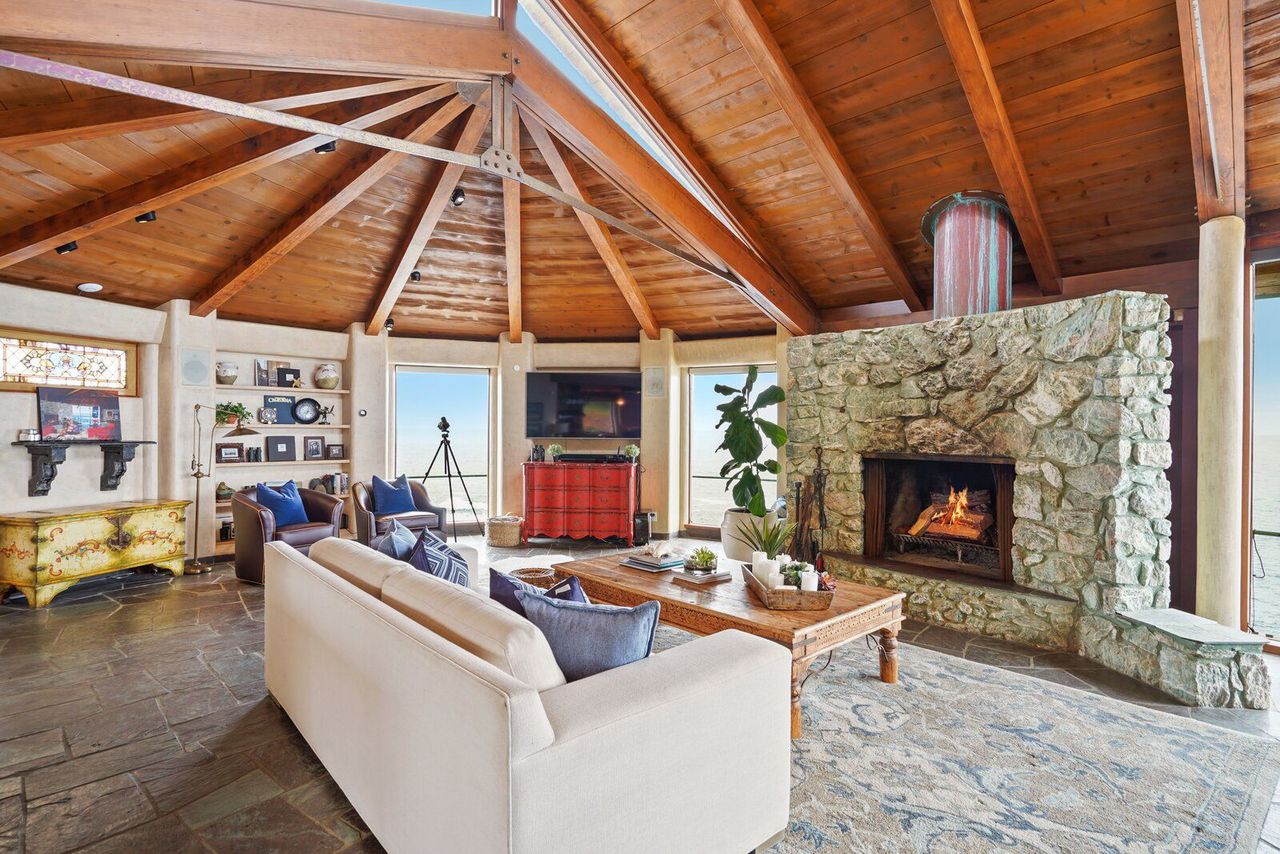 The primary living room is anchored by a broad stone fireplace that is original to the home.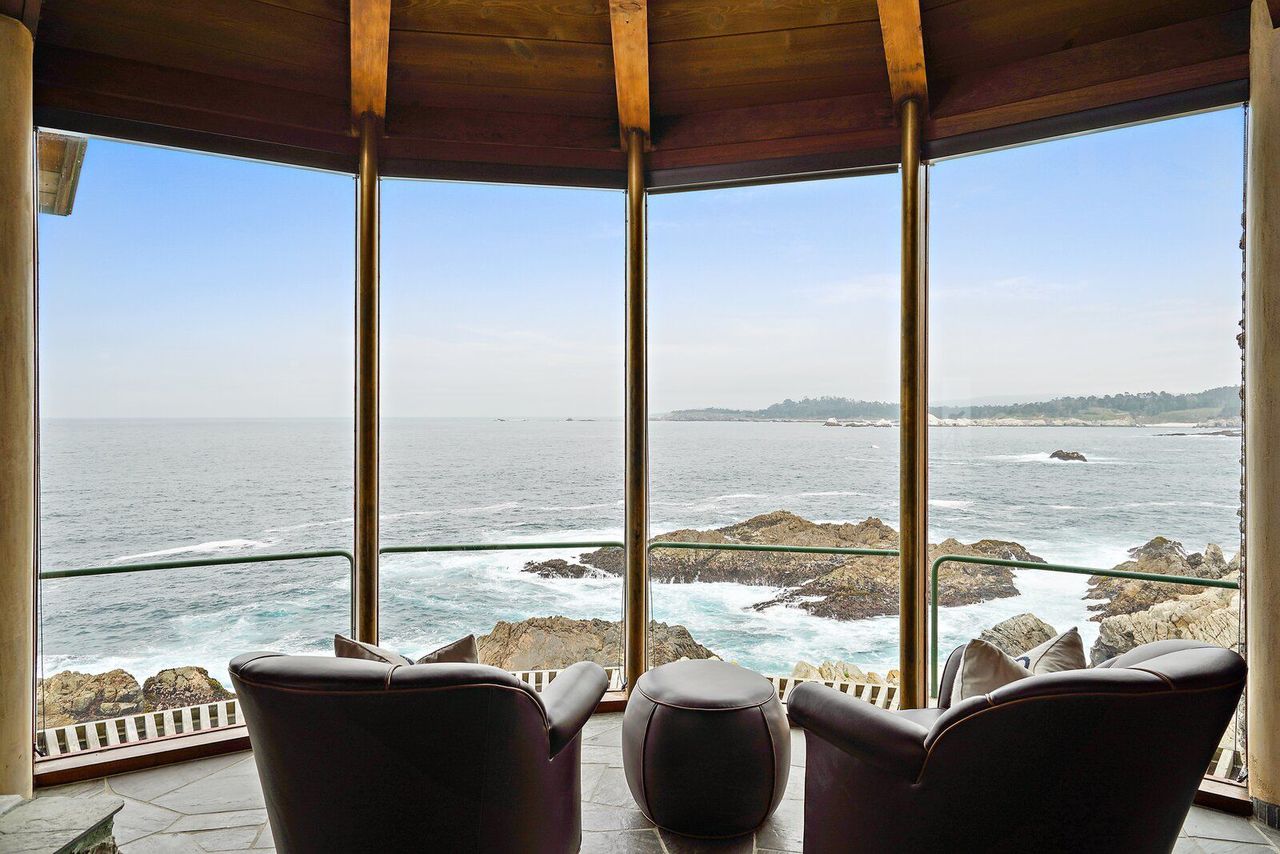 Floor-to-ceiling windows capture spellbinding oceanfront views.

Over the decades, the historic dwelling has been meticulously maintained, and as a result, the majority of its original details are still intact. Inside, exposed beams stretch across the tall, wood-clad ceilings, infusing the living spaces with warm and rustic tones. Extensive stonework and glazing enhance the natural palette.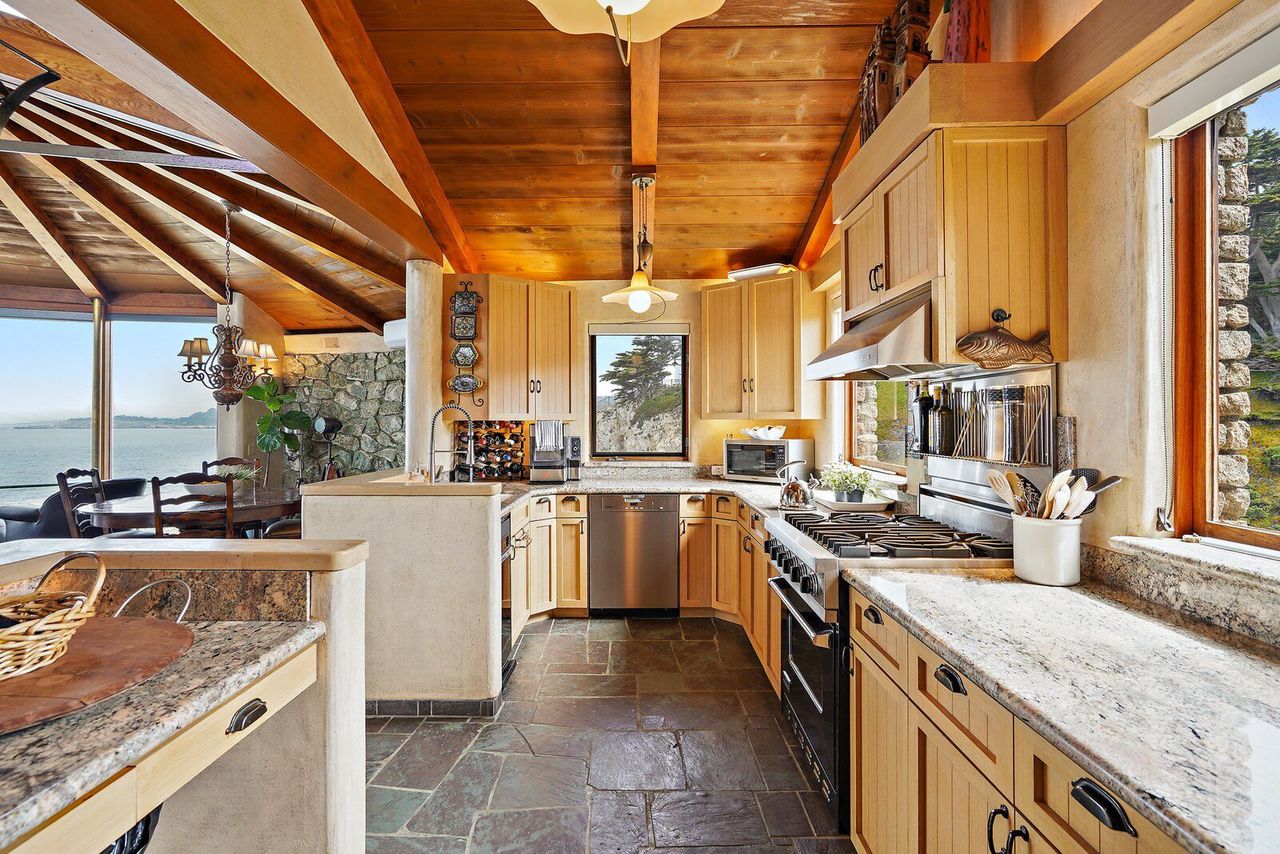 Steps away from the living room is a chef's kitchen complete with all-new appliances.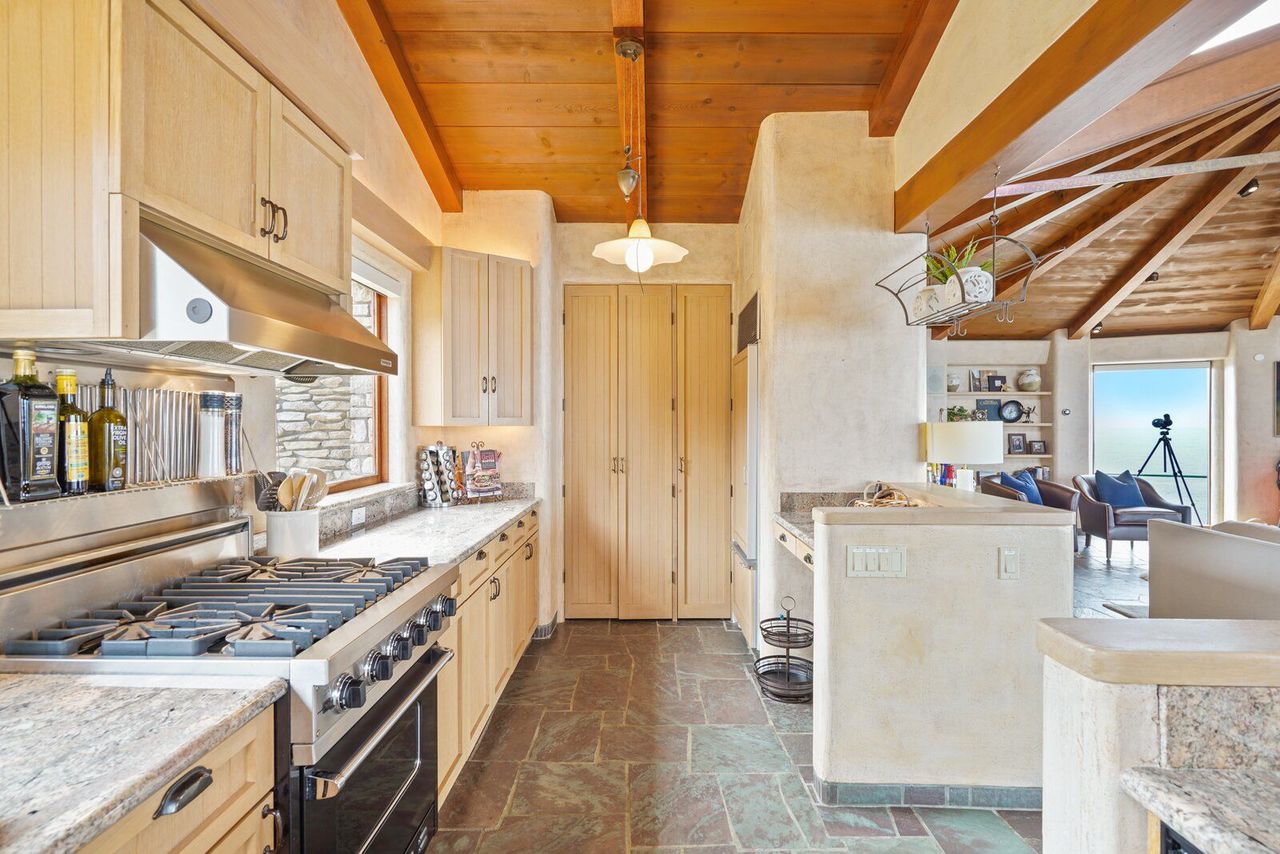 Long, granite countertops allow plenty of space for meal prepping, while custom cabinets offer ample storage.

Between the main residence and guesthouse, the property includes over 2,000 square feet of interior space. Each structure features one bedroom and bathroom. According to the listing, planning has also been approved to build a 4,300-square-foot addition on the site with three bedrooms and three bathrooms, should a potential buyer desire more space.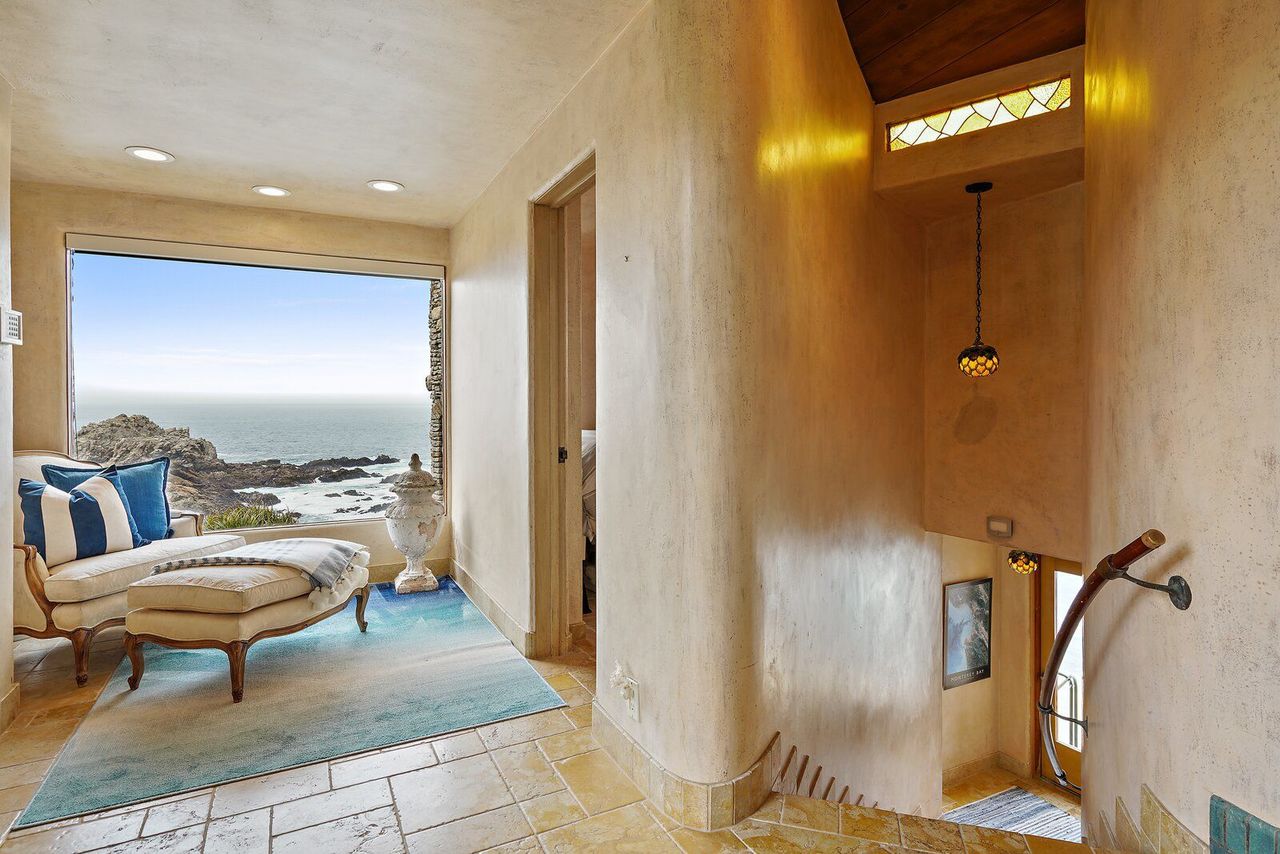 Large picture windows that frame the surrounding landscape can be found throughout the home.

The property sits tucked away on a private road with only four neighboring dwellings. "If you want complete privacy, this is the absolute spot," says Spencer. Scroll ahead to see more of the cliffside home, which is now listed for $12,500,000.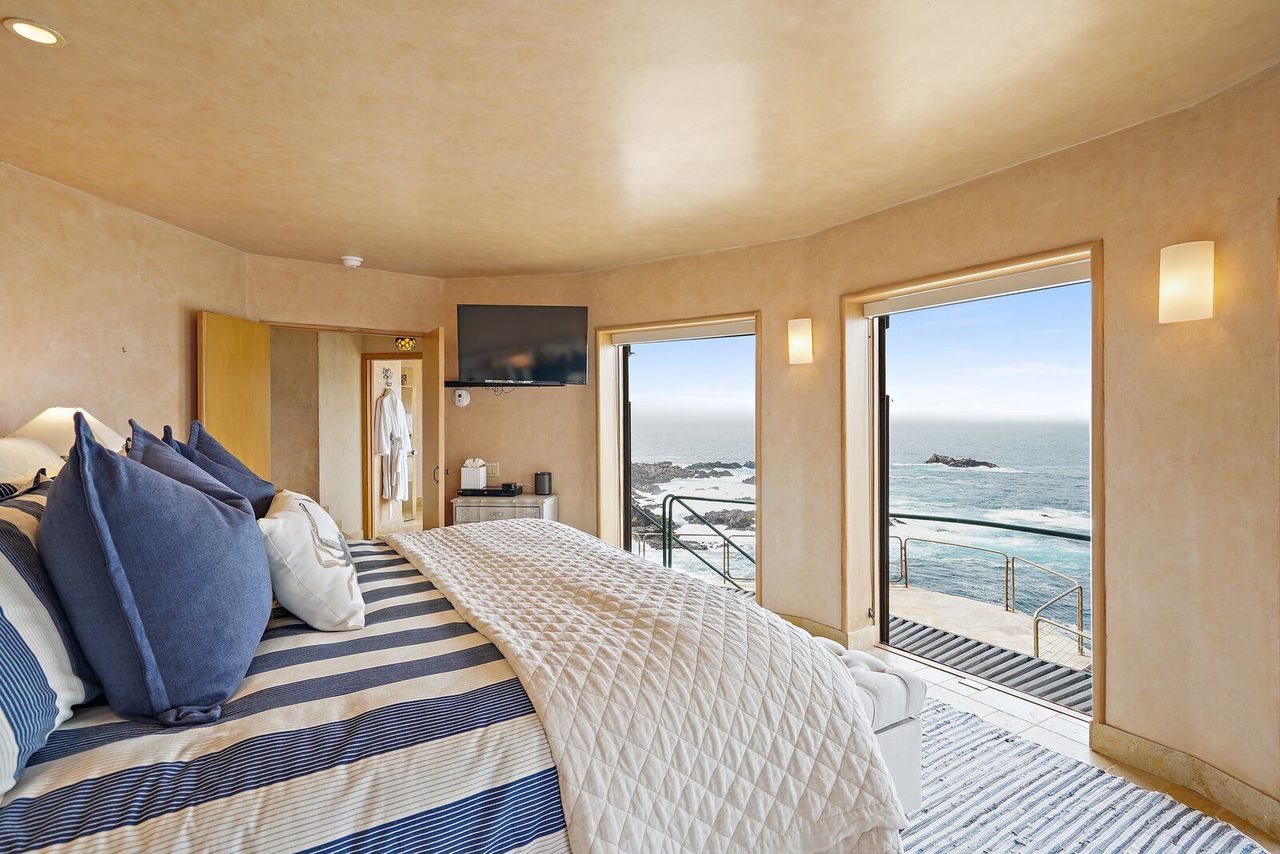 The bedroom provides an instant indoor/outdoor connection, with large sliding doors that open up to the ocean waves just a few feet away.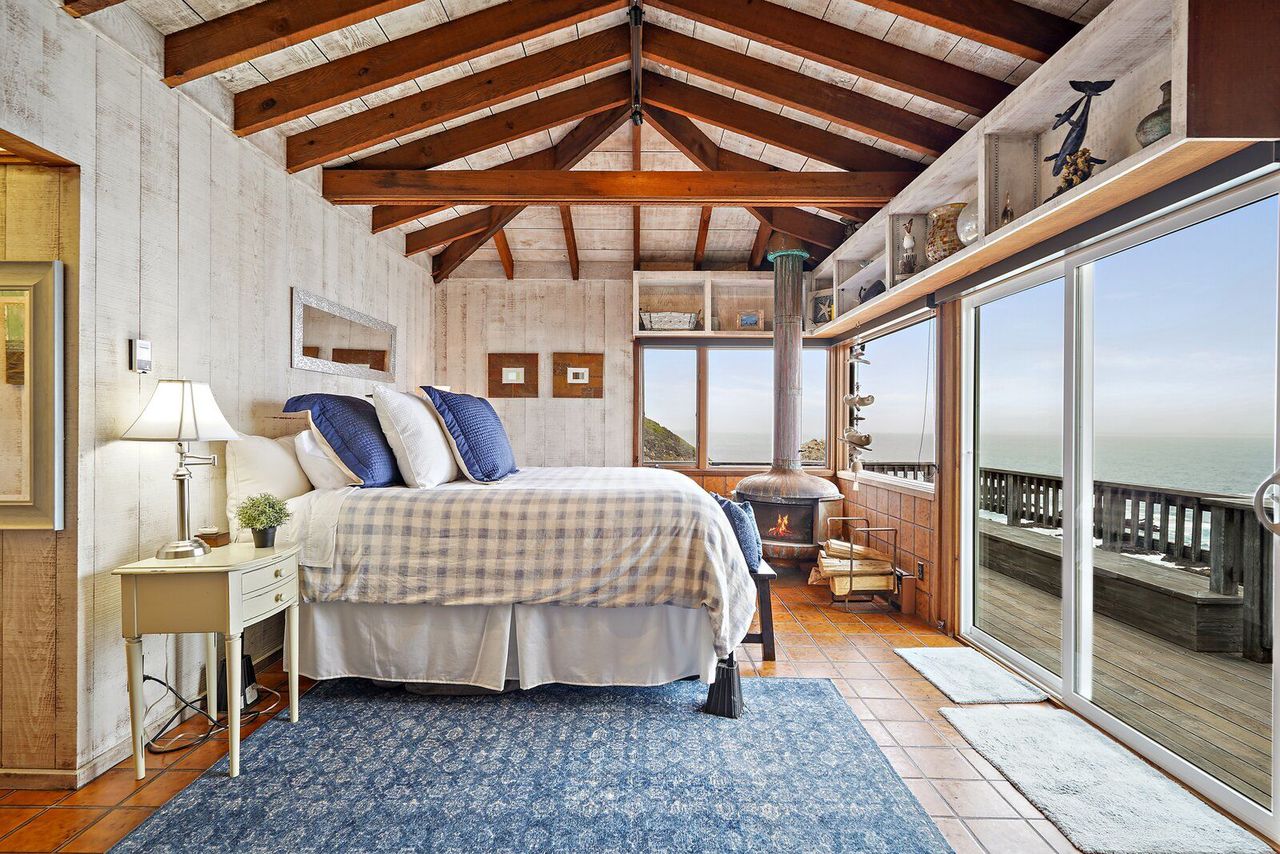 In the property's guesthouse, the bedroom also overlooks the water.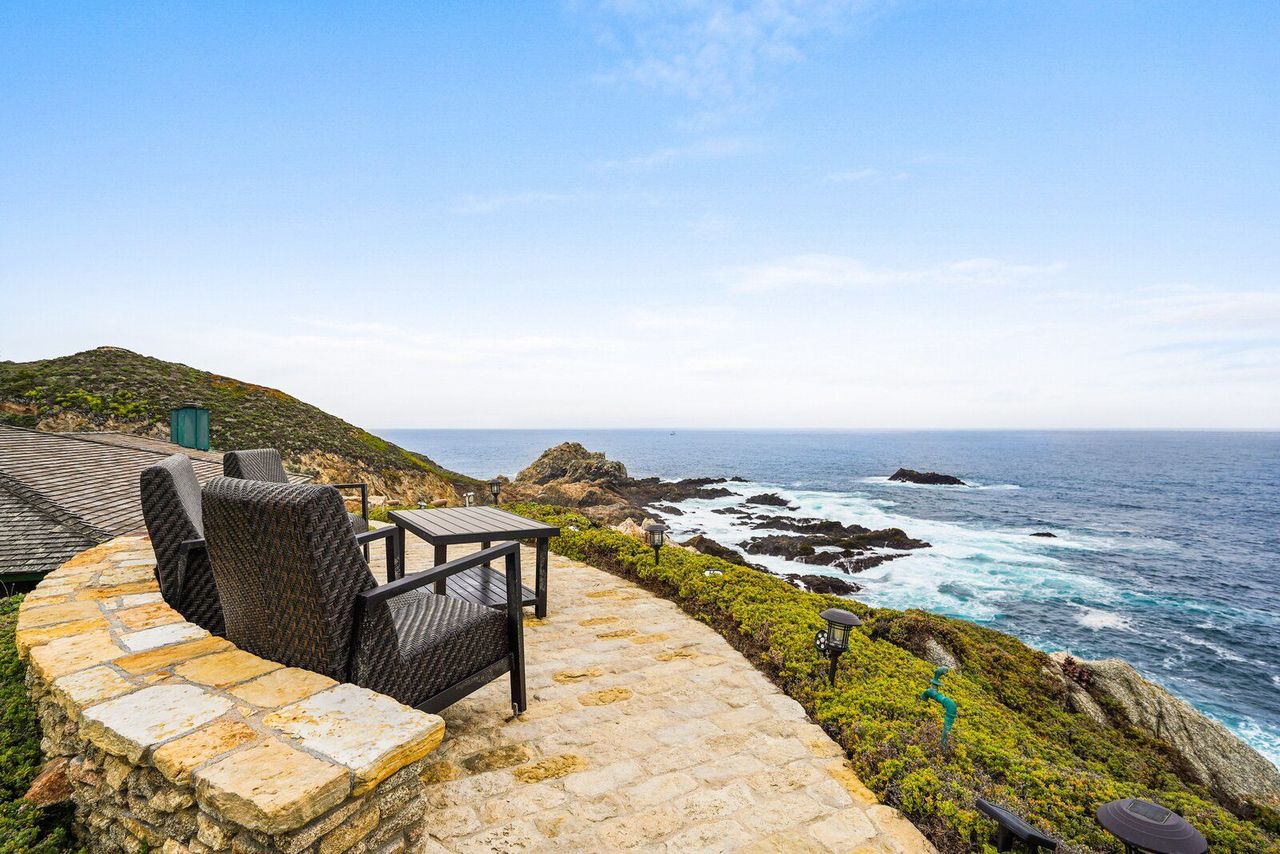 The secluded coastal estate also presents various outdoor seating areas.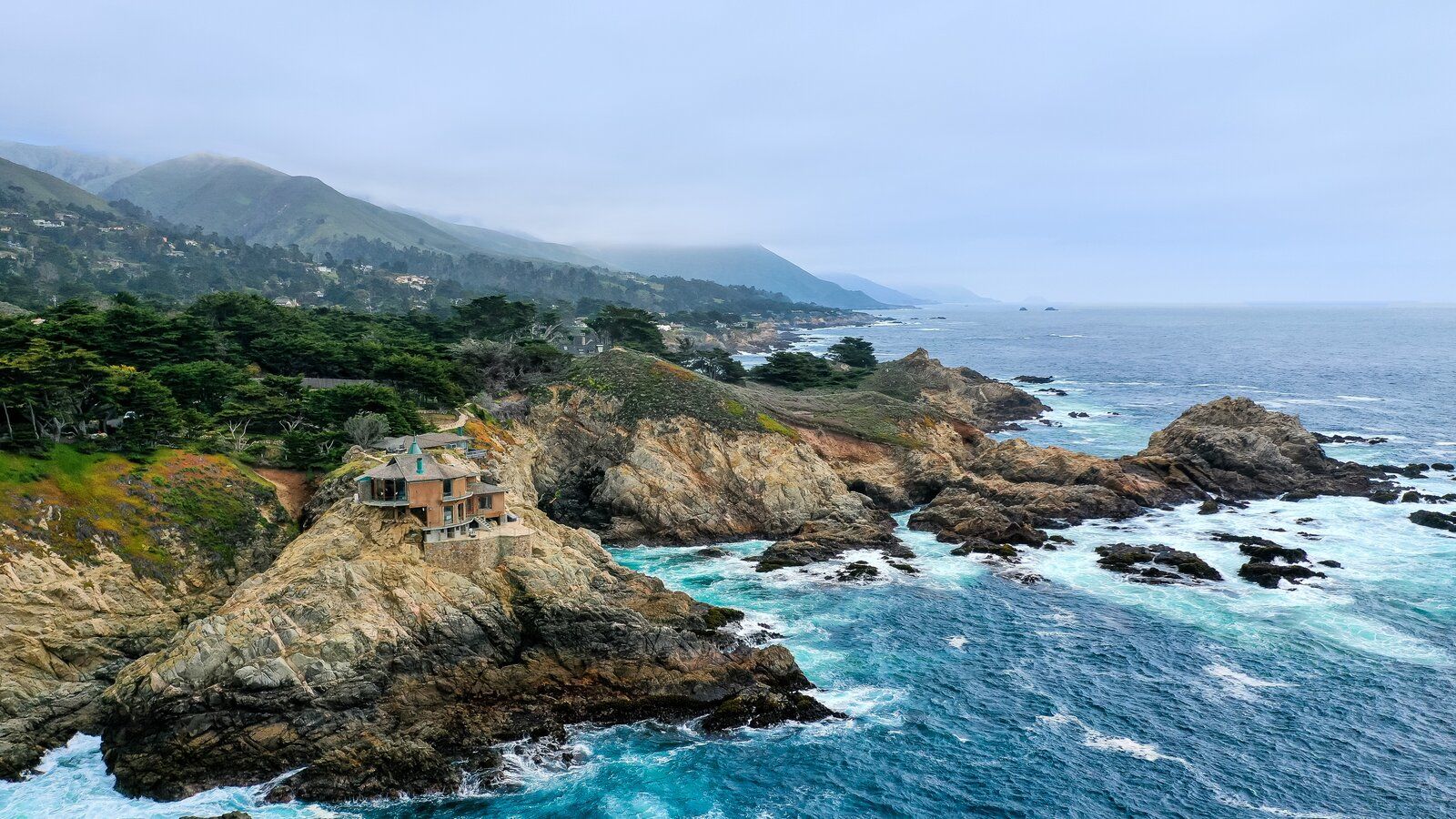 An aerial view of the property showcases its spectacular perched positioning along the coast.