Hiding House by Shanghai-based architecture firm Wutopia Lab is as dynamic as it is artful. The 1,496-square-foot home features repeating archways, a Chinese garden, scattered Tai Hu stones, wisteria and bauhinia trees, and an expansive courtyard paved with black volcanic rock. "Black was the perfect color to emphasize the green trees and the white house," says chief architect Yu Ting. "Nature is part of the architecture."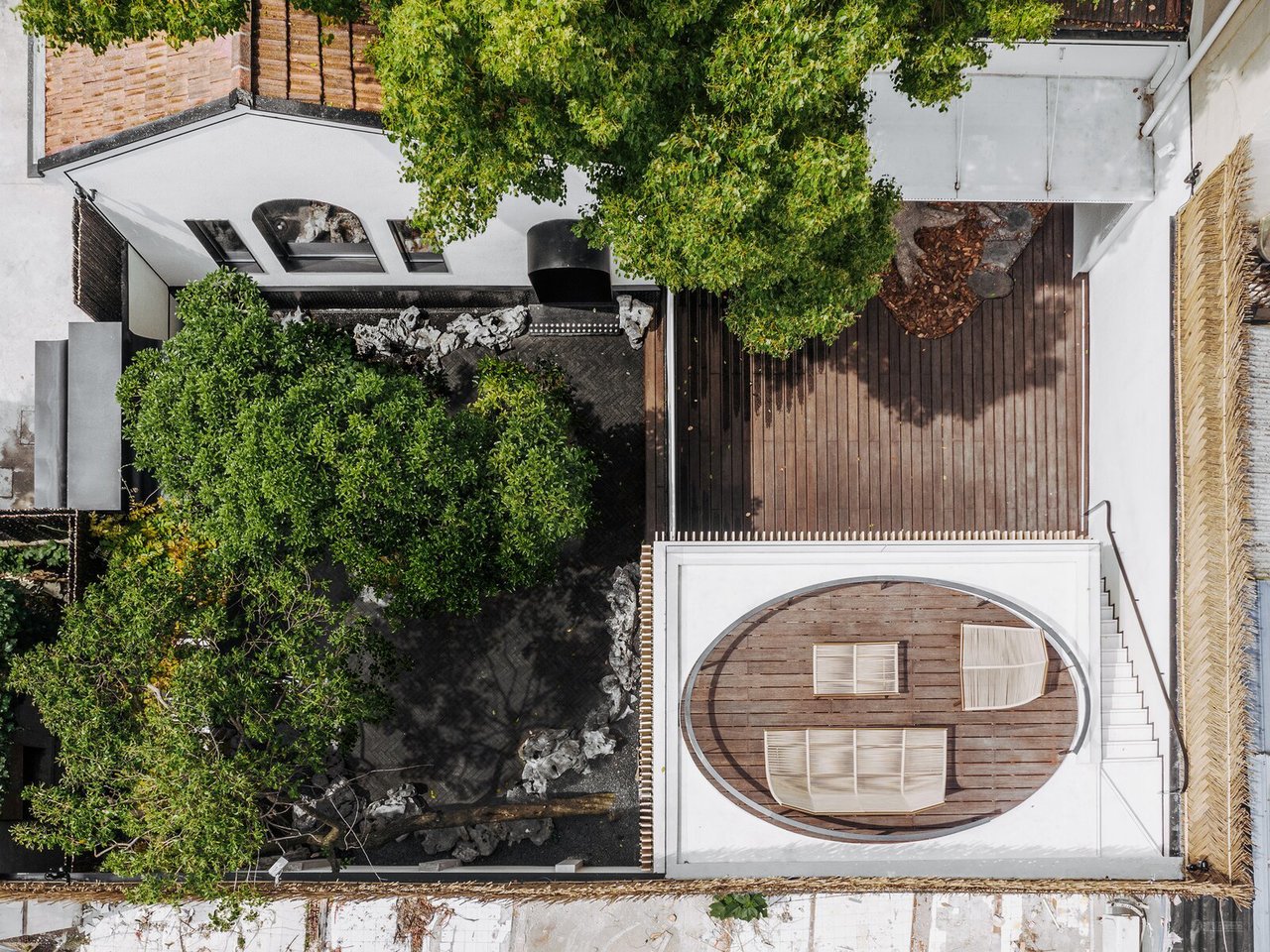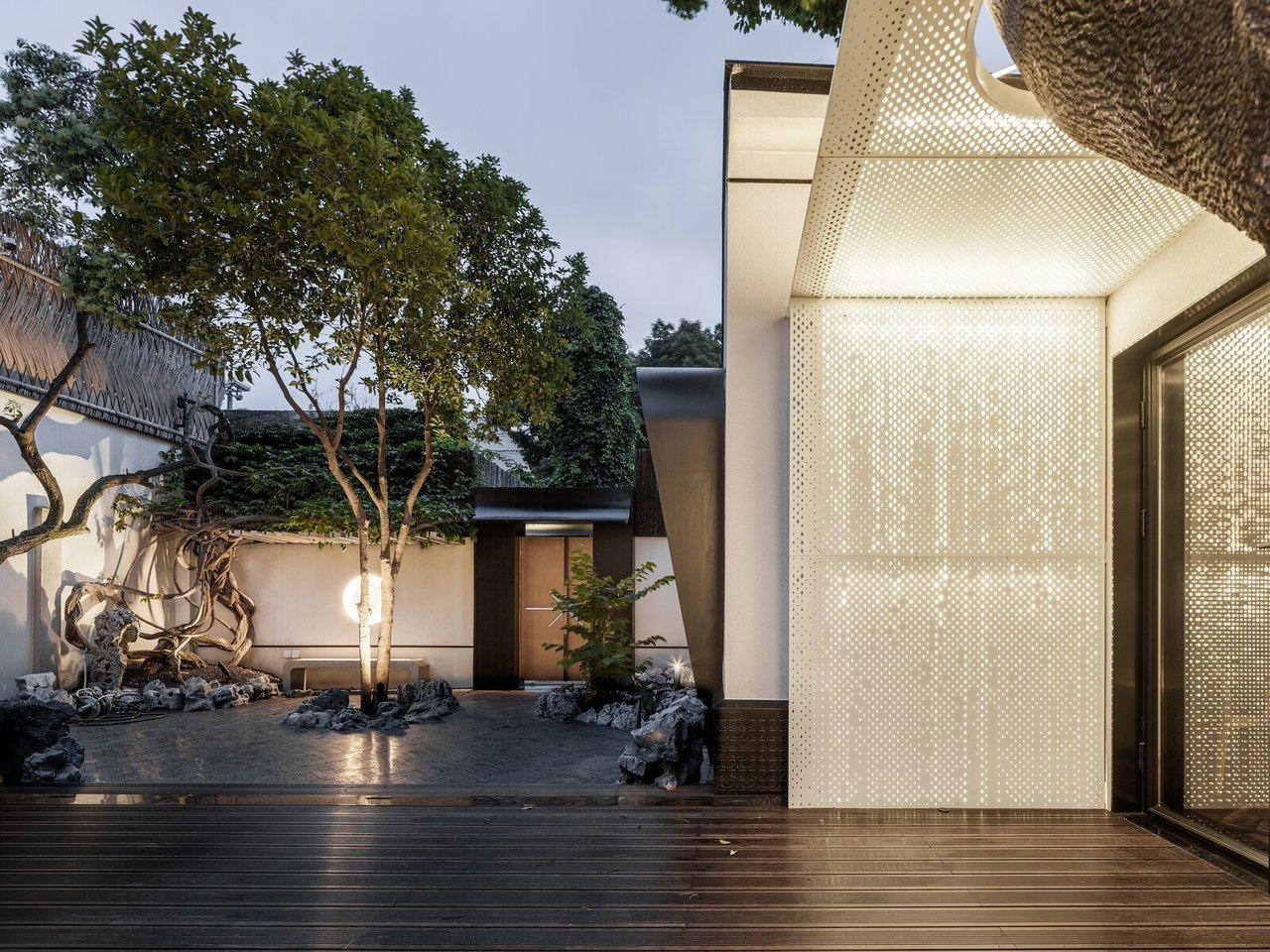 The garden and courtyard area-rich with a variety of forms and sublime textures-connect the house's two volumes. The main volume is comprised of a living room that doubles as an exhibition space, a library, a dining room, a master bedroom, and a canteen and tearoom with a roof terrace. The secondary volume holds the kitchen, the bathroom, a children's bedroom, a second living room, and a mezzanine.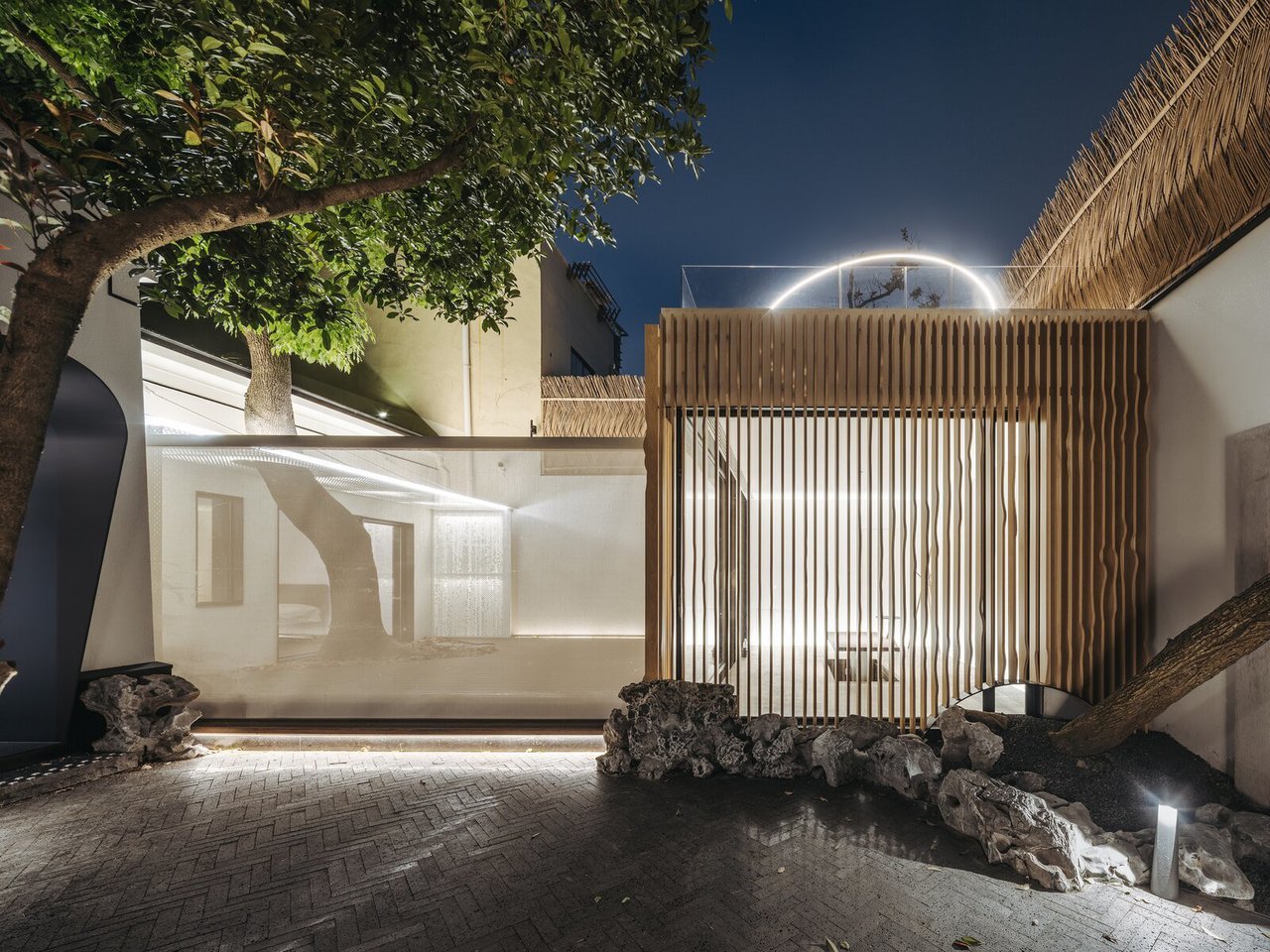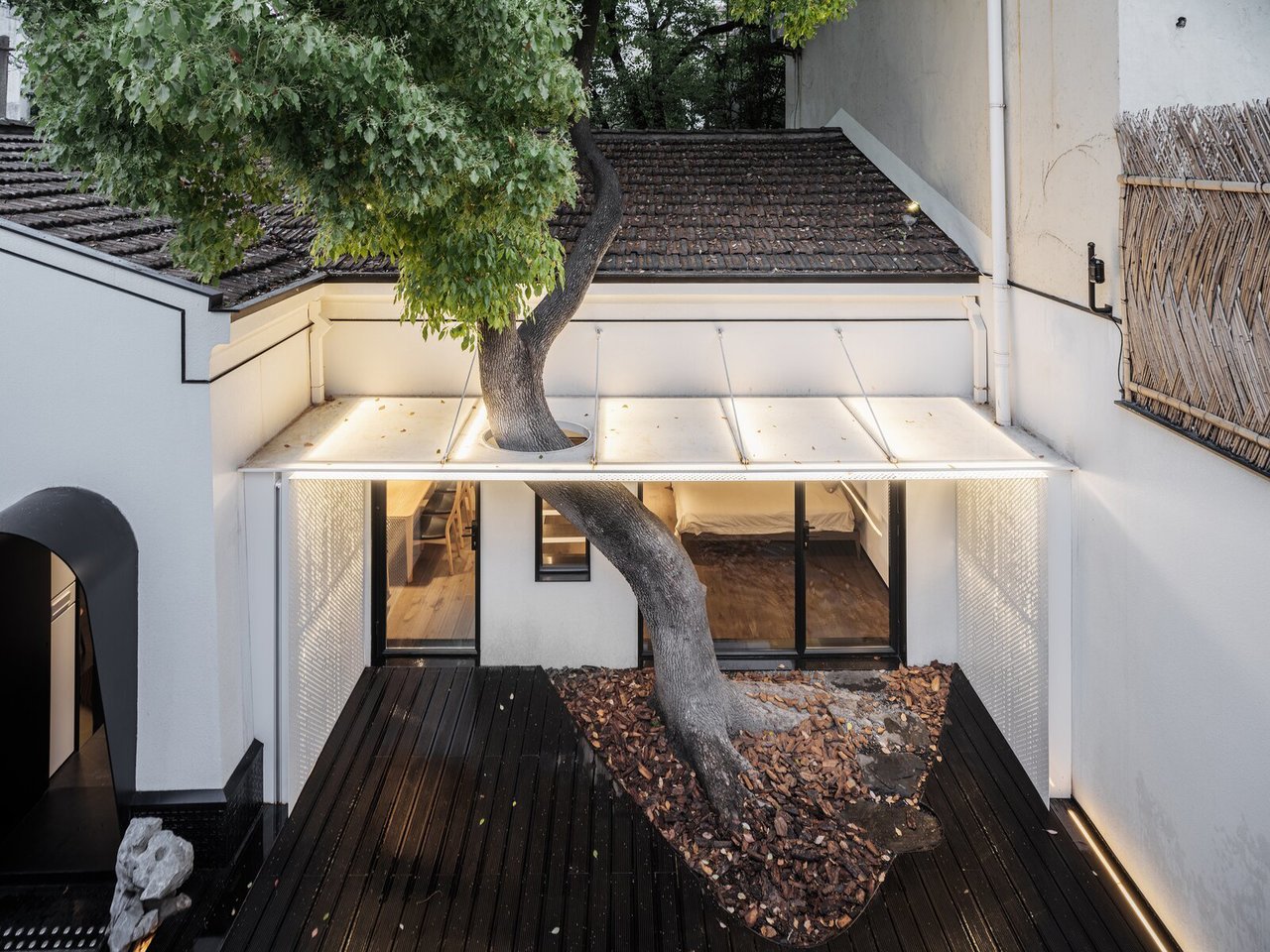 After being inspired by one of Wutopia Lab's restaurant designs and Sir John Soane's Museum in London, the client requested a home that would be more than just a house. He wanted a designed that would be progressive, multifaceted, and ever-changing-a design that, like life, would feel theatrical and energetic. "Hiding House is a complex context with possibility, hypothesis, and fantasy," Ting says. "It offers the dramatic experience of life."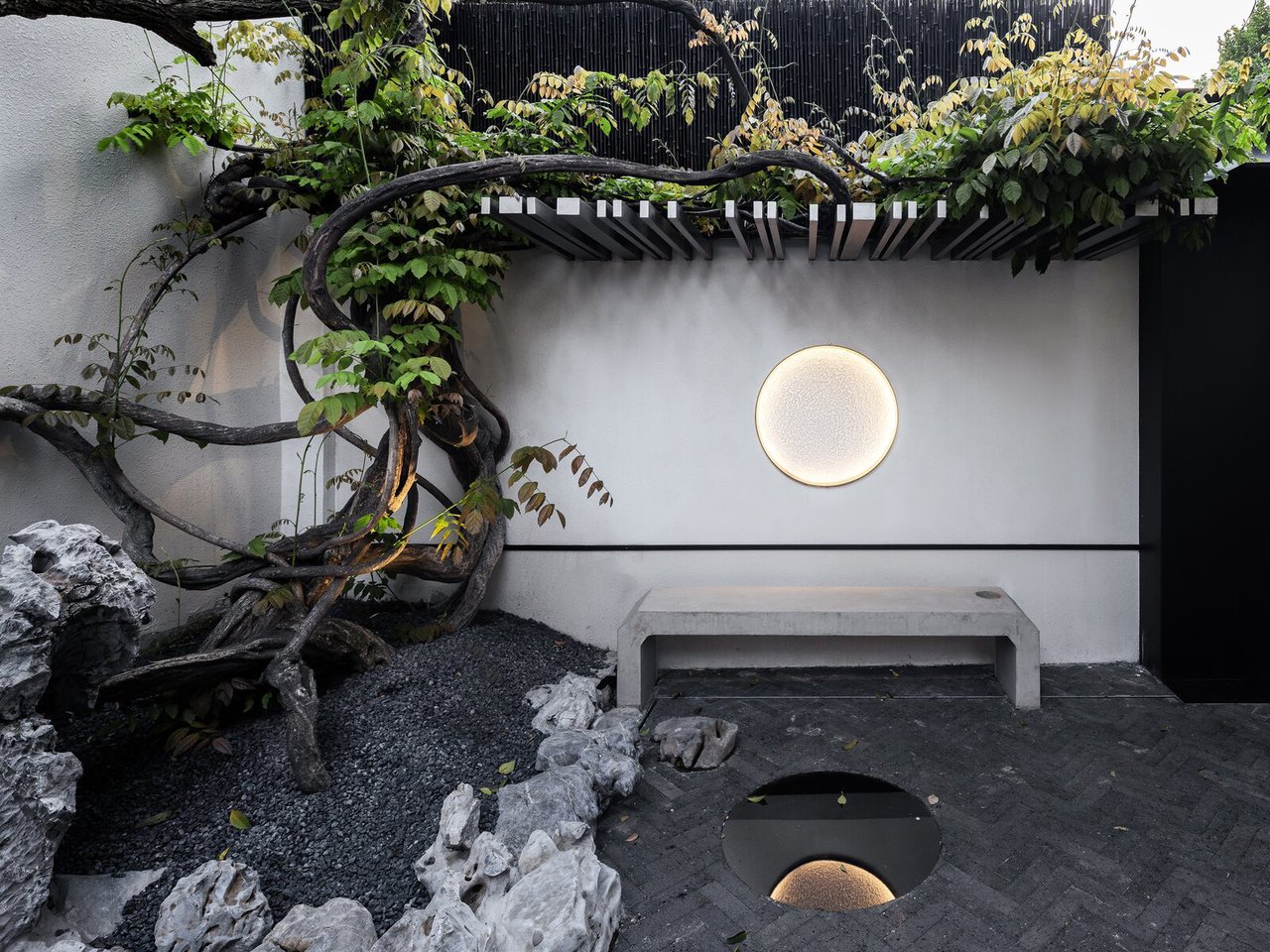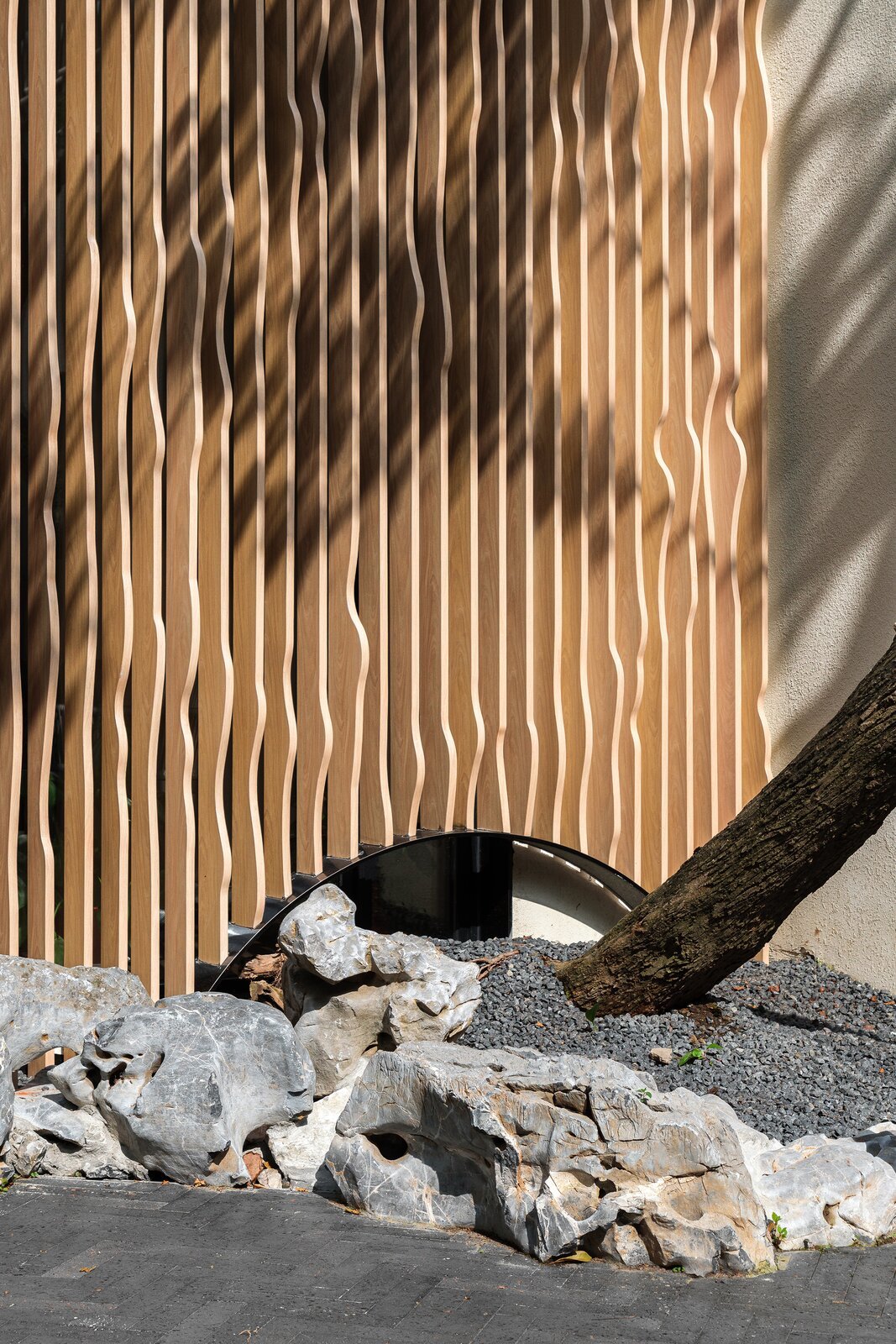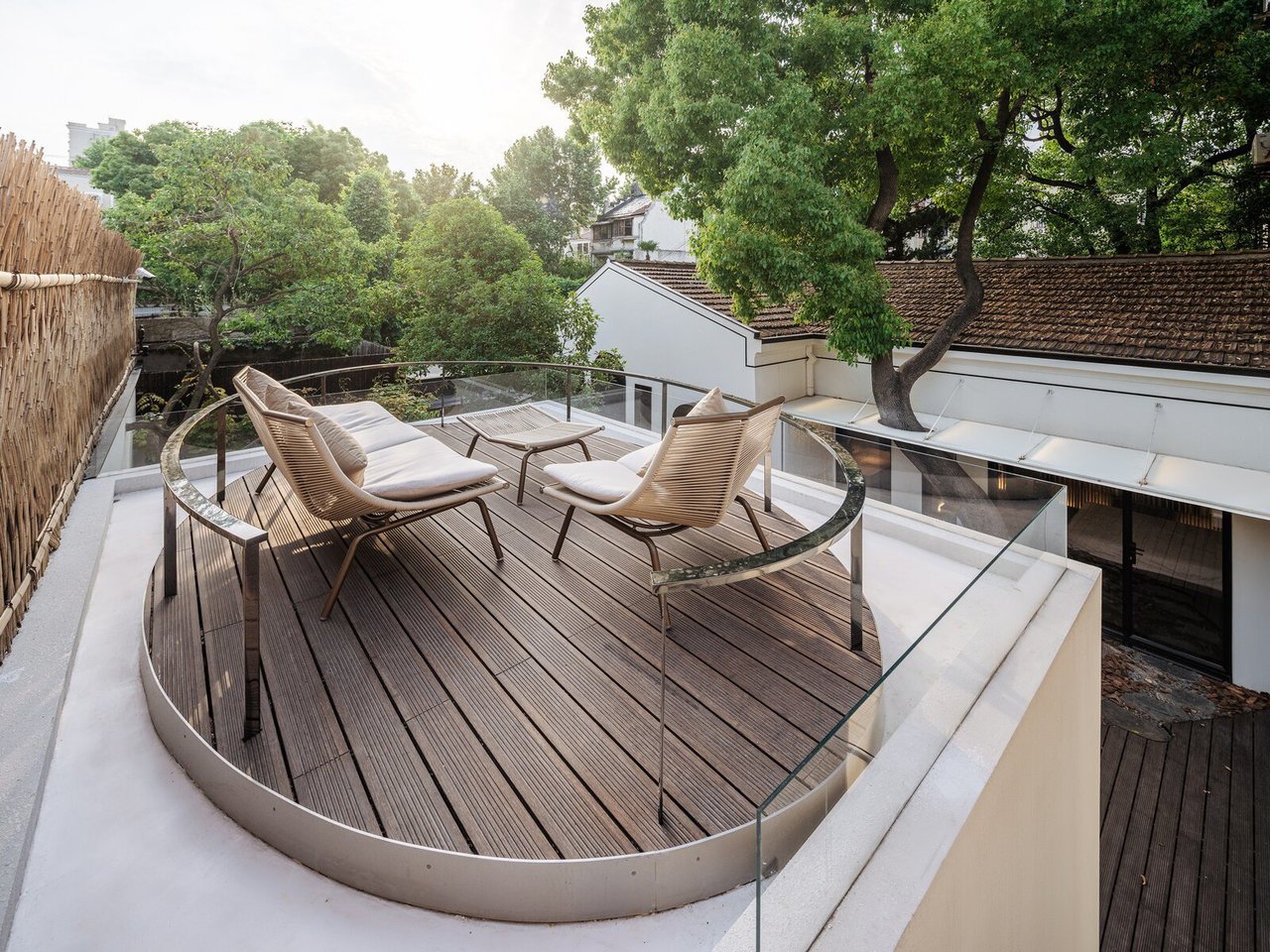 On the ground floor, the courtyard's volcanic rock paving abuts wood decking that is slightly raised to mimic a stage. A translucent drapery-like screen separates the decking from the rock, reinforcing the idea of theater. Near the facade, the decking wraps around the base of a gnarled tree trunk that grows through a cutout in a perforated metal awning; the perforated quality allows for the play of light and shadow on the walls, which were constructed with diatomaceous earth. "It's environmentally friendly and provides delicate texture, and reflects light that's particularly soft," says Ting.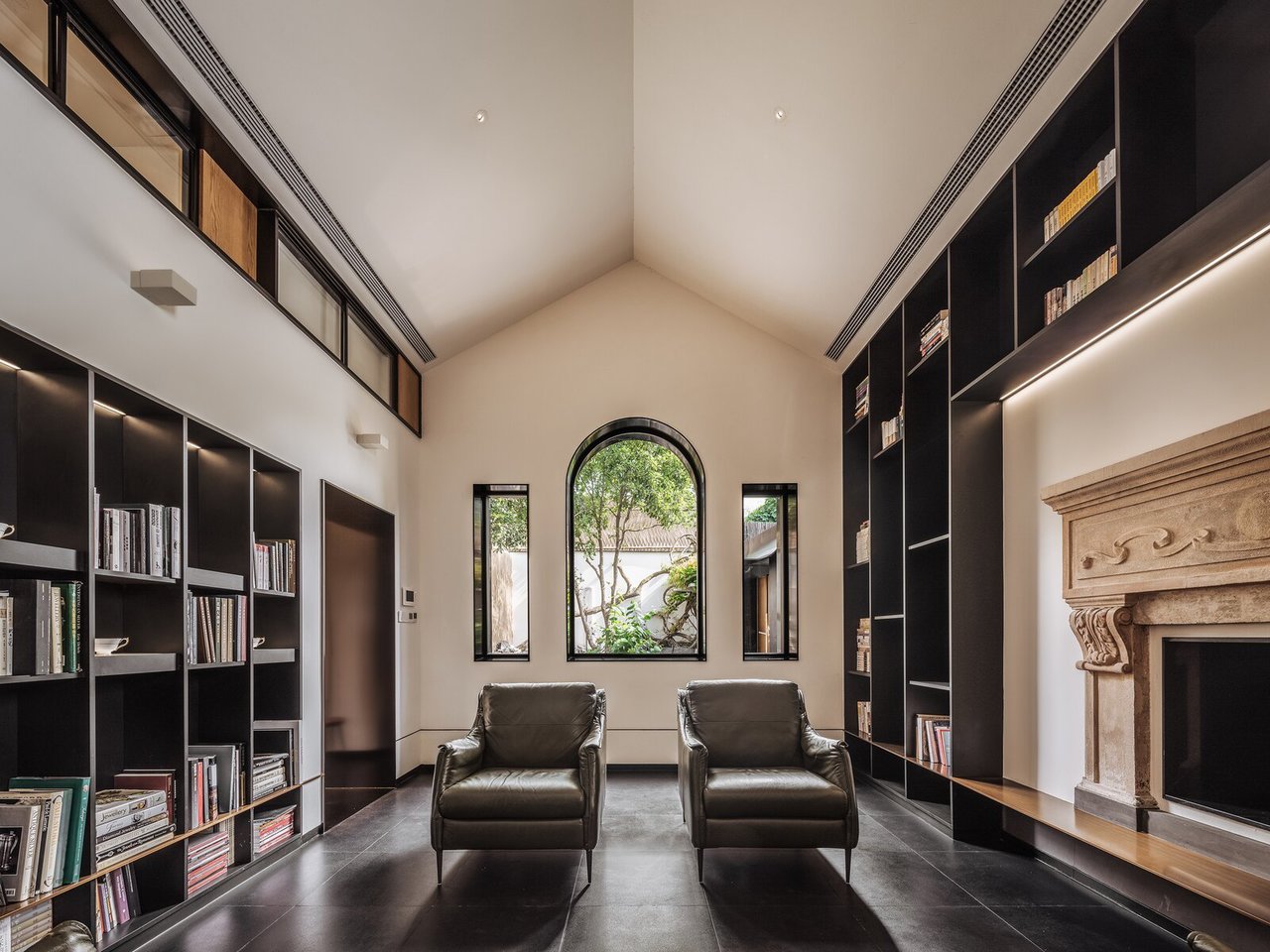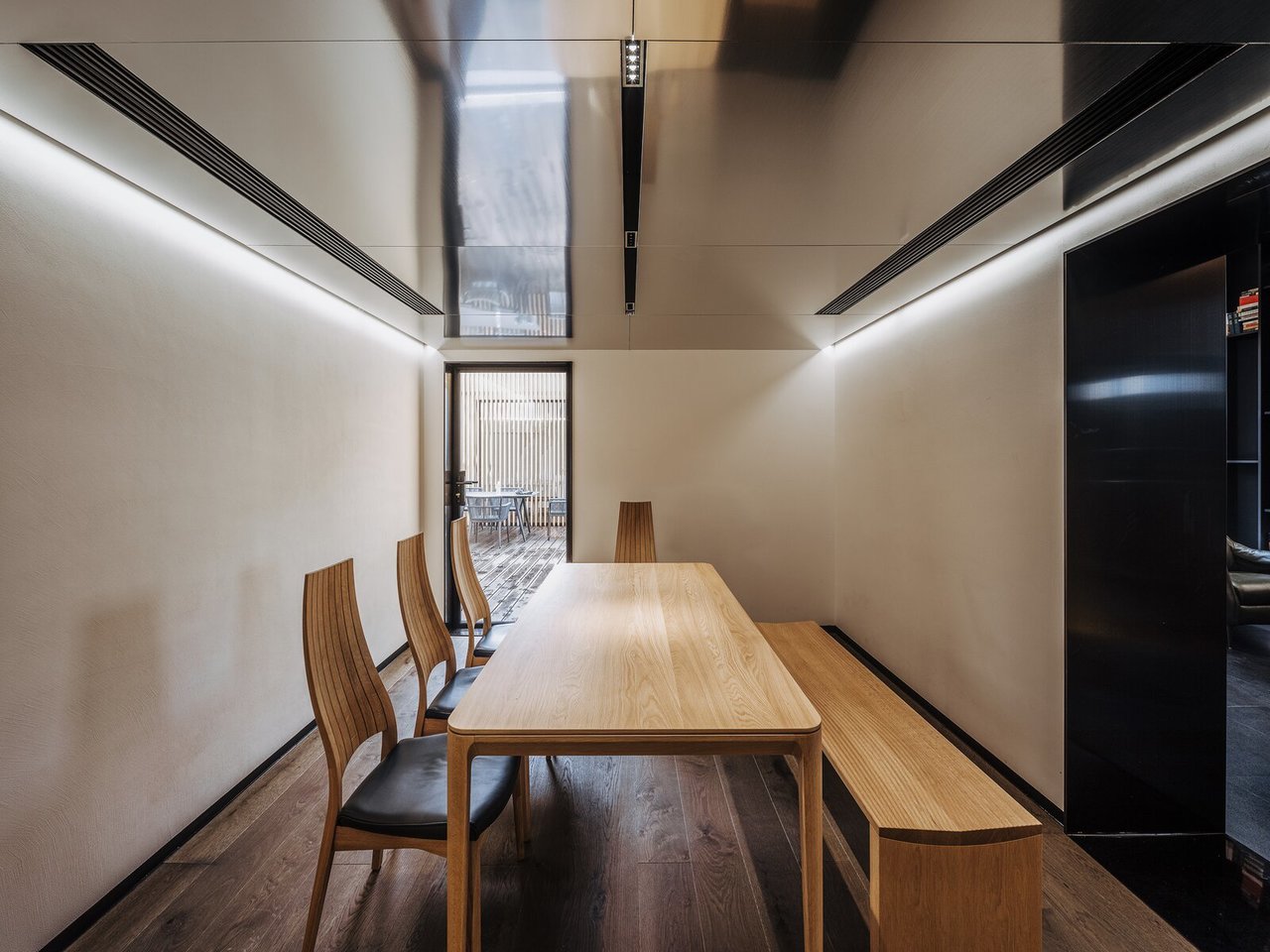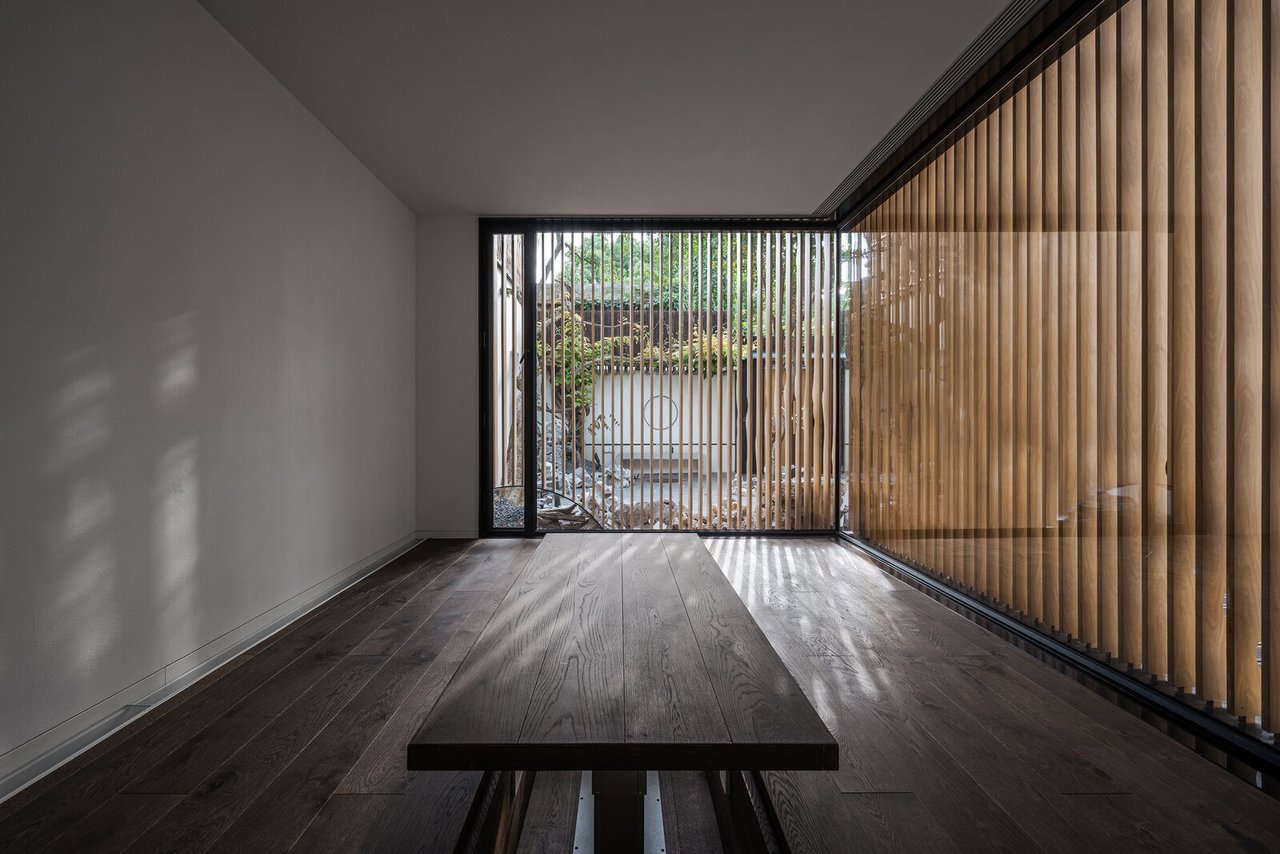 Inside the home, the children's room appears as "a silvery blue galaxy," Ting says. The hanging acrylic globes represent stars, and each is a display case with a shelf inside. The concept for the room is a miniature version of the bubble installation found in Aryana Kid's restaurant-the same restaurant that inspired elements of the home's design. The tearoom features glass walls that connect the space to the wondrous courtyard area, and a vertical screen can close when privacy is desired.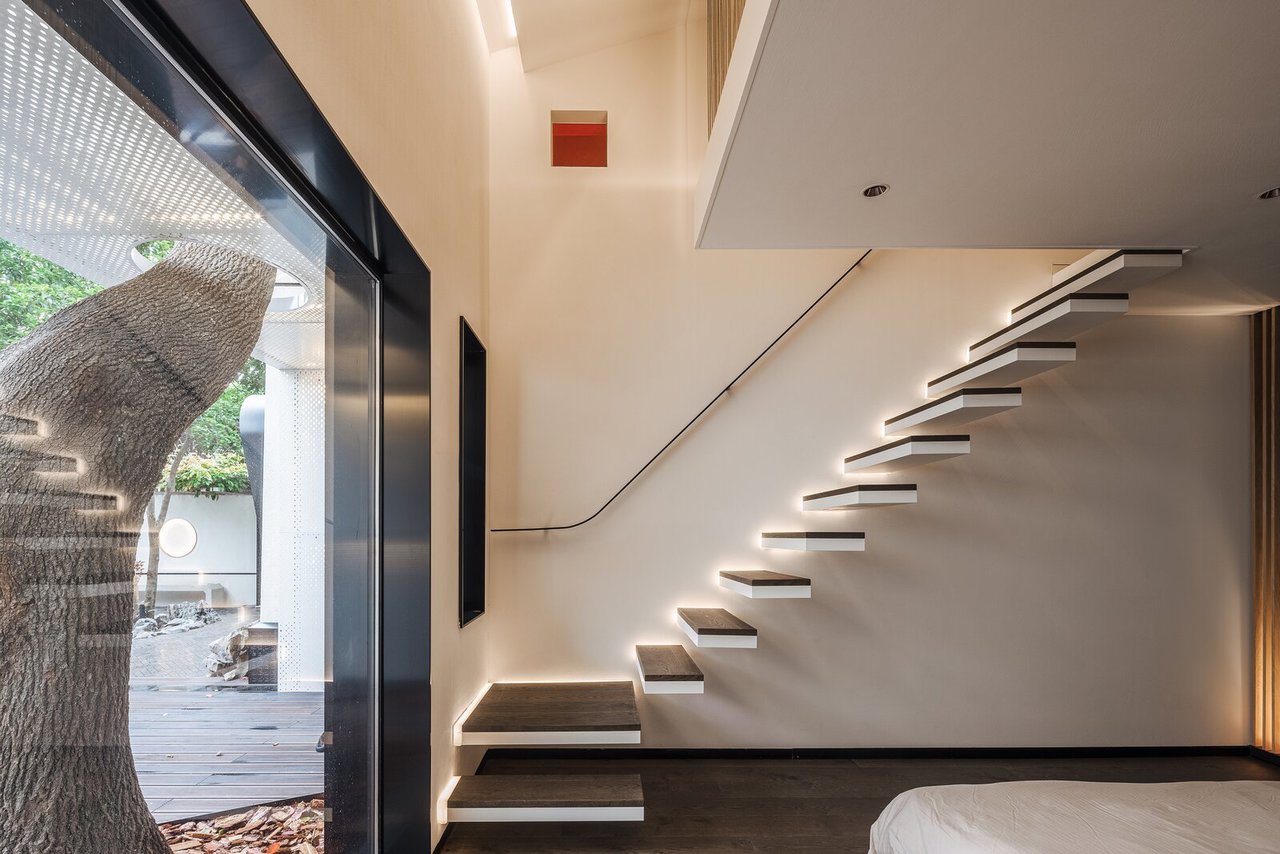 "Hiding House has a personal identity that can feel real, fictitious, or both," Ting remarks. "It inspires strong physiological and emotional reactions and awakens body consciousness. It's a place with symbolic and material value."