In a reaction against sterile learning environments, international architecture firm LAVA has completed Eco-Kindi, an environmentally conscious kindergarten in Vinh, Vietnam that encourages holistic learning through organically shaped architecture.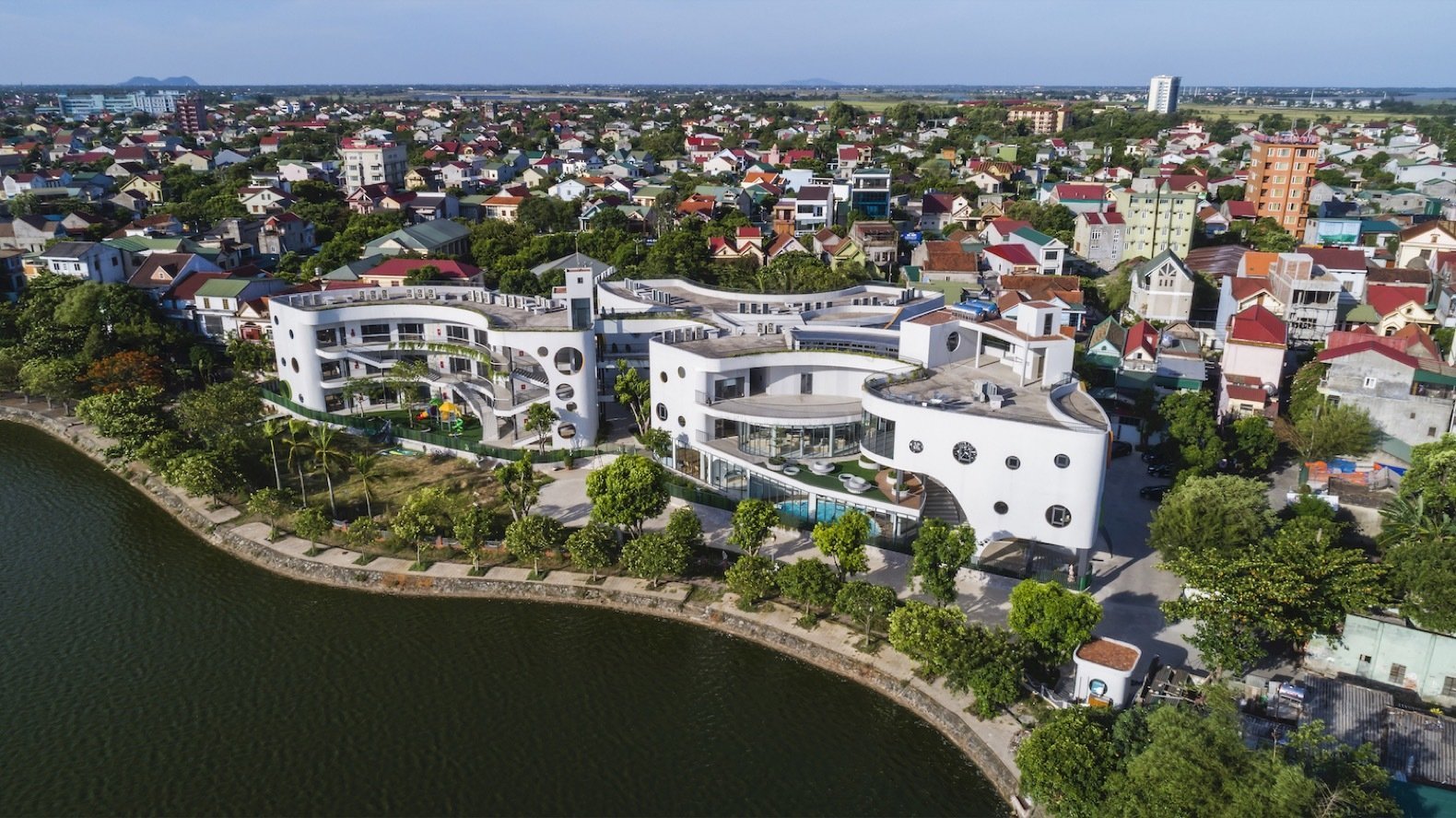 Eco Kindi is located next to a large lake in Vinh, an economic and cultural center in north-central Vietnam.

"It's part of an education revolution," says Chris Bosse, director at LAVA, which has partnered with Ho Chi Minh City–based interior design firm Module K on a new series of sustainably designed kindergartens focused on holistic learning. "If you want to create a better future, you have to start with the education of our children."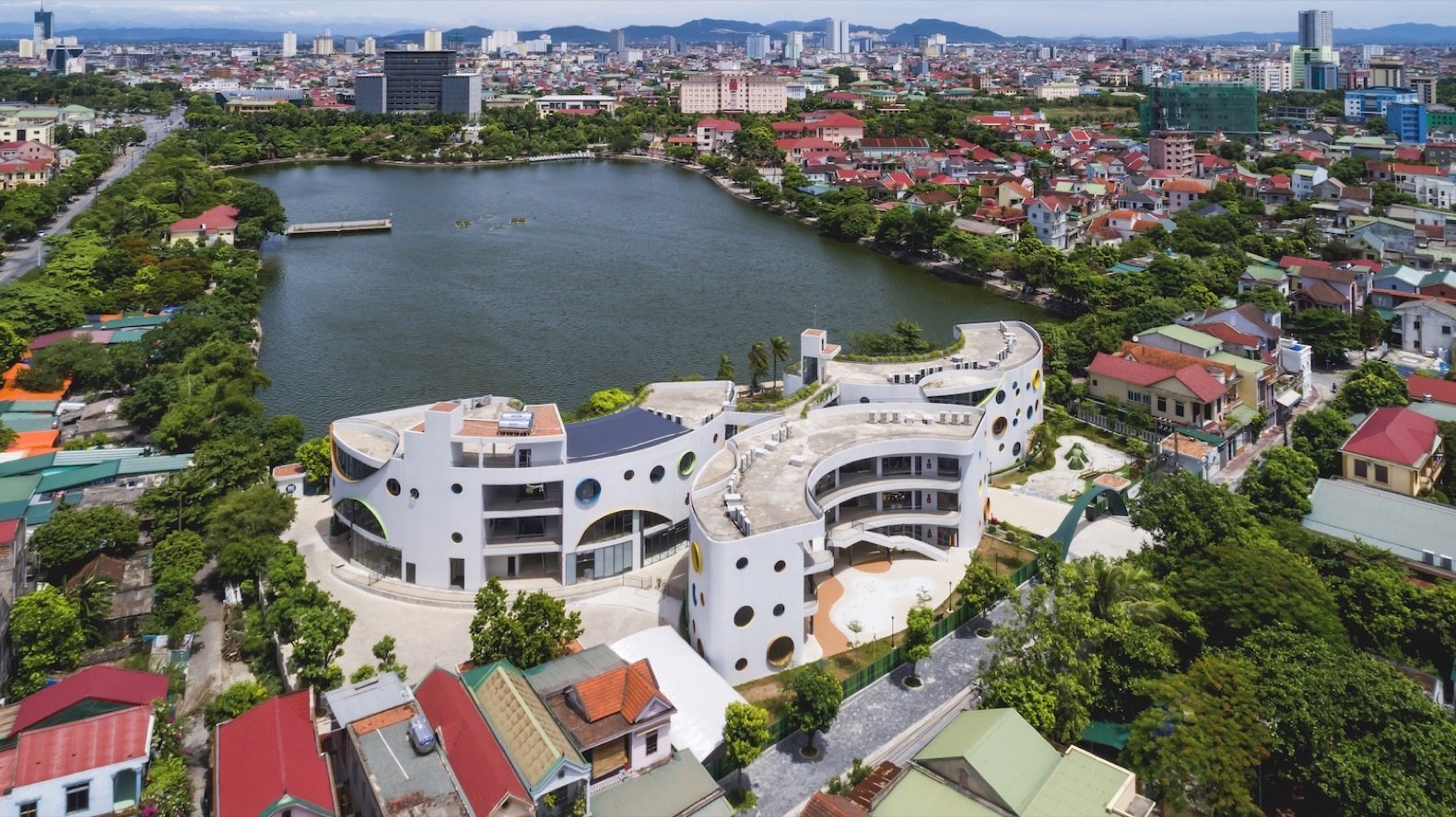 "This is a very big building for a kindergarten," says Bosse. "The kindergarten assumes a prominent position on the lake, like a town hall, a library, a sports center, or a major event space-and it is all of this."

To encourage discovery, curiosity, and interaction with nature, the architects crafted three semicircular buildings punctuated with circular windows of varying sizes framed in bold primary colors and surrounded by lush vegetation. Connected via Y-shaped footbridges, the three-story curved buildings are oriented for natural ventilation and optimal views of the adjacent Goong Lake.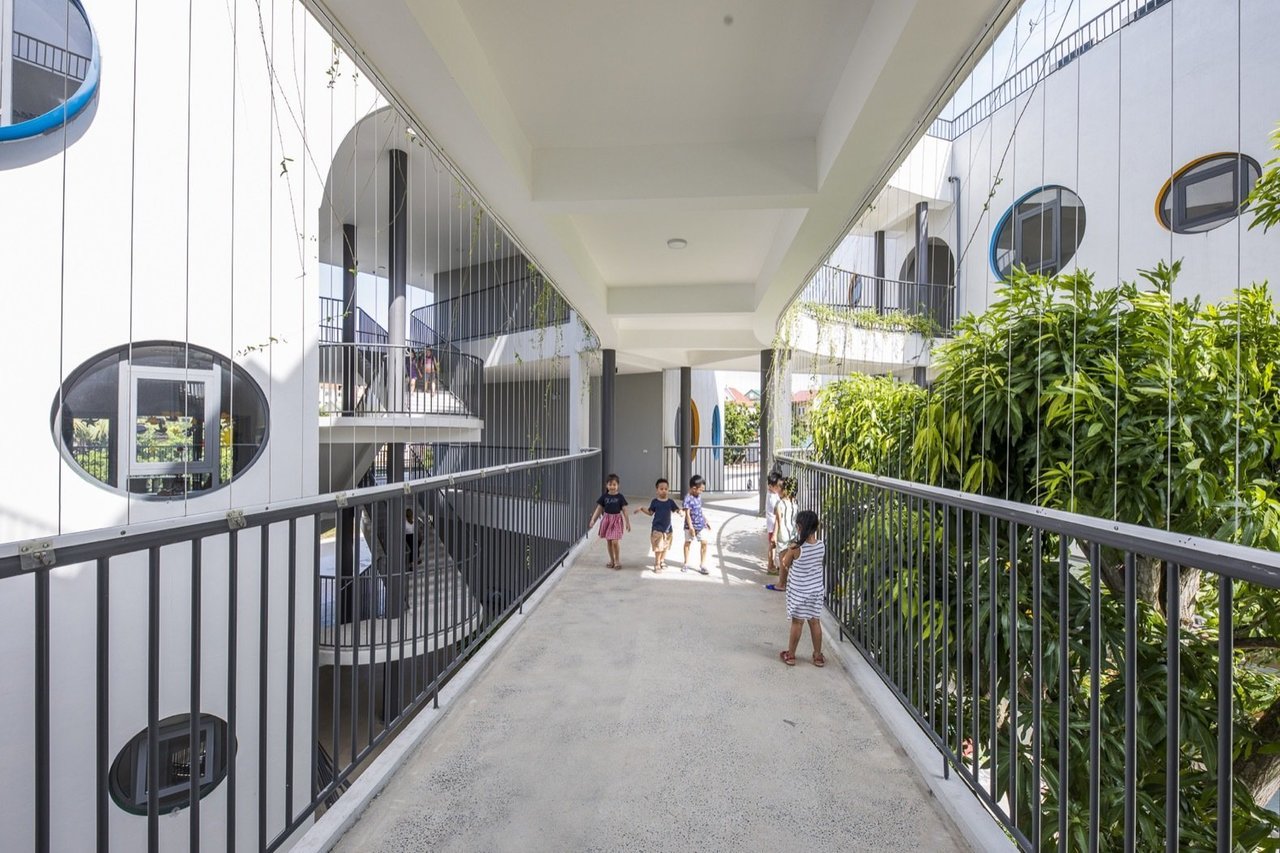 The Y-shaped footbridges that connect the three buildings are open to the outdoors.

"The design language-organic shapes, simple architectural lines, primary colors, different facades/windows coded by age-is all about growth," says Bosse. The architect credits his belief in the power of architecture to shape young minds to his own childhood experiences growing up near Frei Otto's experimental Institute for Lightweight Structures in Germany. "It's child-friendly without being childish."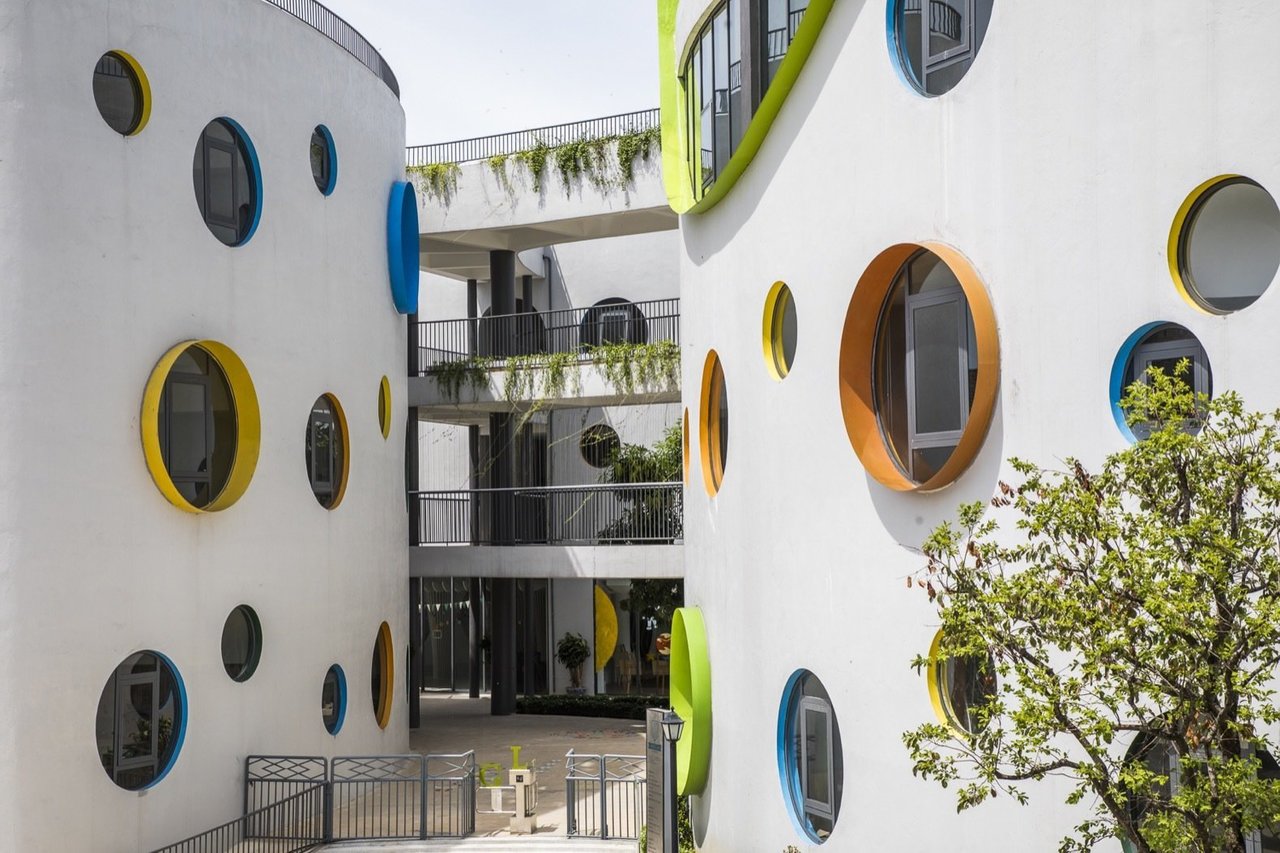 The windows vary in height and size in response to the needs of different age groups.

The project was completed in just 12 months from the first meeting to final construction thanks to a close working relationship between all stakeholders, who met over a series of workshops in Vinh and Ho Chi Minh City. The architects divided the kindergarten into a trio of three-story buildings to match the relatively low-lying residential architecture that surrounds the site.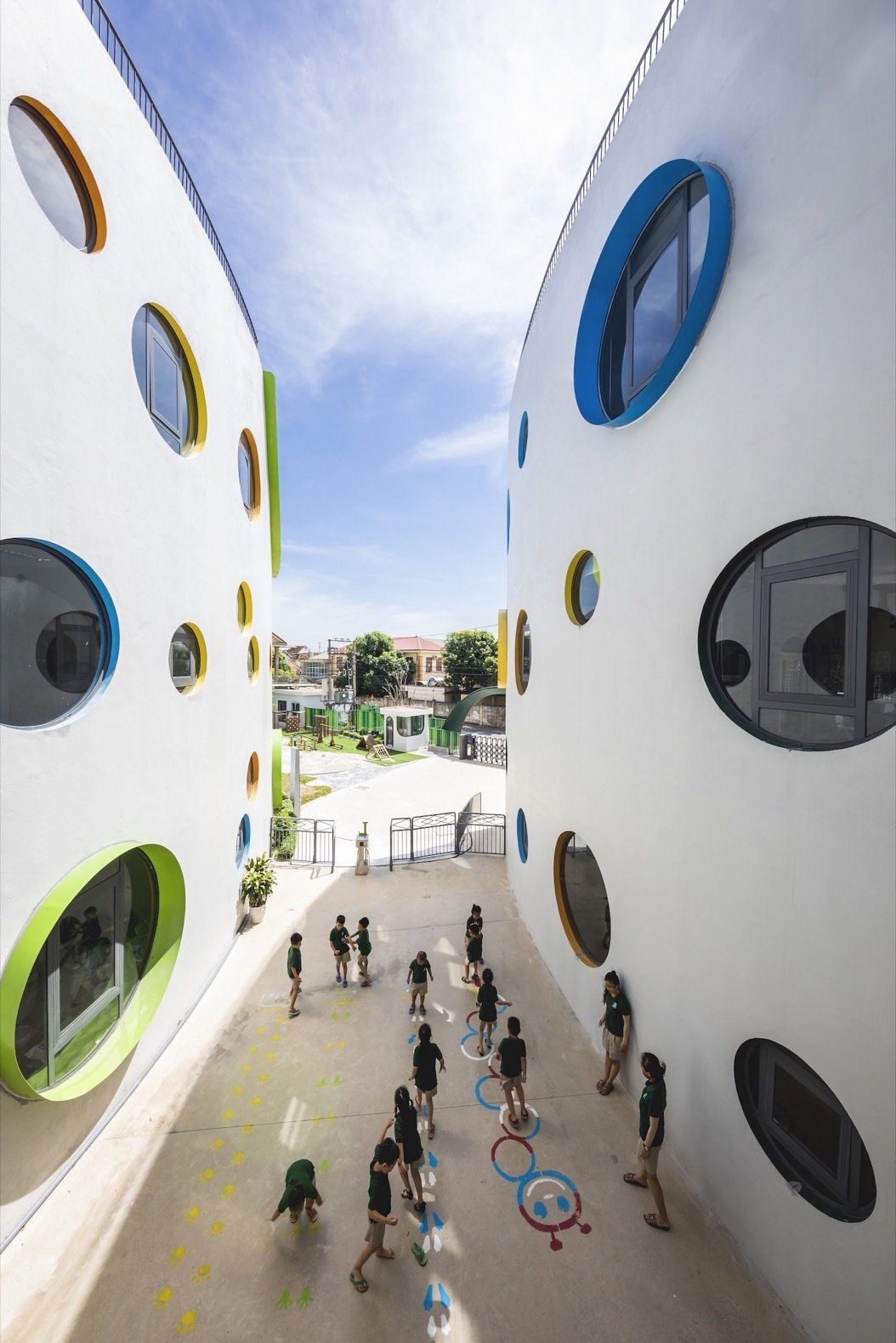 Interstitial spaces between buildings serve as outdoor playgrounds.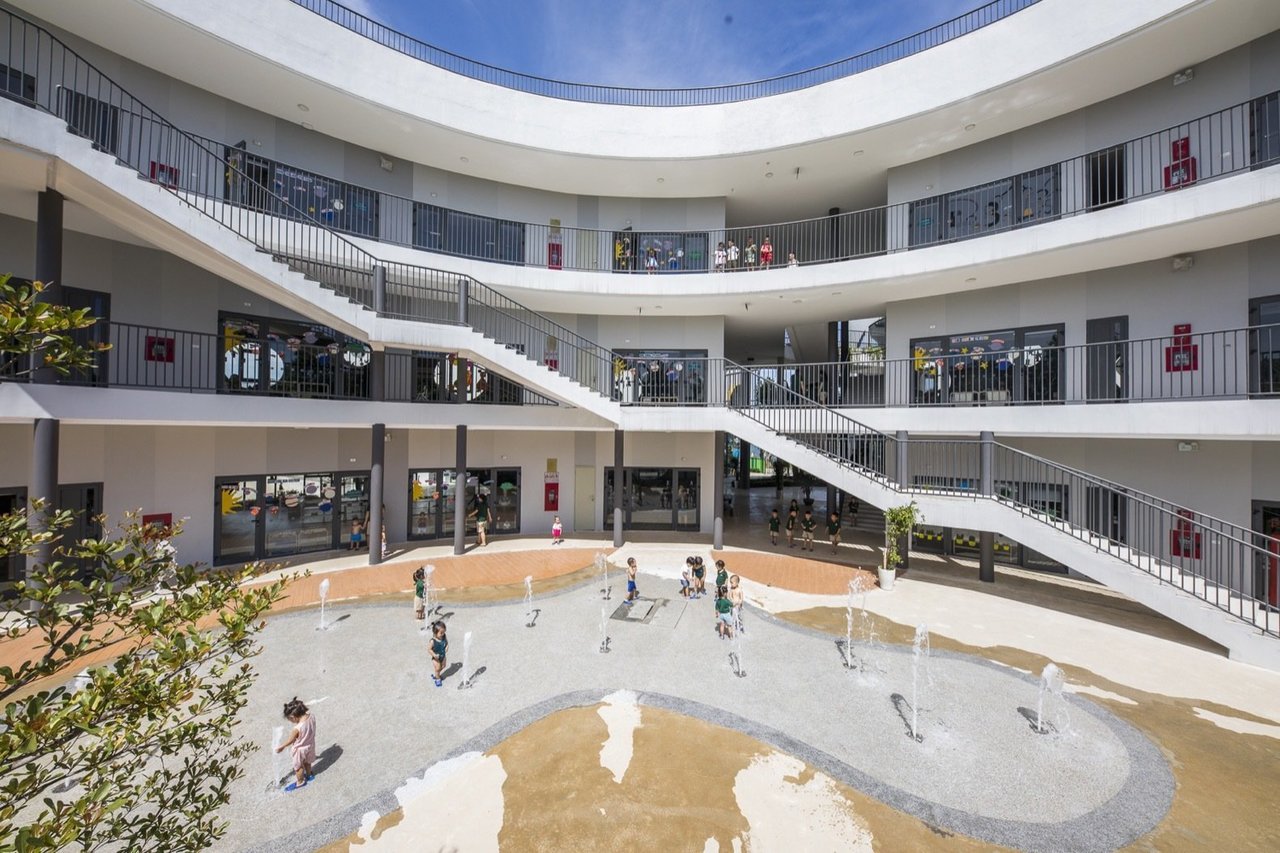 The street-facing building features an interactive water fountain that provides a cool respite on hot days.

The architects referenced the five feng shui elements in their material selection and design, including earth via sand pits and earth mounds; water with the interactive fountain; fire through the Masterchef kitchen; metal in the playground equipment; and wood as seen in the landscaping and interiors.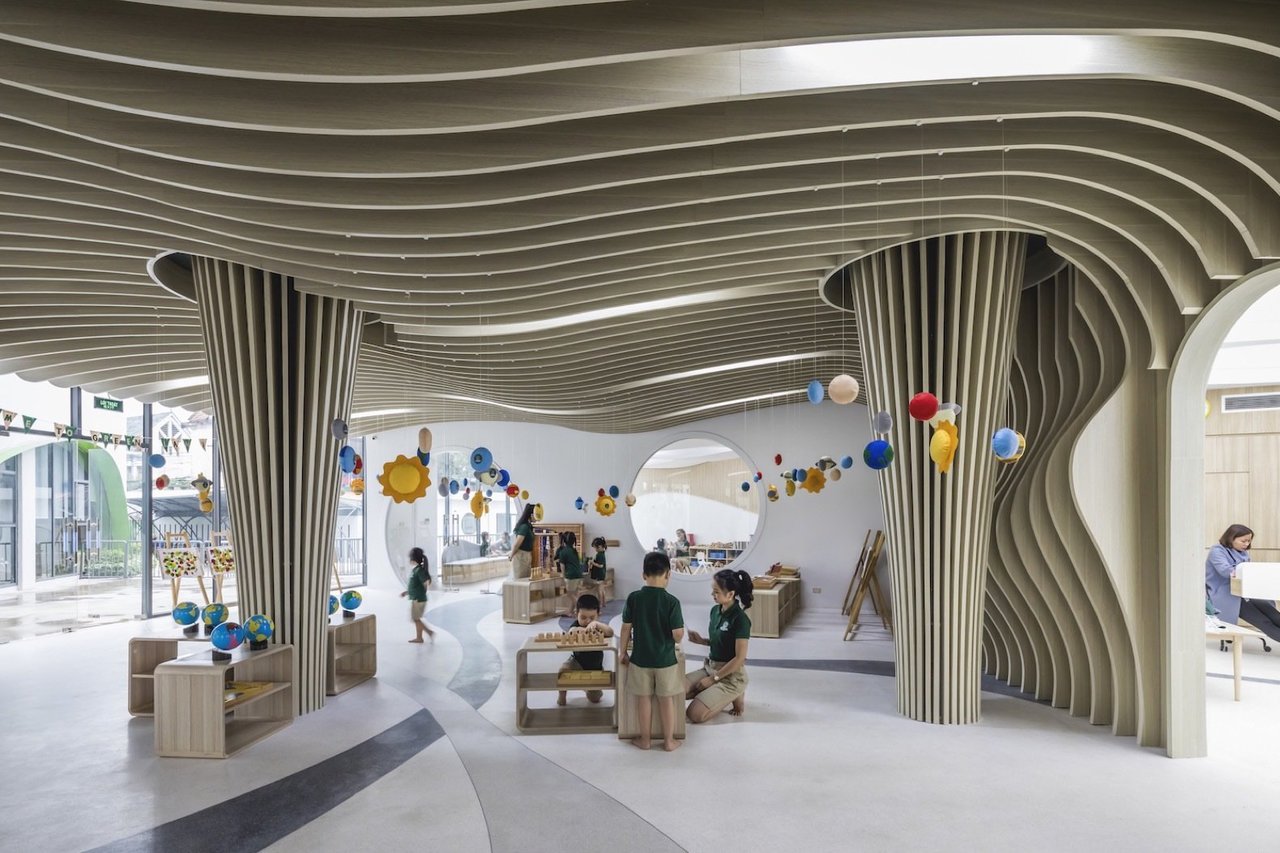 Undulating ribbed ceilings made of plywood add a sense of play to the interiors.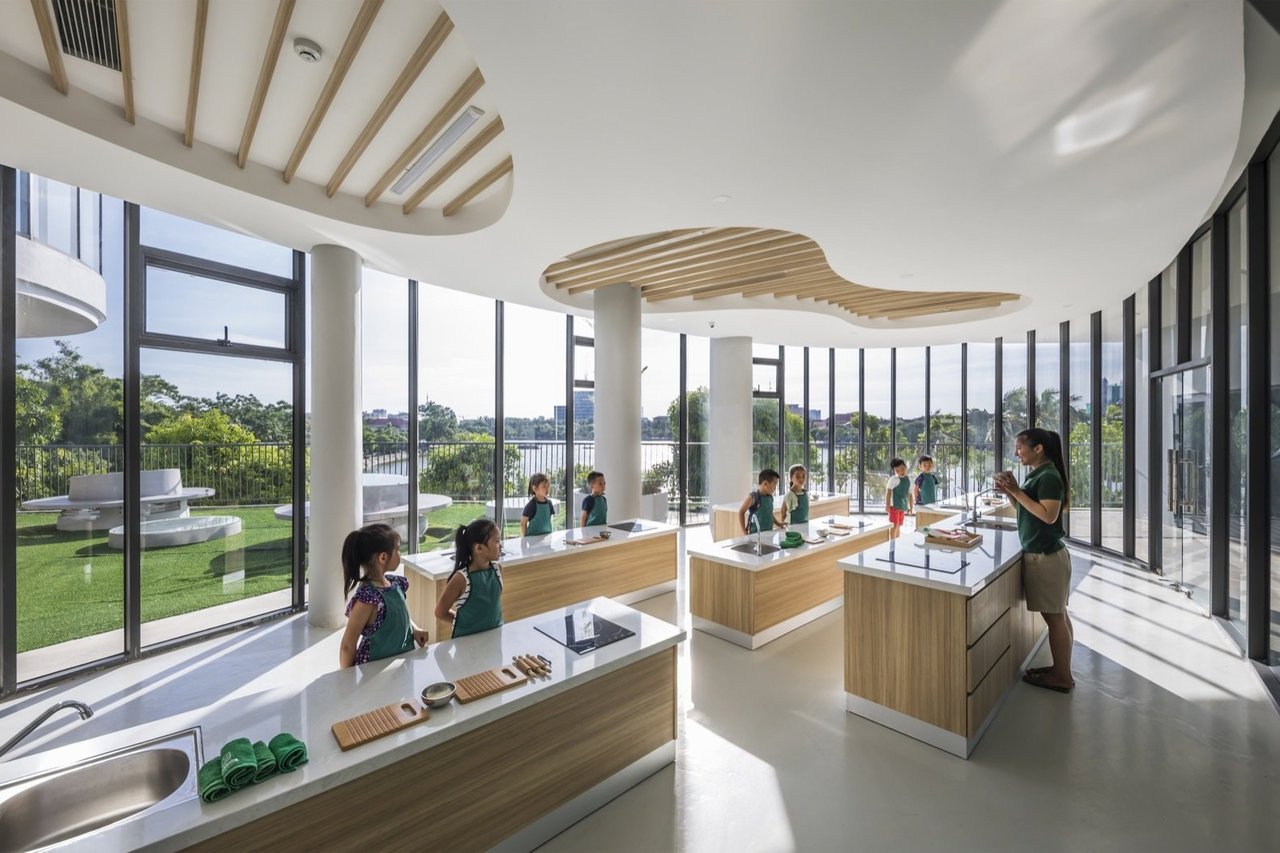 Physical activity and art education are emphasized in the curriculum, which includes swimming, sports, art and music classes, and cooking lessons.

The kindergarten's nature-inspired design has also led to energy-saving benefits. Natural ventilation and daylighting reduce energy loads, while the plants on the roofs and terraces will grow over time to provide shade and cooling microclimates. Bosse adds that for the majority of the year, the school can stay naturally cool thanks to cross breezes from the lake.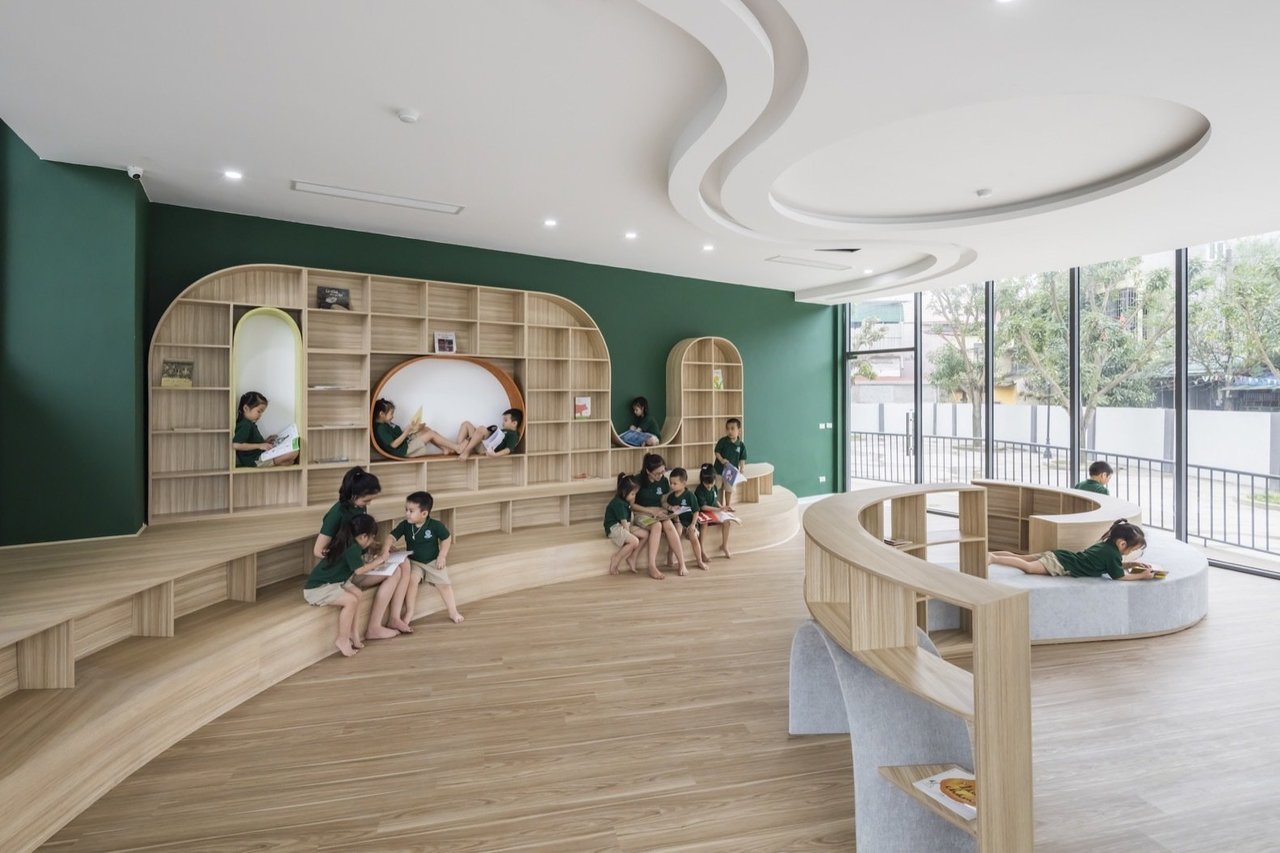 All the furniture is custom built from plywood.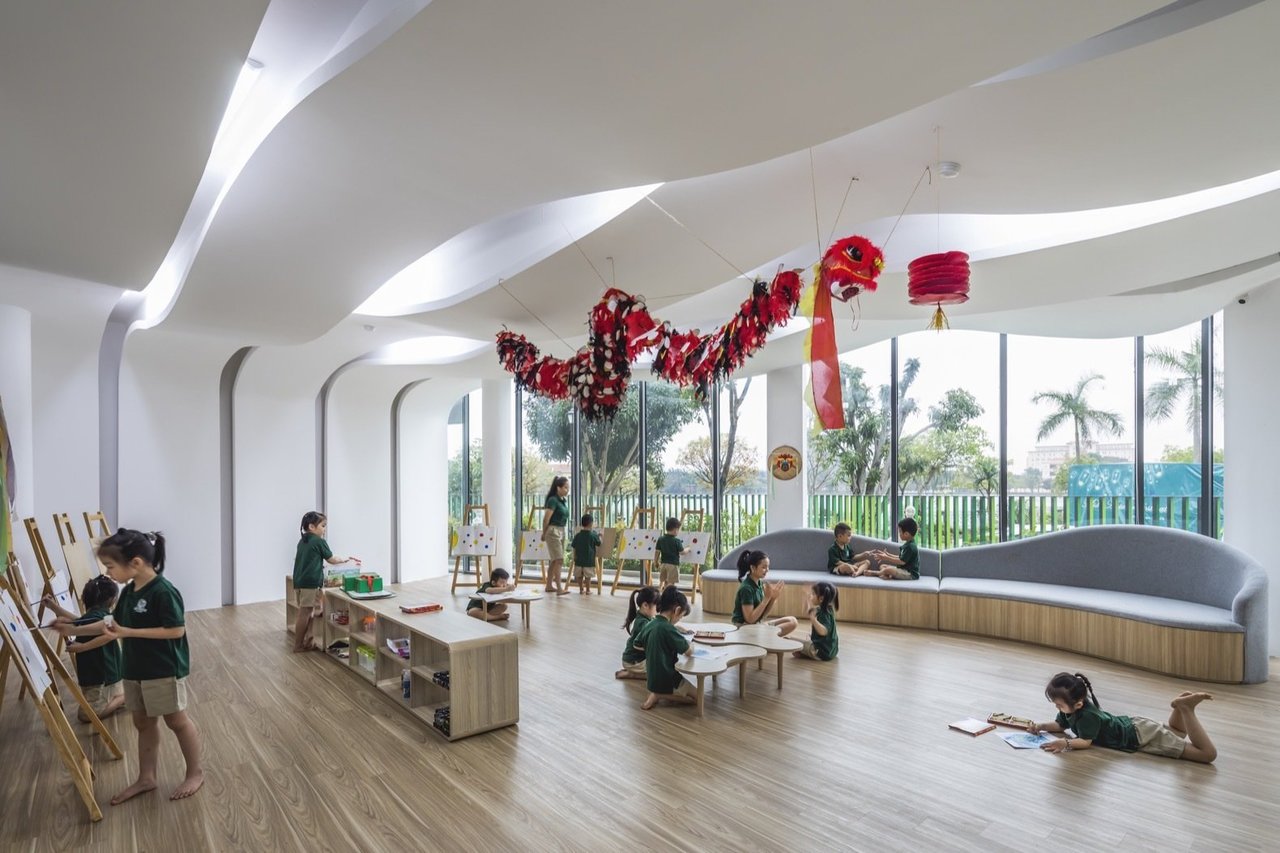 "An education project for the future generation challenges us to question the ways we teach and learn," says Bosse. "Rather than a sterile box with a teacher in front and kids in rows listening, we created a learning environment where discovery, curiosity, interaction with nature, and activity-based learning are encouraged to promote children's holistic development."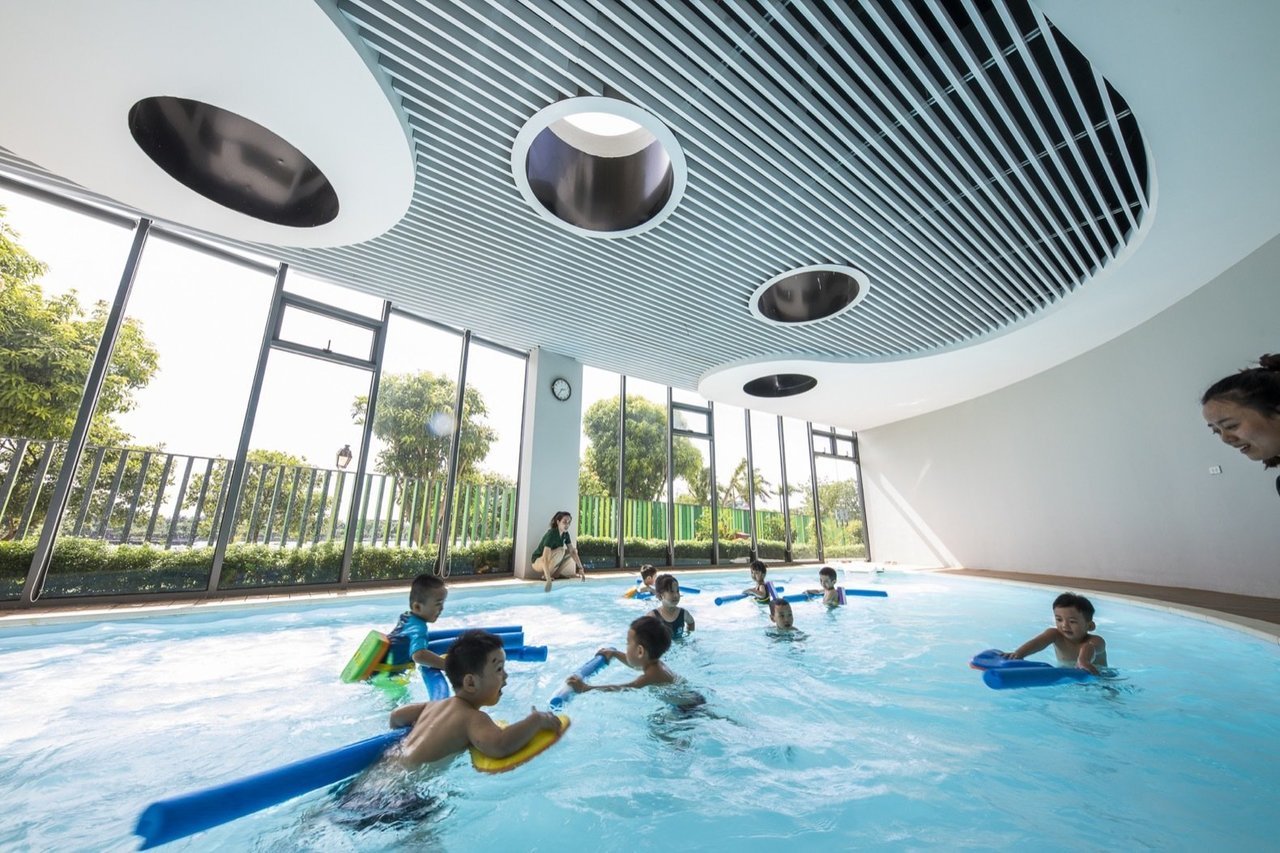 Classrooms are housed in two of the buildings, while the southernmost building comprises the canteen, medical room, library and activity-based learning areas such as a ballroom and swimming pool.

"Education is the foundation of our society, and it should express itself this way," explains Bosse. "The design is playful and organic at the same time, and it allows interaction inside and outside-between city scale and human scale."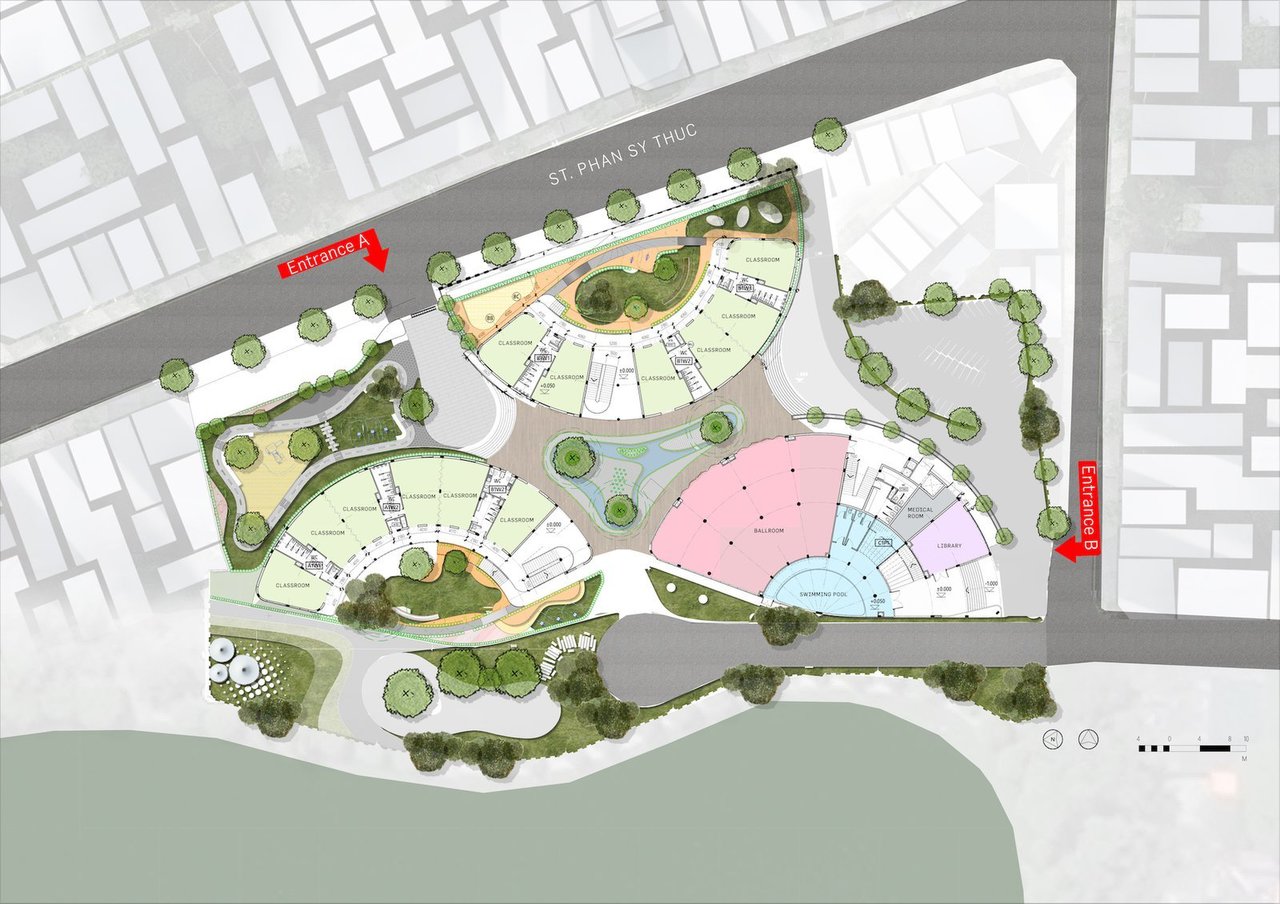 Eco Kindi plan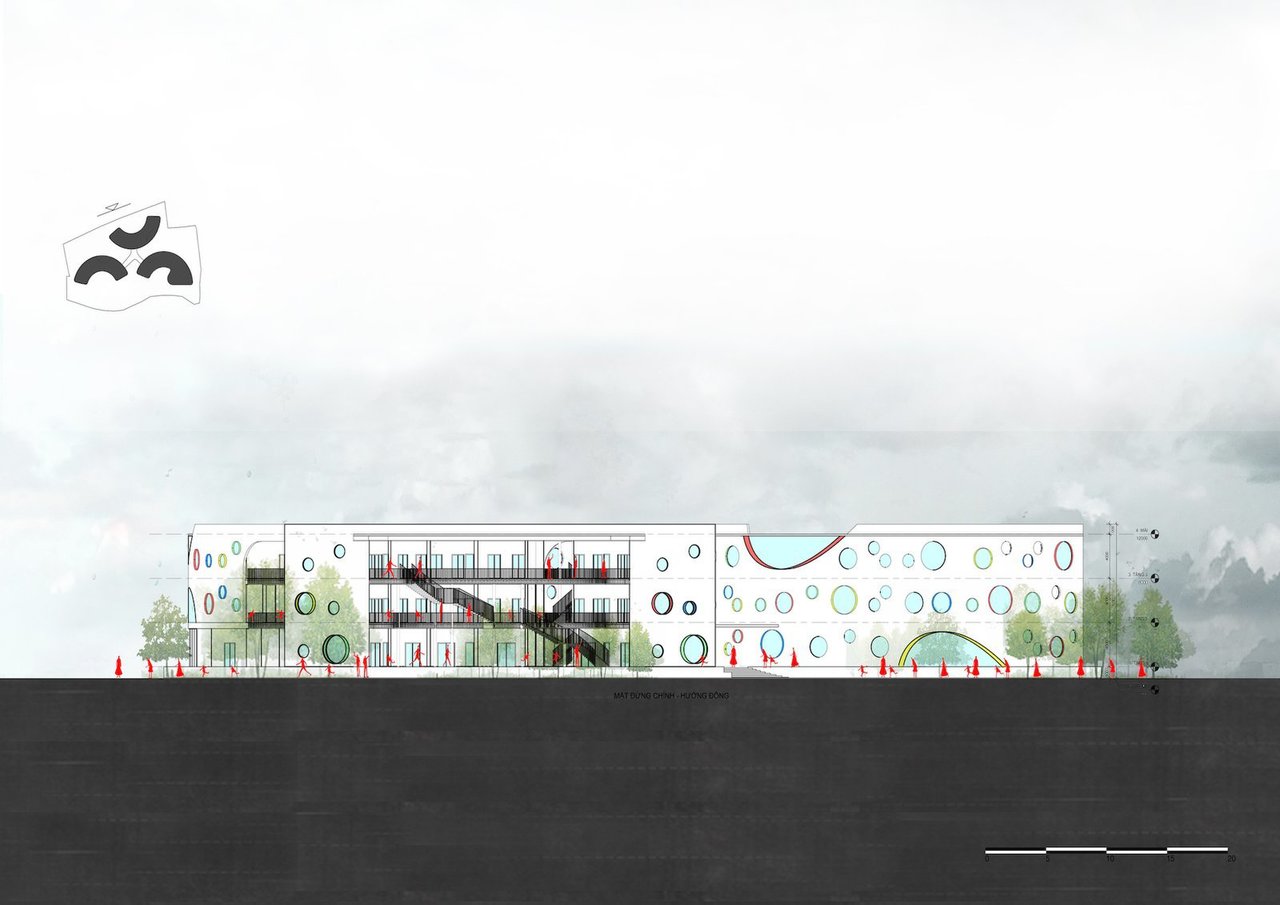 Eco Kindi elevation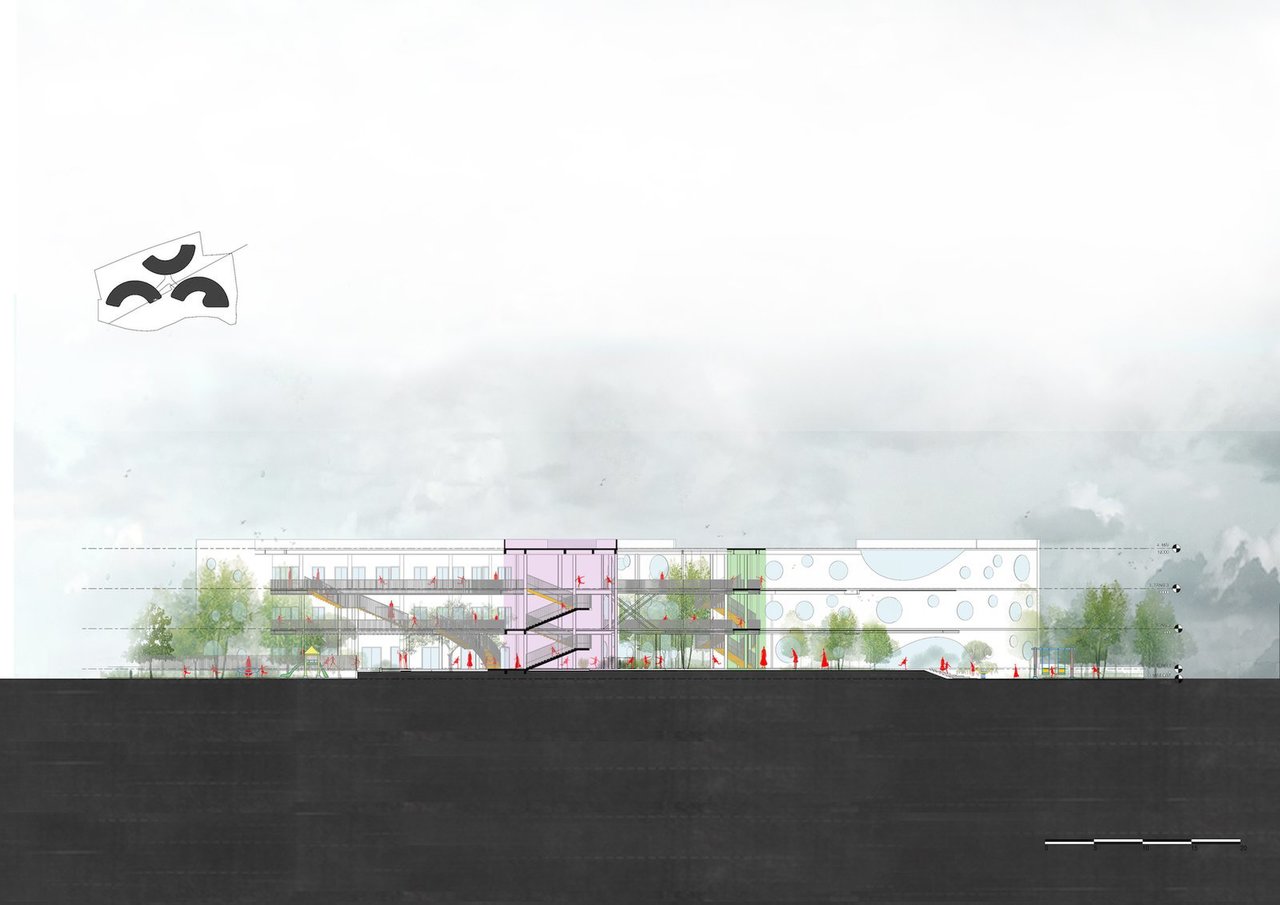 Eco Kindi section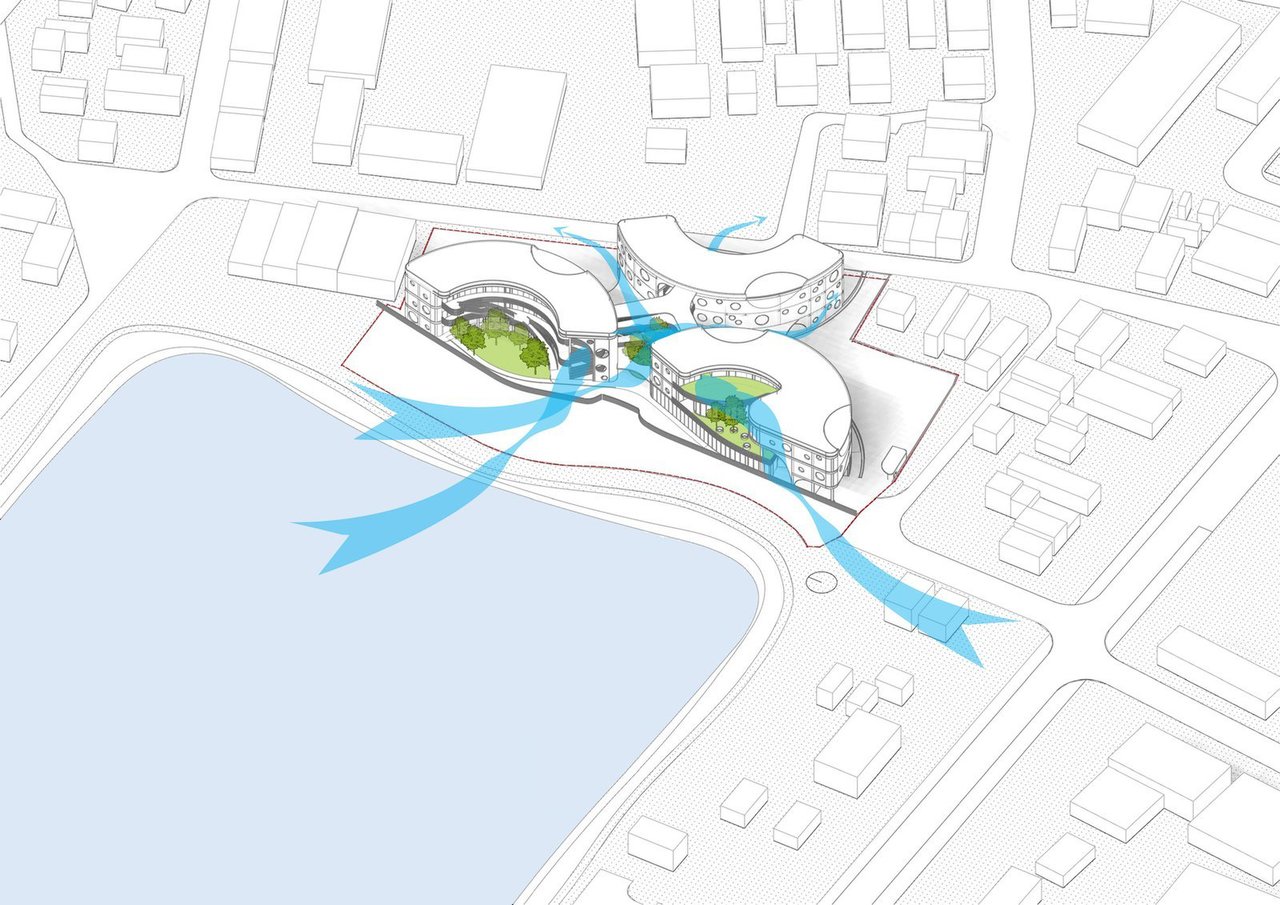 Eco Kindi natural ventilation diagram