Hovering above the treetops on the island of Viggsö, a serene cabin sits perched into a stone cliff, its pale timber frame and translucent, silvery roof blending into the fog and vegetation of the Swedish Archipelago, a landscape marked by wild bent pine trees, heather, and a lichen-covered forest floor.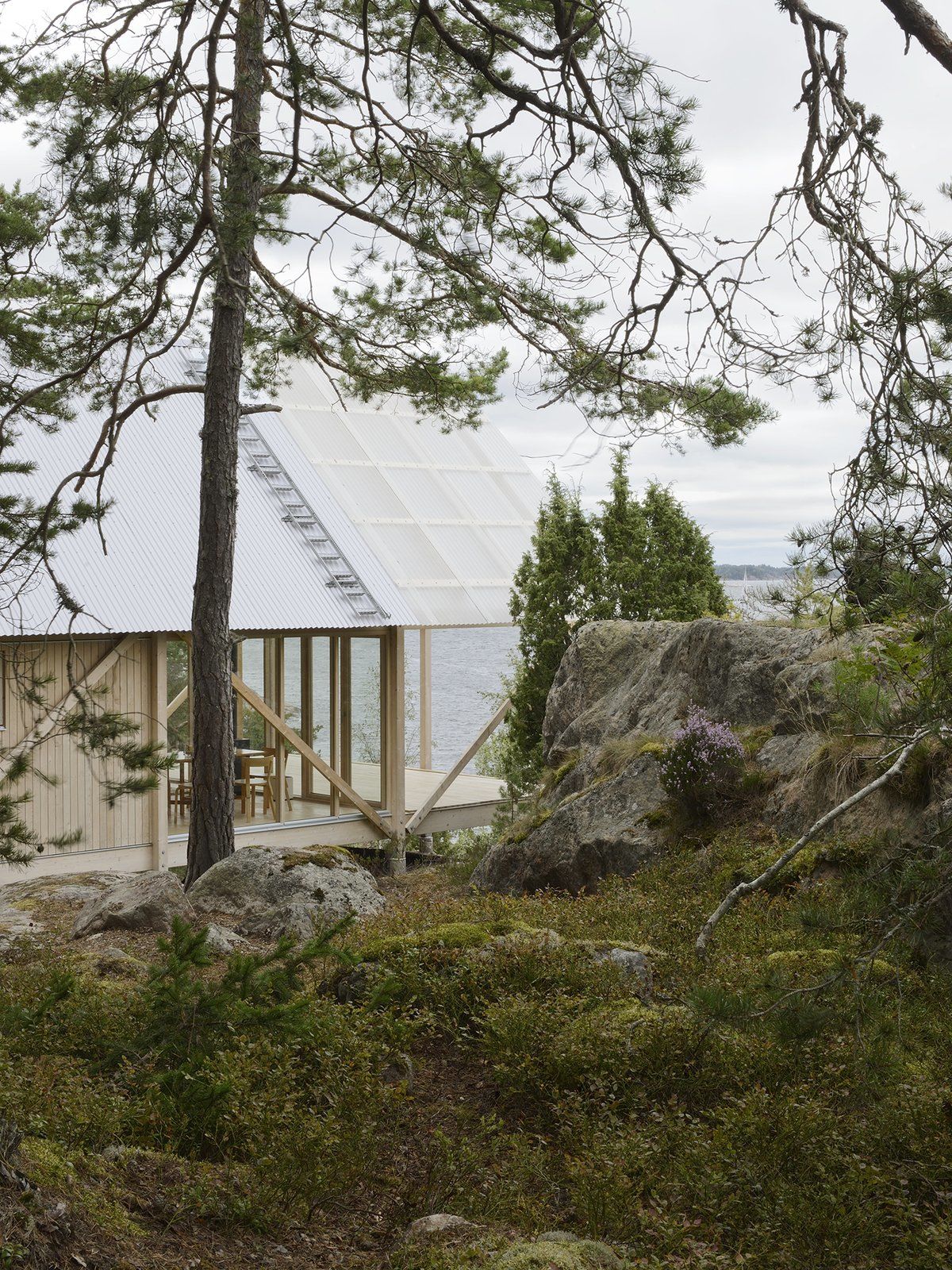 On Viggsö, an island of the Swedish Archipelago, architecture firm Arrhov Frick designed a two-story retreat, using simple but hardy materials. The timber frame is made of pine; the roof is made of corrugated metal and fiber-reinforced plastic.

Designed by Stockholm-based architecture firm Arrhov Frick, the two-story retreat was designed for a family of five, who spend their long, warm summer days here. "The materiality of the house had to be efficiently transported and assembled on the island, yet able to withstand relatively large spans," says principal Johan Arrhov, who led the design with his partner, Henrik Frick.

Despite working with a challenging, rugged site and on a tight budget, "it was a fun and relaxed process-a lot of creative freedom, and no stress," says Arrhov, who attributes the smooth process to his clients, with whom he had been well-acquainted for some time. "We just had to do this construction in the right way," he says. "The process started by spending some time discovering the site, rocks, and vegetation until we found the right spot. Then the house developed from there."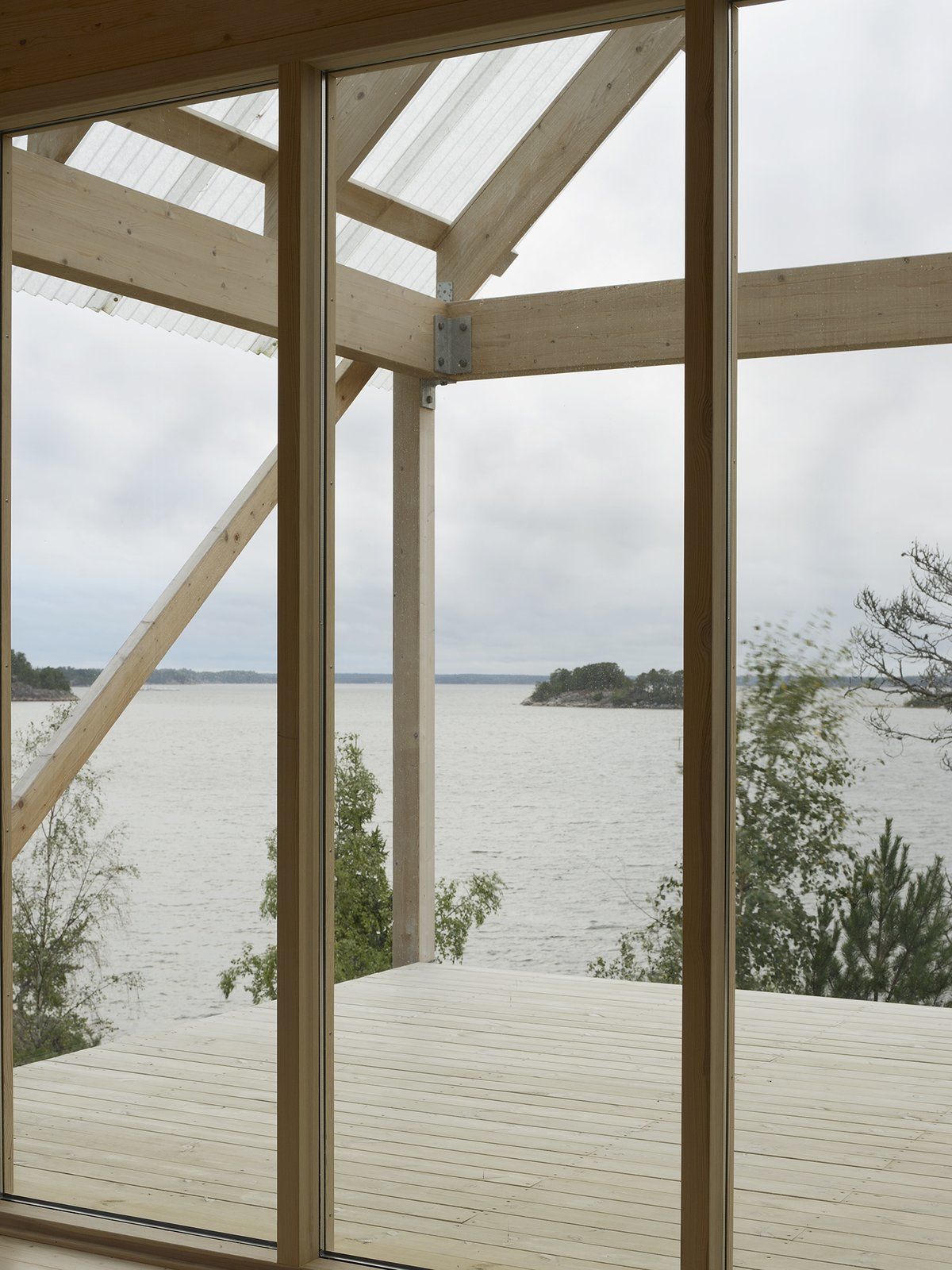 The roof portion made of corrugated fiber-reinforced plastic hangs above deck, which measures roughly 215 square feet and overlooks views of the water.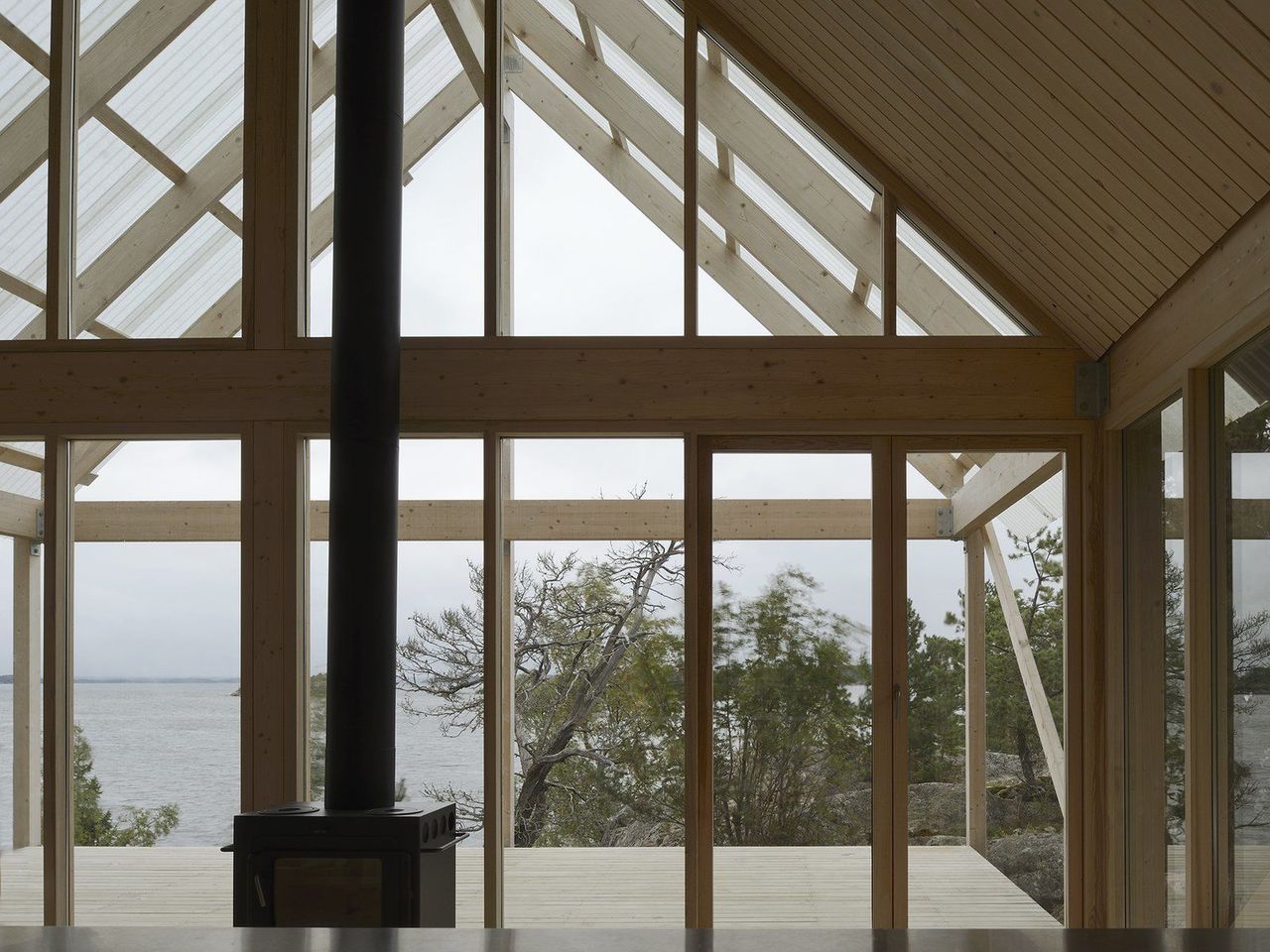 The open-plan interior measuring roughly 430 square feet, with a bedroom and a living room with wood-burning stove on the ground level, and a lofted level above it.

Structured by glue lam beams and wooden studs, all specified in pine, topped with a corrugated metal roof, which alternates to a corrugated fiber-reinforced plastic, above the terrace-all ingredients from "an old receipt from the 1950s," adds Arrhov. Though the structure is stick-built, he notes, the design adapts simple and hardy, standardized parts where possible, which helped keep costs and transportation logistics feasible.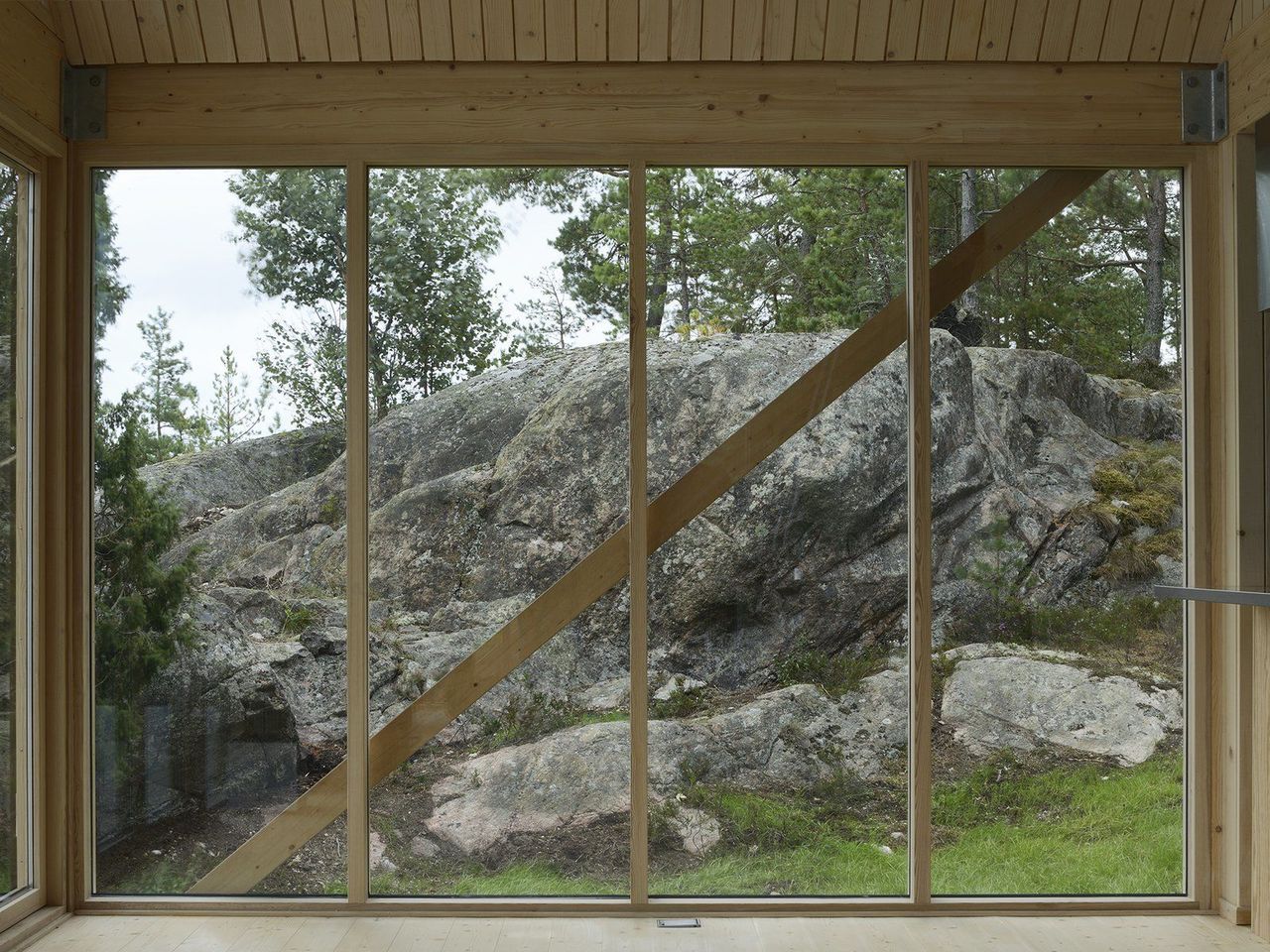 A simple timber frame and wide expanses of glass enhance the structure's connection to Viggsö's varied terrain, marked by rocky cliffs, wild-bent pine trees, heather, and lichen.

Construction took eight months, and was completed earlier this June-just in time for Sweden's famous Midsummer's Day, a peak reprieve from the country's long and harsh winters, and a celebration of its brief but intensely jubilant summers, where evenings dim only to a prolonged twilight. "The foundation, a series of posts, minimizes the buildings impact on the ground conditions, while elevating it among the trees and vegetation," says Arrhov. "The client always had this dream of one day building a house here."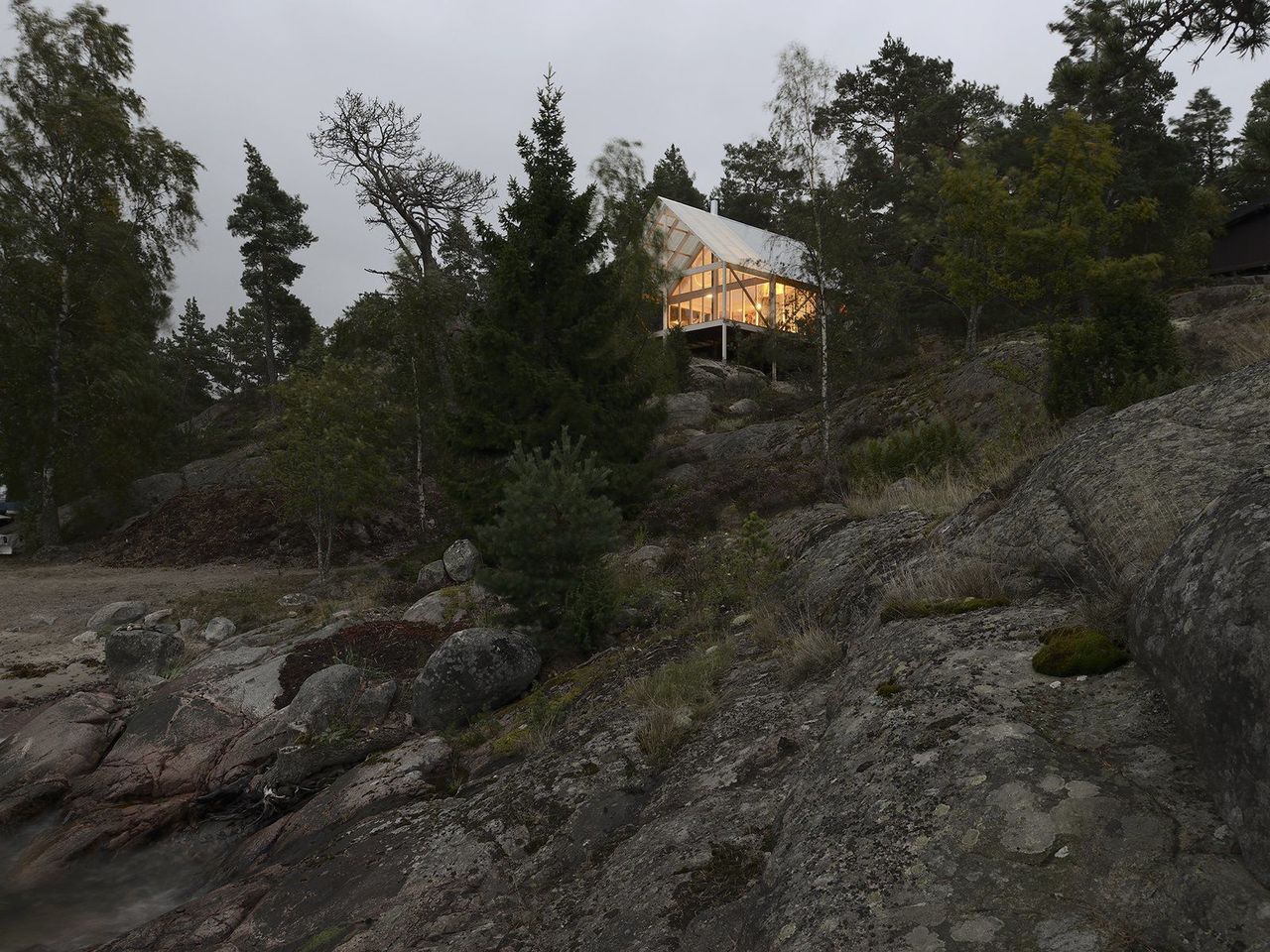 Though a clear celebration of Sweden's intense but fleeting summer seasons, the cabin is used year-round, and was constructed in eight months.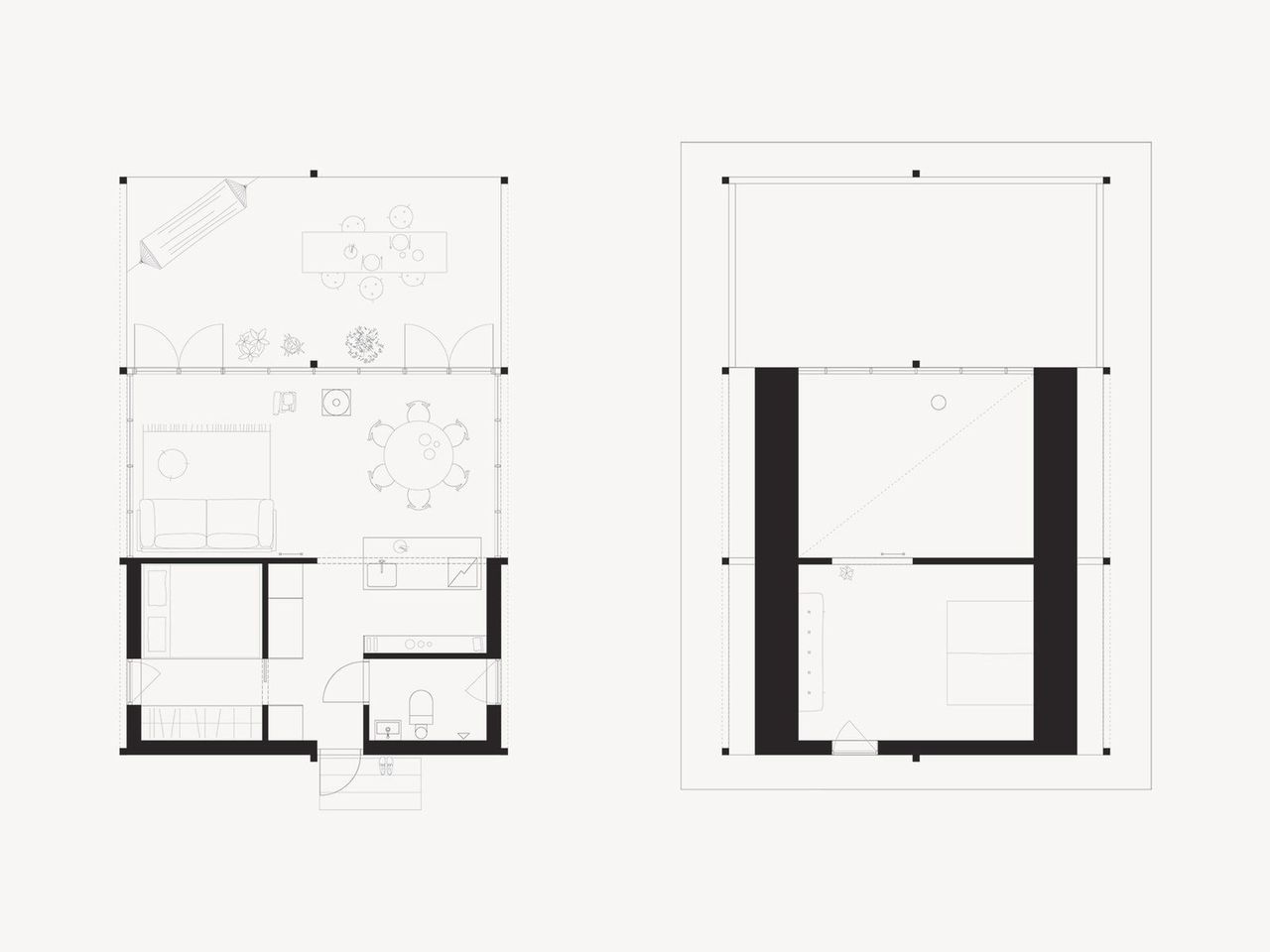 The cabin features an open-plan organized around three main areas: The deck, living area, and bedroom and bath. The lofted level (right) includes another bedroom.