For a book lover, stepping into a bookstore is always exciting, but a new bookstore in China makes the experience absolutely spellbinding. Dujiangyan Zhongshuge, located in Chengdu, was designed by Shanghai-based architecture firm X+Living, which has created several locations for Zhongshuge. The two-story space appears cathedral-like, thanks to the mirrored ceilings and gleaming black tile floors which reflect the bookcases, creating a visual effect that feels akin to an M.C. Escher drawing. "The mirror ceiling in the space is the signature of Zhongshuge bookstore," says Li Xiang, founder of X+Living. "It effectively extends the space by reflection."

Upon entering, shoppers encounter C-shaped bookcases, which create a series of intimate spaces. In the center of the store, towering arches and columns take advantage of the full height of the space. These bookcases were inspired by the history and topography of the region. "We moved the local landscape into the indoor space," says Li. "The project is located in Dujiangyan, which is a city with a long history of water conservancy development, so in the main area, you could see the construction of the dam integrated into the bookshelves."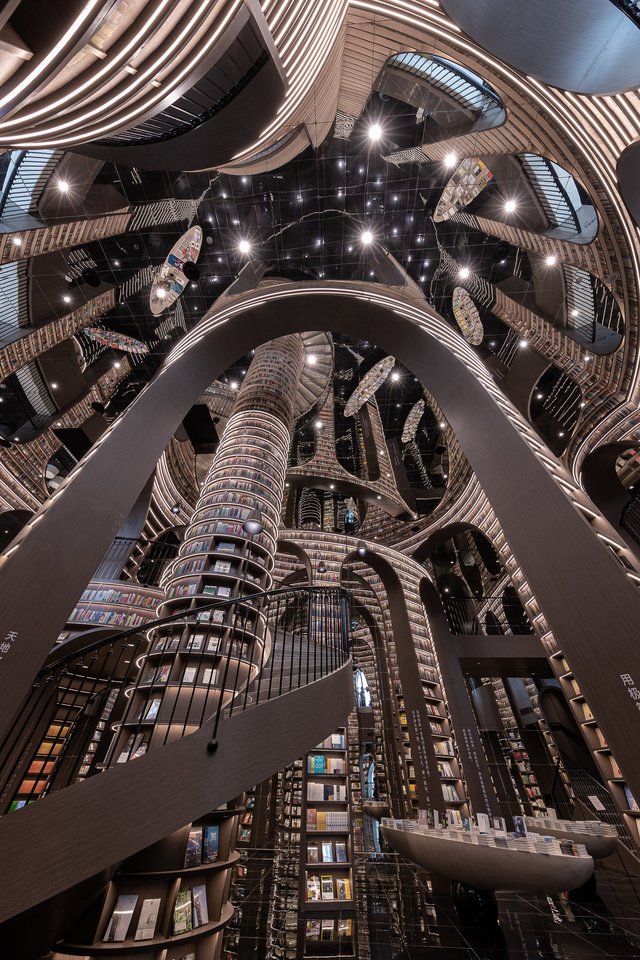 The firm used film printed with books on the upper shelves so it would appear that books stretched from floor to ceiling. "If we placed real books on the upper shelves, it's not only hard for readers to reach them but also difficult for operators to take care of," says Li. "The store already has a collection of over 80,000 books, so there's actually no waste of space." Another key part of the design was lighting. "We designed light belts on each shelf to create a good light effect, which also draws the outline of each layer, making the shelf more stereoscopic and clear to give readers a visual impact and also make it convenient for readers to find books on the shelves," says Li.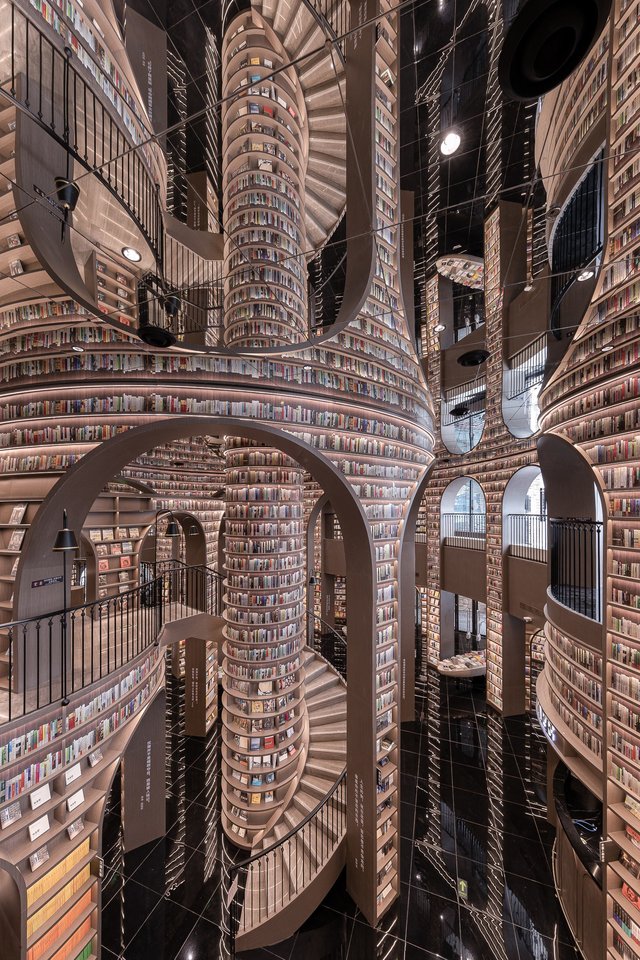 The store's first floor is home to a café and a playful children's area, which features bamboo bookcases decorated with pandas. Stacks of colorful cushions provide comfy reading spots for little readers. The second level's balcony is filled with seating, where customers can browse through their selections, work, or meet. Each space was carefully considered to add to the overall experience. "This project is a holistic concept," says Li, "We needed to coordinate every part of the space to ensure that any functional item, whether it is a bookshelf or a desk, does not break away from the theme of the concept and at the same time has a sense of beauty."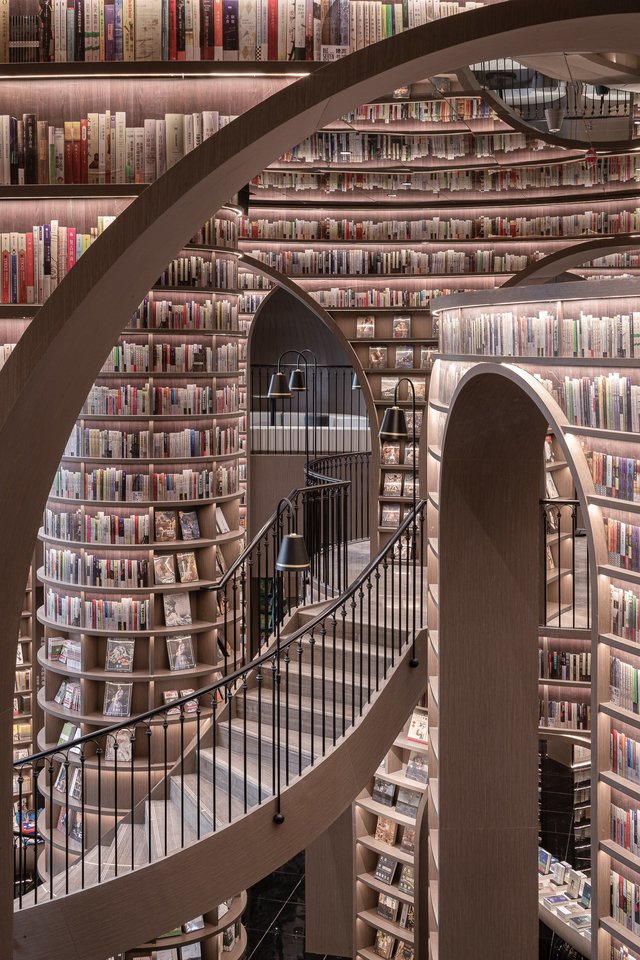 All the elements of the design come together to give visitors an inspiring shopping experience. "What I find most fascinating about it is that it really presents the local famous man-made landscape, the dam, even though in an abstract, artistic way," says Li. "But when you stand in the space, and your body feels the big size difference between itself and the foreign object, the impact on your soul is similar to the awe we feel about nature, about the human ingenuity of using nature to build projects for the benefit of our society."