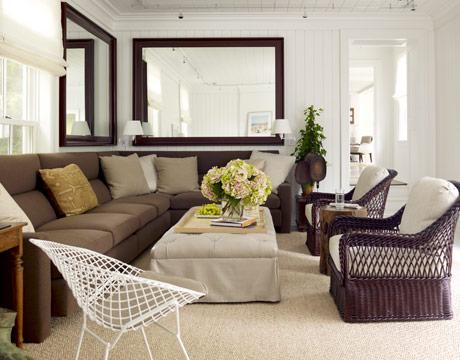 Make a Room Large with Mirrors

"People might call my rooms stark, but I think they're like when you have a mint in your mouth and you breathe in deeply — there's a freshness, a crispness," says Vicente Wolf.

Large mirrors are a signature Wolf touch. The two that meet in a corner of the family room "open up the space and bring more of the outdoors in," he says. "They also add depth and substance." The open metal frame of the Bertoia Diamond Lounge Chair echoes the mesh of the wicker armchairs from Bielecky Brothers.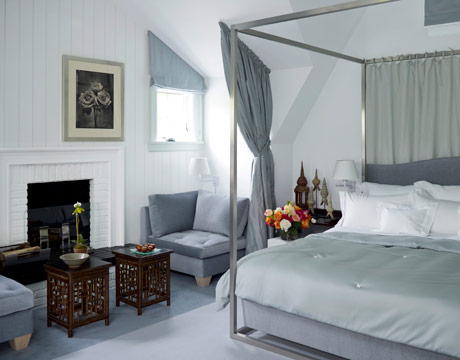 A Modern Master Bedroom
In the master bedroom, Wolf painted walls Benjamin Moore's Patriotic White, a color that "reads white in the day, then as it gets darker takes on a blue-y green tone." A tie-back silk curtain delineates a small seating area, and a Tom Baril photo "draws more attention because it's hung off-center." The comforter is made of Donghia's Glace, a wool sateen. Linens are from Anichini.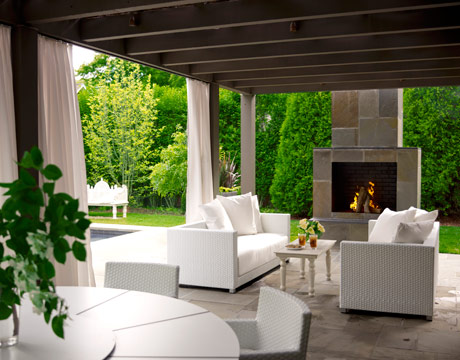 The Perfect Outdoor Room
Furniture from Usona Home carries Wolf's river of white to the outdoor room. The filmy white curtain in Spinnaker from Janus et Cie is more practical than decorative, filtering the sun's strong ultraviolet rays.