When Dan and Meital approached Mary Maydan, principal and founder of Maydan Architects, about renovating their Bay Area property, they had an unusual request.

As the founder and CEO of a software company and the owner of a bi-coastal real estate business, Dan and Meital have a robust social circle that they want to be able to entertain regularly. So besides creating a home that would be comfortable for their four daughters, they also wanted an address that could accommodate dozens. "Meital and Dan were looking for a place where they would be able to comfortably host four to 100 people," Maydan says. "They are full of life, and they enjoy a very busy social life."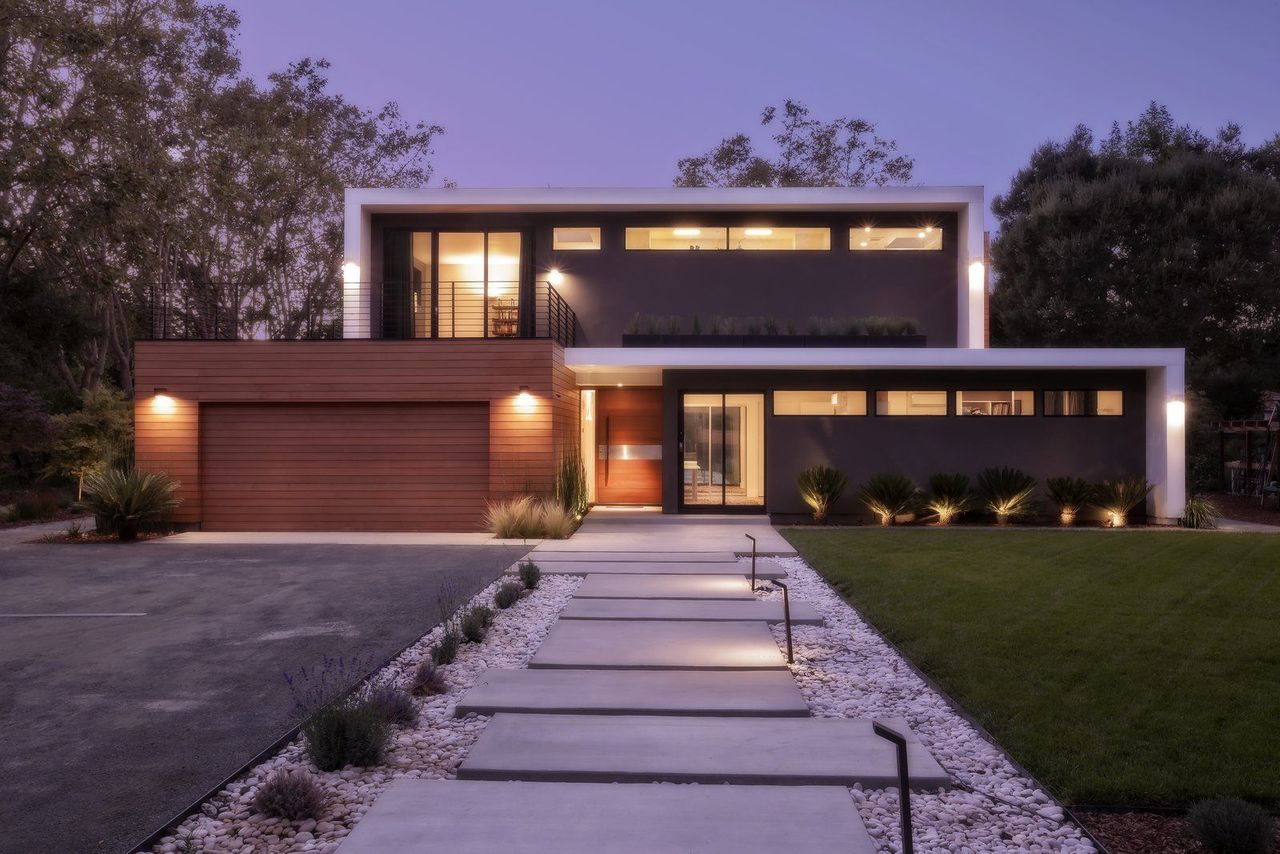 A concrete walkway leads to their home, which is painted in a custom white and gray stucco. The lighting is by Modern Form.

But besides being the de facto hub for their friends and extended colleagues, they also intended to have a home that respected its history and embraced its surroundings. Set in Silicon Valley's town of Atherton on a sprawling lot, Dan and Meital's home was built by famed California real estate developer Joseph Eichler before undergoing a remodel. The house was in good shape, but the remodel didn't serve its architectural status or the owners' needs.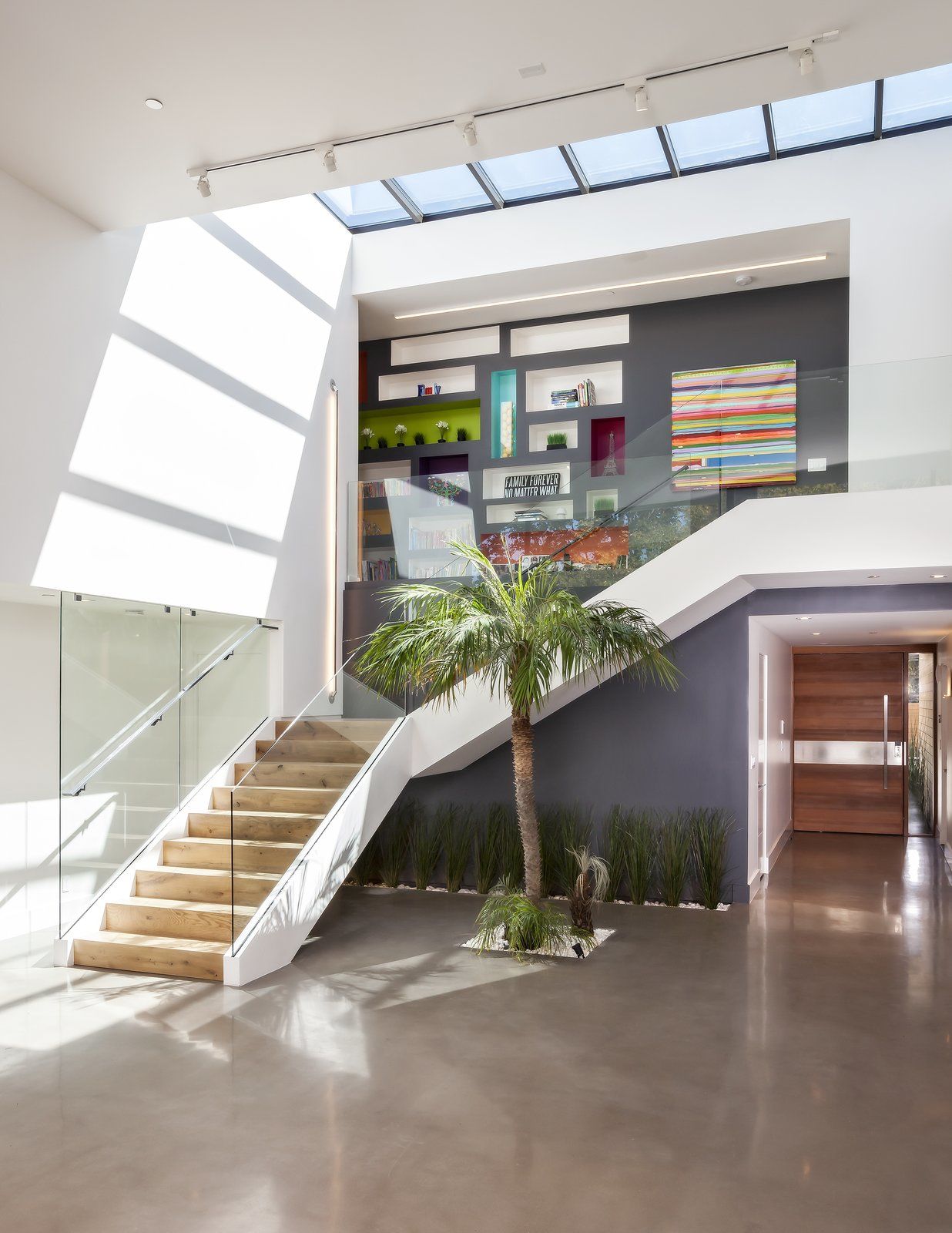 "The oversized skylight enables the owners to see the sky from the center of the house," Maydan says. "It was also important to ensure that the palm tree, which was planted in the center of the entry atrium, can get plenty of sunlight."

"We were looking to enjoy indoor and outdoor living all year long, see the beautiful nature we are surrounded by, take in the eternally blue California sky, and get amazing light in every room," Meital says. "We couldn't find it, so we decided to build it."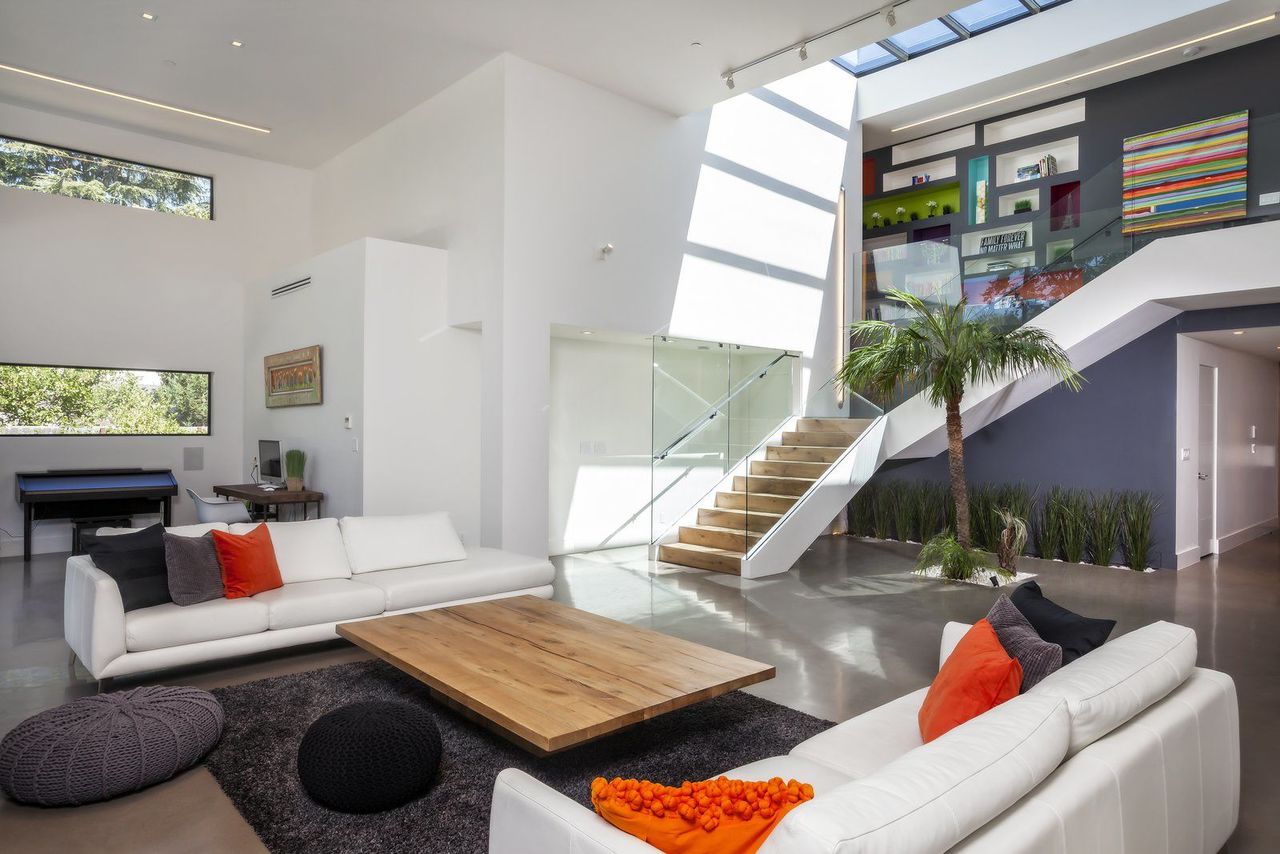 The skylight measures 18 feet by nine feet, and was divided into seven panels. "Their objective was to see the sky everywhere," Maydan adds.

Maydan had her own requirements for taking on this renovation, and Meital agreed: "I told her that I only do remodels if we can work together to create a gorgeous house," the architect remembers. "I don't sign on to remodel a bathroom."

The evident excitement between the owners and Maydan made this project worthwhile for all, and their equally confident outlooks created a fun environment long before any party guests arrived. "We shared the same aesthetic and the lot was magnificent, but what really drew me to the project were Meital and Dan's personalities," says Maydan. "They are wonderful, warm people with natural style."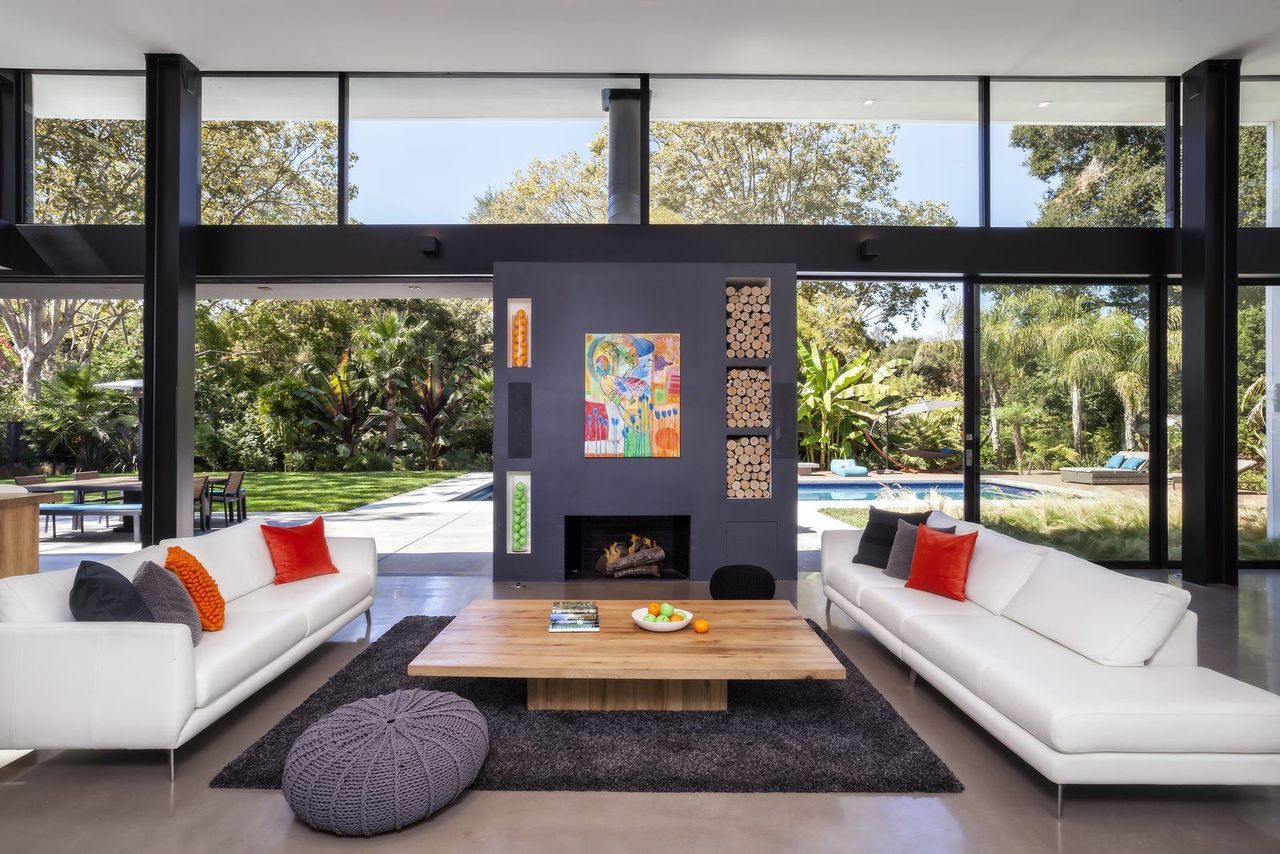 BoConcept couches anchor a Restoration Hardware coffee table and a Crate and Barrel carpet in the living area. The gray pouf is by CB2, and the artwork is by Senechal.

Of course, it also helped that everyone was on the same page in regard to the renovation. The trio envisioned a large and open ground floor, which would be illuminated by floor-to-ceiling windows and a collection of skylights. The original entryway featured an atrium, and they sought to keep it as a way to literally bring the outdoors in. A staircase would be built around it to act as the focal point between an open-concept living area and six private bedrooms.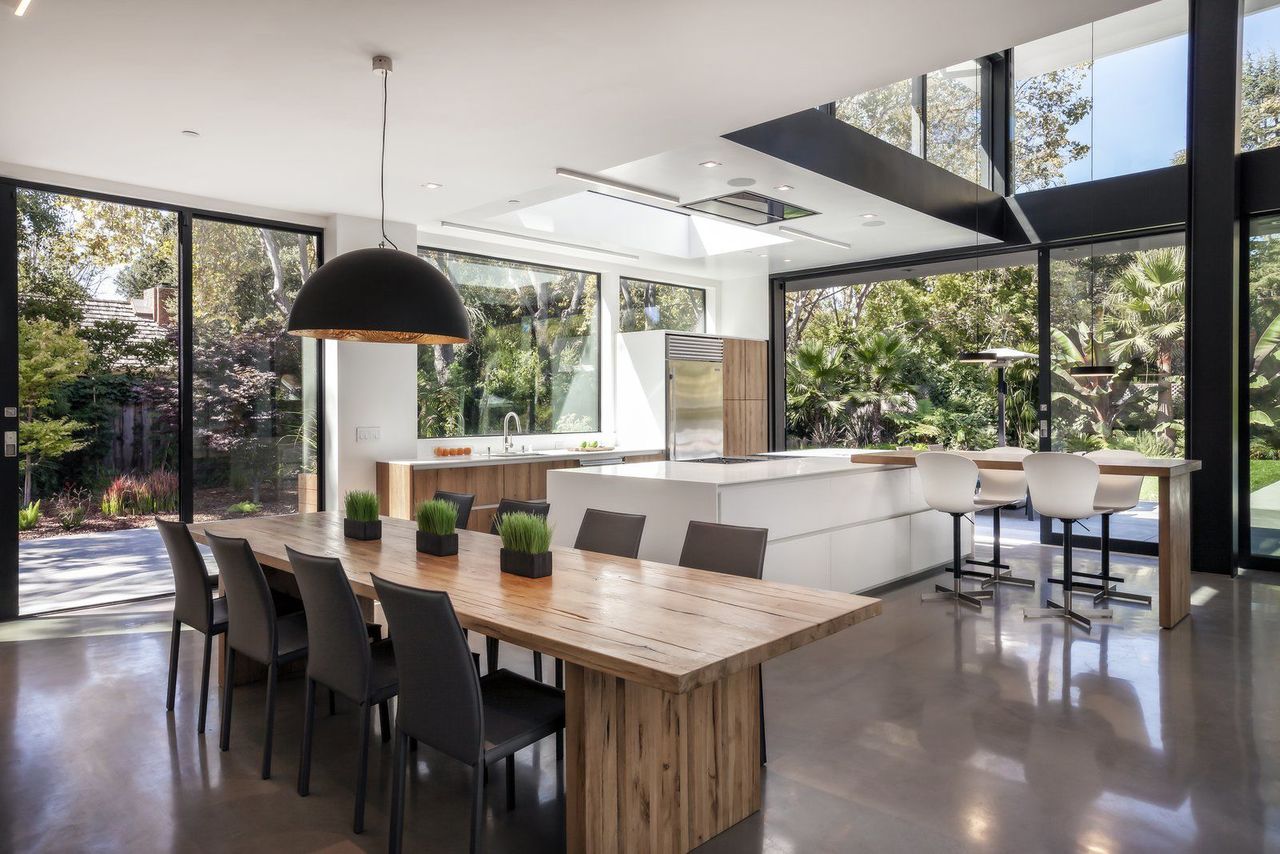 "They wanted a very friendly, functional, and warm kitchen," Maydan says. Meital adds, "We cook a lot and have a lot of friends. We are French people!" Sub-Zero, Wolf, and Bosch appliances mix with a Restoration Hardware dining table and BoConcept chairs.

"We were able to keep most of the original foundation and some of the framing. The general contractor was even able to salvage the existing radiant heat tubing under the finished concrete floor," Maydan says. "We also managed to save three bathrooms, while the rest of the remaining house was almost completely torn down."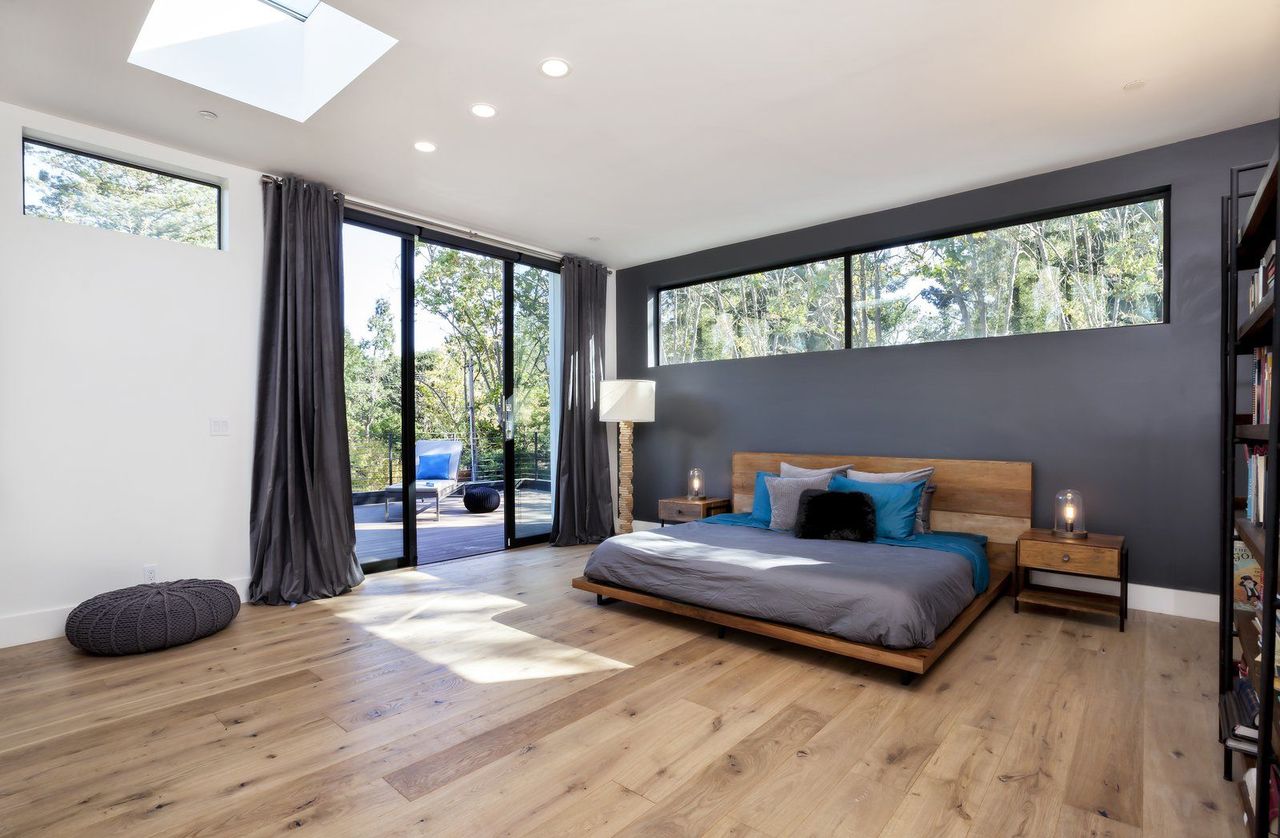 In the master bedroom, a Crate and Barrel bed and West Elm sheets define the space.

There were challenges to salvaging as much as possible-which included finding a contractor who even wanted to save the original radiant heating-while making modern changes along the way. In order to accommodate the atrium with a foundation already in place, the team had to figure out how to drain the water away from the home without much disruption. And instead of keeping the existing kitchen, Meital later decided to tear down a wall to make the area larger. "It would have been much easier to design a new build in this location," Maydan says. "But it's nice to be able to save things that are worth saving."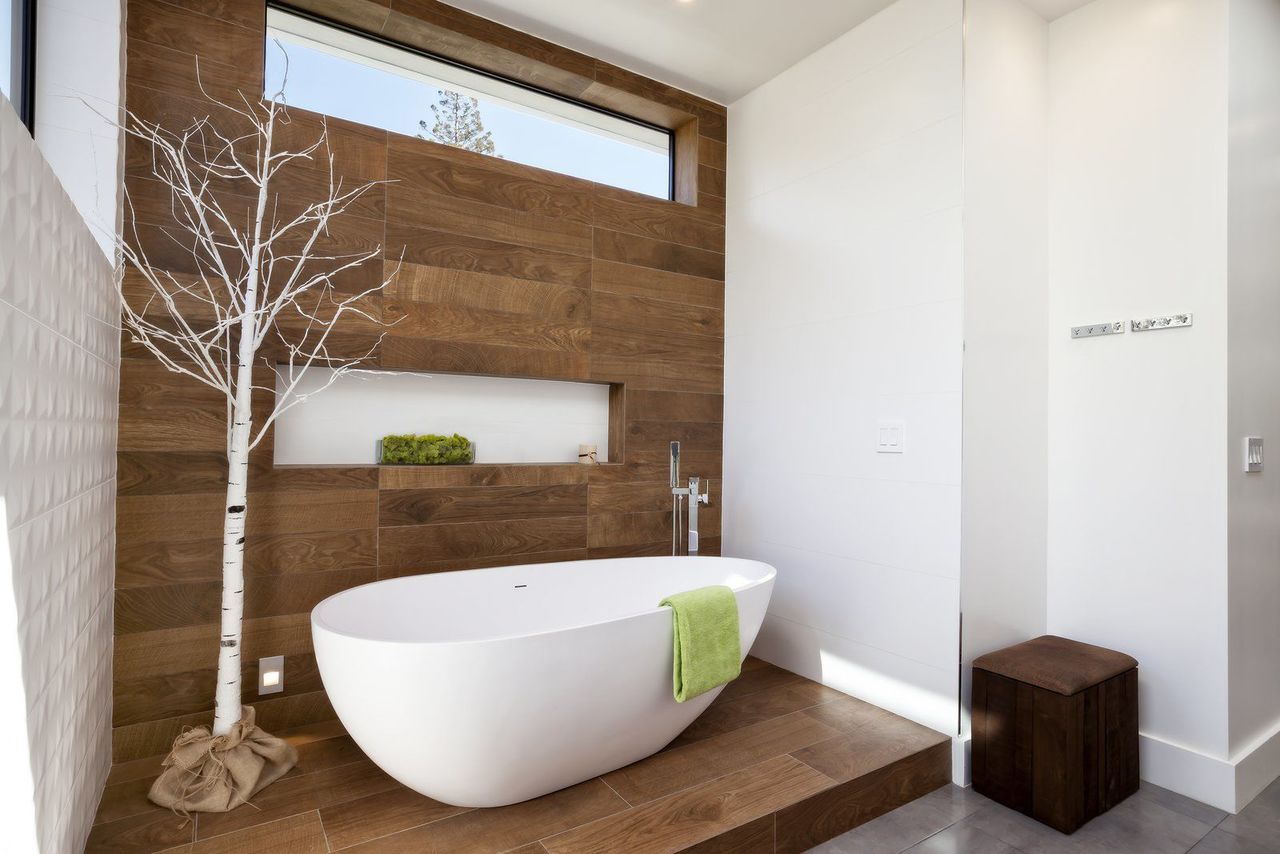 An Ethos bathtub contrasts woodwork by Porcelanosa in the master bathroom.

It took two years before this renovation was complete and guests were welcome to come and go, but the changes are exactly what the owners had in mind. Now that it has a big ground floor-which is set under seven panels of skylights-they're connected to the outdoors whether they're eating Meital's beloved cooking or basking in the tropical backyard that Dan spearheaded.

"It was really nice to see how each of them took charge of the parts they were passionate about and made the perfect creation for their family," Maydan says. "The house is always open to their large group of friends. I joke that it's the new French embassy."