Aarhus, Denmark, known for standout structures like the Arne Jacobsen–designed City Hall, and the sleek towers of The Iceberg apartment complex, is a destination rich with innovative architecture. Here, in a neighborhood thronged with small, single-family residences, C. F. Møller Architects has crafted an inviting, contemporary villa that draws inspiration from Aarhus University.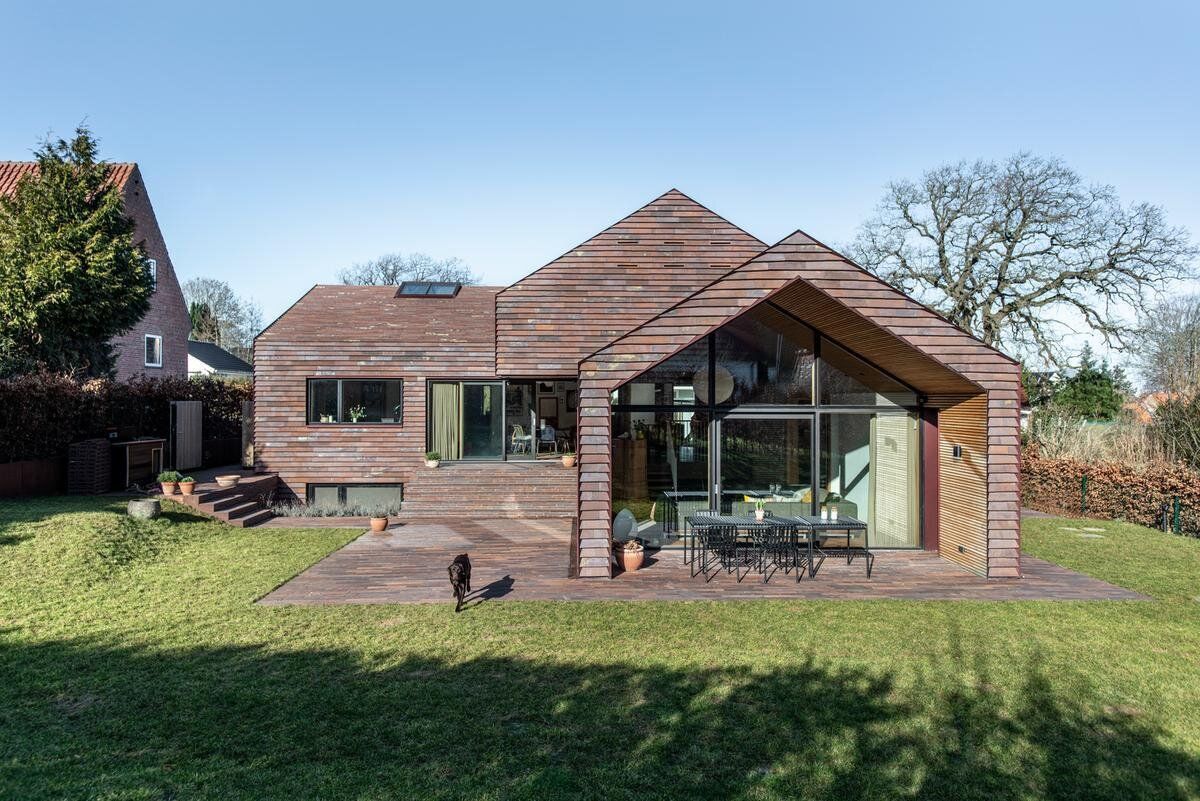 While "funky white boxes" dominate local residential vernacular, the client for this home craved something different. Klaus Toustrup, partner and architect at the Aarhus office of C. F. Møller, responded in stride. "For us, it was natural to go back in our own history and look at Aarhus University, where a single brick building with composite saddle-roof buildings has formed the architectural foundation for a campus that through more than 90 years of expansion still stands both classic and modern," he explains.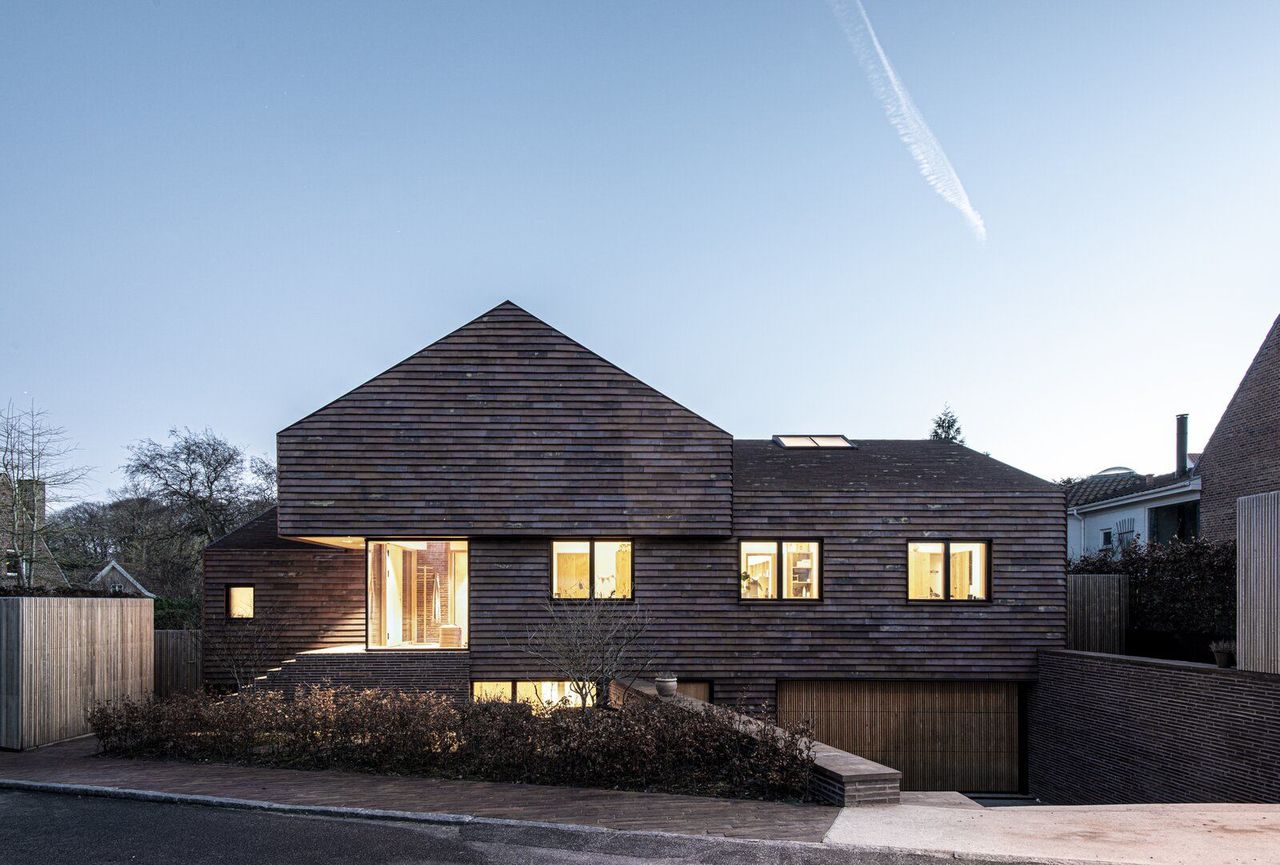 To best complement its surroundings, this same form was embraced for the villa. A quartet of gable-roof volumes, "which contain the individual main functions, are put together so that they adapt to the sloping ground," adds Toustrup.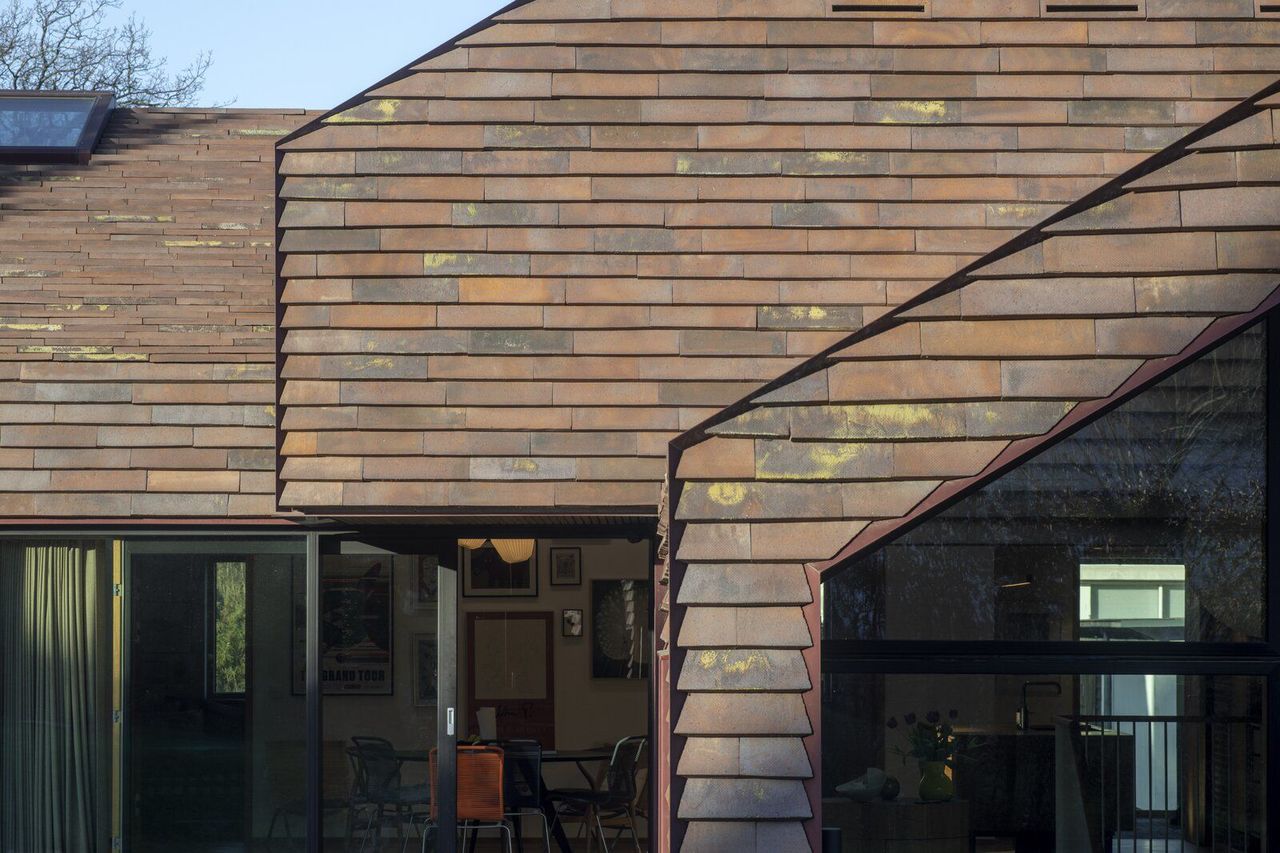 Nestled at the end of the driveway, for example, are the garage and basement, while a wide brick staircase leads up to the main entrance and into a great room covered in artwork. Situated underneath a sculptural ceiling that curves upward to a skylight, the room opens onto bedrooms and melds various zones, including a minimalist kitchen, a dining area, and a built-in reading nook.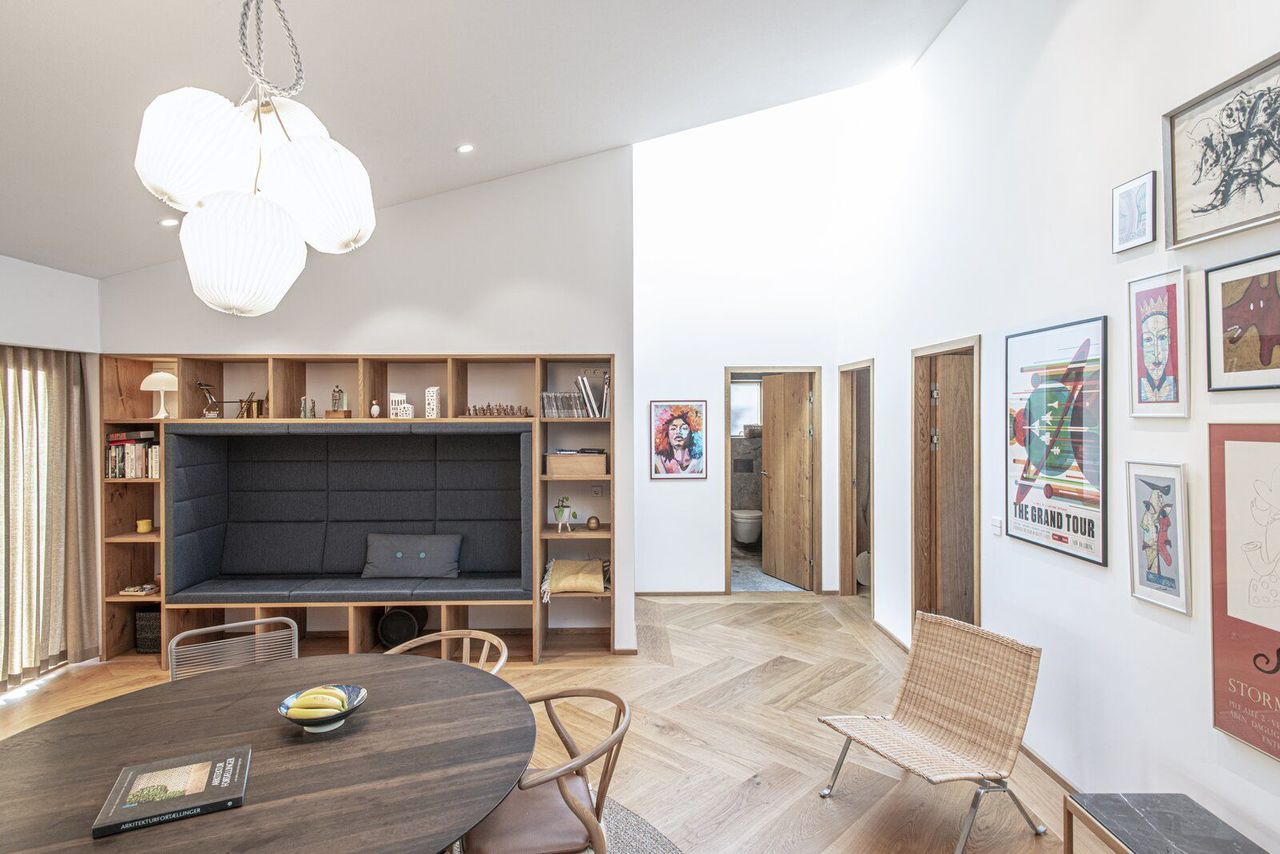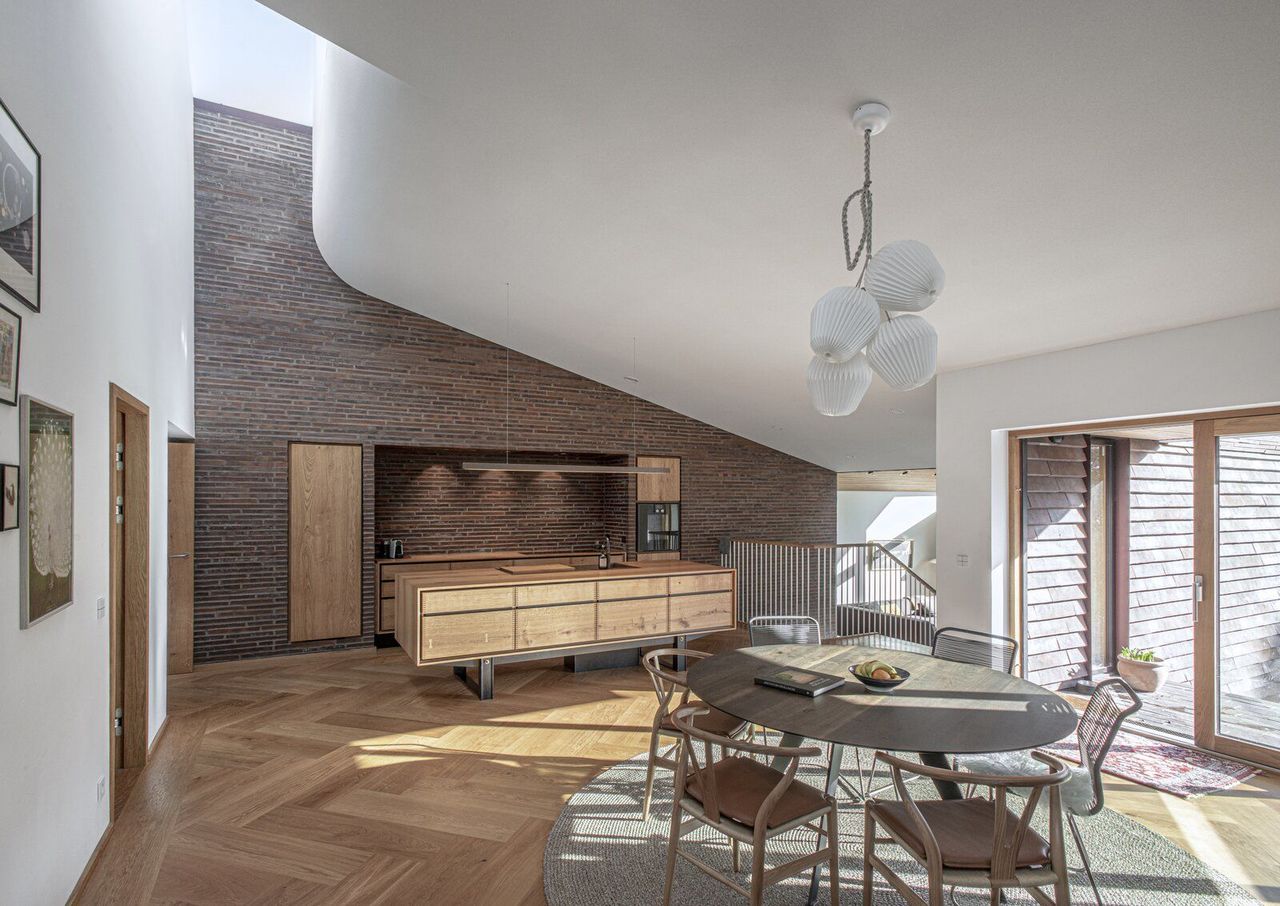 "It has become a great place for both partying and everyday family life," says Toustrup of this vast space. Down a set of stairs off the kitchen, another living area features a large, plush sectional. Floor-to-ceiling glazing grants views over the garden, which is better enjoyed from the alfresco dining table tucked underneath a covered terrace.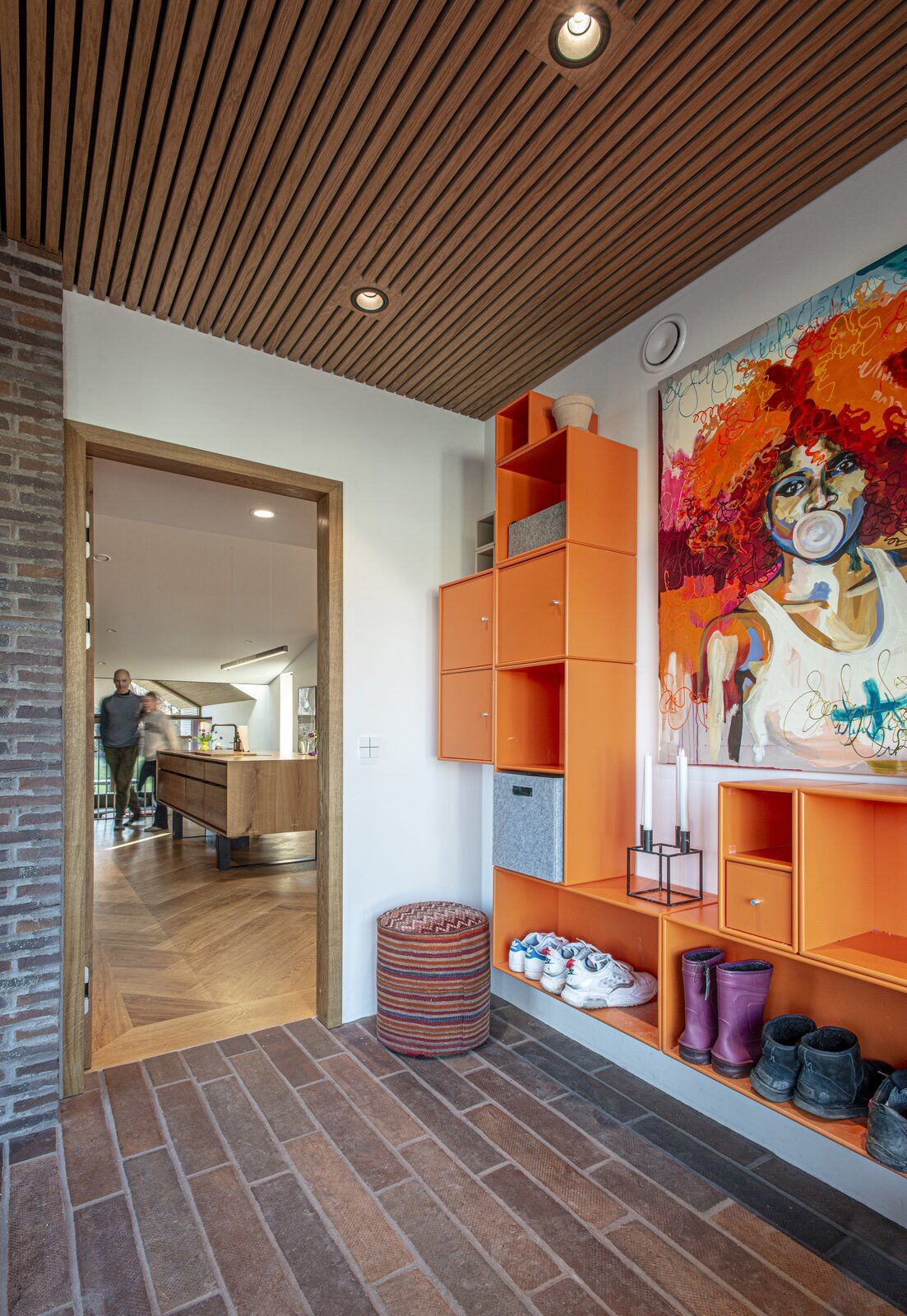 Such comfort and intimacy were top of mind for the client who "wanted a cozy setting for family life, a villa that fit into the old residential area, and built-in materials that could stand without major maintenance," says Toustrup.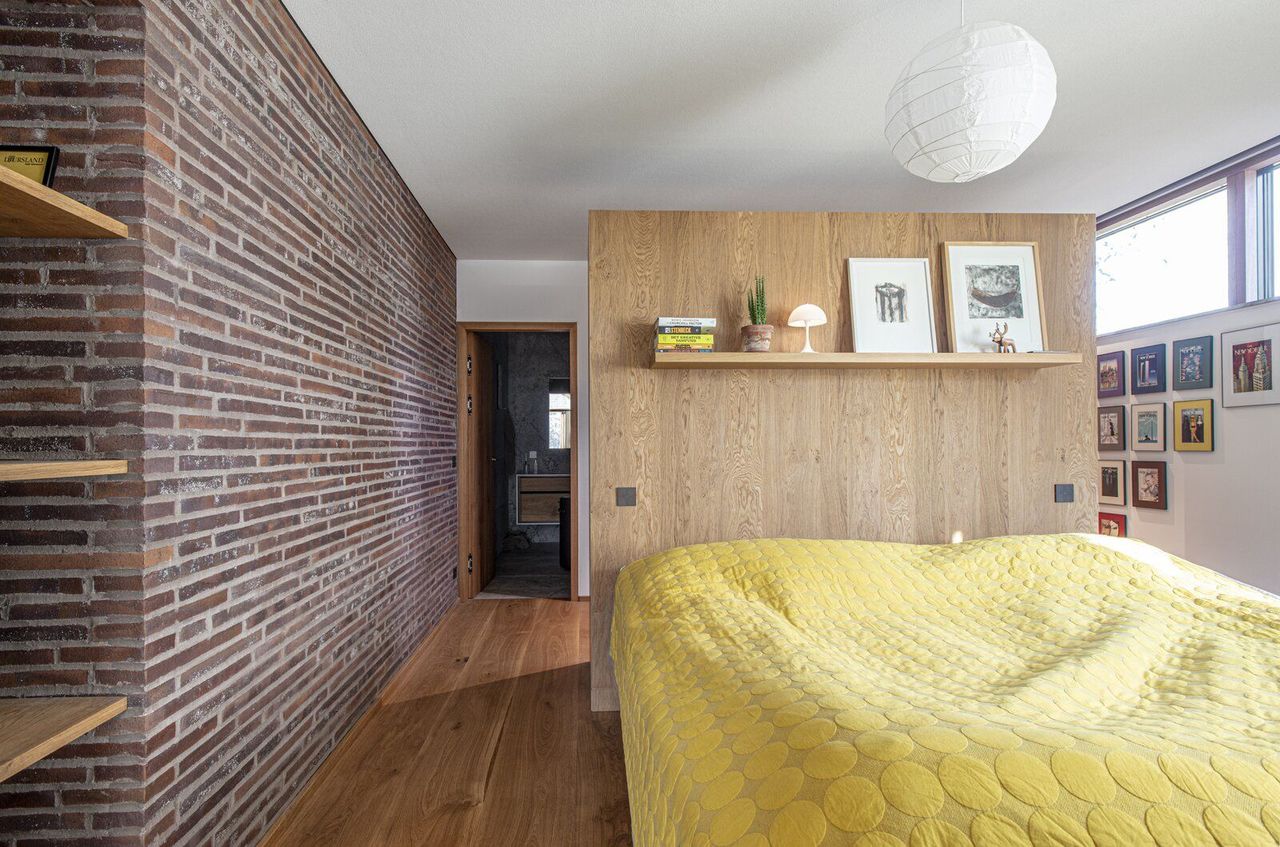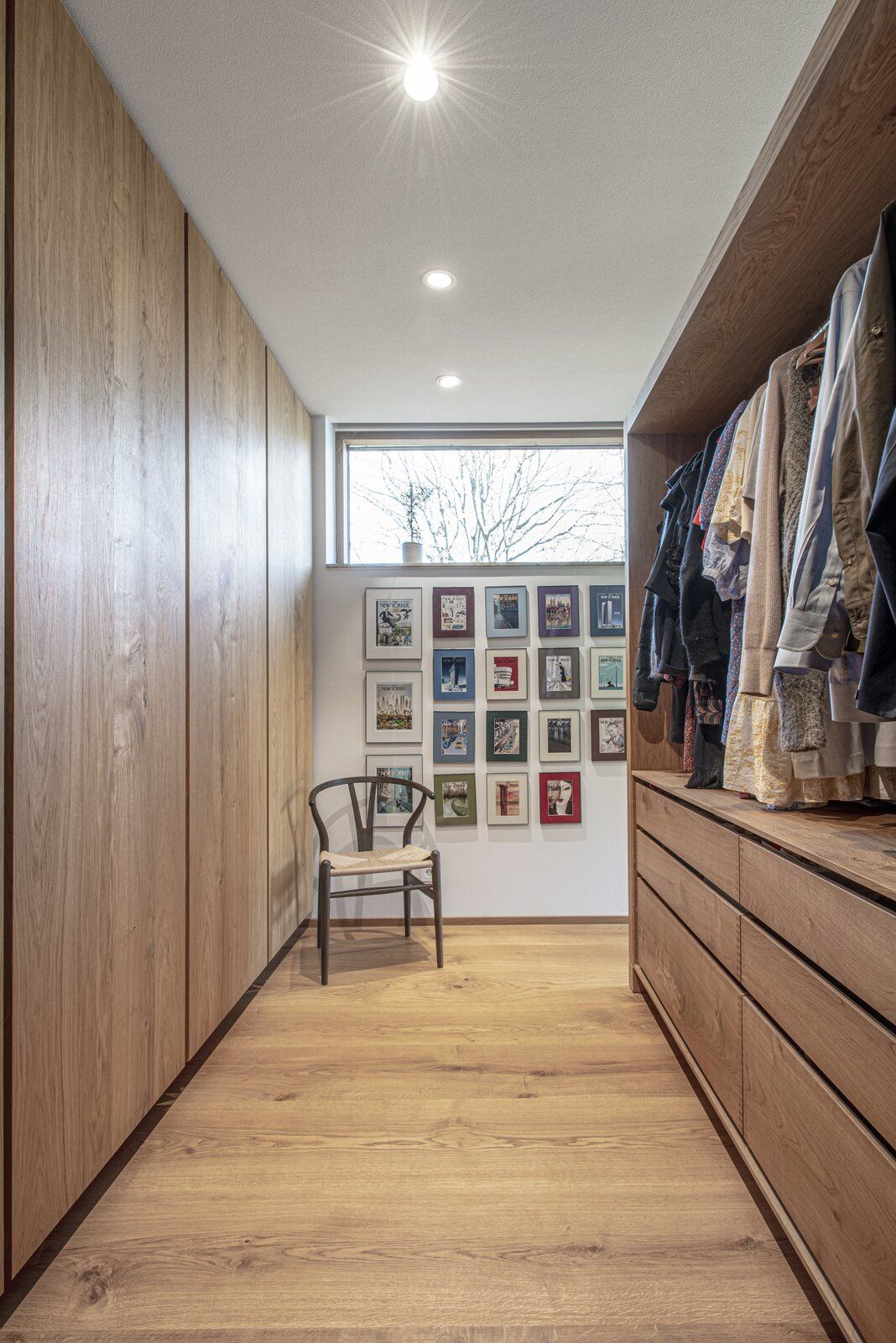 This is why Toustrup opted for a simple "character-forming" palette. Fashioned out of concrete and sustainable wood, the villa is finished with ruddy bricks on both the facade and roof as an homage to Aarhus University. Yet it also reflects Toustrup's love of the material: It ages "fantastically and beautifully over time," he says.

The interiors are also characterized by brick, namely on the core that connects the different levels of the abode. Similarly, complementary oak makes appearances both inside and out. In the bathrooms, natural stone with a polished aesthetic contrasts the otherwise rustic material palette.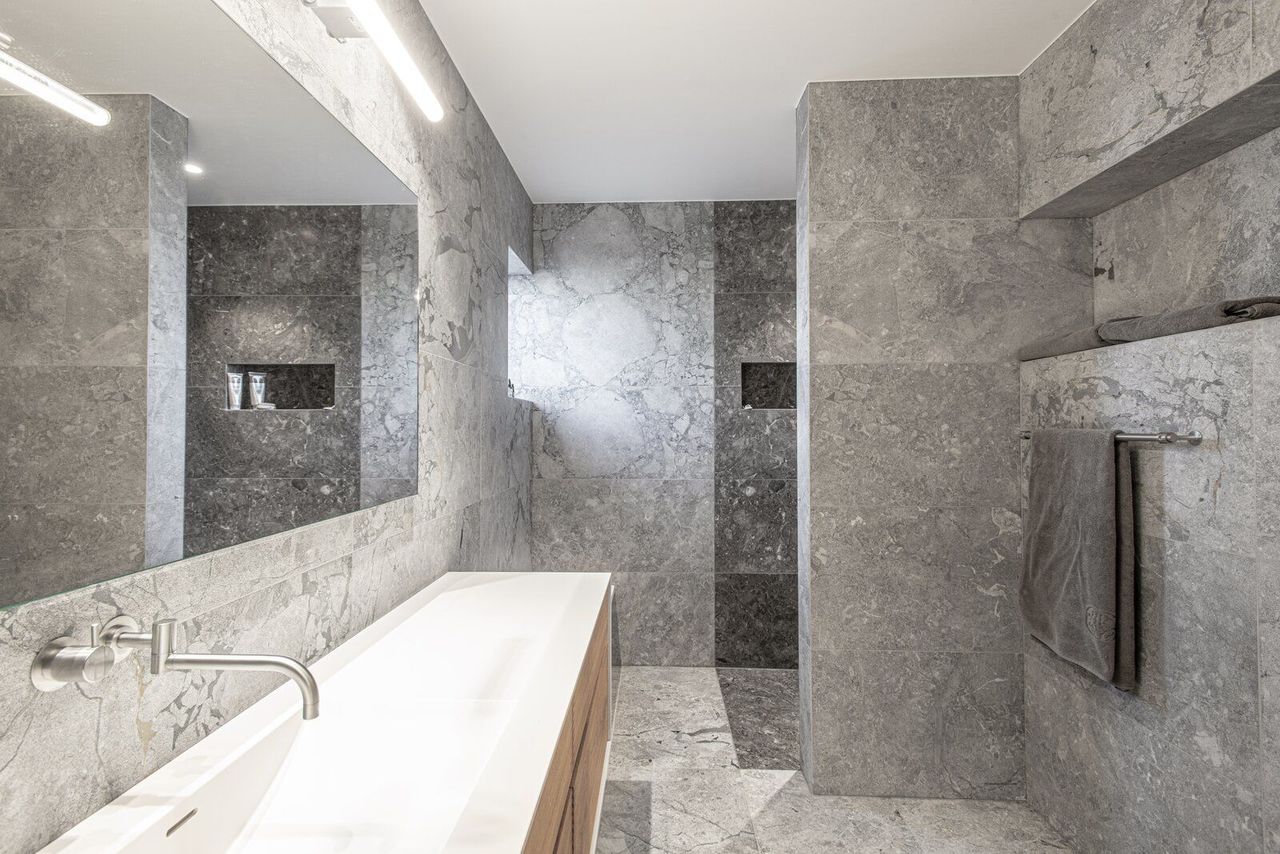 "Oak has a quality and strength which means that we could use it consistently on floors, ceilings, windows, doors, and furniture," says Toustrup. In combination with the brick and white walls, it conjures a "nice, warm Scandinavian tone."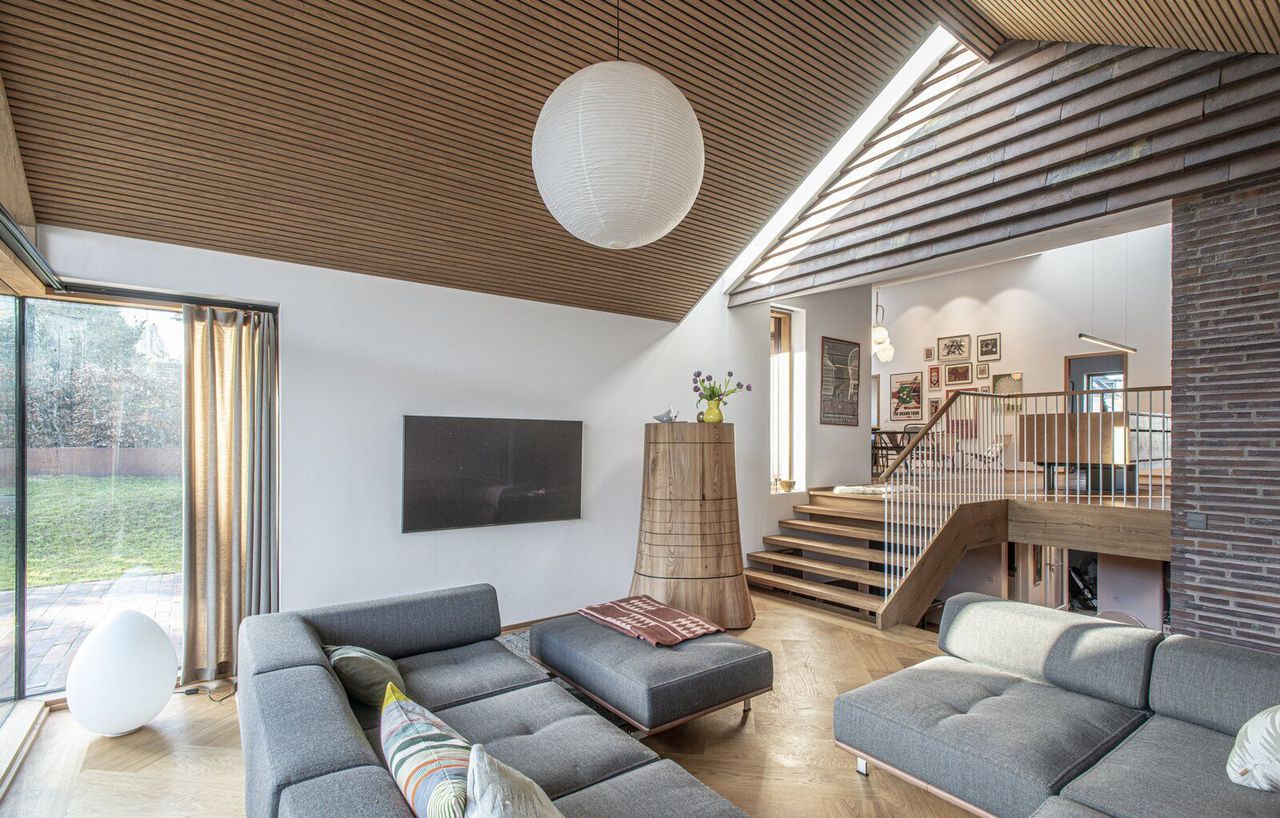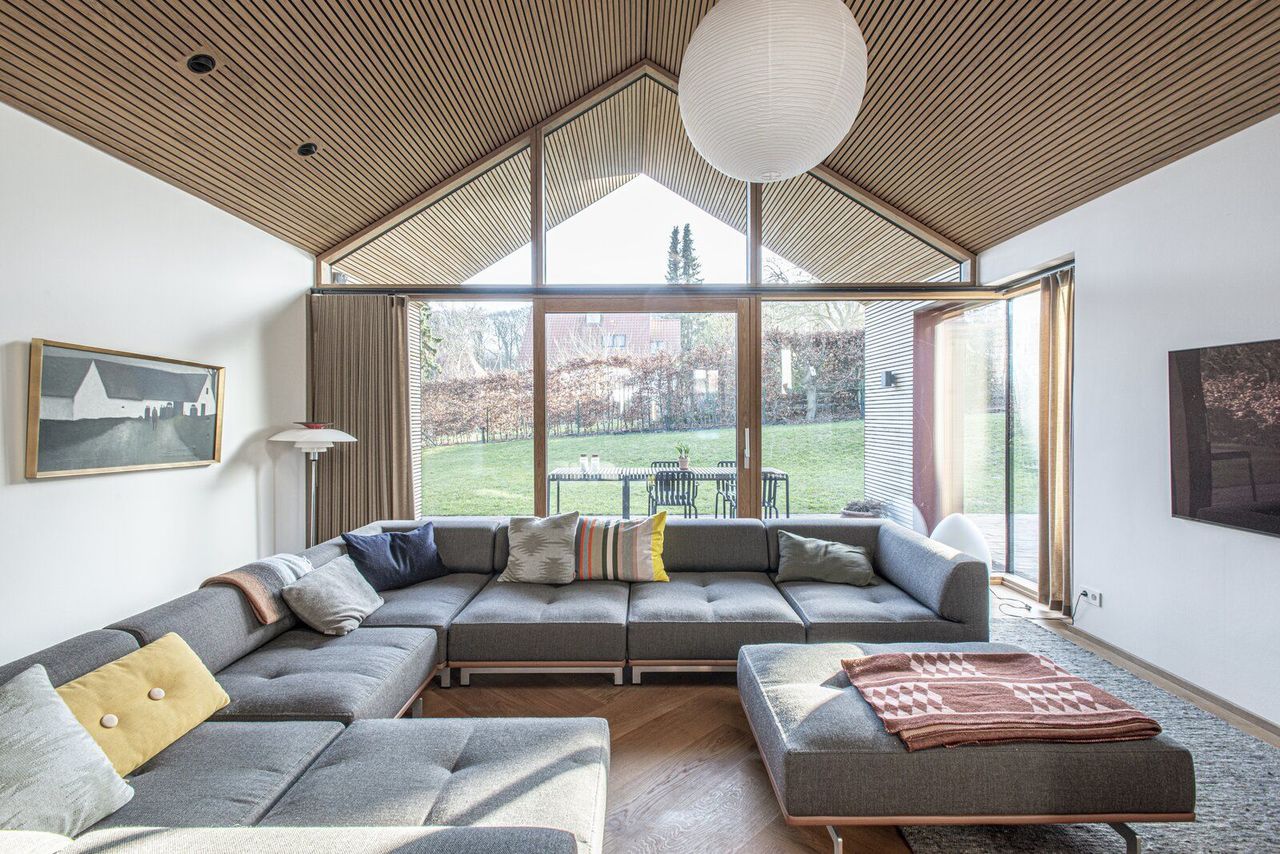 The family that resides here is quite pleased with the results. "Natural light walks through the various rooms during the day, and especially in our kitchen and living room where the large skylights create an almost magical atmosphere," explain the homeowners. "The many small living spaces in the transition between outside and inside are also elements that give everyone joy-both when the whole family is together or when you just sit alone with a cup of coffee."