Panoramic Hill in Berkeley, California, is home to four residences by late designer and builder Berton D. Garey-which is a lot considering he only built a total of 11 homes during his lifetime. Completed in 1981, the recently listed 3333 Dwight Way was Garey's seventh construction, though it was his first on Panoramic Hill; and out of it blossomed a lifelong friendship.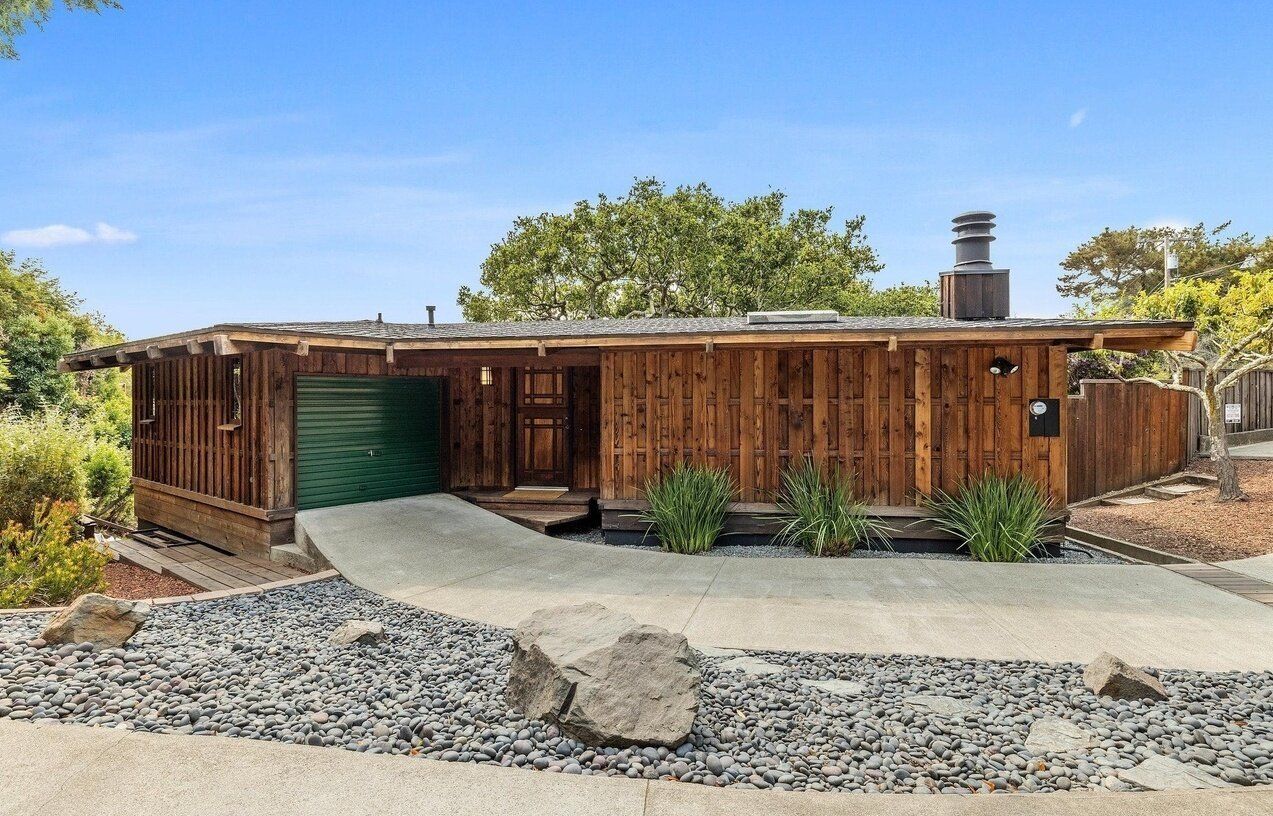 Late designer and builder Berton D. Garey built the house to blend into its environment while also taking advantage of the views and instilling privacy. The hillside-facing side of the home features floor-to-ceiling glazed doors, while there are no windows at all on the street-facing facade.

It all began when the Los Angeles native rode his motorcycle up Panoramic Hill-a neighborhood notable for its cluster of homes by Bernard Maybeck, Frank Lloyd Wright, and Julia Morgan, among others-while attending University of California Berkeley. Garey drove past a house built by architect Judd Boynton and went on to become his apprentice. Some 10 years later in the early 1970s, after working as a carpenter, Garey began his career as a home designer and builder. With just one assistant per project, the designer built every facet of each house by hand, from hoisting beams into place to plumbing and electrical.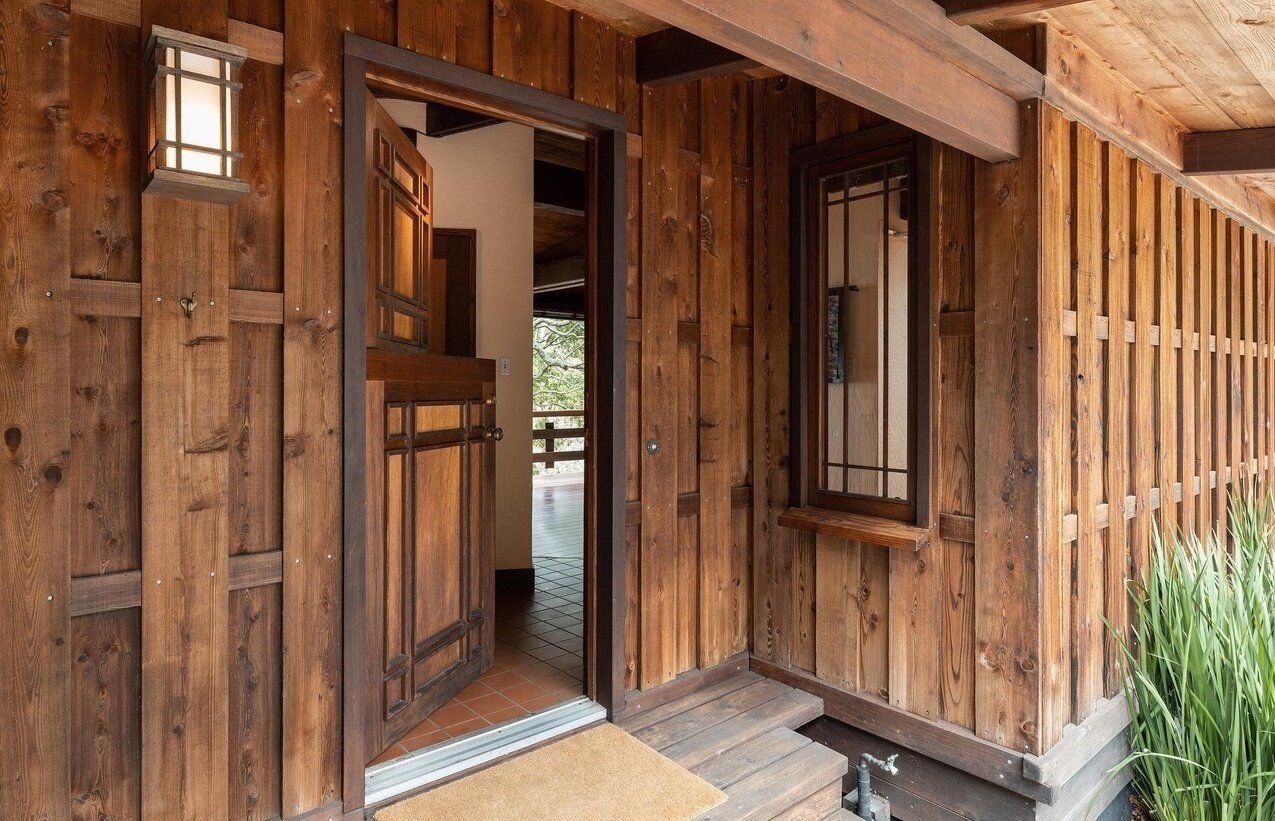 Timber siding connects the residence to the landscape.

Garey lived in each residence he completed while he built the next one. After the designer completed his fourth house, he decided to make it his forever home-which is where he met the current owner of 3333 Dwight Way, artist Bob Joyce.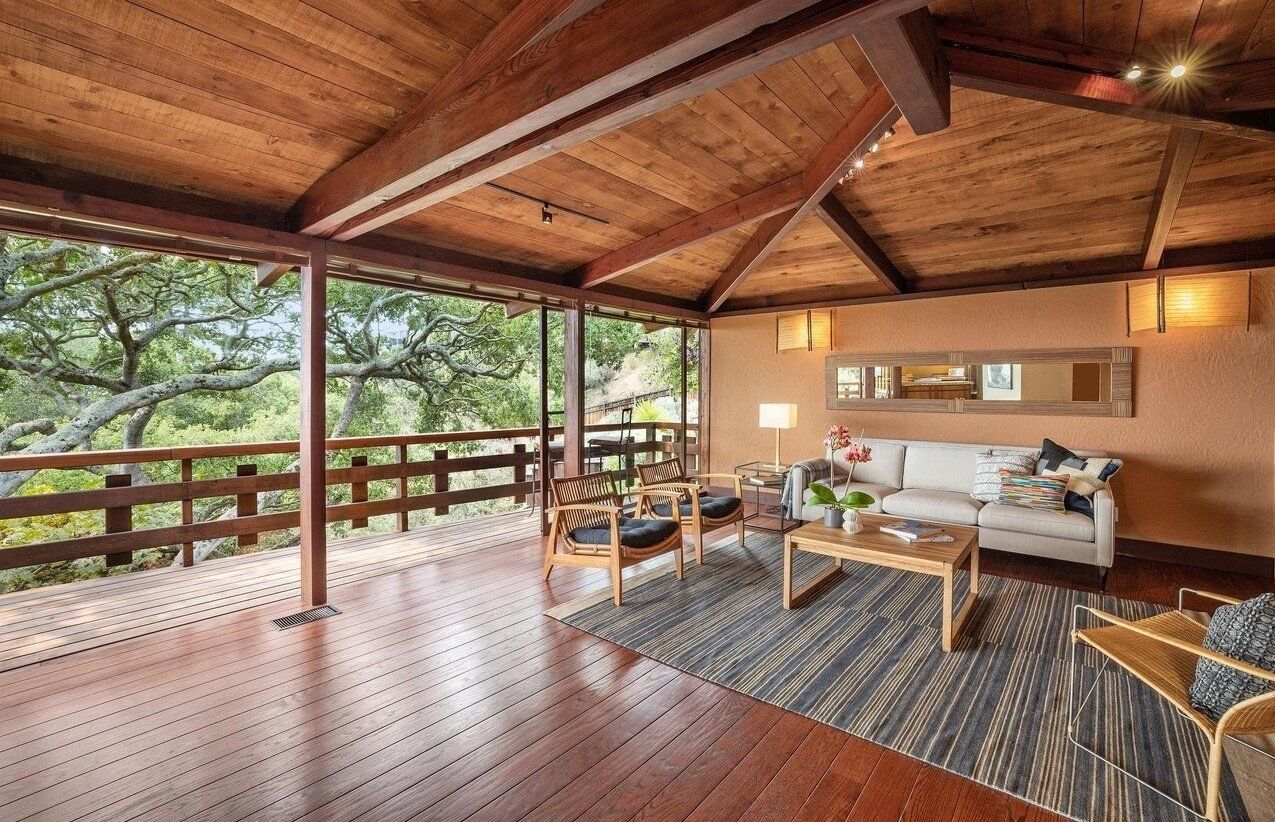 Four floor-to-ceiling sliding glass doors open from the center of the great room to the deck just outside.

From their nearby apartment, Joyce and his then-partner had watched Garey's homes appear one after another in the neighborhood. Upon seeing an available lot up the road, they introduced themselves to Garey and asked if he'd be interested in building them a dwelling. Unfortunately, he was not; however, he informed the couple that he was considering selling the residence at 3333 Dwight Way. While the house was out of their price range, the trio became friends after several meetings and eventually worked out a deal. "He'd finance half the house with no cash down-only the monthly payment," Joyce says. "It's a story of generosity and opportunity unlike any I've ever heard."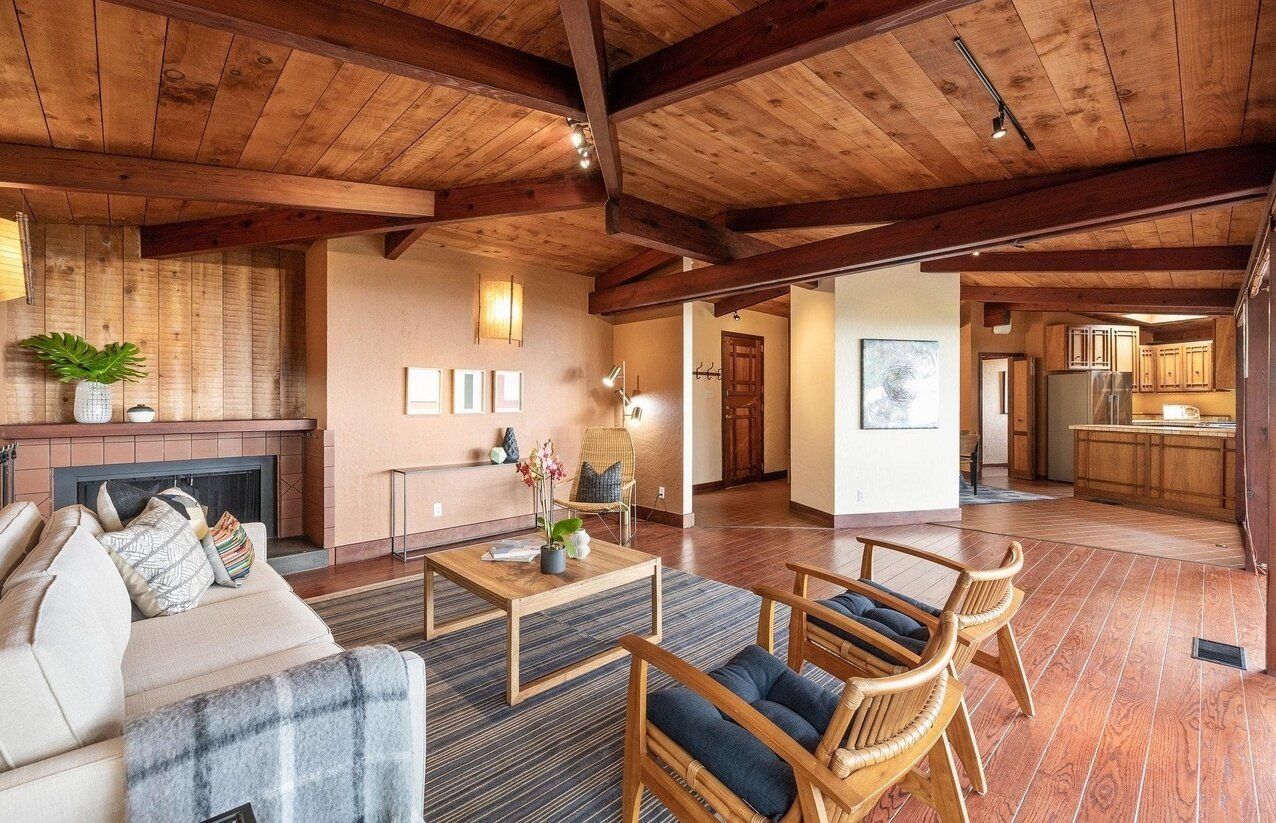 A wood-burning fireplace sits against an accent wall of paneled wood. Exposed ceiling beams creature additional visual interest in the main living area.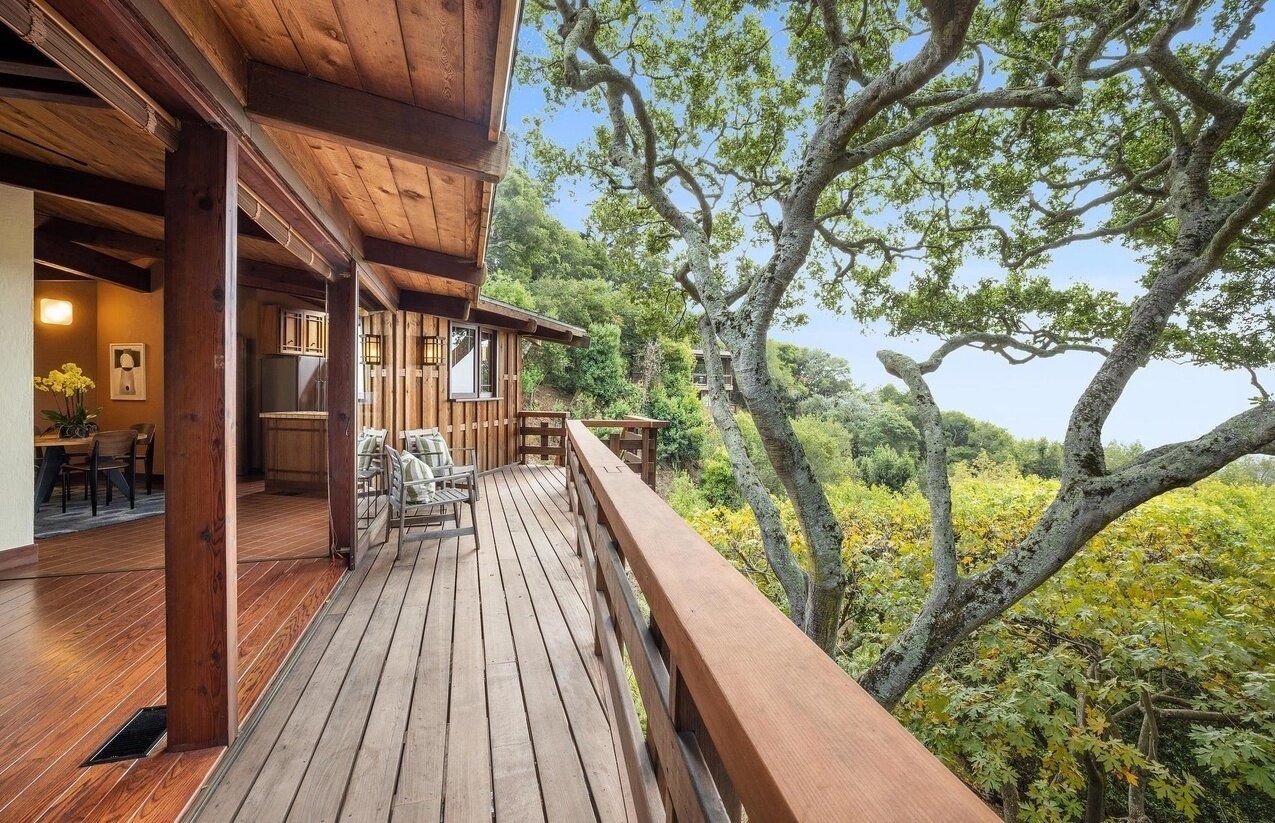 The home is immersed in an abundance of flora including California live oak and maple.

Inspired by the hillside it occupies, Garey designed the house based on how it would face the San Francisco Bay, with special attention to maintaining privacy for residents. As such, there are no windows on the street side of 3333 Dwight Way, but the rear of the home opens up to a panoramic expanse. "Walking through the living room and out onto the deck delivers you 30 feet up into an oak tree that not only frames the view, [but also] shades the house and adds a tucked-in feeling [of intimacy]," Joyce says.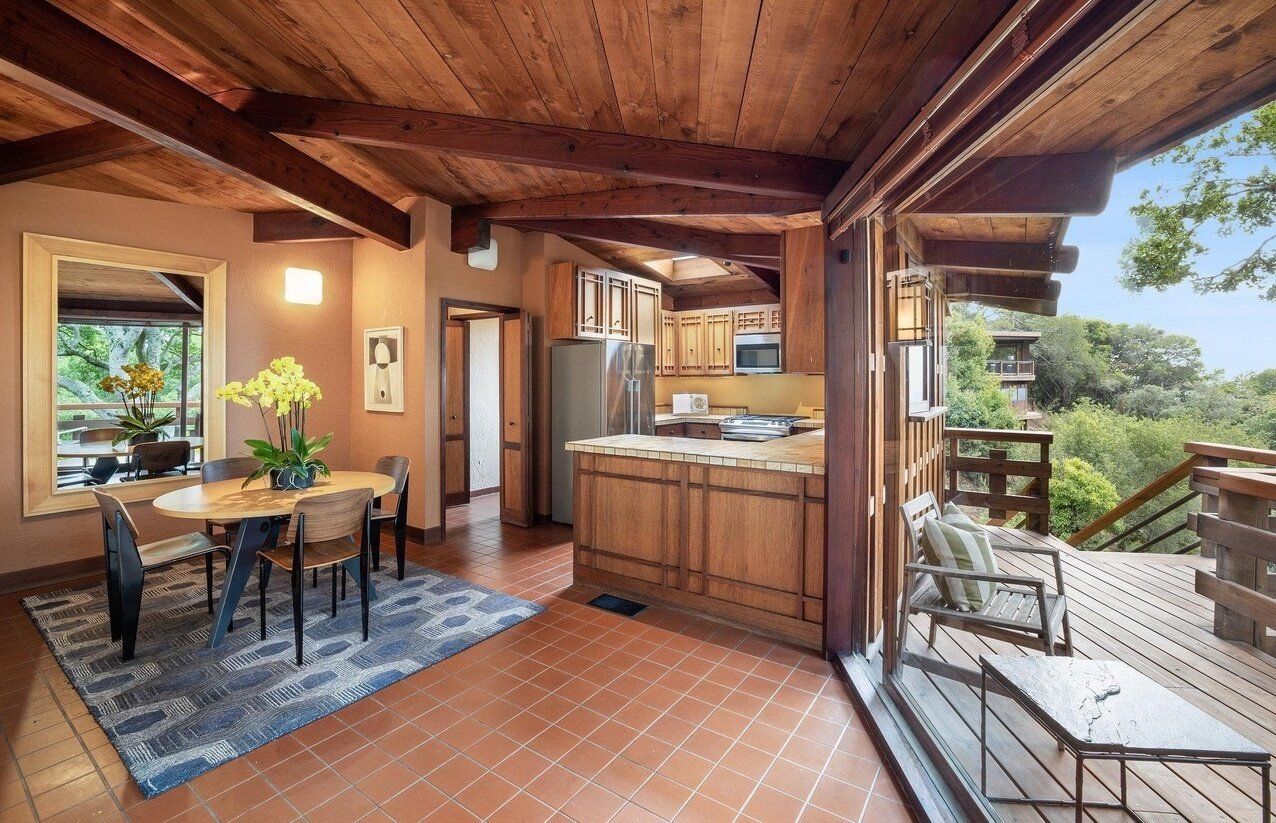 The home remains in its original condition other than some minor updates. "Nothing about the original structure's design compelled me to change anything-other than updating appliances, all of which have been replaced for the property's sale," explains Joyce.

The home embodies Garey's appreciation for Northern California as translated through his use of redwood, which the designer endearingly referred to as "forest gold." The home features exposed redwood beams, rough sawn redwood board and batten siding, and intricate redwood and mahogany detailing.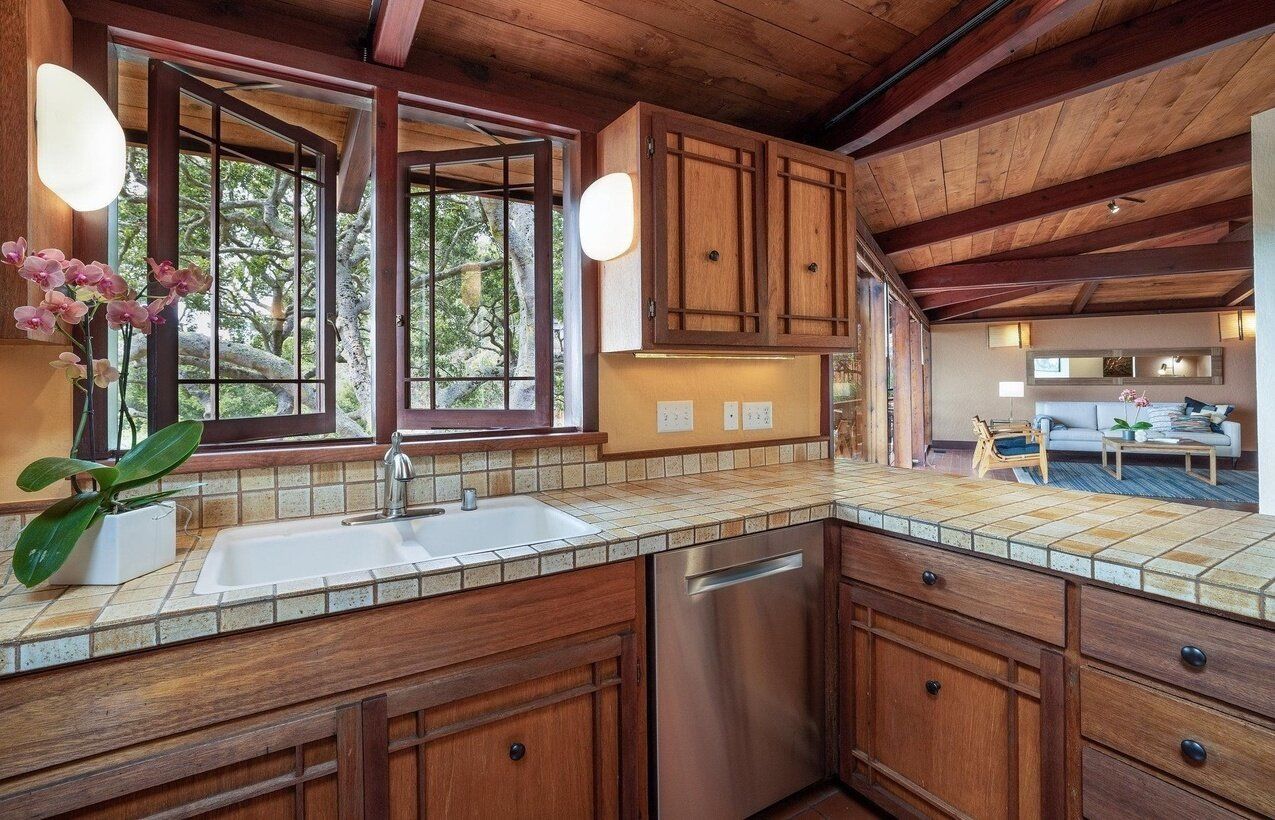 All of the windows, doors, and beams were custom-made by Garey, reflecting the woodworking artistry he developed earlier in his career prior to designing homes.

The main level features soaring ceilings and a wall of glazed sliding doors that offers direct access to the expansive deck, which spans both levels. While the rooms are spacious, the wood details-such as the red-oak flooring and wood-burning fireplace-instill the interior with a cozy, cabin-like feel. Multiple skylights bring the outdoors in, embodying Garey's love of nature.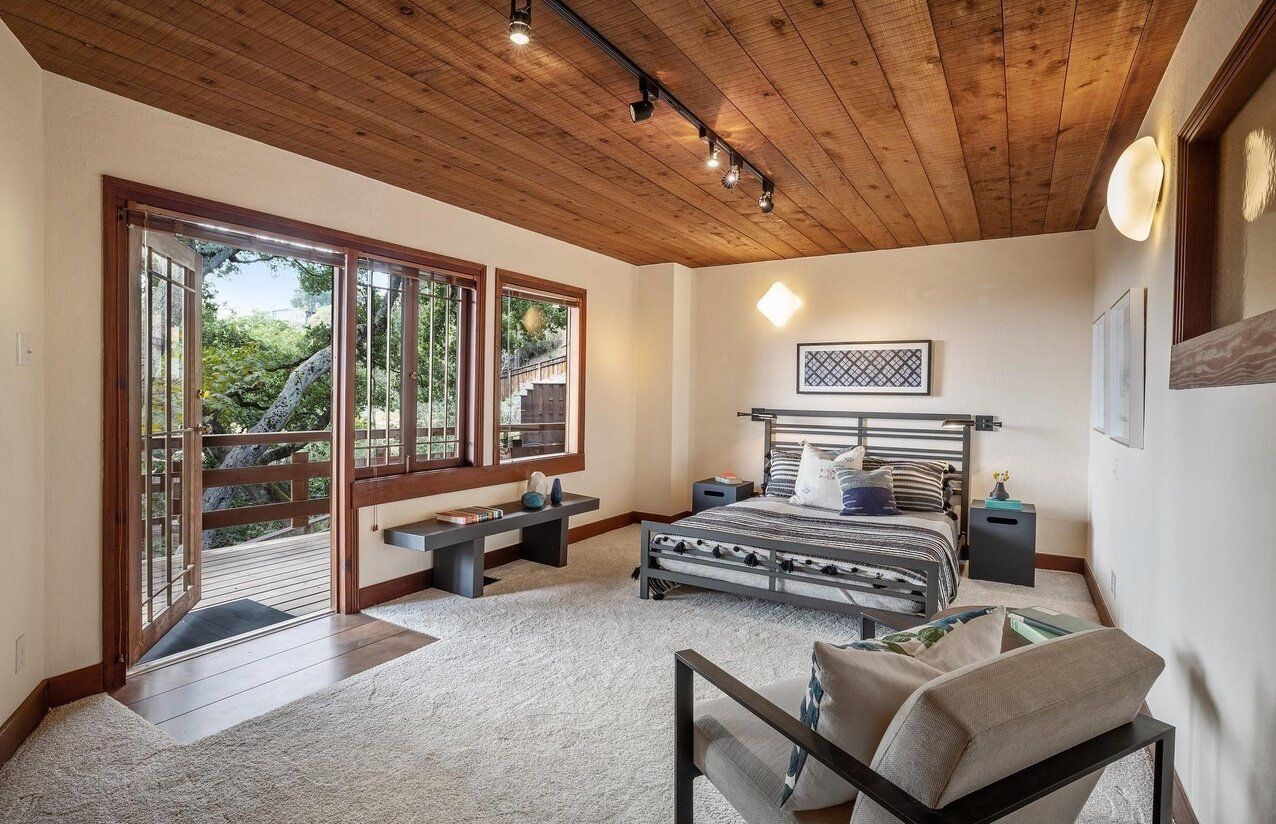 Two of the lower-level bedrooms offer direct access to the deck, which descends onto a stone patio.

The 1980s home also includes Frank Lloyd Wright–influenced elements, such as the low-slung, horizontal roofline with timber-clad ceilings; exposed beams that cantilever out to create deep eaves along the site's contour; and intricate joinery. On the facade, timber siding with varying patterns connects the residence to the landscape.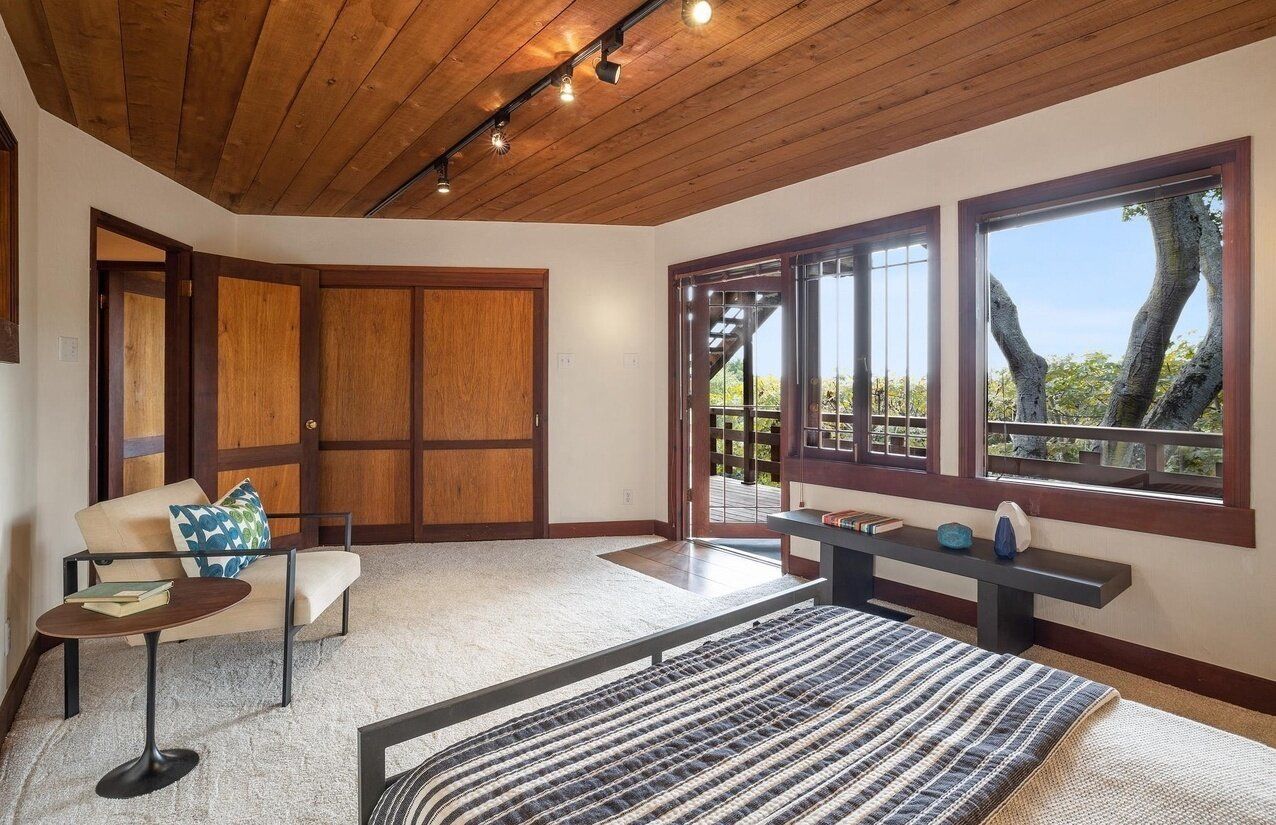 In addition to glazed windows and doors, the lower-level bedrooms feature two-tone wooden doors for the closets and interior entrances.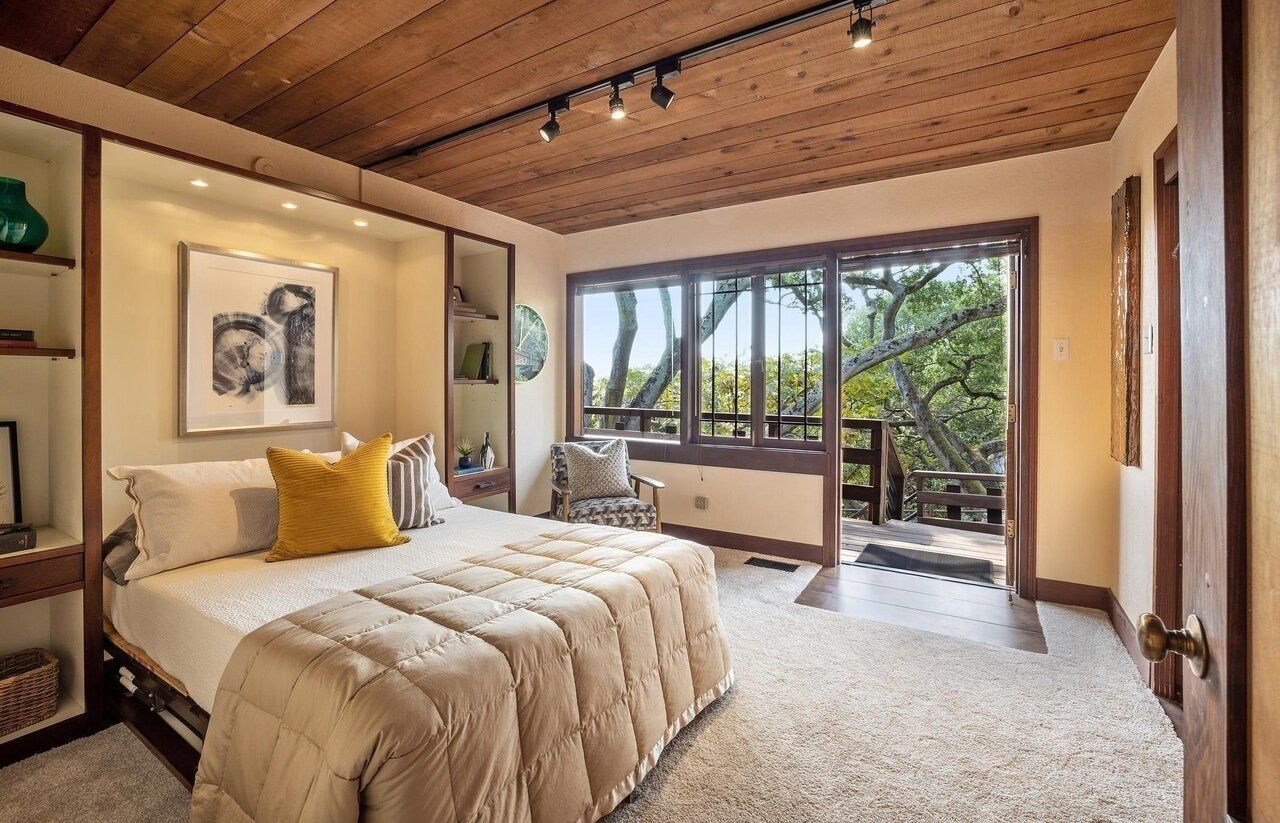 Handmade built-ins are found throughout the home, all of which appear in their original form.

The lower level of the home holds all three bedrooms, two of which open to the deck. Charming two-tone doors add character to this level, along with plenty of built-ins and a tiled soaking tub. The wooden decks cascade down to a stone patio, ideal for enjoying a sunny afternoon or a quiet night under the stars.




The principal bathroom offers yet another nook to enjoy indoor/outdoor living with a large soaking tub tucked into a corner with wooded views.

"Living here all these years has been such a gift in so many ways," says Joyce. "I absolutely know that living in [Garey's] art all these years is a huge part of what inspired me then and continues to every single day."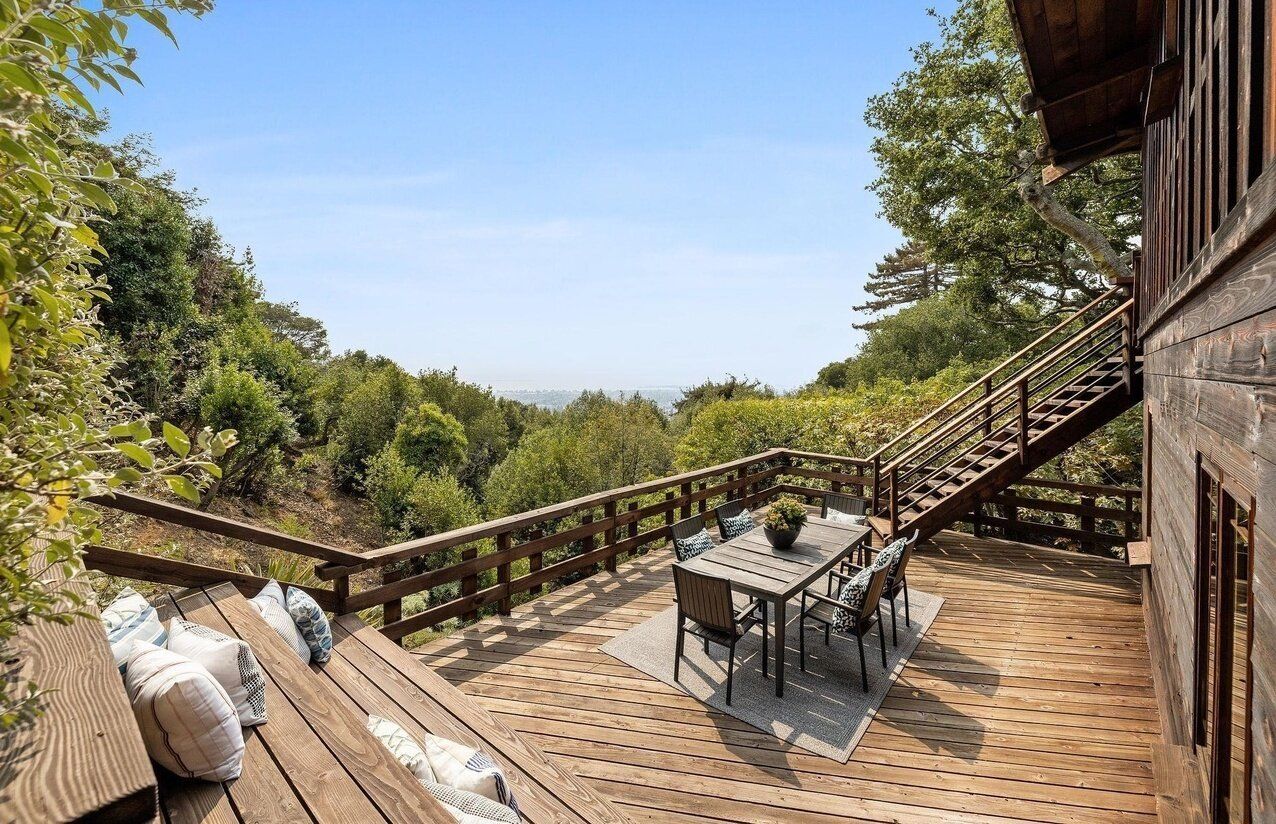 Two levels of decking with built-in benches descend onto a stone patio. "The landscaping of terraces, paths, and additional decks take into account the abundant wildlife that finds refuge here every day," says the current homeowner. "It also respects the angles of the hillside, and incorporates native foliage to resist the drought and deer."