In 1965, Finnish designer Matti Suuronen set out to design an après-ski cabin that would be efficient to heat and easy to transport, giving rise to the Futuro home-truly a product of the Space Age with its sleek, UFO-like shape. Made of fiberglass-reinforced plastic to reduce weight, the modular panels were meant to be bolted together on site, and the structure's metal legs could be adapted for different topographies. Though marketed as a prefabricated tiny home suitable for the masses, fewer than 100 Futuro pods were made, with an estimated 60 still in existence.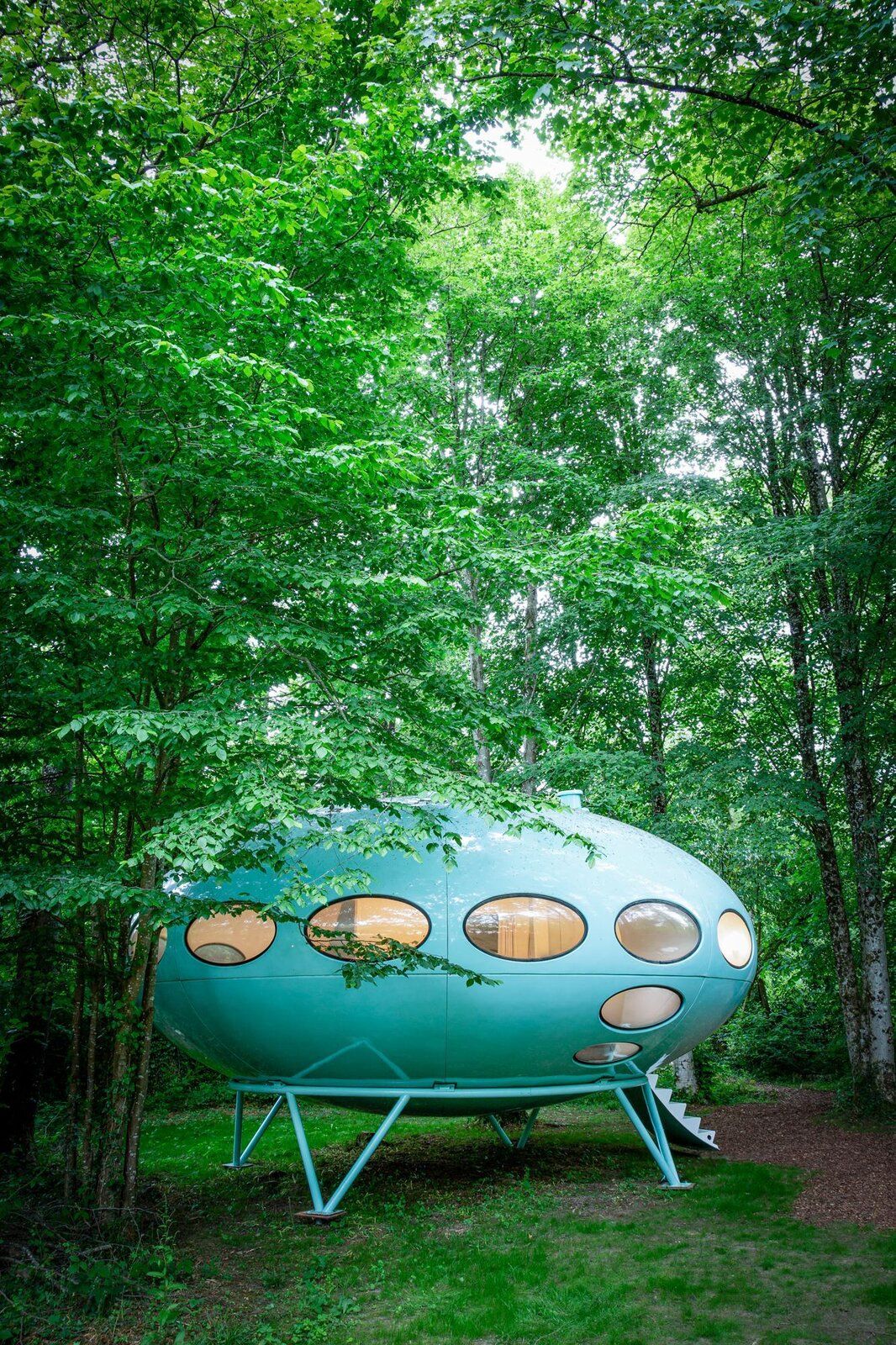 Originally conceived by Finnish designer Matti Suuronen as a portable ski cabin, the spaceship-like Futuro was later marketed as a prefabricated tiny home able to be placed virtually anywhere. Today, there are some 60 Futuros left in existence, and opportunities to stay in one are rare.

One Futuro house, however, has just touched down on the banks of a lake in Marston Park, a Victorian estate in Somerset, England. It was recently restored by artist and owner Craig Barnes, who discovered the derelict specimen in South Africa.
"Workers were knocking down a building nearby and we thought they were going to tear it down too," says Craig. "It was a wreck: There was no front door left, and the windows had been smashed in. We found out who owned it, and on an impulse while on top of Table Mountain, we agreed to buy it."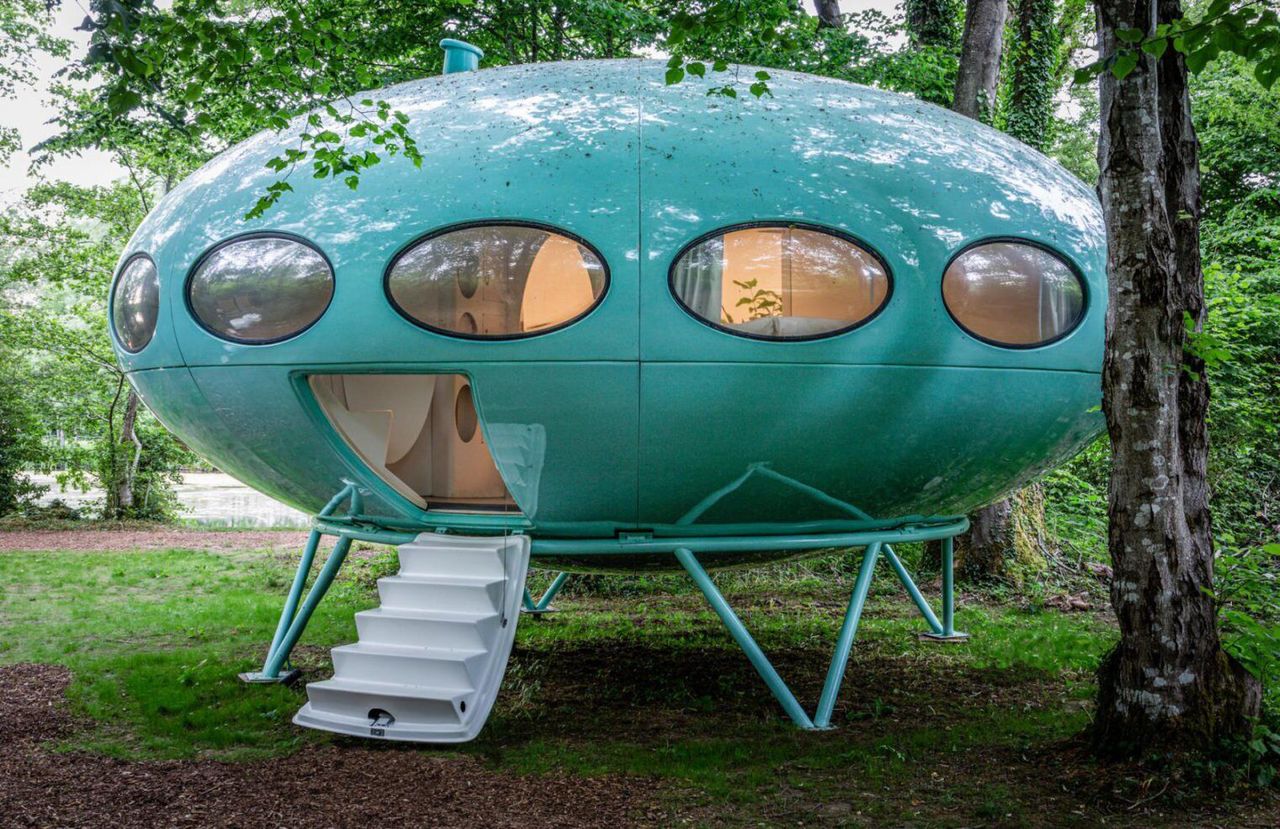 Suuronen envisioned the unit as the cutting-edge evolution of the Nordic cabin, crafting it with sleek, rounded curves.

Since undergoing the restoration, the turquoise Futuro has popped up all over London, including a stint on the rooftop of the city's Central Saint Martins, an art school. During its stay, it caught the attention of Michael Fenna, the director of Marston Park. "I first saw it and thought, This has to come here!" he remembers.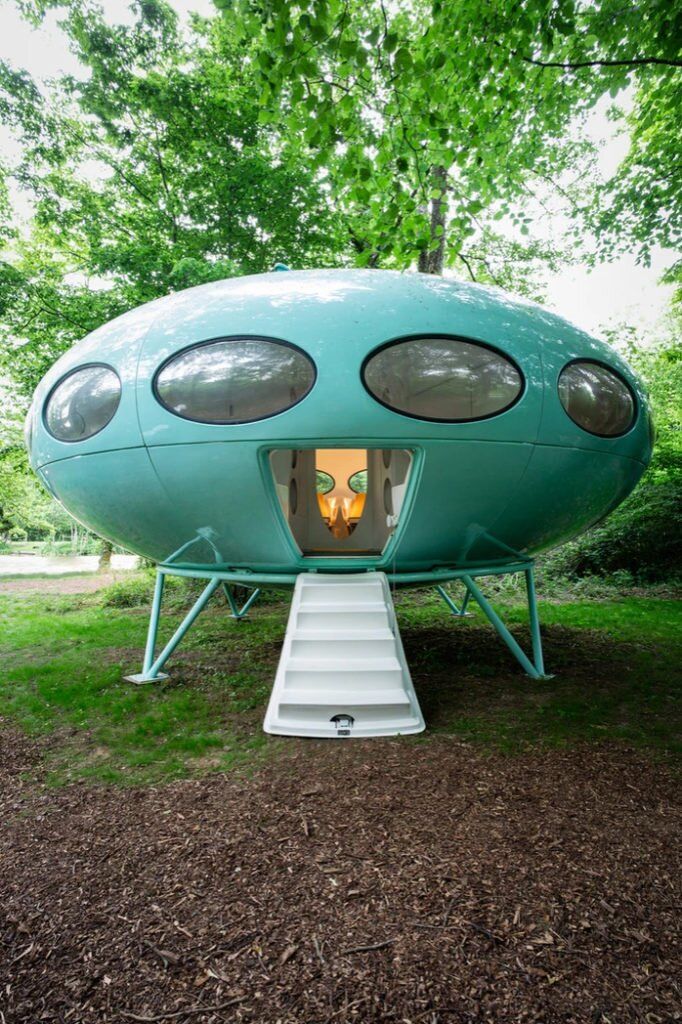 On a trip to visit his childhood neighborhood in Port Alfred, South Africa, artist Craig Barnes-now based in London-spotted this Futuro home, which was in dire need of repair. "It was horrible and grotty," says Craig.

After a long process of coordinating logistics and timing, the Futuro house at Marston Park offers guests a unique chance to savor a slice of architectural history in a tranquil, wooded setting. (Chances to stay in a Futuro house are hard to come by, though one is also available to rent in California's Joshua Tree.)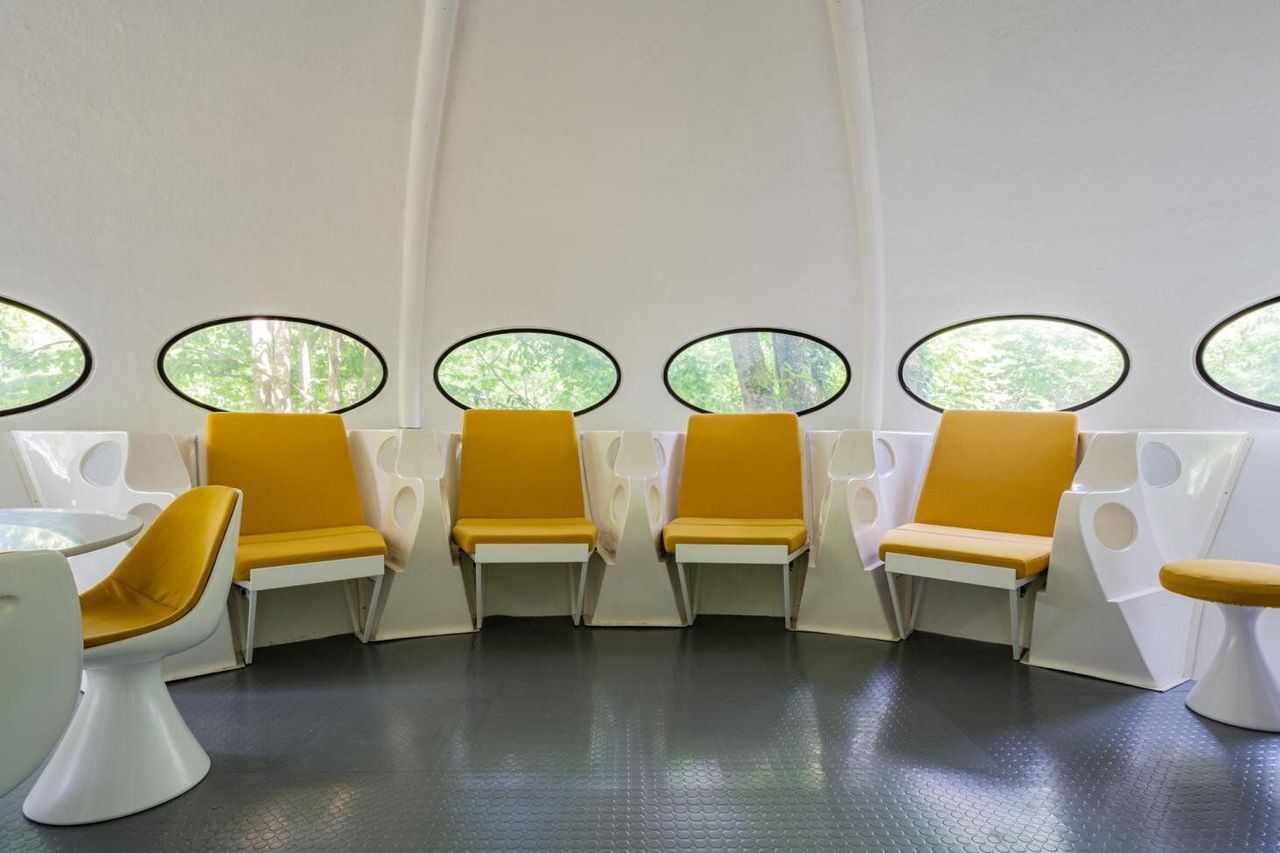 In contrast to its vibrant turquoise facade, the interior of the Futuro house presents a calming aesthetic of crisp white walls and Space Age furniture. Oval windows that echo the prefab's shape look out on the park.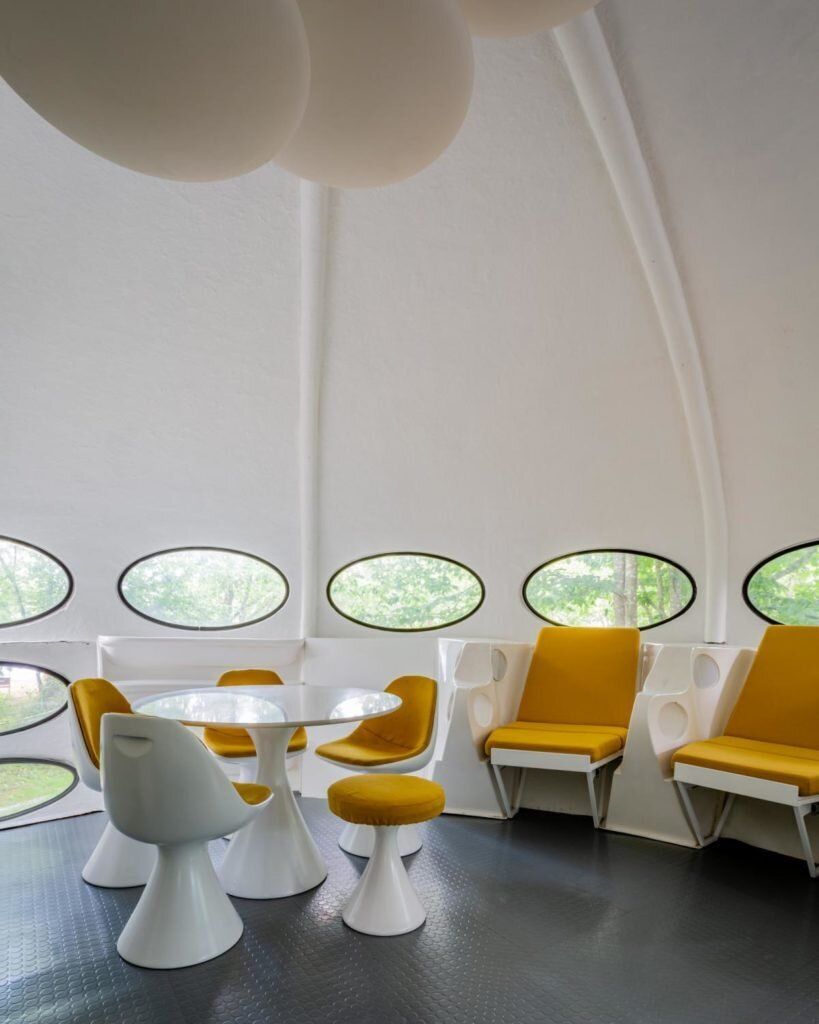 Despite its small footprint, the tiny home feels much larger inside as a result of the tall, curving roof.

"It was always important to me that wherever [the house] goes, it functions as a space to live and experience-an inspiring place that everyone can see," says Craig. "I never wanted this to be something that you cannot touch. The launch at Marston Park is the fulfillment of a longstanding dream to offer this womb-like structure for people to stay in."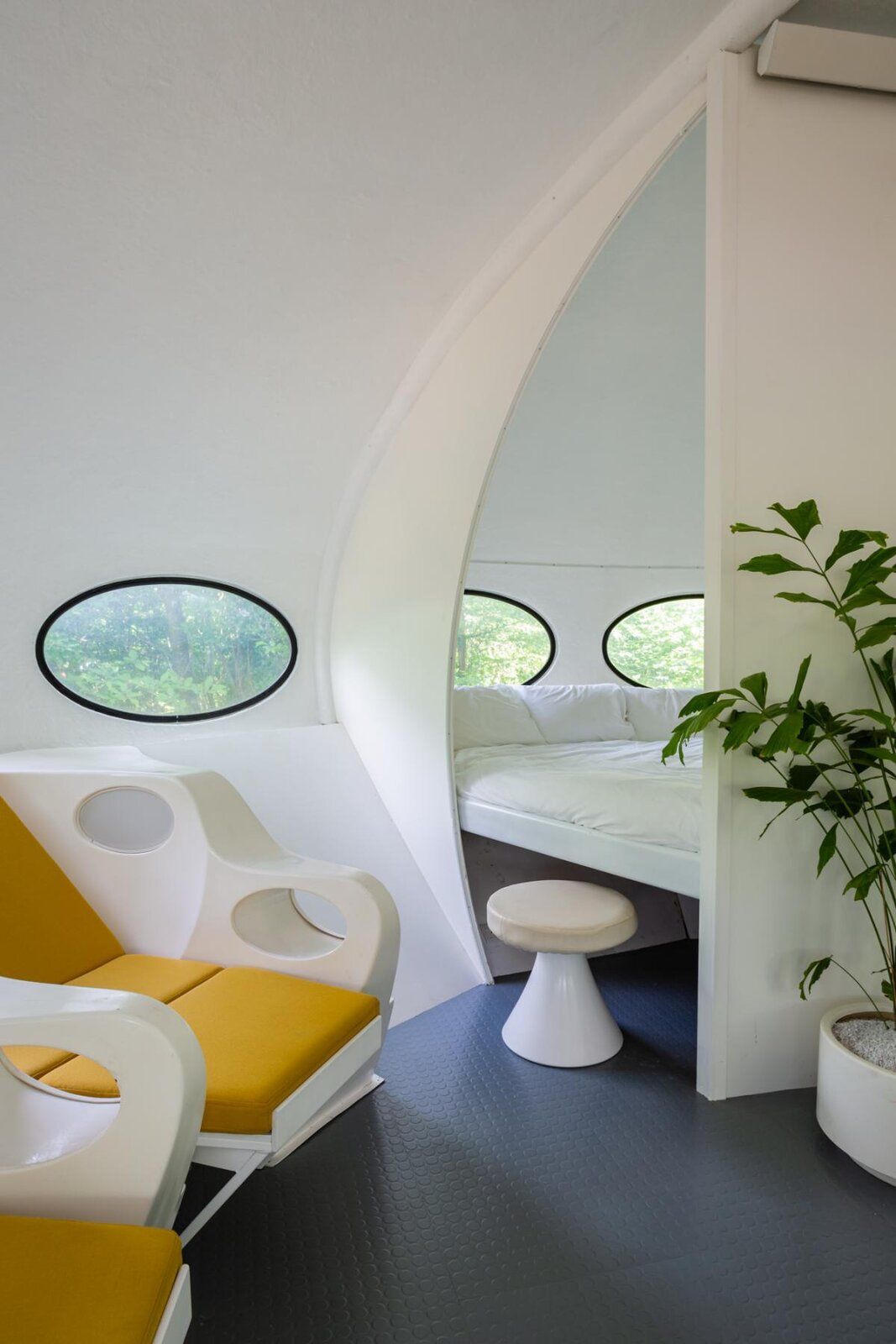 A private sleeping nook is located off the open-plan living spaces.

For a limited time, overnight guests can experience this otherworldly design. Featuring a double bed and a flexible sleeping space, the prefab can comfortably accommodate up to four people and also comes with its own private bathroom facilities. Though it is not equipped with a kitchenette, food services are available on site all day.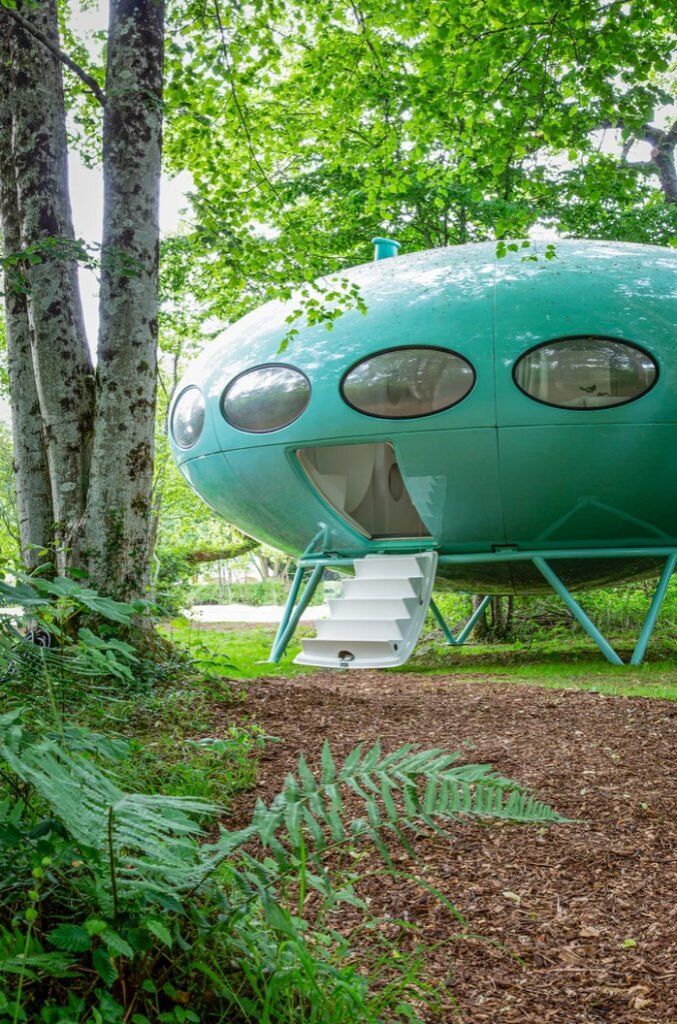 The Futuro house at Marston Park is also just steps from the water.

"The Futuro at Marston Park will be the first in what we hope will be a long line of collaborations with artists, architects, designers, and ingenious folk from the world over," says Fenna.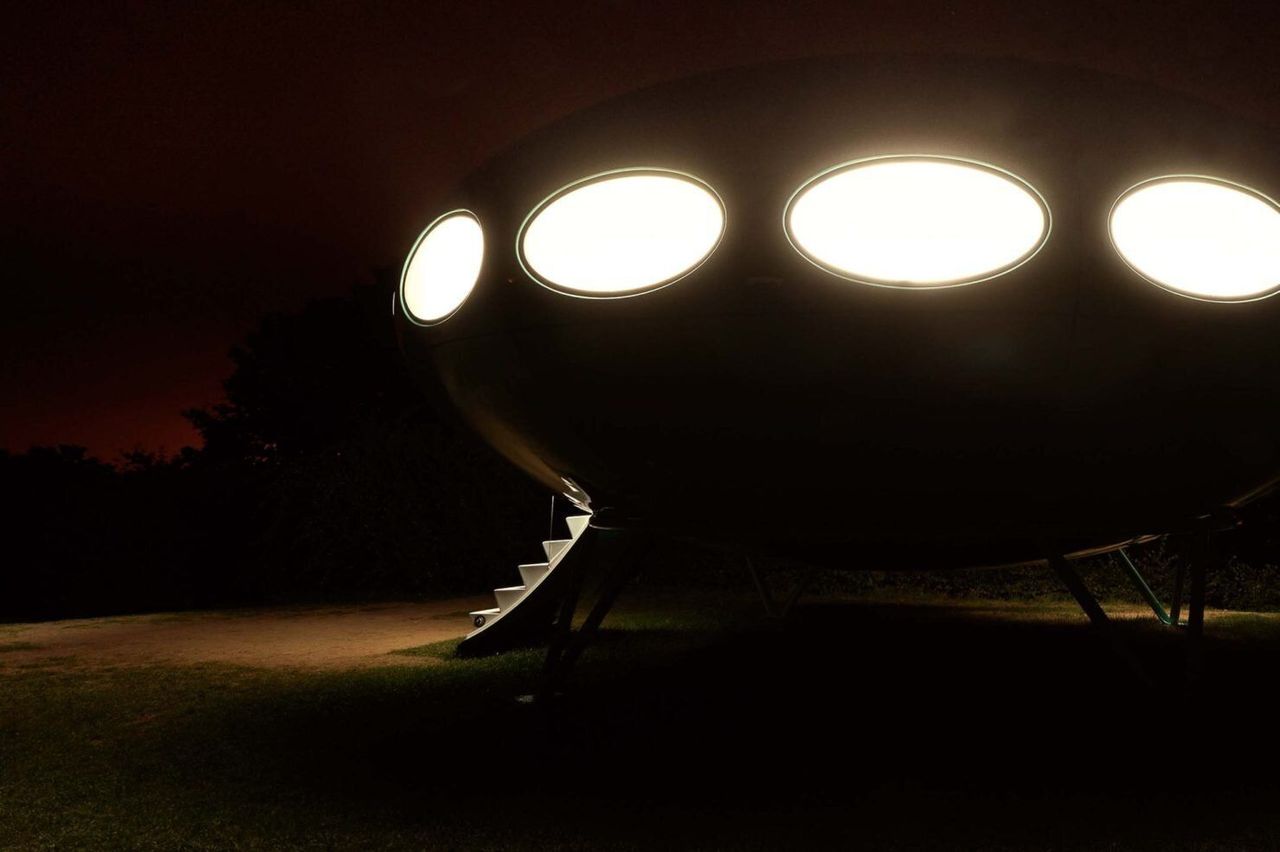 "[This] is a sculpture that I have been working on for years-restoring it, curating it, programming it," says Craigt. "But I don't want to hide it from the world. I want to share it."