For Sally Aano and her husband, Kjartan (pronounced "shark-ton"), the dream to build a tree house began when they first met at a mutual friend's wedding. Sally, originally from Australia, and Kjartan, a native Norwegian, both romanticized what they see as the quintessential design: a simple structure wrapped around a single tree trunk.

When Kjartan later hand built a tree house and proposed to Sally inside it, she knew she'd found her guy-and the two resolved then and there to one day build a treetop escape that others could enjoy as well. Years later, their vision is now a reality thanks to Stavanger, Norway–based, Helen & Hard Architects. The team just completed a pair of luxurious tree houses that stubbornly (and ingeniously) stick to the couple's ideals.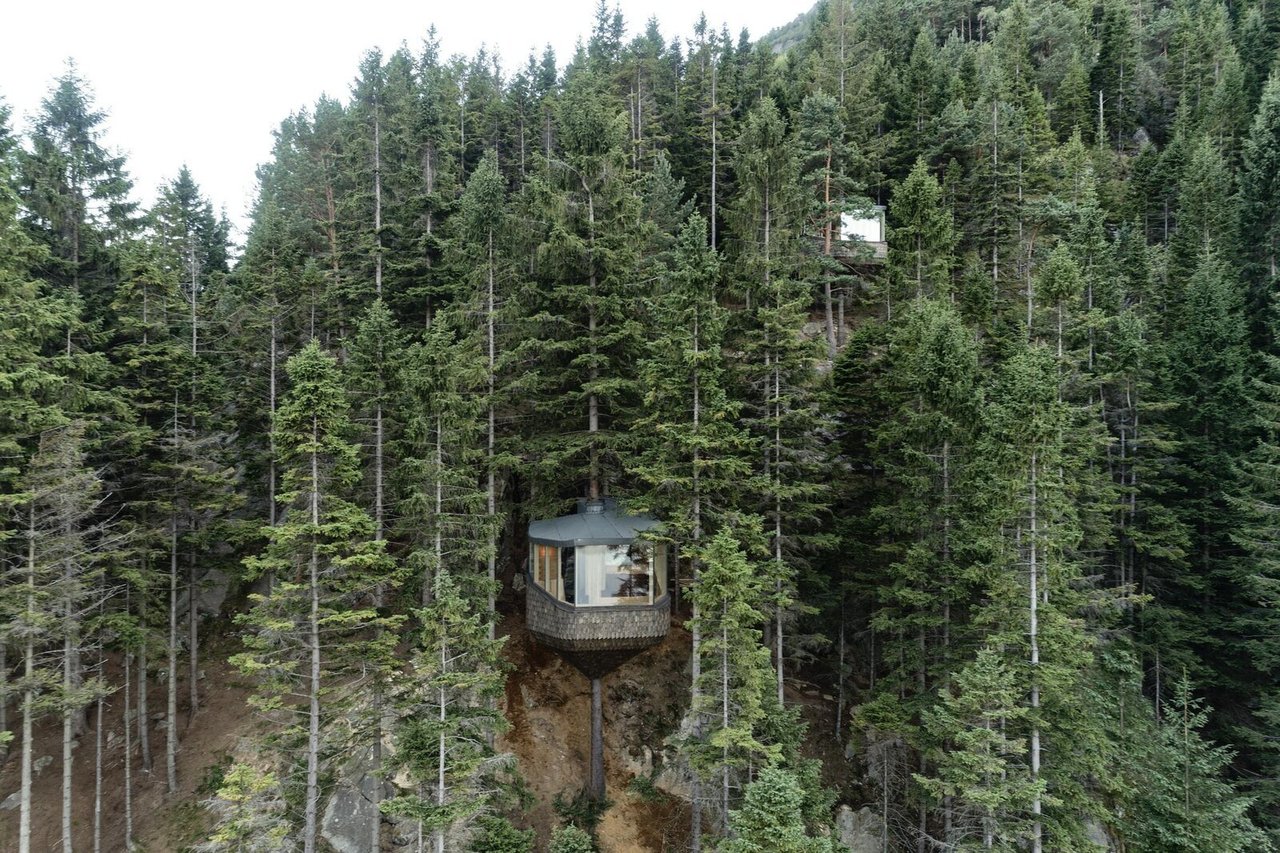 Perched along a forested hillside above Odda, Norway, each Woodnest tree house wraps around the trunk of a living pine tree. The serene location is a 15- to 30-minute hike up the mountain from a residential street below.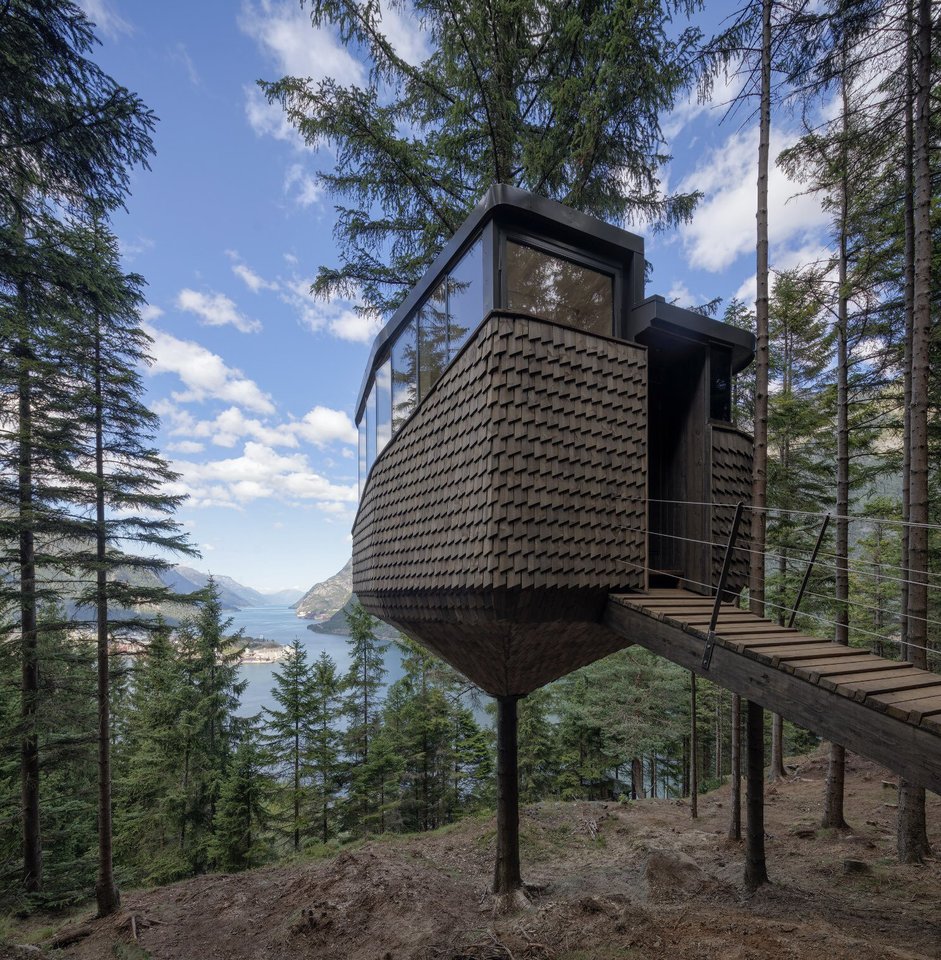 Offering far-reaching views of Norway's Hardangerfjord, each tree house employs clever solutions to provide a private bathroom and kitchenette inside. The structures are engineered to be supported by a central steel collar that wraps around the tree trunk.

"We want others to feel the same joy we felt," Sally says, referring to their original tree house, which the local municipality later required them to tear down. "For us, the place held so much romance as a work of dedication-somewhere we could spontaneously escape, relax, and be with each other in nature."

But the process of designing and building new tree houses for guests wasn't easy. Beginning when they found the land in 2017, the three-year-long process hinged on finding the right architects and overcoming key design challenges. "From the very beginning, we said we didn't want to use stilts or posts for support-we wanted an authentic tree house," Sally explains.

"Staying loyal to our idea was annoying at times, especially when it seemed the team was constantly needing to overcome obstacles," she adds. "Luckily, we found architects who were up for the challenge." After many variations on the design, Helen & Hard eventually landed on a pine cone–shaped structure that appears to hover a few feet above the forest floor.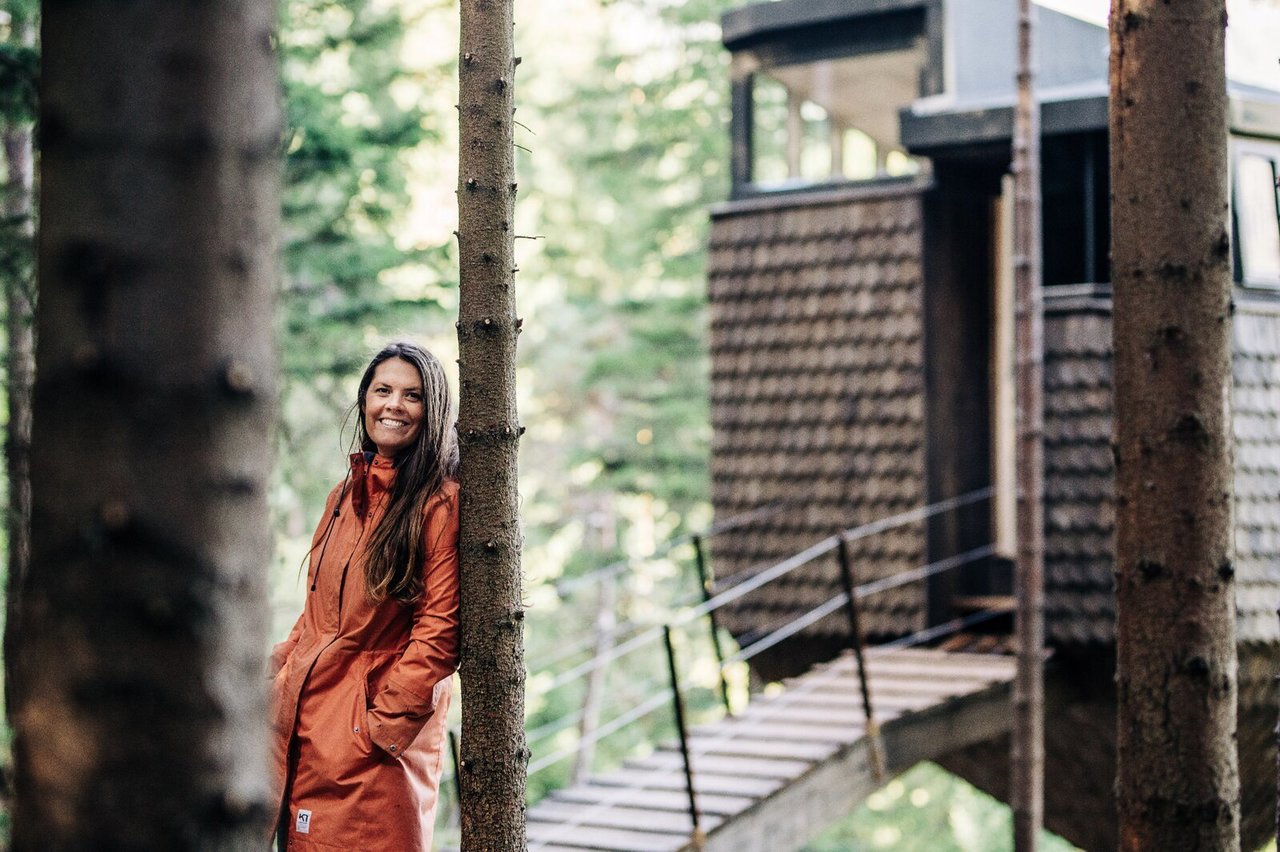 Sally Aano next to one of the two recently completed tree houses.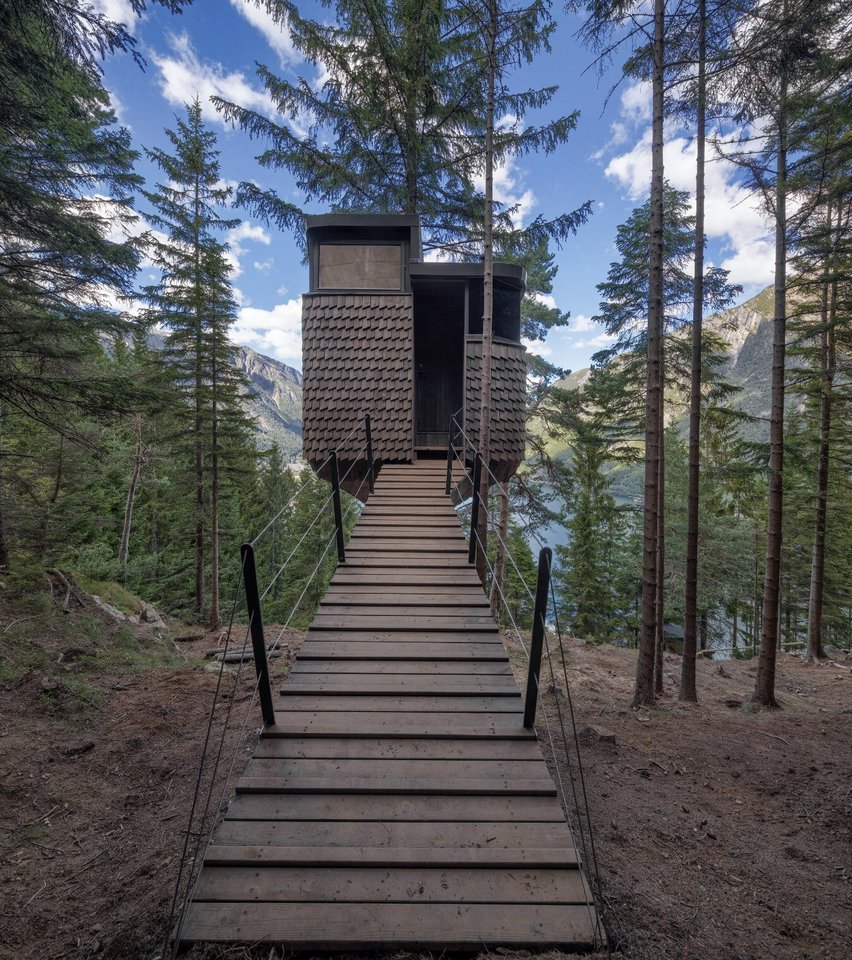 A timber bridge provides access to each tree house from the ground below.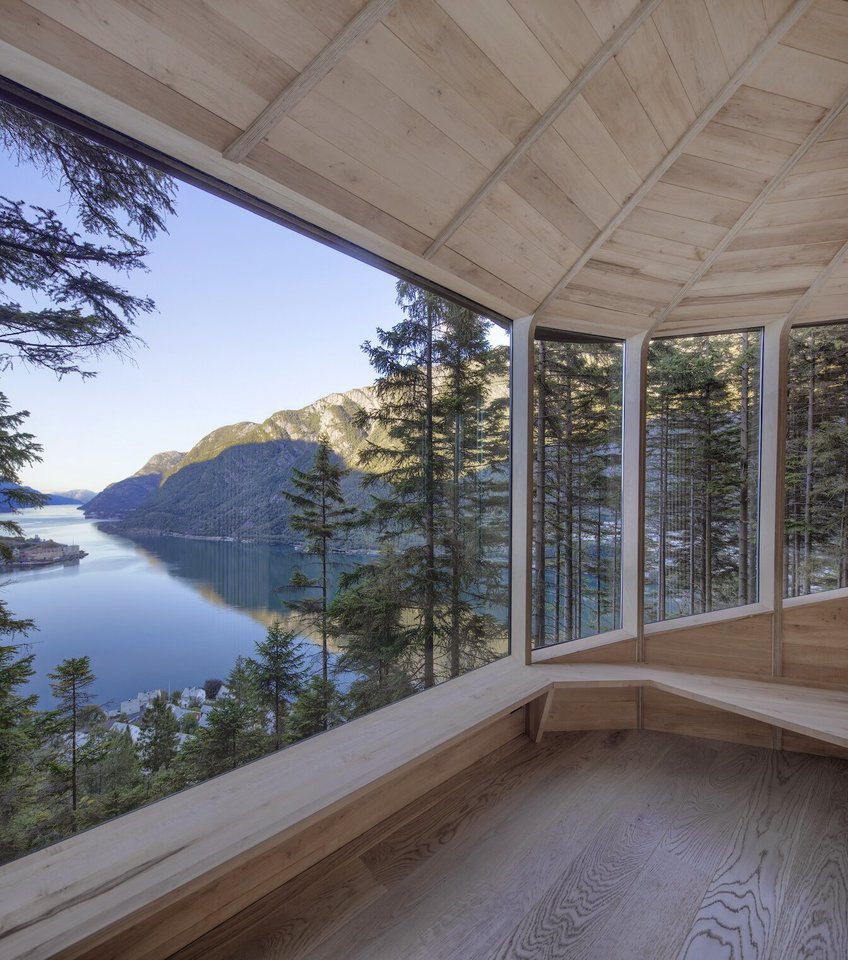 Inside, wraparound windows provide panoramic views of the fjord and mountains.

The firm's website describes the final design as "inspired by the Norwegian cultural traditions of vernacular timber architecture and a desire to experiment with the material potential of wood." The structure utilizes a central steel collar that wraps around the tree, and a series of glue-laminated timber ribs extend outward in a radial design.

The exterior is clad in natural timber shingles that "will weather over time to merge and blend with the natural patina of the surrounding forest," the firm notes. Adding to the organic aesthetic, the interior walls and ceiling are finished in black alder wood.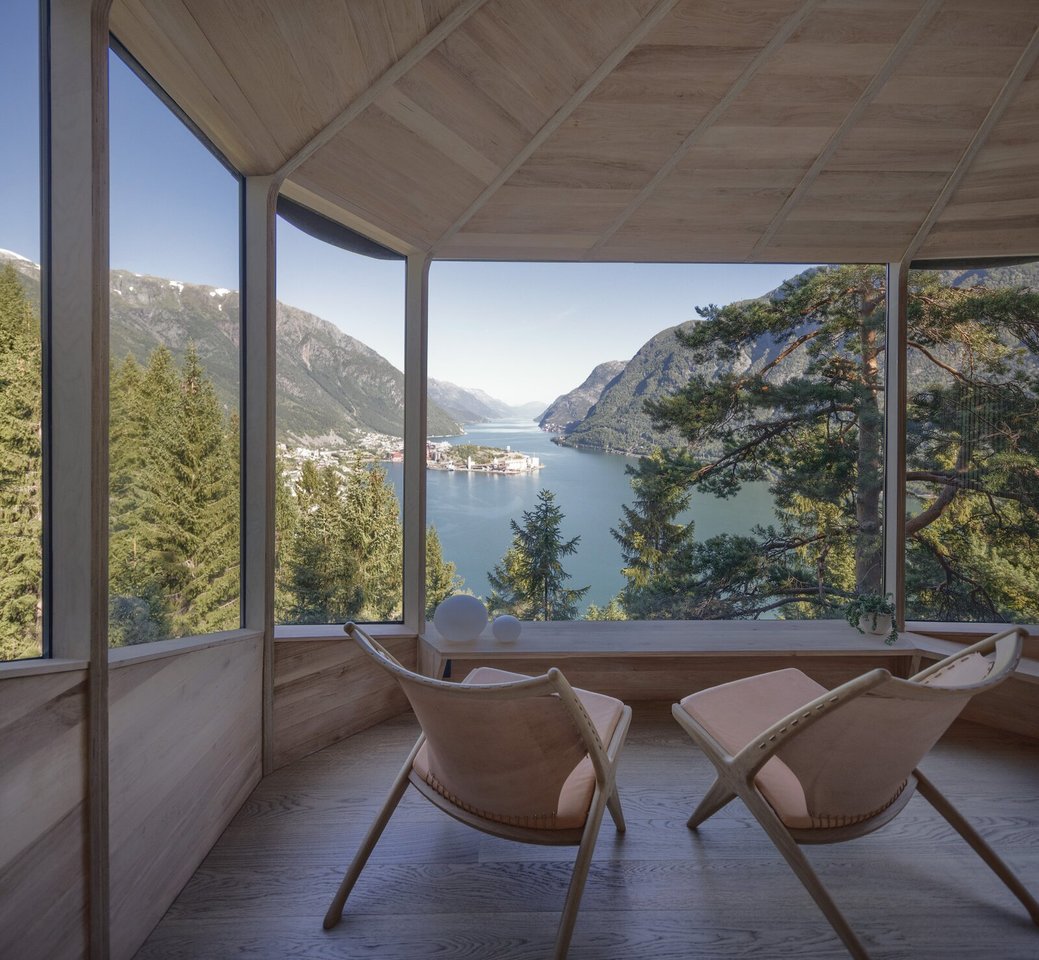 The interior also features numerous local touches, including a pair of oak Krysset chairs in natural leather by the Norwegian furniture company Eikund.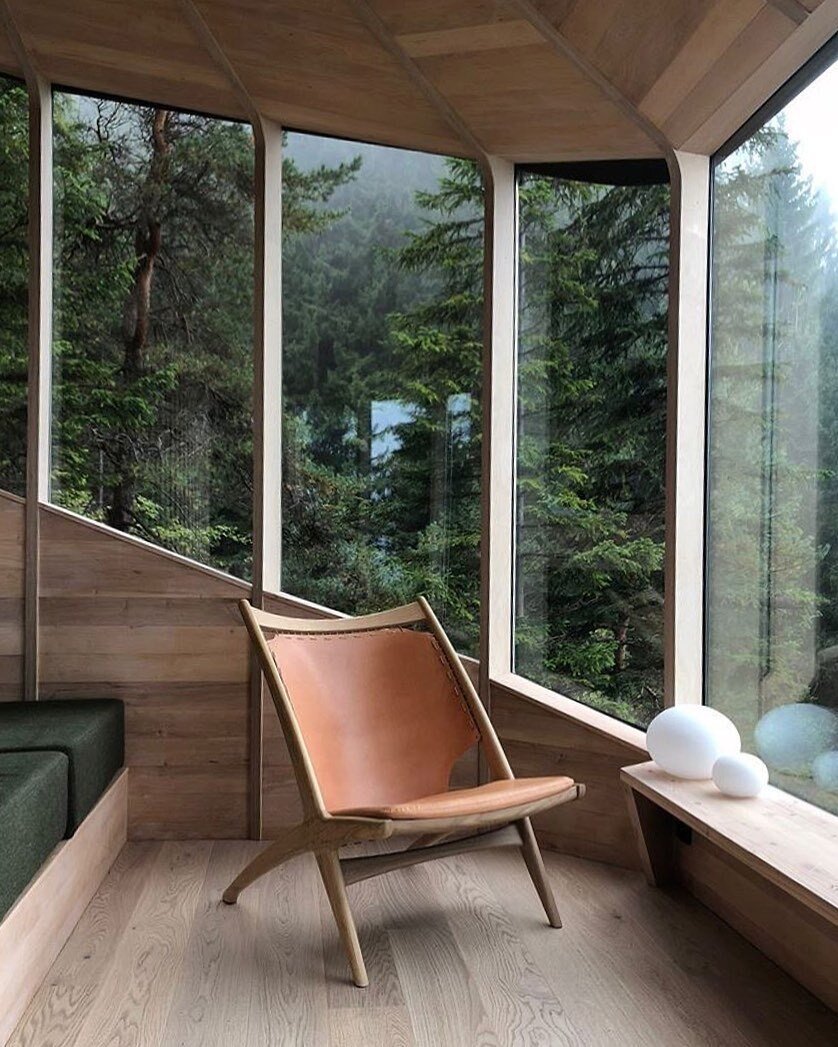 A built-in couch provides an additional perch to enjoy the surroundings.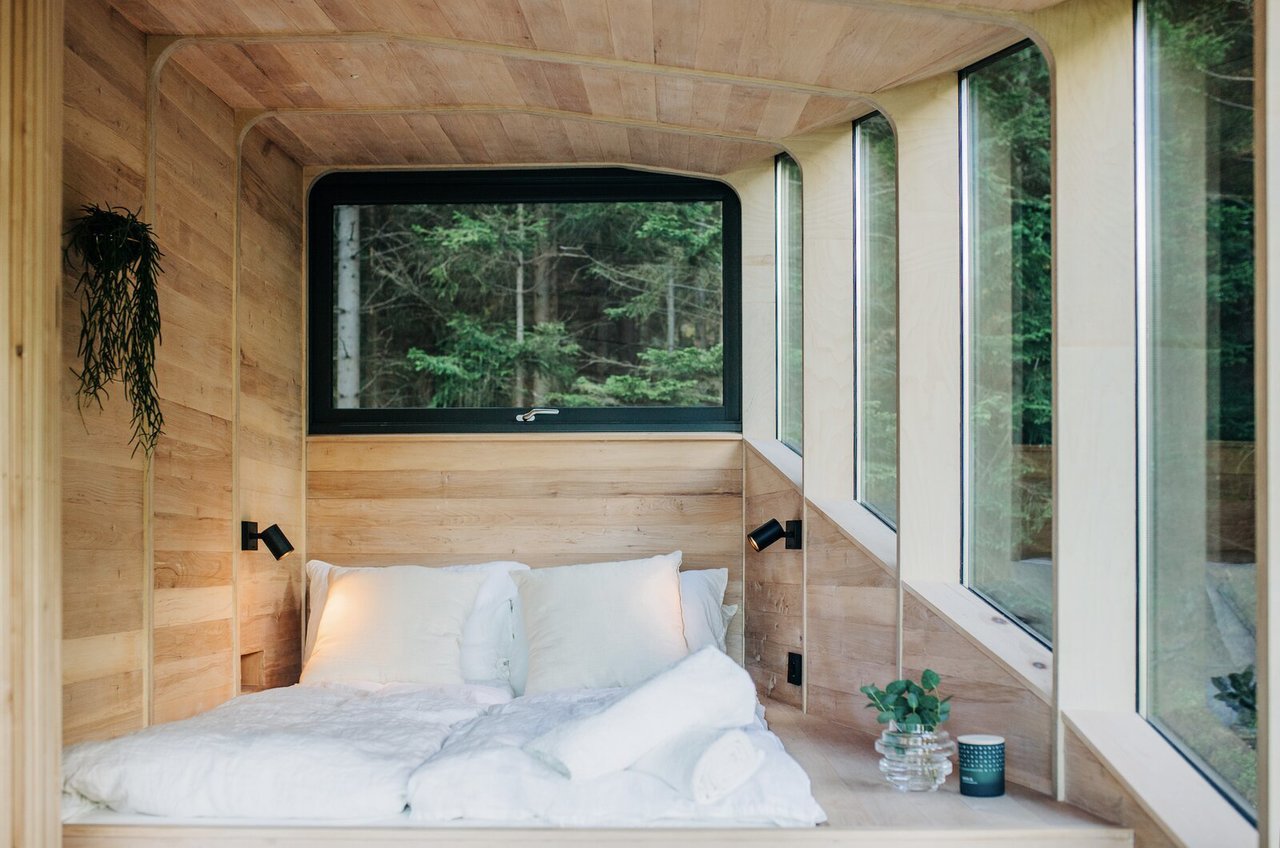 Along the rear wall, a sunken double bed fills the corner, surrounded by custom shelving and wood paneling. Hidden single beds provide additional sleeping space for up to four adults total.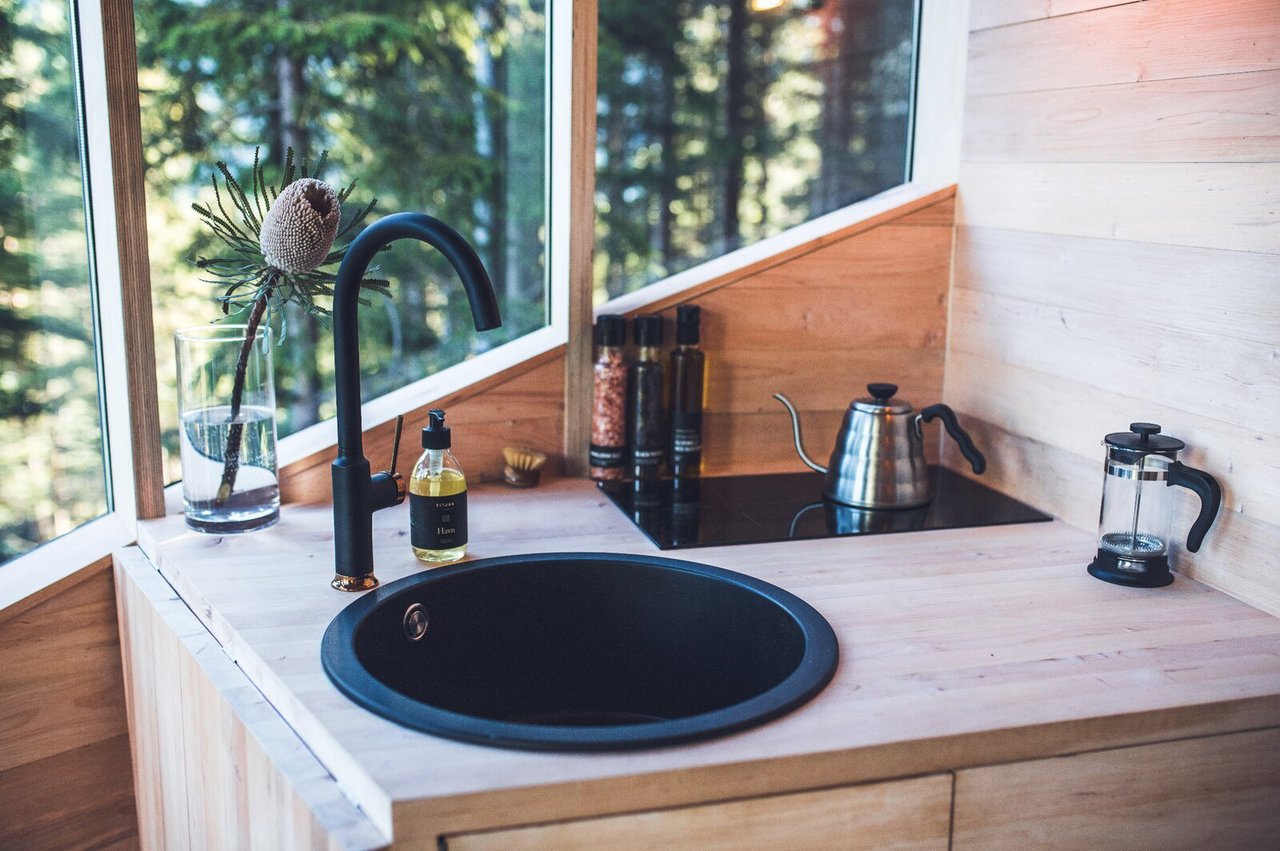 On the opposite side of the tree house, a small kitchenette comes complete with a sink, an induction hot plate, and a small fridge underneath. Other additions include fresh flowers from local florist Stilk & Stæsj, as well as soap from the Norwegian brand Fitjar Islands.

Once construction kicked off in January 2020, the site's remote location created unique challenges for everyday work and material delivery. "This past winter was long, with a lot of rain and some really cold days," comments Sally. While helicopters dropped off most of the larger items, including building materials and power tools, other items were carried up by hand. "It worked out to be countless steps but great exercise," she adds.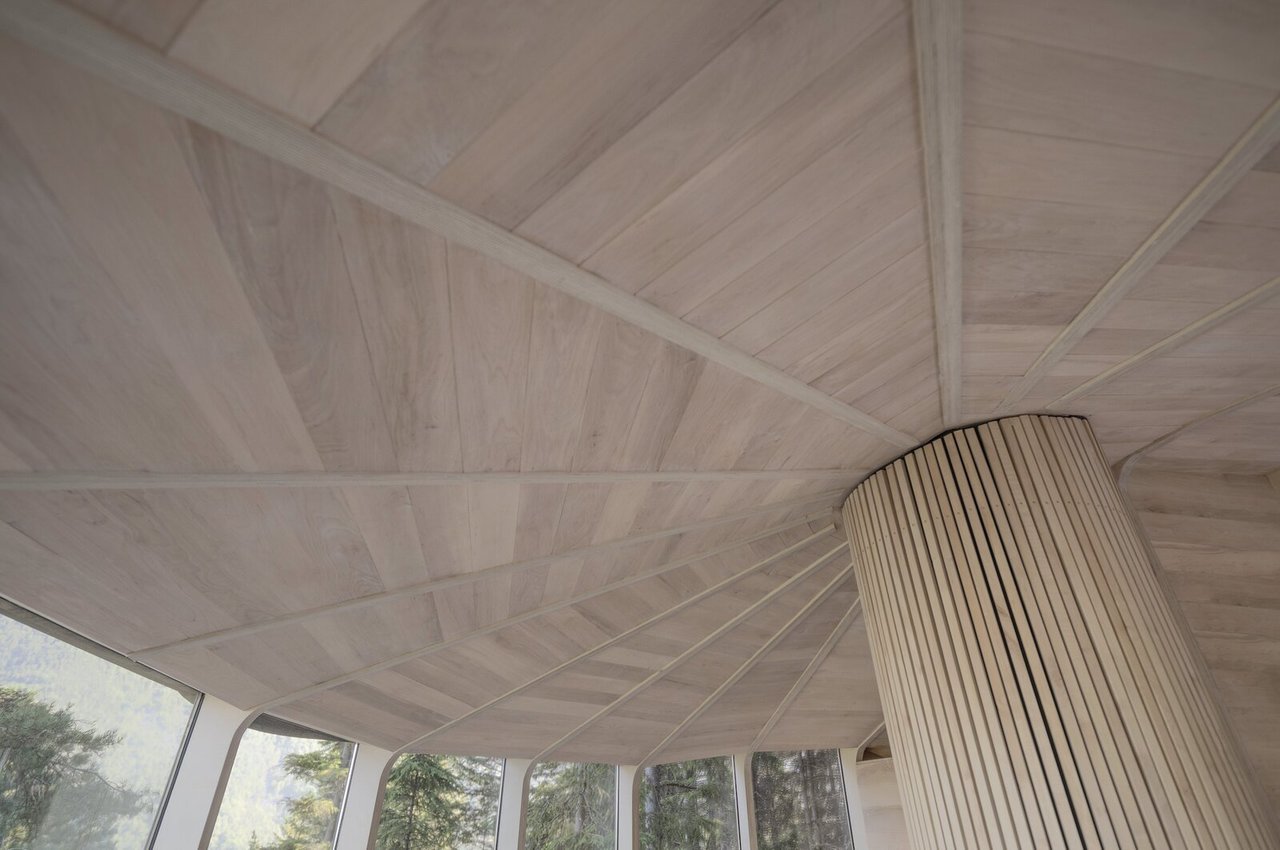 A wood-clad ceiling emphasizes each structure's radial frame, while the central steel collars are concealed by vertical strips of wood.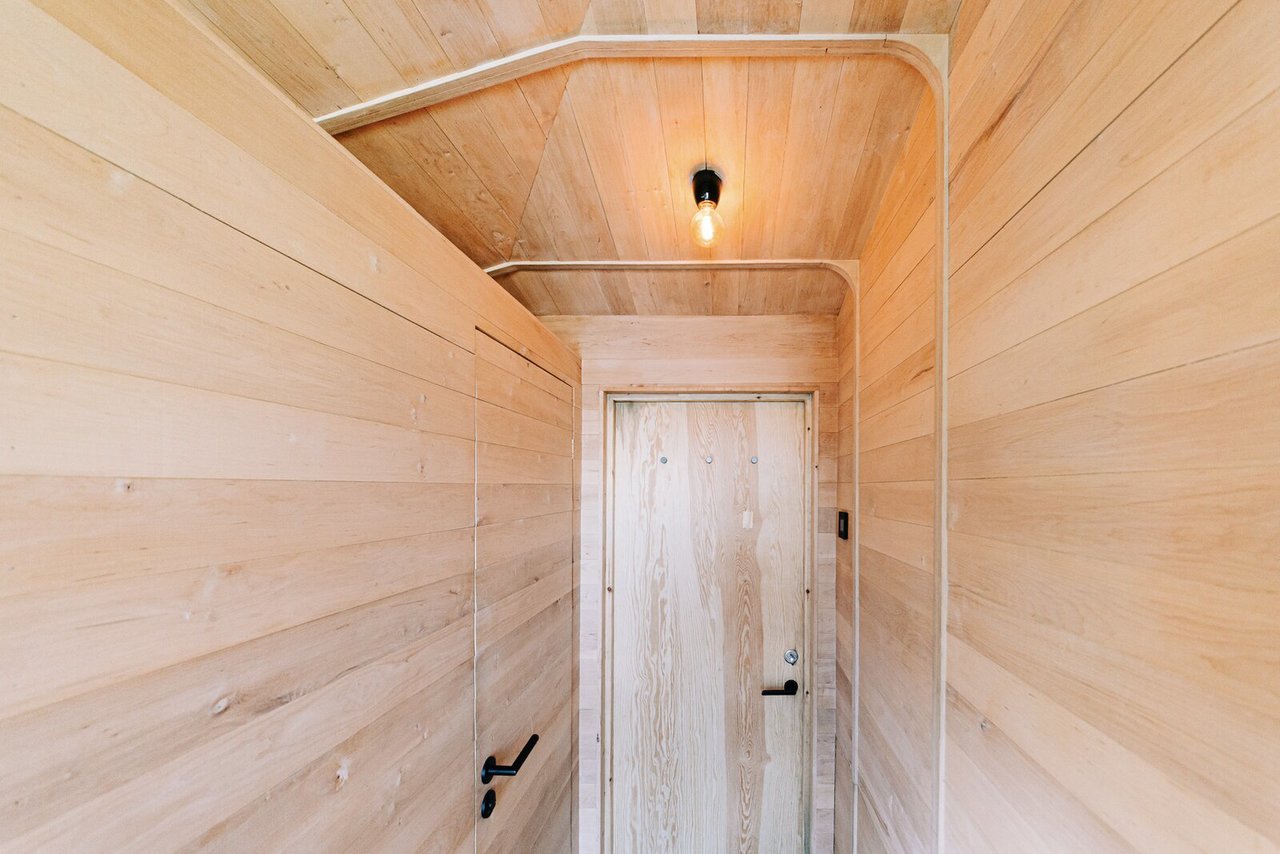 A hallway provides access to the bathroom (along the left-hand side), as well as the main entrance straight ahead.

Sally and Kjartan, who is an electrician by trade, did much of the finishing work themselves-along with the help of numerous friends and family members.

"It really has been a family affair," says Sally. "The sofa cushions were made by Kjartan's mother, a seamstress, while his father and brother spent many days helping us out with various projects. His sisters helped with painting, his brothers-in-law built the staircases, and his nephews cut up trees. We couldn't have done it without everyone's help."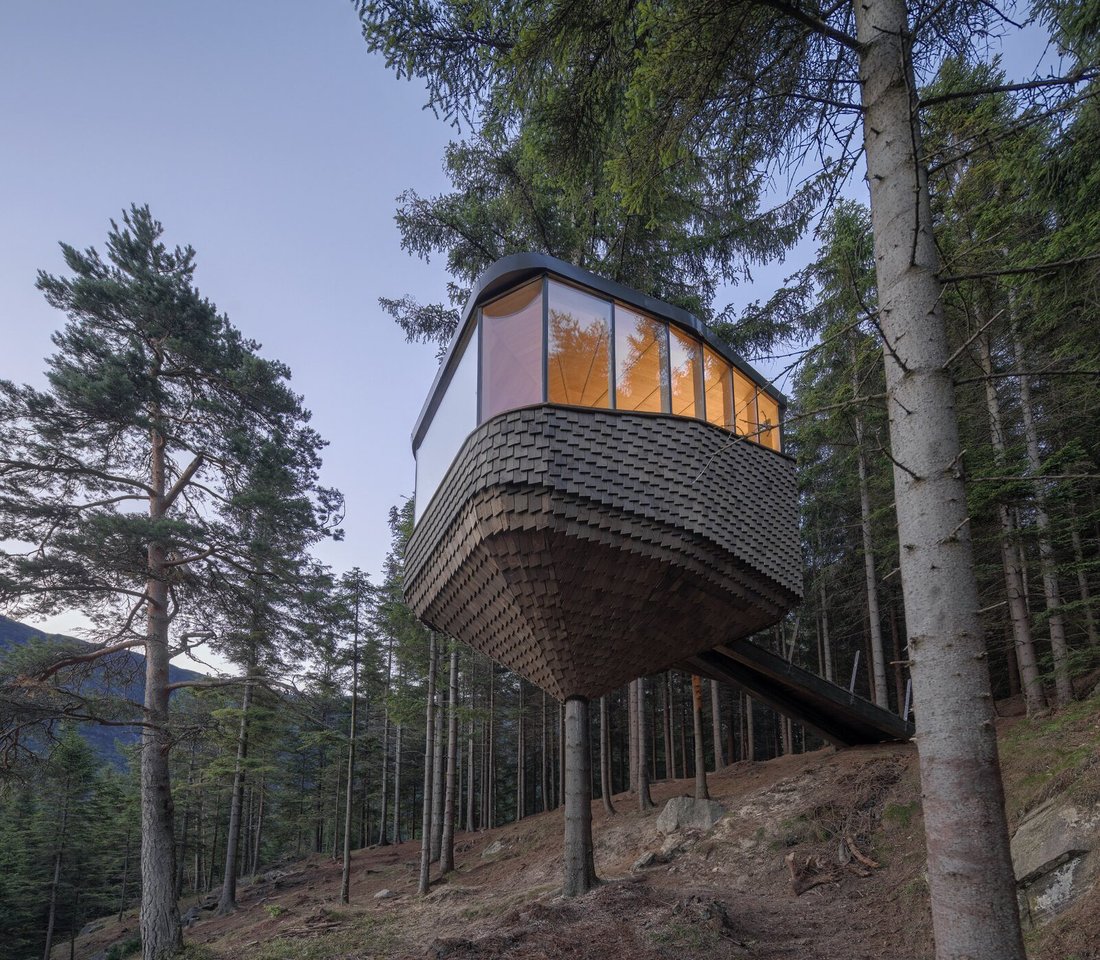 The bottom of each tree house hides the utilities, including pipes concealed underneath the entry bridge that connect to public water and sewage lines at the bottom of the hill. The pipes are encased and heated to prevent freezing during cold Norwegian winters.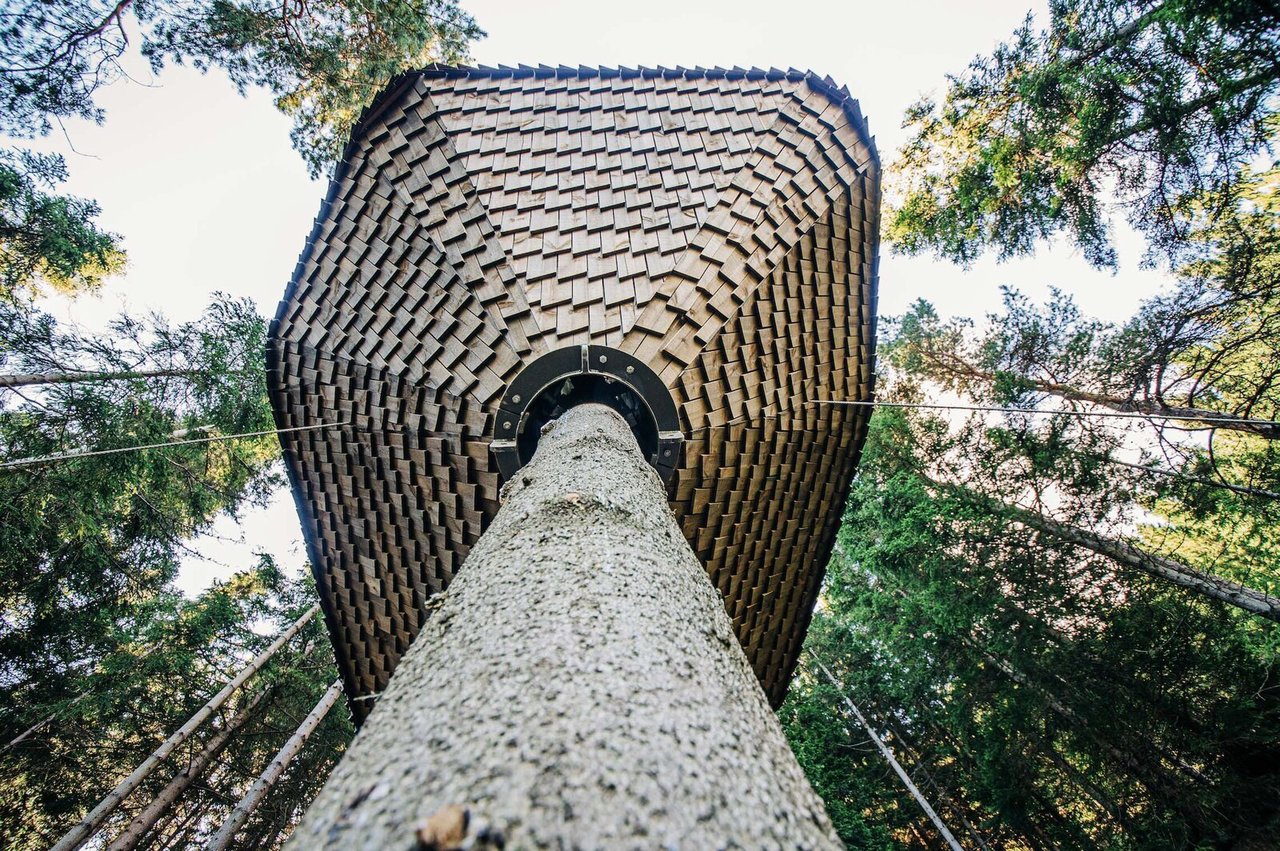 The architects and engineers enlisted the help of a tree doctor to identify a design that wouldn't compromise the health of each tree. As a solution, the steel ring surrounding the trunks includes enough space for each tree to naturally grow in diameter for at least 25 years.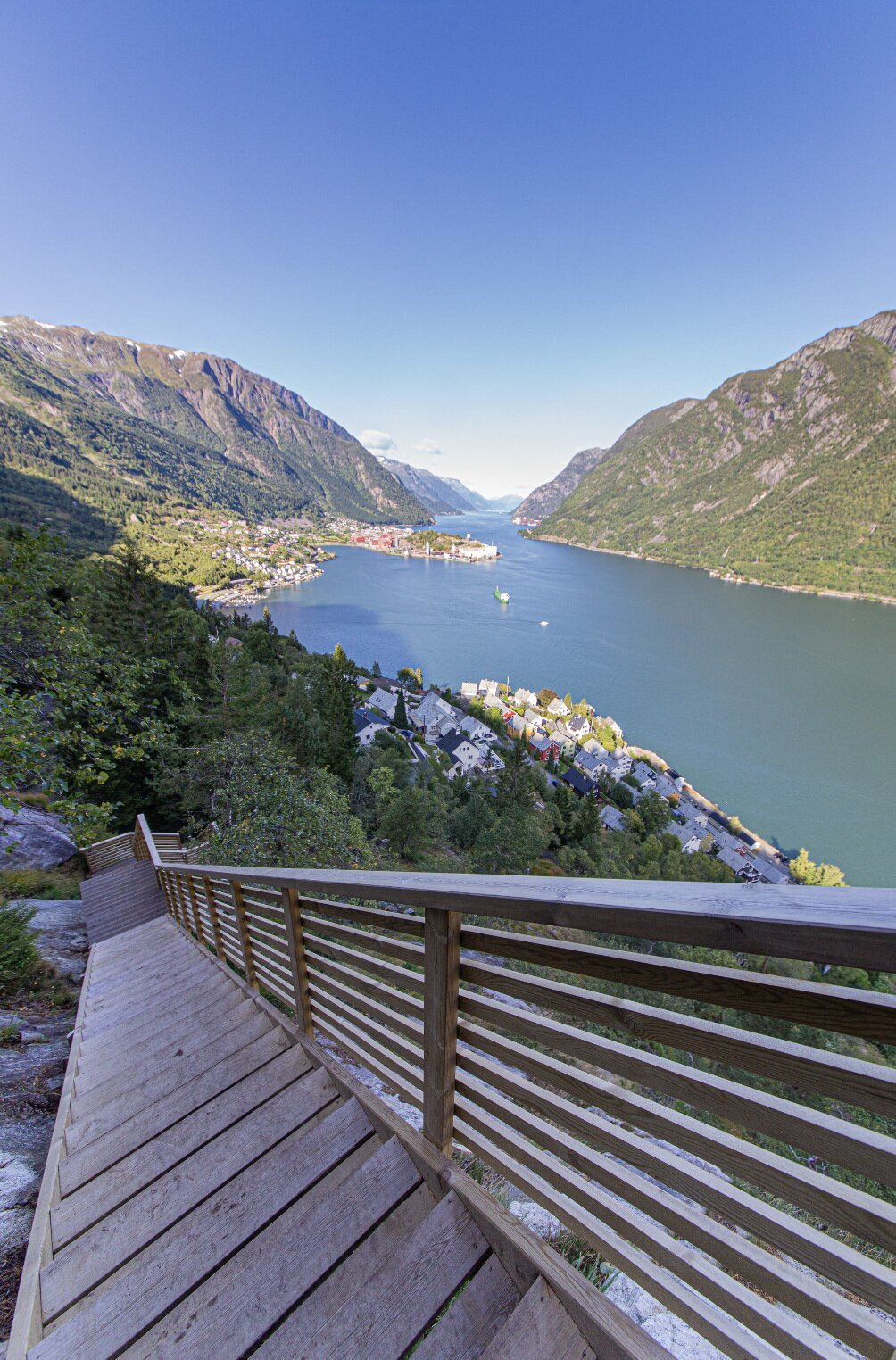 A few yards away from the tree houses, a wooden staircase connects with a path that leads through the wooded hillside to a parking area down below. Steeper sections of the mountainside trail are navigable by using steel staircases and hand-placed stone steps.

Building on years of experience renting out their backyard studio and basement apartment on Airbnb, Sally and Kjartan officially opened the doors to Woodnest a few weeks ago. "As an Australian living in Norway, I've always had fun meeting tourists from around the world," Sally says. "Our sleepy little town of 5,000 attracts much larger crowds during the summer."

Part of the attraction is the world-famous Trolltunga hike, just a 30-minute drive away, as well as the area's easy access from Stavanger and Bergen, two cities on Norway's western coast.

"We want guests to take their time, reconnect with one another, and look out the windows to the panoramic views," says Sally. "The journey up to the tree houses requires a little effort, but once you arrive, you've earned the right to fully relax."

While travel bans associated with COVID-19 have made the timing of their opening more precarious than expected, the couple look forward to welcoming international travelers in the future. Prices start at 2,800 NOK (approximately $300) per night for up to four people, not including an optional breakfast, and reservations can be made via their website.




A site plan shows the location of each tree house above the town of Odda, Norway.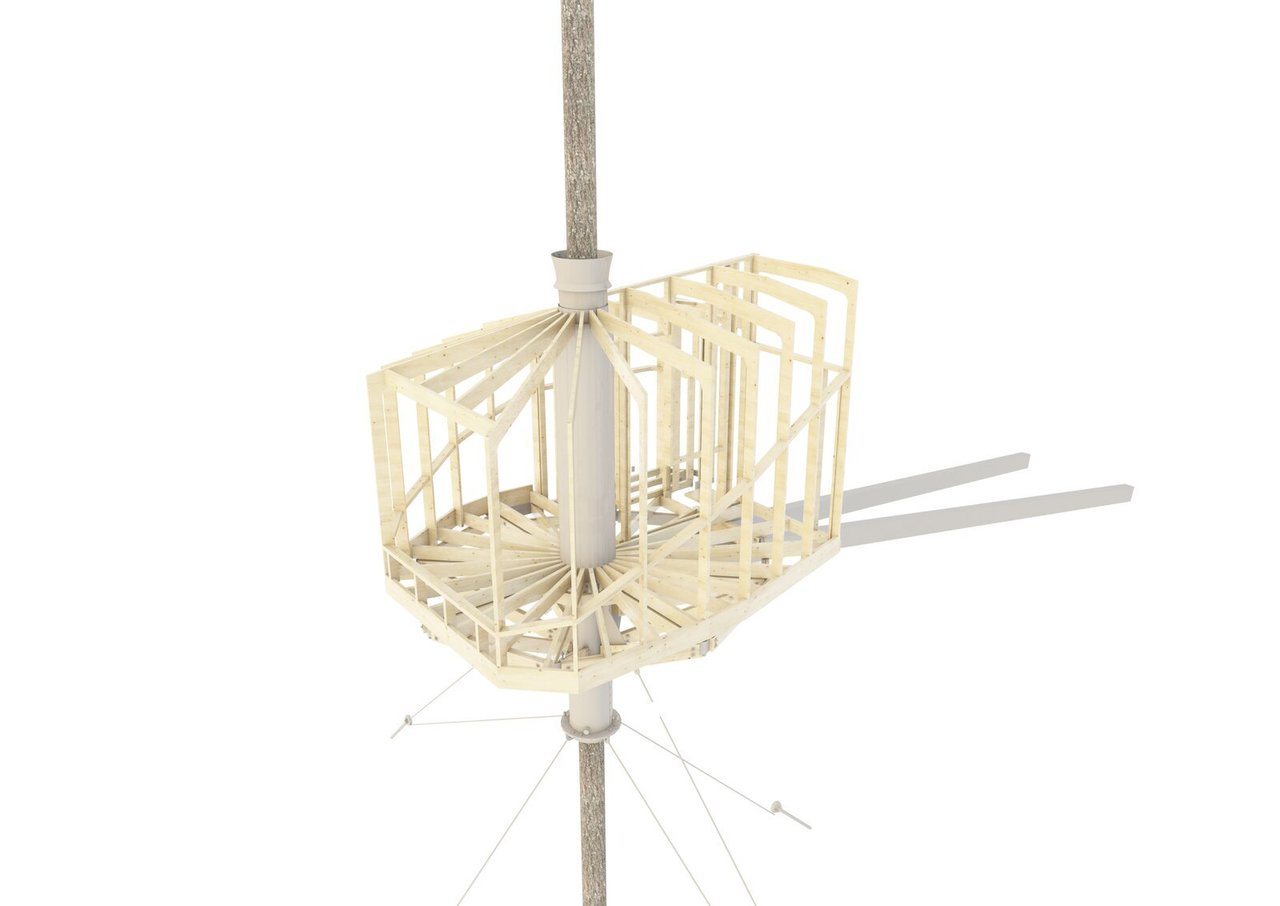 Woodnest structural rendering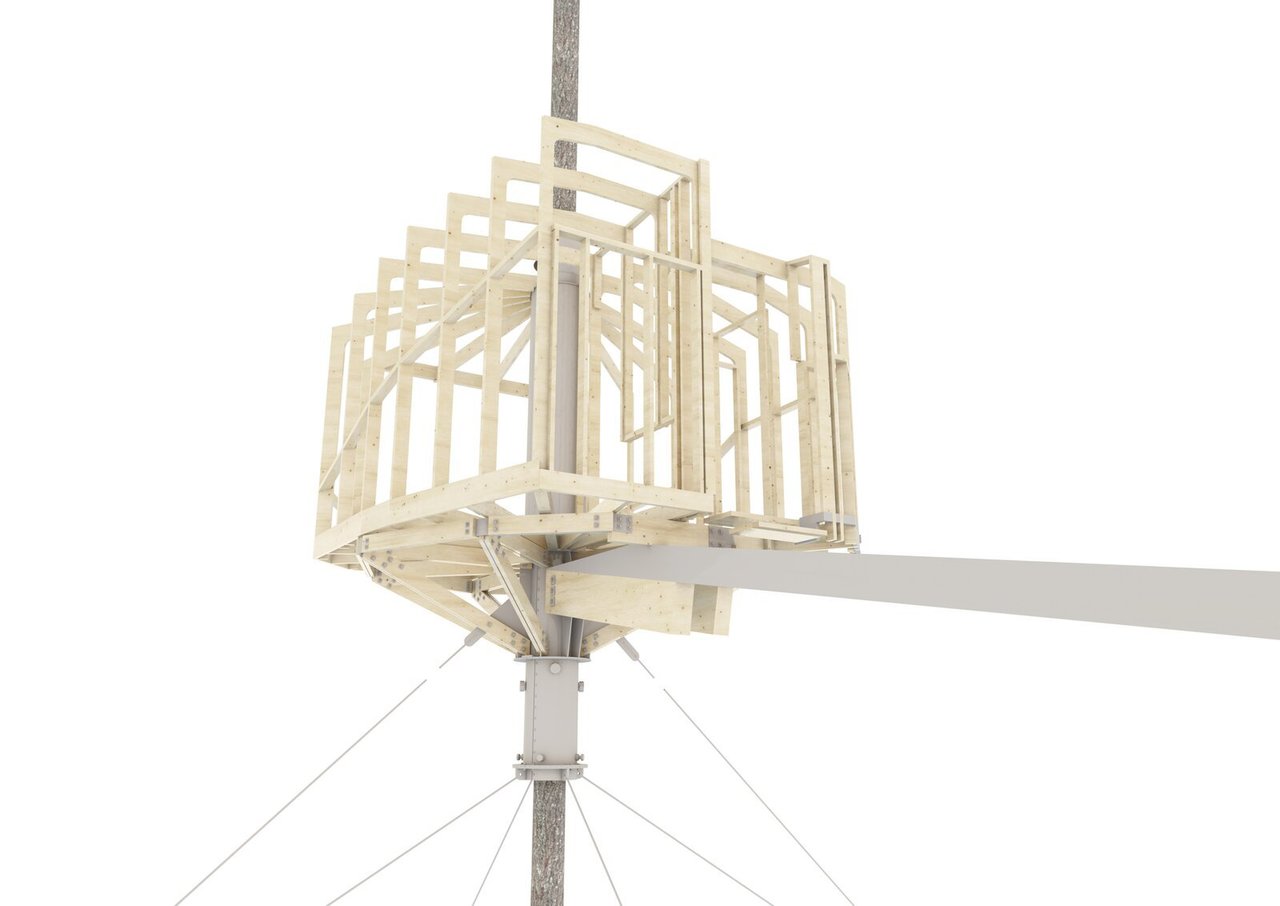 Woodnest structural rendering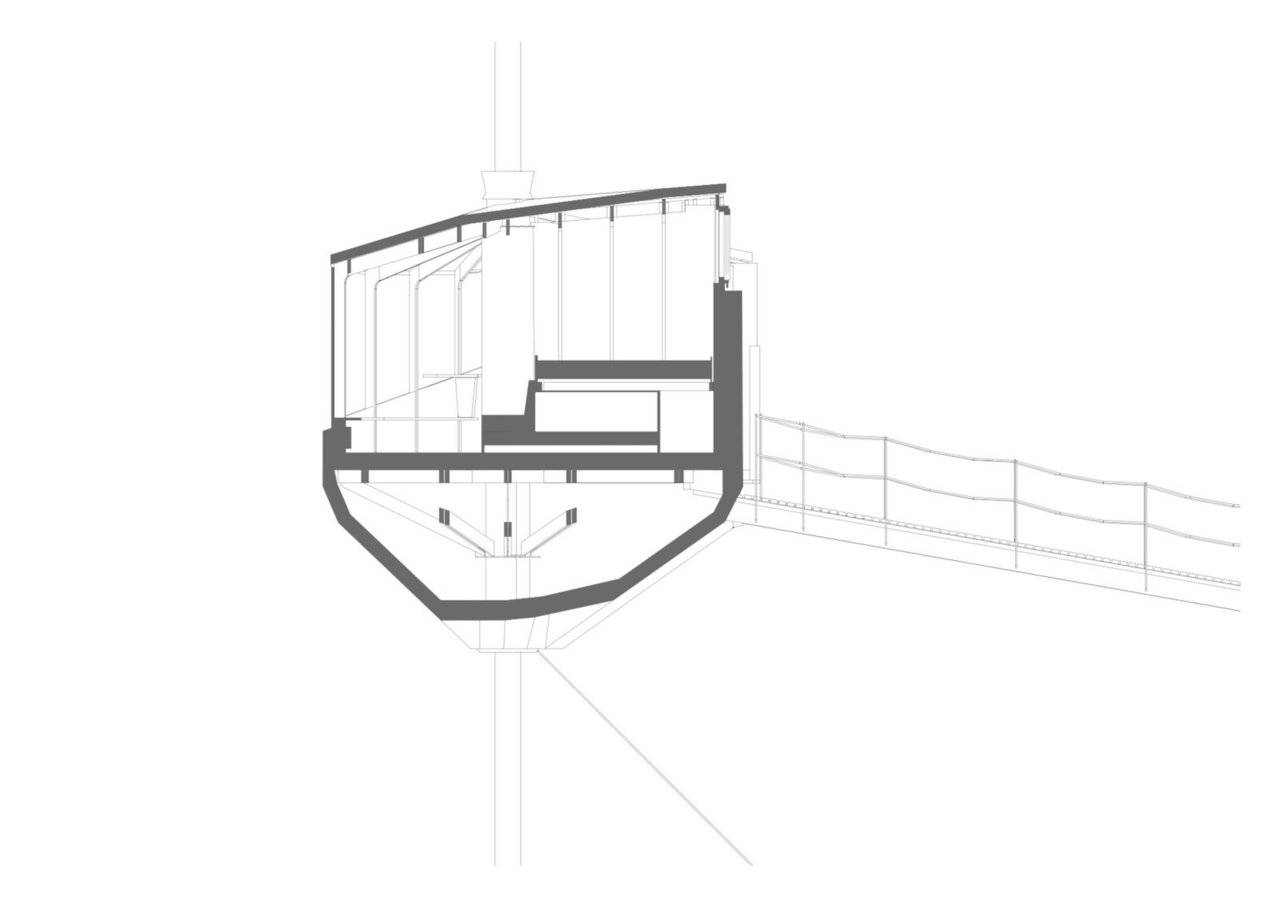 A cross section shows the solution for a raised bed and built-in seating. Both tree houses are identical in layout and design.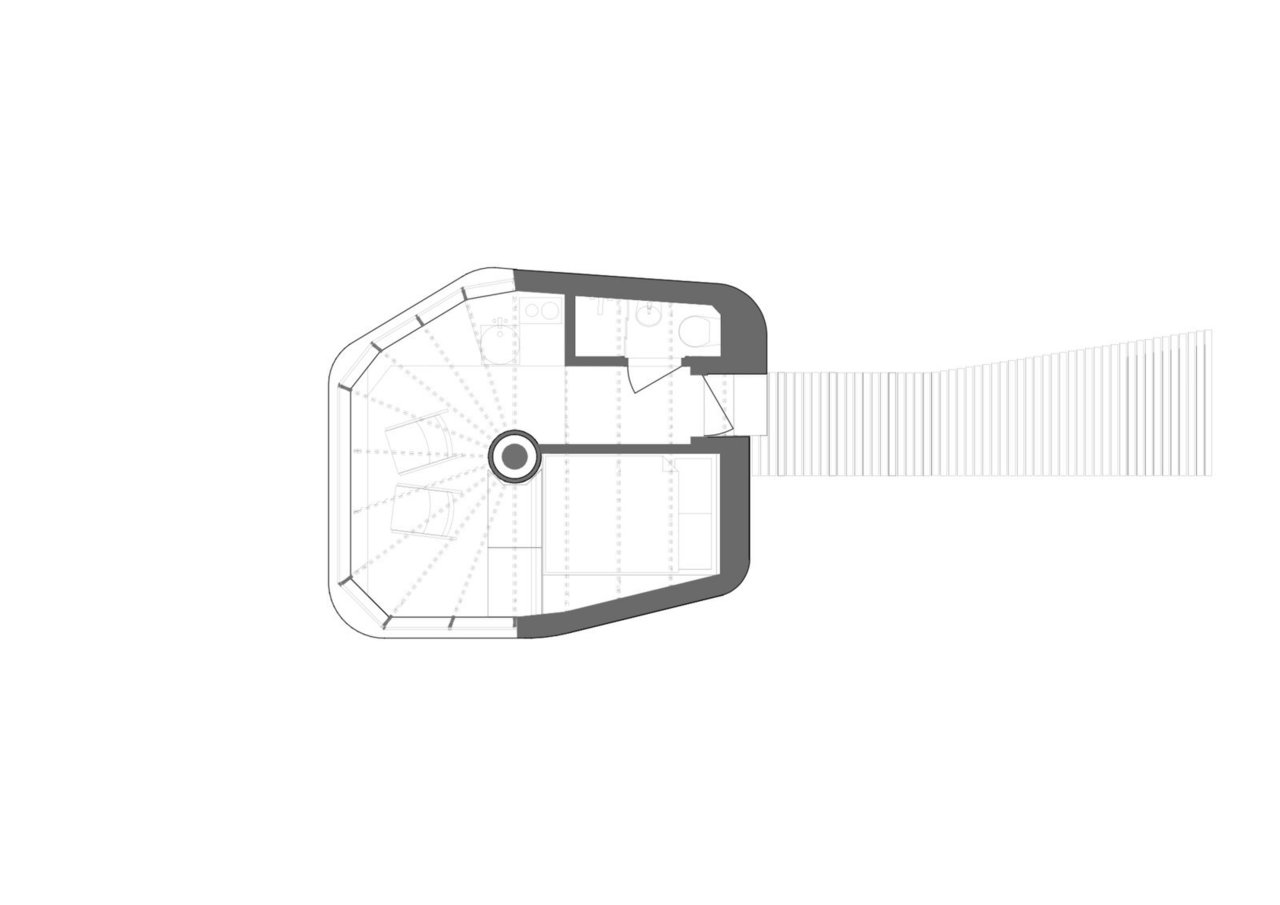 A floor plan shows the bathroom-complete with shower, sink, and flushing toilet-tucked into a corner near the entry.