One of 20 identical row houses designed in 1882 by architect Gilbert Robinson Jr., this three-bed, two-bath Victorian is nestled in Sylvan Terrace, a cobblestone cul-de-sac in upper Manhattan's Washington Heights neighborhood. Previously featured in Dwell, the three-story building was treated to a top-to-bottom renovation by owner Tom Givone, an ad copywriter who discovered a new career as a contractor during the years-long project.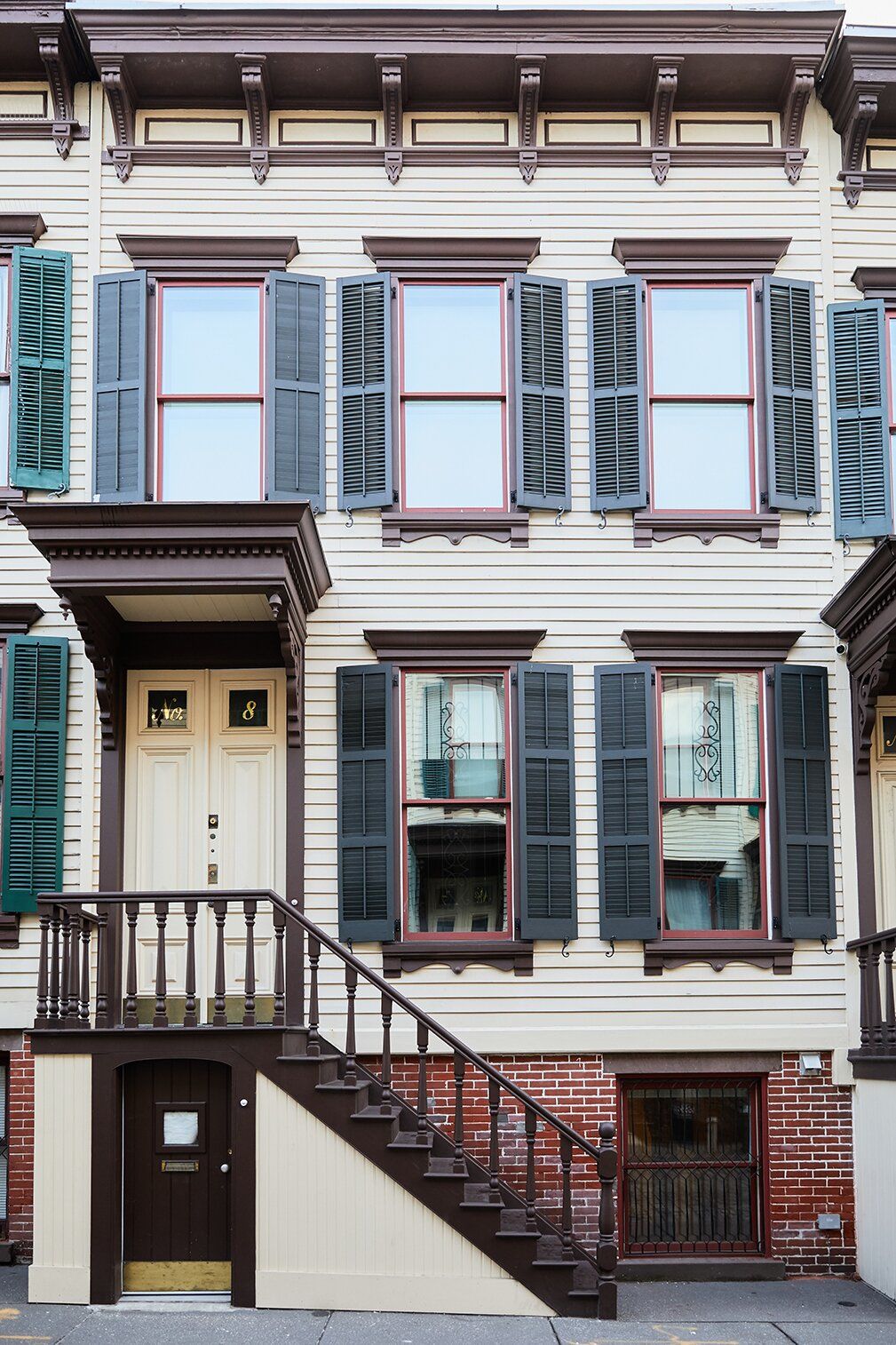 Designed in 1882 by architect Gilbert Robinson Jr., this Sylvan Terrace row house in Washington Heights is meant to mirror the Morris-Jumel mansion nearby.

When Tom found it, the 1,500-square-foot row house had been abandoned mid-renovation. "It had some electric and sheetrock," says Tom. "It was like a Home Depot shell that looked like an active job site-paint had hardened over and mud was on the walls." Undaunted, he moved in, adding a sink and an old stove to make it habitable.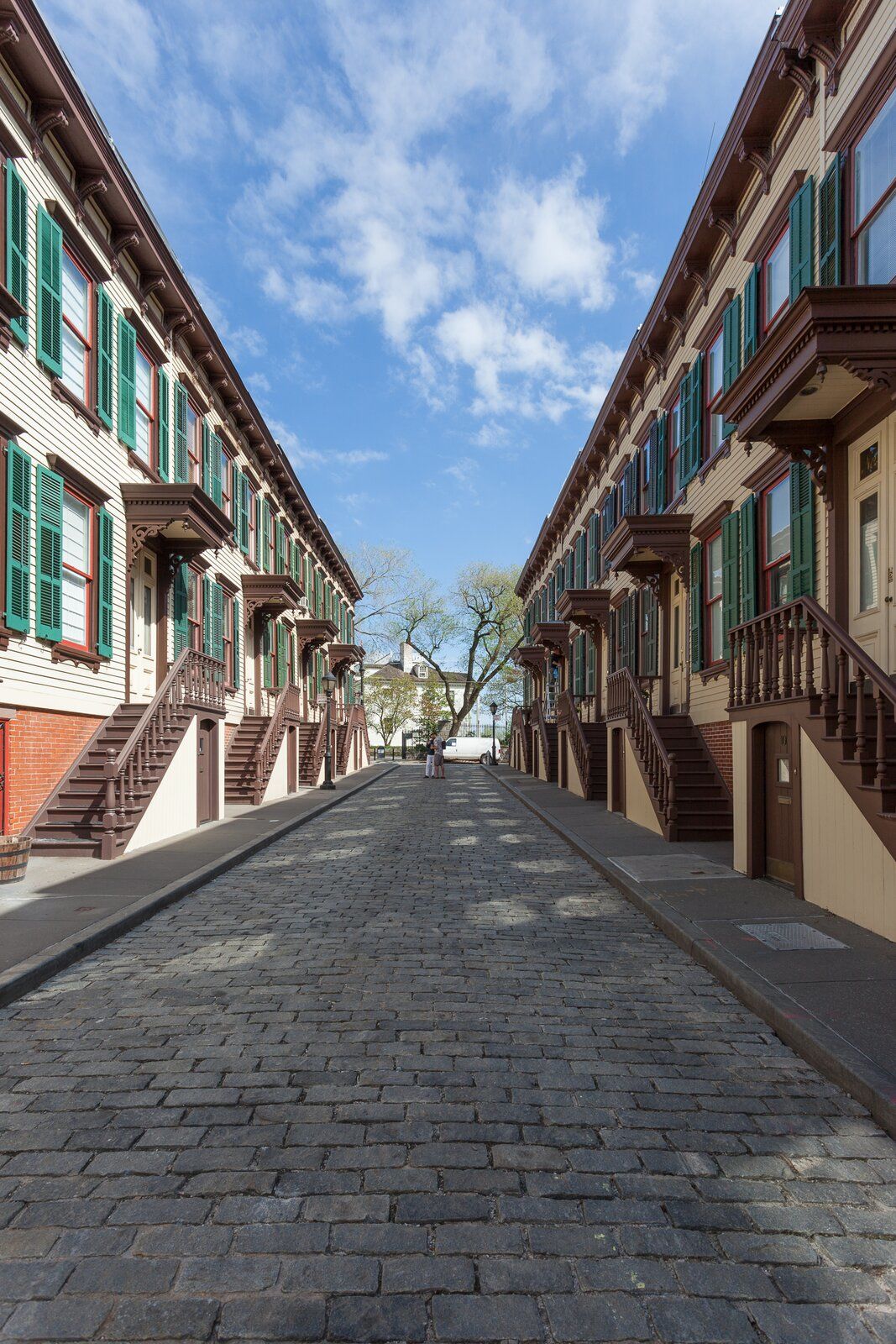 All 20 row houses on Sylvan Terrace have matching yellow, brown, and green facades, as dictated by the Landmarks Preservation Commission.

Every day after work, Tom would start a new home project, ripping out sheetrock or uncovering 15-foot ceiling beams. He became so proficient that he left his advertising career to focus on architectural design, pausing work on his own home to take on other projects. It wasn't until a few years later, in 2015, that he refocused on this building, where he'd lived for nearly 16 years. By then, says Tom, "I had a good crew, I was finding interesting materials, and I was learning different building applications."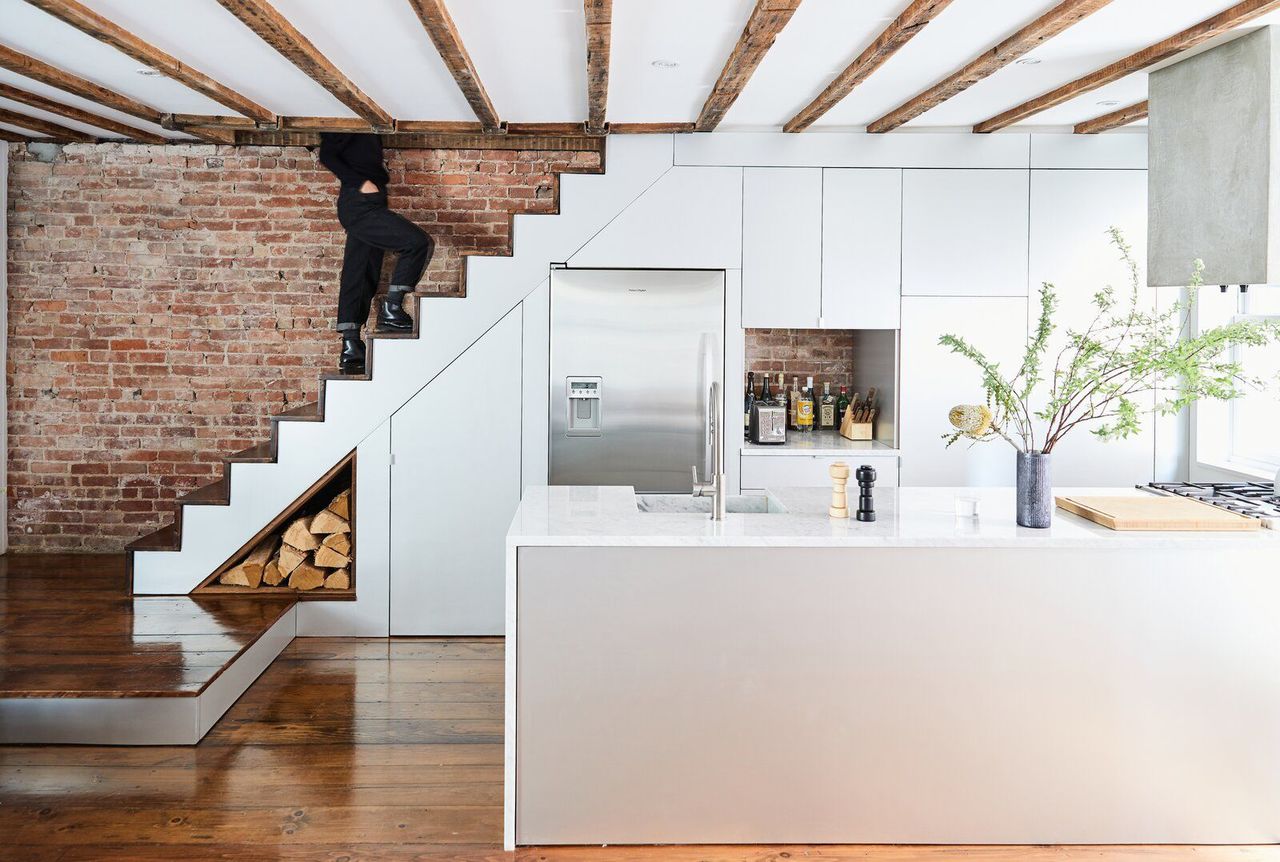 In a high-low blend, the kitchen's Ikea cabinets are clad in anodized aluminum-faced plywood sheets to match the sides of the island. The range has a wood frame and is wrapped in cement board as well as a thin layer of polished concrete.

Still executing much of the work himself, Tom toiled for hours to improve on the design and restore the interiors, including recreating true plaster medallions for the ceilings in parlor spaces and using anodized aluminum-faced plywood sheets for the kitchen doors, cabinets, and staircase and baseboard trim. For materials, Tom combed flea markets and salvaged supplies from neighbors, sourcing everything from hardware to hinges to pieces from original flooring from dumpsters. Some surprises he excavated from the home itself, like a pair of eight-foot-tall wood doors that had been covered by sheetrock.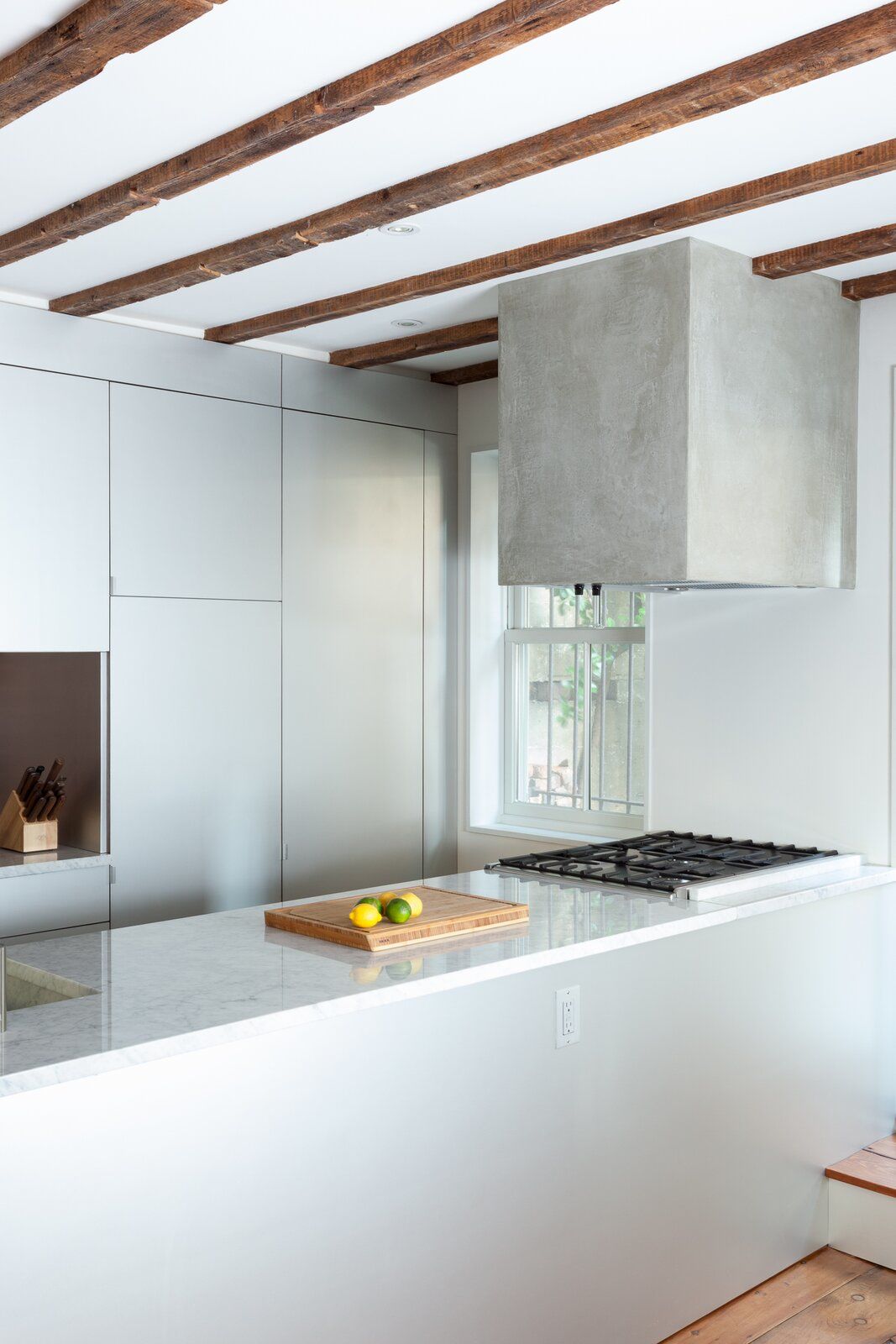 Topped with polished Carrara marble, the 12-foot kitchen island is made from a single stone slab with a waterfall edge and an integrated apron sink.

Now, the home's historic charm shines again. Restored pumpkin pine flooring extends through the parlor level, where you'll find the recreated ceiling medallions and a refinished staircase. A reception and dining room can serve as bedrooms, living areas, or home offices. The lower level features an open living space with a wood-burning fireplace and a kitchen with stainless steel appliances and Carrara marble countertops.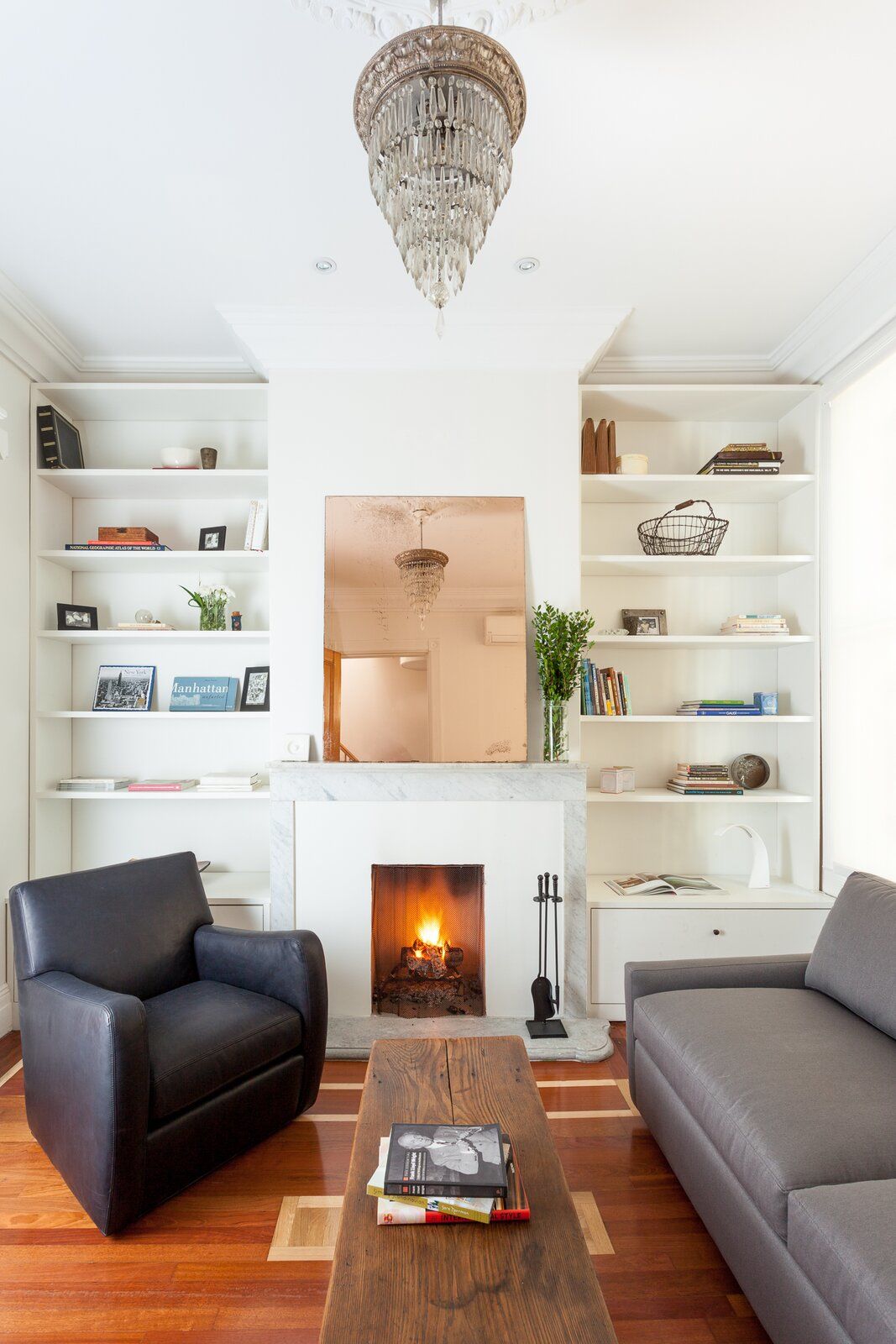 On the parlor floor, a room can be flexibly used as a bedroom, home office, or living area features a wood-burning fireplace and built-in shelves.

The crown jewel is the top floor, which houses the entire owner's suite under 15-foot beamed ceilings. Restored 19th-century French chandeliers and a remote-controlled venting skylight are overhead, while original brick fireplaces add to the period charm. The adjacent bath with polished concrete floors and quartz tile walls features an old water fountain from a park in Philadelphia, leading to the laundry room/closet.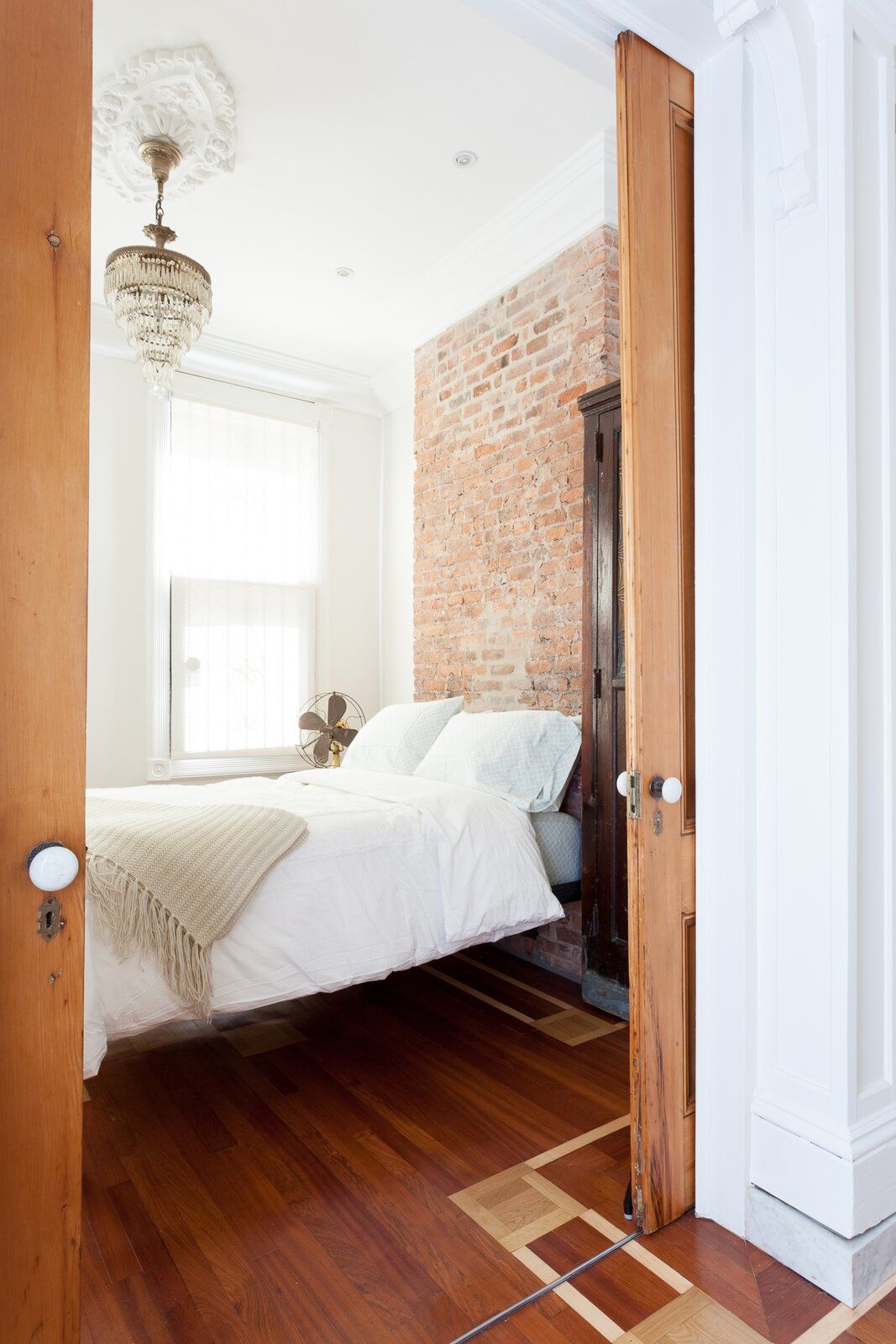 During the renovation, owner Tom Givone uncovered plenty of surprises, including original pocket doors that had been hidden in sheetrock.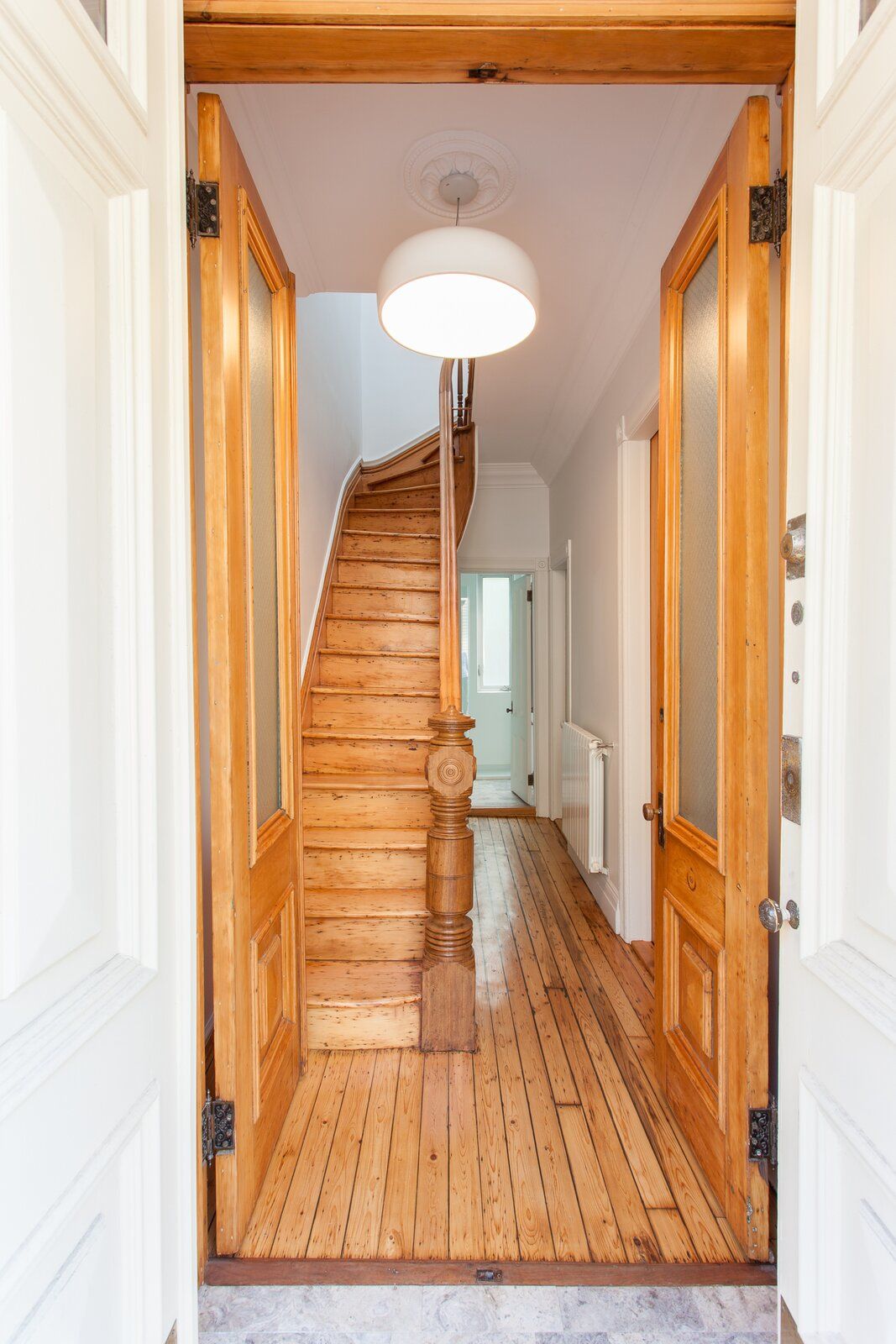 The entrance vestibule on the parlor level features restored pumpkin pine flooring.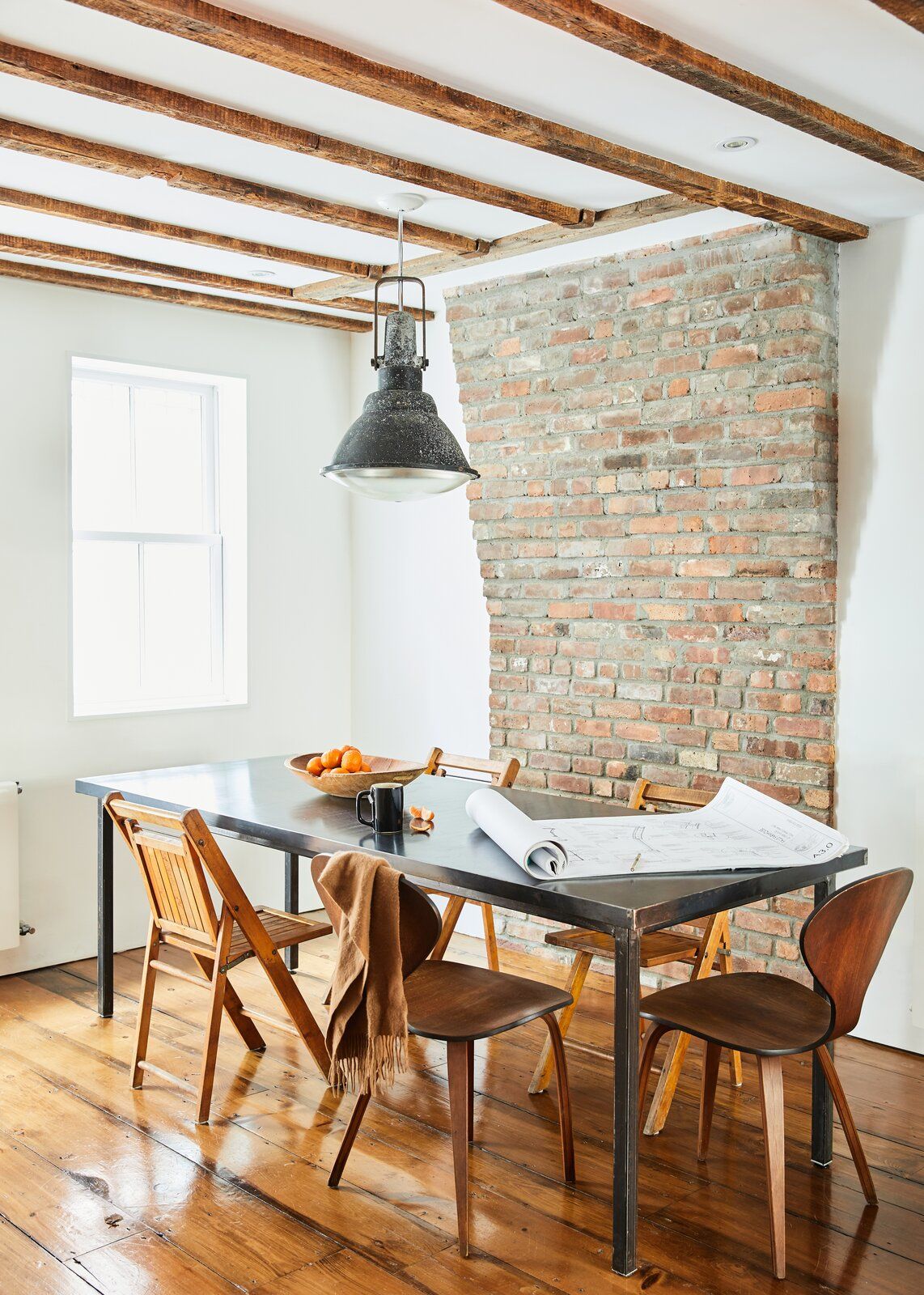 Exposed brick walls complement refinished floors in the open living, dining, and kitchen space on the ground floor. Tom applied marine epoxy, sawdust, and paint blend between the floorboards like grout before sanding them to a smooth finish.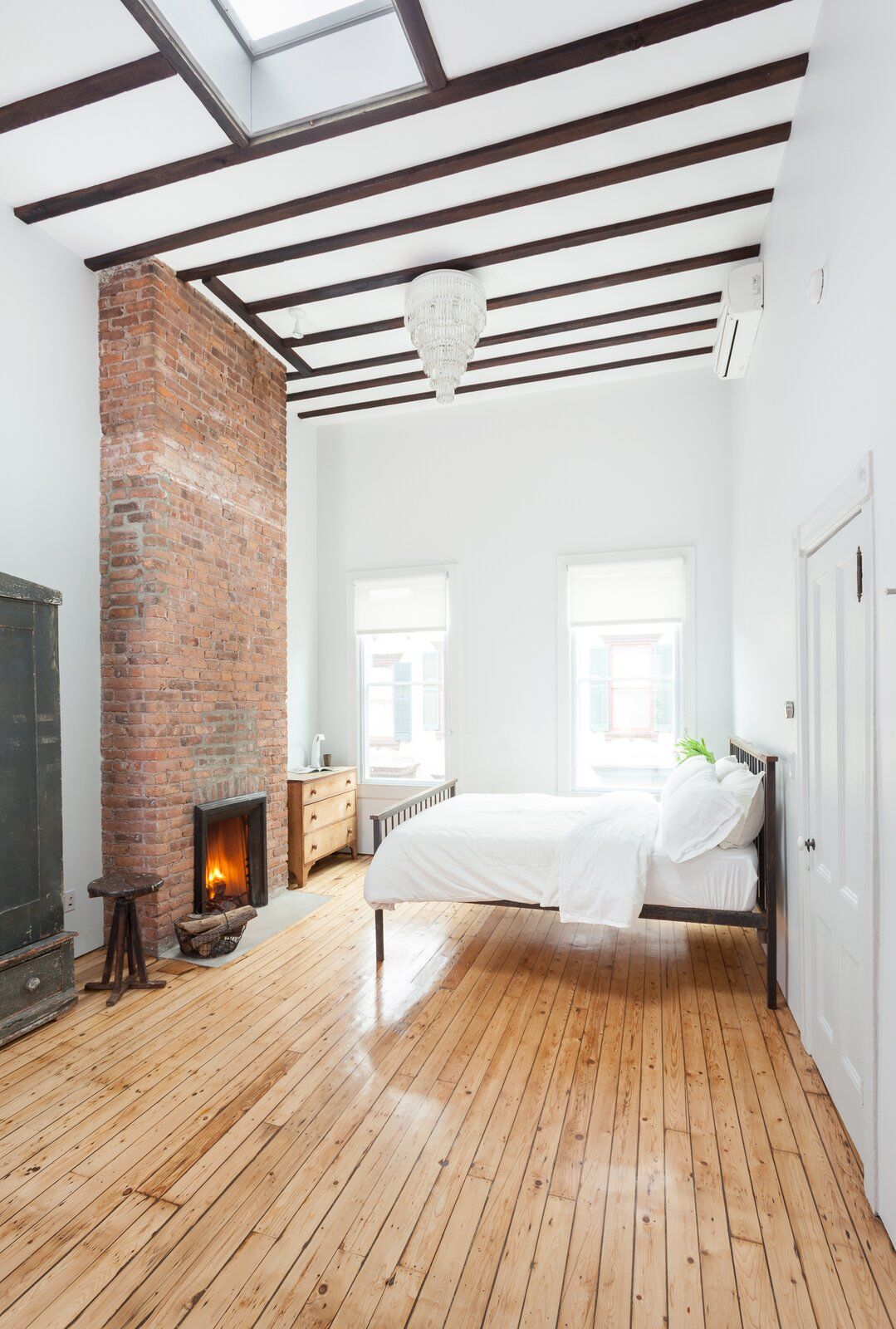 Three of the fireplaces in the home were rebuilt, including the pair in the main bedroom on the top floor, where a skylight punctures the high ceiling.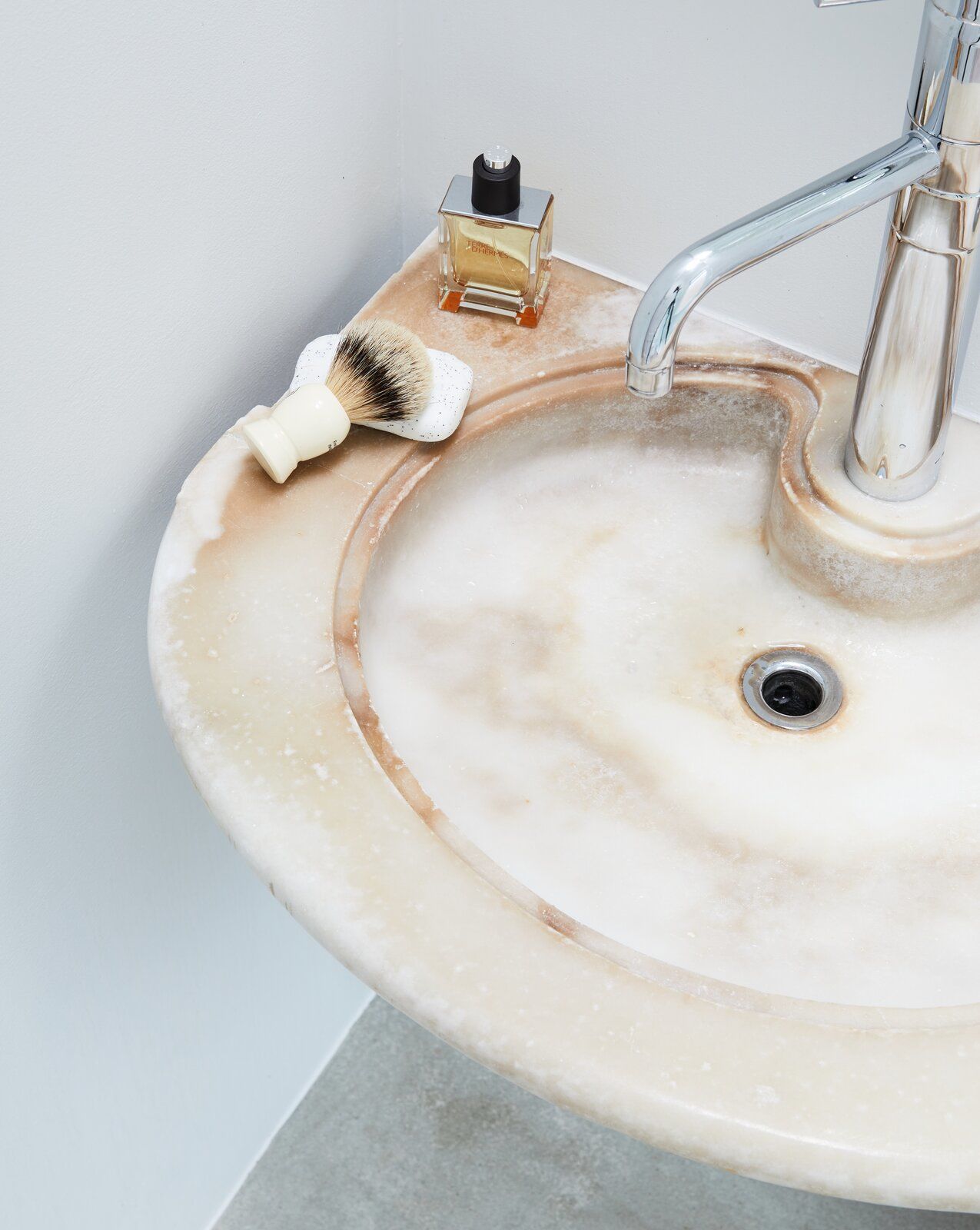 In the main bathroom, Tom sourced an old water fountain basin from a park in Philadelphia.