One of San Diego's most remarkable urban treasures is undoubtedly garden-packed Balboa Park, home to the San Diego Zoo. In 1915-1916, the green space hosted the Panama–California Exposition, followed by the California Pacific International Exposition in 1935-1936. Both events led to the creation of buildings that remain architectural landmarks today.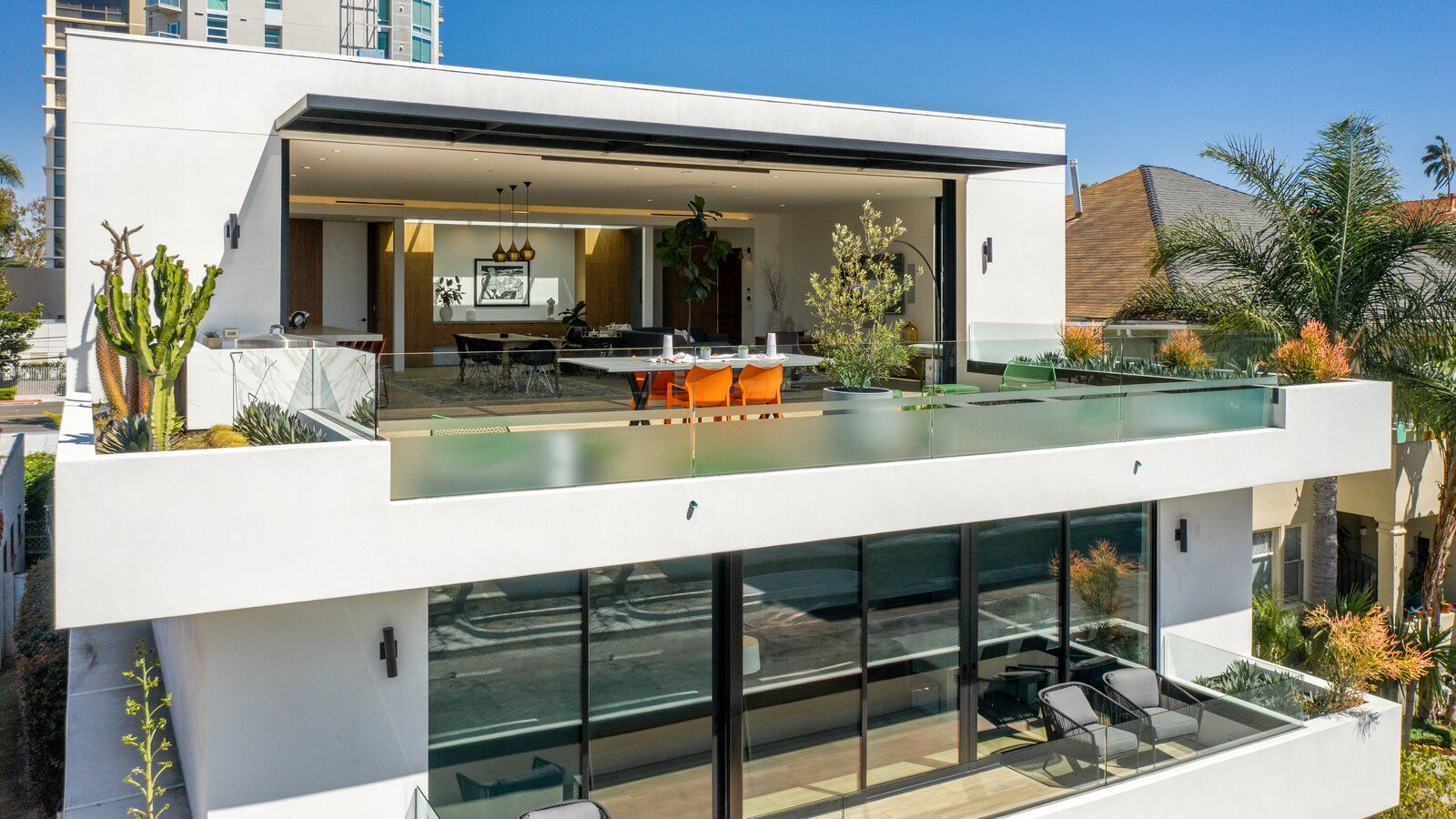 Recently constructed in 2017, the mixed-use Modern on Fifth is a visually striking building designed by local firm Safdie Rabines Architects.

Just a two-minute walk away from this hub of culture and nature is the ritzy Modern on Fifth compound, a stark, contemporary contrast designed by local firm Safdie Rabines Architects. Completed in 2017, it encompasses some 7,000 square feet, including ground-floor retail space and a garage, and is crowned with a two-bedroom, two-bathroom penthouse on the third floor. There are high ceilings and quality finishes throughout.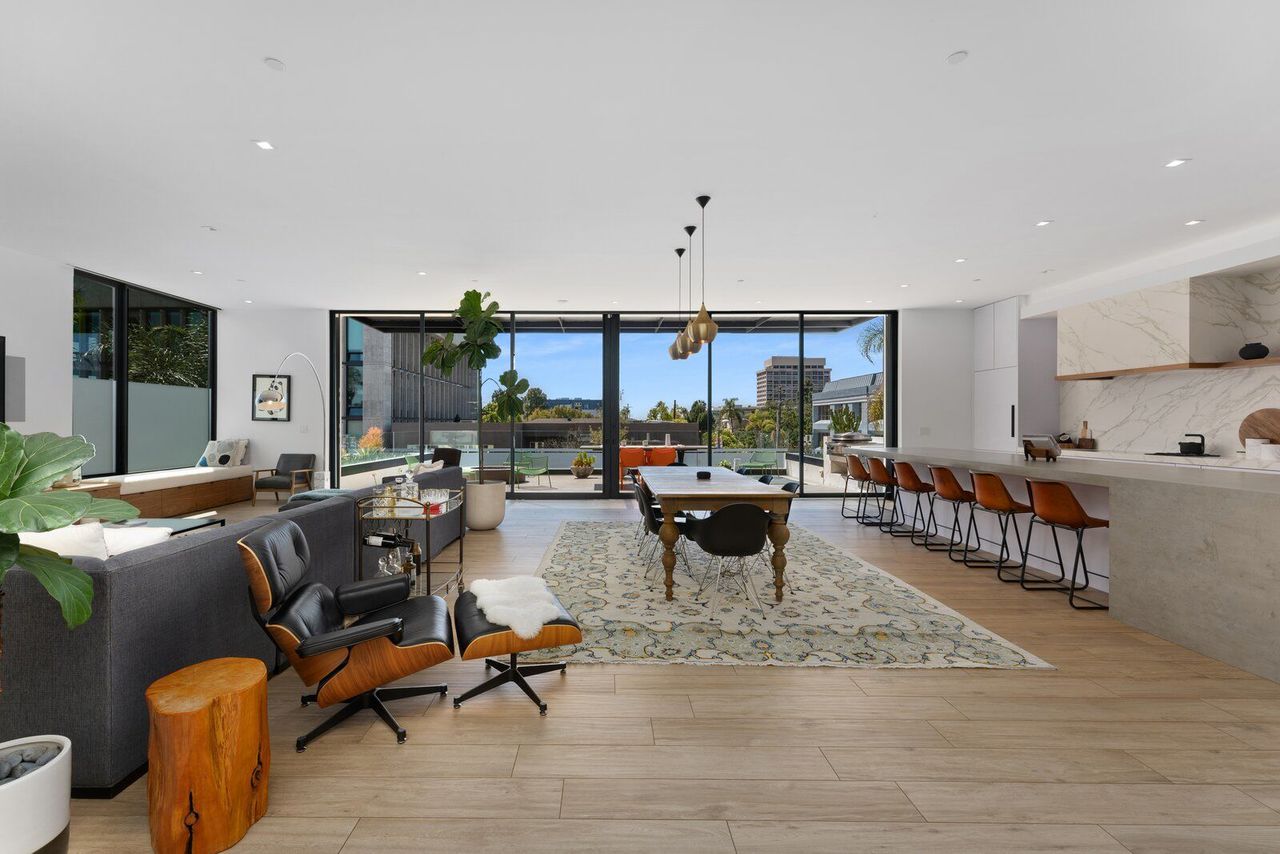 In the open-plan penthouse, the kitchen, defined by a massive 20-foot Neolith island with waterfall edges, organically melds with the living/dining area.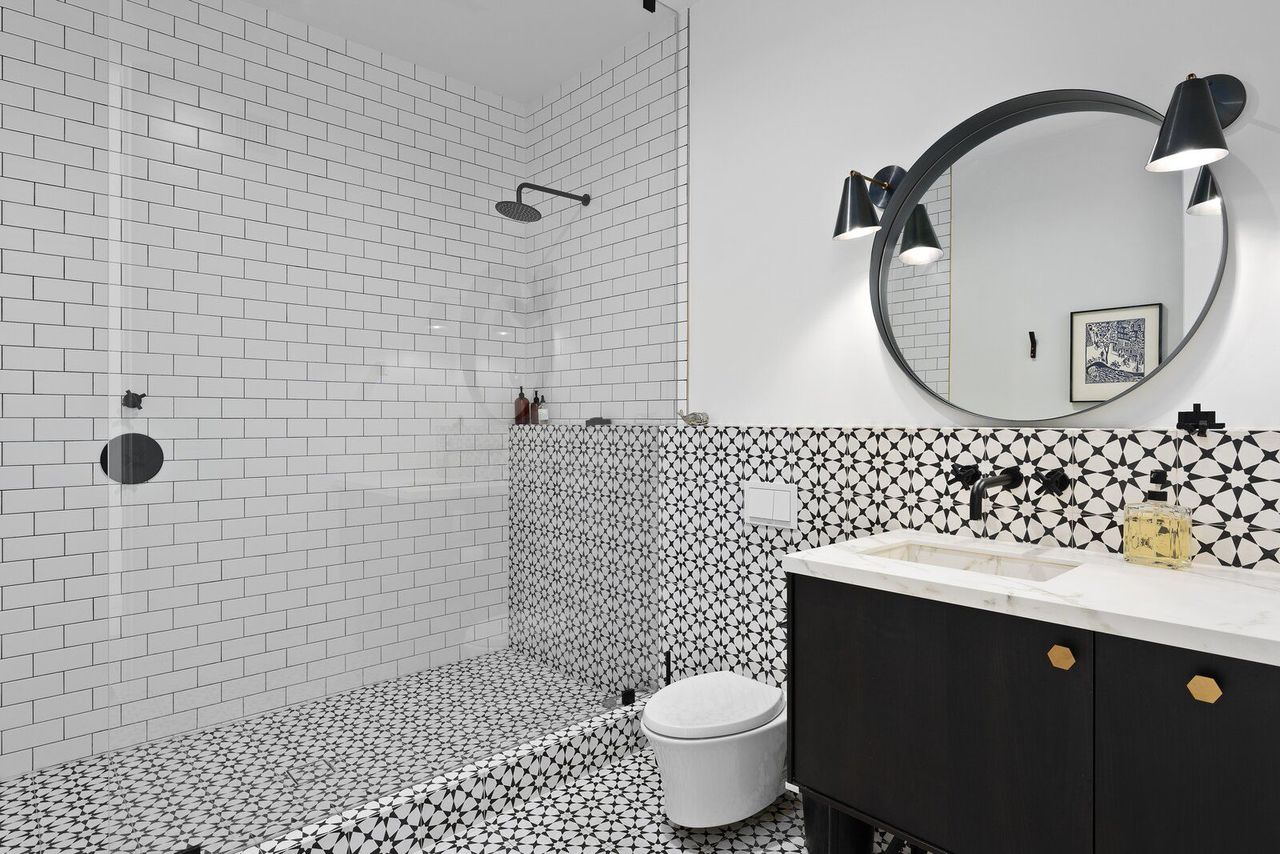 Mexican cement tiles adorn the bathrooms, including this upbeat black-and-white scheme in the penthouse.

"This property is something special. I like to describe it as an urban retreat," says listing agent Tommy Crudo of La Jolla-based Willis Allen Real Estate. "Bankers Hill is a vibrant neighborhood, which makes the location so appealing. However, the inside is private and peaceful. I personally feel a calming effect from the beautiful interior architecture and large open spaces."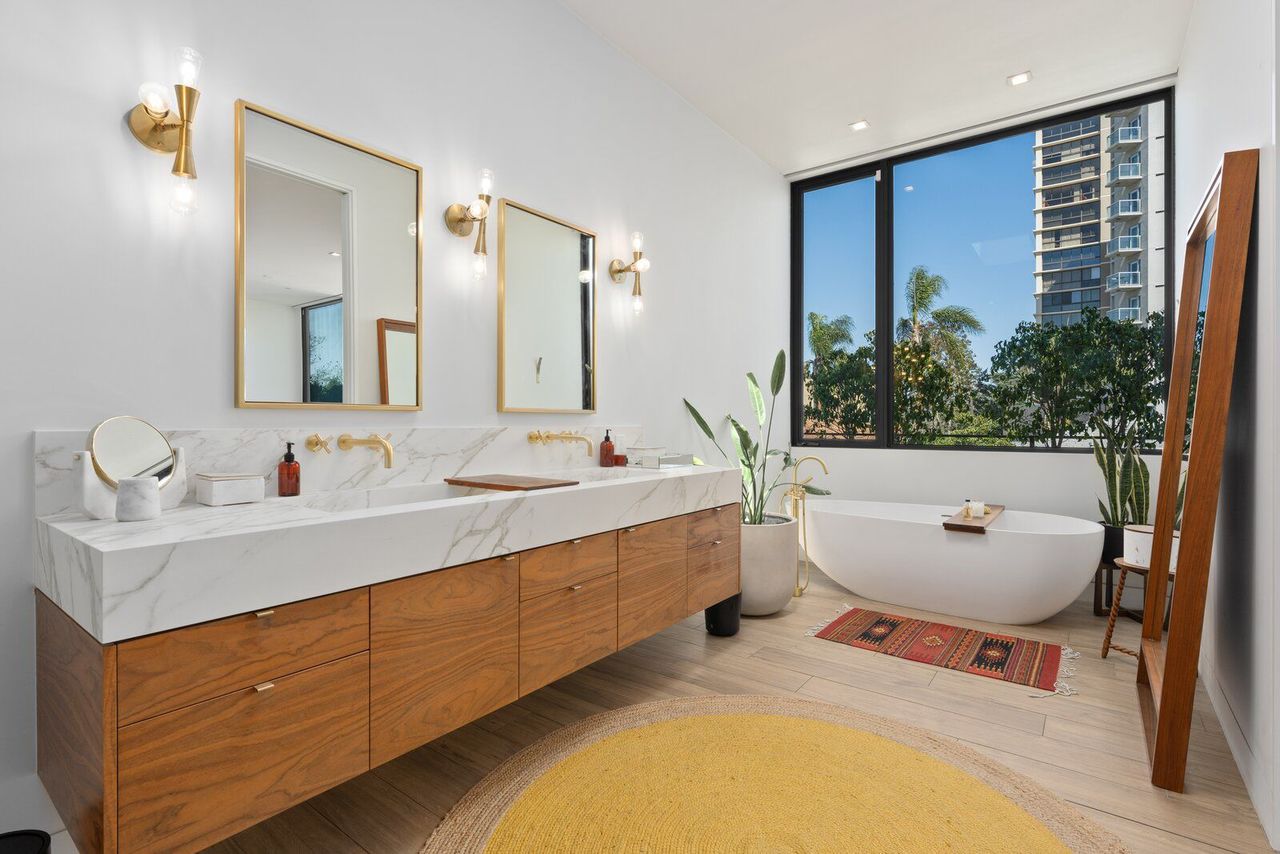 This custom egg-shaped tub in the penthouse, buoyed by city views, is large enough to accommodate two people.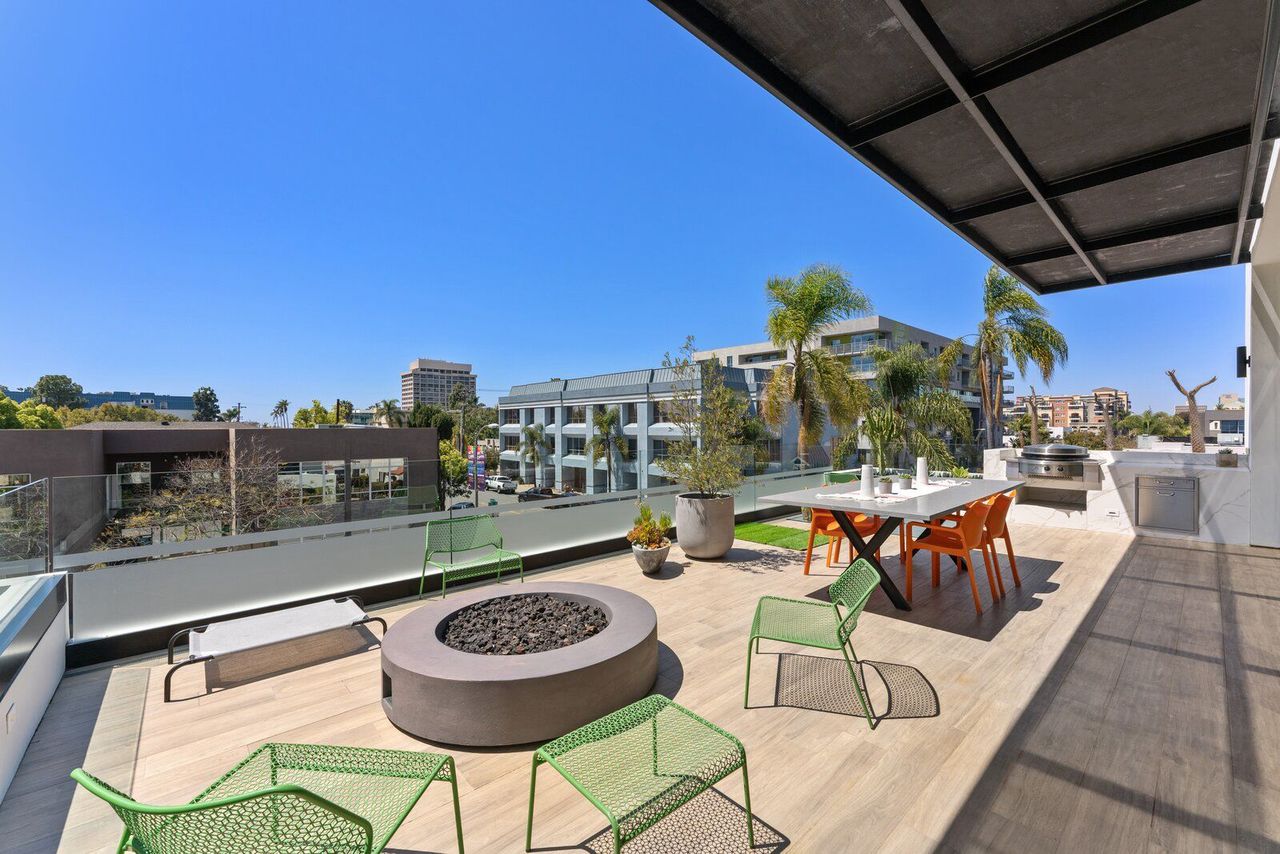 From the penthouse, Fleetwood sliding doors open onto the 5th Avenue balcony, which features a gas fire pit.

The current owner says that he built the project with "no detail overlooked. We always wanted to live in the heart of San Diego, where the ocean breeze meets Balboa Park. In a few minutes you can be walking one of San Diego's famous beaches and have a sunset drink overlooking all of the city at Mister A's." But, he adds, he also craved an "oasis that felt away from it all when we wanted to be just at home. "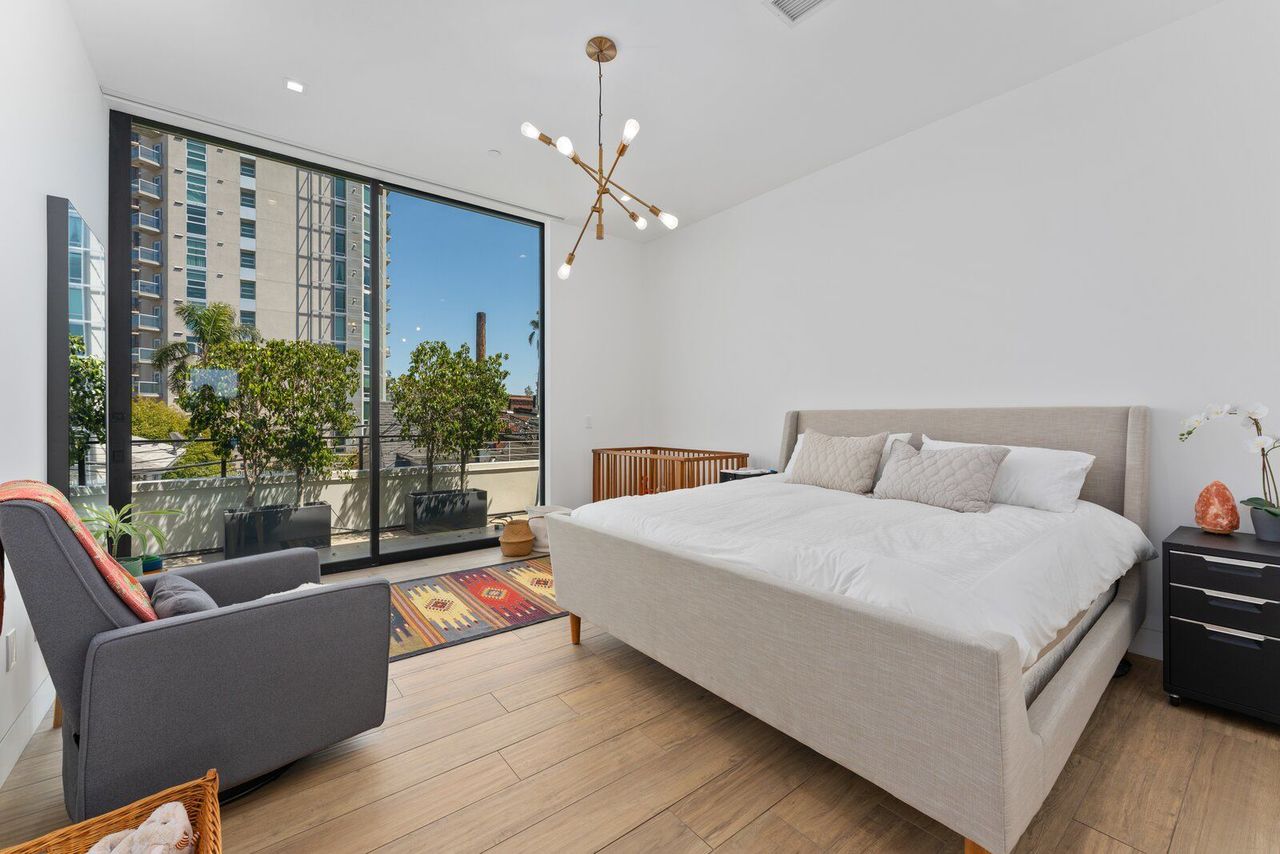 One of the penthouse bedrooms, brightened by another balcony in the rear.

The vastness of the building lends itself to different configurations. Units can be individually rented or a multi-generational family can take it over entirely. Above the main level, currently leased to a personal trainer, is a commodious office, complete with chef's kitchen, that faces 5th Avenue and can easily be converted into a two-bedroom, one-bathroom condo.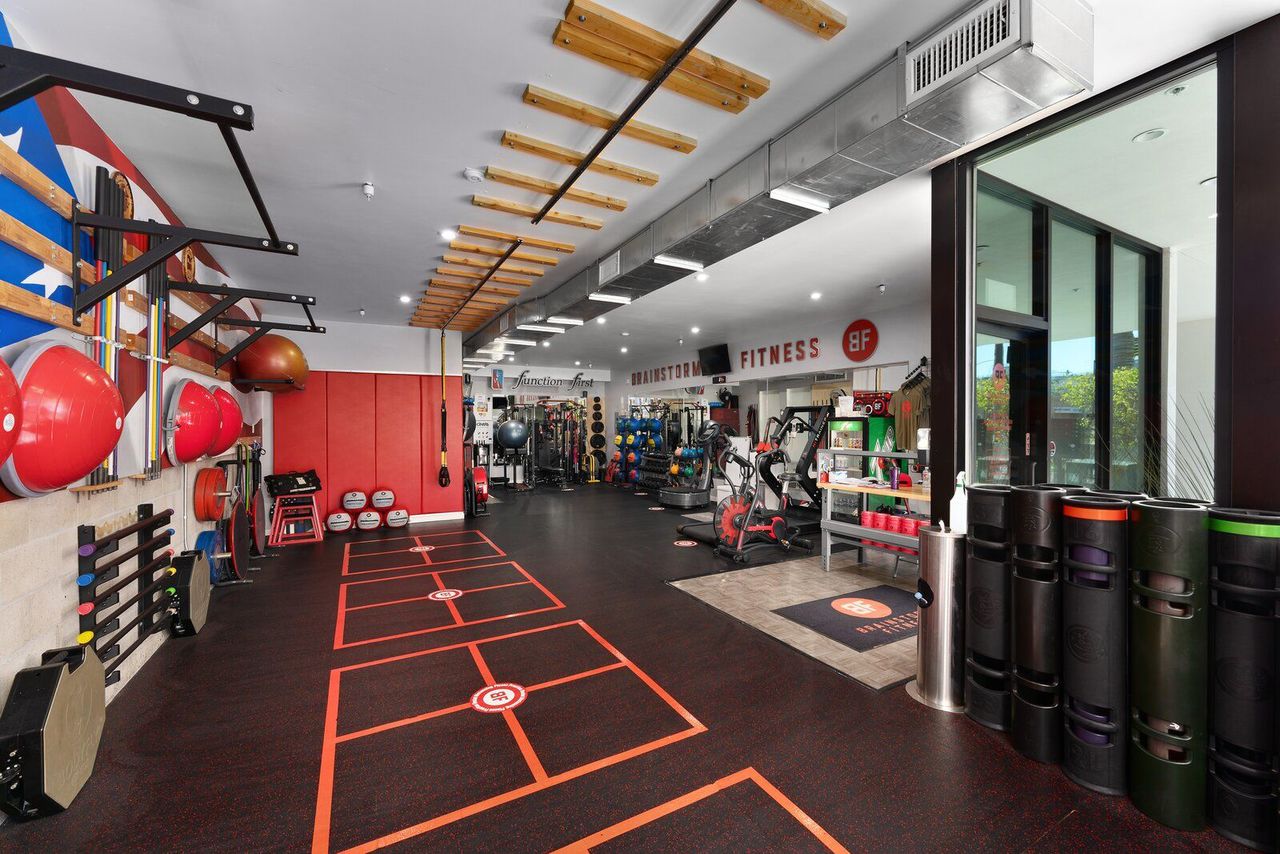 The retail space is fully air-conditioned and includes one enclosed bathroom. Equipped with pre-placed drains/grease traps and upgraded electrical that make it sound for a food service business, it is also designed to reduce sound.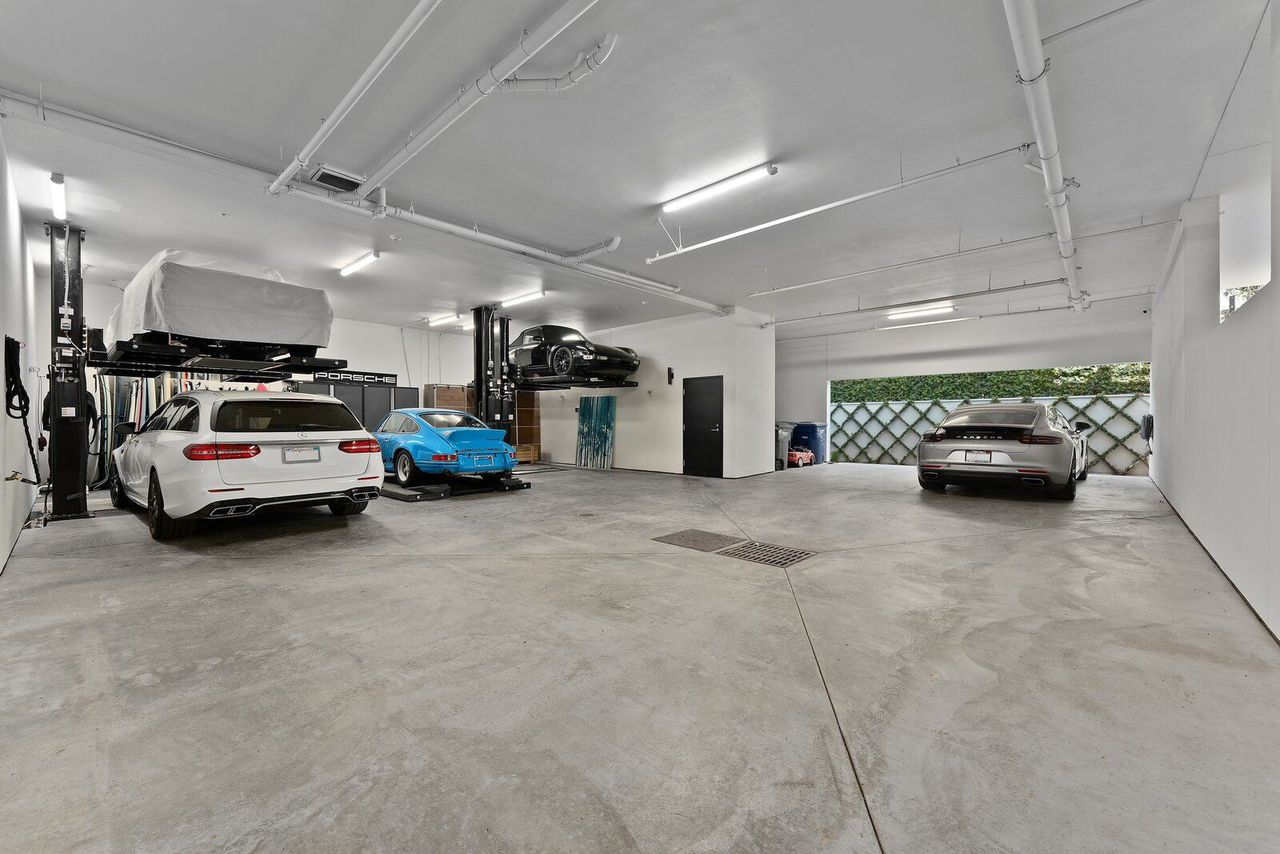 The expansive garage includes eight parking spots, a charging station for electric cars, and an oversized climate-controlled room perfect for wine storage.

The two-bedroom, two-bathroom unit in the rear of the second floor features such stylish conveniences as floor-to-ceiling Fleetwood windows that open onto a private balcony, planter boxes full of shade-inducing ficus trees, and a built-in bar with wine fridge.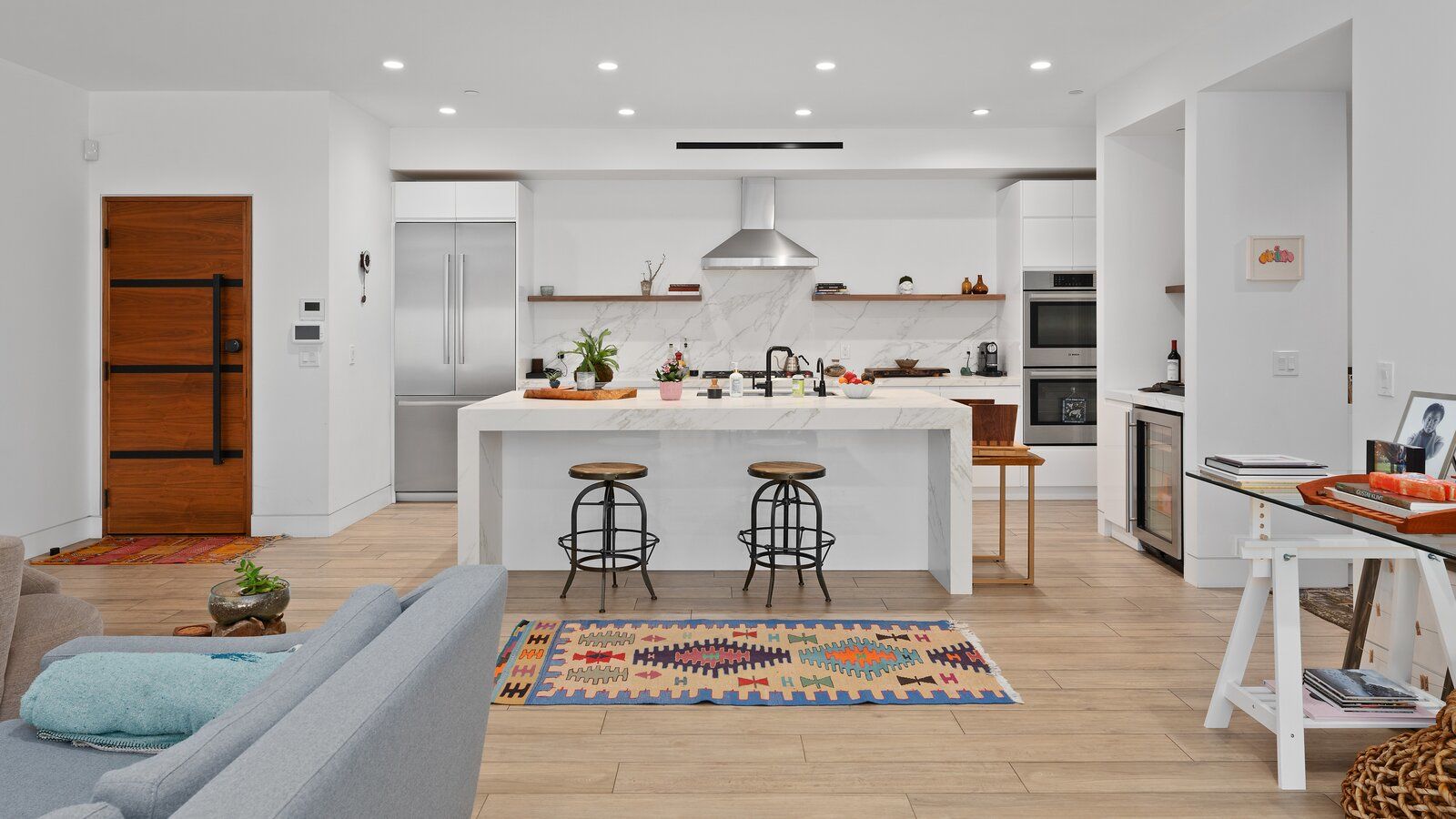 A walk-in pantry, built-in shelves, and Bosch and Wolf appliances are all showcased in the kitchen on the rear side of the condo.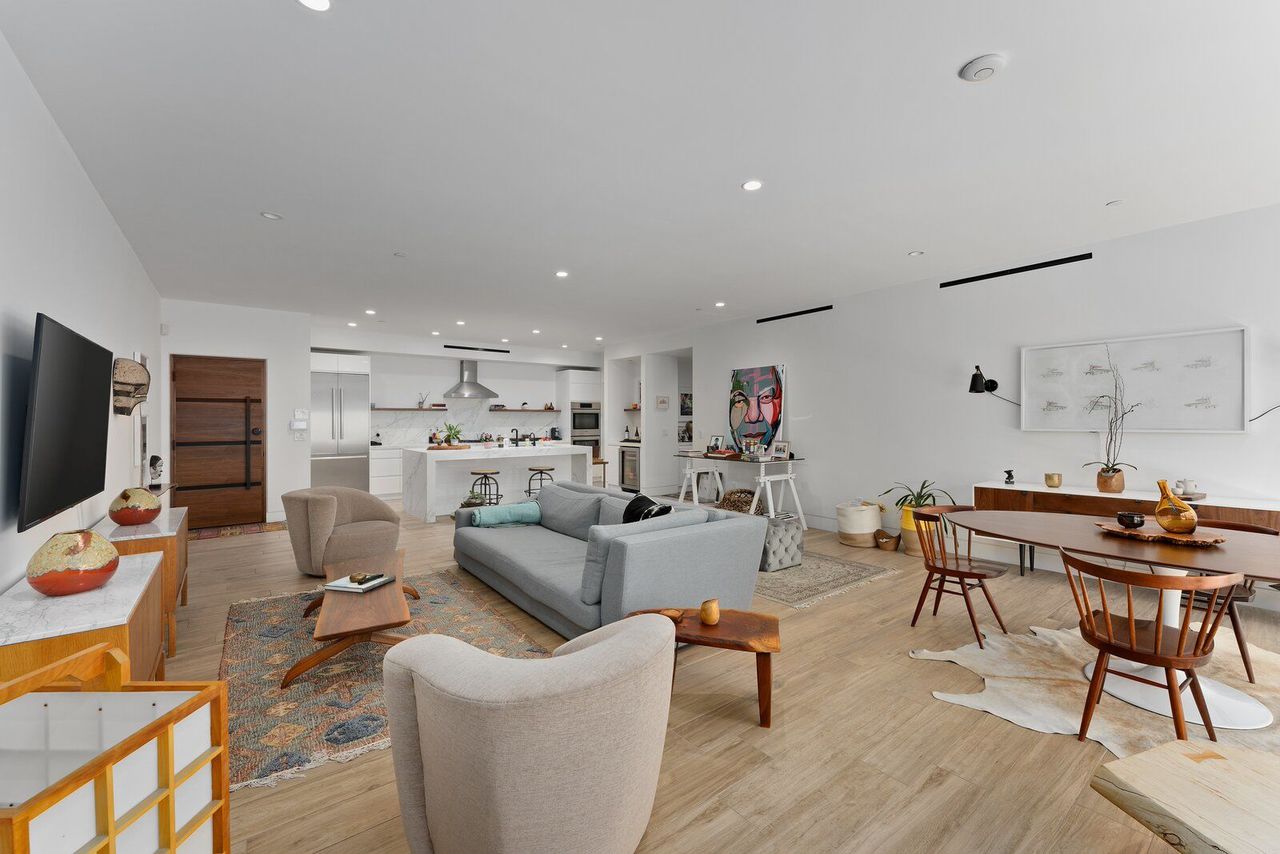 Ten-foot-high ceilings make the living area feel even more airy.

But, it's the dual-balcony, 2,800-square-foot penthouse that really steals the show, outfitted with towering built-in walnut cabinets, a colossal walk-in closet, and skylights that drench the space in natural light.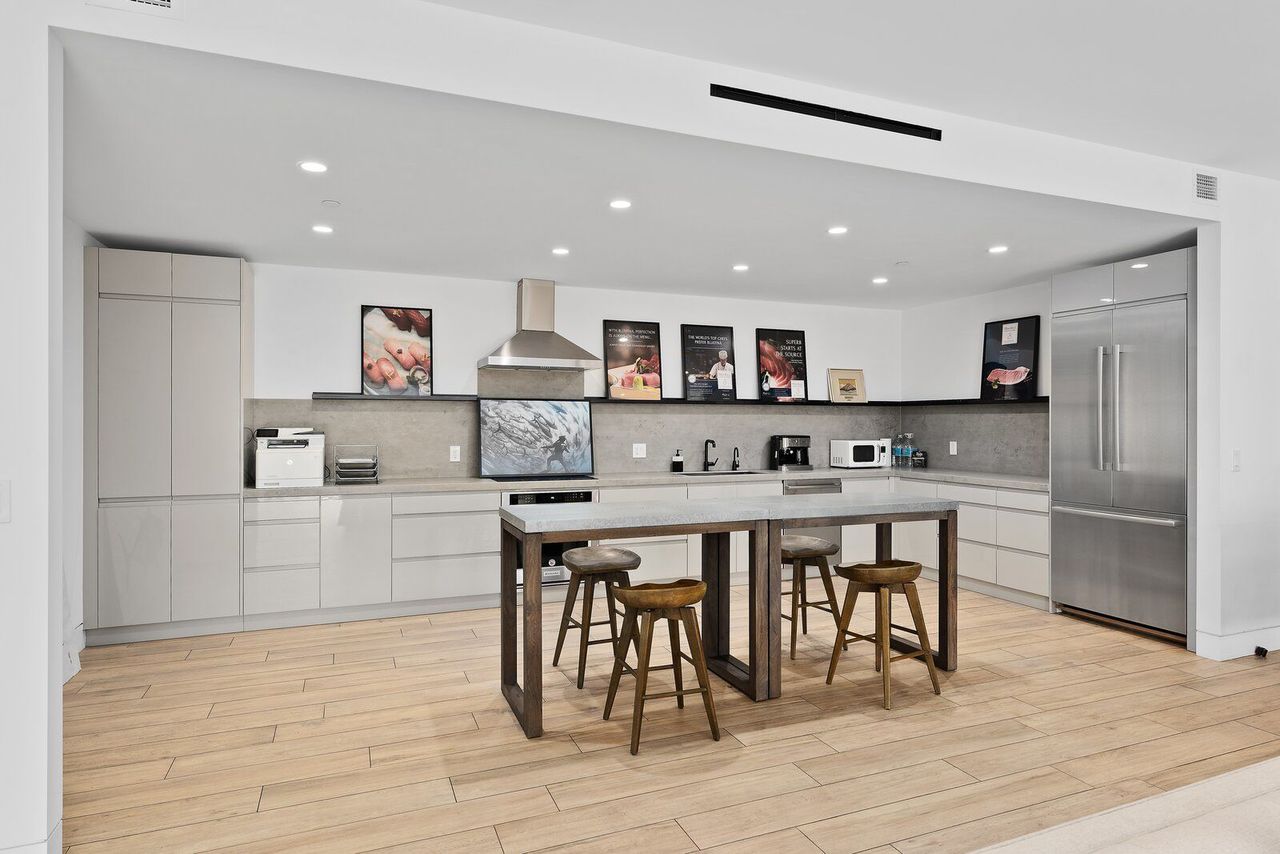 In the office, the chef's kitchen stars an induction cooktop and custom Neolith countertops that resemble concrete.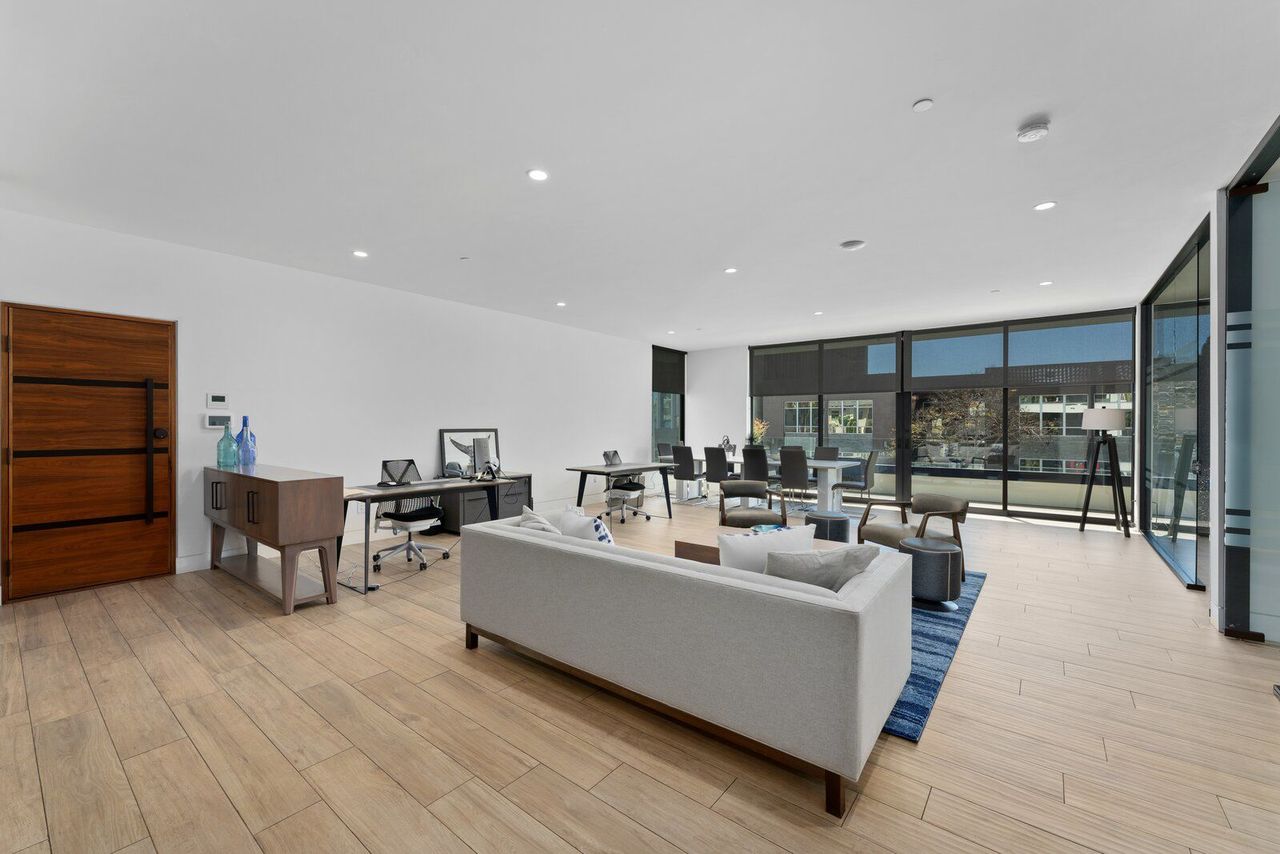 Sleek Italian porcelain wood-grained tile flooring, like that in the office, is found throughout the building.

Secured with solid steel custom gates and doors and a state-of-the-art security system centered on two-way audio and video capabilities, this property "is perfect for someone who prioritizes privacy," adds Crudo. "It provides the same aesthetic of a modern luxury building, but there are only a few units inside-the retail suite is accessed directly from the street-so the owner is in control of who lives here." Scroll ahead to see more of this versatile building, which is now listed for $6,495,000.