Deeply rooted in Finnish culture, the beloved sauna ritual is one embraced by the entire nation: Most Finns have a sauna in their own home, and apartment buildings often provide a space for a communal steam. So it doesn't come as a surprise that when Finns build holiday homes, a deluxe sauna cabin is often part of the plan. After seeing a log cabin sauna that Helsinki-based prefab builders Pluspuu had erected for her friend, Hanna Löyttyniemi-Vuorio tasked the firm with building a similar structure for her own family on their plot of land in Heinola.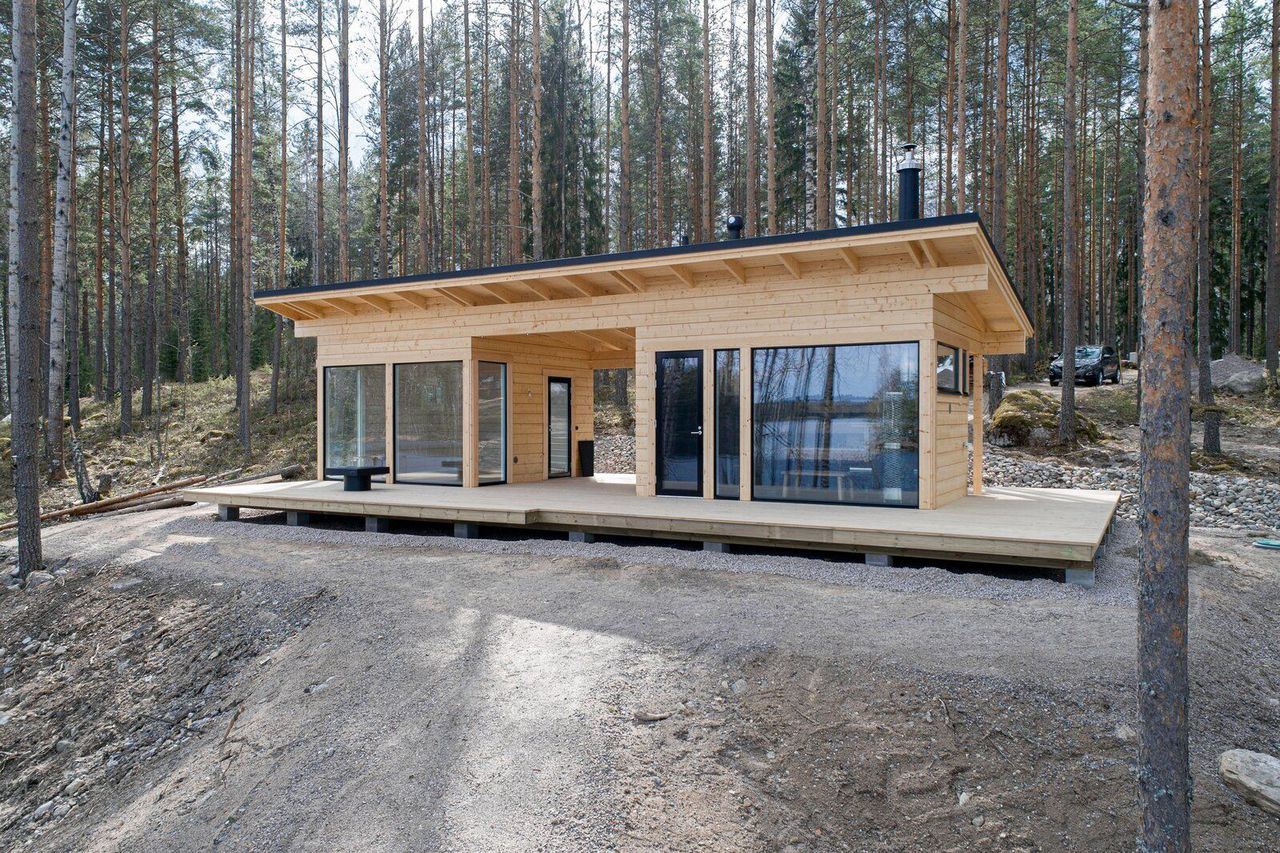 The Luoto sauna cabin is perfect for lakeside settings where its full-height glazing provides unobstructed views. The structure's elongated profile blends in with the surrounding shoreline.

Since 2017, Pluspuu has used the latest in Finnish log construction technologies to create a range of high-quality prefabs-both homes and saunas-that feature an aesthetic update to the log cabin typology of yore. Hanna chose the company's Luoto model, a single-story, roughly 290-square-foot structure that comprises a sauna and living space under a single shed roof. For Hanna and her family, Pluspuu customized the model to include floor-to-ceiling windows and doors, and an expanded terrace. "This is how Pluspuu works-we modify our own models according to our customer's wishes, while also taking into account the requirements of the building site," explains Markku Miettinen, cofounder of the company.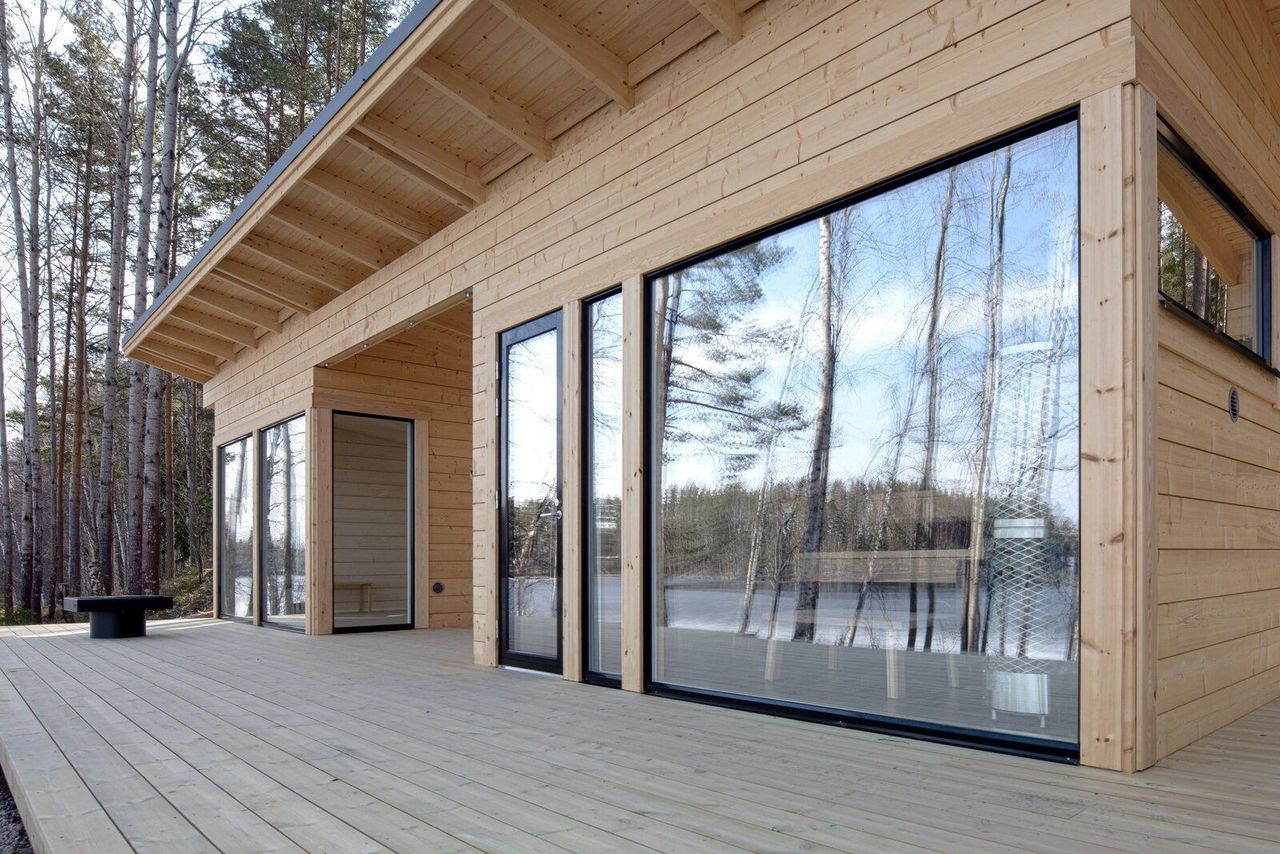 Pluspuu customized the structure to meet the family's needs, sizing the windows and doors to their specifications and including a large covered terrace to better enjoy the cabin's natural setting.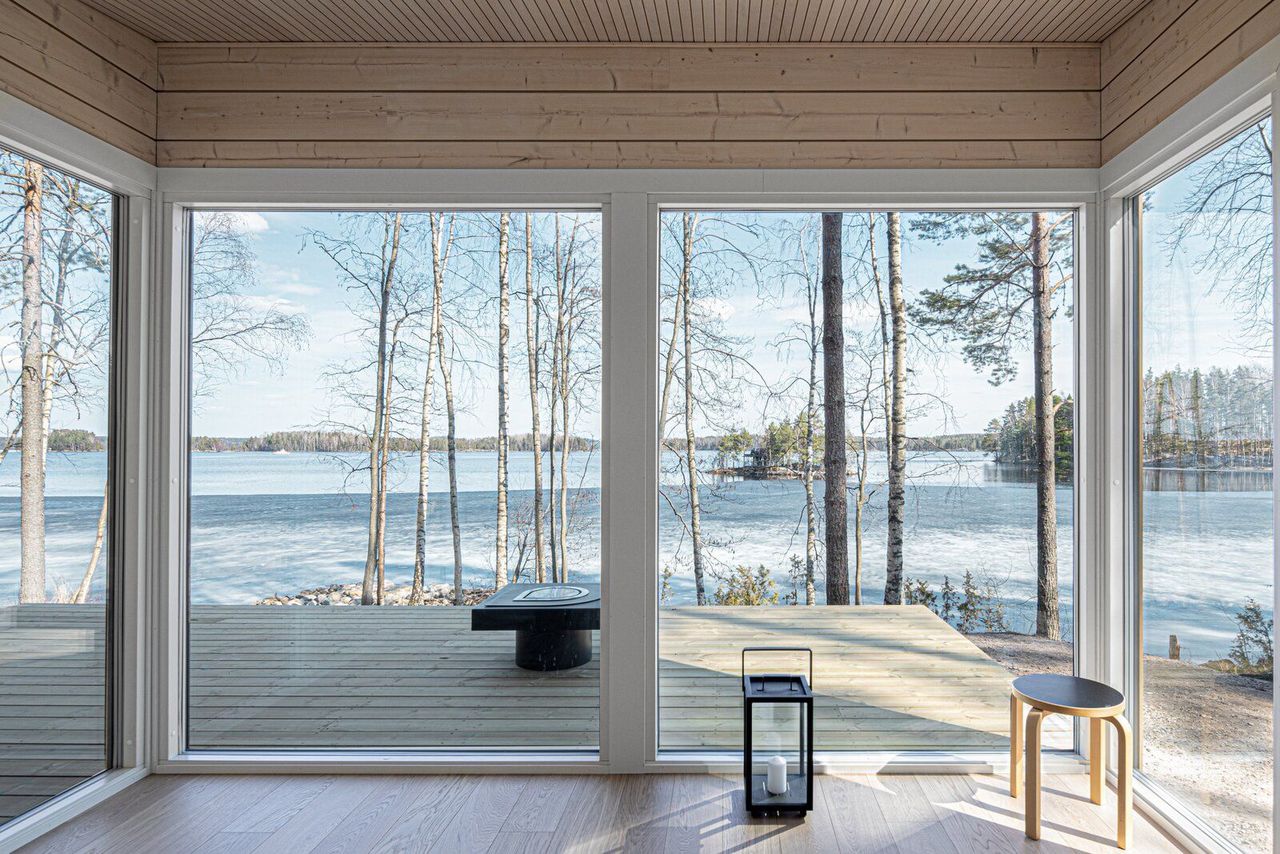 Full height windows allow for expansive views. "You can feel the nature inside the cabin because the big windows allow for views of the lake and forest," explains Hanna.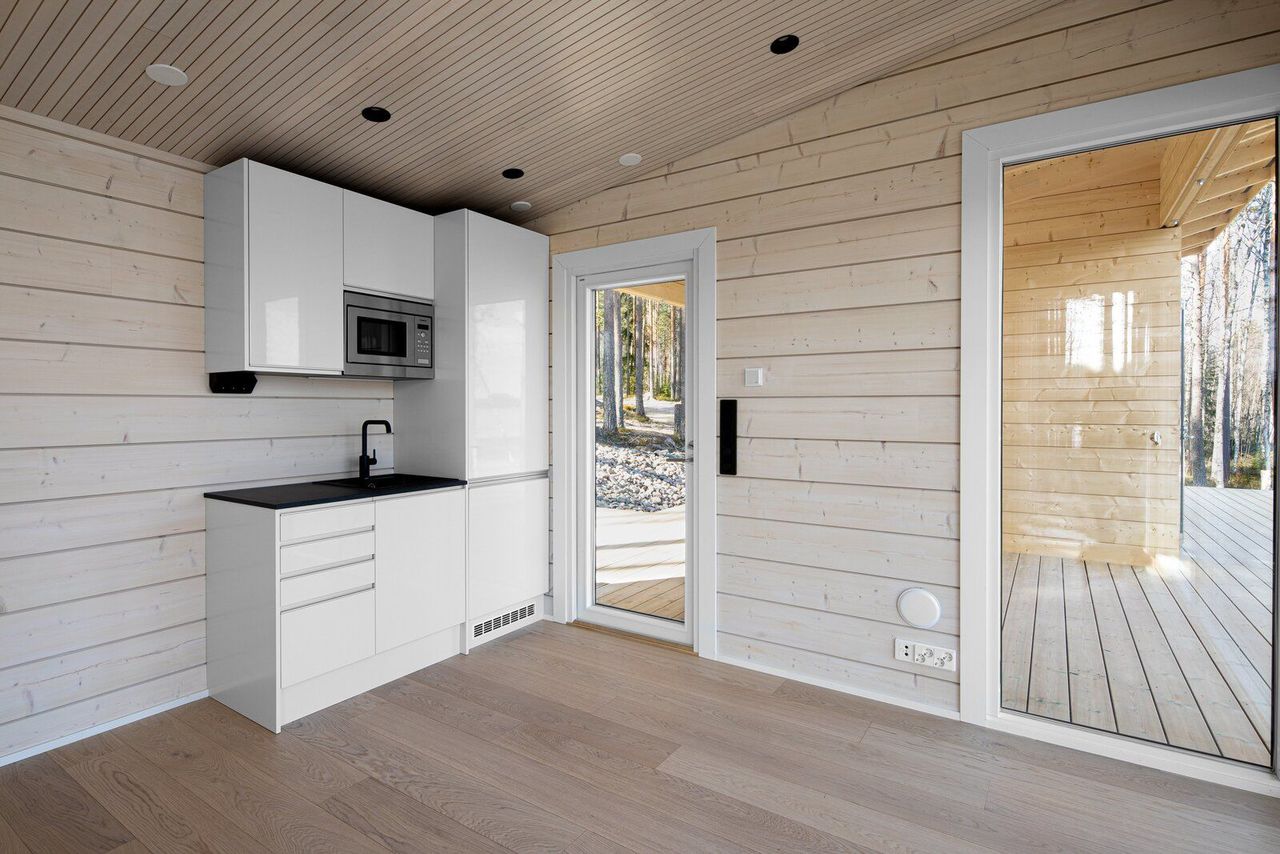 A small kitchenette was added to increase the unit's functionality.

Built from 134-by-195 millimeter spruce lamella logs-a common building material in Finland-the minimalist, Scandinavian design is broken into two volumes situated atop a wraparound deck. On either side of a breezeway are the open-plan living space with a kitchenette, and a sauna with a wood-burning stove and shower.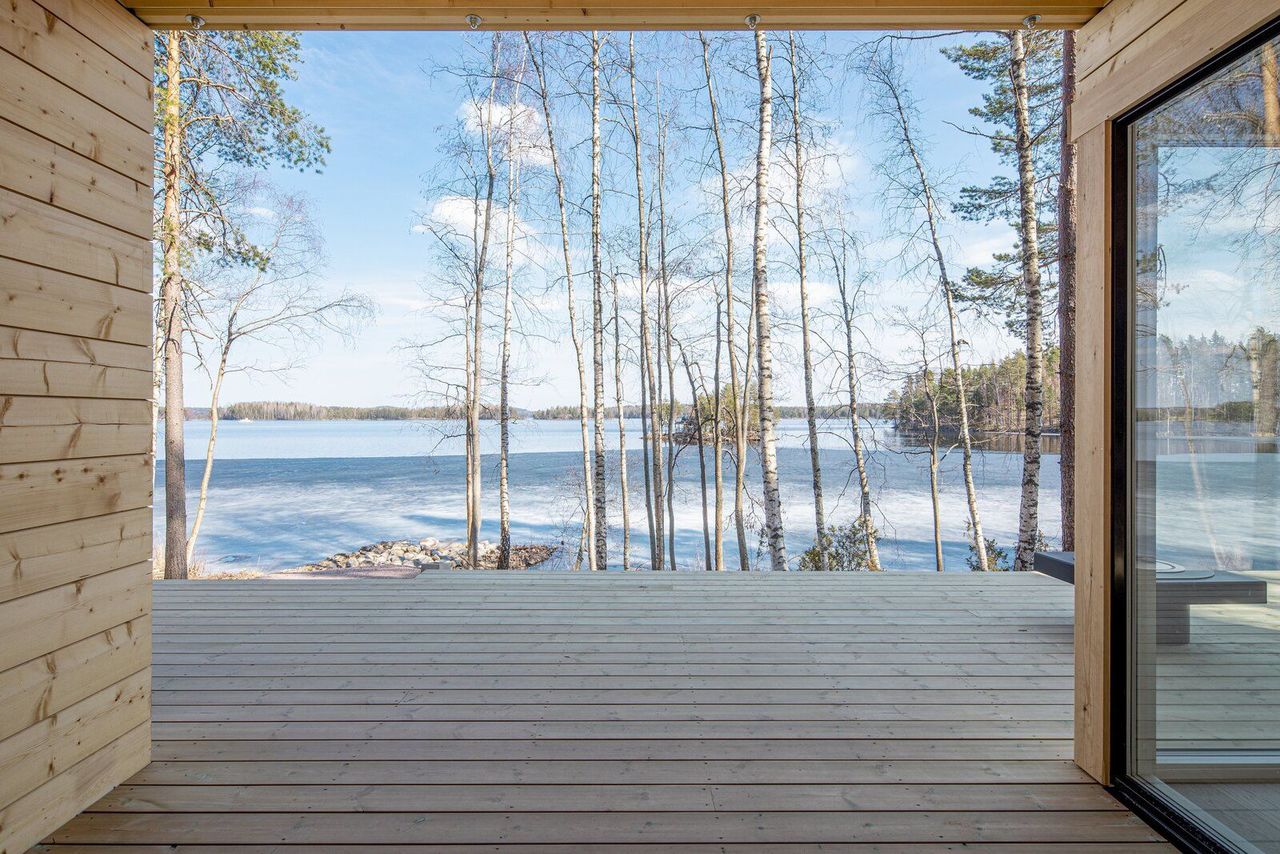 The two separate volumes create a breezeway that frames views over a body of water called Ruotsalainen.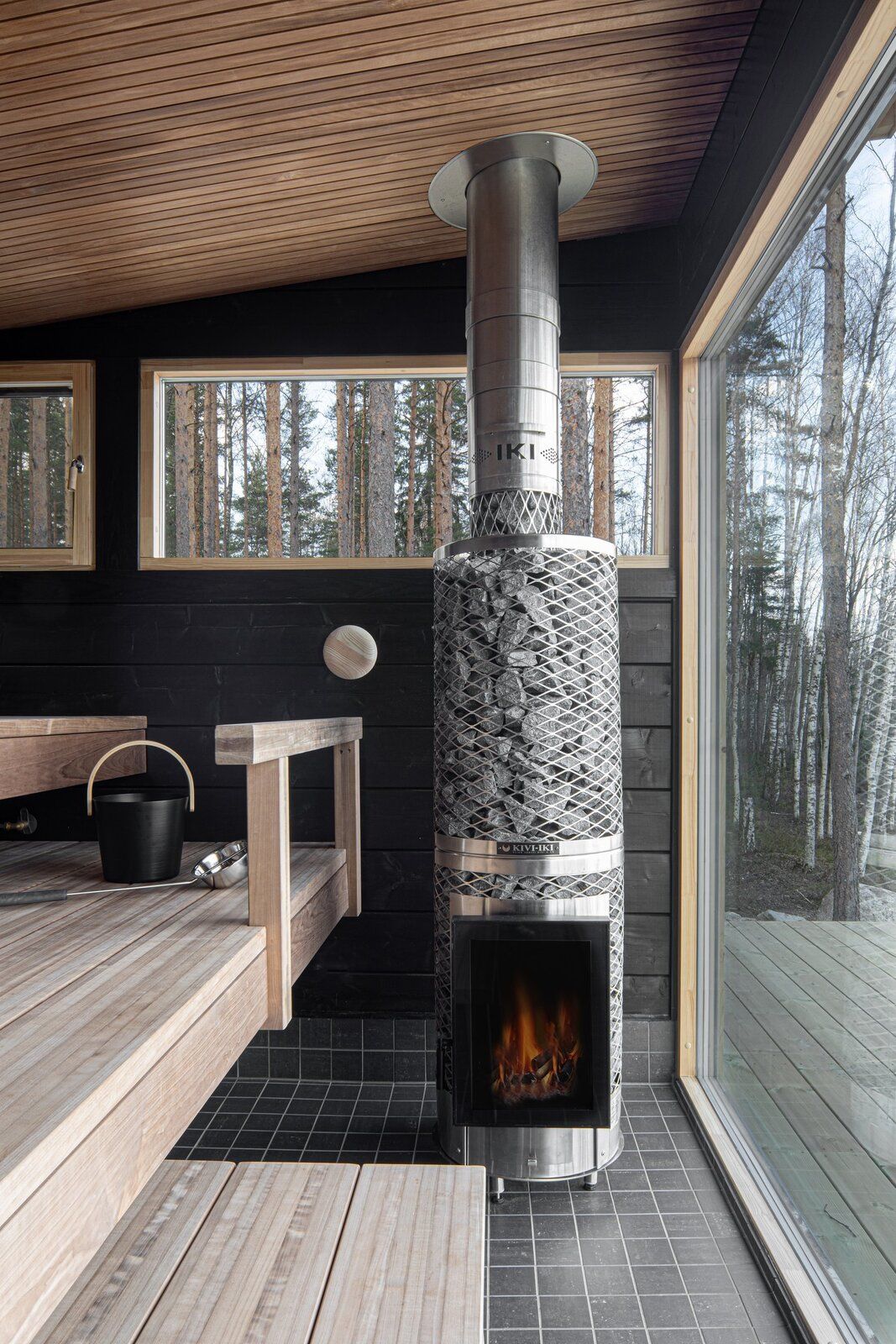 The wood-burning sauna stove is made by Finnish company IKI.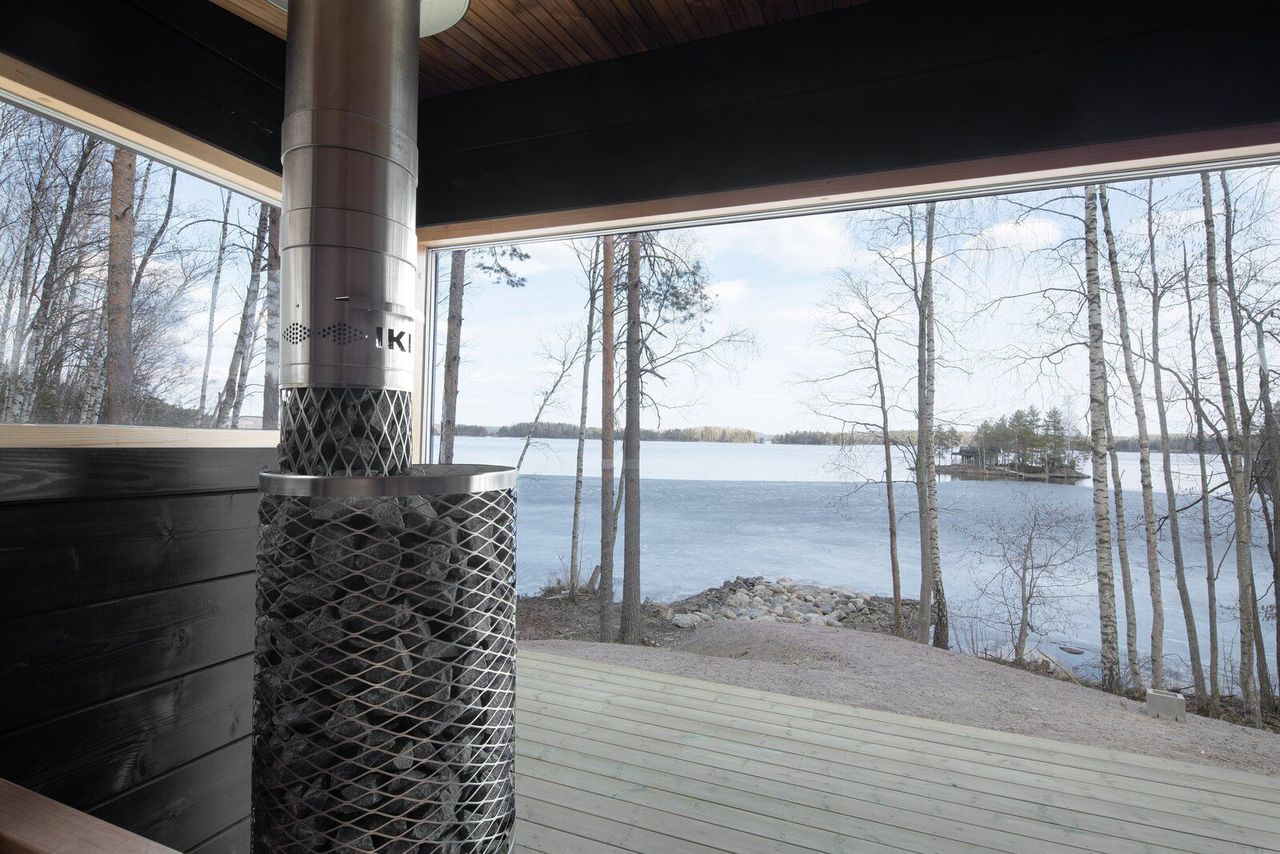 Full-height windows in the sauna give the space an indoor/outdoor feel, and a stunning view.
Adjacent to a lake called Ruotsalainen, the forested site is perfect for engaging in the après sauna custom of emerging from hot steam-the steam is called Löyly in Finnish-and taking a cold plunge in a nearby body of water for a brisk cooldown. "We also have a sauna in our home in Helsinki," explains Hanna. "But it is an electric city sauna. There is nothing better than a wood-burning sauna stove."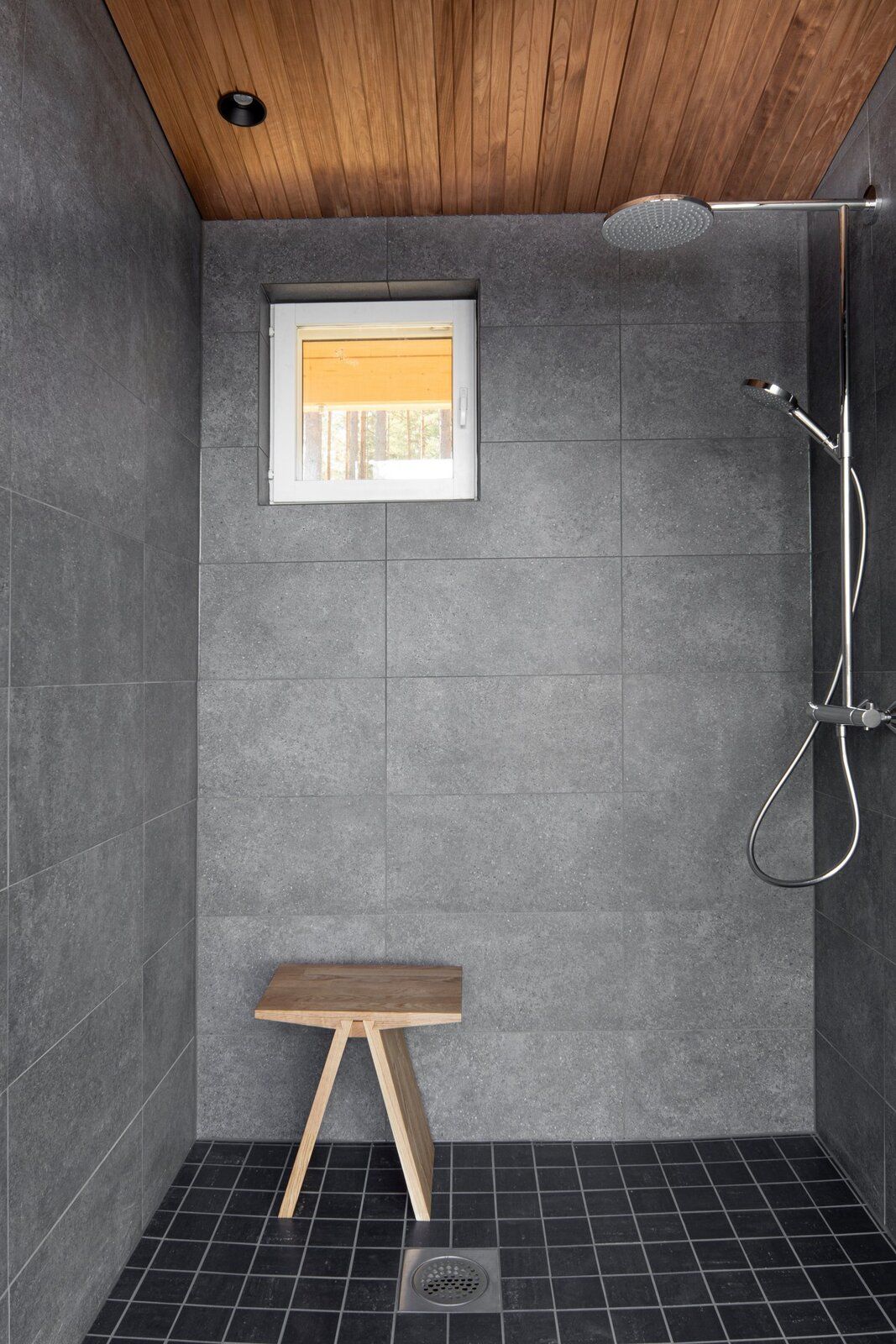 A shower in the same volume as the sauna provides a place to clean up pre- and post-steam.

Now that the sauna is complete, the family will soon embark on their next project: a customized retreat adjacent to the sauna using Pluspuu's Kustavi model. "We will then have more room to invite family and friends along to enjoy the beautiful Finnish summer," shares Hanna. "But the heart of our property will always be the sauna. Here, time stops and we aren't in a hurry anymore."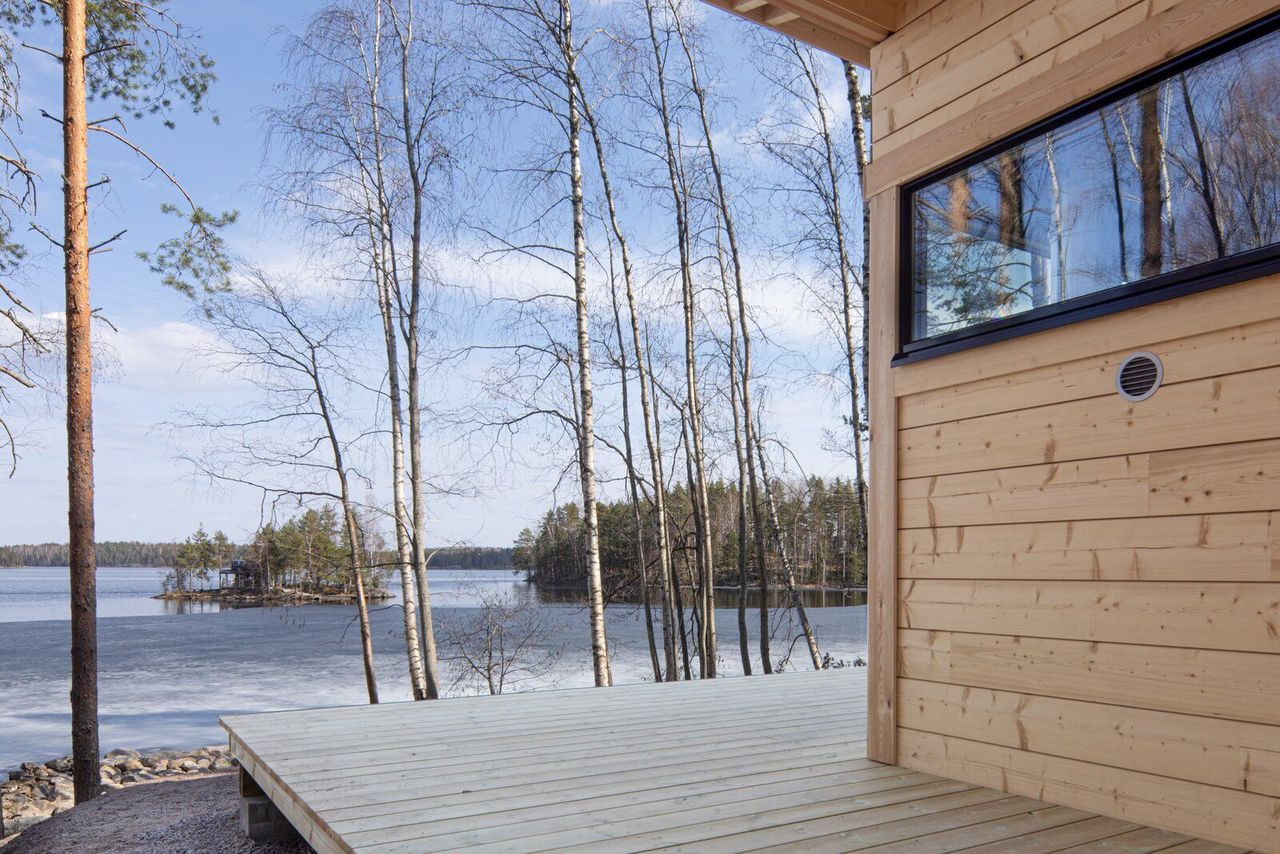 Pluspuu has a total of 15 different sauna models. This project-including the custom request for full-height glazing-came in at a total of roughly $49,000.