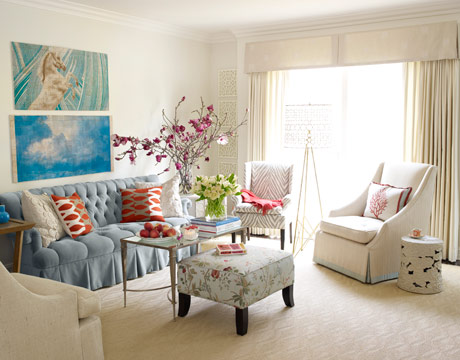 A Modern Living Room
MELISSA WARNER: My boyfriend calls it Disneyland. He says it's the happiest place on earth. The furniture is lighthearted, without a lot of hard edges. But I think it's the colors, patterns, and especially the dressmaker details on some of the classic pieces that bring it to a different place. I'm huge on the embellishments — the flanges, the trims, the welting.
That explains the girly feeling. How old are you?
I'm 30. I founded a firm in San Francisco in 2008 with two other women, called Massucco Warner Miller, and we're expanding. We recently opened an L.A. office. This is my L.A. pied-à-terre.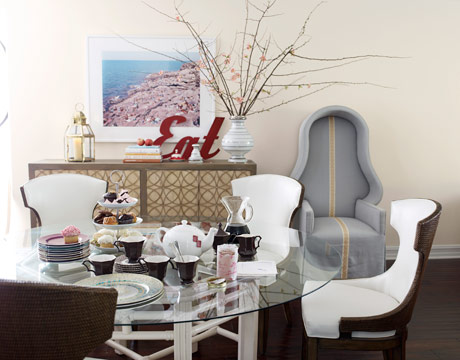 A Light and Cheerful Dining Room
Can you explain how you use color to animate a room?
You should always use color in a way that gives you flexibility in the future. In a bedroom, do a chair or settee in neutral tones and go bolder on the bedding. That way, when you're tired of it all, you can change the bedding and it all looks fresh and new.
In your office, the boldest color and pattern is on the closet doors.
I have a two-bedroom apartment because I need an office. But there were sliding mirrored doors on the closet, so the office still felt too much like a bedroom. A quick fix was to turn the doors around and slip them back in their tracks. Then I covered them with that overscale poppy print wallpaper. It just brings the room alive. When I move out, I can strip off the wallpaper, turn the doors back around, and it'll be like it never happened.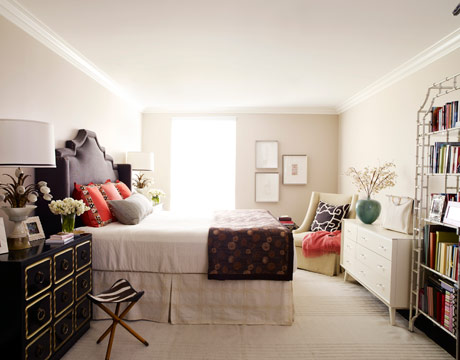 Details in the Bedroom
Great trick. Any more advice on decorating a rental that you know you'll eventually leave?
Paint rentals in light colors because it's easier to repaint when you move out. And paint last. People want to paint before they move into a house. But it makes more sense to pick fabrics, furniture, and rugs first. Otherwise, you limit yourself. Paint is limitless. There'll always be a paint color that works with whatever you choose. Another thing you can do is switch out light fixtures. It's a big improvement, and it's totally reversible — you can take them with you.