Part design firm, part management agency, Noiascape Studio has long championed alternative ways to live and work in cities. Its latest project, High Street House, offers a chance to do just that in the heart of London. Crafted in collaboration with Teatum & Teatum Architects, High Street House is designed as a co-living/co-working space, and presents a collection of eclectic modern flats-one of which is now up for grabs.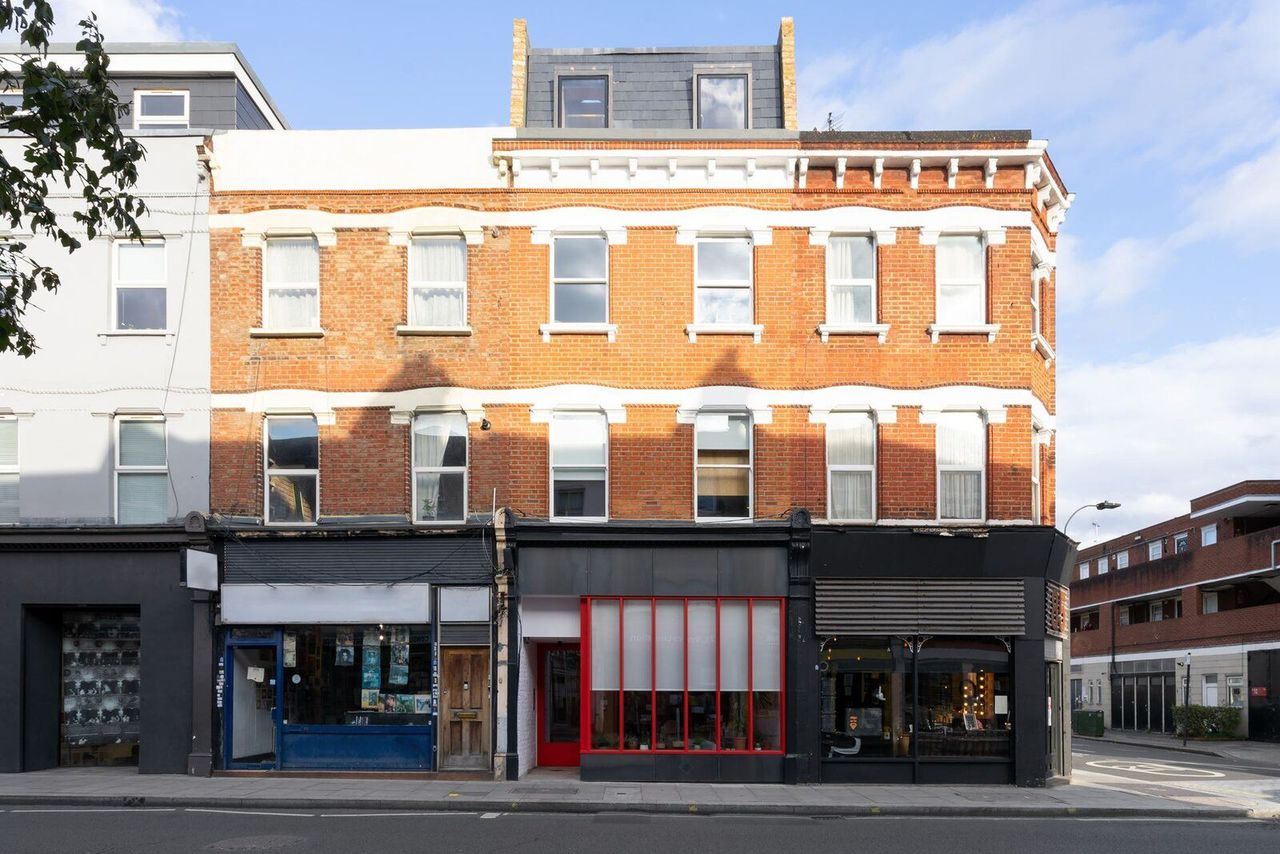 High Street House is a multi-level co-living/co-working space occupying the middle section of a historic brick building in West London. The co-working lounge and studio is sited on the ground level, just beyond the floor-to-ceiling glazed wall that is trimmed in a vibrant shade of red. City Studio, the apartment currently available for rent, is perched on the top floor of the building.

Spanning the building's entire top floor, the apartment-known as City Studio-encompasses numerous notable features, such as the wood-lined living room and sleeping area. Custom bespoke furniture can be found throughout the open floor plan, which is brightly lit thanks to deep-set windows and skylights. Yet, what might be considered the most eye-catching characteristic of the dwelling is its Gumby-green resin flooring.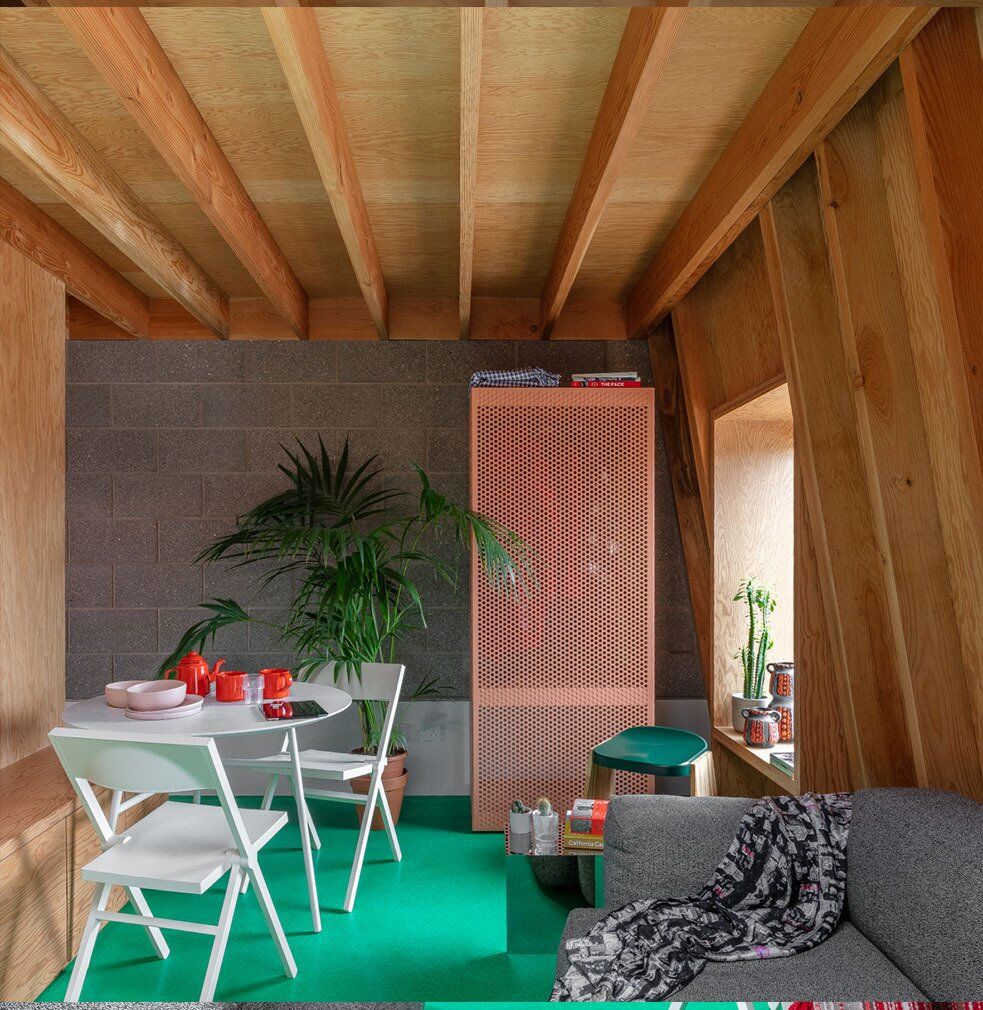 Inside the flat, a bright green resin floor (which is also heated) spans throughout, contrasting against the neutral-toned wood and cement walls. A light pink perforated storage cabinet adds another pop of color to the space.

The vibrant hue spreads across the entire studio, except for in the bathroom, which is lined from top to bottom in pink hexagonal tiles that add another cheerful pop of color. A black-framed glass door near the shower opens up to a private terrace. Enclosed by perforated red metal panels, this spacious outdoor space can also be accessed via the kitchen.

Residents of the building are granted access to a shared work studio, as well as a shared kitchen that can accommodate larger gatherings. Further, Noiascape hosts monthly supper clubs as a way to encourage interaction and promote a sense of community. "Cities are social," notes the firm. "When you live in a Noiascape building, you are connected to something bigger that stretches beyond your front door."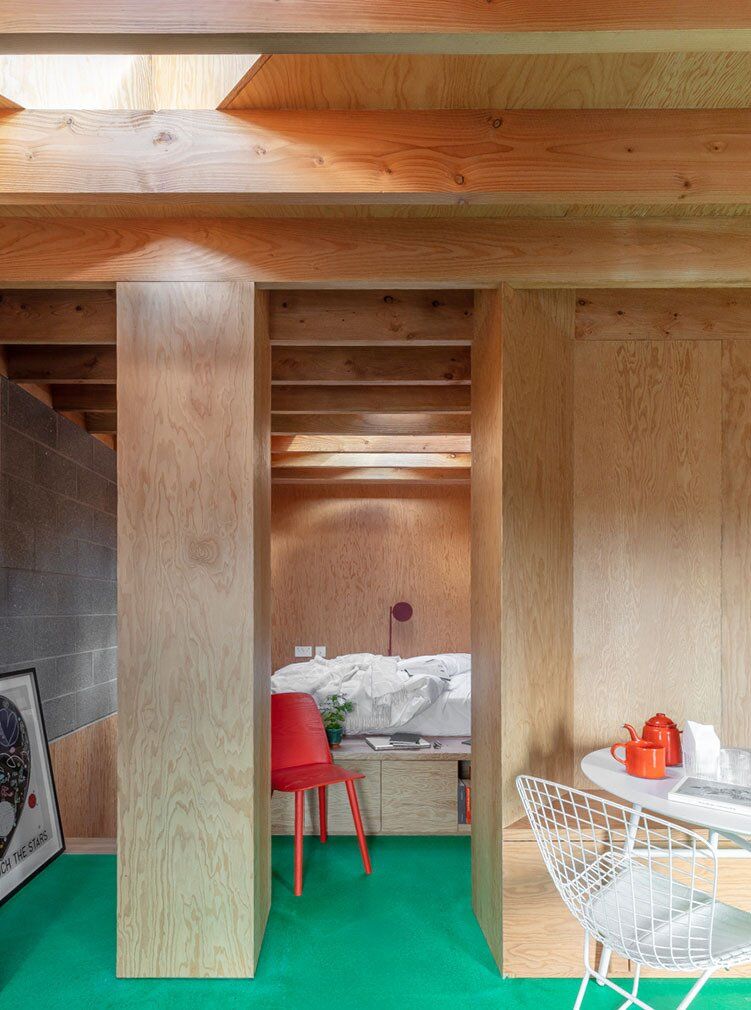 Noiascape Studio designed the various areas in the studio to be separated by bespoke joinery. The wood-lined sleeping area features a custom Kerf Works bed.

Following up on that ethos, the firm offers residents in the High Street House access to an array of other shared spaces they are designing in London, including gardens and libraries. Keep scrolling to see more of the City Studio flat, which is currently available as a fully furnished rental.




The partly enclosed sleeping area is illuminated by a small skylight. Custom cabinetry provides ample storage as a way to help maximize the studio's layout.




Pink hexagonal tiles line the walls and floor in the bathroom, which has a large glass shower.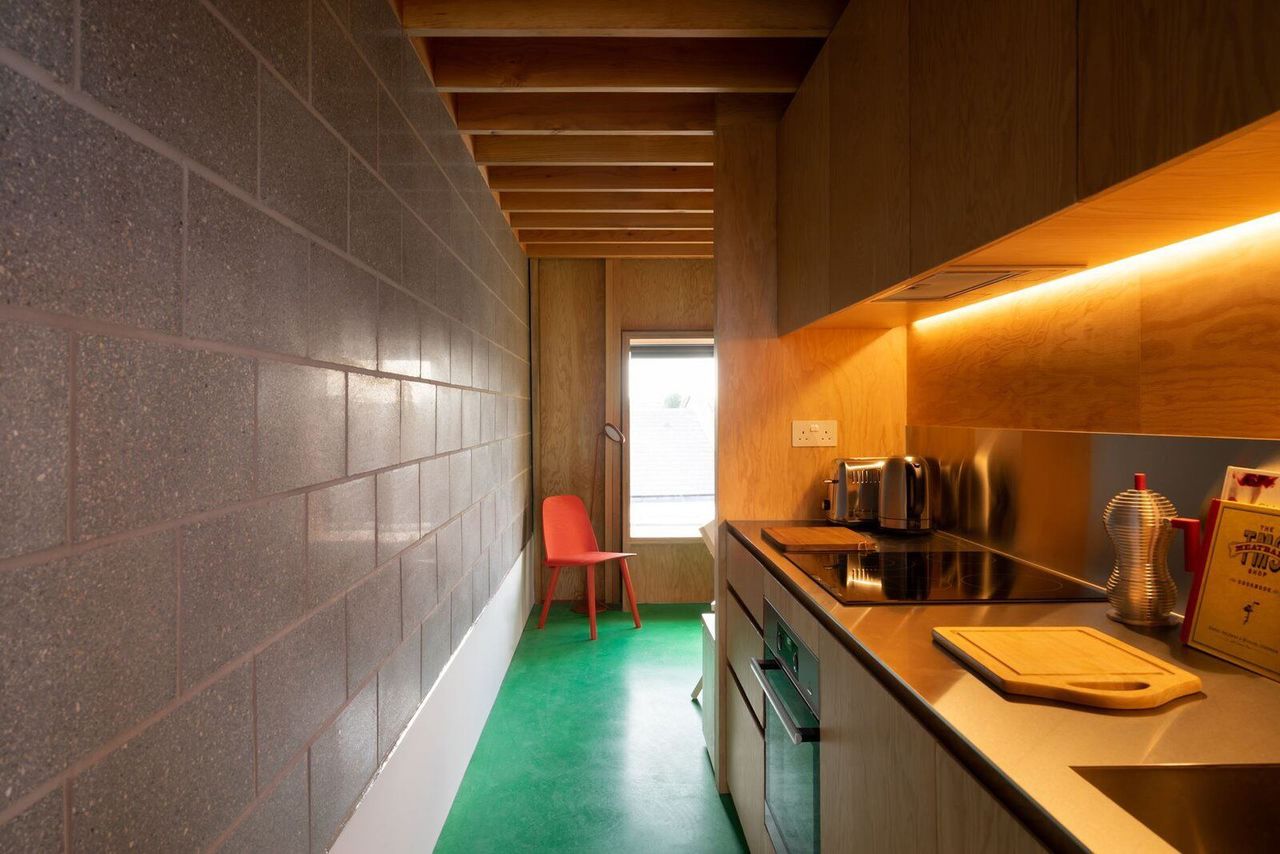 The kitchen, located on the other side of the living area, is equipped with all new appliances, as well as a stainless-steel countertop and backsplash.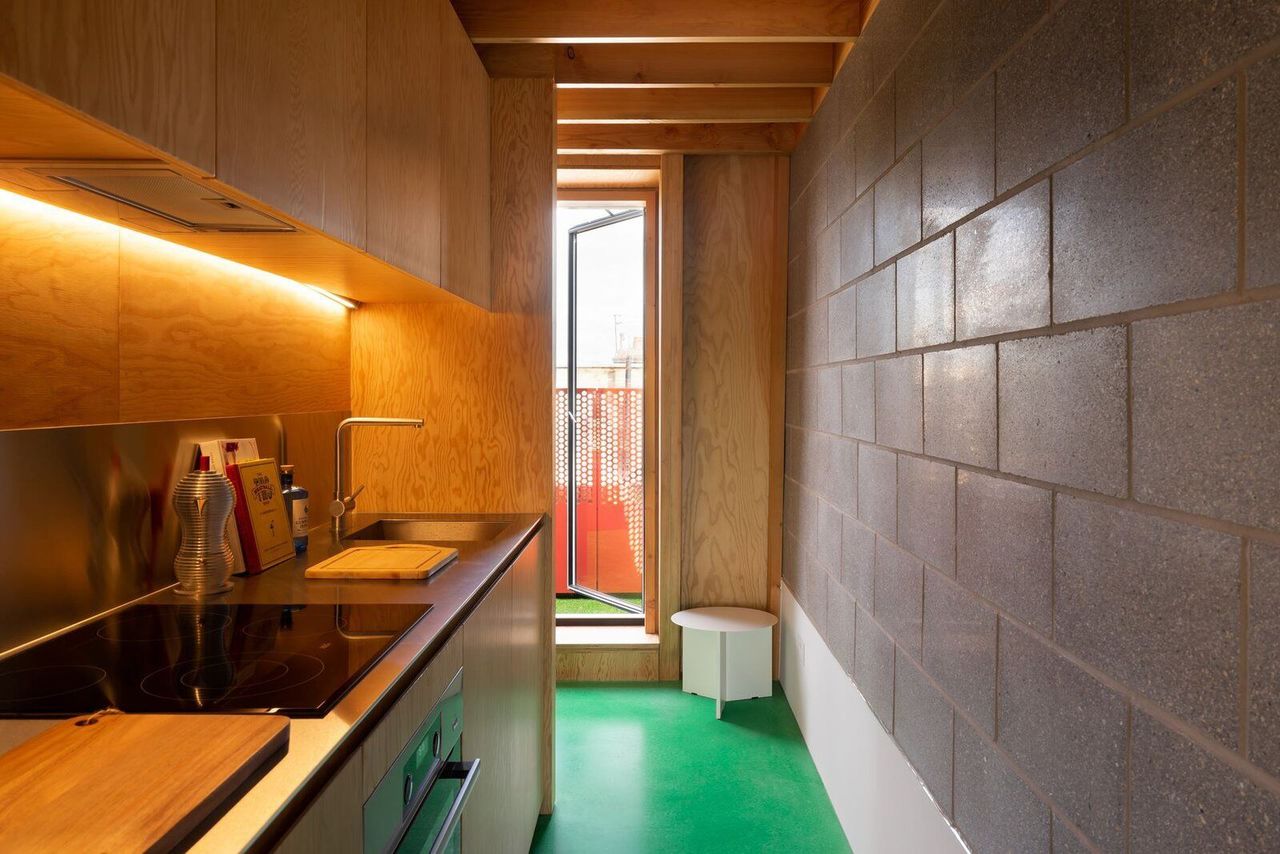 Steps from the kitchen is a floor-to-ceiling glass door that offers access to a private terrace.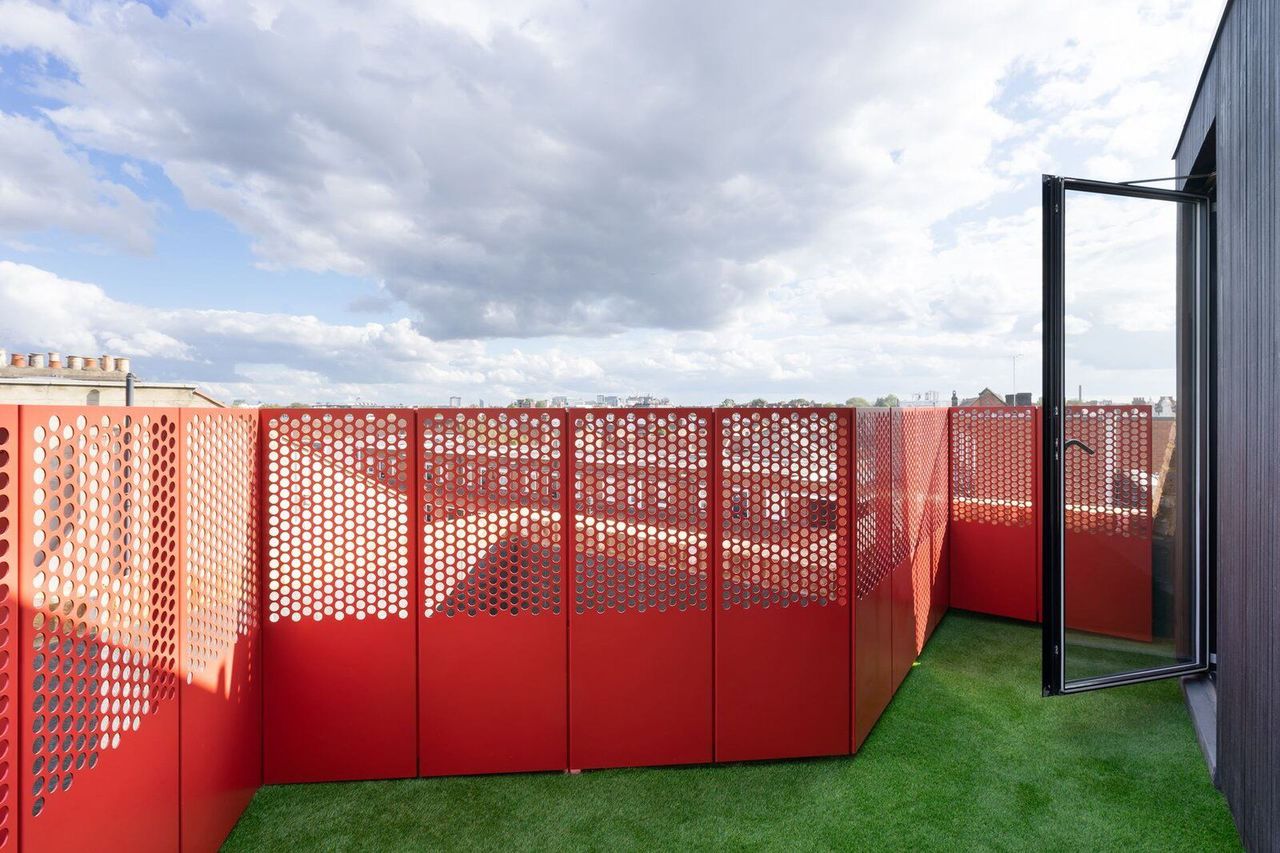 The outdoor area frames sweeping views of the city, and is enclosed by red perforated panels.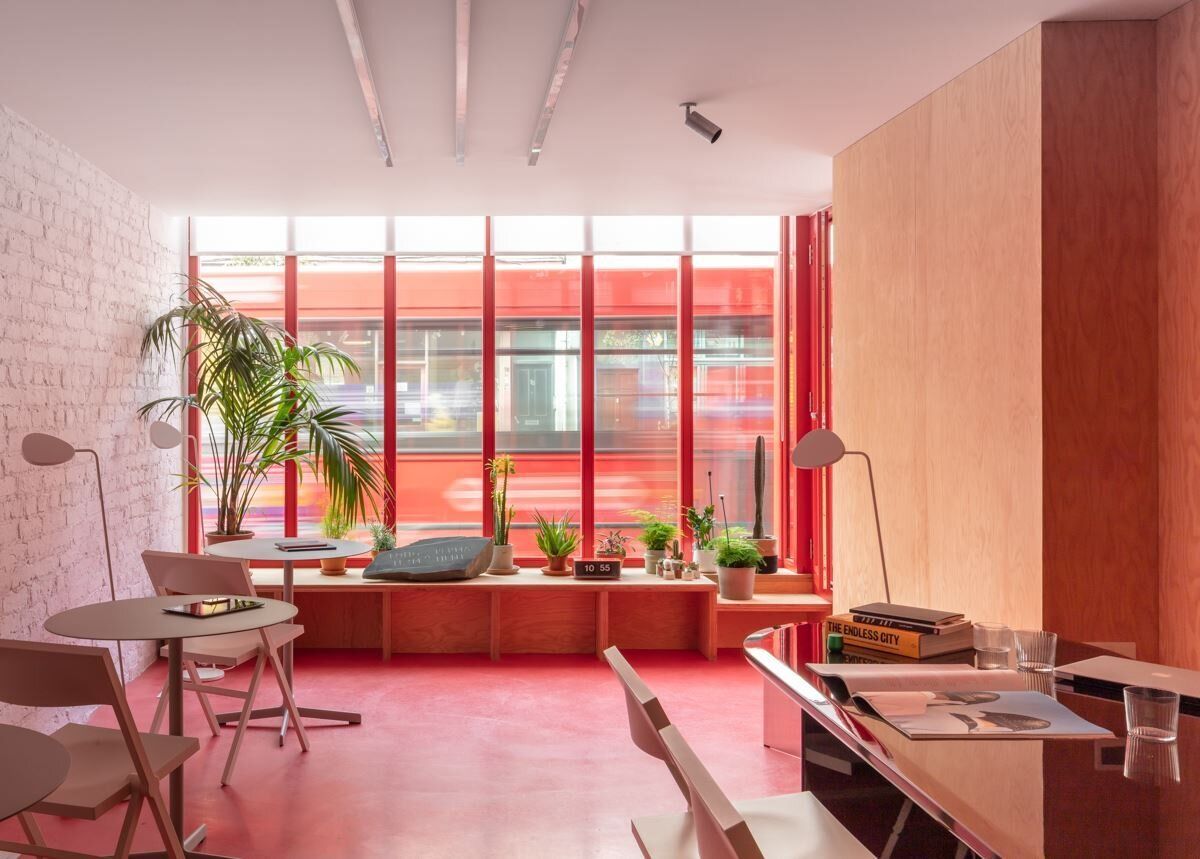 The communal work space on the ground level shares a similarly vibrant aesthetic. Residents of High Street House have access to meeting rooms, a kitchen for entertaining, and a calendar of hosted events.