After waiting five years to find out if their home was going to be destroyed by the construction of a proposed freeway, two sisters and their friend finally got the go-ahead to renovate the Victorian they share in the leafy suburb of Kensington in Melbourne, Australia. The residents followed up with designer Kim Kneipp, who had done some restyling work on the late 19th-century dwelling years prior. The brief was simple: Reconfigure the kitchen, laundry room, and bathroom to improve circulation, bring in more natural light, and make the home more sustainable.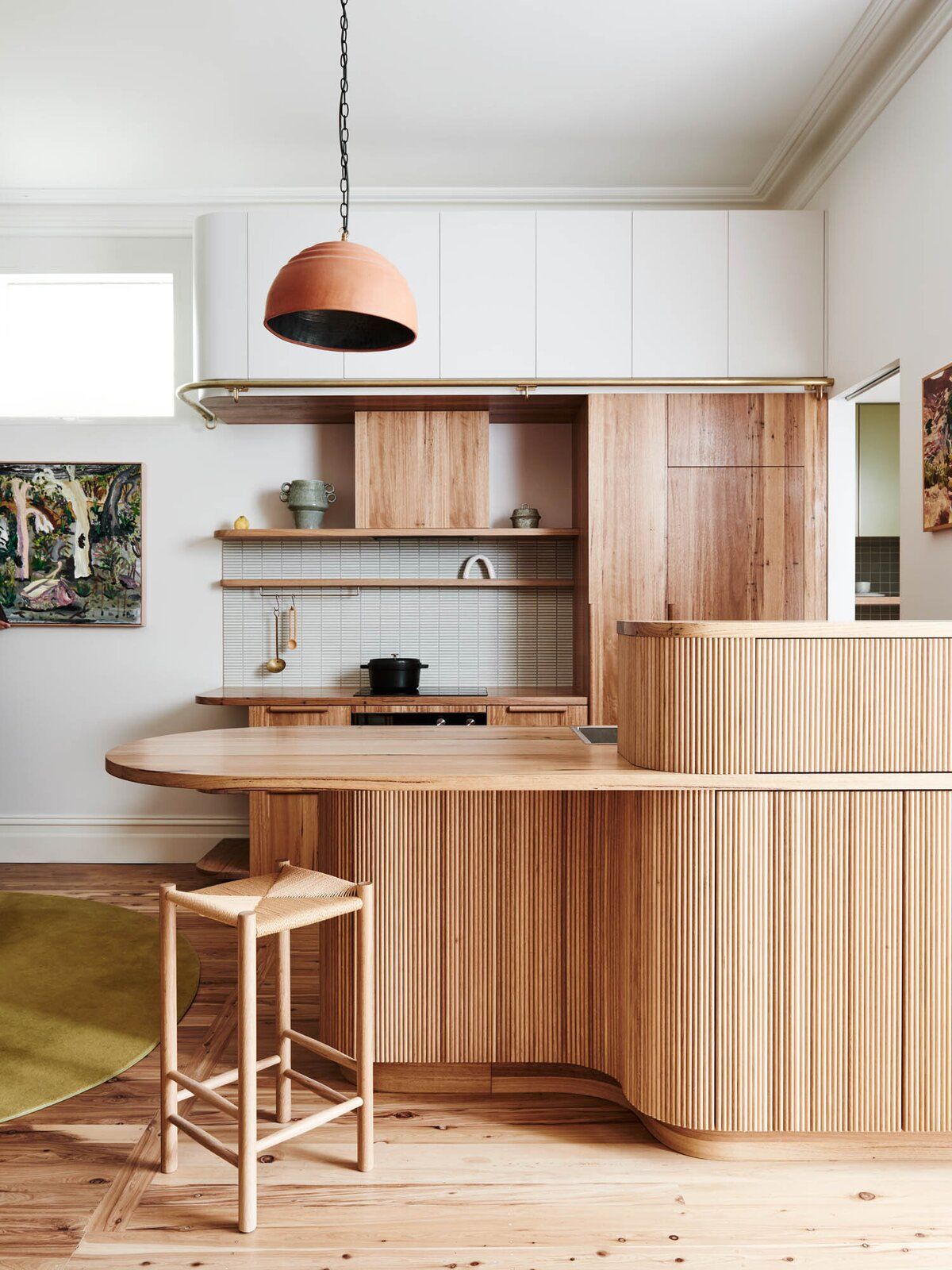 During the initial renovation, Kneipp designed floor-to-ceiling shelving in the dining room, which "removed a lot of the clutter they had [and] started to transform the way they lived," Kneipp says. This time around, custom joinery was also central to the revamp.



Due to a combination of budget constraints and the desire to avoid further delays by applying for building permits, Kneipp worked entirely within the home's existing footprint. The designer rotated the kitchen 90 degrees, moved a boarded-up window, and cut back an internal wall to create a clear sight line to the courtyard. She also built a curved kitchen island with a concealed bar, as well as a wooden ladder attached to a brass rail that provides access to the ceiling-height white Laminex storage cupboards.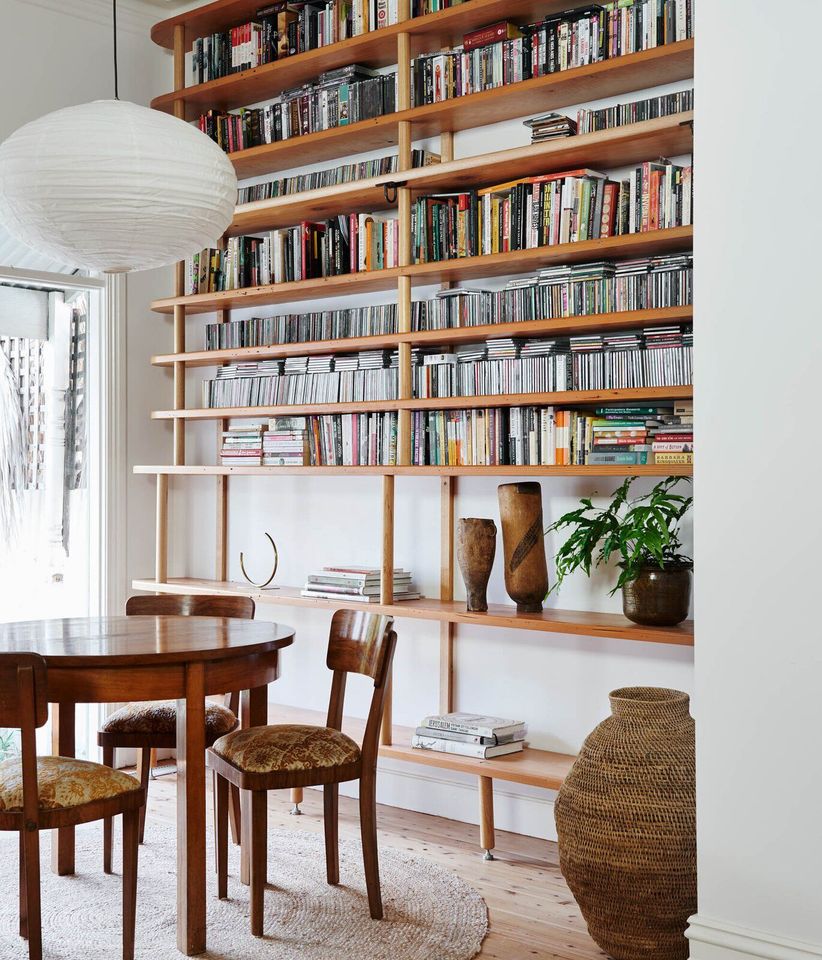 To make the home more sustainable, Kneipp replaced the existing gas burners with an induction stove and traded an oversize bathtub for a deep-but compact-cedar soaking tub. The kitchen island and cabinets are made of recycled timber, taking cue from the wooden bookcase that Kneipp installed during the home's first restyling.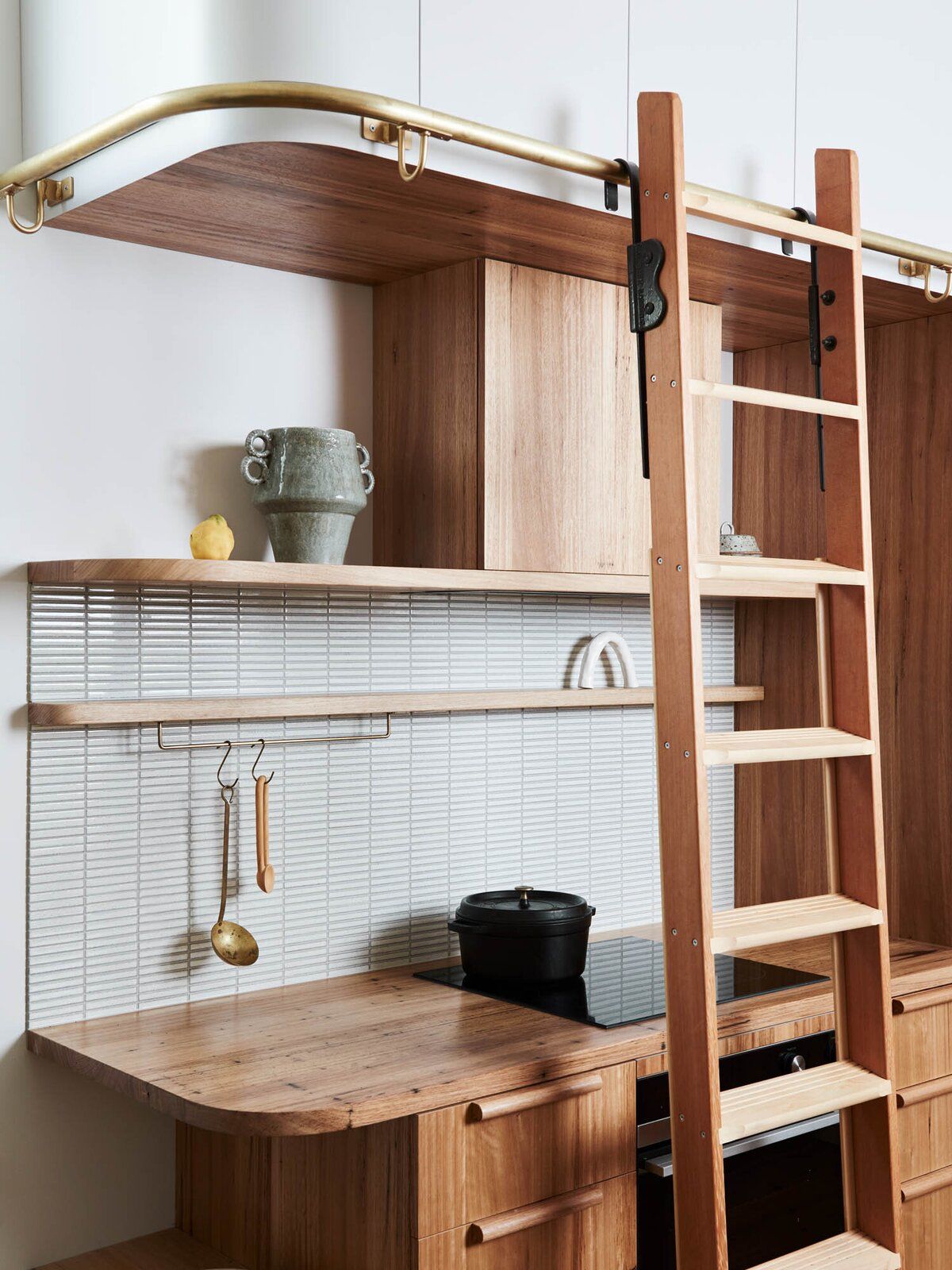 "Because we knew they were such nature lovers and campers, my very first inspiration for the renovation was the Australian bush," says Kneipp. Then, the COVID-19 pandemic hit and a shortage of materials forced the designer to rethink the palette. Though the inspiration remained the same, Kneipp ended up using slightly darker, more intense greens, browns, and grays.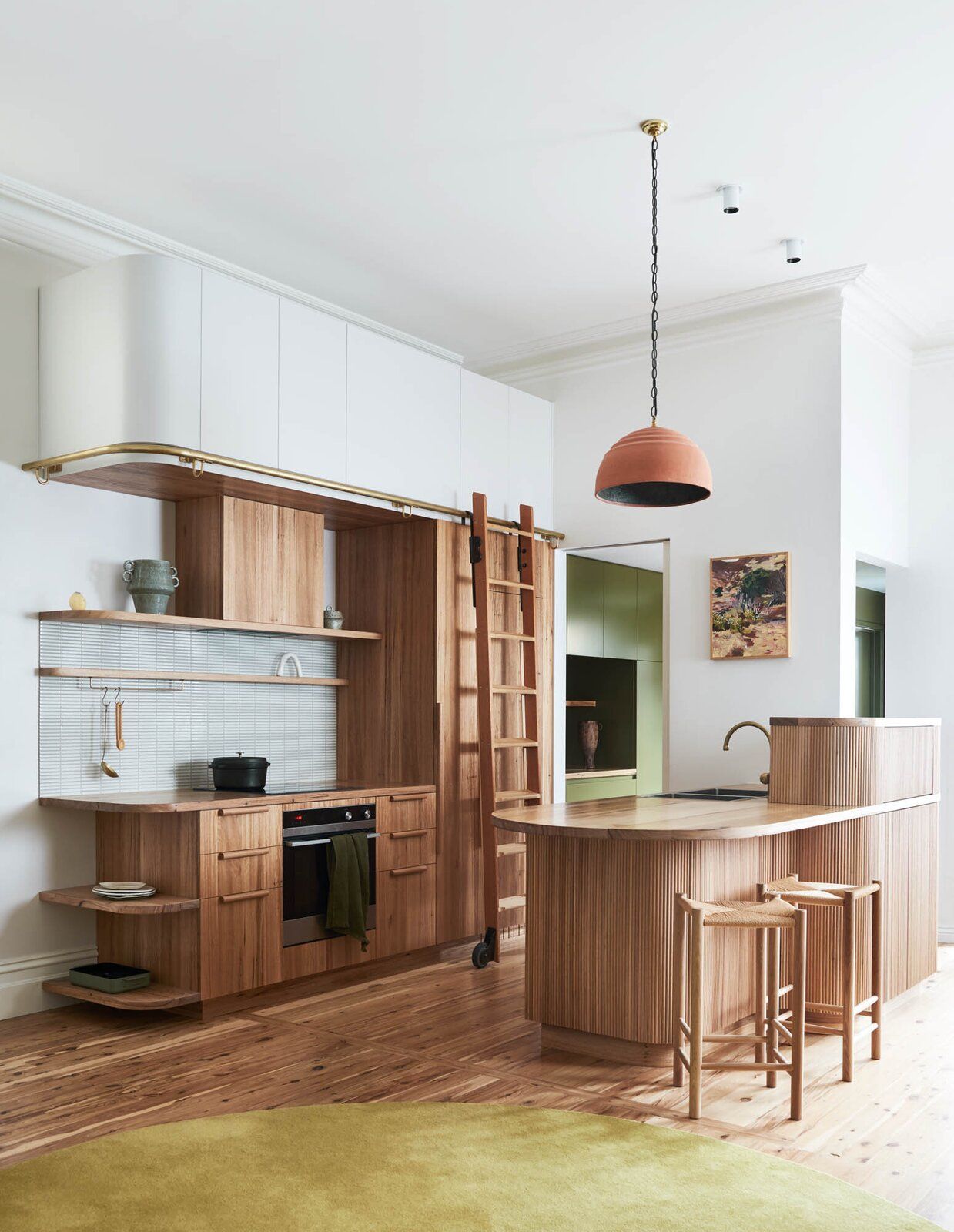 In the laundry room, for example, the designer chose a saturated shade of aloe vera green to clad the built-in storage cabinets. The bathroom combines natural wood joinery with forest-green tiles, charcoal-gray flooring, brass fixtures, and a pressed metal ceiling to evoke a design reminiscent of a Japanese onsen with Art Deco and Victorian influences.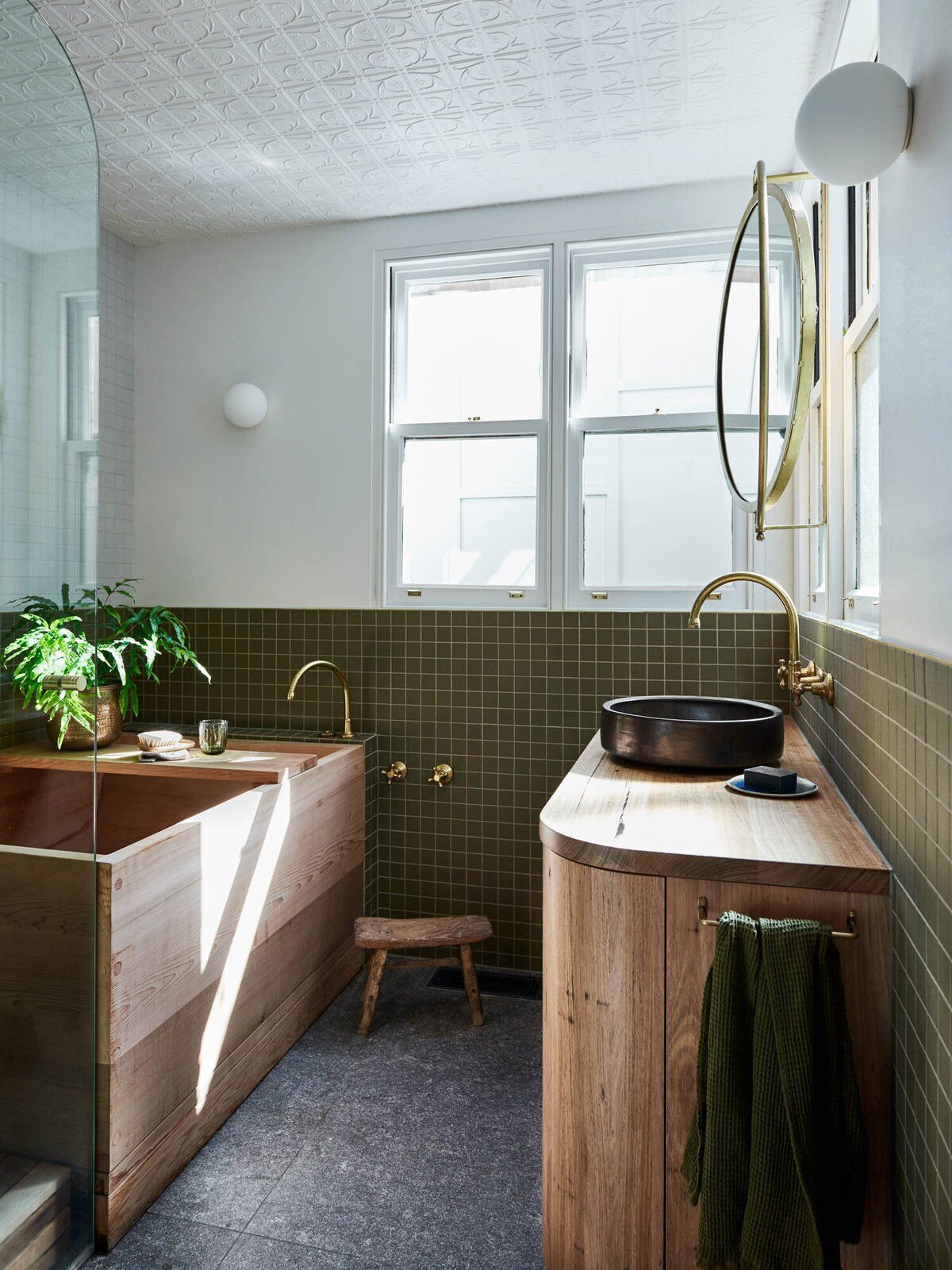 "[The palette] sort of tells the story of going from the trunks of the trees in the kitchen, through to the canopy in the laundry room, and then stepping out into an airy combination in the bathroom," Kneipp says. "[The residents] absolutely love it. I don't think I've ever had as many out-and-out compliments from clients."