When a Brazilian family decided to add guest accommodations to their holiday beach home in Iporanga, a coastal area of São Paulo, they knew they wanted a building that would seamlessly blend into the landscape. The family approached area architect Daniel Fromer, who specializes in the use of local materials and construction techniques, for a guest home that appears to grow from the forest.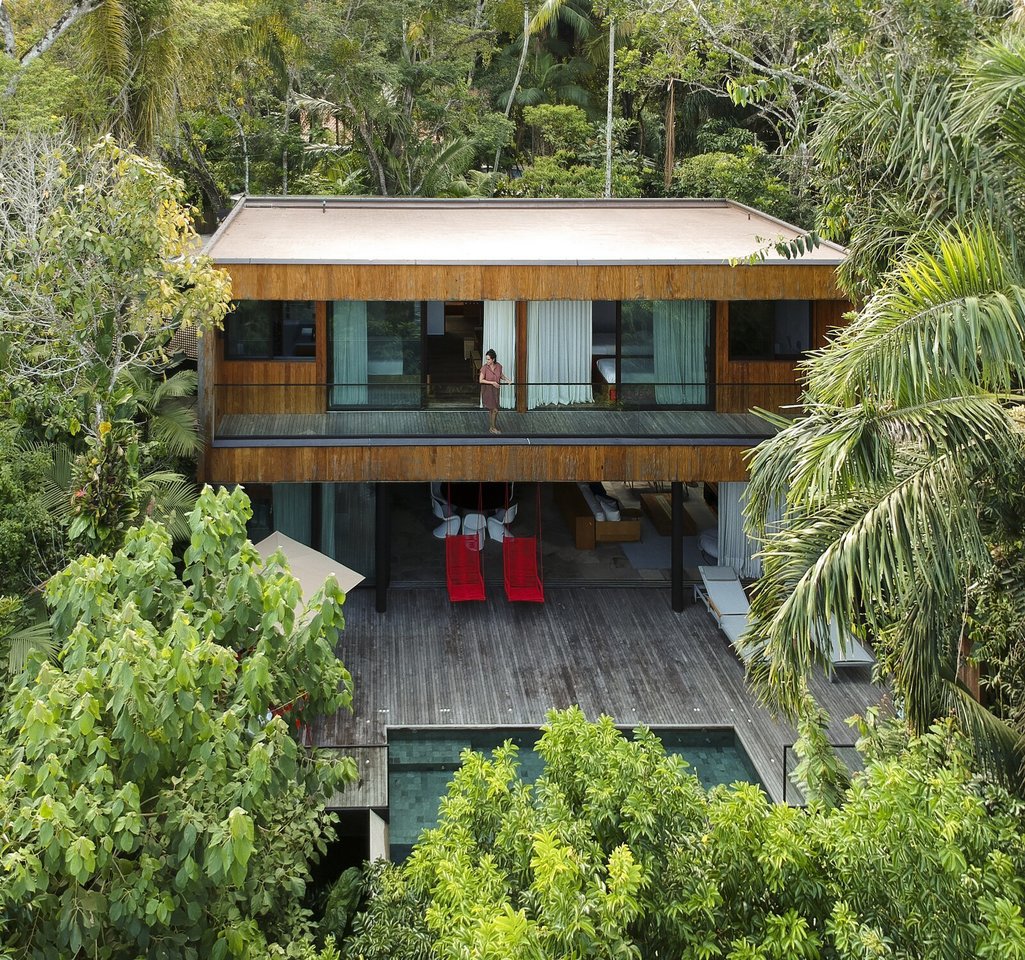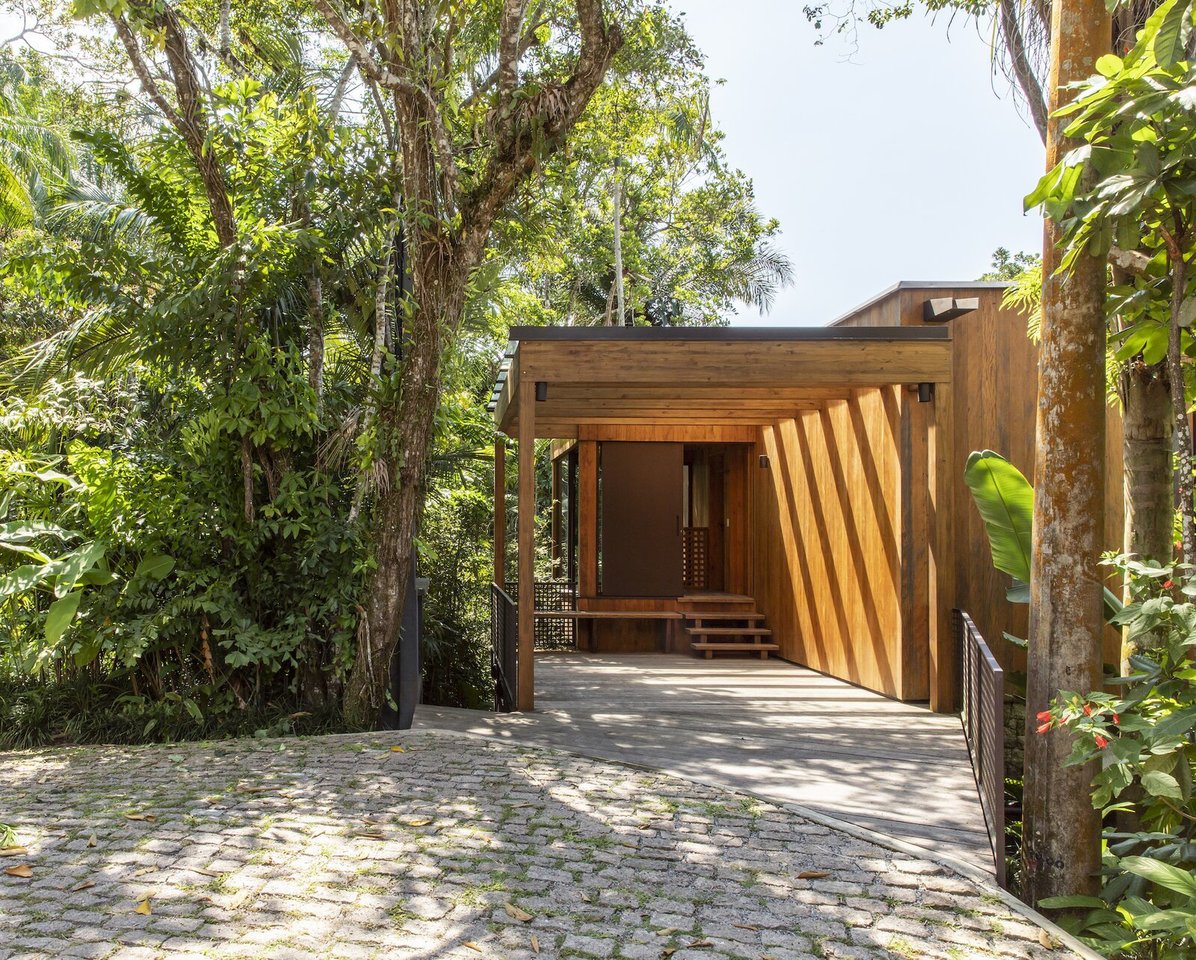 "The intention was to be completely integrated with the surroundings," says Fromer. "We achieved this through large openings and eliminating the boundaries between interior and exterior."

The home is immersed in the thicket of Brazil's Atlantic Forest, and one of the biggest challenges was implementing a design that would be sensitive to the region's ecosystem. As a result, Fromer implemented clever solutions for the compact arrangement-for example, a bridge runs from the street to the home while providing shelter for a carport below.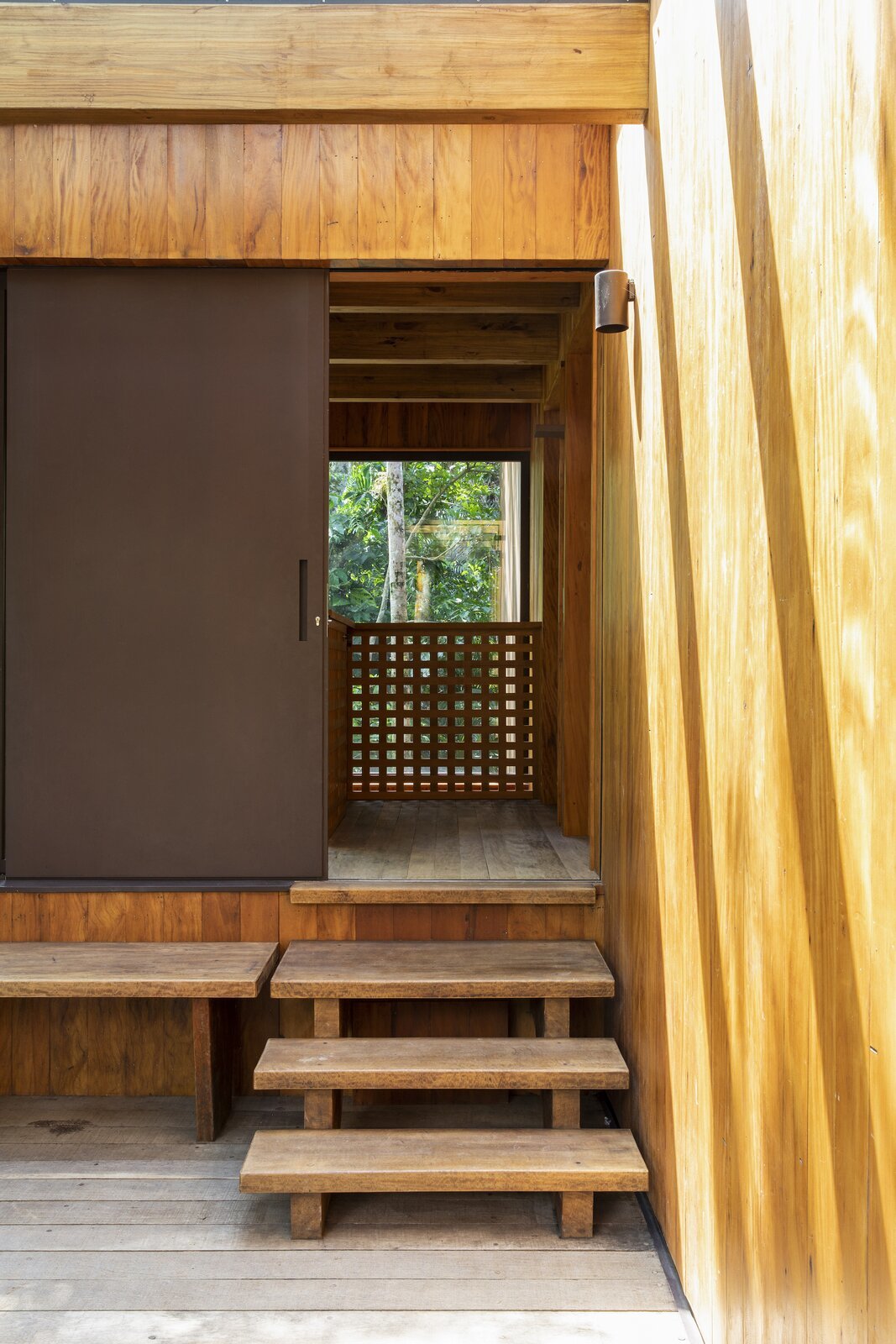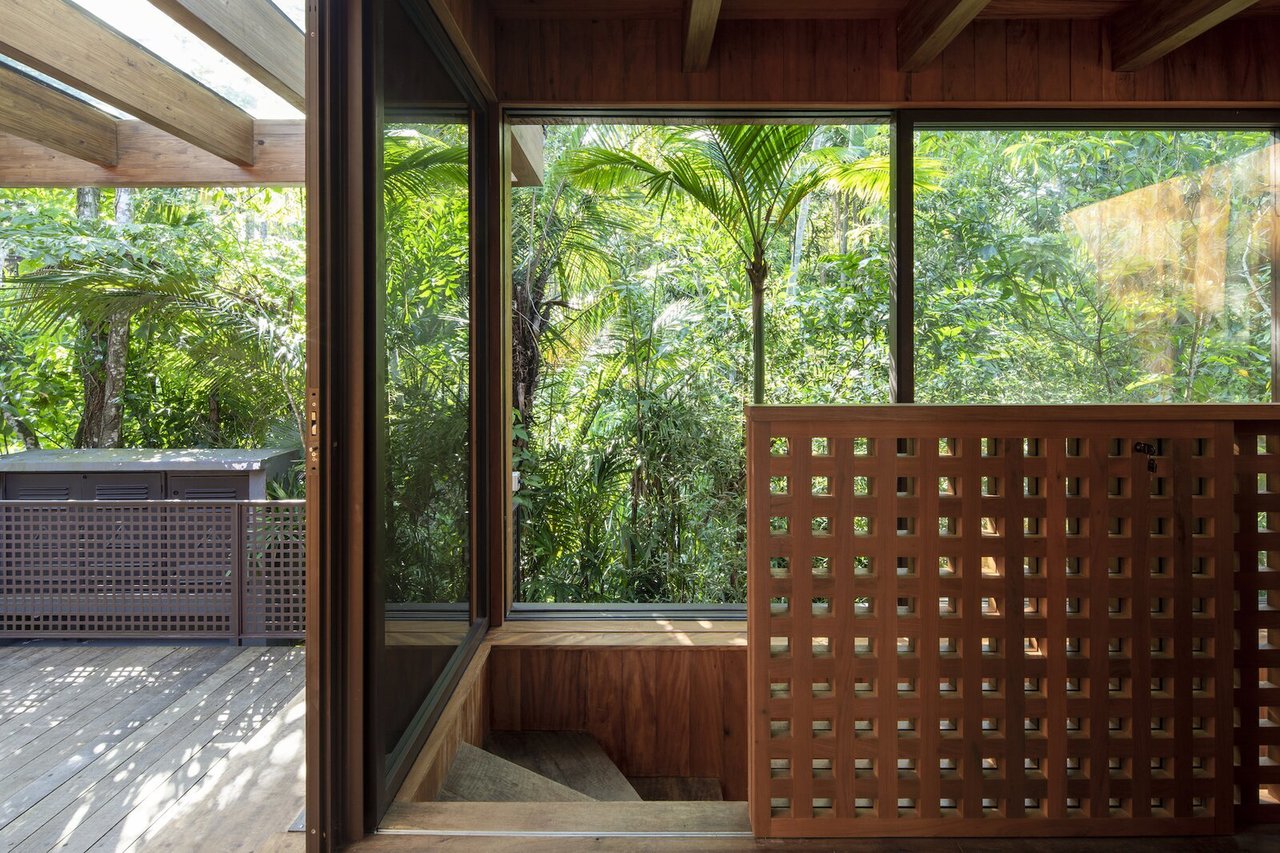 The entrance hall is open to the forest and the elements, and it leads directly to the two bedrooms on the upper floor, each with an en suite bathroom. Both bedrooms open onto a long balcony that runs along the rear of the home, where views over the pool and forest lead out to the ocean.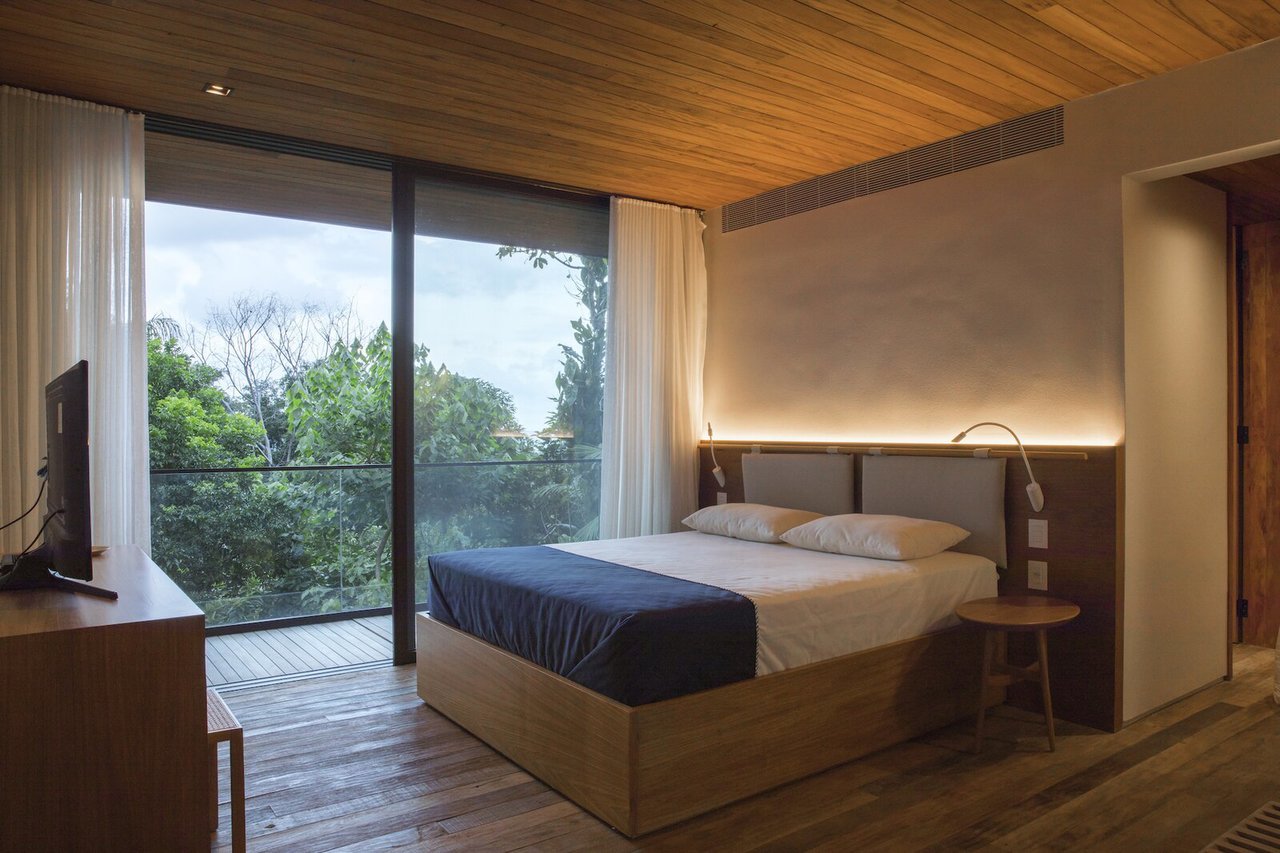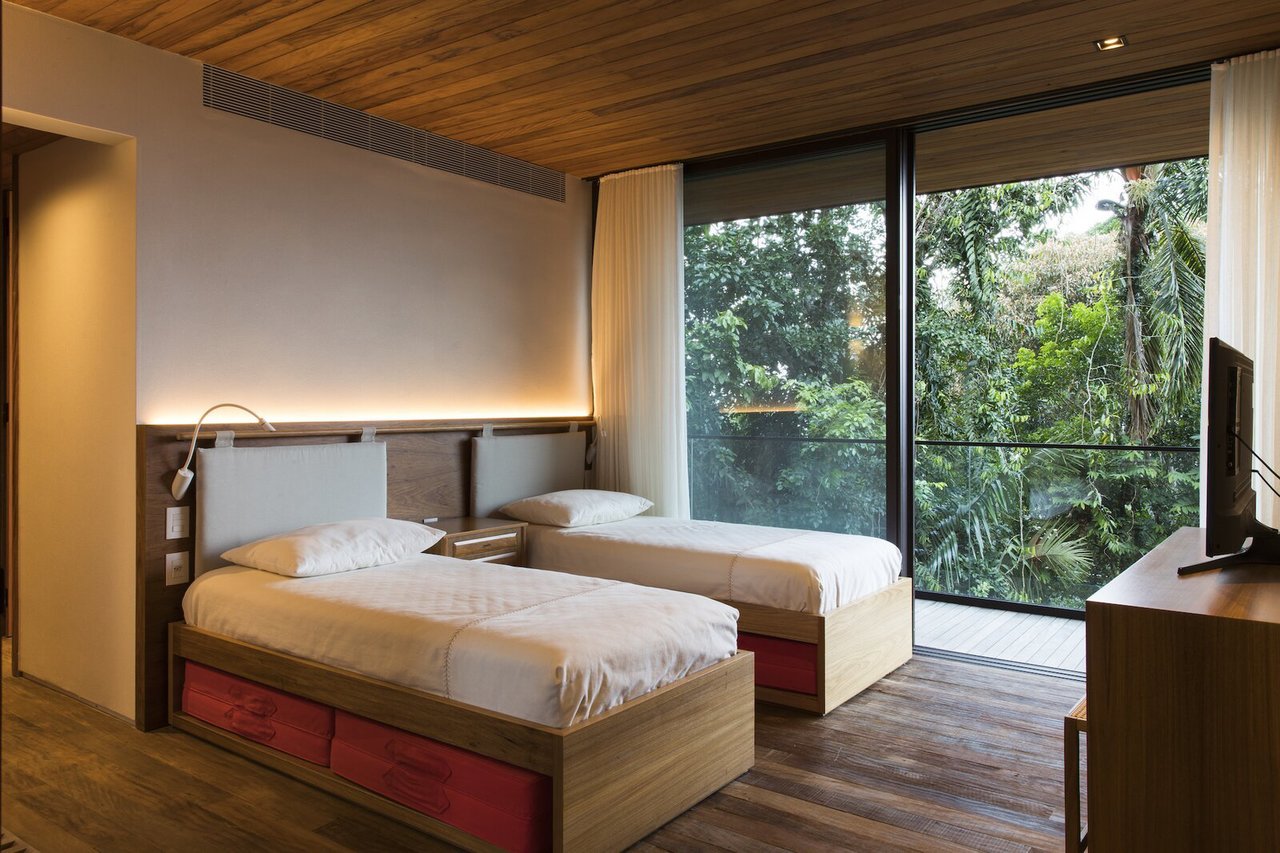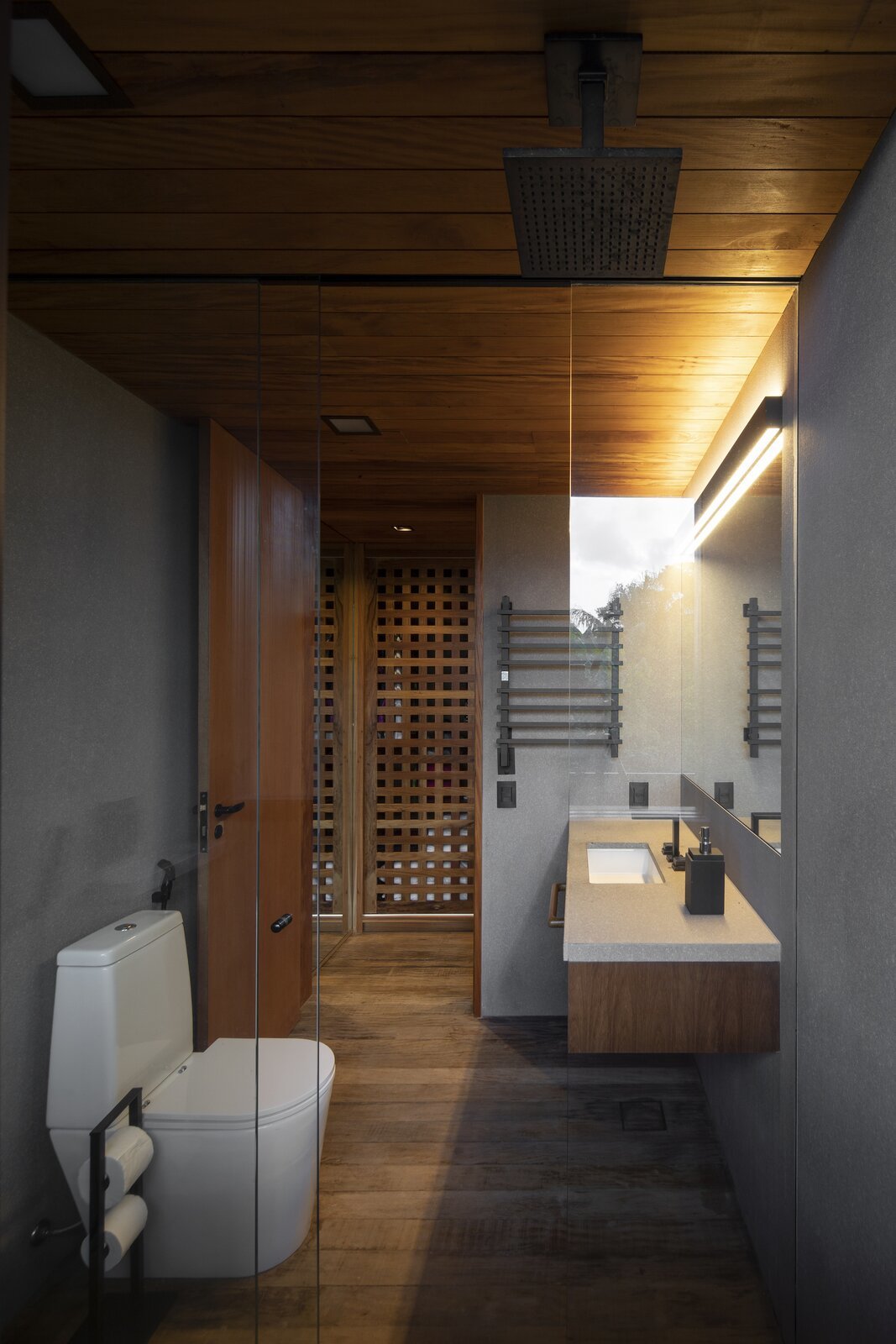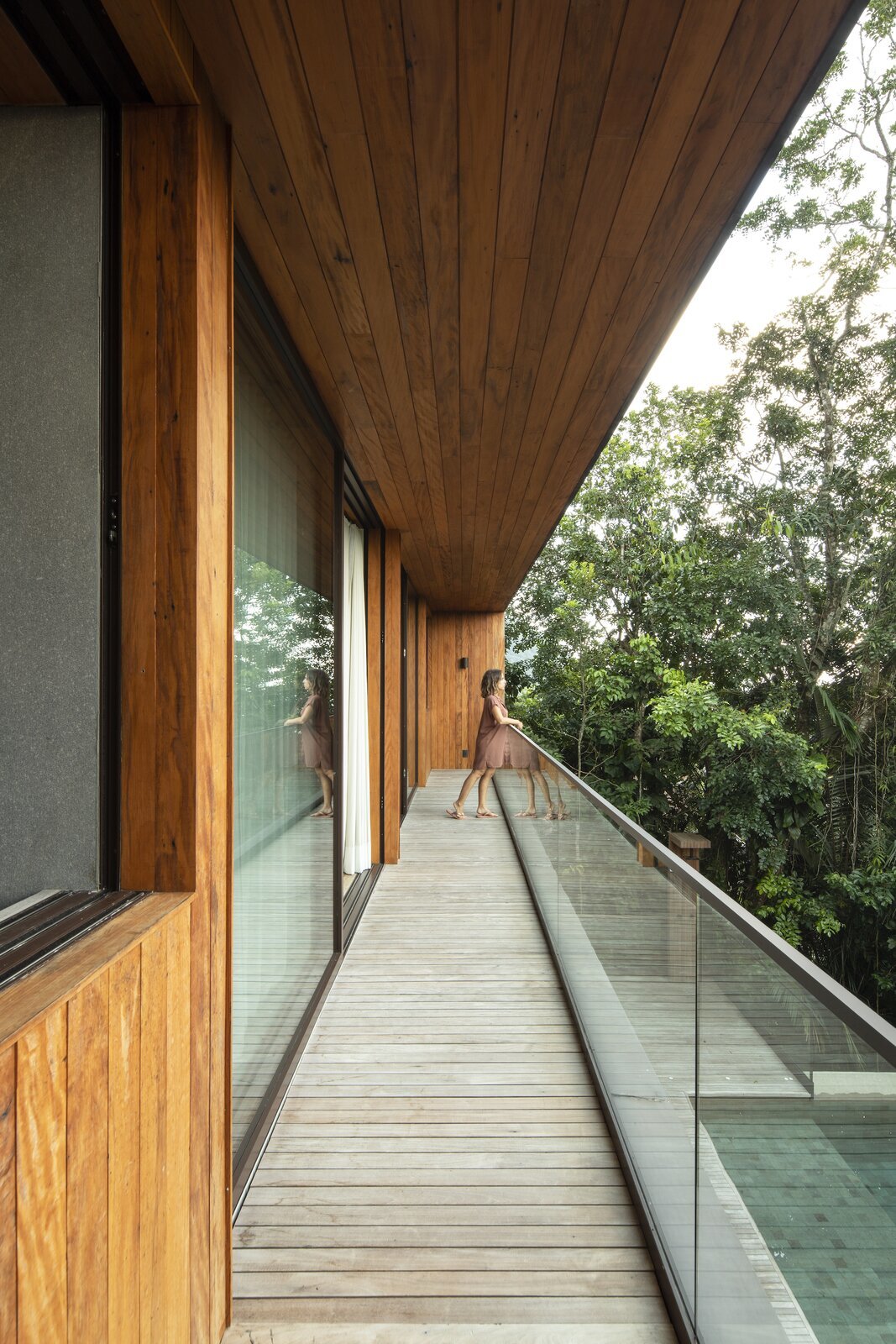 From the entrance hall, an external staircase connects to the lower floor, which houses a compact kitchen, a dining area, and a living space that flows out through generous openings to a deck area and pool. The pool is one of the defining aspects of the home, projecting into the surrounding forest with glimpses of the ocean through the trees.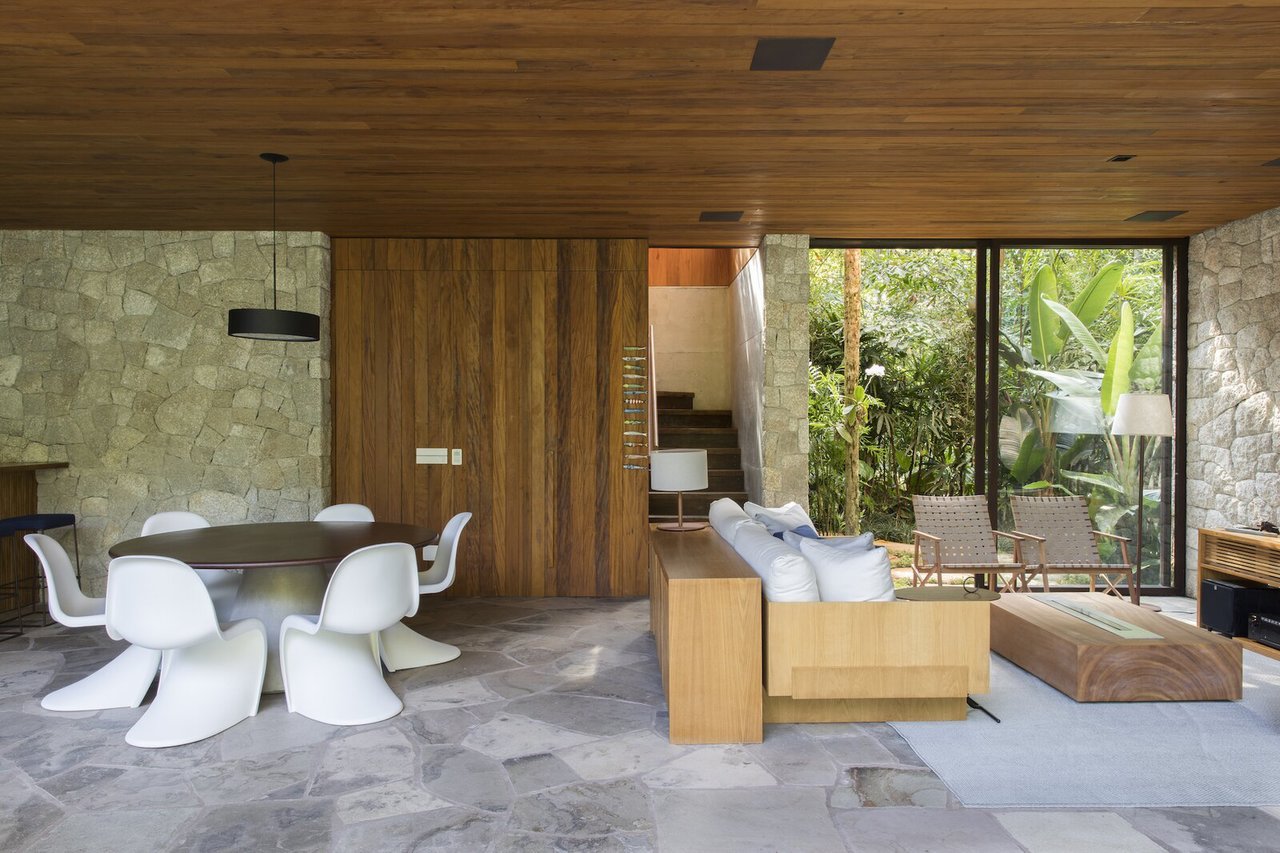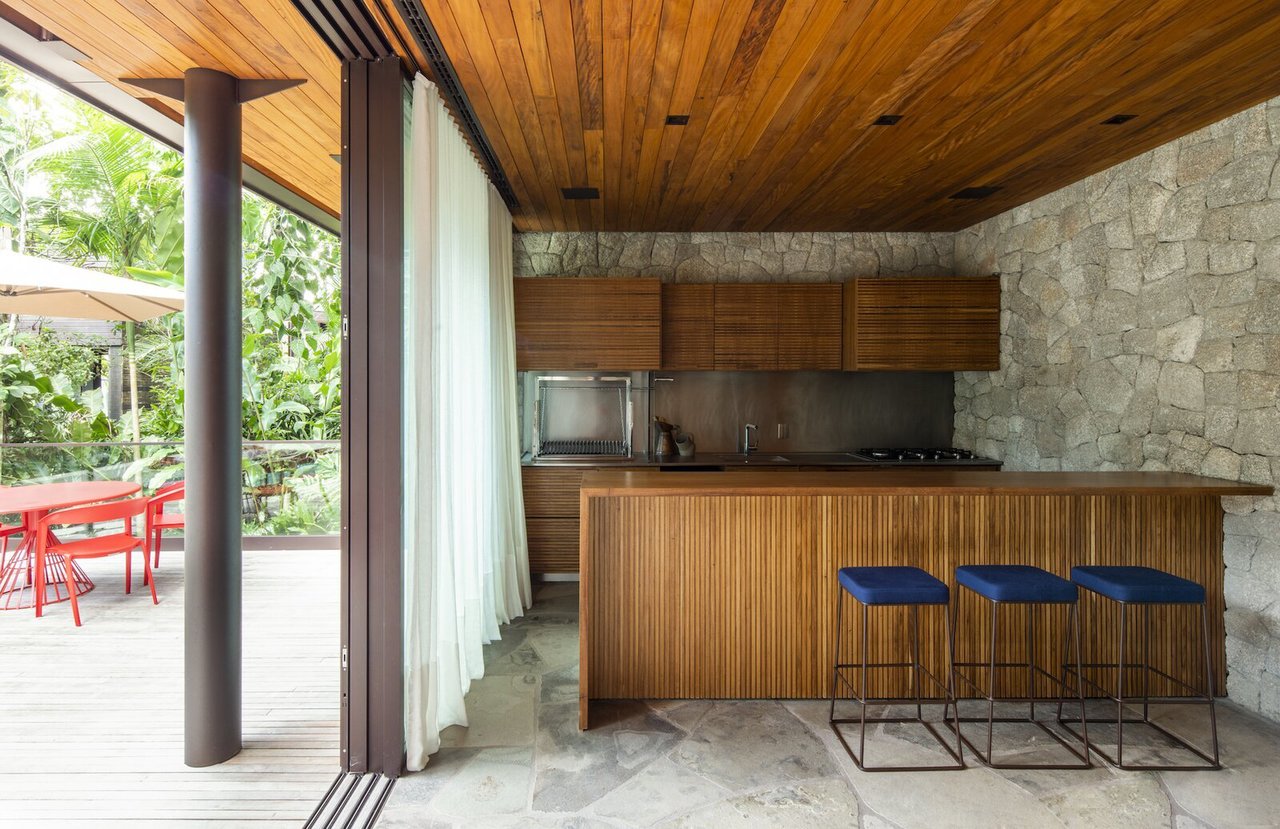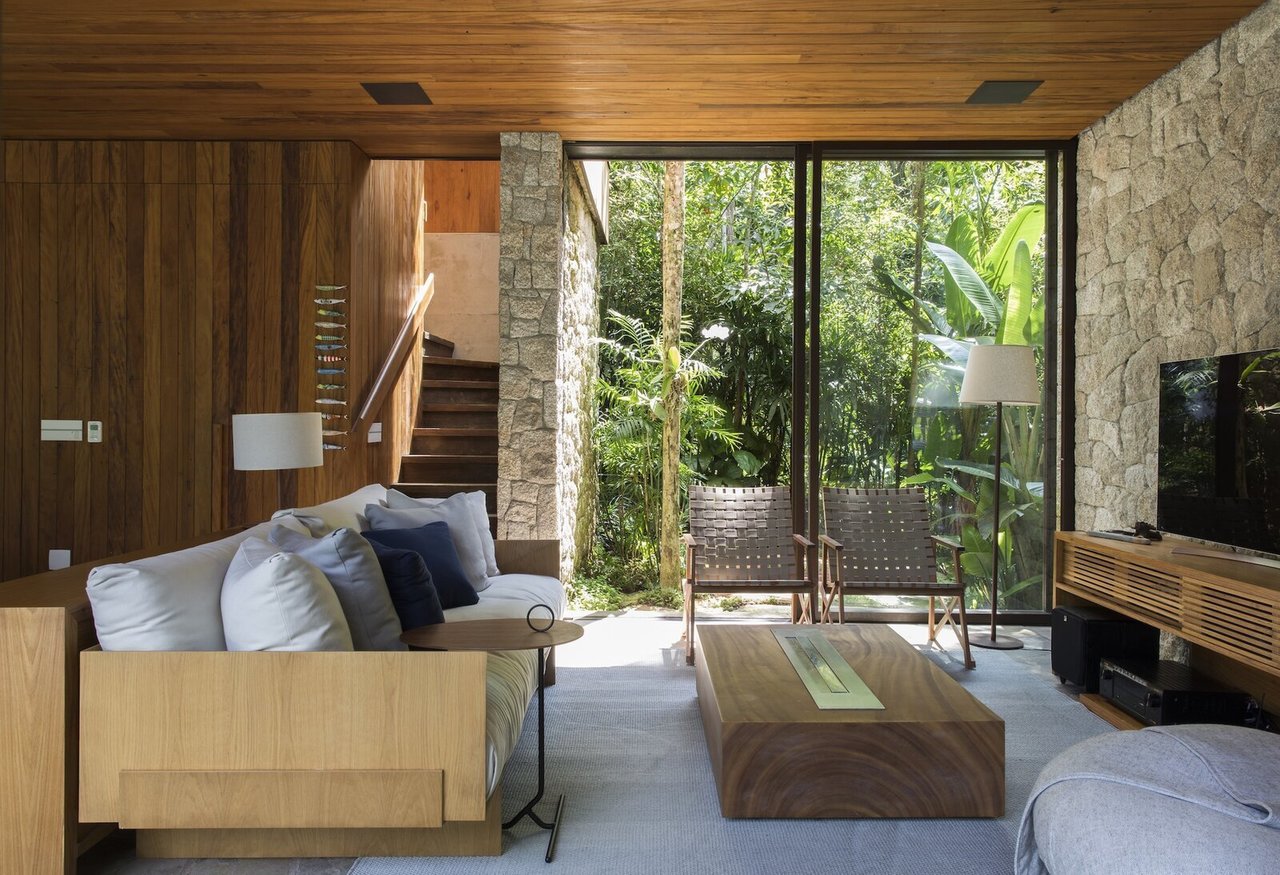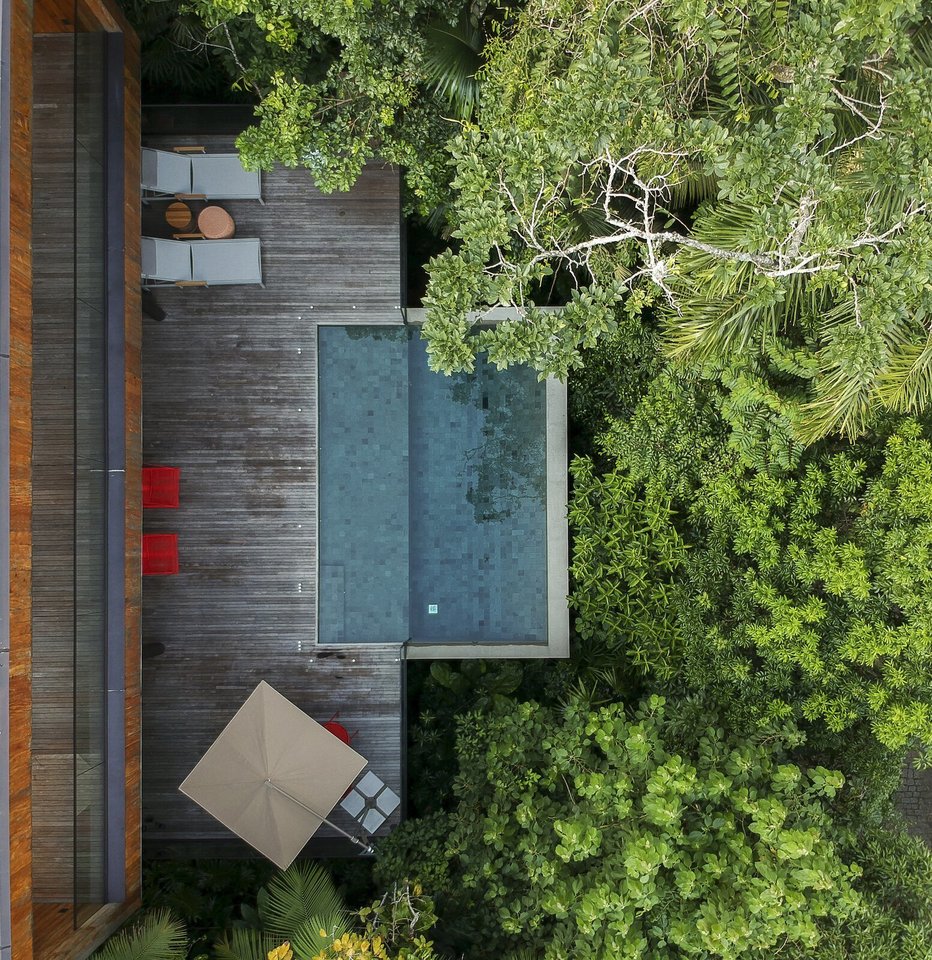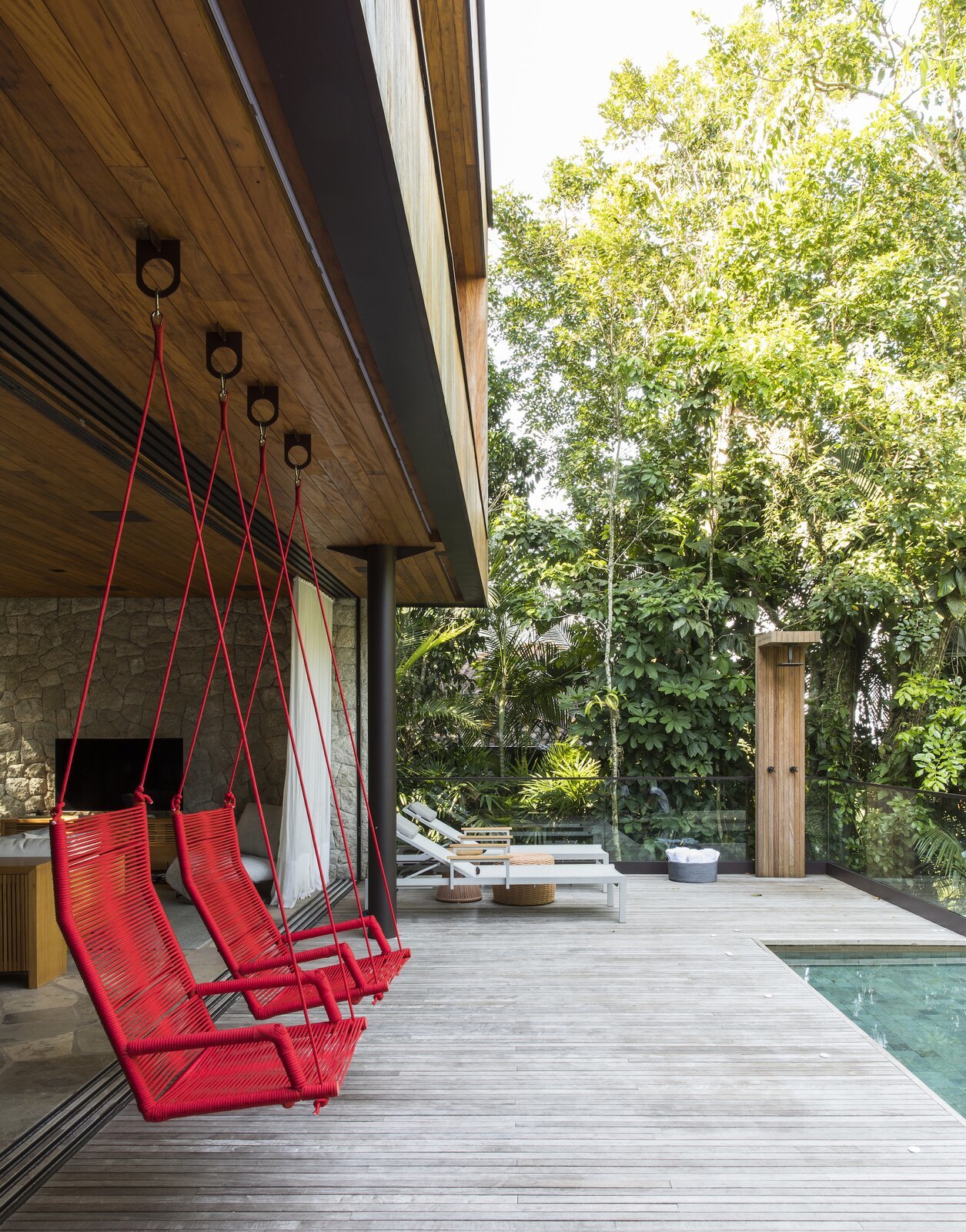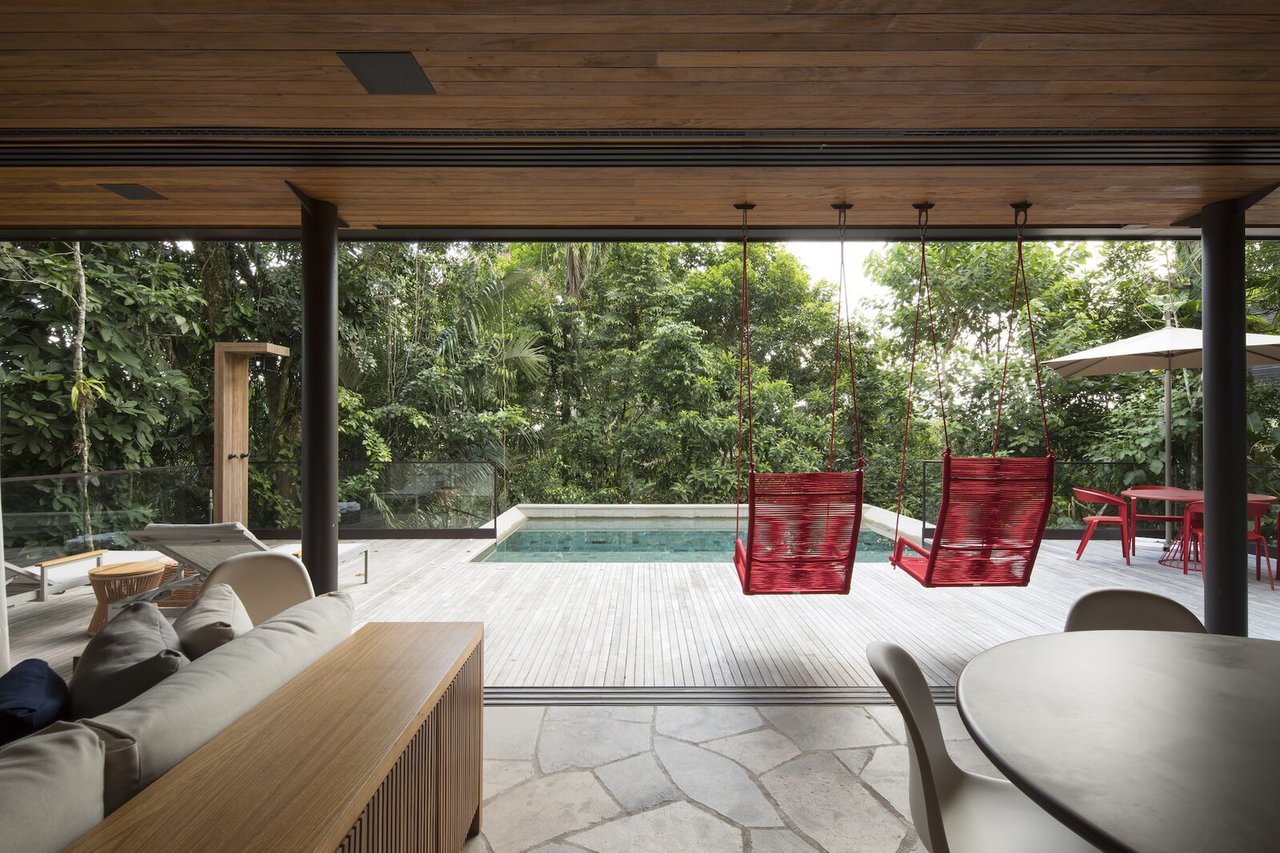 Throughout Casa Iporanga, Fromer celebrates pure forms and raw materials. "We used stone, timber, and concrete, giving a natural look to the house, as if it emerges from the site," says Fromer. The upper floor is built with a timber frame, and its exterior cladding is comprised of reclaimed Peroba Rosa-an endangered native timber with an evocative pinkish-red color. "This construction method allowed quick, clean work," says Fromer.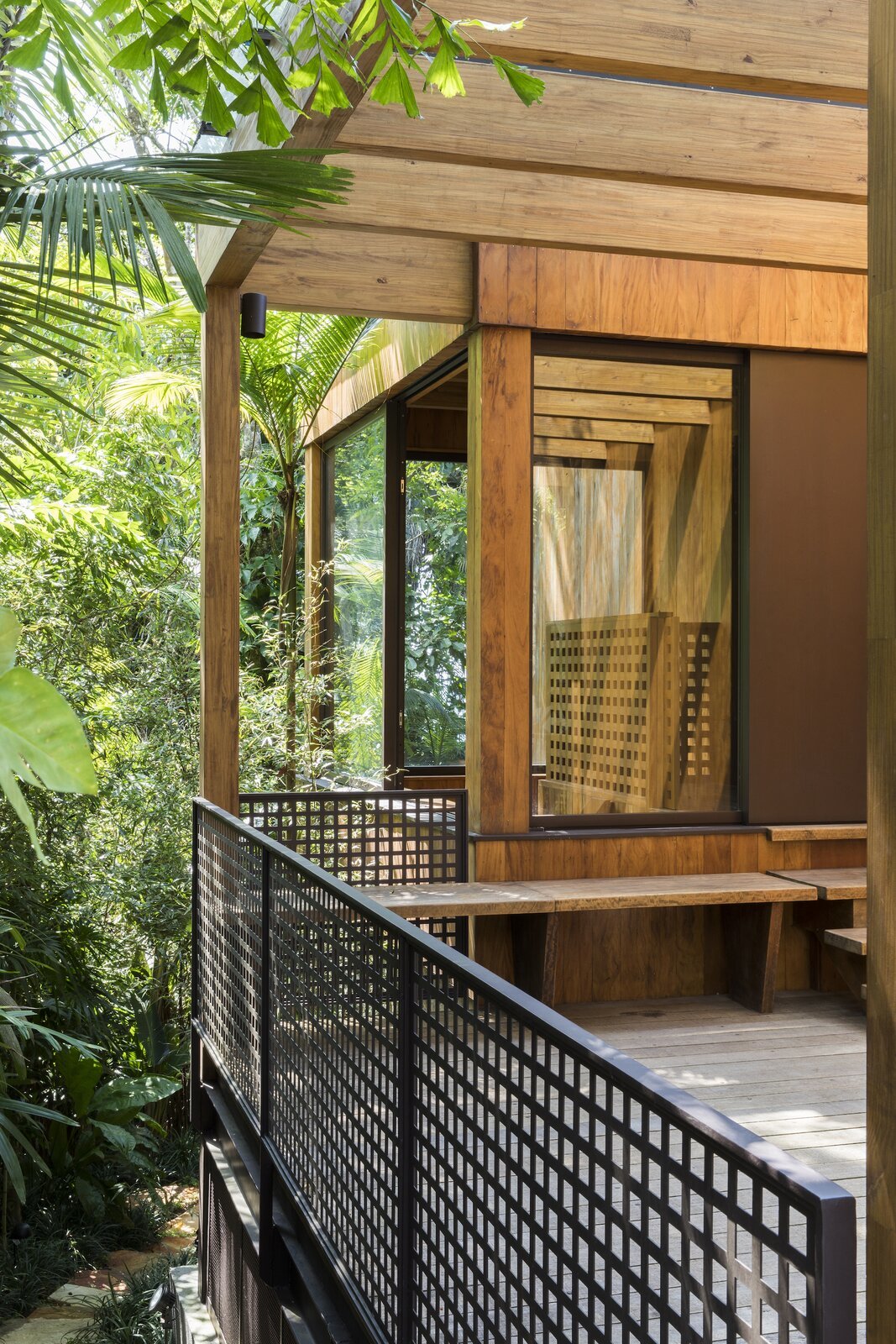 The lower floor rests on reinforced concrete and stone-sturdy materials that provide a strong foundation. The lush garden, designed by landscape architect Rodrigo Oliveira Paisagismo, features palm trees and more native plants as an extension of the local flora. Stone walkways wind their way through the garden and below the overhanging pool deck, reinforcing the notion that the home is part of the landscape.

"The biggest challenge was to fit the whole program into a relatively small area," says Fromer. "But it was very rewarding to find that when we finished the home, it mixed completely with the surrounding nature."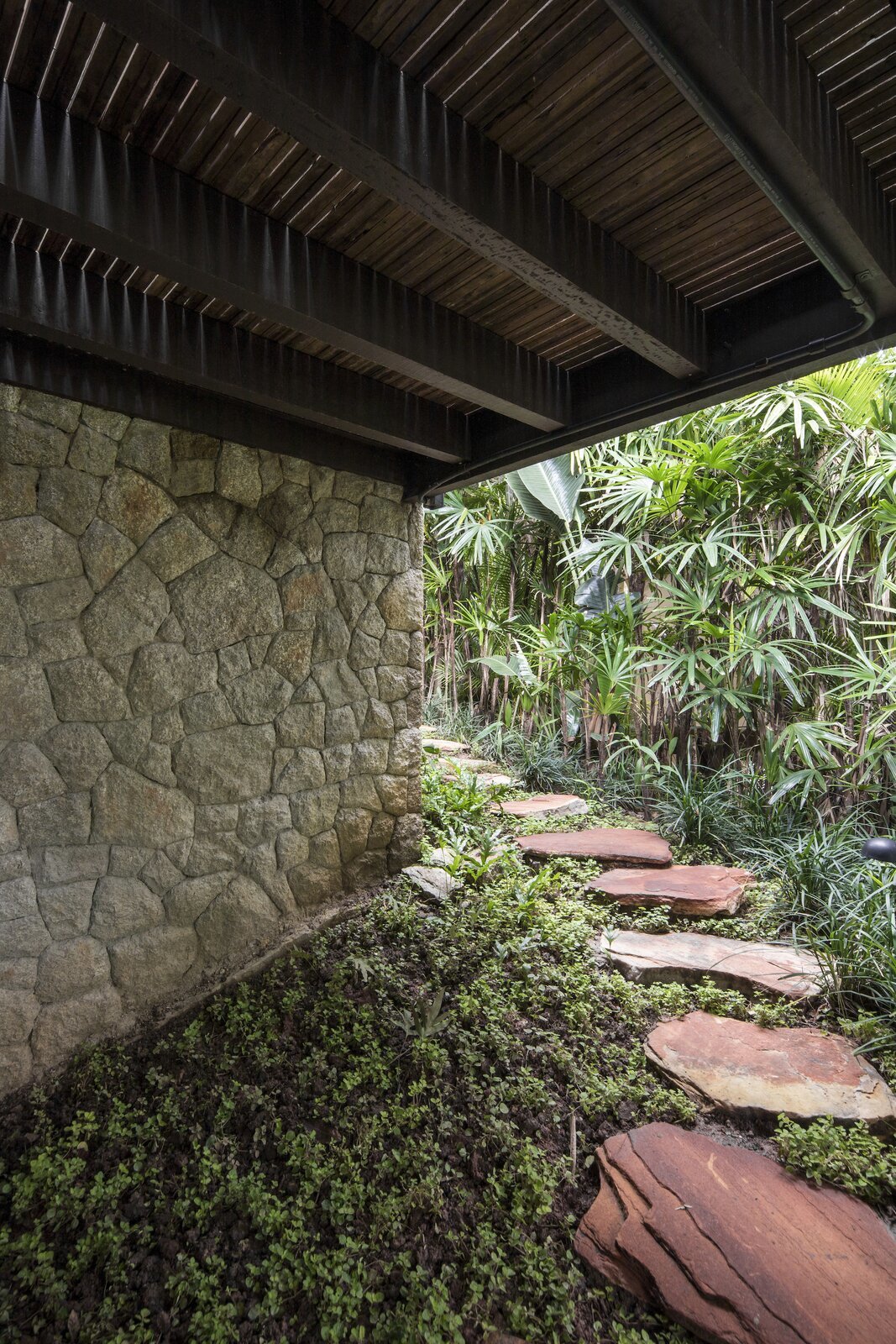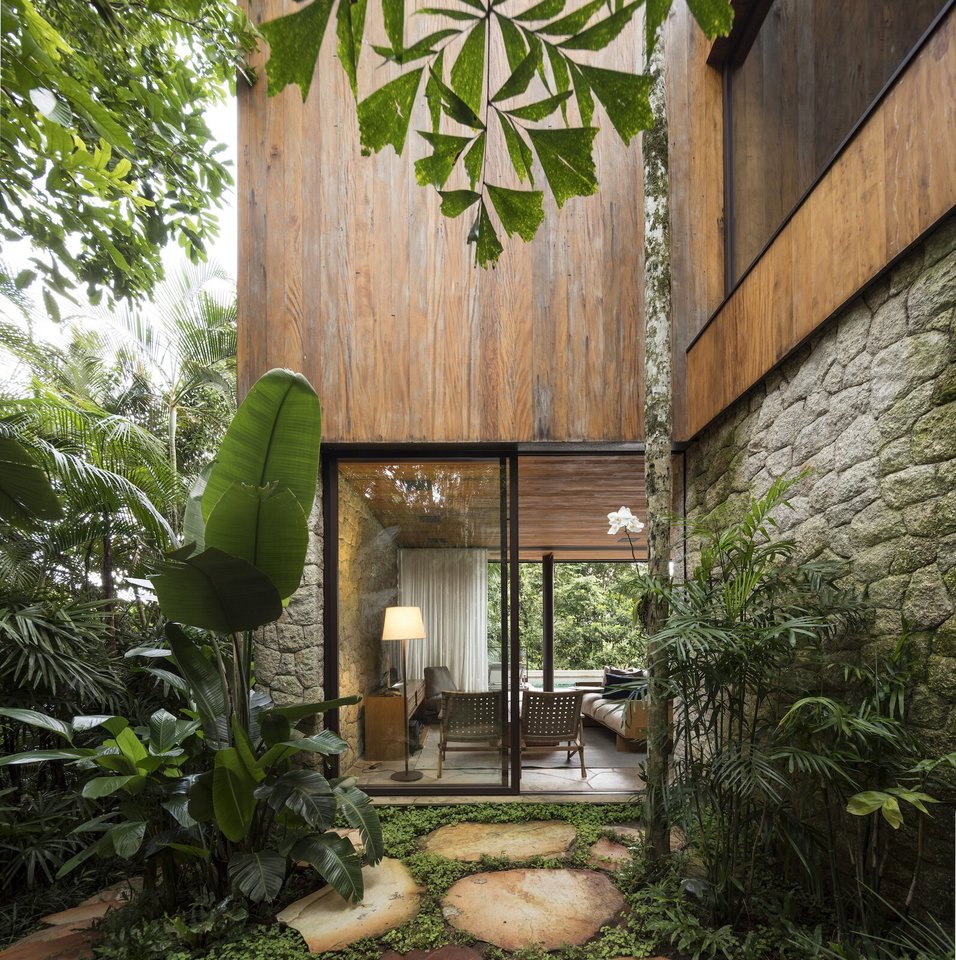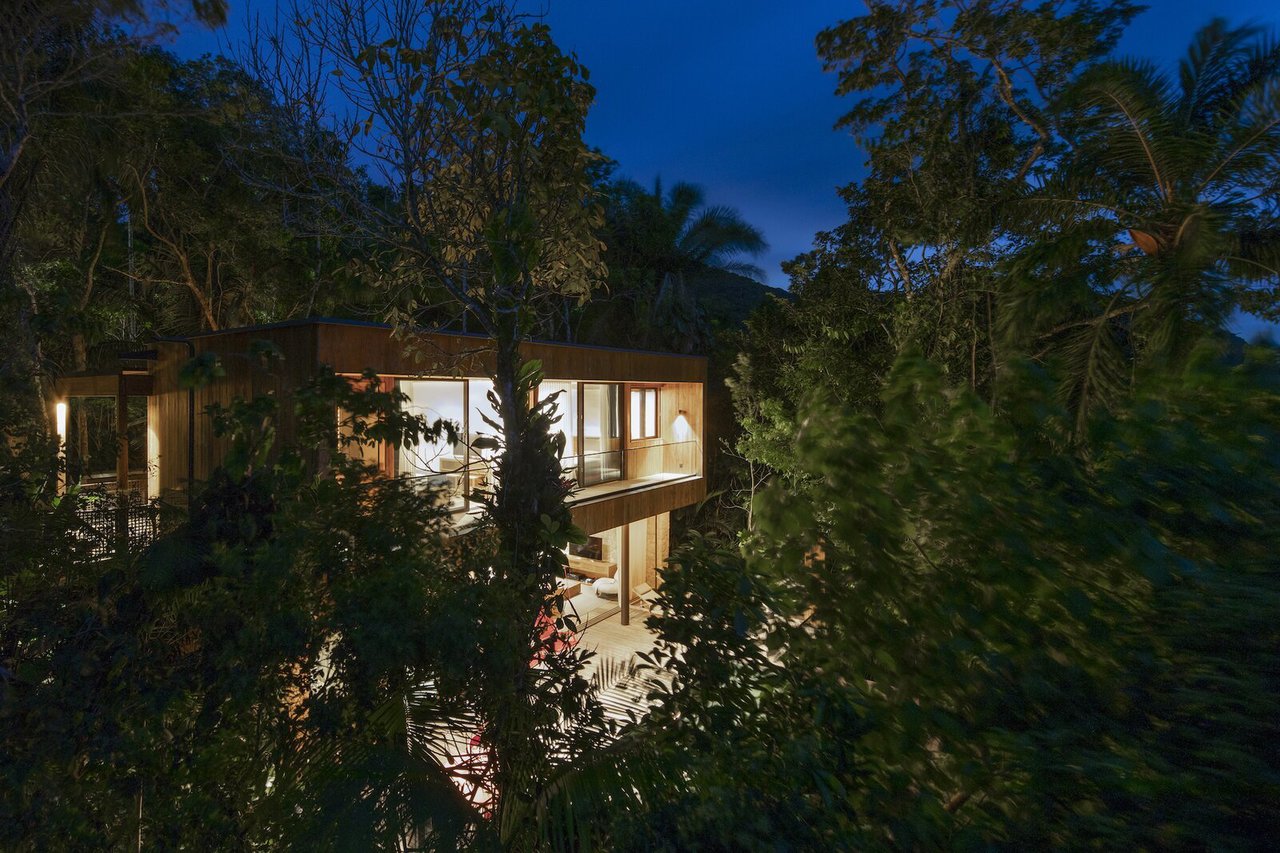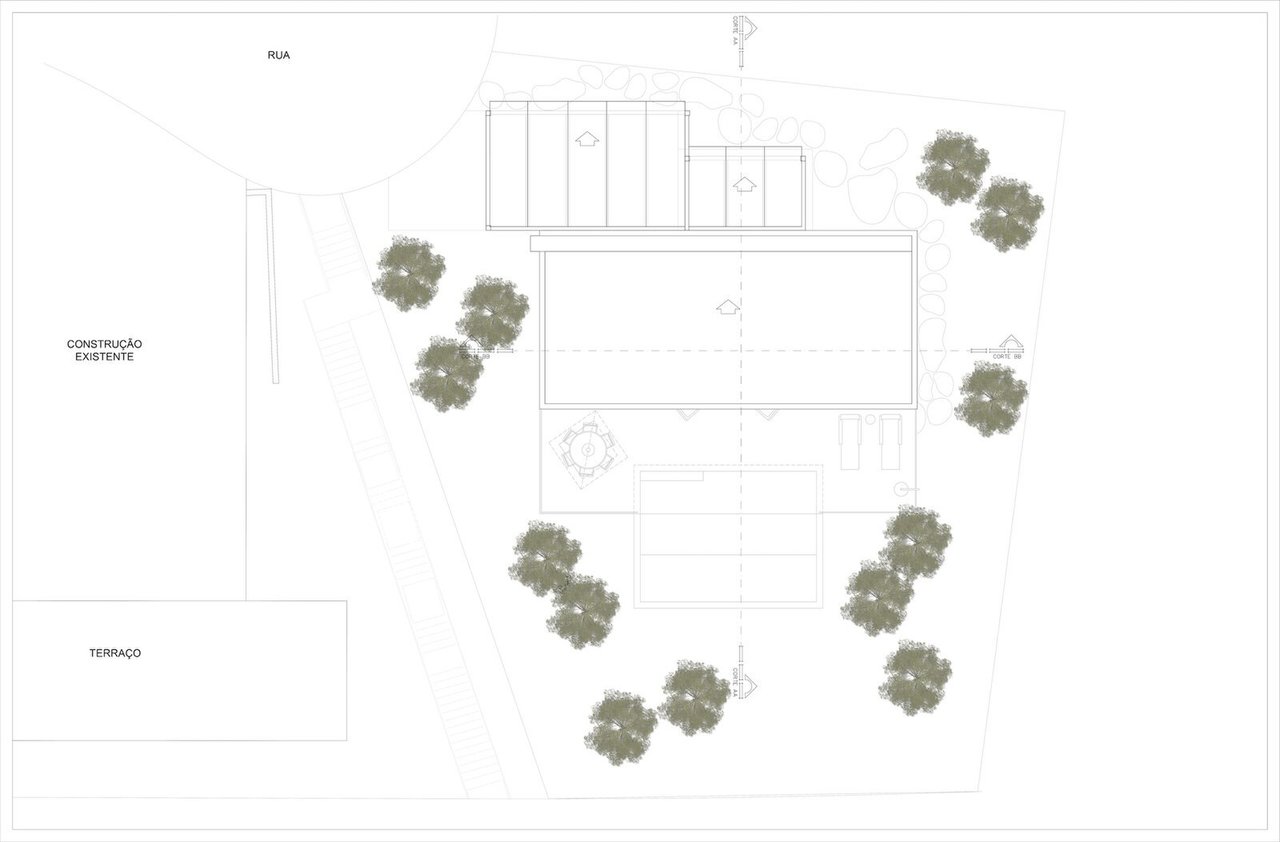 Site plan of Casa Iporanga by Daniel Fromer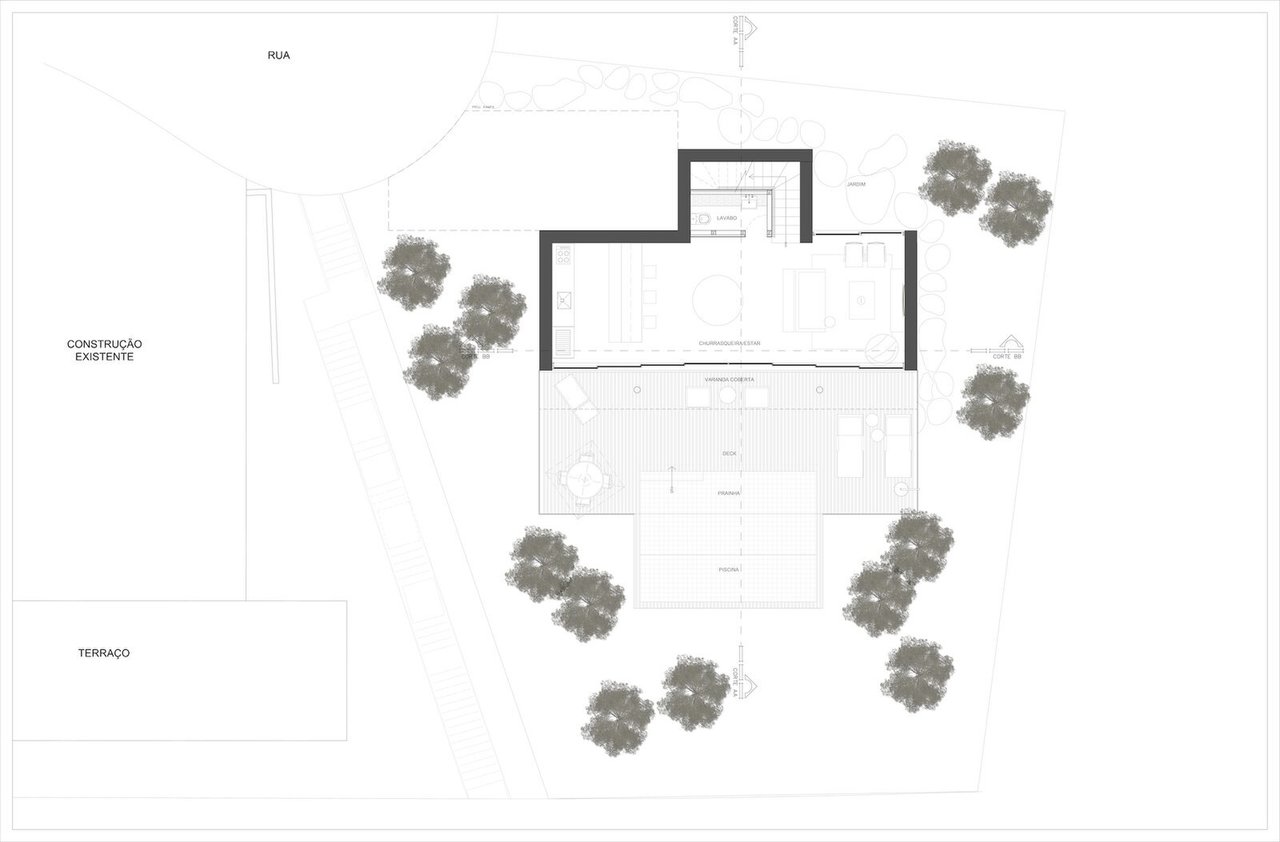 Ground floor plan of Casa Iporanga by Daniel Fromer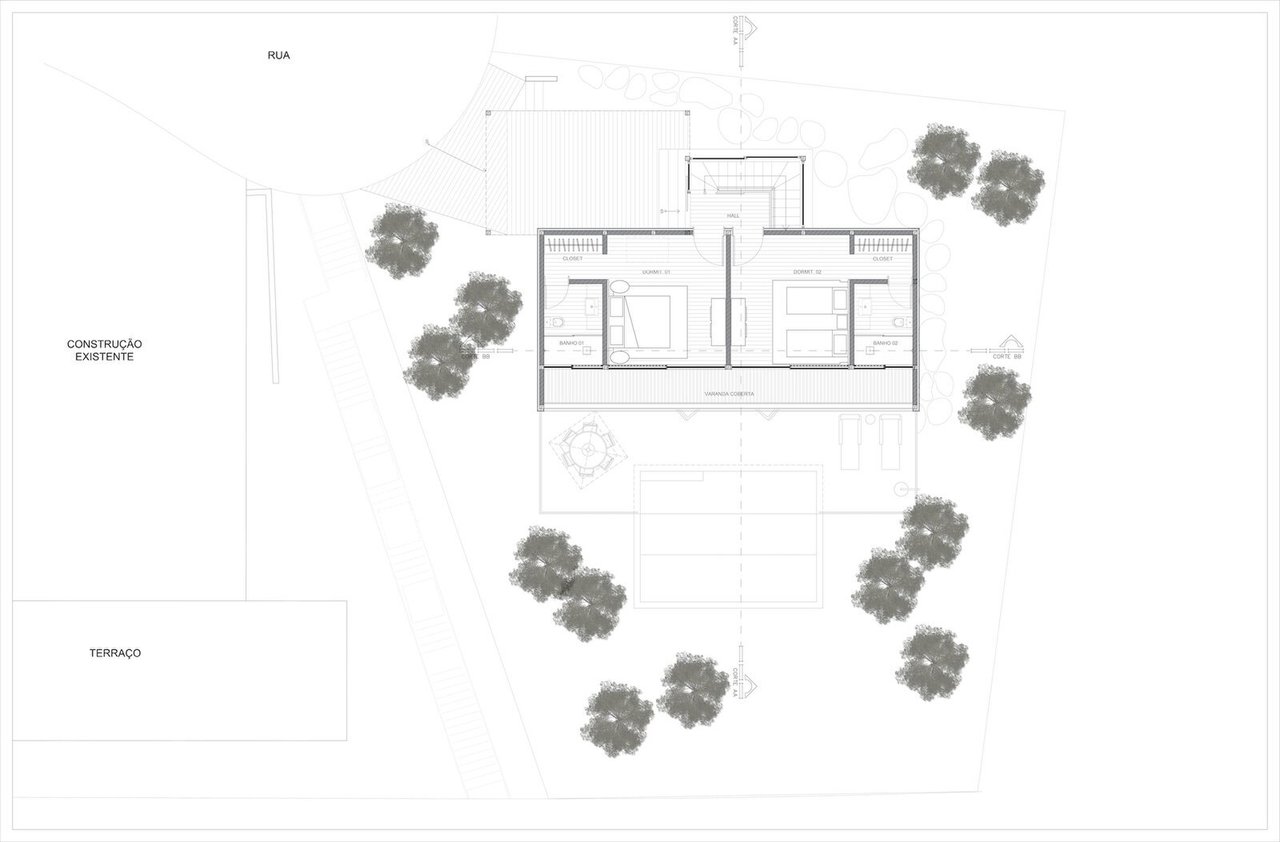 First floor plan of Casa Iporanga by Daniel Fromer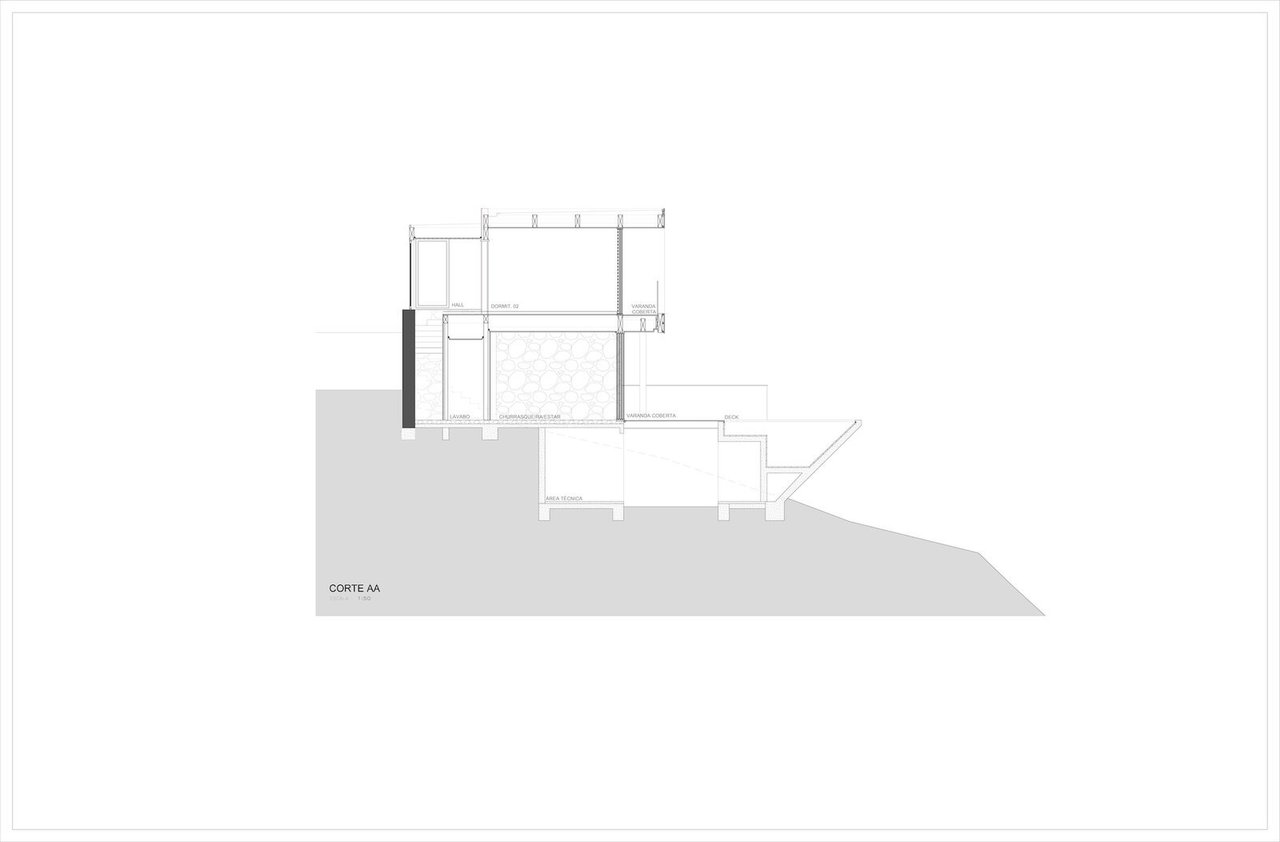 Section of Casa Iporanga by Daniel Fromer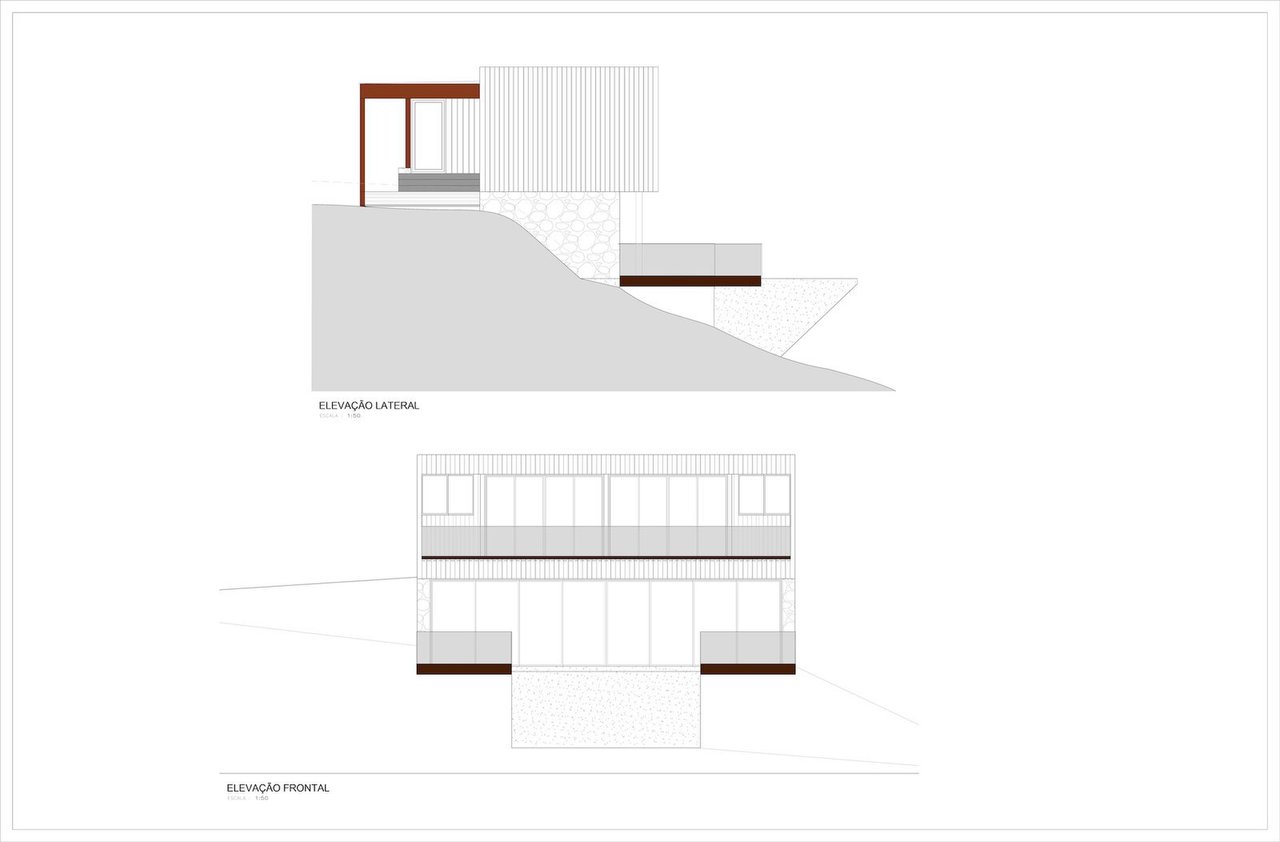 Elevations of Casa Iporanga by Daniel Fromer