When Sheniz, the owner of the superfood product line Noorish, commissioned Mint Tiny House Company to devise a 535-square-foot home on wheels for her young family in Canada, she was thinking about function, flexibility, and the future. "My husband, Jordan, and I are fans of minimalism, thoughtful design, and creating space that holds us tightly together," she says.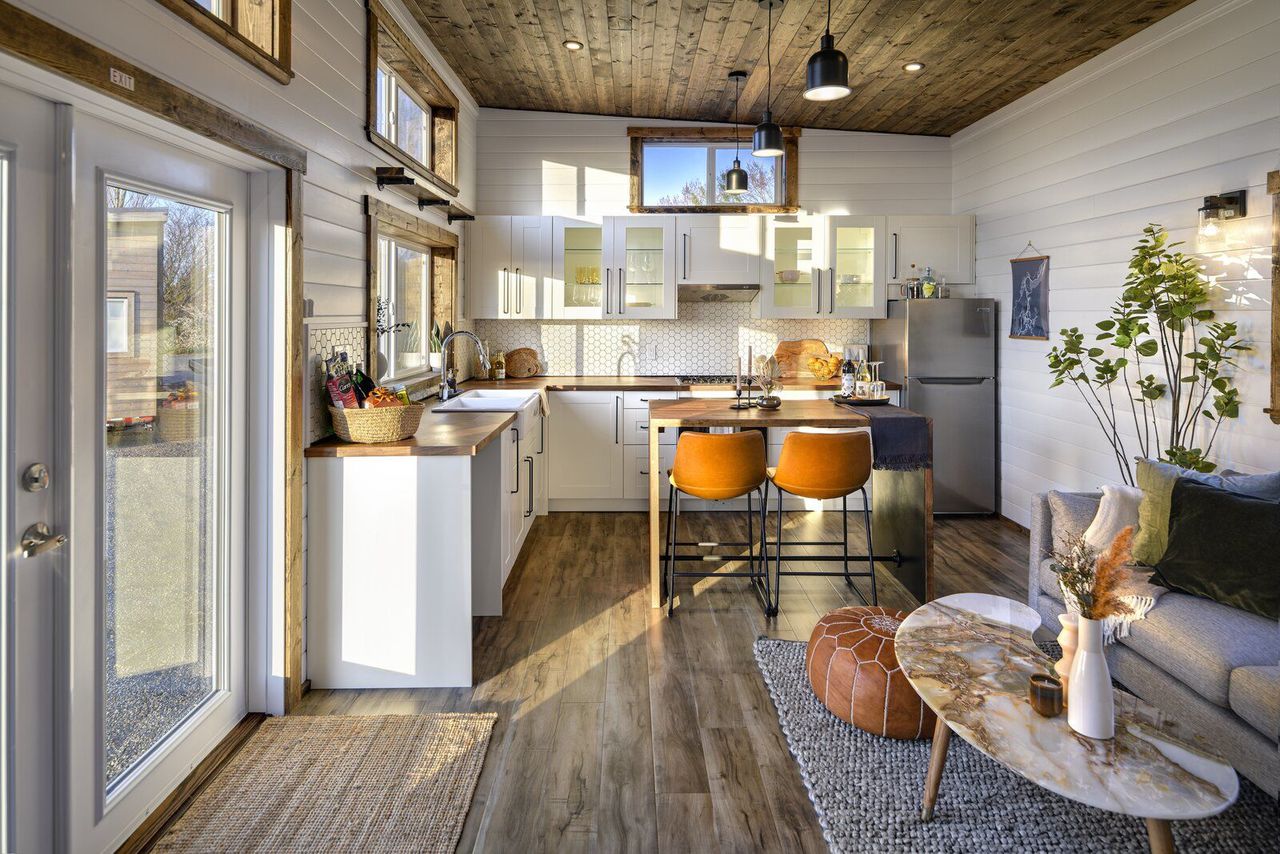 The Park Model, designed by Mint Tiny House Company, measures 535 square feet and features an open plan. Sunlight bounces off the bright-white, tongue-and-groove pine walls.

Having a movable home was particularly important to Sheniz, Jordan, and their 4-year-old son Kalle. "We're disaster preparedness buffs, and we love the idea of our house being mobile in case we need to move from a hazardous situation like a forest fire-or in case we just decide to change plans and go elsewhere," Sheniz says. "Adapting to new realities is key."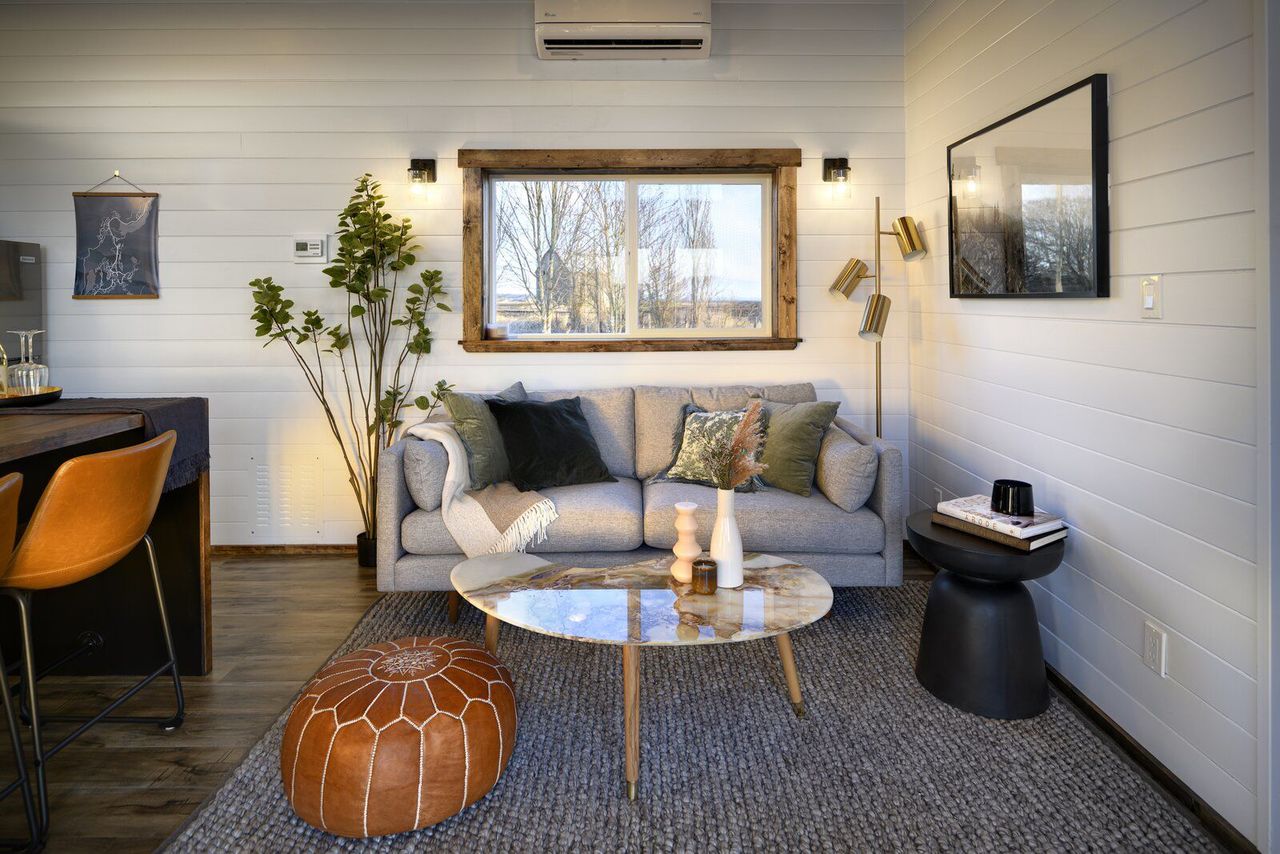 The kitchen/dining space is open to the living area, where Habitat Staging arranged a marble-topped coffee table, a leather-wrapped ottoman, and a compact sofa.

The tiny home-currently situated on four acres of raw land in the Columbia-Shuswap Regional District of British Columbia-is already serving as an escape. Sheniz and Jordan recently bought the site when they decided to take a one-year break from their life in Edmonton, Alberta, and try out rural living.

Located near the border of Golden, the land is partially forested and features a one-acre meadow that the couple is transforming into a large vegetable garden and hummingbird sanctuary.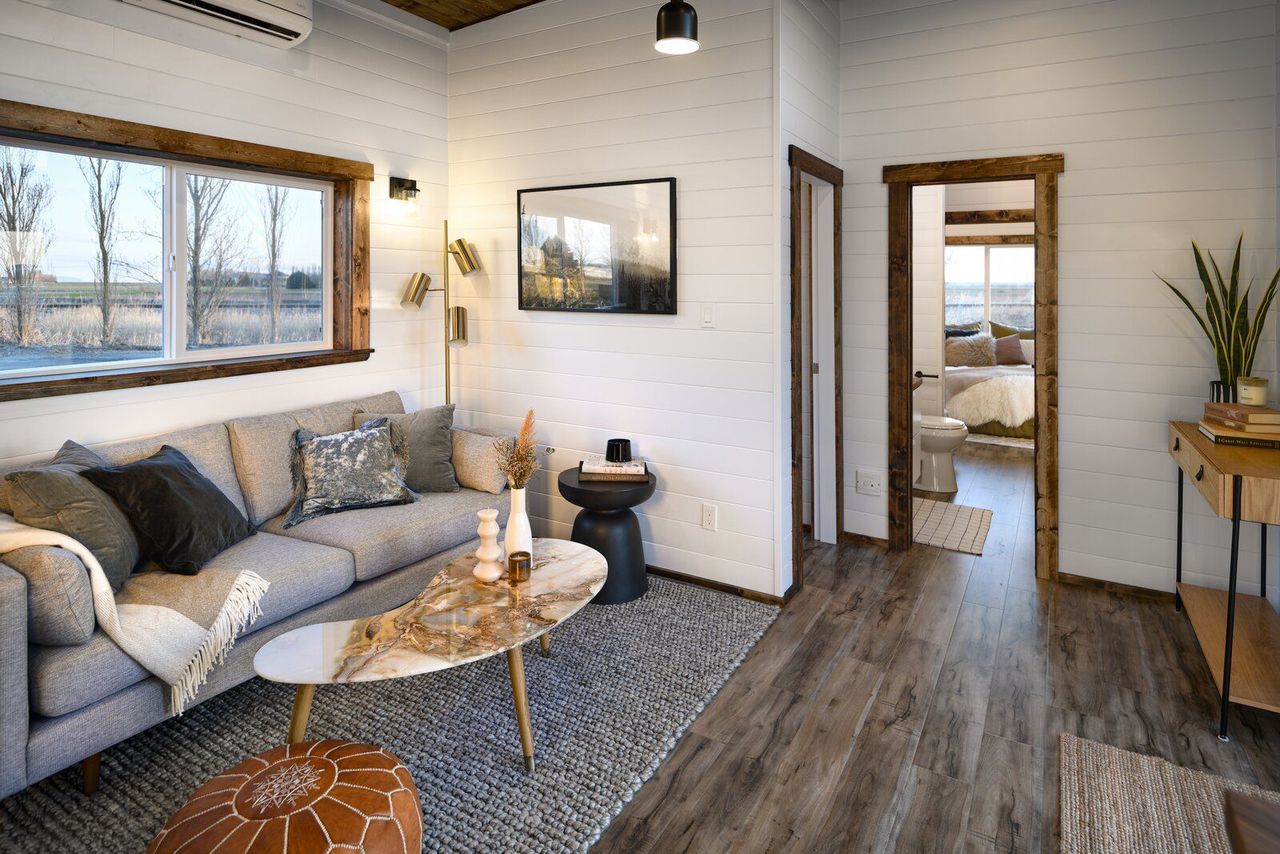 The laminate flooring has a rich brown tone that mimics the pine ceiling and trim, lending the tiny home a rustic sensibility.

"We like to spend most of our time outdoors, although we still enjoy the creature comforts of cabin living in this Park Model," Sheniz says. "We love that it doesn't feel like living in a hallway, and that it has all the essentials such as a dishwasher, a washer and dryer, in-floor heating, a double sink, a full bathtub, and two bedrooms."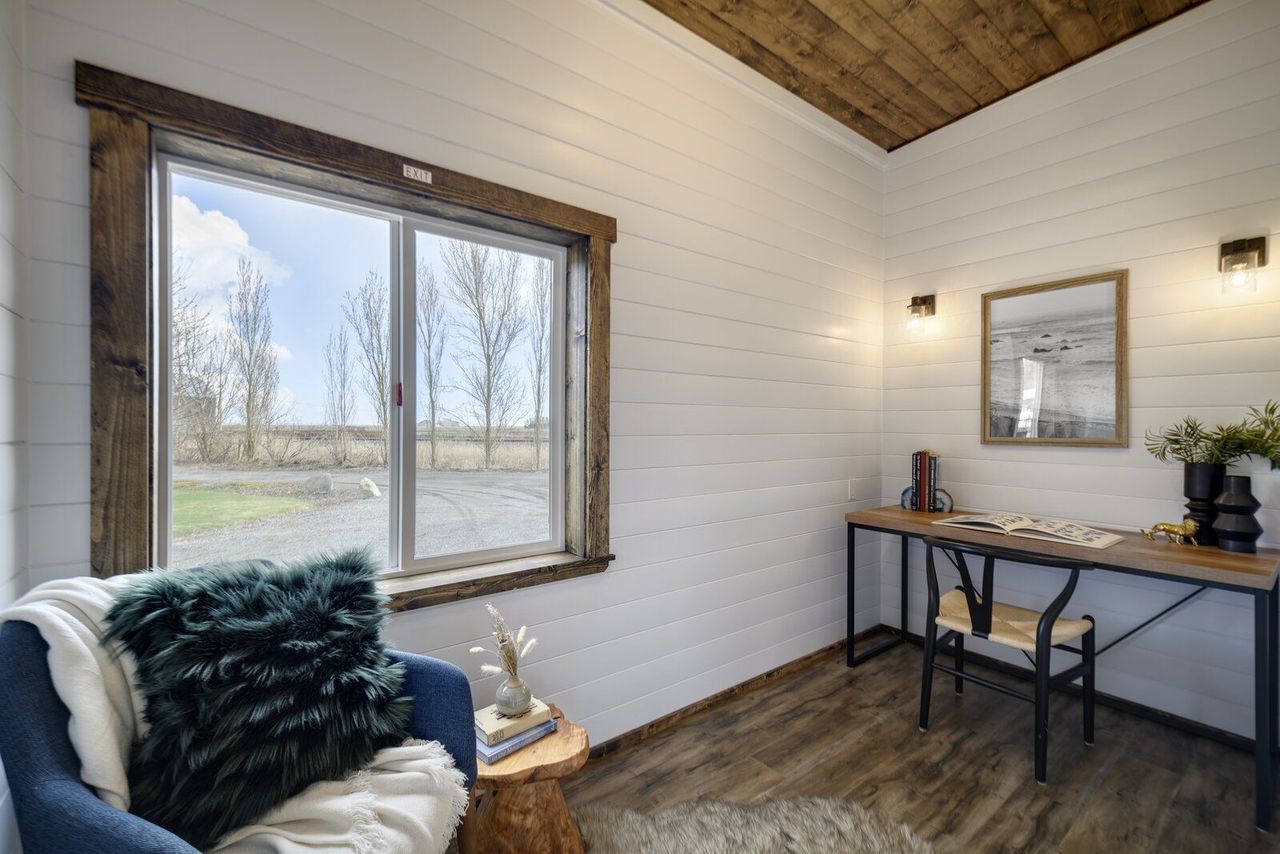 The second bedroom, arranged as an office, holds a workspace and a wood side table beside an upholstered armchair.

The family's Park Model tiny house is wrapped in tongue-and-groove cedar with metal accents, and it features a black metal roof. "The roof matches the siding, and is the best in terms of durability-it's important that we build to meet the needs of all climates across Canada and the U.S. while staying transport friendly," says Jordan Bates, marketing and social media coordinator at Mint Tiny House Company.

Inside, a caramel-colored pine ceiling and laminate flooring offset white-painted tongue-and-groove pine walls. "The Park Model has many windows and doors throughout that allow for lots of natural light," Bates says.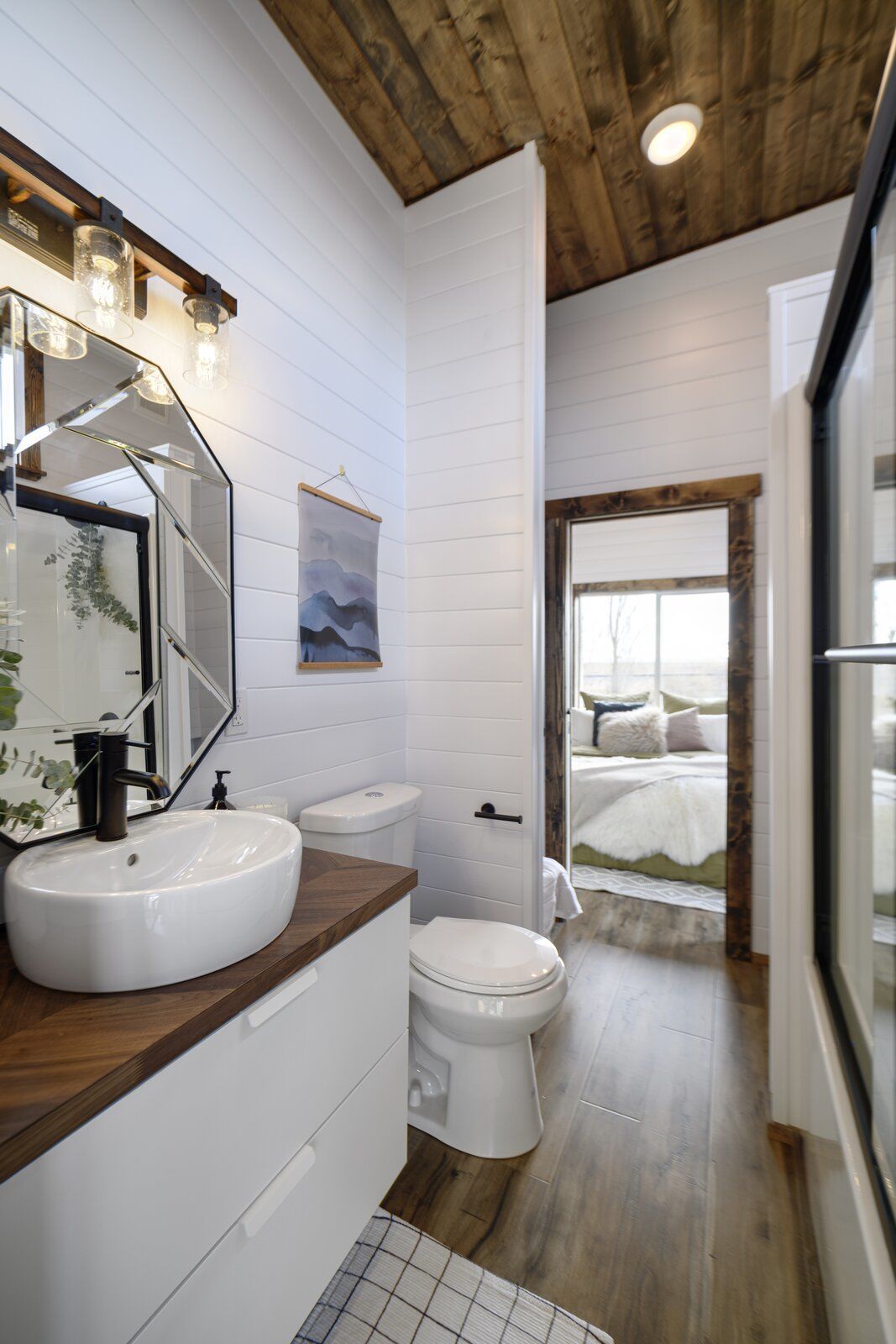 The bathroom, situated between the main bedroom and the secondary bedroom, is outfitted with a wood-topped vanity, laminate flooring, and a large shower.

Sunlight bounces off the white walls, giving the 14-by-38-foot tiny home a roomy and open feeling. "The extra width accommodates families," Bates says. "The Park Model is perfect for those who want to downsize without letting go of spatial needs."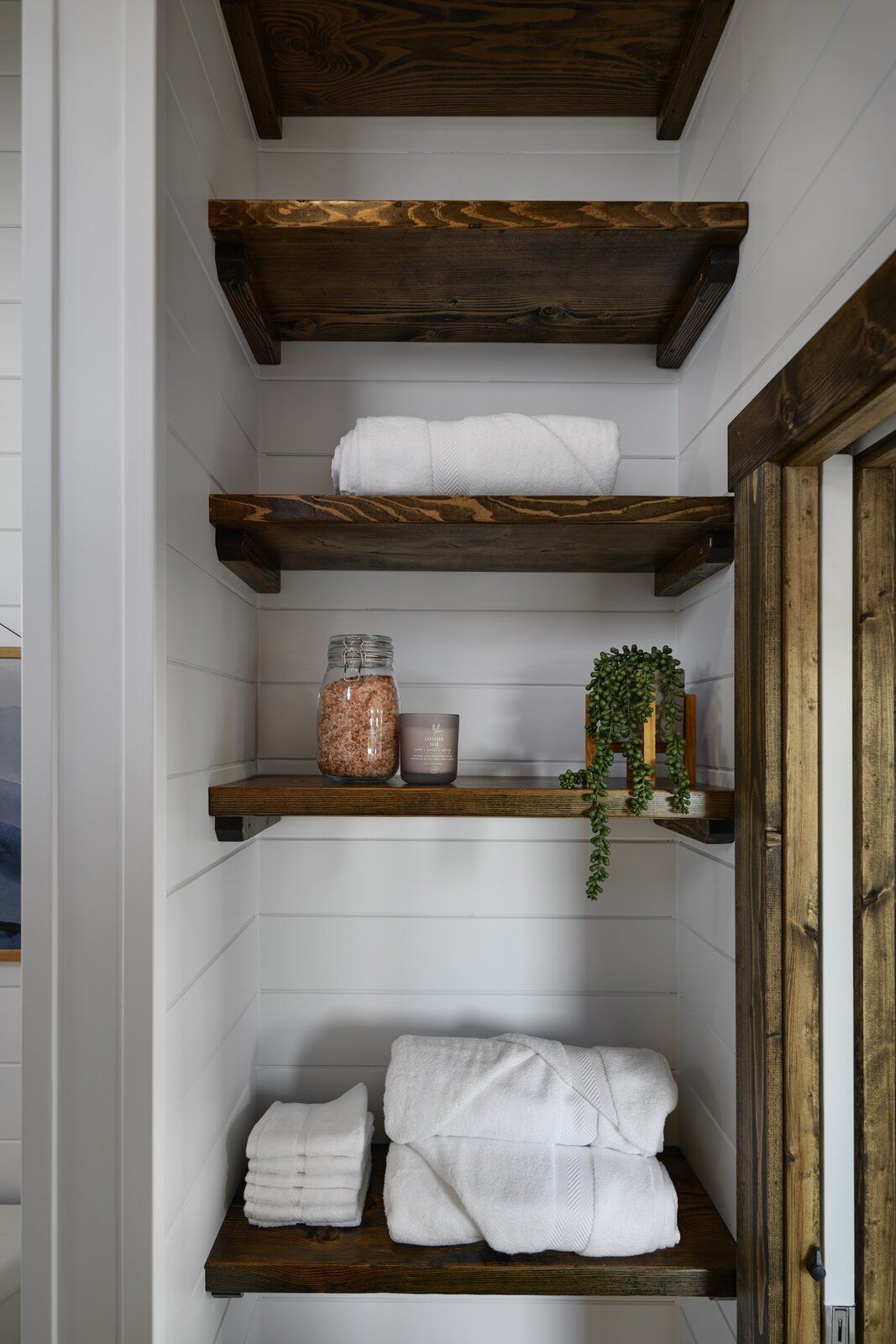 Open shelving serves as a linen closet between the bathroom and the main bedroom.

According to Sheniz, letting go of at least some space is a good thing. "The less you have, the more intentional you are," she says. "It's an exercise in minimizing possessions and increasing life experiences."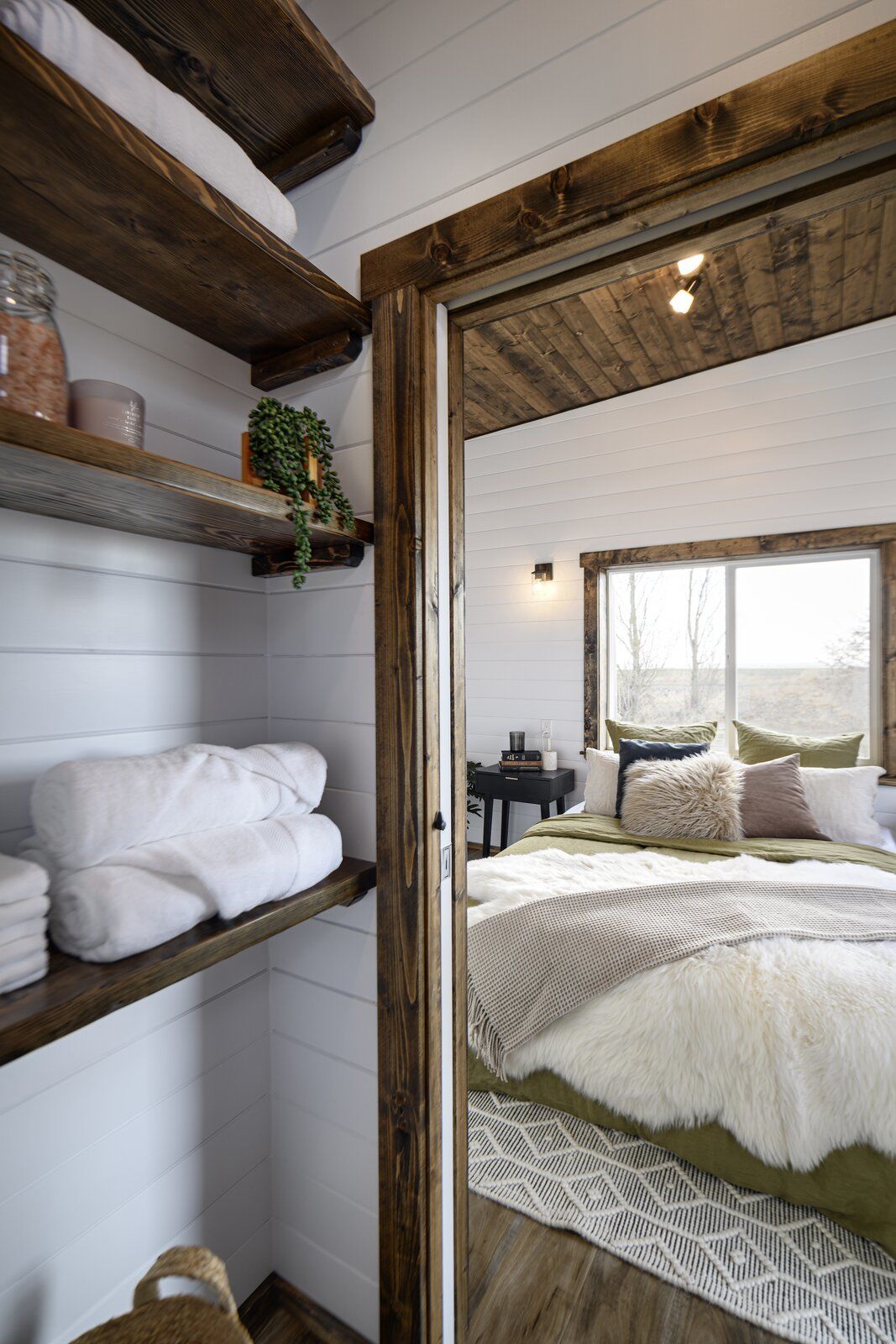 The linen closet is open to the main bedroom, where a pine ceiling provides warmth and texture.

"Small spaces ensure that you have only what you need-and that's liberating," she continues. "They encourage people to spend more time outside, and they bring families together. This is important for our family, as we live by the principles of a wolf pack. When we lived in a larger home, we didn't spend nearly as much time together."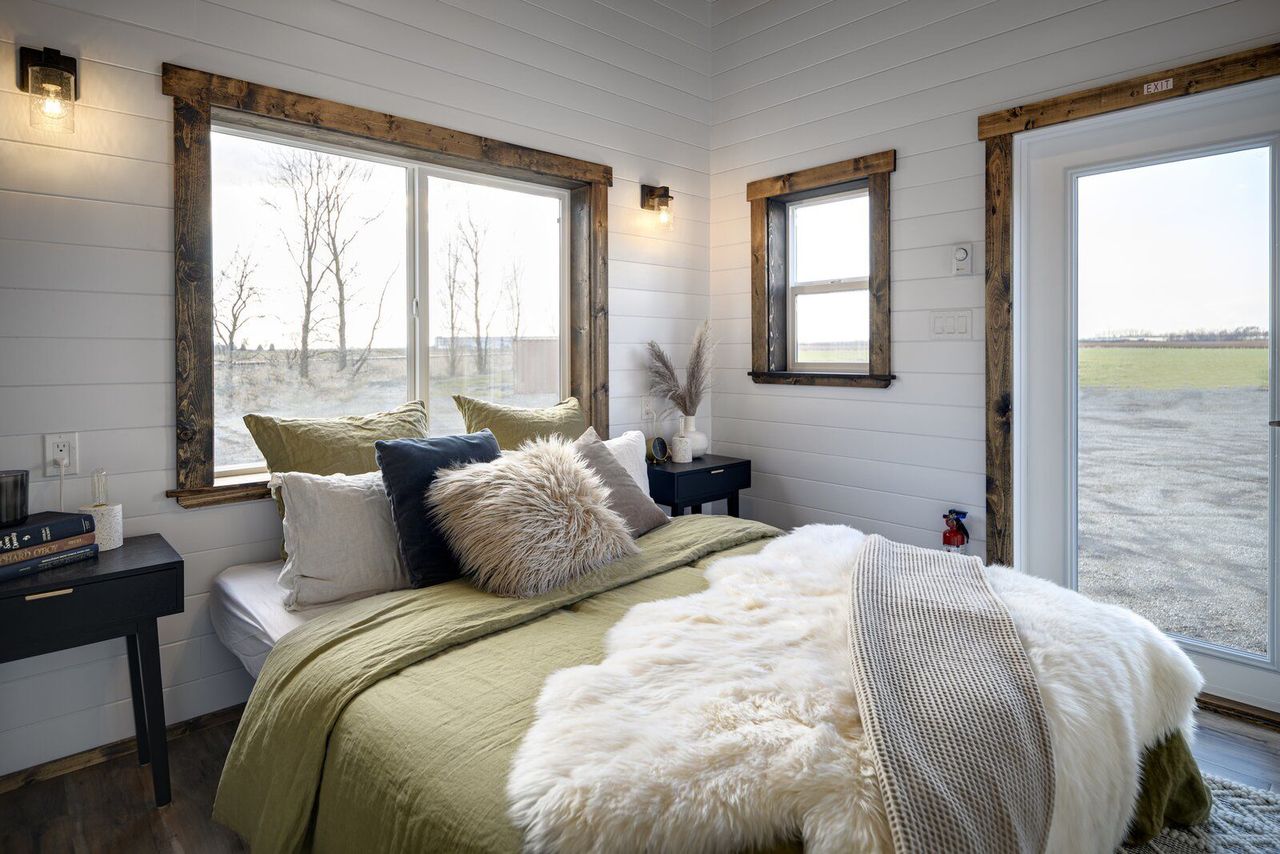 The main bedroom showcases a large window and a glass door that ties the space to the outdoors.

Sheniz also believes the smaller environmental footprint of tiny homes is essential. "It demonstrates that we can all live more sustainably on this planet," she says. "And a family can have all that they need without having a mortgage to pay off for decades."