Long before Heather and Kevin Fritz started building and designing tiny homes under the moniker Fritz Tiny Homes in Spruce Grove, Canada, they lived in a micro dwelling of their own. At the time, the couple were hunkering down in a converted Edmonton city bus while building a larger home. "We knew we wanted four children, and opening our home to others and hosting community dinners and events is very important to us," says Heather. "With that said, living tiny taught us about living simply and intentionally and how incredibly freeing and life-giving it is."

The Fritzes fondly remember the bed tucked between two emergency exit windows, which they kept open at night. "We could feel cool breezes cross over us, and there were the sounds of frogs, crickets, and rainfall on the tin roof," says Heather.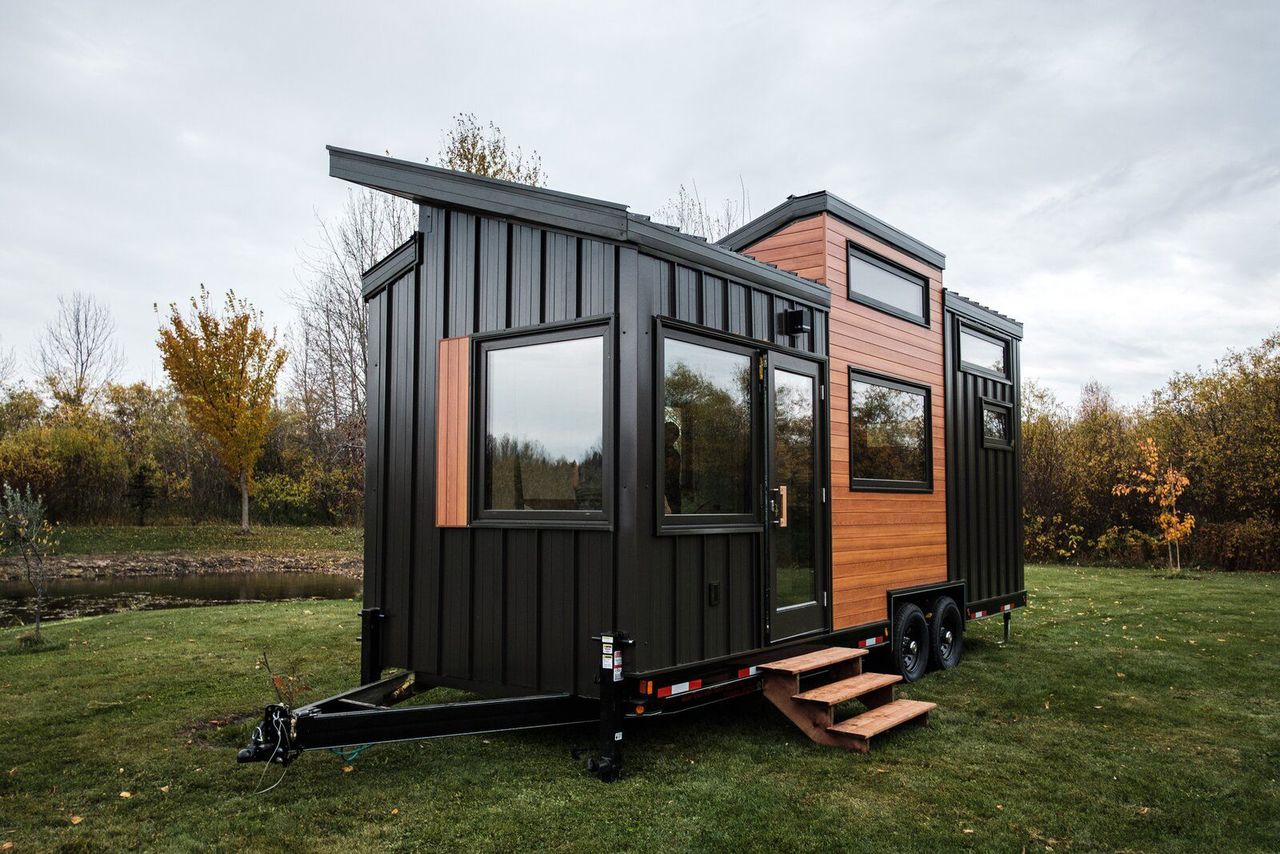 Heather and Kevin Fritz's first project as Fritz Tiny Homes was a 268-square-foot dwelling sided with standing-seam metal and wood-textured aluminum. "Metal siding assures a maintenance-free exterior regardless of exposure," says Kevin.

Now, almost 16 years after their home on wheels, Heather and Kevin now have four children and a hobby farm that allows the family to spend time together outdoors tending to the gardens, chickens, goats, and ducks. They haven't forgotten their roots, however: in 2019, they walked away from their jobs and launched their own tiny home company, armed with Kevin's experience building custom high-end homes.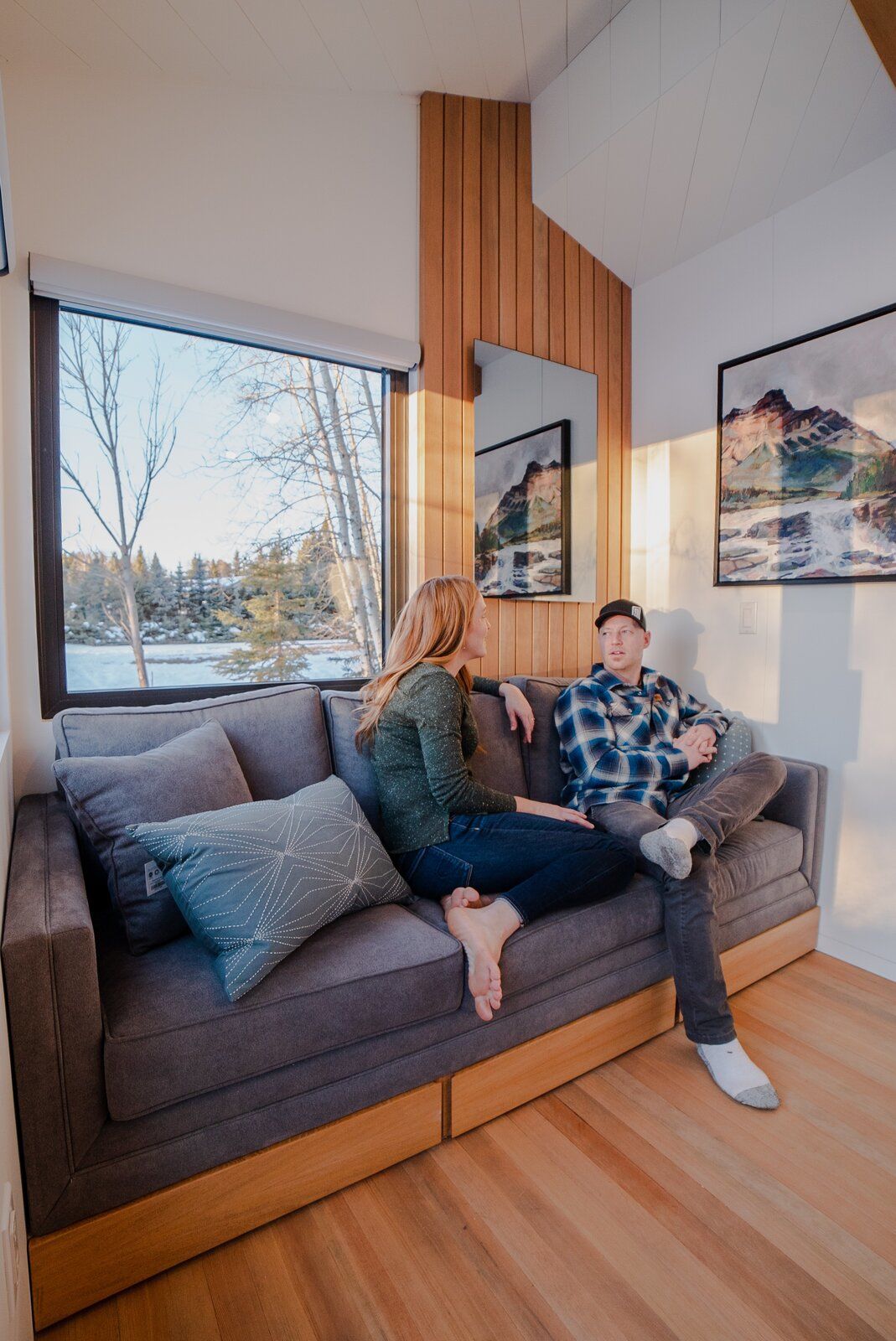 Heather and Kevin sit on a custom sofa in the living room, which features a bank of drawers underneath for storage. Above, a WarmlyYours mirror emits radiant heat and helps warm the tiny home.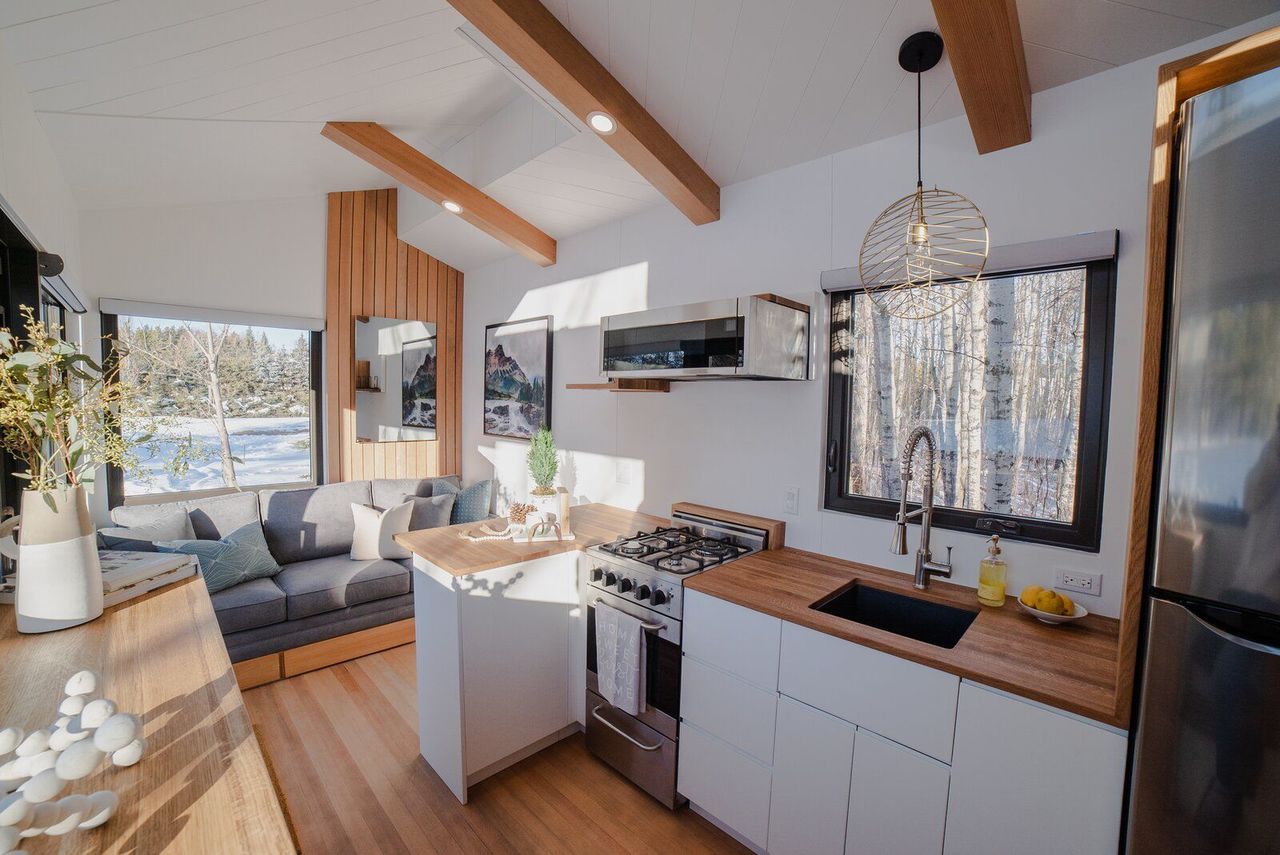 Douglas fir paneling and ceiling beams punctuate the crisp white space, complementing Baltic birch plywood cabinetry and white oak countertops in the kitchen.

"We're specifically interested in designing and building tiny homes because we like the idea of distilled design and making every square inch of space count," Heather explains.

Fritz Tiny Homes doesn't offer customers models to choose from; instead, the company focuses on highly tailored solutions that will last for the long haul. "We could put out five models that reflect our ideas, and they might be 90% effective for someone, but when you're working with under 400 square feet, 10% that's inefficient might mean that a home won't work for long," says Heather.

"It's more creative," Kevin adds about the process. "Every person is a new client to get to know. It's just fun and interesting to figure out how to give people a very efficient home with all the things they want and need."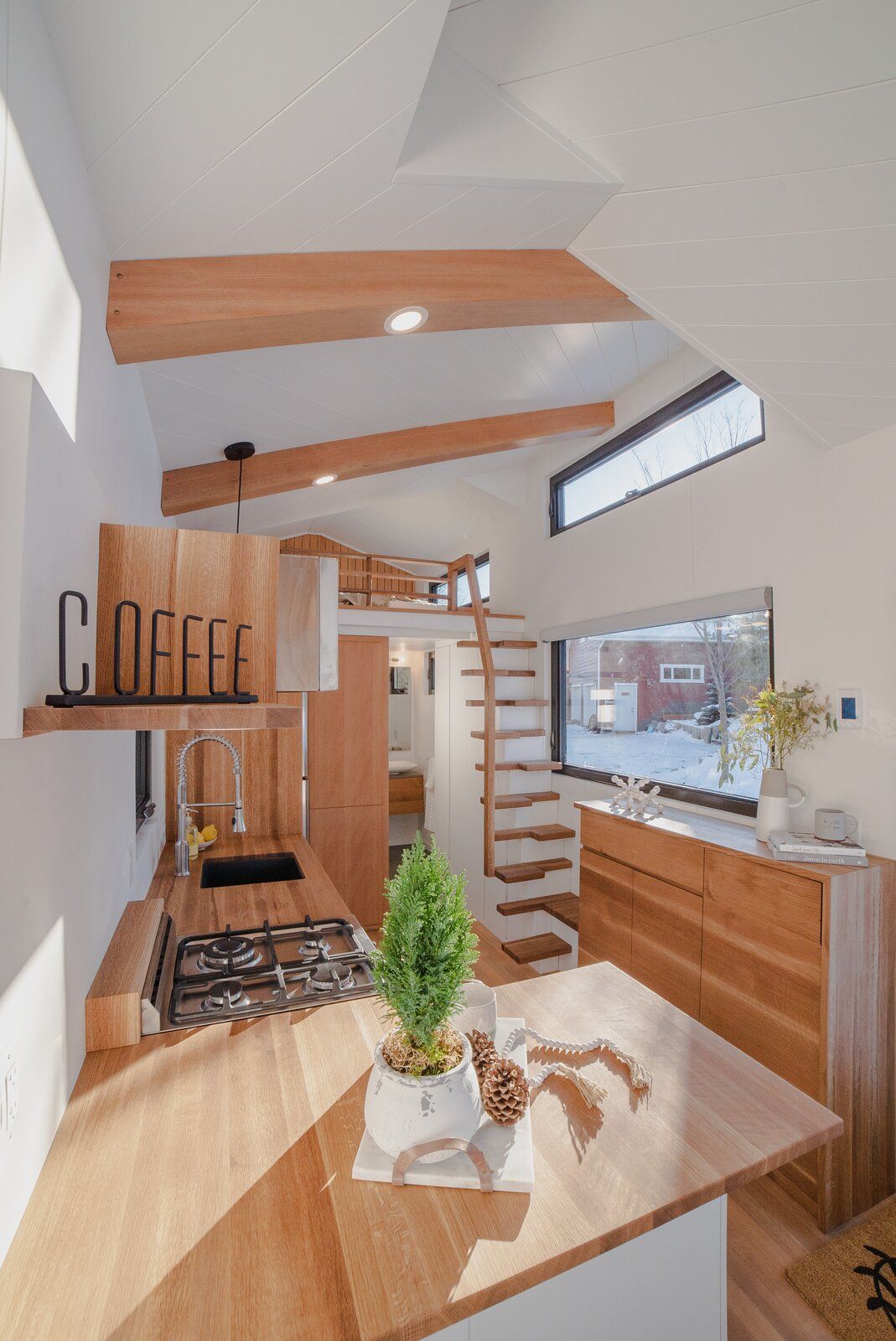 A short hall connects the kitchen to the bathroom and holds integrated shelving, a wardrobe, and an electrical box. The open stair treads leading up to the sleeping loft save on space and keep sight lines open.

To get their burgeoning business off the ground, the Fritzes started by building their first tiny home sans client to "show people what we're capable of," says Kevin. Constructed for roughly $160,000, the 268-square-foot tiny home is clad in black standing-seam metal and aluminum with a wood-like look. Varied rooflines lend architectural interest, and nine triple-pane windows flood the interior with sunlight while a layer of rigid insulation helps with efficient heating and cooling.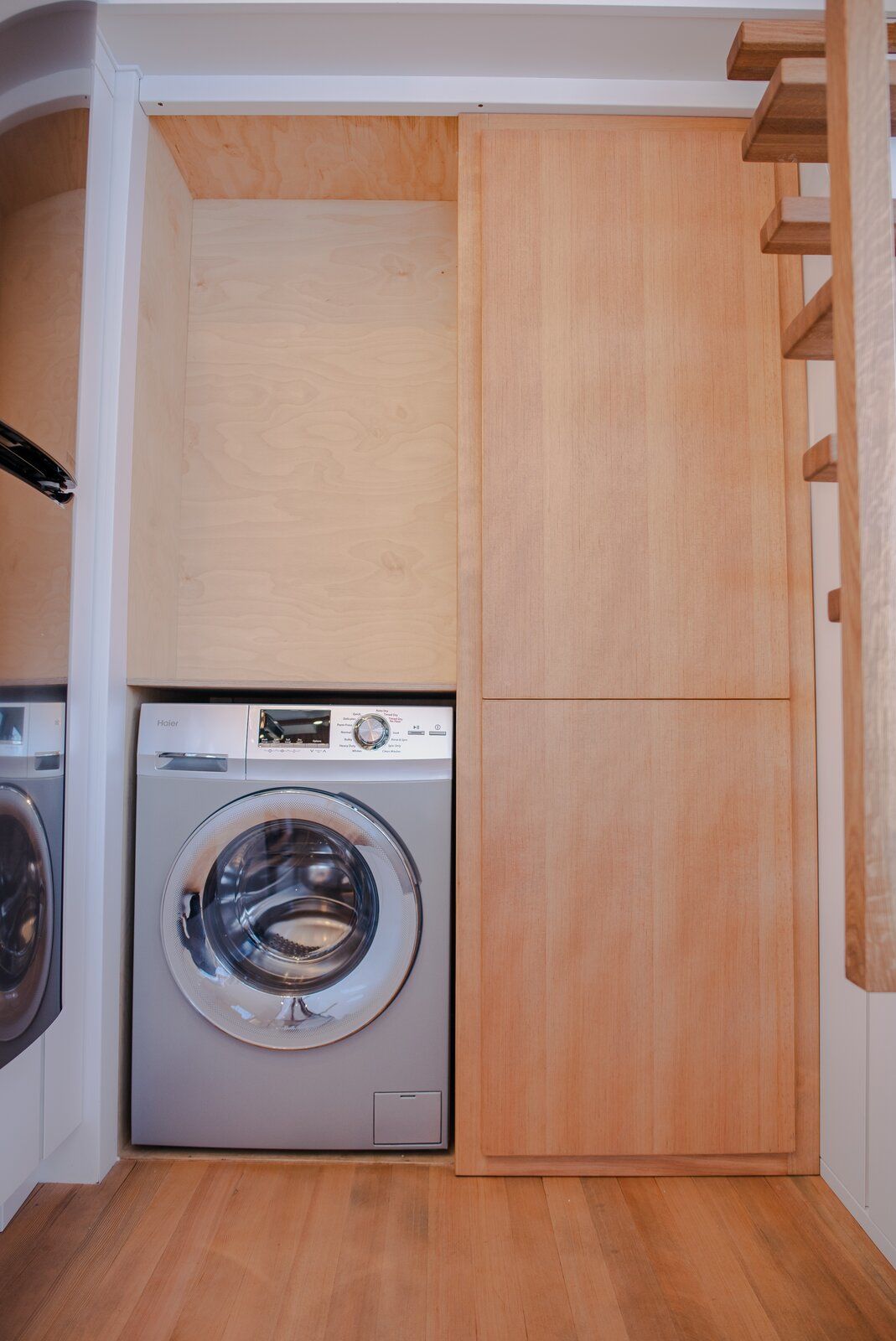 Pantry storage and a washer/dryer unit are tucked beside the sliding door that accesses the bathroom. "There's additional storage inside the sliding door," Heather says.

Inside, Douglas fir paneling and ceiling beams punctuate the crisp white space, complementing Baltic birch plywood cabinetry and white oak countertops in the kitchen. Every square inch has been considered: In the living room, a custom sofa is set atop a bank of drawers that offer deep storage, and the white oak staircase that leads to the sleeping loft features a left-right tread system that is half as wide as a typical staircase. The open treads don't interfere with light or sight lines, and underneath the staircase are an integrated wardrobe, shelving, and electrical box.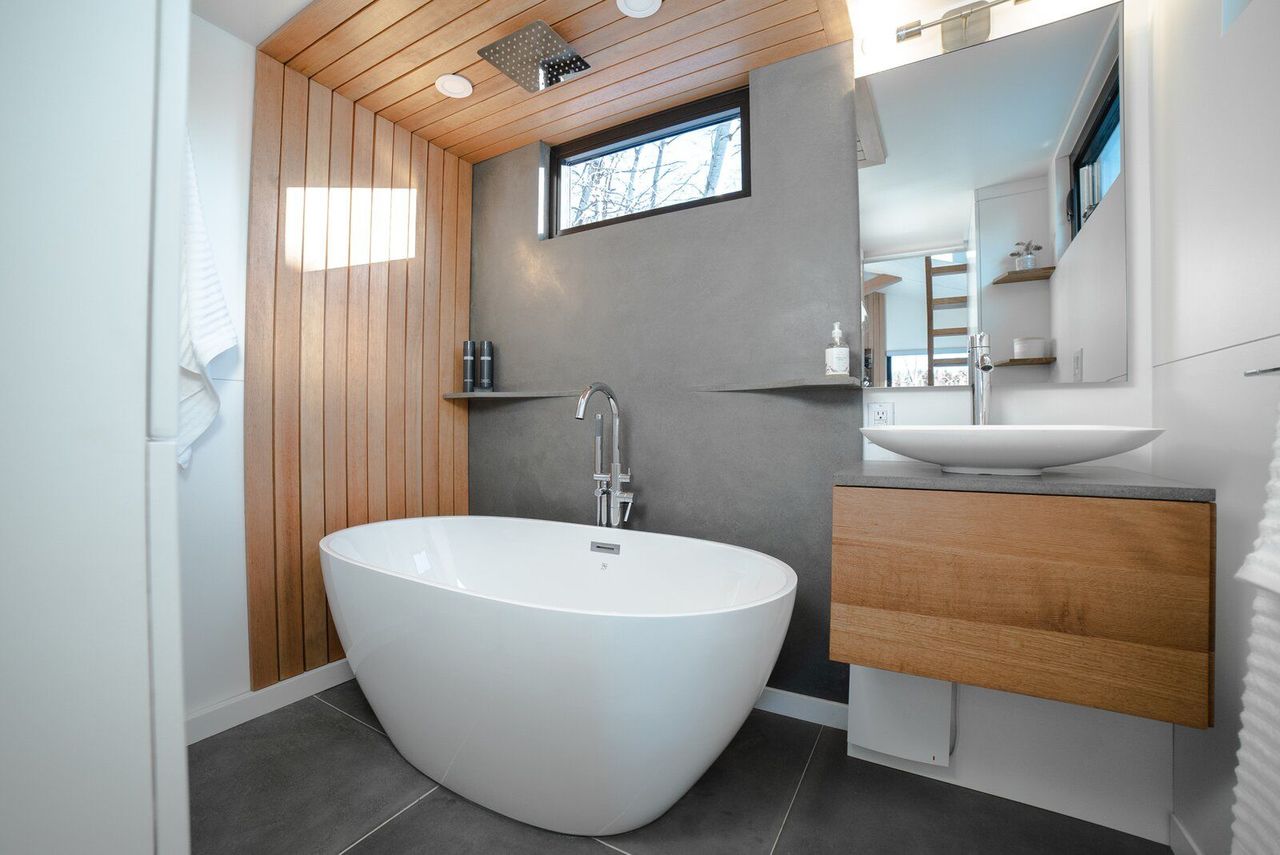 A soaking tub with a rain shower head provides a sense of luxury in the bathroom, where a concrete wall, flooring, and vanity counter offset a white oak vanity and more Douglas fir paneling. "Glass beads were added to the concrete before it was poured," Kevin tells us. "This lightens the weight of the concrete by 37% and adds R-value."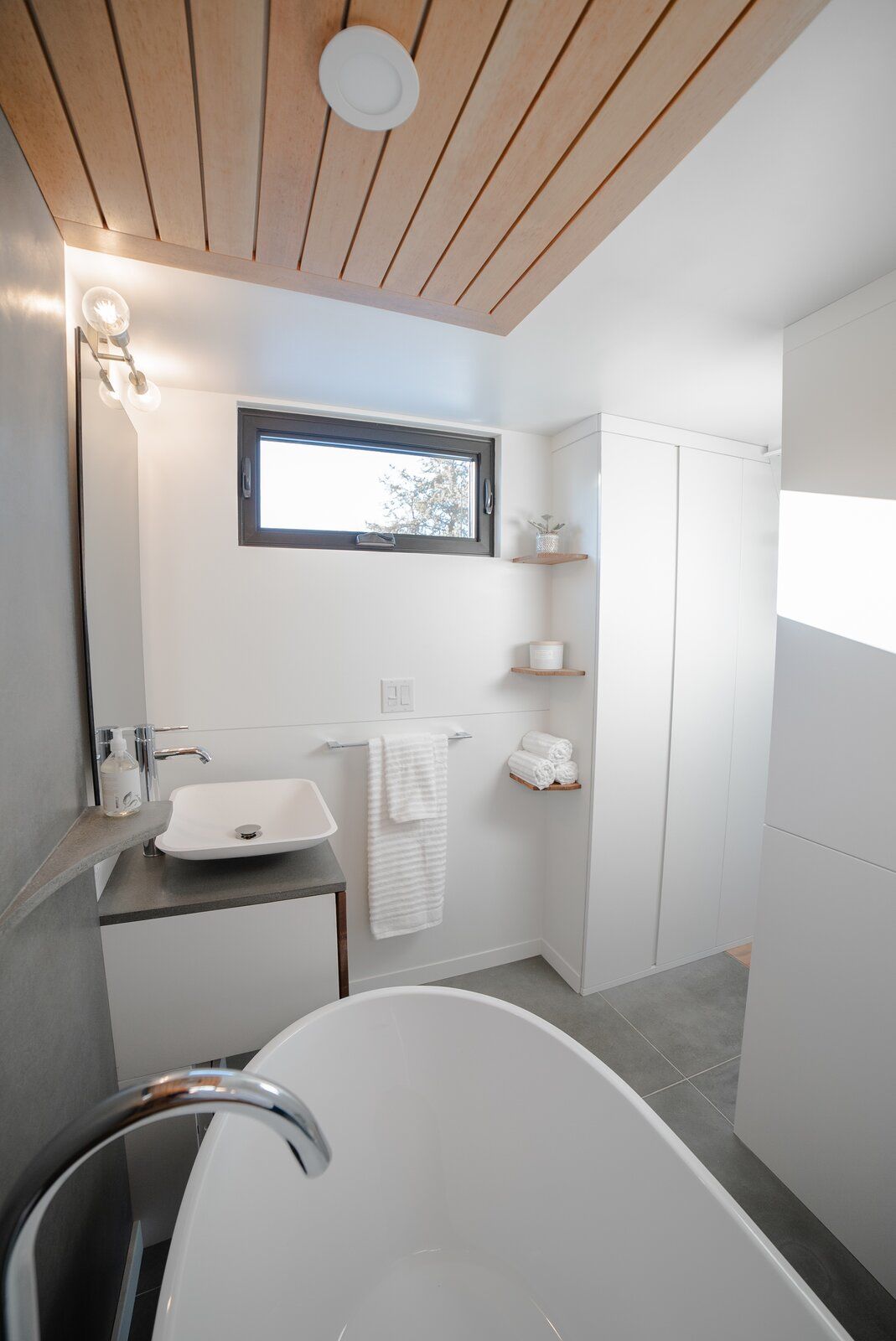 Another WarmlyYours mirror in the bathroom heats the home.

The Fritz tiny home prioritizes health and sustainability as well. Two ember infrared radiant heat mirrors by WarmlyYours-one in the living area, and one in the bathroom-warm up the quarters. "The mirrors are on a thermostat and are the main heat source due to the incredibly efficient building envelope," explains Kevin. An energy recovery ventilator in the bathroom draws fresh air into the home through a ceramic core that heats or cools the stream depending on the season. "It makes for a healthier environment, extends the life of the home, and is 93% percent effective in terms of heat loss," says Kevin.




To create additional headspace in the sleeping loft, the Fritzes devised an inset in the Douglas fir flooring that accommodates a mattress. The backlit headboard and built-in storage that flank the bed are also made of Douglas fir.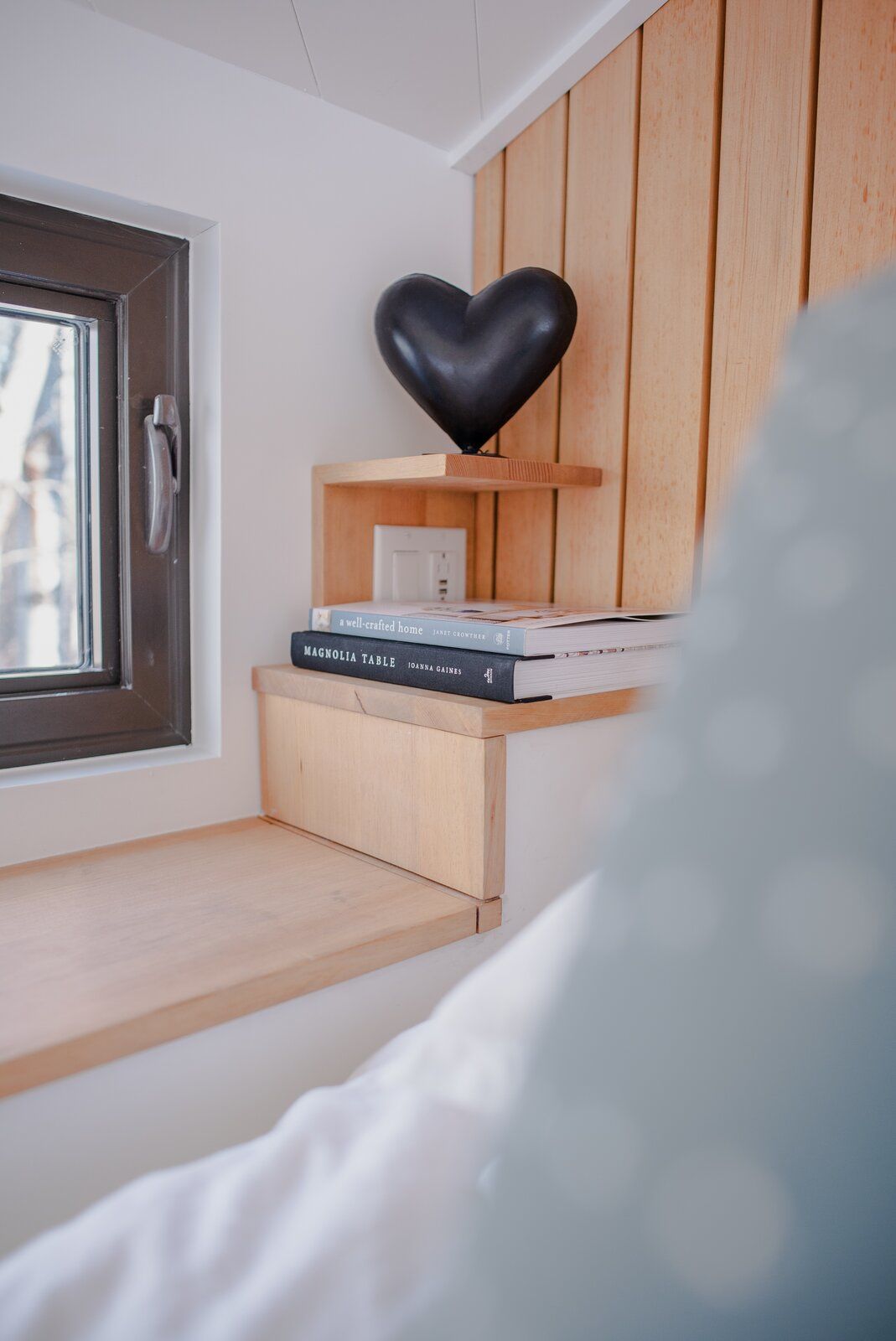 On either side of the bed, custom cabinets store clothes, and have USB ports to charge devices.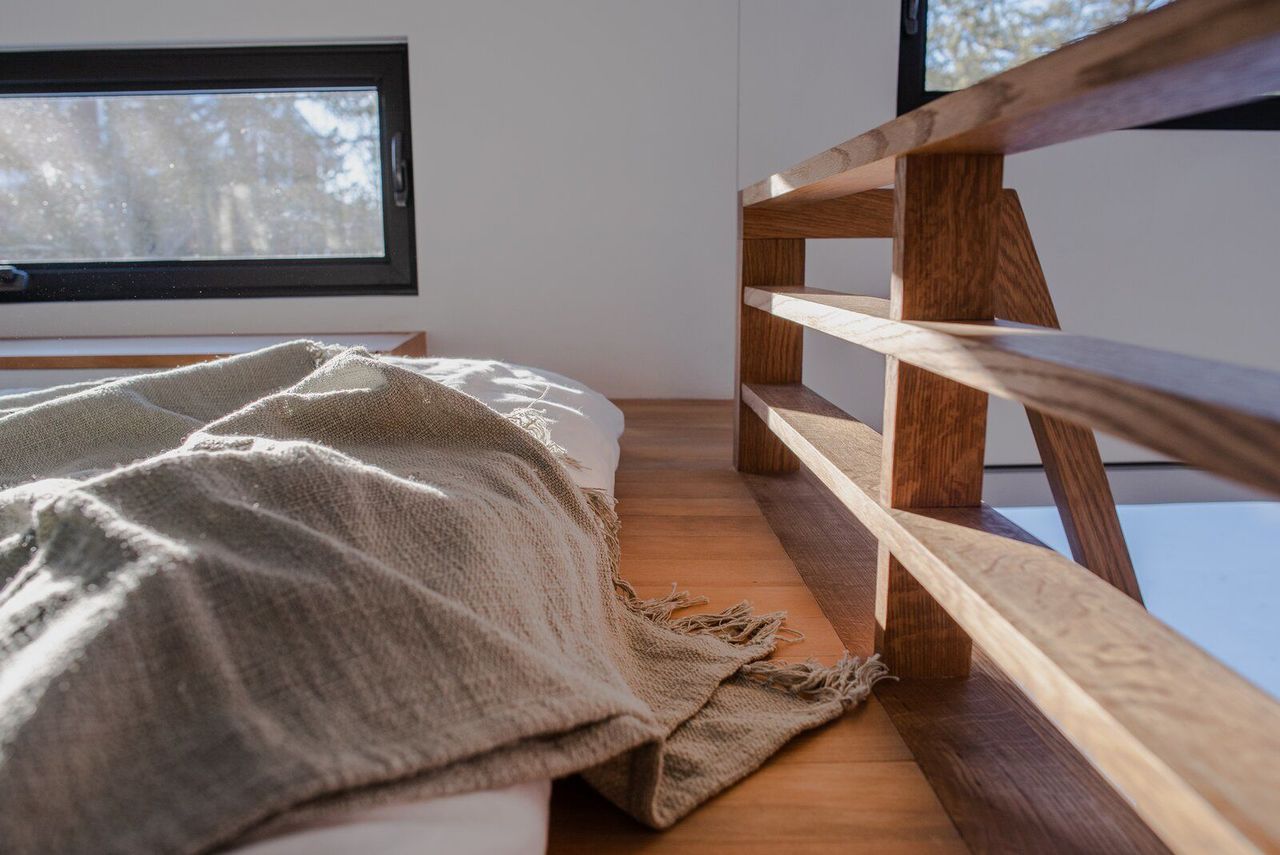 "The white oak loft railing allows for open sight lines and creates a more spacious feel for the loft bedroom," Kevin says.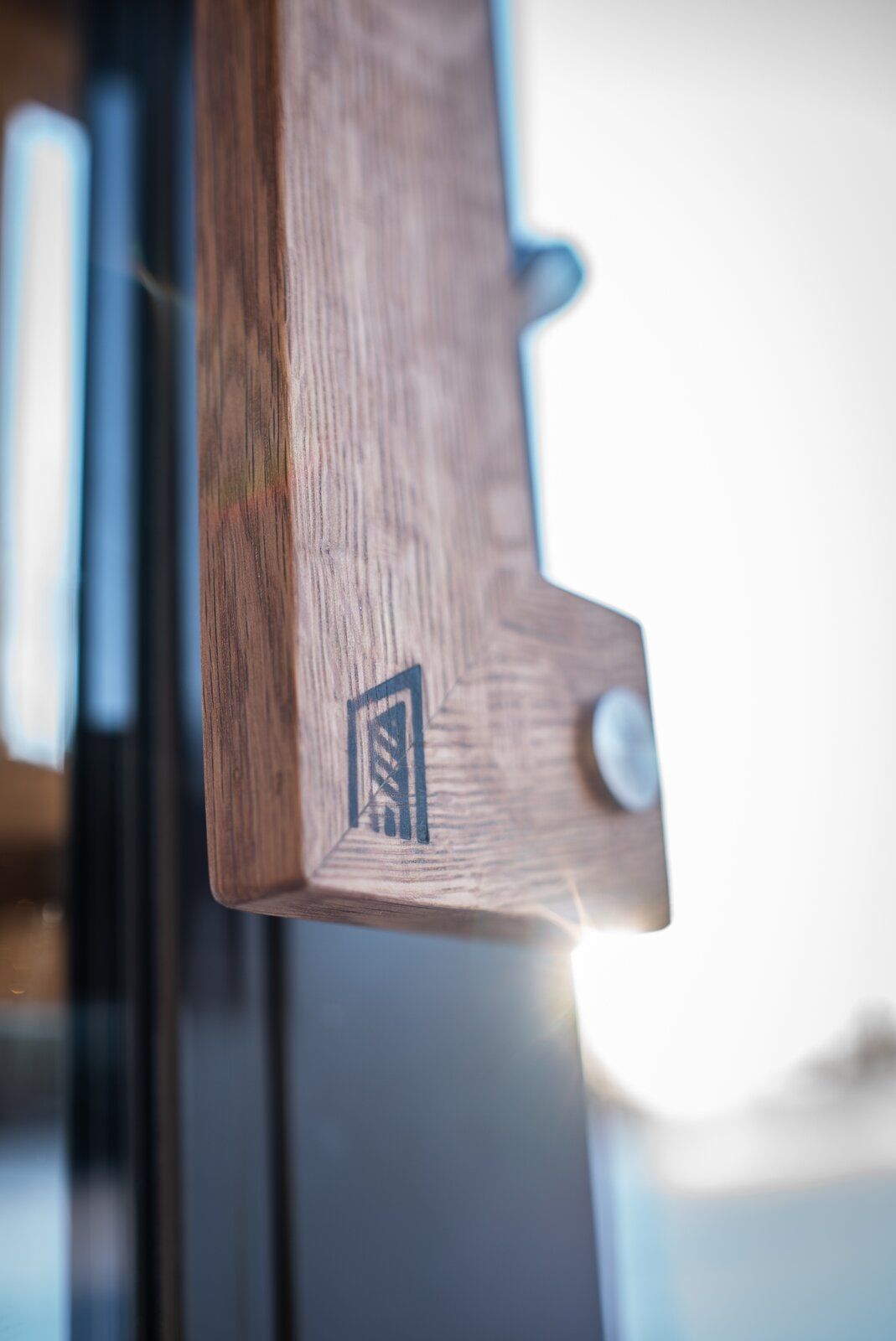 Each tiny home the Fritzes design and build is branded with the company logo on the front door wood handle.

The couple's first build was such a success that they found a buyer before the home was complete. "Now we have a few new builds on the horizon there are tailored to each customer," says Kevin; one client is a woman who wants a separate office space, and another wants to feature her Peloton bike.

"The tiny home movement is full of people who are out-of-the-box thinkers-people who are value-driven and seem to see life a touch differently-and that perspective really resonates with us," says Heather.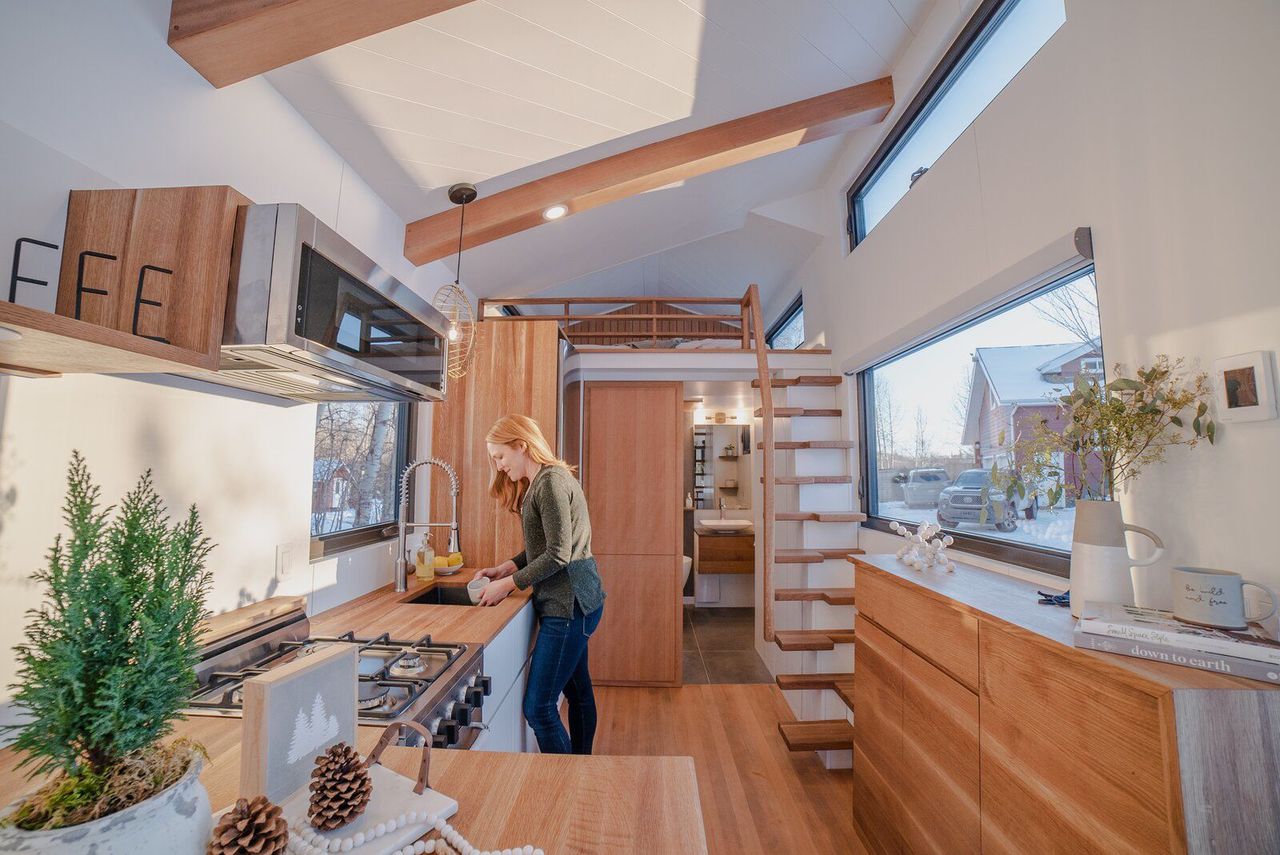 "We give every client a questionnaire," Kevin says. "The first question asks what they need in their home. No compromise. The second question asks what they want in their home. And the third question asks what would blow their mind. At the end of the day, I'm looking to fit all of those things into their tiny home."