Michigan has its share of Frank Lloyd Wright–designed homes, but in the little town of St. Joseph, there are just two. Between them, only one has vistas of Lake Michigan via a myriad of cascading windows-and it's now on the market for the first time in 25 years. Built in 195o, it is believed to be the last home that Wright, then 83, designed in Michigan.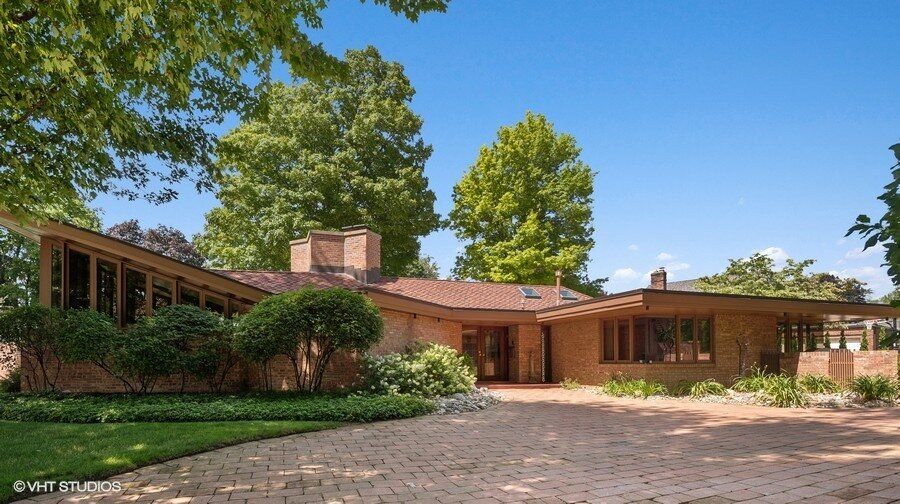 A combination of pitched, angled, and flat rooflines make up the home. The pitched and angled roof was repaired in 2012, and the flat roofs worked on in 2018.

Built of tidewater cypress and Chicago common brick, two of Wright's signature materials, the L-shaped Harper House is named after Dr. Ina M. Harper, who lived here with her husband, F. LeRoy Bradford. With her pioneering spirit, Dr. Harper became a physician, specializing in women and children's health in a time that was uncommon for women to become medical practitioners.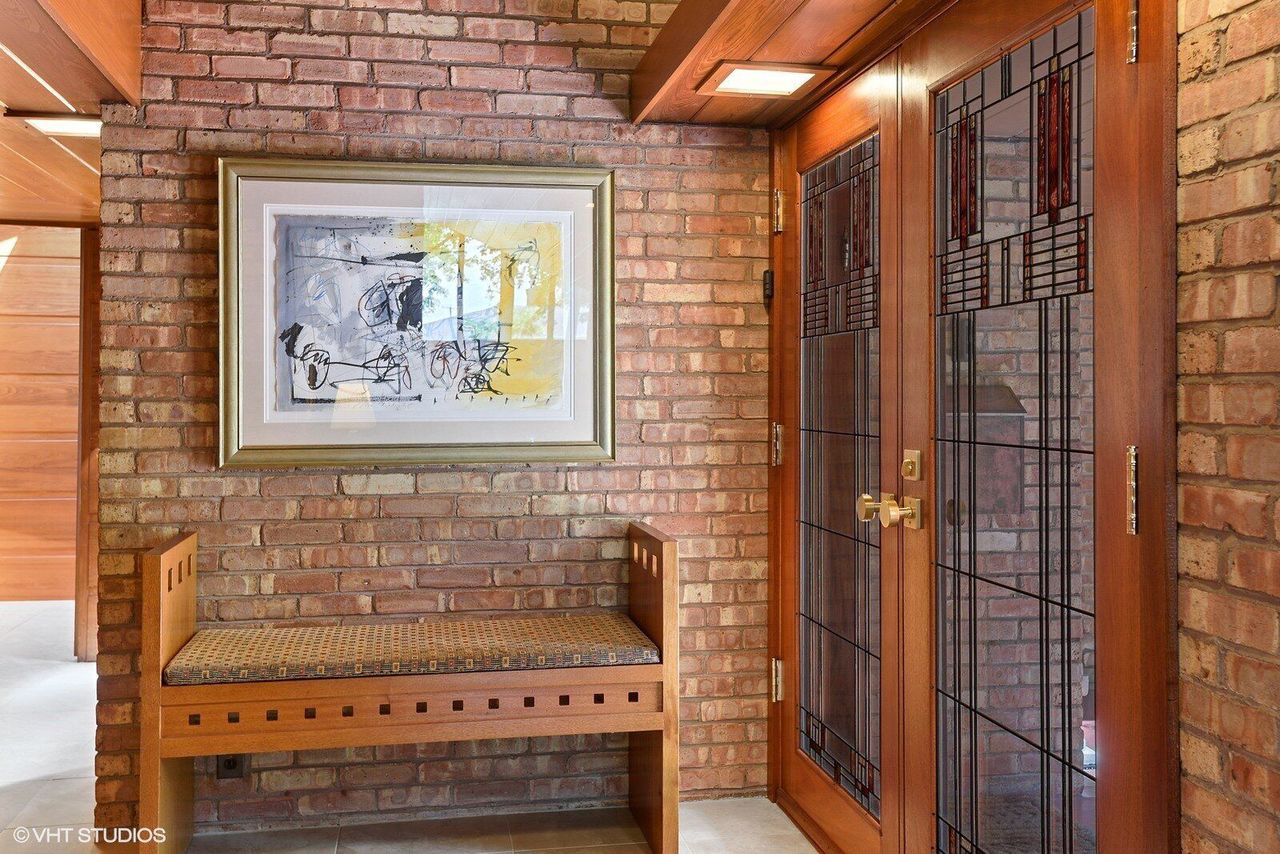 Original stained glass and mahogany doors allow light to permeate the entry.

Dr. Harper is responsible for commissioning the Wright design-her husband played no hand in the plans-but just three years after the house was built, she died in a tragic accident in Cascade, Michigan, at 77 years old. However, her gumption didn't go unnoticed.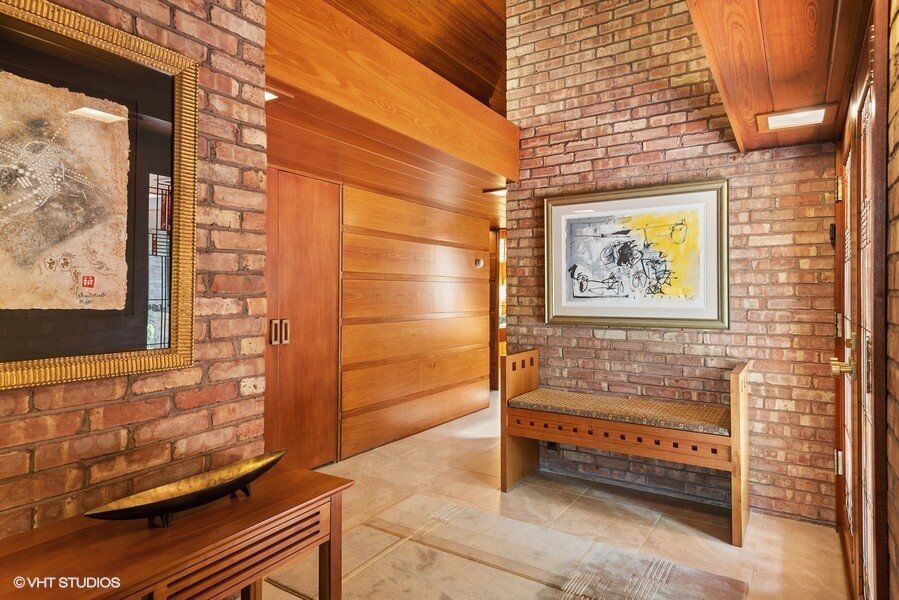 The home is made up of two signature Frank Lloyd Wright building materials-Chicago common brick and tidewater cypress, which he used often for their durability and minimal need for an artificial finish.

The Harper House is now with its fifth generation of owners, Gina Flamm and Arthur Wolak, who acquired the home in 1996. "In the past I have seen Dr. Harper referred to as a man or not given her correct title of Dr.," says Gina. "I want history to show that she was a very accomplished woman who reached out to Mr. Wright because of her desire for a beautiful home."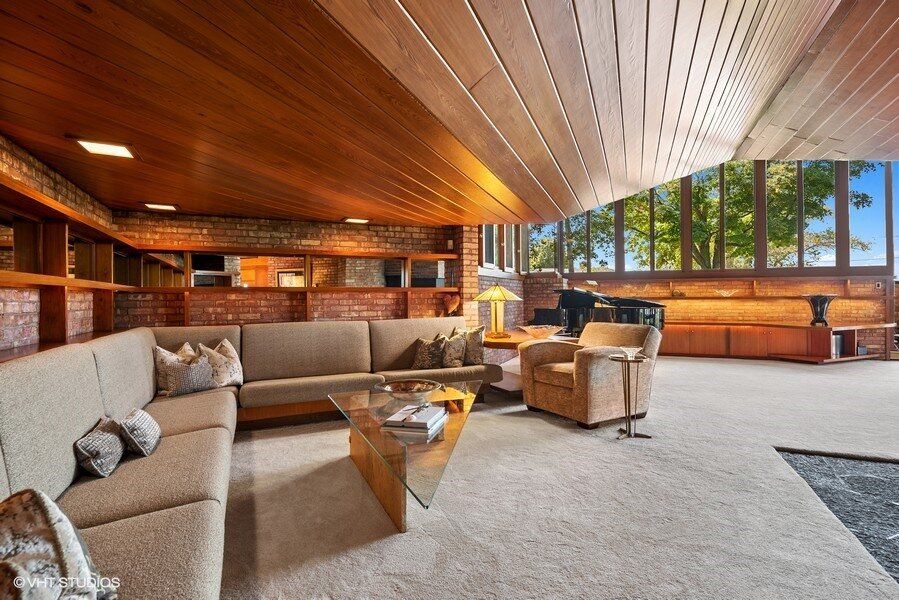 The floating sensation of the roof in the living room is created with inverted corners. When Gina and her husband moved in, the built-in couch cushions were upholstered in a pink and green floral pattern. They replaced it with a neutral tone to allow the architecture to stand out.

Gina was previously the owner of Flamm Pickle and Packing Co., a company passed down to her from her grandfather who founded the business after returning from World War II in 1945. Gina's husband, Arthur, also an employee of the company, spent a lifetime in sales of heavy construction equipment and pickle relish. After selling the business in 2020, the couple, now retired, have also decided to sell the house as they won't be spending as much time in Michigan.




In a dramatic geometric form, a massive hearth built of Chicago common brick anchors the living area.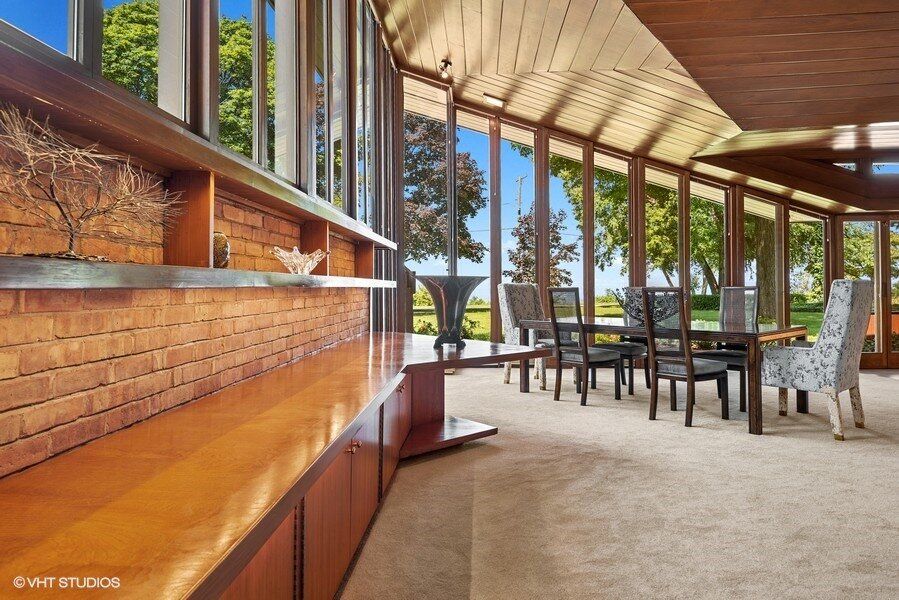 Another trademark of Wright's designs are his floor-to-ceiling windows that wrap around the home, framing views of Lake Michigan.

"With a home like ours, it needs to be lived in and loved," says Gina. "With our plans in place, it is time for someone else to experience the joy, comfort and peace that great architecture can bring to one's soul."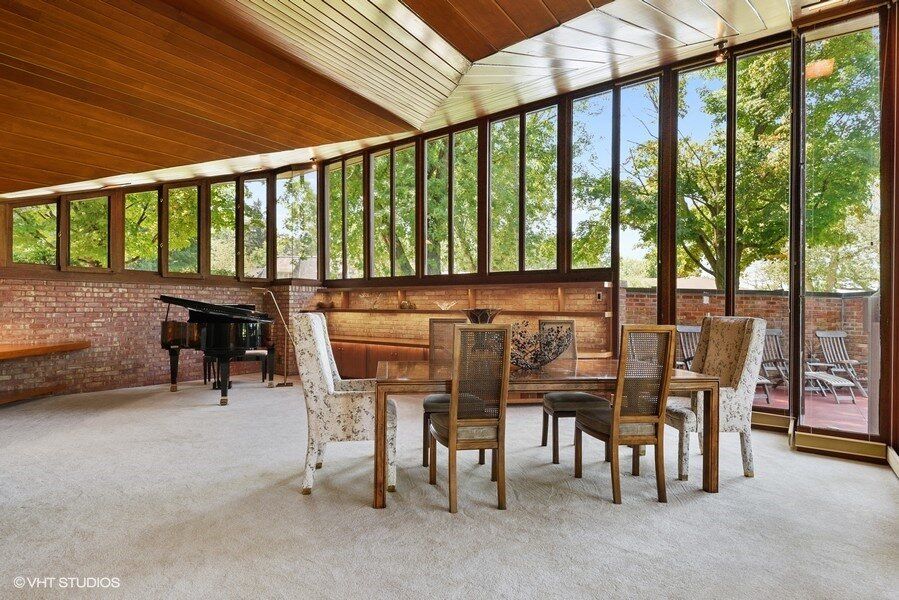 The living room looks out to the lake-facing terrace in Wright's preferred red.

The home will come with all furnishings, including several custom-designed pieces like a glass cocktail table and vanity in the half bathroom. The house is teeming with visual delights, like a projected portion of the roof that, with a hole punched through it, allows rain to fall onto the garden. Multiple art pieces, too, come with the sale price. The new owners can enjoy a full-size reproduction of a Sprite sculpture designed by Wright for Midway Gardens in 1914, as well as a Baldwin grand piano.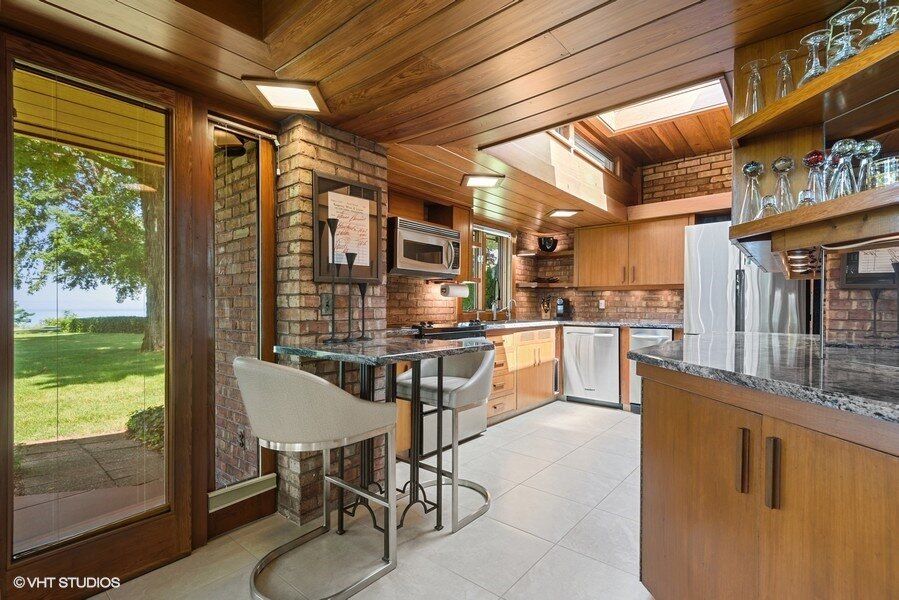 The kitchen received the most extensive upgrade in the home, and now features granite counters, slide-out pantry drawers, and new KitchenAid appliances.

In contrast to earlier Prairie-style residences, the Harper House features characteristics of Wright's later works, like walls of windows, a massive brick fireplace, stained glass and mahogany entry doors, banquette seating, and recessed lighting.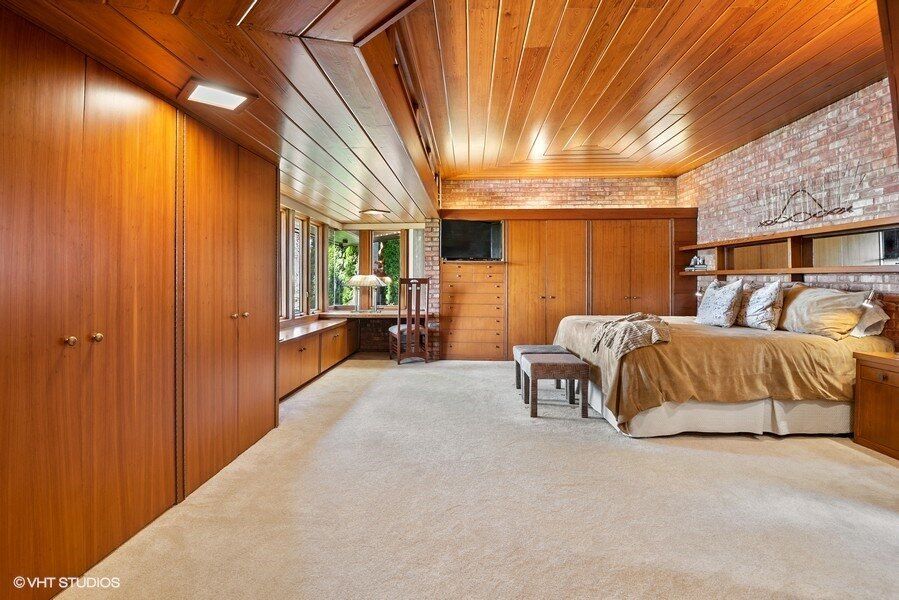 The primary bedroom is cloaked in cypress and brick to match the rest of the home, but it also has closets clad in cedar. Multiple windows face Lake Michigan, and, according to Gina, the higher clerestory windows create a play of shadows on the ceiling.

His attention to detail is apparent in the mitered glass corners which allow for unhindered sunset views over Lake Michigan, multiple built-ins with piano hinges, and a combination of pitched, angled, and flat roofs with custom fabricated copper fasciae and downspouts. Reflective of the natural light, board and batten walls and cypress ceilings glow day and night.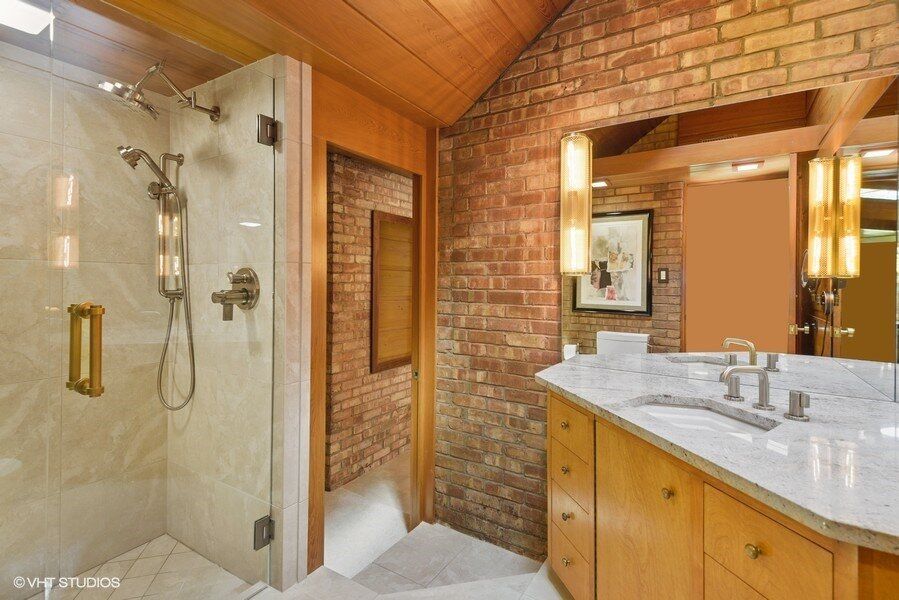 Brizo Litze fixtures were a part of recent updates in the bathrooms along with Emtek door hardware.

Prior to Gina and Arthur owning the home, the 1,700-square-foot plan was expanded to 3,150 square feet with an addition on the side of the house facing away from the lake. Designed by Charles Montooth, a Wright apprentice and faculty member at Taliesin, this flat-roofed section holds two bedrooms, a flexible space, and a bathroom. Blending old and new, a projecting roof fuses the gap between indoor and out.




Wright apprentice and Taliesin faculty member Charles Montooth designed an addition that expanded the original footprint, adding two more bedrooms, a flexible space, and a bathroom.

The current owners did a full restoration, working closely with the Frank Lloyd Wright Building Conservancy in Chicago and an approved contractor. While the house remains essentially intact, new creature comforts like Toto toilets, a tankless water heater, Brizo Litze fixtures in the bathrooms, Emtek door hardware, and energy-efficient windows have been added throughout. The largest upgrades are in the kitchen, where granite counters, a touchless faucet, slide-out pantry drawers, and KitchenAid appliances sit alongside Wright's wood designs.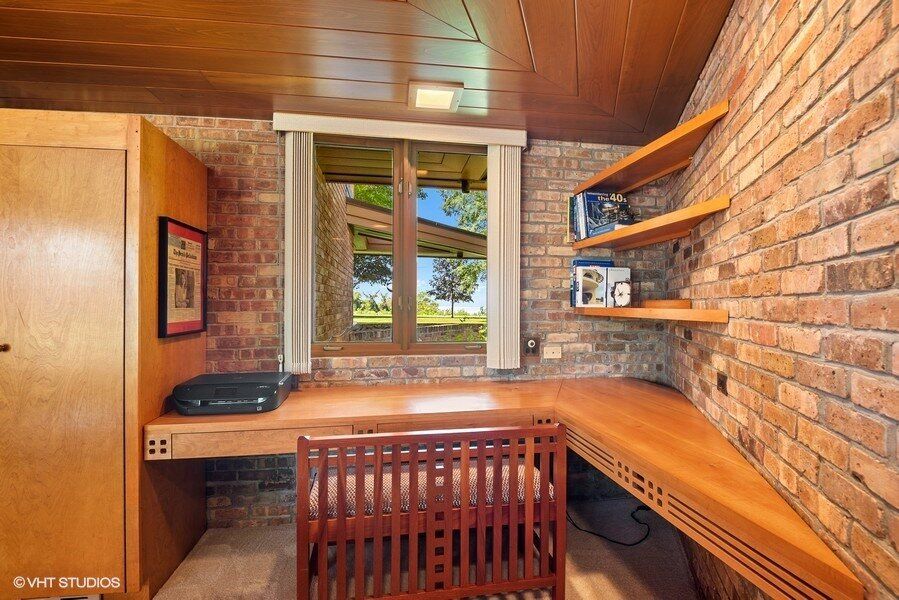 Part of the addition, the flexible space room can serve as an office or media room with a built-in desk, cabinets, and shelving.

Other updates to the home include central air conditioning, an automatic sprinkler system, and Bosch security. However, true Frank Lloyd Wright fans will be heartened to know that the original concrete floors beneath the carpet retain their built-in radiant heating.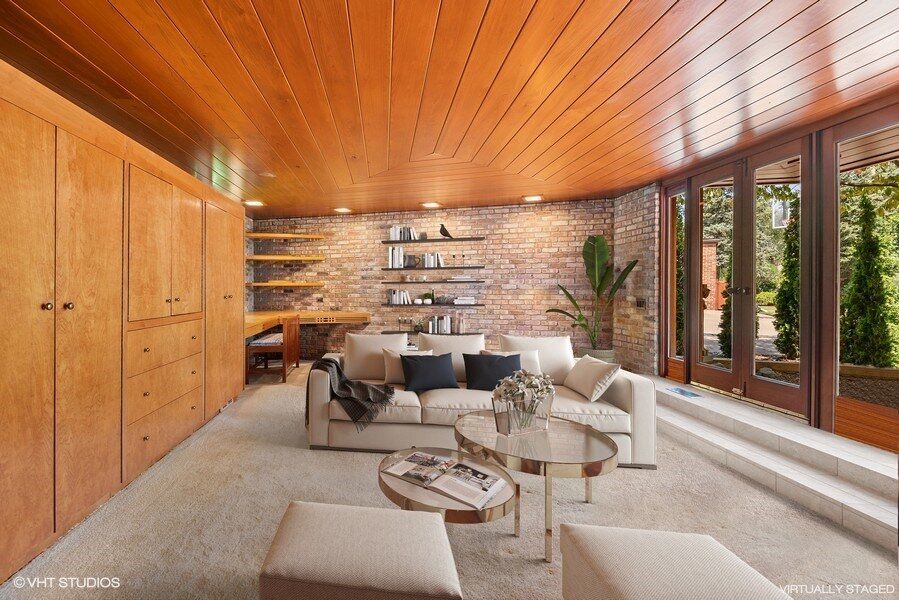 A cozier sitting room with closer walls and a lower ceiling offers an intimate space to lounge.

"To live in the Harper House has been one of the great joys of our lives-it has brought so much pleasure from the sheer beauty of the architecture, both inside and out, and gratitude that we have been able to experience all this for 25 years," says Flamm.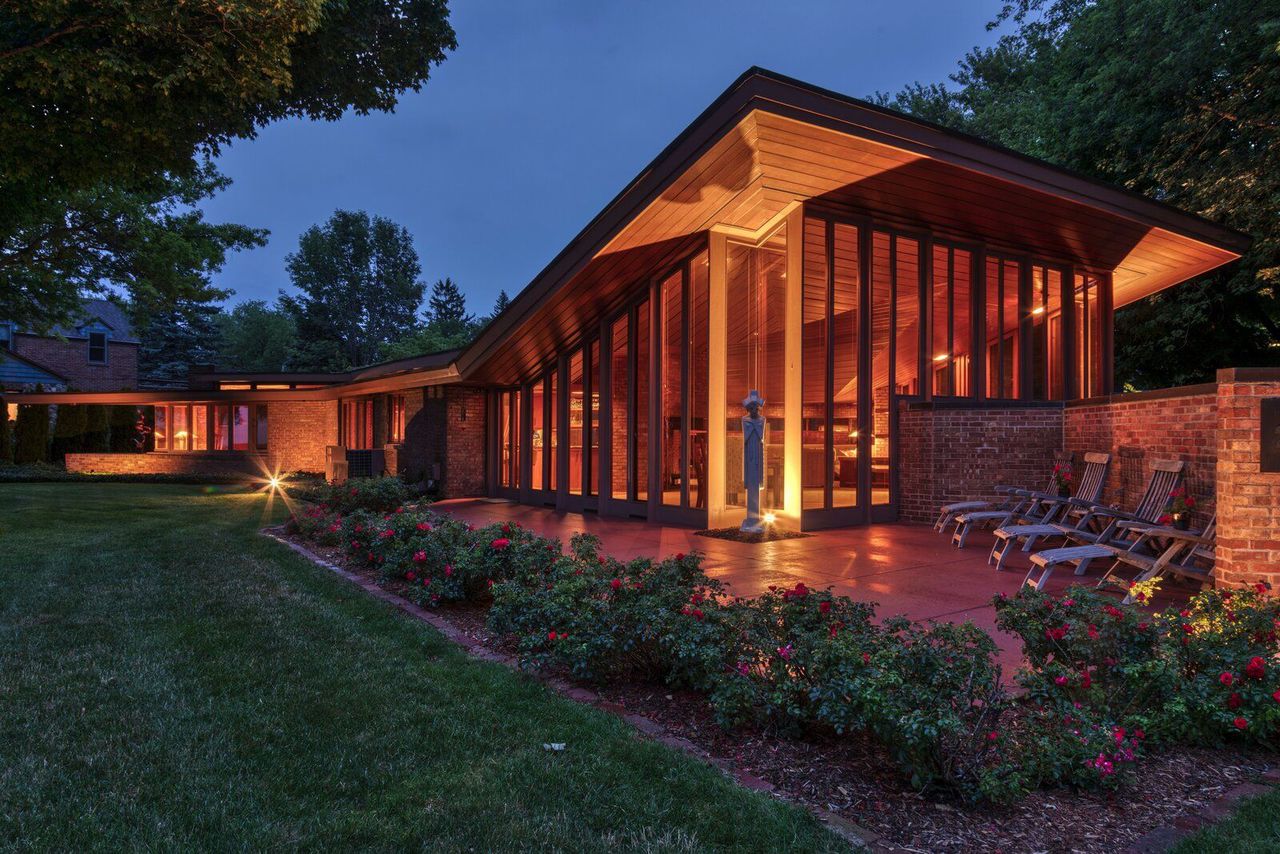 Situated on just over four-tenths of an acre in a fan shape, the wider part of the home curves around the lake, capturing expansive views.