Serving as an all-in-one cocktail-slinging station and a stylish focal point, a well-stocked bar cart adds storage and a bit of sparkle to a room. These mobile beverage stations have become increasingly handy over the past year as the COVID-19 pandemic made imbibing at home more appealing than meeting for drinks at crowded restaurants and bars. But their role as a hub for home entertainment is nothing new. Bar carts have been serving up refreshments for more than a century.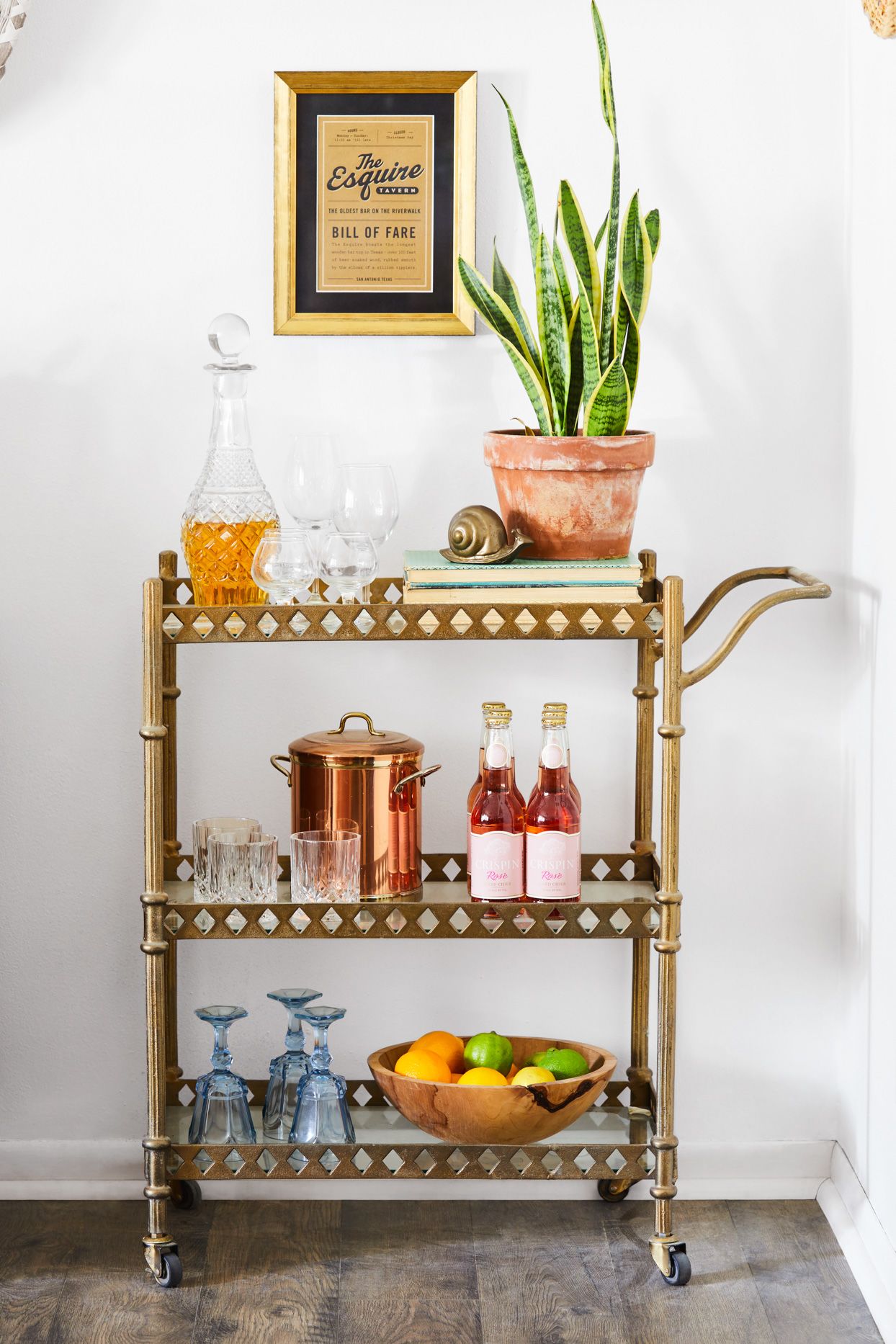 The bar cart's ancestor, the tea trolley was a common fixture in Victorian-era homes where they were used to deliver scones and cups of Earl Grey. After Prohibition ended in 1933, tea was replaced with booze, and the cocktail cart gained favor. It reached peak popularity in the 1950s when entertaining became a ritual for prosperous middle-class families. Bar carts were also a frequent prop in glamorous Hollywood films. In the following decades, however, the cart was pushed aside for larger, built-in wet bars.

Today's renewed fascination with midcentury modern design, spurred in part by the 2007 TV series Mad Men, helps explain the bar cart's reappearance. An efficient, moveable alternative to a built-in bar, carts can be rolled up to the sofa for casual cocktail hours or pulled onto the patio for alfresco entertaining.

When styling a bar cart, a selection of spirits is fundamental, but you'll need more than liquor for a truly stocked serving station. The right mix of tools and accessories combines "some practical things and some fabulous things," says entertaining expert and home accessories designer Joanna Buchanan. "Your core spirits may stay the same, but it's so easy and fun to curate a new look for your bar cart by switching up the accessories, aperitifs, and flowers." Equip your bar cart with these eight essentials to show off your style and hosting skills.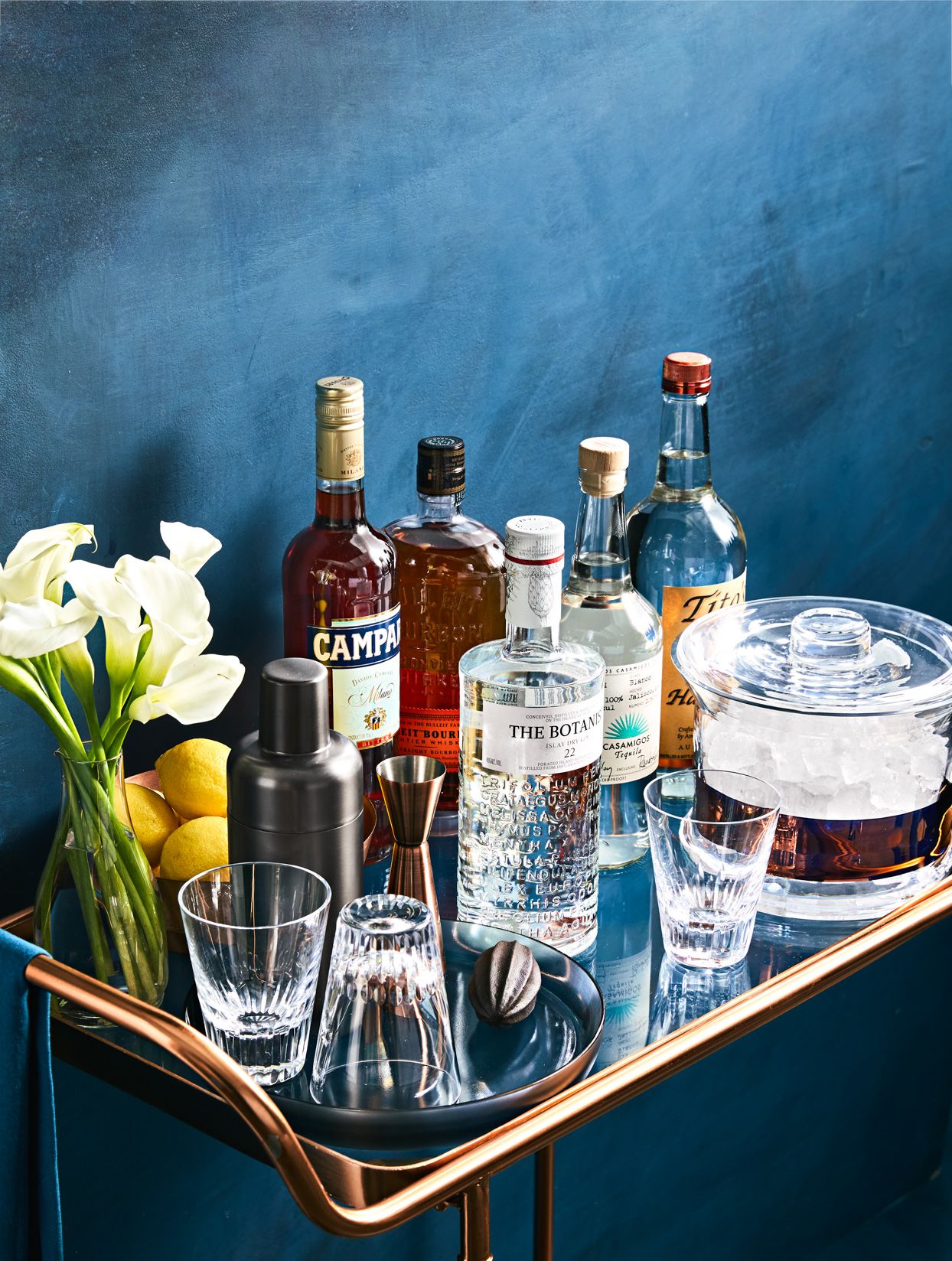 1. Five Basic Spirits

Whether top-shelf or not, a versatile liquor selection on your bar cart is essential to please every palate. Stock one bottle of each of the basics: vodka, gin, rum, whiskey, and tequila. Once opened, liquor starts to lose its color and flavor, so plan to replace your bottles every one to two years, suggests Kat Hantas, cofounder and CEO of tequila brand 21Seeds. "Store your opened bottles on top of your bar cart where they're easily visible and accessible so you know to finish those before opening a fresh one," she says.


2. Mixers and Aperitifs

Include a variety of mix-ins to customize tasty cocktails. Consider the drinks you or your guests typically prefer and stock the key ingredients needed for each. For example, you'll need sweet vermouth and bitters for Manhattans and dry vermouth for martinis. Buchanan also suggests adding a few interesting seasonal aperitifs, such as Pimm's, Aperol, or Lillet. Pre-made cocktail syrups, grenadine and sour mix, and canned sodas are other handy additions.


3. Garnishes

"Not only does a garnish give your cocktail some added natural flavors, it also gives it a pop of color," Hantas says. Fresh ingredients, such as citrus fruits and herbs like mint, are best if you're hosting a party, but there are plenty of shelf-stable options you can stash on your bar cart long-term. "For day-to-day mixing, you can include jars of dehydrated citrus and pineapple slices and jars of dried herbs or edible flowers like lavender," she says.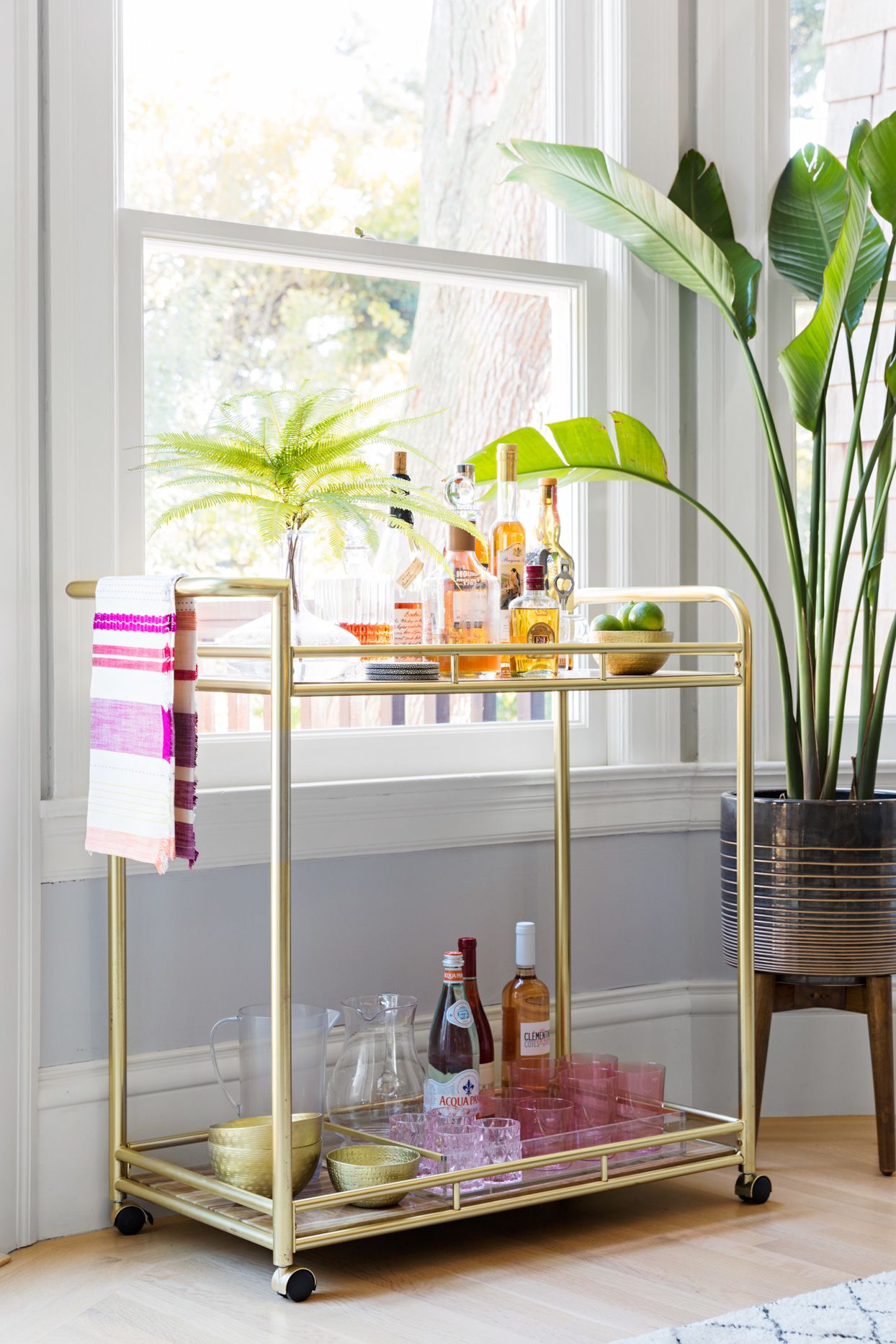 4. Cocktail-Making Tools

Store all the necessary tools for crafting drinks on your bar cart to eliminate extra trips to the kitchen during cocktail hour. A bottle opener, cocktail shaker, jigger, muddler, and stirring spoons are standard. If you're serving wine, you'll also need a stopper if you don't plan on finishing the bottle. Look for bar tools in your favorite color or finish for a cohesive style, Hantas says.


5. Ice Bucket and Tongs

Fill up an ice bucket before you start mixing to ensure drinks are cool and refreshing. Place it on top of your cart near the bottles so you or guests can easily refill glasses with fresh ice. Choose a good-looking ice bucket that complements the rest of your accessories so you can keep it there for decoration after the party ends. "When the cart isn't actively in use, I love to pop flowers in the ice bucket," Buchanan says.


6. Versatile Glassware

"I love to use different-shaped glasses depending on the cocktail I'm making," Hantas says. A coupe glass, for example, is great for an elegant cocktail that's served without ice, and copper cups are the classic choice for Moscow mules. If you don't have space to store several different types of glassware, cut-glass tumblers or double old-fashioned glasses work well for most drinks.


7. Dish Towel

Cocktail-making can be a messy business. Keep a dish towel nearby so you can easily mop up spills before they become sticky messes. Hang it on a hook, drape it over one side, or place a rolled-up towel on a shelf.


8. Personal Touches

Accessorize your bar cart with extras that show off your style. "Decorate with photos of friends or family, some artwork, small potted plants, or a letter board so you can welcome your guests with a fun quote or message," Hantas says. Fill a vase with seasonal flowers for a bit of freshness and color, or display a book of cocktail recipes that can double as decor while providing drink inspiration.