If you are looking to buy some timeless furniture – perhaps to spruce up your living room, to add a pop of colour to your home office, or to redecorate your bedroom – then head to Made. Not only have they just released their new SS21 collection (and it's very lovely indeed), but their last chance sale is also live – you will be one of the last people to bag sought-after yet soon-to-be unavailable homewares. From rugs to sideboards, pendant lighting and more.

See our ultimate guide on what to buy from the Made website, for those who want to re-style their interiors while we are still in lockdown – keep scrolling for investment inspiration.


8 investment pieces we think you should buy from Made
1. Tiziana Nesting Coffee Table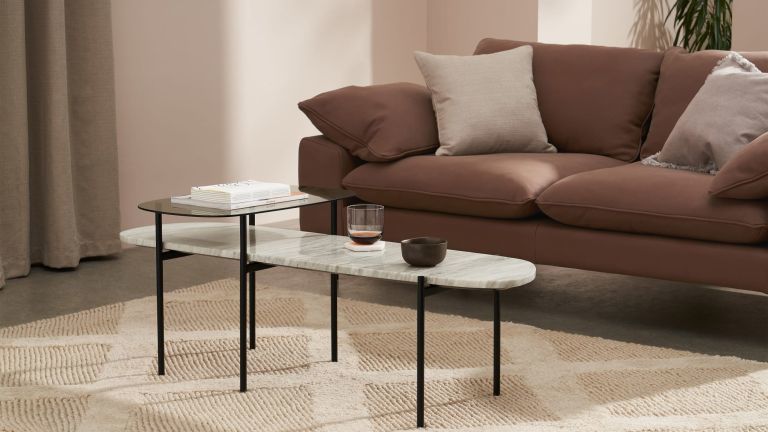 Why buy one coffee table when you can have two? This nesting table is made from marble, with an additional glass table on top – for more space for your Friday evening cocktail and canapes to sit. Pop your favourite coffee table books atop the glass table.

With a powder-coated iron frame, this sturdy round table is the perfect fit for a living room – no matter how large your space may be. We're in love with the smoked glass – it'll be sure to make a statement, that's for sure.


2. Toriko Click Clack Sofa Bed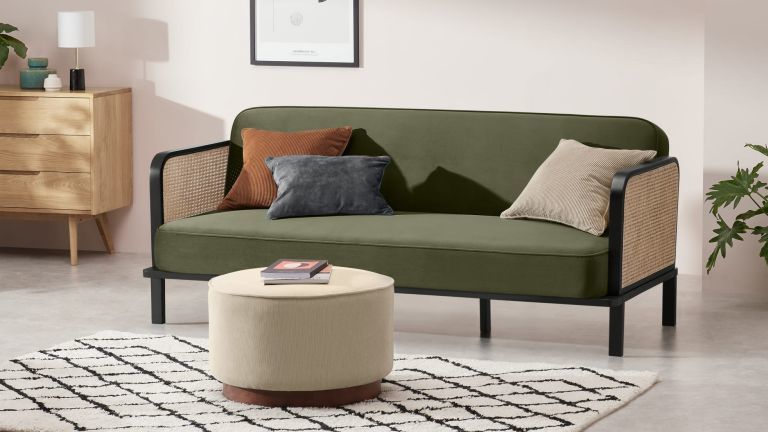 Since when did sofa beds start to look this good? This Nordic-style beauty is thee perfect blend of cane and velvet – for a guest room or a living room.

This sofa bed is practical and stylish – the back simply folds down to transform into a cosy sleeping space. We love the black frame and the cane webbing, while the velvet green addition makes it catch your eye. It's also available in blue...


3. Pharo Pendant Lamp


Make a statement with this pendant lamp. Whether that be in your living room, dining room or bedroom, you can customise just how long you want the drop to be. We think the longer the better...

A design from Milan's uvÁtelier, this modern yet striking pendant is luxurious and on trend Рwe are spotting sculptural lighting on our Instagram feeds a lot more these days. It's easy to see why when it looks this good...


4. Louis Sideboard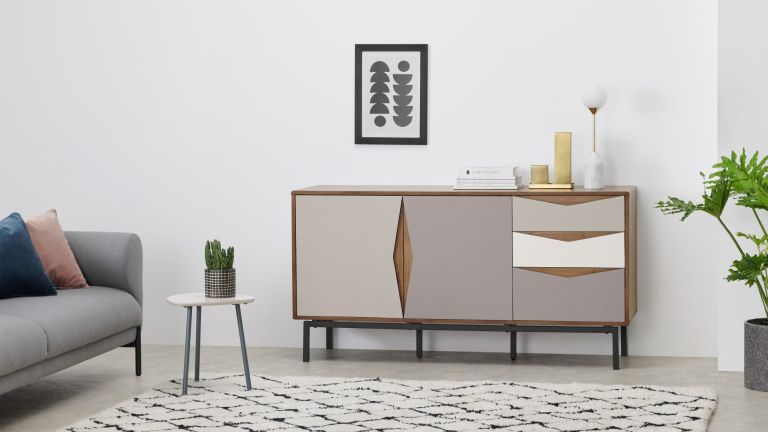 This warm, neutral sideboard makes a stylish way of storing your placemats, records, important documents and pretty much anything else you want to hide in your dining or living room. With two cupboards and three drawers, there's plenty of space.


5. Julia 3 Light Floor Lamp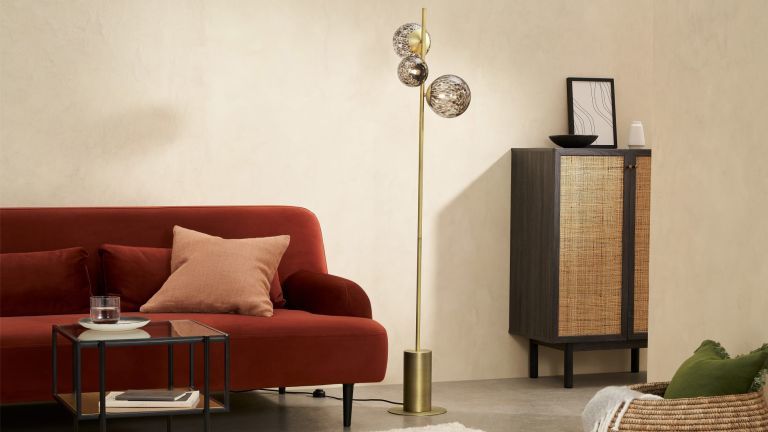 Well, this is certainly eye-catching. A tortoiseshell lamp is something we never thought we'd love to have in our homes, but here we are. If you're after a statement lighting piece, this is it. Timeless, too...

Three lamps in one, this floor lamp would be a lovely addition to a living room – or a home office. With a brass frame and glass tortoiseshell heads, it's eye-catching yet somehow simple. It won't take the limelight away from your sofa, yet your guests will be sure to comment.


6. Alska Oblong Serving Board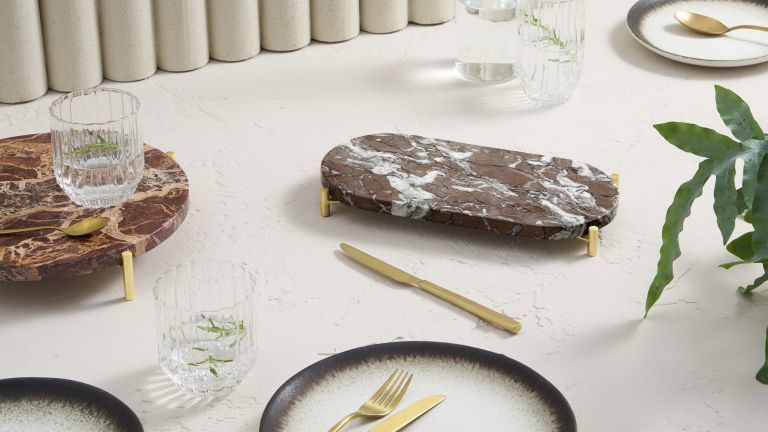 If you are searching for a new way to serve your cheese, then let this marble board (which even has gold feet) lead the way. Alternatively, you could use it for serving snacks or canapés, or for desserts...

This marble board will complement any table – whether surrounded by seating guests or standing family. A unique and lovely way to serve everything from cheese to bread, it's also on feet for easy carrying.


7. Isola Handtufted Wool Rug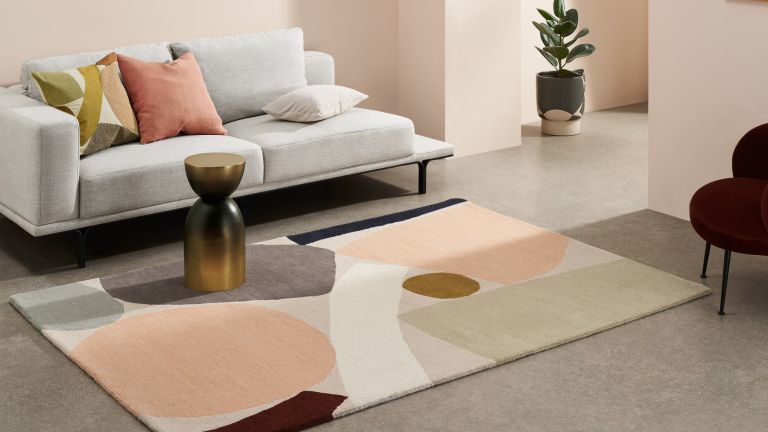 The pop of colour your living room needs, this abstract rug is perfectly coloured with pastel shades, to bring a sense of happiness into your home, without distracting eyes from your lovely sofa, unique artwork, shiny new coffee table and more...

Measuring a large (and lovely) 160cm by 230cm, this rug is plenty big enough to fill your living room – cover that wooden floor with something cosy and pretty.


8. Amrita Accent Armchair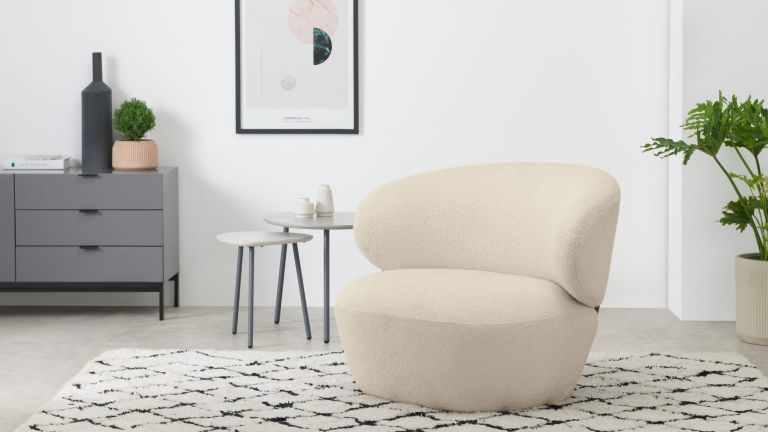 Comfortable, curvy and compact are the three C's we look for in new furniture –luckily enough for us, this armchair ticks all our boxes. Its curved edges and soft-touch teddy fabric win us over. As well as the exposed timber supports to add a Skandi feel.

Designed by Italian trio Busetti Garuti Redaelli, this cosy piece has everything you'd want in an armchair. Pop it in your living room for an extra seat, inside a home office for somewhere else to check your emails, in the kids' room for a comfortable space to read them stories, or, in your hallway as a lovely space to kick back with a book.