Celebrated in films and TV shows since the 1980s, New York City loft living hasn't lost its romantic charm-although styling these postindustrial spaces has changed quite a bit over the years. Designed with a greater emphasis on comfort and flexibility, today's live/work lofts swap dated, grungy finishes for warmer palettes, smarter space-saving features, and a streamlined aesthetic where clunky industrial elements no longer hog the spotlight. Read on for seven of our favorite New York City lofts from the Dwell archives.


1. Williamsburg Loft by Antonio Montserrat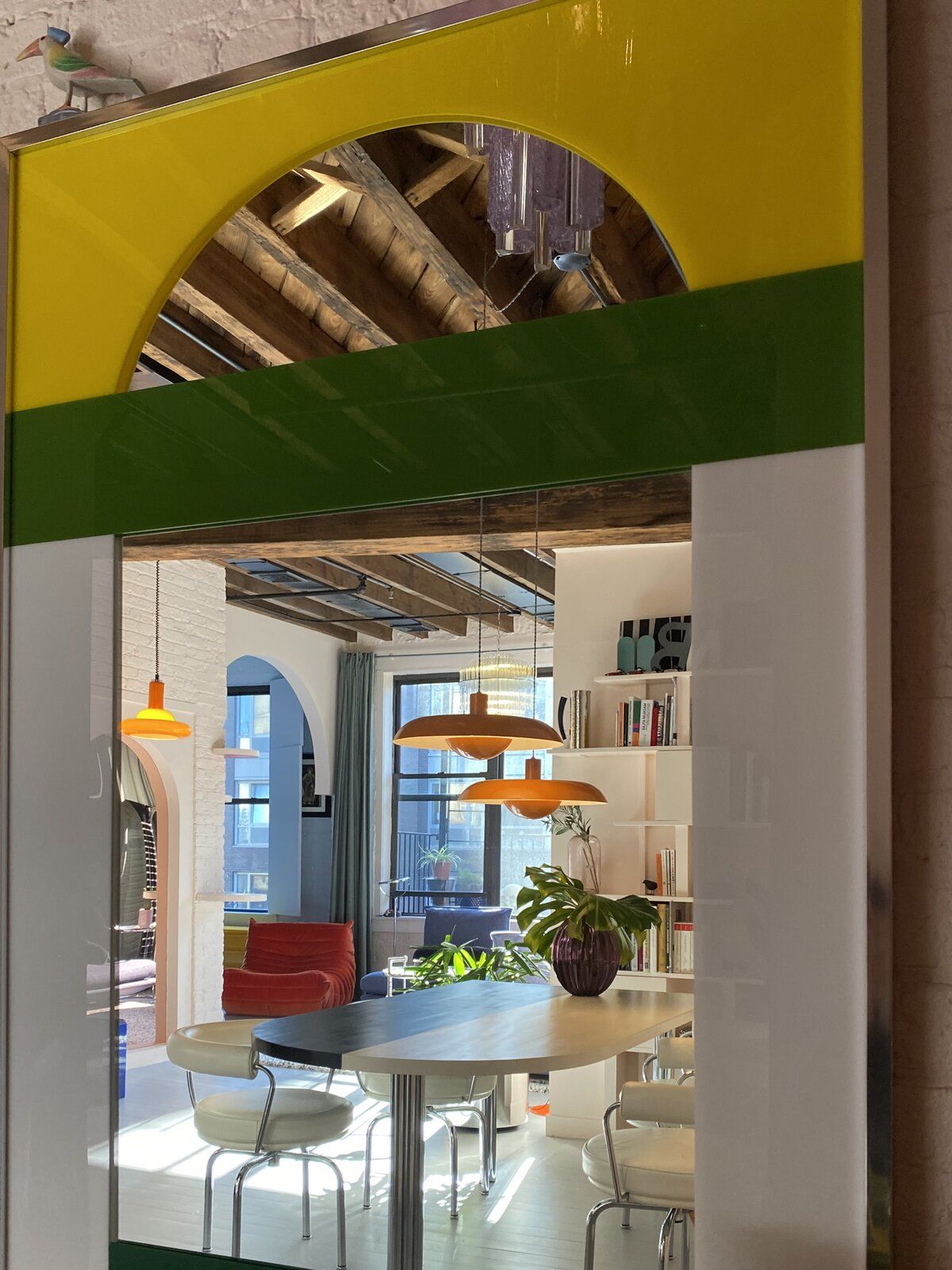 When architect Antonio Monserrat transformed an old 800-square-foot Brooklyn loft into his new home, he imbued his love of colorful, multifunctional design into an eye-catching renovation. Once used as a bakery in the early 20th century, the postindustrial space came with great bones-original exposed timber beams, 12-foot ceilings and large windows-that Monserrat used as a backdrop for his playful color choices, small-scale studio prototypes, and contemporary furnishings. From the emerald-green entryway with a hot-pink ceiling to the sunshine-yellow Kartell storage pieces, the Spanish architect's loft beautifully blends creative inspiration with functionality.


2. Spears Building Loft by Ravi Raj and Evan Watts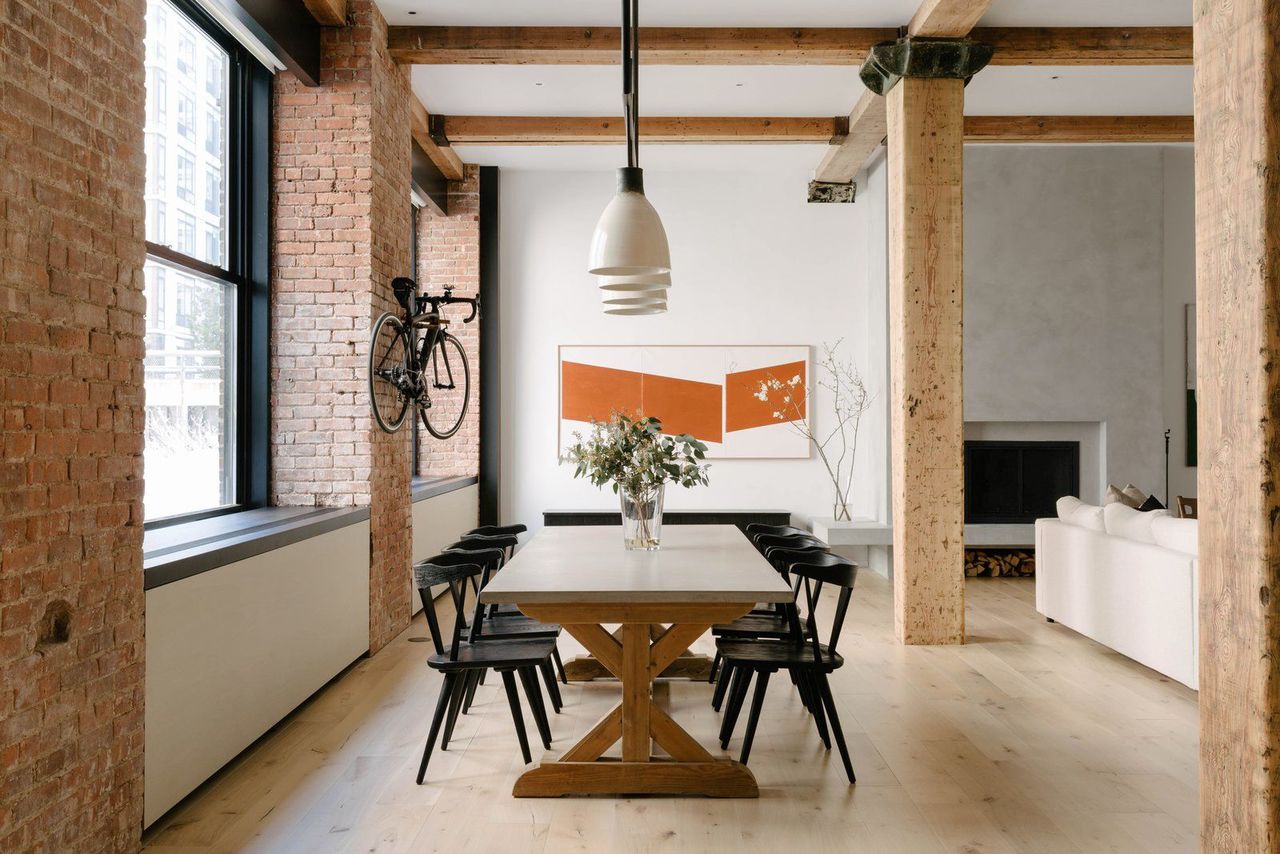 Bleached walnut replaced cold concrete floors in this family-friendly renovation of a dated loft in West Chelsea's late 19th-century Spears Building. To make the loft feel more welcoming, architects Ravi Raj and Evan Watts toned down the heavy industrial elements of the 2,700-square-foot loft with a warmer and lighter palette and added custom built-ins for a streamlined look. At the same time, the loft still preserves much of its historic appeal-from the exposed brick seen throughout the home to the oversized openings left intact.


3. Bed-Stuy Loft by New Affliates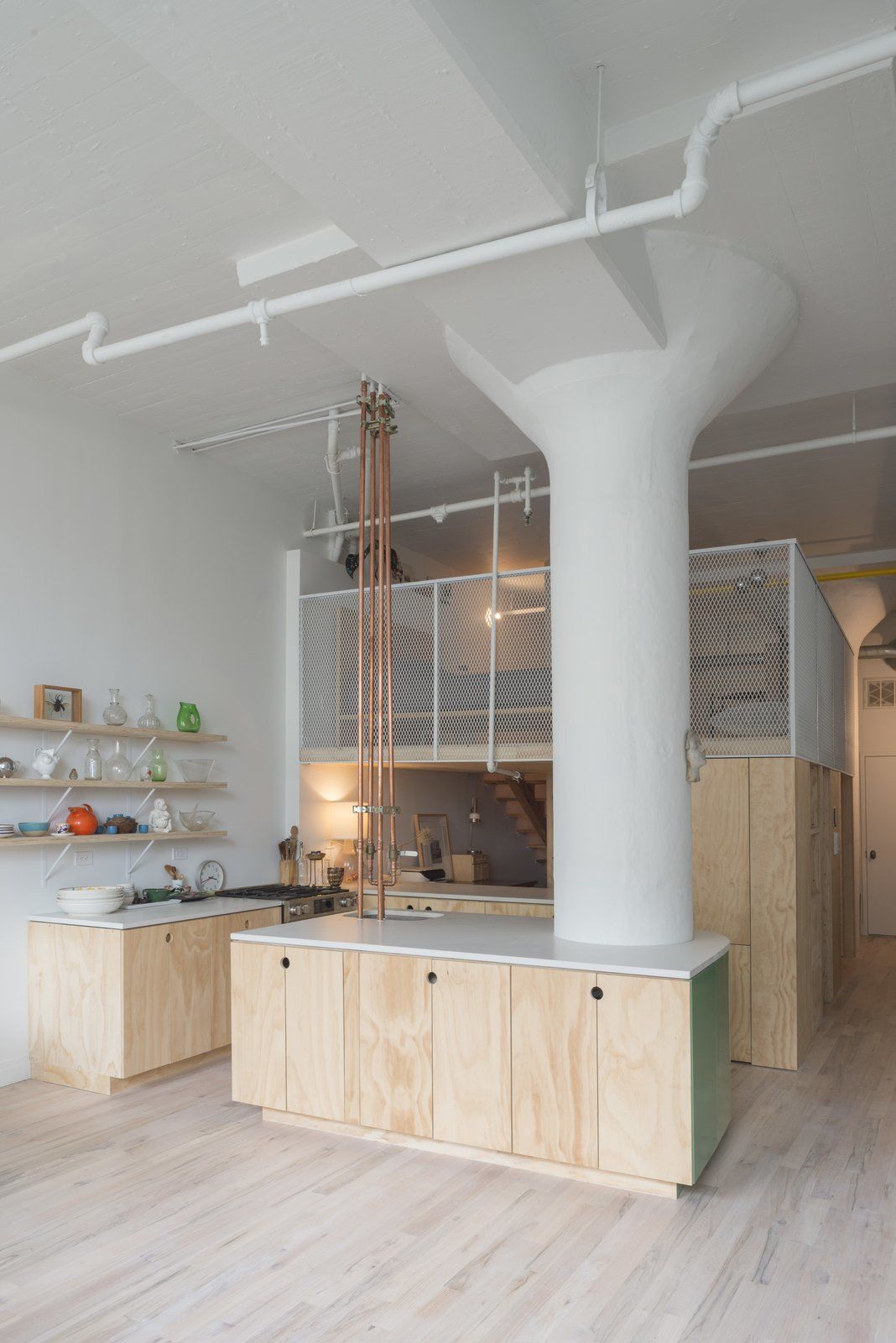 Renovated on a budget of approximately $100 per square foot, this 1,000-square-foot Brooklyn loft in a 1947 chocolate factory is an honest celebration of affordable materials. New Affiliates transformed the formerly dark and cluttered space into a warm, light-filled home that smartly fits two sleeping areas, a bathroom, a study, a new kitchen, and a living/dining area without losing the loft's airy and open feel. The key to the project's success was leaving materials and elements exposed-from the pine plywood used for the walls, panels, and cabinets to the existing pair of three-and-a-half-foot-wide Art Moderne columns that were painted white and integrated into the design, rather than hidden.


4. Tribeca Loft by Workstead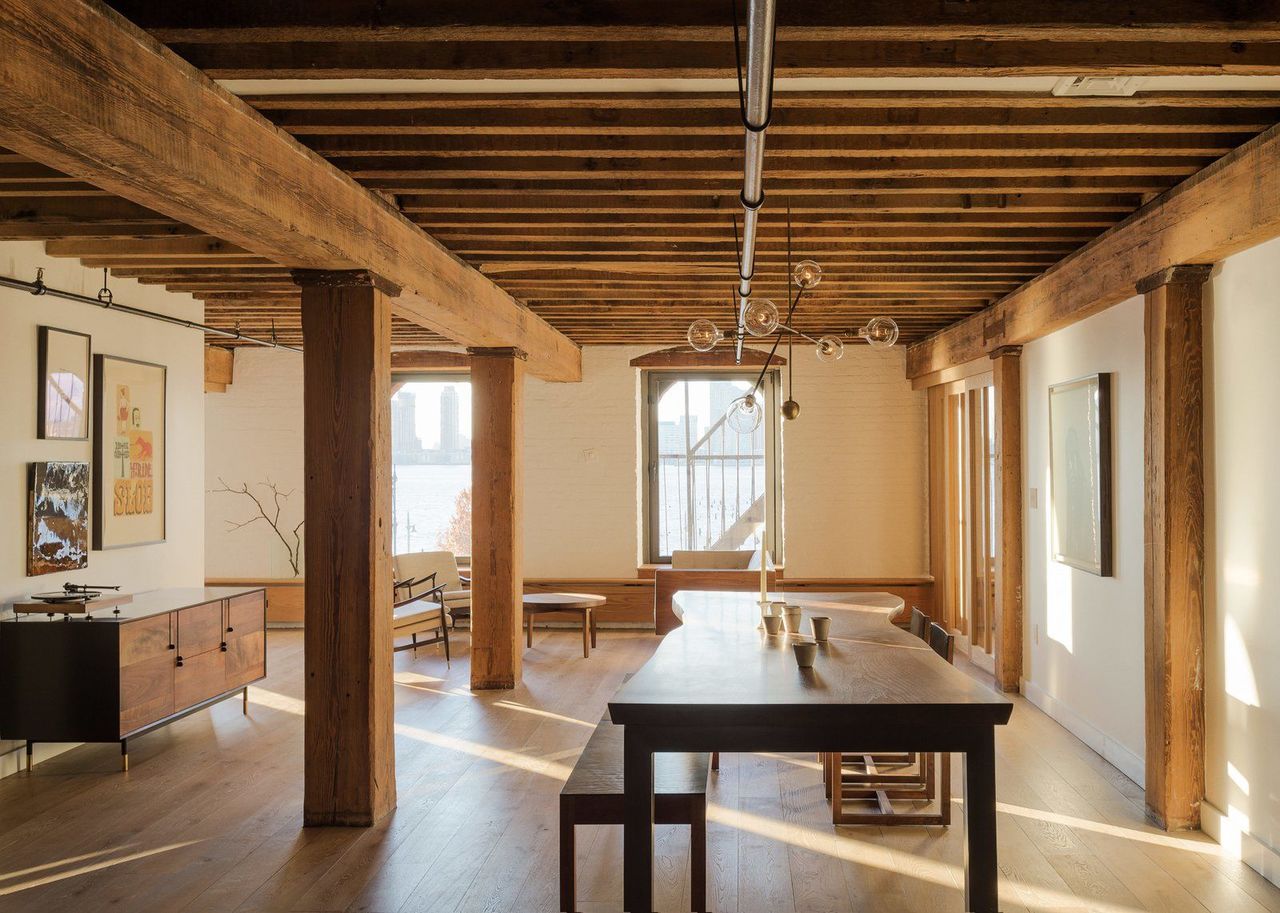 Taking cues from the warmth of the setting sun, Brooklyn-based Workstead's renovated a 1,800-square-foot Tribeca loft in an 1864 factory building. A timber palette and custom woodwork achieve a cozy feel throughout, and the architects tore out awkward interior partitions and dated finishes and exposed the building's original fir joists to restore the loft's open and airy feel. Oversized windows, a light color palette, and a minimalist design approach help pull natural light deep into the home while simultaneously directing views out toward the Hudson River.


5. Red Hook Loft by Rachel and Nick Cope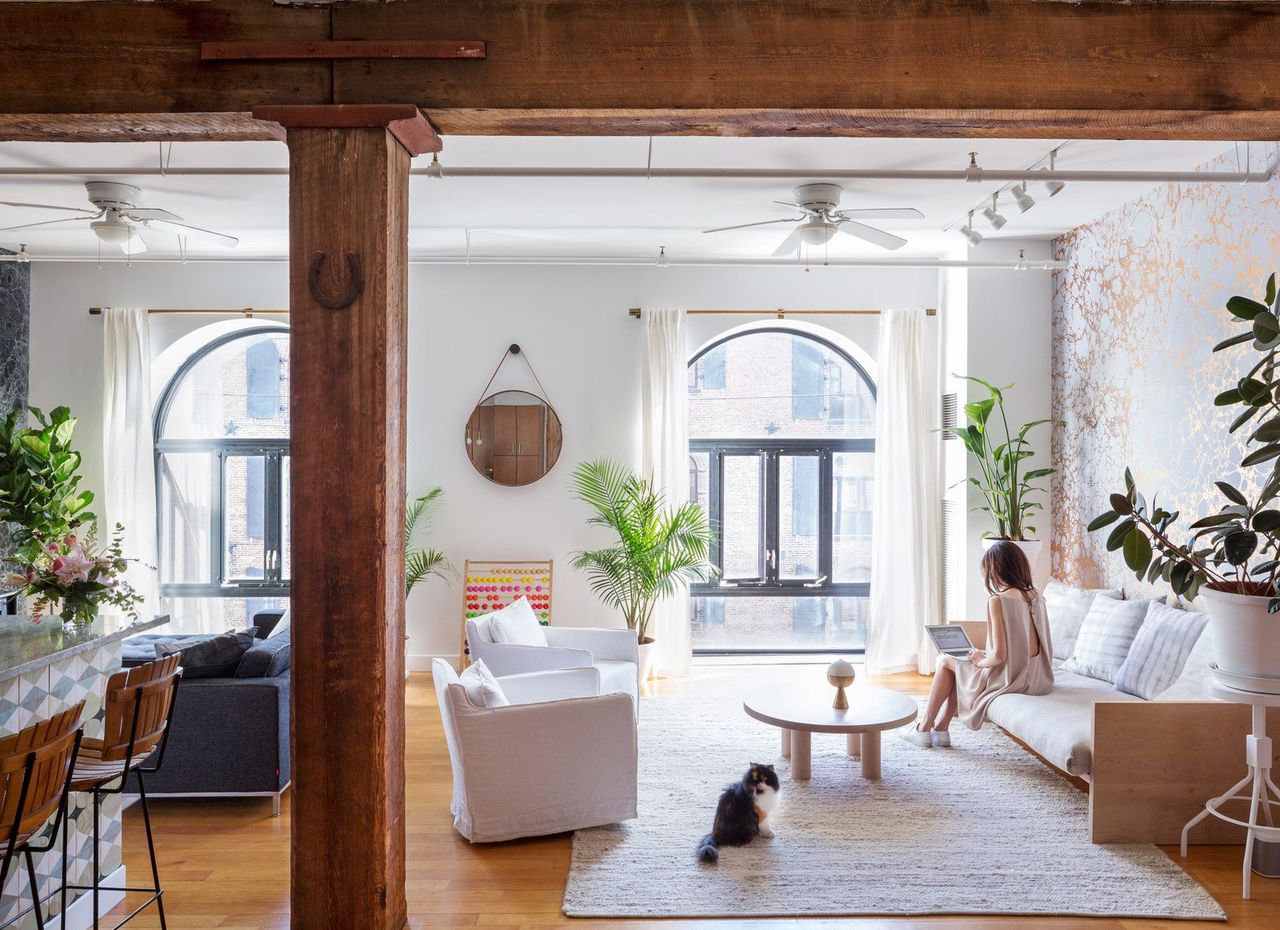 Husband-and-wife founders of Calico Wallpaper Rachel and Nick Cope show how easy it can be to put a personal, design-led touch on loft living-even when it's a rental. When the Copes rented a Red Hook loft in an industrial 1860s warehouse, the couple turned their rental into a testing ground for their marbleized wallpaper business and installed wallpaper in each of their rooms. The custom pieces take inspiration from the loft's immediate surroundings and characteristics-from the silver-and-gold marbled mural that complements the loft's exposed structural beams to a color-gradient wallpaper in the primary bedroom that takes cues from the sunset seen from Red Hook.


6. Brooklyn Loft by OSSO Architecture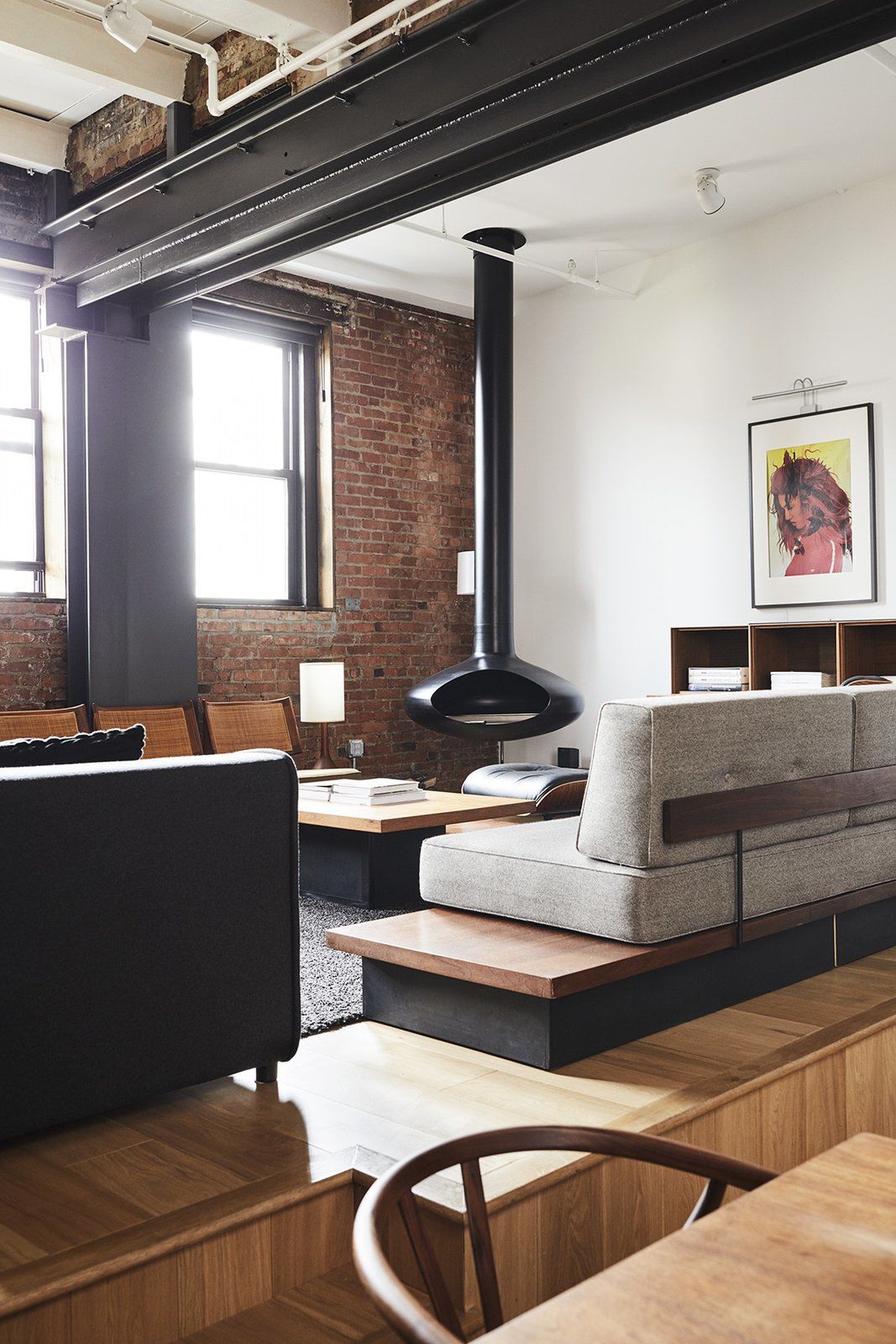 When OSSO Architecture first began renovating this loft in a Brooklyn paper factory, it hadn't been touched since the 1980s. Owner Malik Ashiru says the project achieved his goal of "a big, open space where people could come in and not feel cramped." The formerly constrained spaces in the 1,400-square-foot, two-story apartment have been reconfigured into an open-plan living space with an office on the first floor and a loft guest bedroom above. On the second floor, the primary bedroom and bath open up to a rooftop terrace. Level changes delineate different spaces in the open-plan first floor, which is stylishly furnished with Ashiru's midcentury furniture and artwork collected from his travels around the world.


7. SoHo Loft by Andrew Berman and Justin Charette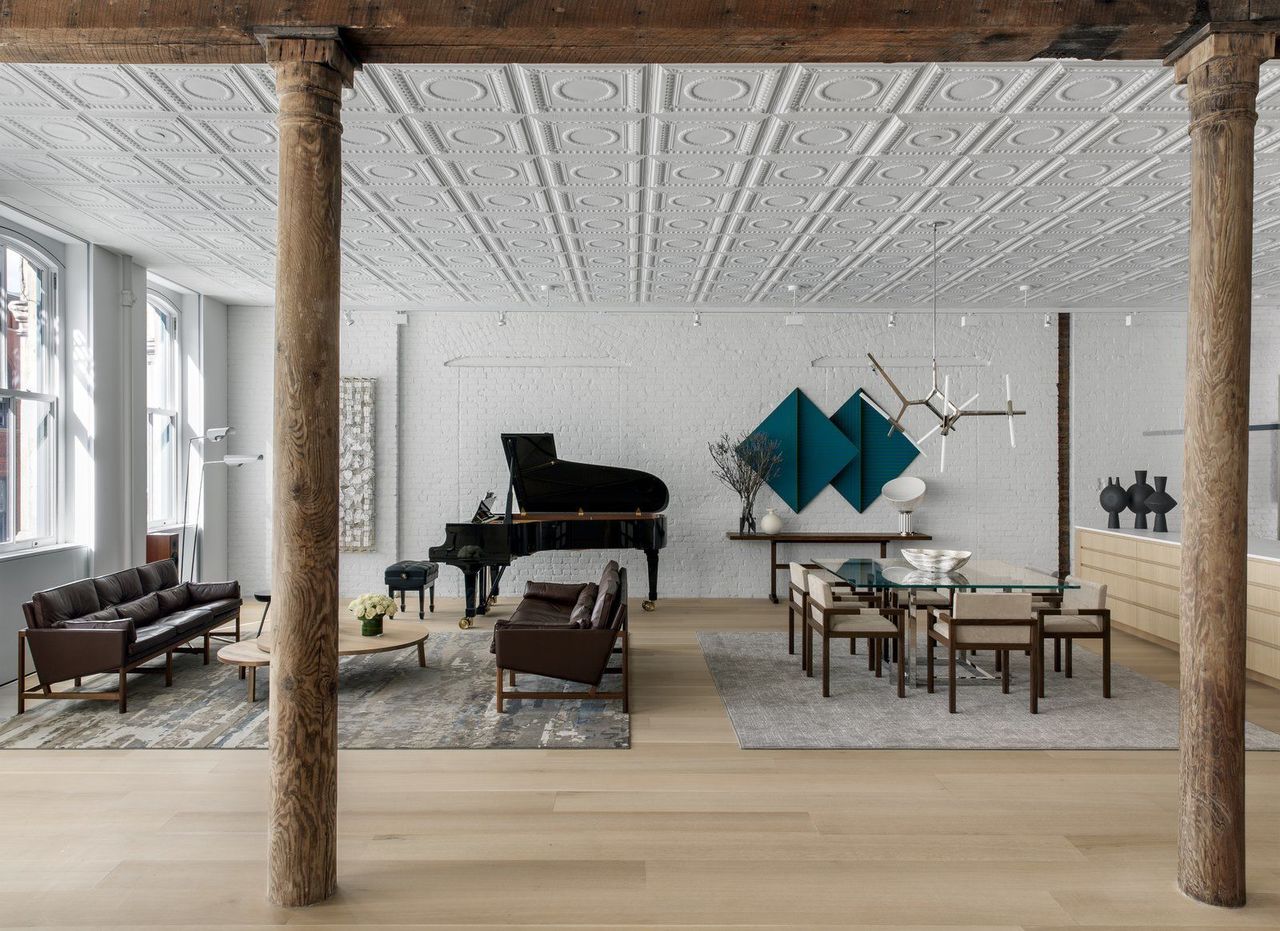 After architect Andrew Berman renovated a 2,800-square-foot, two-bedroom SoHo loft, designer Justin Charette fitted out the interior with minimalist furnishings and built-ins to complement the landmark building's industrial and historical features-including a pressed tin ceiling and exposed wood beams. Designed as a pied-à-terre for a bicoastal client, the converted loft retains its high ceilings and tall windows that flood the open-plan interior with natural light while introducing a more streamlined aesthetic that includes a neutral palette of white oak, exposed brick walls painted white, and sleek contemporary furnishings-many of which were sourced from local New York designers and makers.