Over the past year, work-from-home policies have forced living rooms, bedrooms, dining room tables, and even closets to function as makeshift offices. As people look for creative ways to merge work duties with home life, space-saving alternatives to traditional desks have become more popular than ever. According to Etsy's 2021 trend report, the site has seen a 399% increase in searches for wall desks and foldable desks compared to the previous year. These versatile workstations can be folded flat against the wall for storage, so you can reclaim your space at the end of the workday.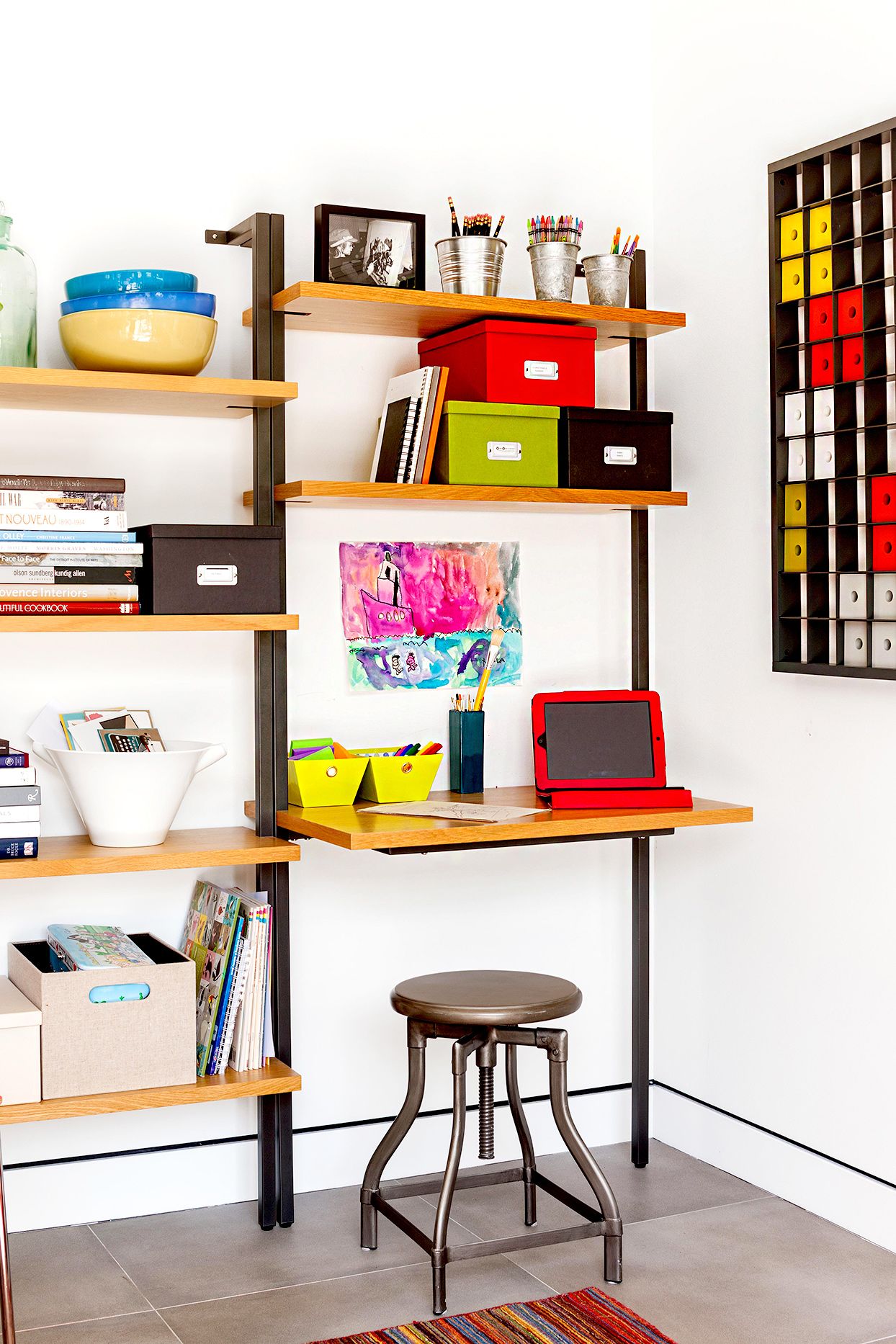 Many foldable desks are freestanding pieces with a collapsible design, while other units attach directly to the wall and fold down or pull out to create a tabletop surface when needed. Both types take up minimal floor space when not in use, helping maximize available square footage and keep your room clutter-free.

Before mounting a wall desk, locate wall studs and determine how high the desk should be (most sit 28-30 inches from the floor). Measure and mark the wall according to manufacturer instructions. Pre-drill holes for the desk's brackets, secure them by screwing into the studs, and hang the desk on the brackets. For most foldable desks, the setup process entails simply unfolding the unit to create a flat surface and locking it into place if needed.

Although they offer a clever solution for small spaces and multi-purpose rooms, the downside to many wall or foldable desks is a lack of storage. The streamlined units often provide a simple work surface without drawers or shelves for stashing pens, notebooks, and other supplies. Consider storing office essentials in a portable container, such as a lidded box or a basket with handles, that you can easily stow elsewhere when the desk is folded up.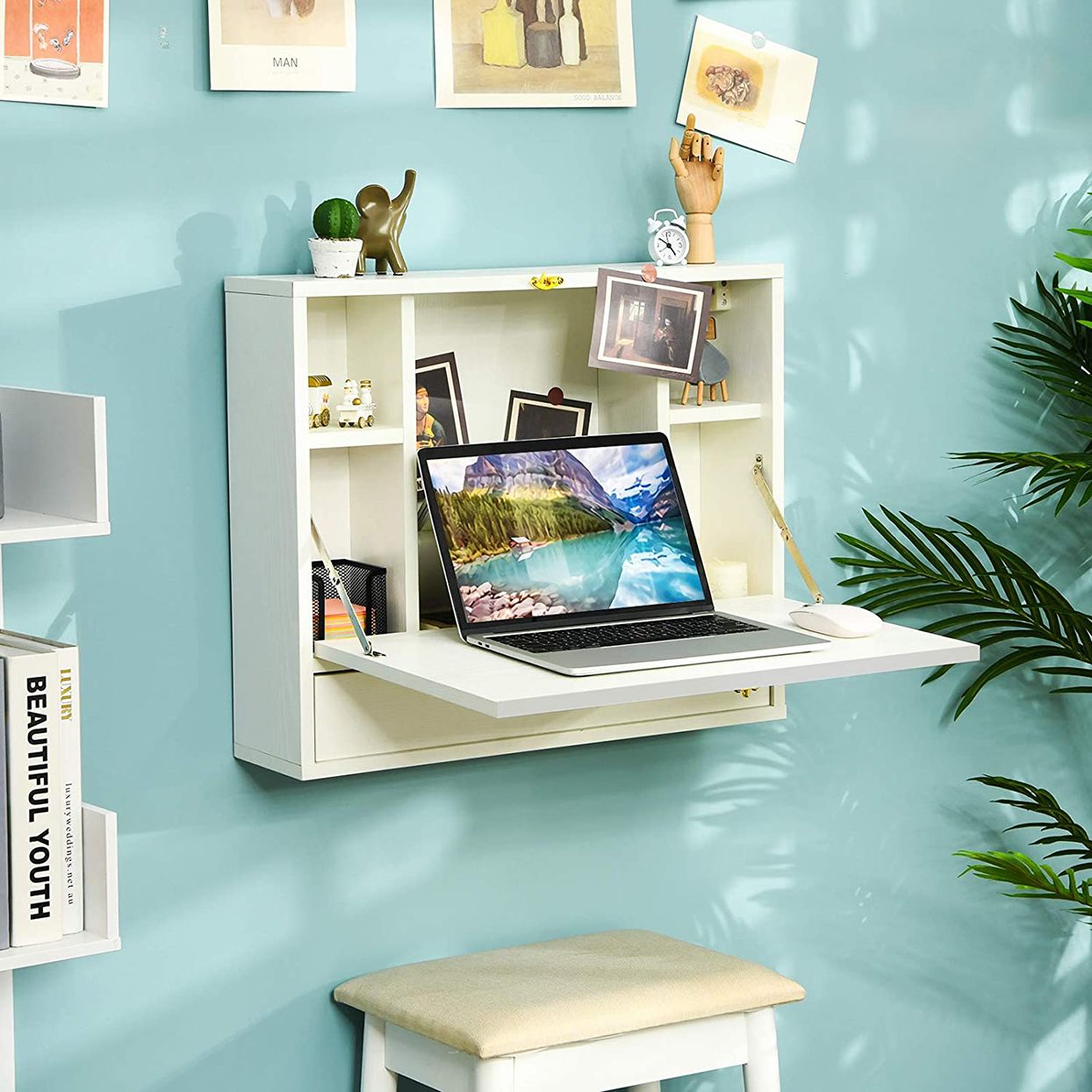 Fold-Out Wall Desk

Instantly create a home office with a wall-mounted storage cabinet that folds down into a desk. Made of medium-density fiberboard (MDF), this unit features multiple storage compartments in various sizes and a safety lock that keeps it closed when not in use. It measures approximately 2 feet square and comes in white, black, and red-brown finishes.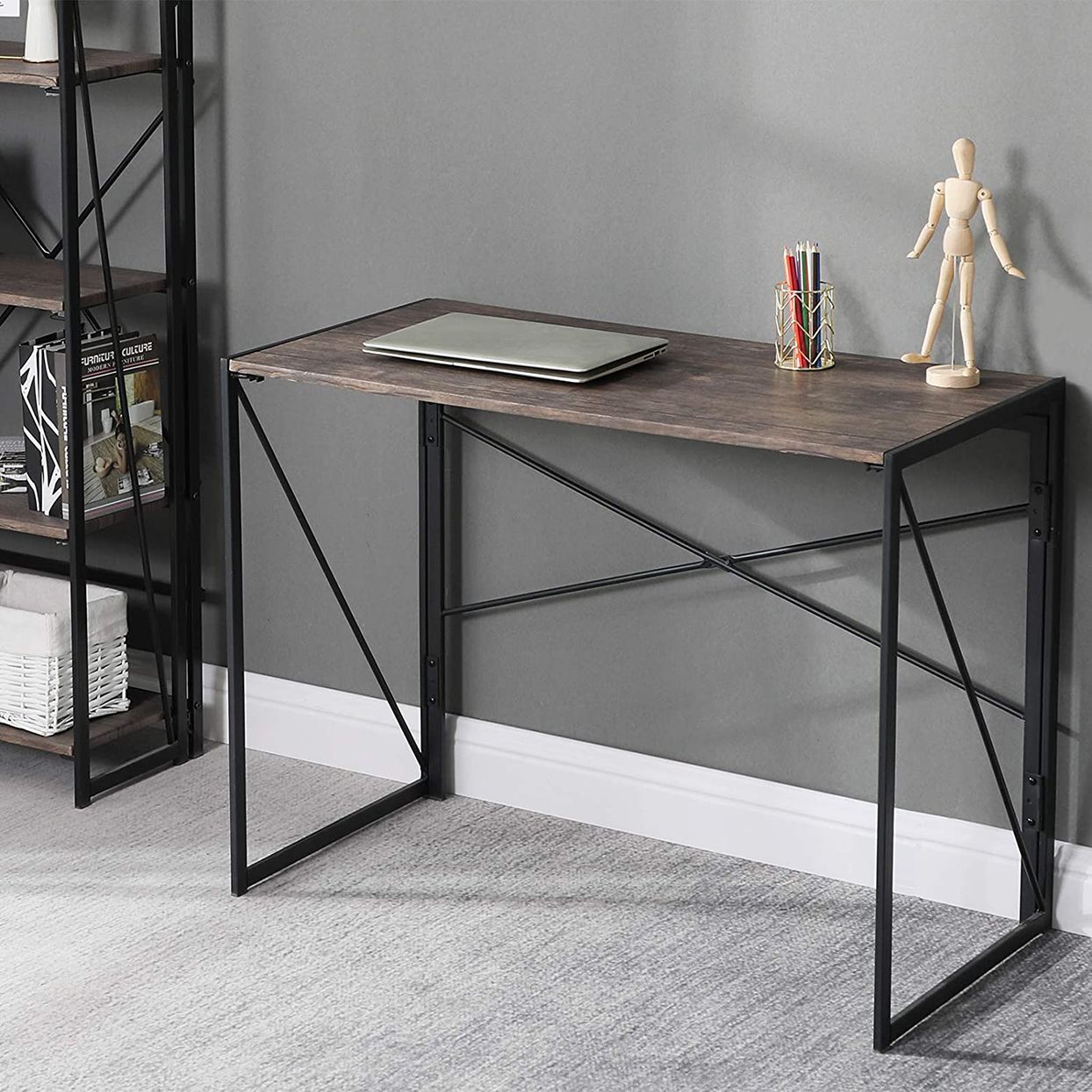 Foldable Desk

With a simple snap-together design, this foldable desk can be set up in just a few seconds. When not in use, it folds flat for compact storage. The desktop and frame come in a variety of colors, including matte black, marble, and several wood-look finishes.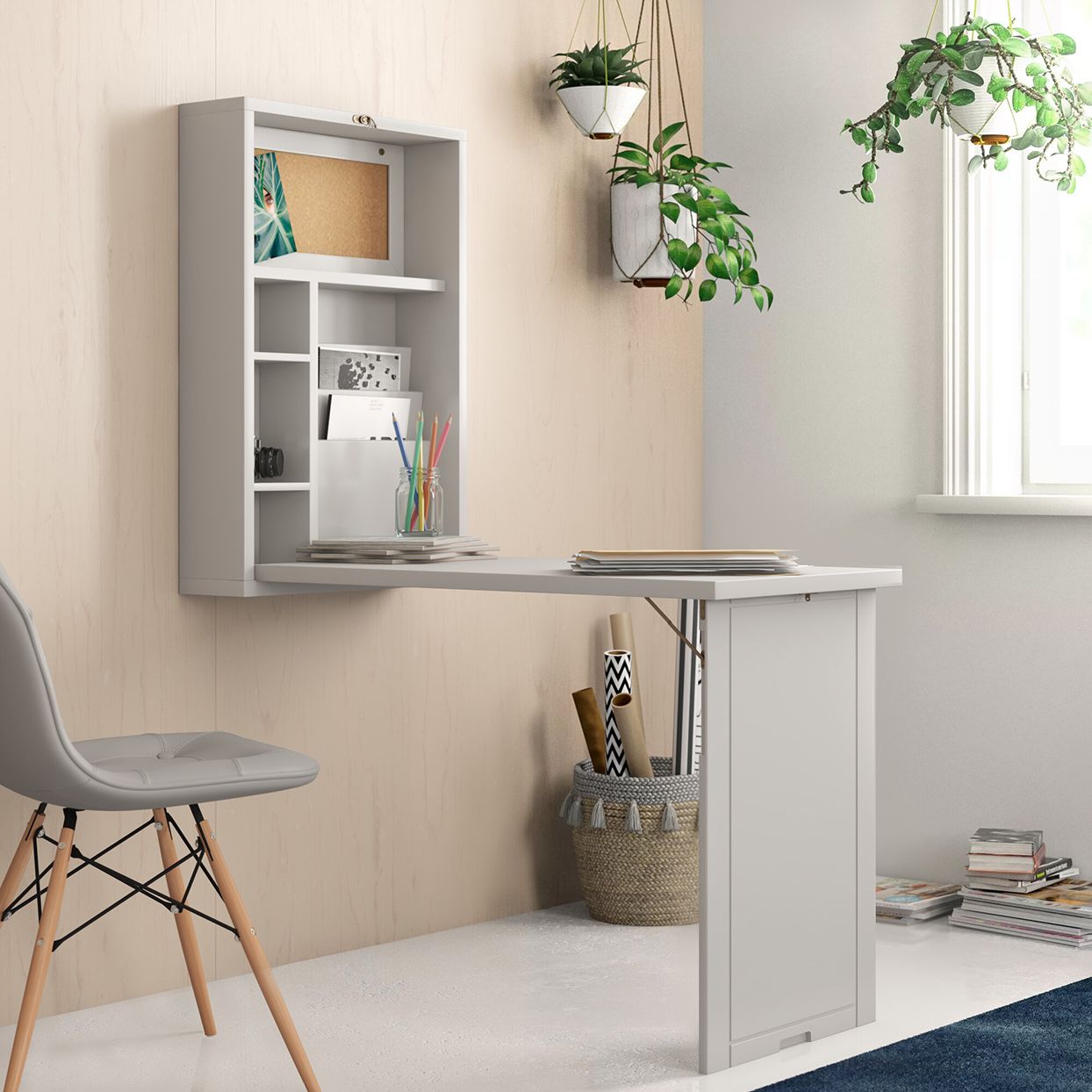 Wall-Mounted Folding Desk

When work is done, this desk folds back up into a compact wall cabinet complete with shelves, file storage compartments, and a corkboard. A hinged leg provides additional support for the pull-down desk surface. When folded up, it measures 58x22 inches.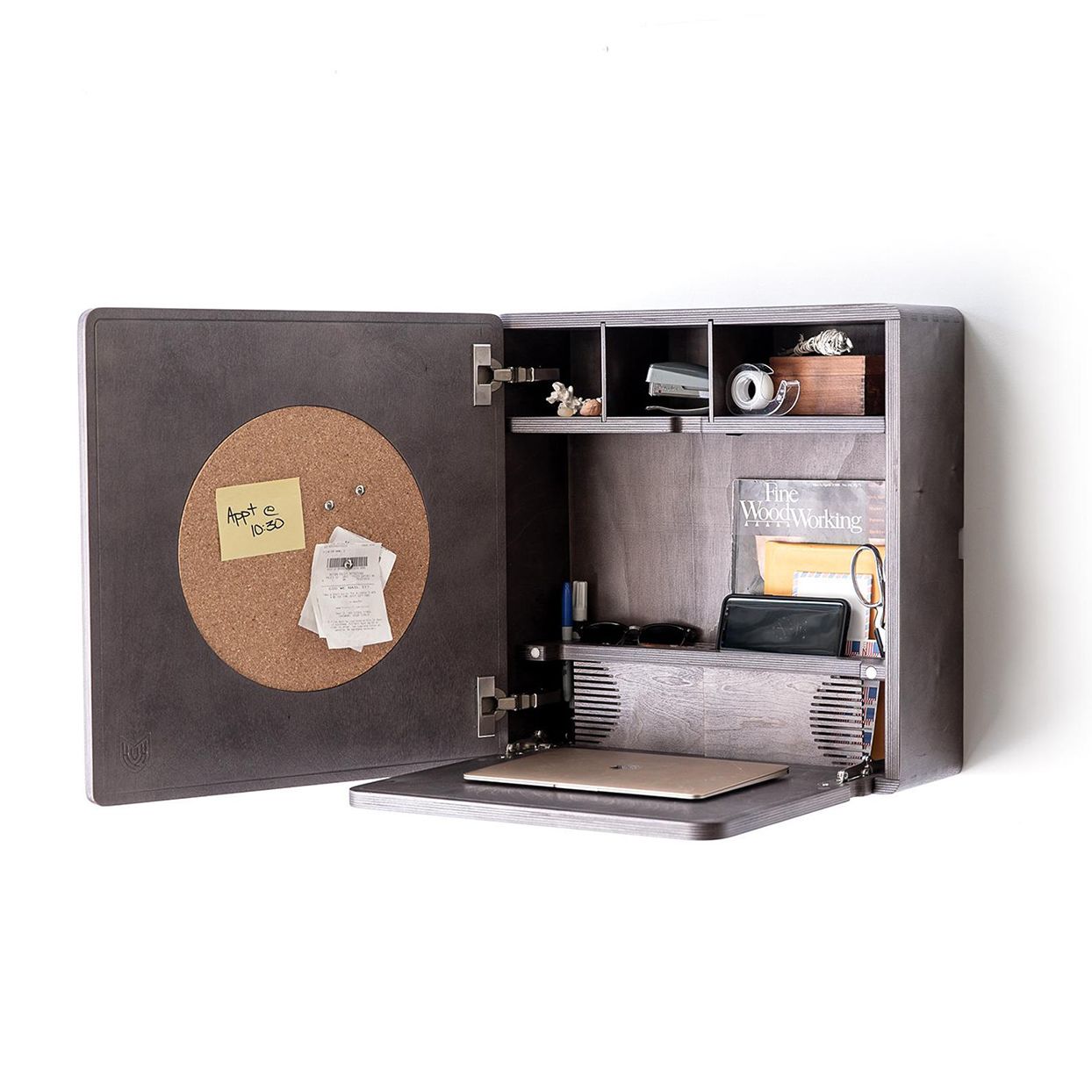 Wall Desk for Small Spaces

Measuring less than 20 inches square, this wall desk can help you create a workstation even in the smallest space. The carved wood cabinet door opens to reveal a flip-down desk surface, smartphone stand, cord storage area, shelves, and circular corkboard. Made of birch plywood, the unit is available in gray and brown finishes.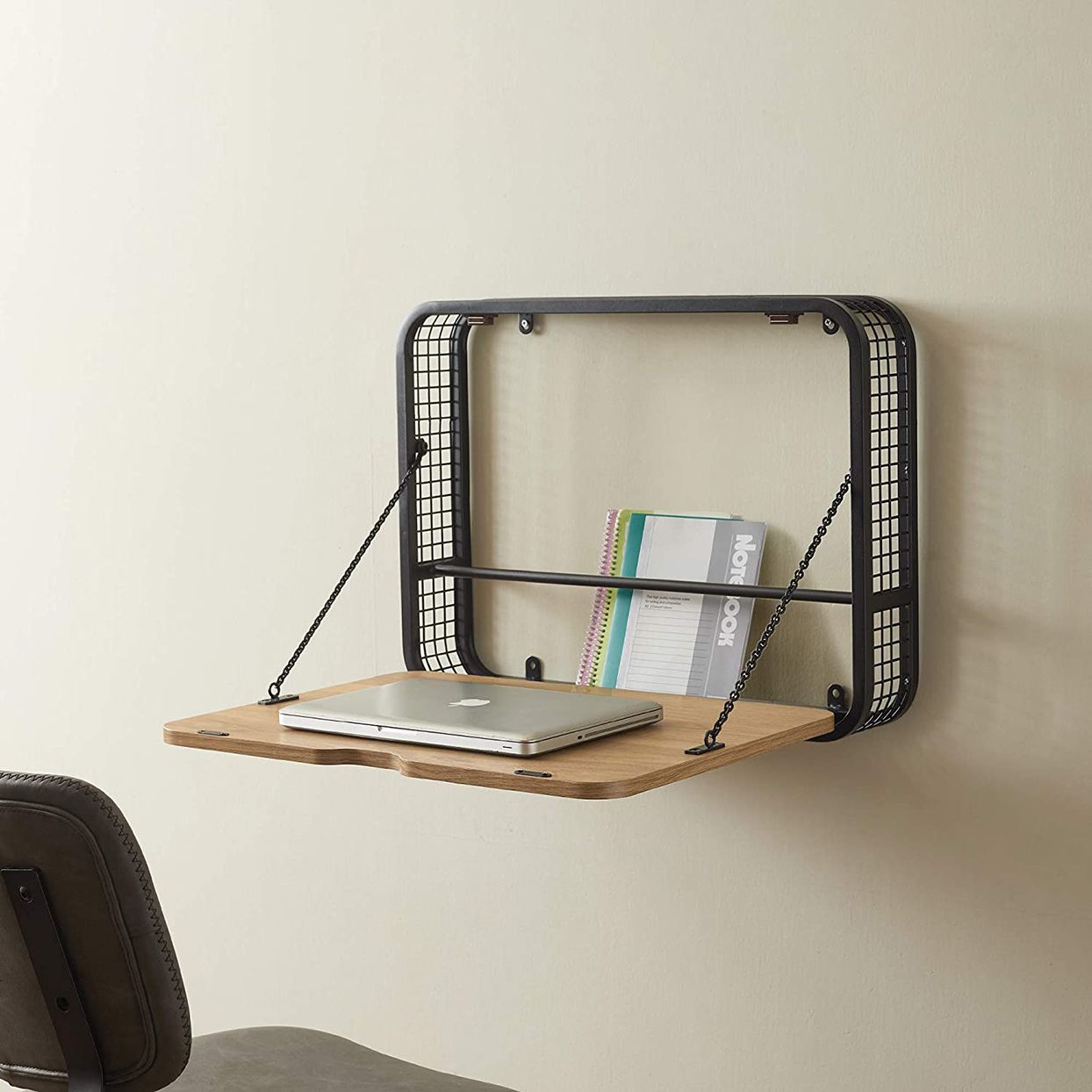 Industrial-Style Wall Desk

This fold-down wall desk includes a fluted wood front that attaches to a metal industrial-style frame with a magnetic close. A horizontal bar across the back keeps books, notepads, or files upright and in place. It comes in a range of wood finishes, including dark walnut, warm oak, and weathered gray.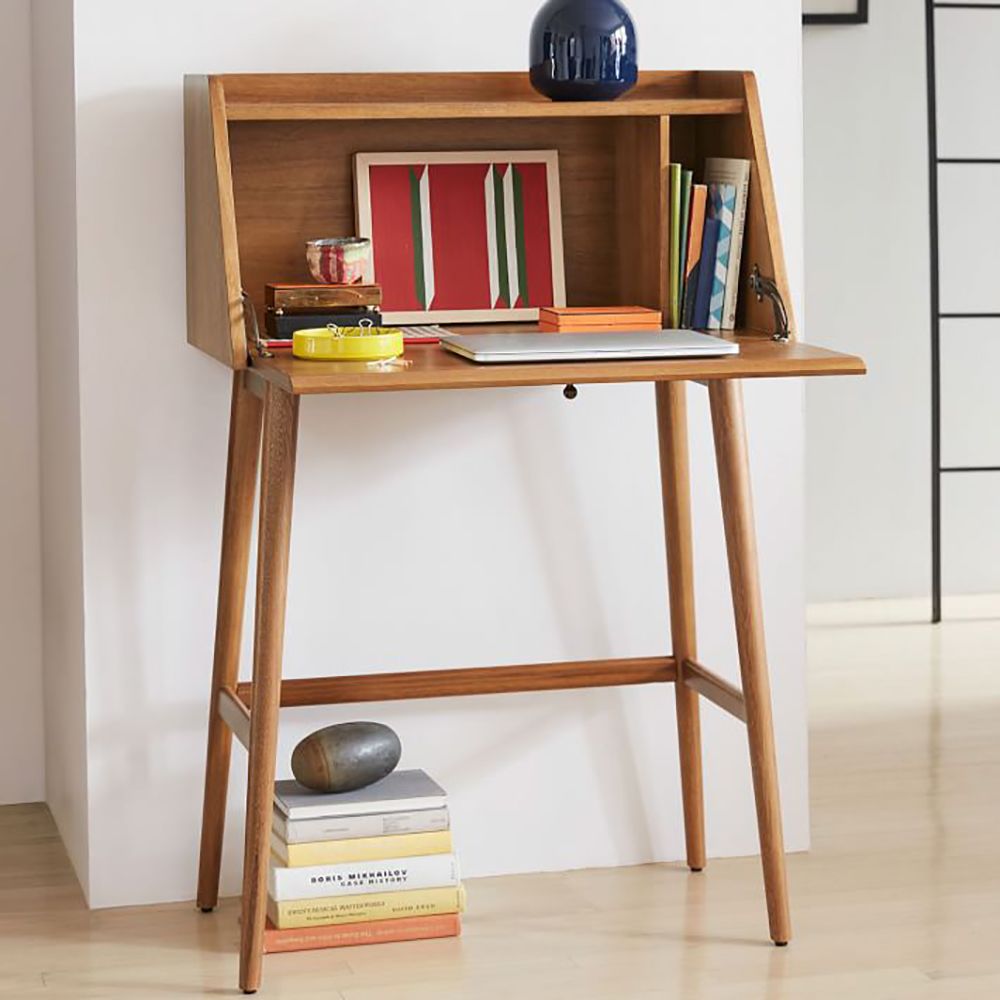 Fold-Out Secretary Desk

This secretary-style desk features a flip-down compartment that forms a perch for your laptop and reveals storage inside. Inspired by midcentury designs, the eucalyptus and engineered wood desk has a sleek profile that measures 28 inches wide. With the door closed, it extends only 15 inches away from the wall.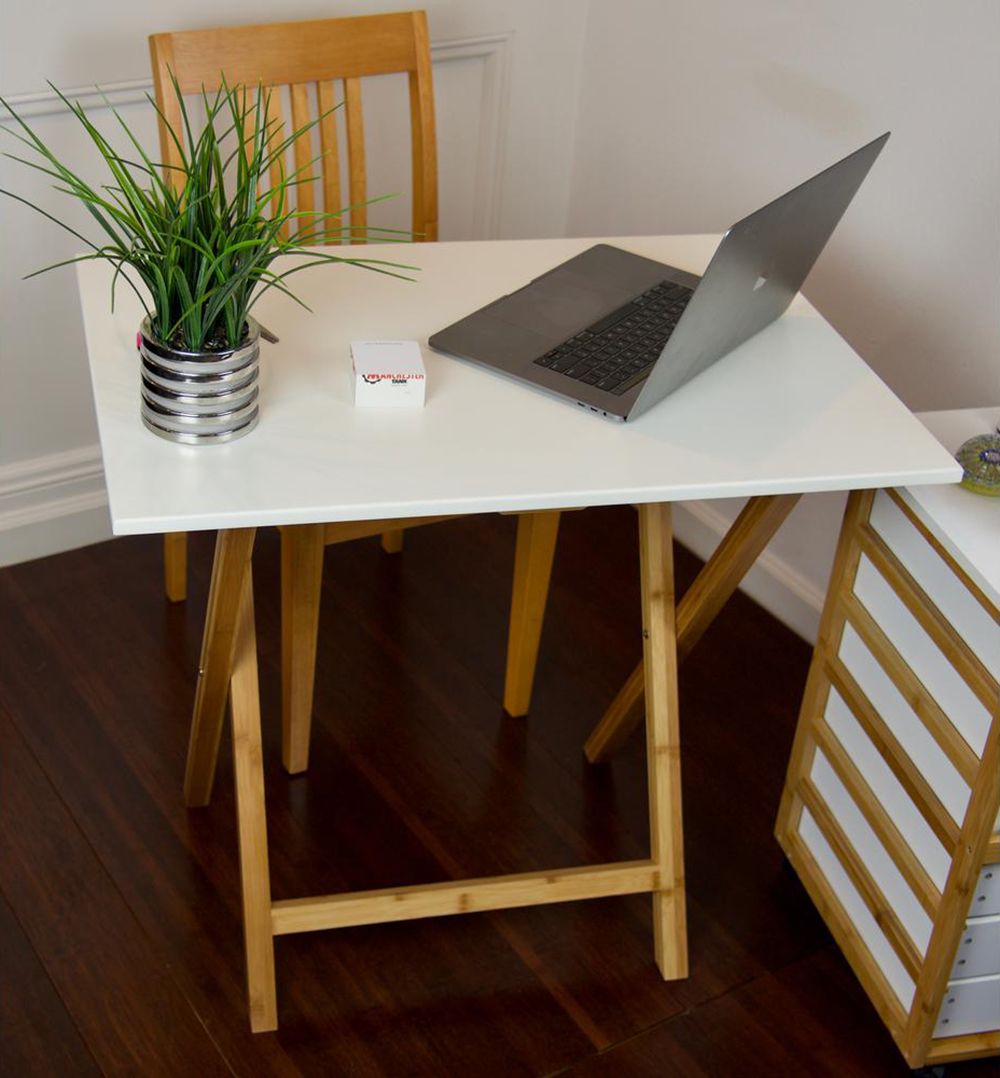 Foldable Wood Desk

This desk folds completely flat, so you can tuck it inside a closet, behind the sofa, or under the bed after work. The simple design includes a matte white tabletop and a sturdy bamboo frame. When folded out, the work surface measures 32x22 inches.