Looking for a birdhouse that is in tune with your modern sensibilities? Whether you live in a modern home and are searching for a birdhouse to match, or you are dreaming of living in a modern home and a birdhouse is an easy way to start-we've found a few stylish bird feeders for you. And either way, you are sure to have the best-looking birdhouse on the block.


Sourgrass Built

Created by Douglas Barnhard, Sourgrassbuilt features midcentury birdhouses that Barnhard designs and builds in Santa Cruz, California. His birdhouses use high-end repurposed materials and are influenced by "Eichler and Frank Lloyd Wright mixed with the rich skate and surf culture of Santa Cruz." In fact, the company even created a bird version of Taliesin West for the Frank Lloyd Wright store. Barnhard also crafts custom birdhouses upon request-if you think a "mini-me" version of your home is in order.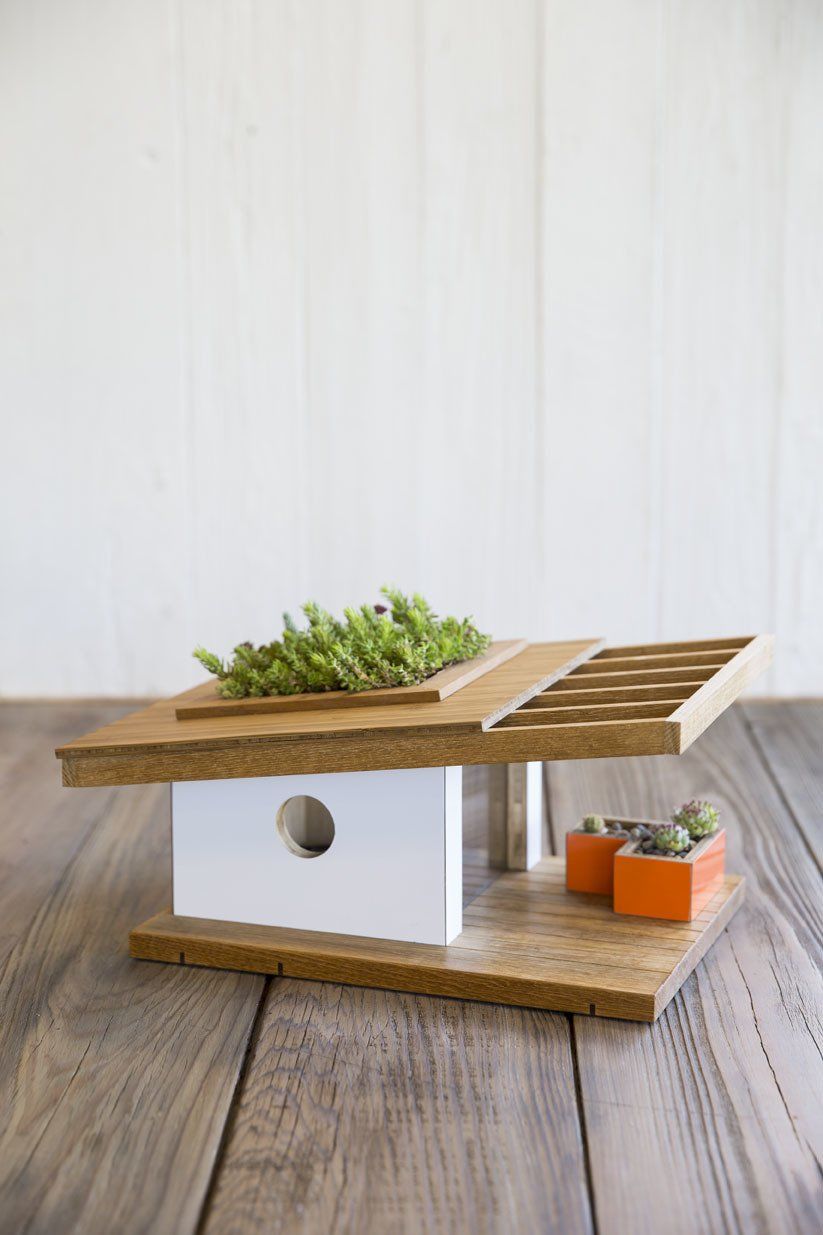 The Sunset Modern birdhouse designed by Douglas Barnhard. This Eichler-inspired birdhouse features bamboo and teak paired with orange and white laminate. The "green roof" and removable planter boxes are perfect for succulents.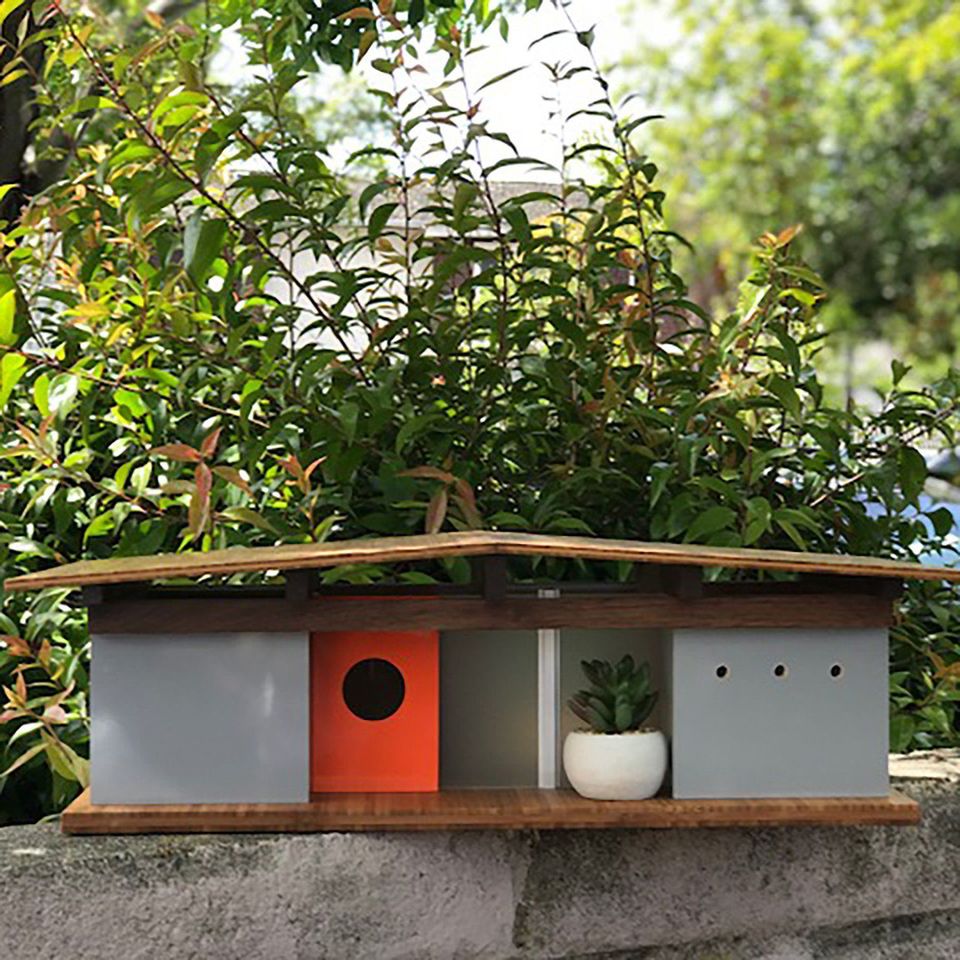 This birdhouse inspired by Fairhaven, an Eichler subdivision. Made with bamboo wood and high-end gray, white, and orange laminate, the birdhouse features four frosted glass windows and a low-profile roof.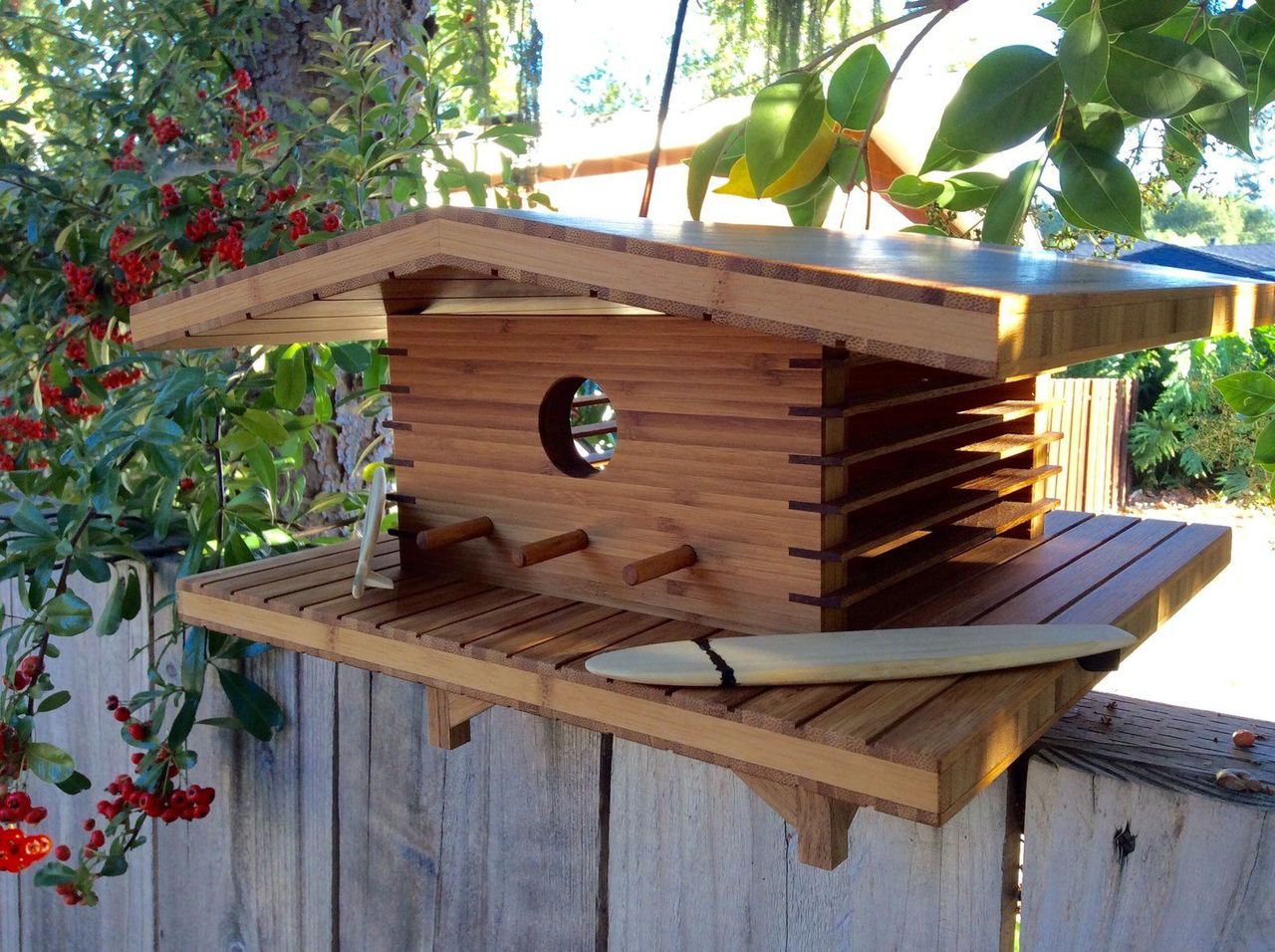 The Kauai House is the perfect bird feeder to put at a beach house or as a year-round reminder of your passion for surfing.


Loll Designs

Based in Duluth, Minnesota, Loll Designs designs and manufactures durable, all-weather, outdoor furniture-and birdhouses-made from recycled plastic single­-use milk jugs.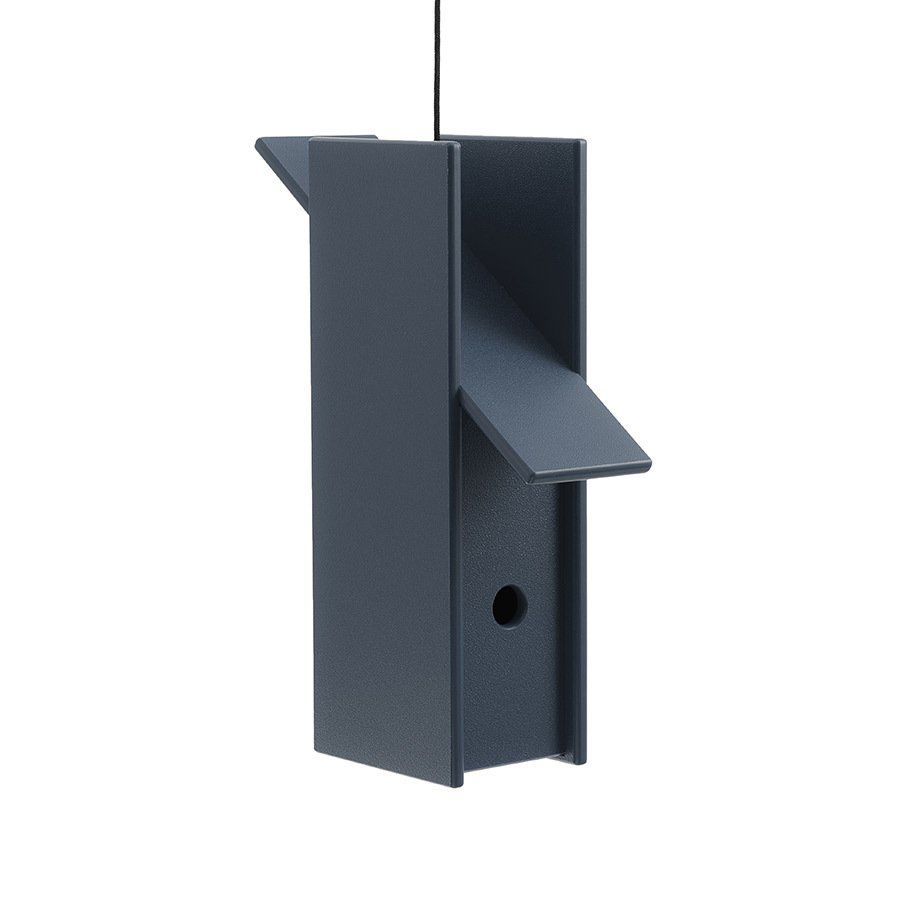 The Rapson birdhouse is a "modern bungalow birdhouse is fit for two families." Based on an actual sketch by midcentury architect Ralph Rapson, this birdhouse resembles Hope Lutheran Church in Minneapolis, which Rapson designed and built in 1971.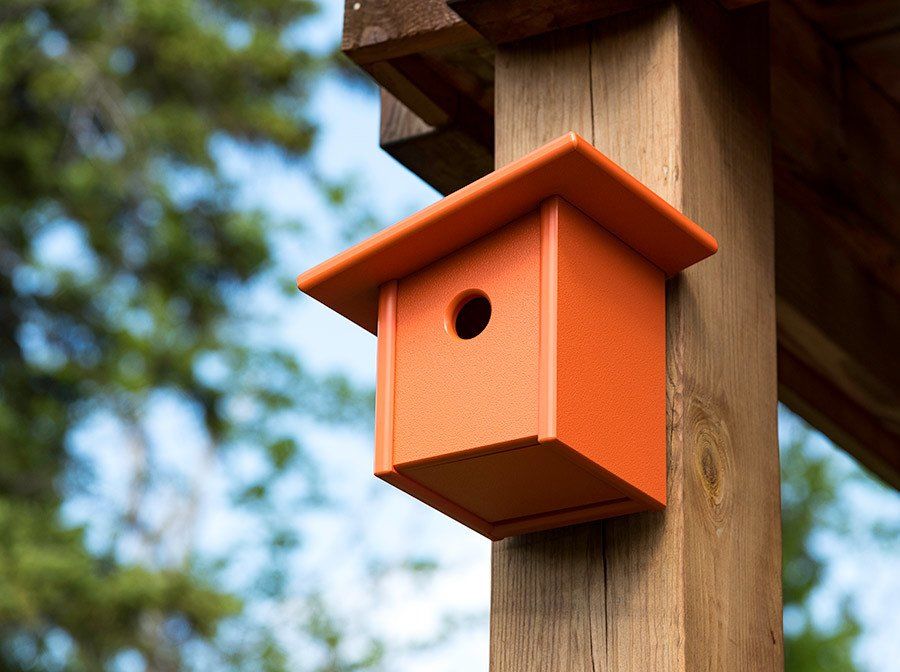 The Pitch Modern Birdhouse is a clean and modern approach to "simple avian living."


Moore Designs

Canadian Company, Moore Designs, specializes in handmade, brass and glass bird feeders that are designed to be window mounted or anchored in your garden, yard, or deck. Their designs range from the simple Oriole Feeder to the deluxe Garden Mount Squirrel Baffling Feeder.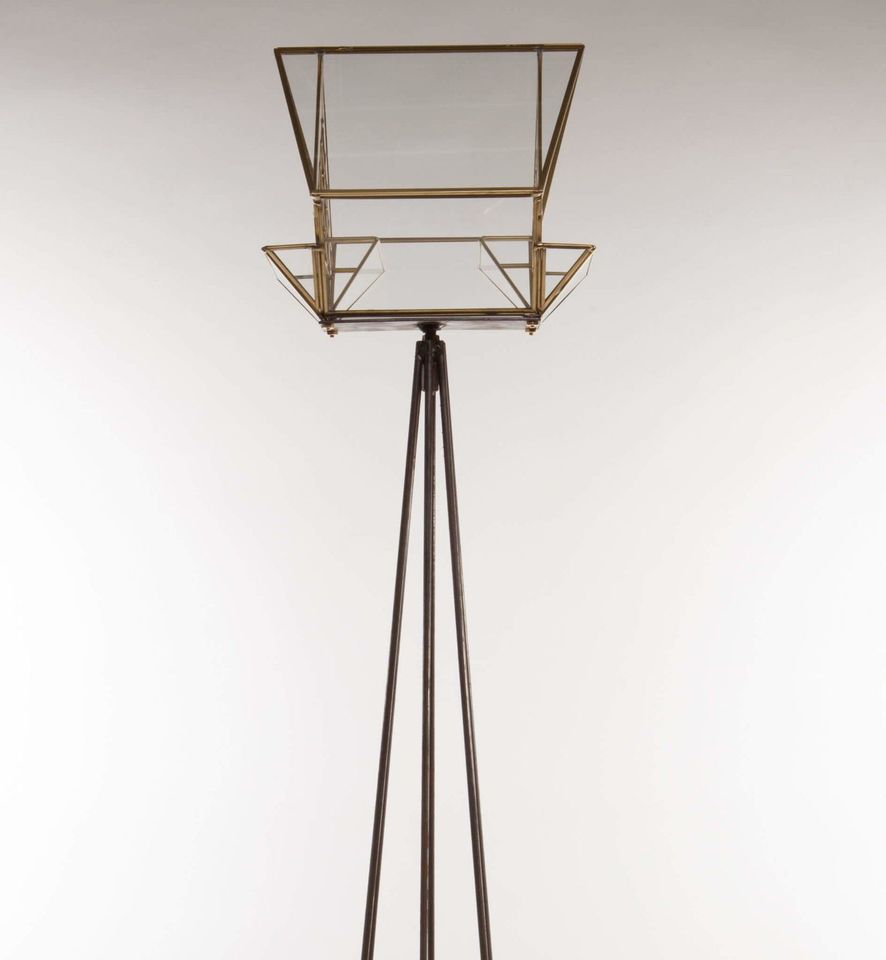 The Squirrel Baffling Feeder with a garden stand is sure to feed your neighborhood birds and baffle the squirrels.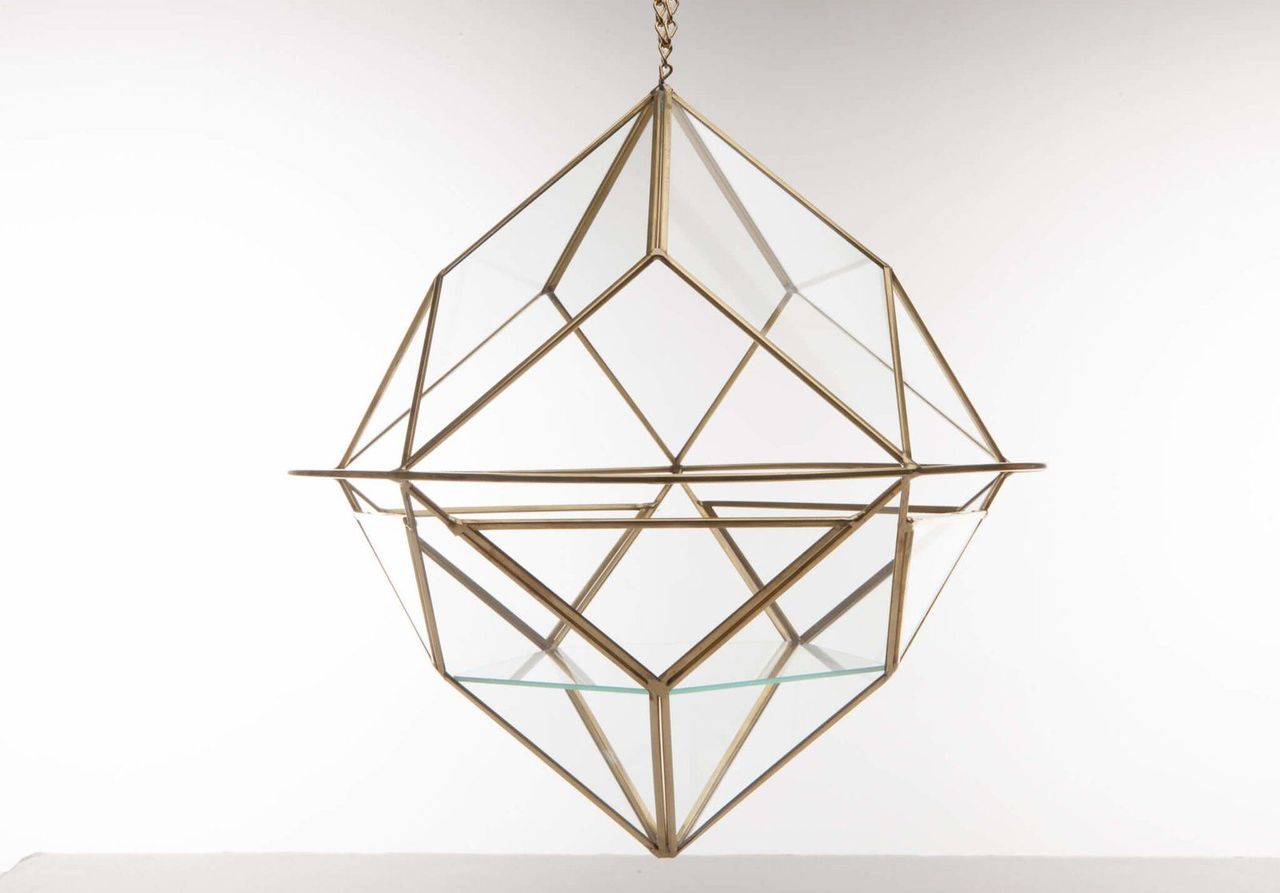 The "Diamond Feeder/Terrarium" is more like a work of art.


Pleasant Ranch

Steve Hadeka's Vermont-based Pleasant Ranch makes midcentury and A-frame birdhouses which he sells on Etsy. Hadeka also creates custom orders if you have something special in mind.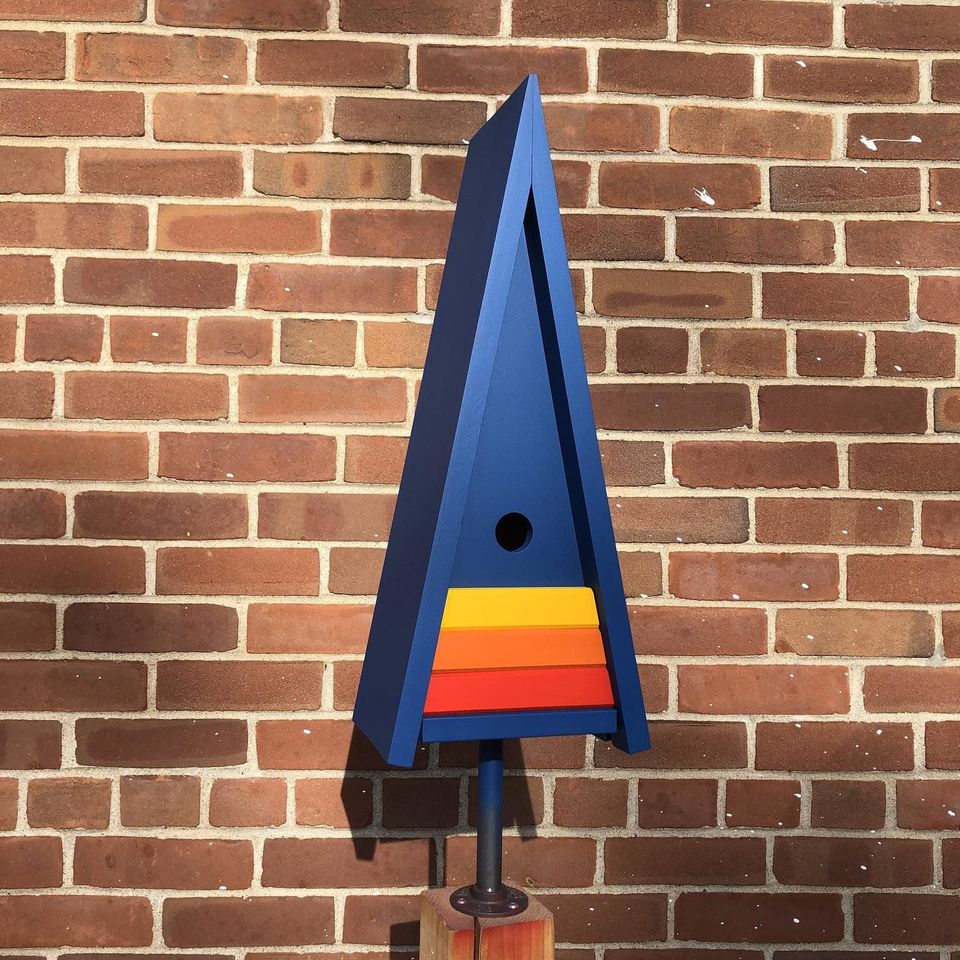 The Laguna Birdhouse is a sporty A-frame inspired by 1980s California surf and skate styles.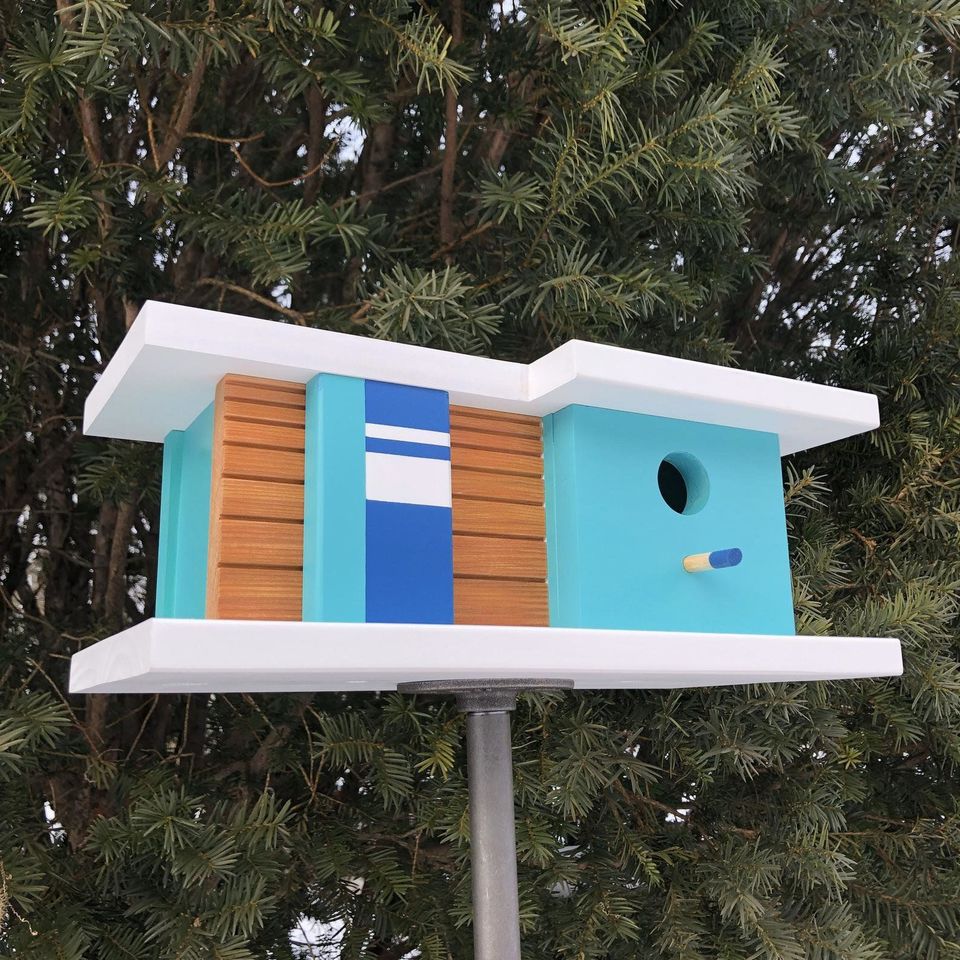 The Palm Canyon Birdhouse is an homage to midcentury modern architecture. This fully-functioning birdhouse is built to withstand the elements, and house a wide variety of North American nesting birds.


J Schatz Studio

J Schatz Studio designs and creates a range of indoor and outdoor products, including these gorgeous handcrafted, glossy, stoneware egg-shaped birdhouses. The New England company recently sold their Providence, Rhode Island studio and are currently in the process of relocating.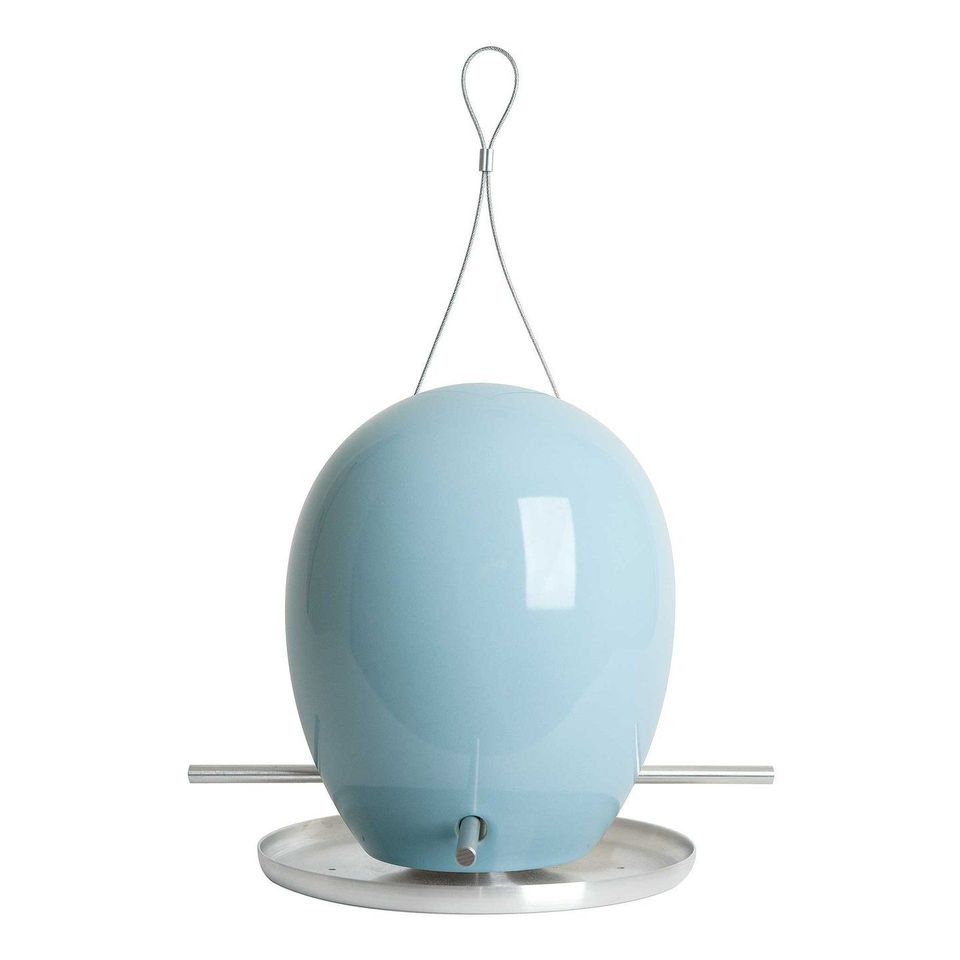 The original product in the company's Birds line-which was launched in 2004-the Egg Bird Feeder, is "not merely eye candy, the finish also serves to keep squirrels off." Easy to install and maintain, it is available in three colors: light aqua, goldenrod yellow, and sumac red.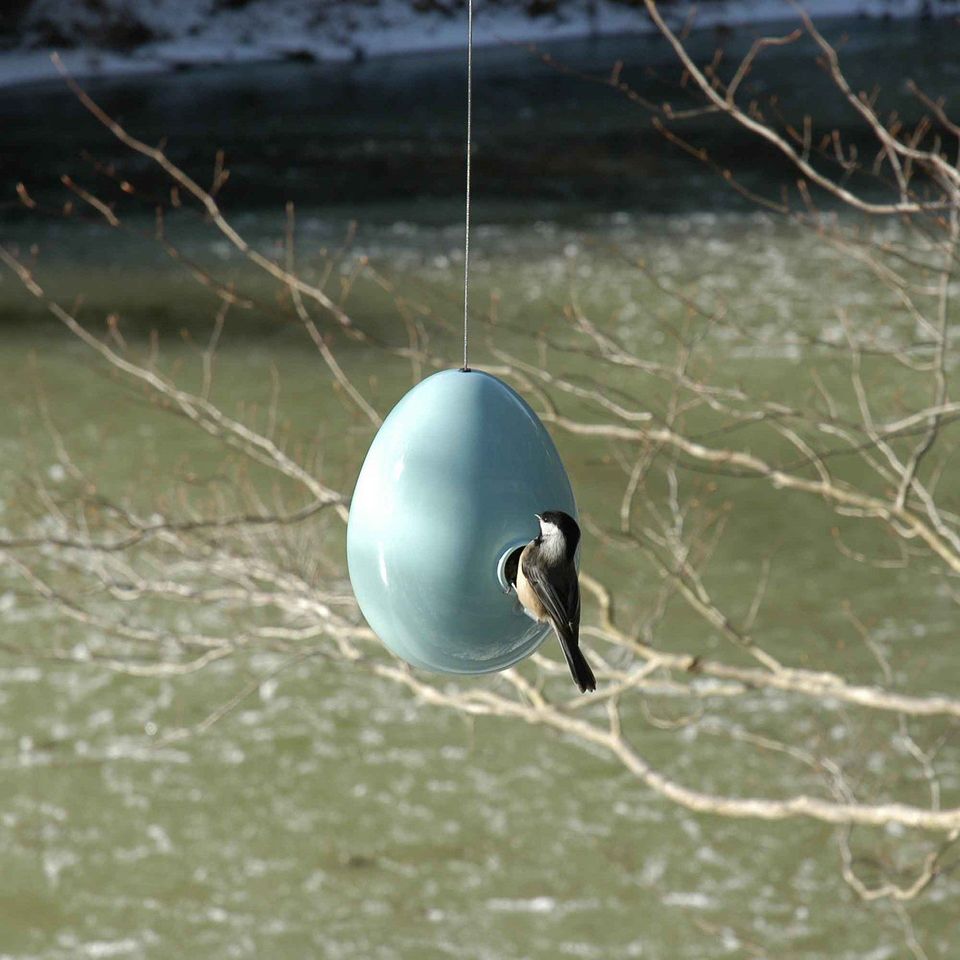 The Egg Bird House features a 1 1/8" diameter entry hole that attracts chickadees, wrens, and smaller birds and comes in six shiny shades.


Radius

The German company, Radius, makes a range of sleek modern home accessories. We love their minimalist bird feeders which are touted as, "new homes for the design-conscious bird."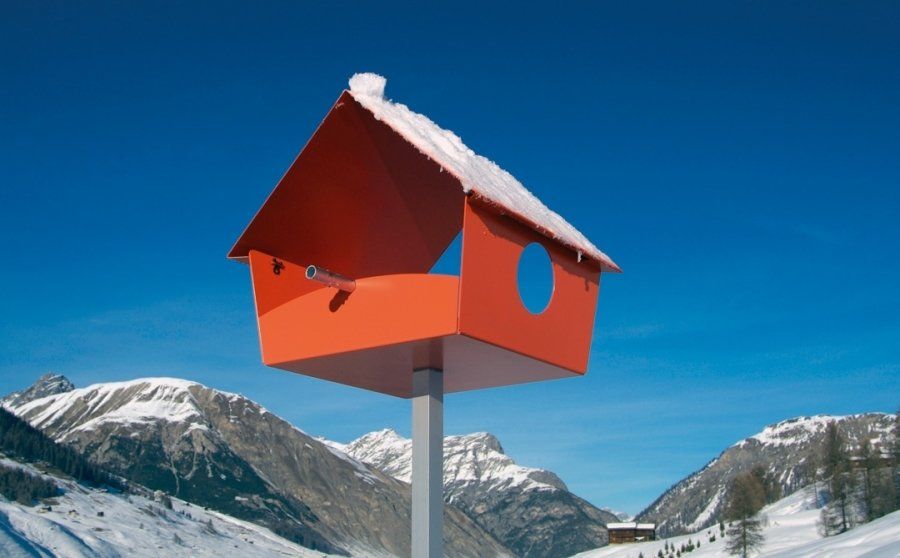 Designed by Ralph Kraeuter, the Piep Show XXL is a sturdy, powder-coated steel and aluminum modern bird feeder which can be either hung up or inserted in the ground with a matching "earth spike."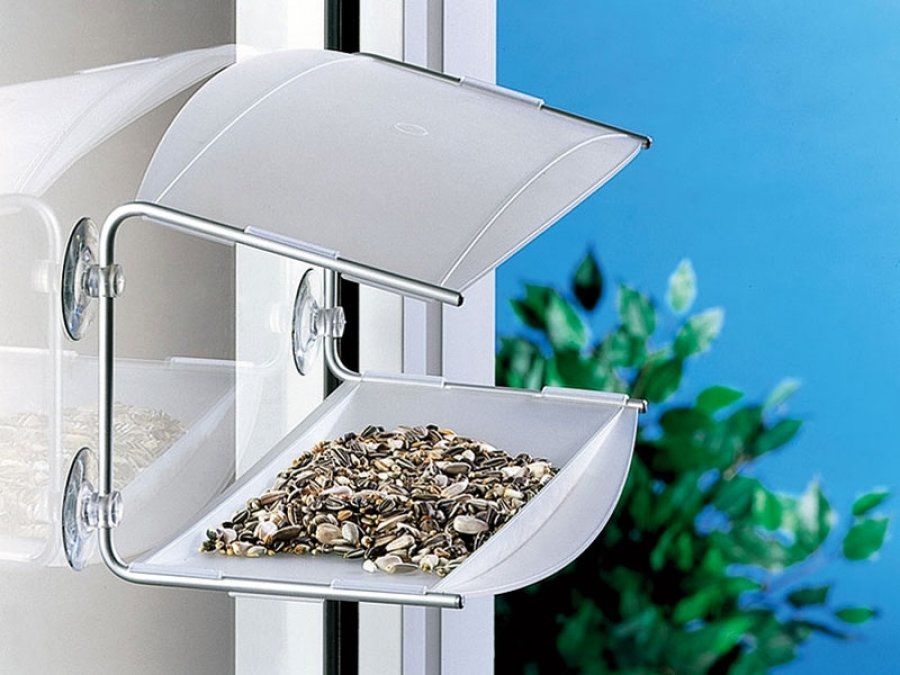 Designed by Louise Christ Frederiksen, the Piep Show birdhouse is made of high-quality plastic and aluminum and can be affixed to any window pane with four suction pads. It is easy to move and relocate, should you or your birds fancy a change of scenery.


Eva Solo

Danish design firm Eva Solo is known for creating a range of home and kitchen products that embrace a minimalist Scandinavian aesthetic. The simple design of their see-through bird feeders is equally satisfying.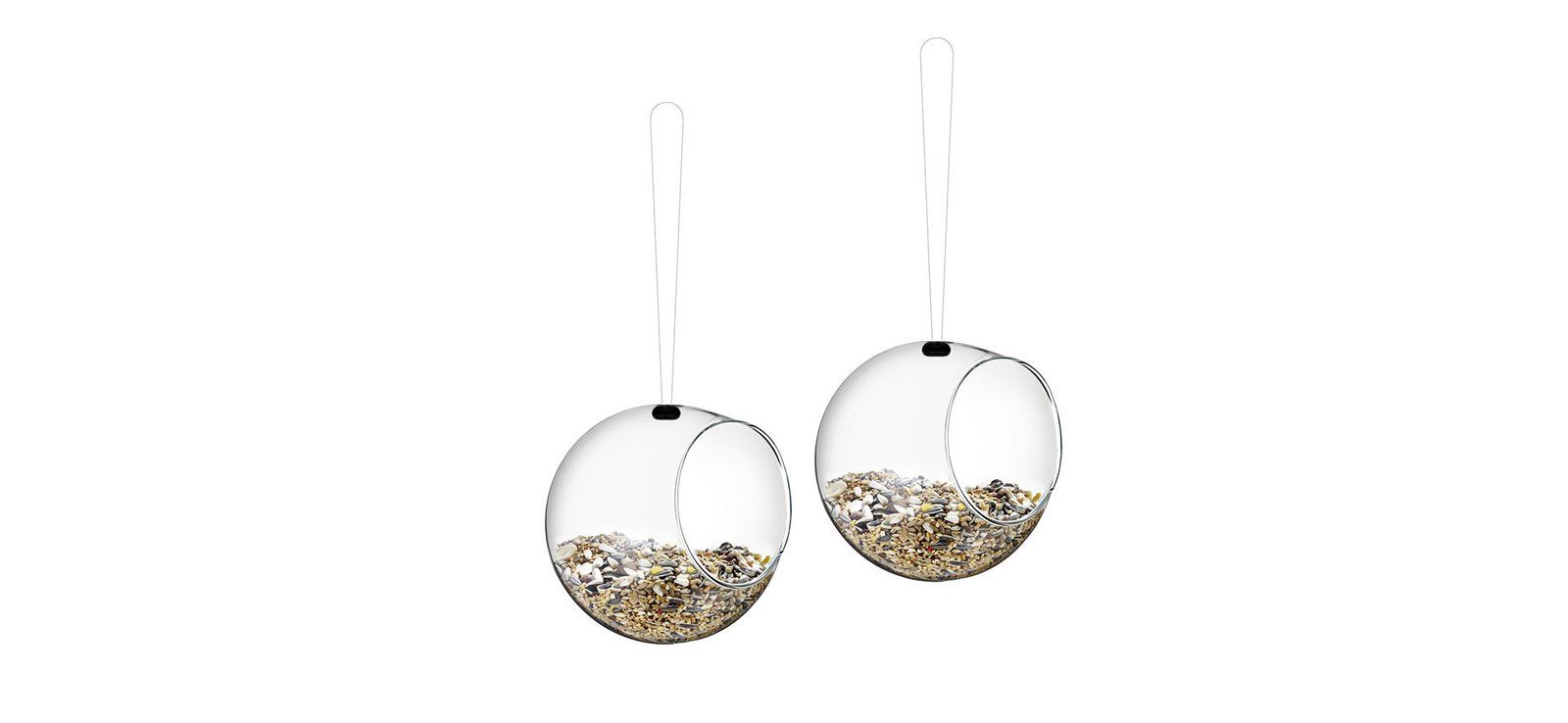 The mini bird feeders are designed to be the perfect size to feed all the small birds in your garden. They are easy to hang in your garden or on your balcony and are designed to keep the bird suet from falling out. In addition, they are easy to clean and dishwasher safe.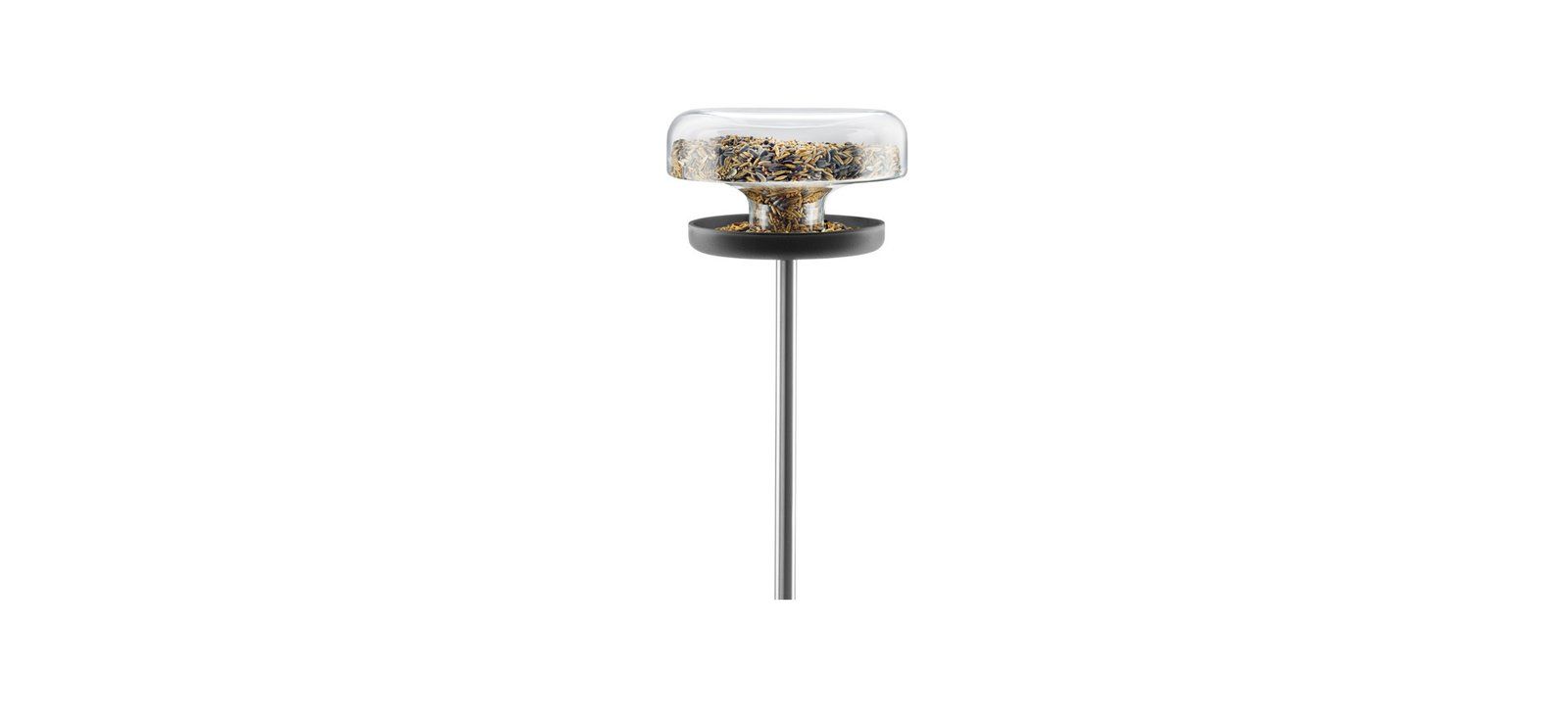 Made of nylon, glass, and stainless steel, the Eva Solo Bird Table sits on a spike and is designed to be the perfect platform for small birds to perch on the rim and enjoy a meal. The clear glass dispenser can hold up to 2 liters of bird food and it is easy to tell when it needs refilling. The glass is frost-proof making it perfect for year-round use.