Mexico City was no exception to the postwar design boom and explosion of modern architecture that swept cities worldwide. A far departure from the low-slung profiles and butterfly roofs dominating tracts across the United States, however, the structures rising in CDMX during the midcentury period were big. They were bold. And-paying homage to the vibrant culture, food, and flora of the region-they were colorful. Here, we peer inside six icons that disrupted design in their heyday, and that left a legacy for architecture aficionados today.


Hotel Camino Real Polanco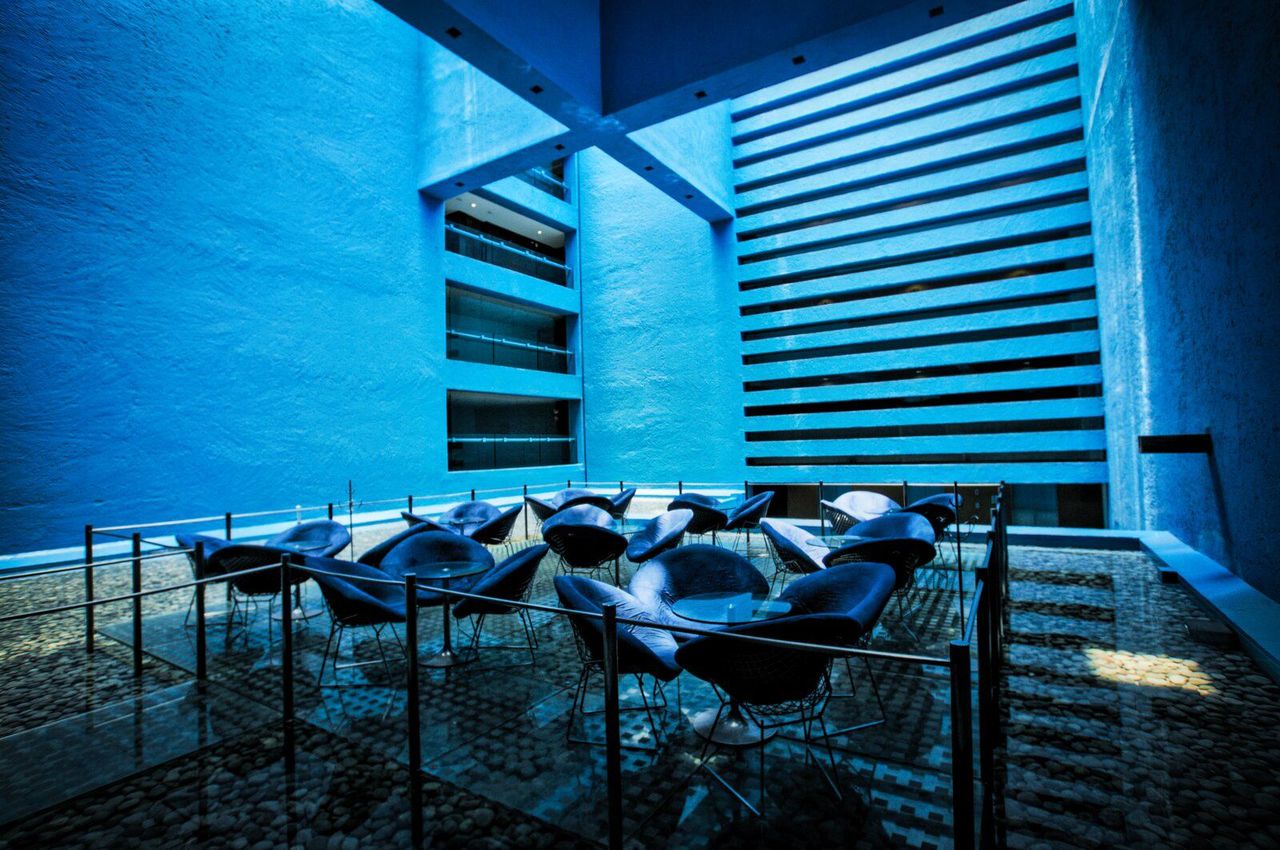 An emblem of the 1968 Olympics held in Mexico City, the Camino Real in the upscale neighborhood of Polanco offers museum-quality art and furnishings.

Architect Ricardo Legorreta was a mere three years into his own practice-and recovering from a long illness-when he got the life-changing commission to design Camino Real Polanco in advance of the 1968 Summer Olympics held in Mexico City. It was a tight timeline, with the games just a year and a half out.

But with the good fortune of a vast plot of land near the city center, Legoretta took a chance. While other firms might have designed vertically, Legorreta created an expansive five-story building with an inviting, residential feel, weaving in a central courtyard, private patios, gardens, and rooftop terraces.

"When coming out of an illness, you realize life is short, and you have to take advantage of it," says his son, Victor Legorreta, now partner and managing and design director at Legorreta. "He thought, Now is the opportunity to do something more unique, more brave-a chance to take more risks. For him, it was a personal challenge to be able to do something unique."





"My father was getting out of this really rationalistic approach from the International Movement, and knowing [Luis] Barragán at that time, he blended functional and romantic aspects," says Victor Legorreta, son of Ricardo Legorreta, who designed the Hotel Camino Real. "It's one of the qualities of the hotel: architecture that uses emotion and courtyards. That uniqueness—it's the first time you see that element in homes now in a large setting."

Immersive walls of color meet rough plaster walls, common in Mexican architecture, and the effect is most striking in the hot pink screen and yellow wall that shields a grandiose fountain in the motor court. It's a poetic intersection of modernity and nature, and a sure influence of his friend Luis Barragán. "It's architecture that's relevant to the place, relevant to the culture," says Victor.

Camino Real Polanco represents the zeitgeist of time and place, of modernism at its peak, of collaborative artists and creatives, and of the Summer Olympics, which gave permission to push boundaries. "In the '60s with the Olympics, there was a boom in Mexico, and now I'm very optimistic that we are again looking at an interesting period of time," says Victor. His firm is taking on the remodel of the hotel, complete with modern-day lighting and restaurant terraces, an omnipresent pivot across architecture as a result of COVID-19. But for the restoration, the firm will remain true to its roots, respectfully reviving the original work of his late father. As Victor says, "It will be an intervention of Legorreta by Legorreta."


Torres de Satélite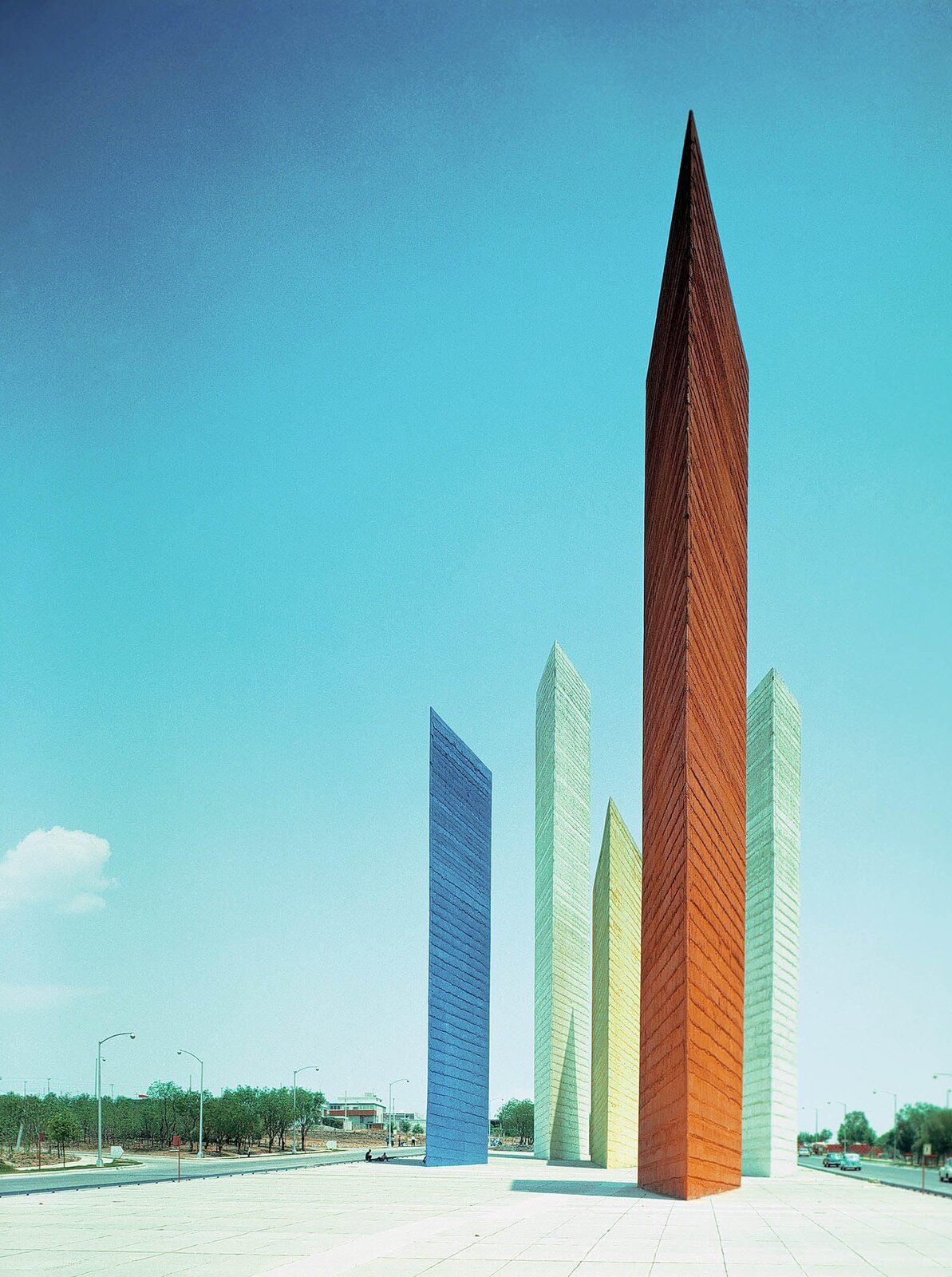 Luis Barragán and Mathias Goeritz's enchanting Torres de Satélite, built in 1957, announce the gateway to Ciudad Satélite, which was conceived as a commuter community when the population of Mexico City was booming.

He is the father of "emotional architecture," a recipient of the Pritzker Architecture Prize, the architect and engineer with an oeuvre so vast and pivotal to modern architecture's growth in Mexico City that he's become a household name. And while Luis Barragán may be better known for projects like Cuadra San Cristóbal, his Torres de Satélite, or Satellite Towers-a collaboration with sculptor Mathias Goertiz and painter Jesús "Chucho" Reyes-redefined the skyline in 1957.

Envisioned as a gateway to the adjacent community of Satélite, designed by architect and urban planner Mario Pani, the Torres de Satélite was to be one of two sculptures (another on the northern edge remains unbuilt) announcing themselves from afar-and viewed by car. You see, the towers sit in a busy median, smack-dab in the middle of the highway. From miles away, you notice an eruption of color from the lanes. Interest turns to curiosity, and then fascination, as the five isosceles pyramids seem to change shape and color during the approach.

When originally designed, they donned white, yellow, and ochre hues. During the Summer Olympics, a monochromatic orange palette contrasted the sky. Today, you'll see blue, white, yellow, and red prisms that shift depending on the weather, time of day, and where you stand.

"Barragán was more of an artist," says Victor Legorreta. "He was going back to the vernacular and using color in a very romantic approach to architecture. You see the emotions." And the closer you look, the more you discover. The towers' masonry emphasizes the horizontal, a technique seen in several Frank Lloyd Wright–designed homes. The vertical seams are smooth, broadening the horizon. Some 60 years later, the sculptures still beg the question: Are the Torres de Satélite art or architecture?


Torre Banobras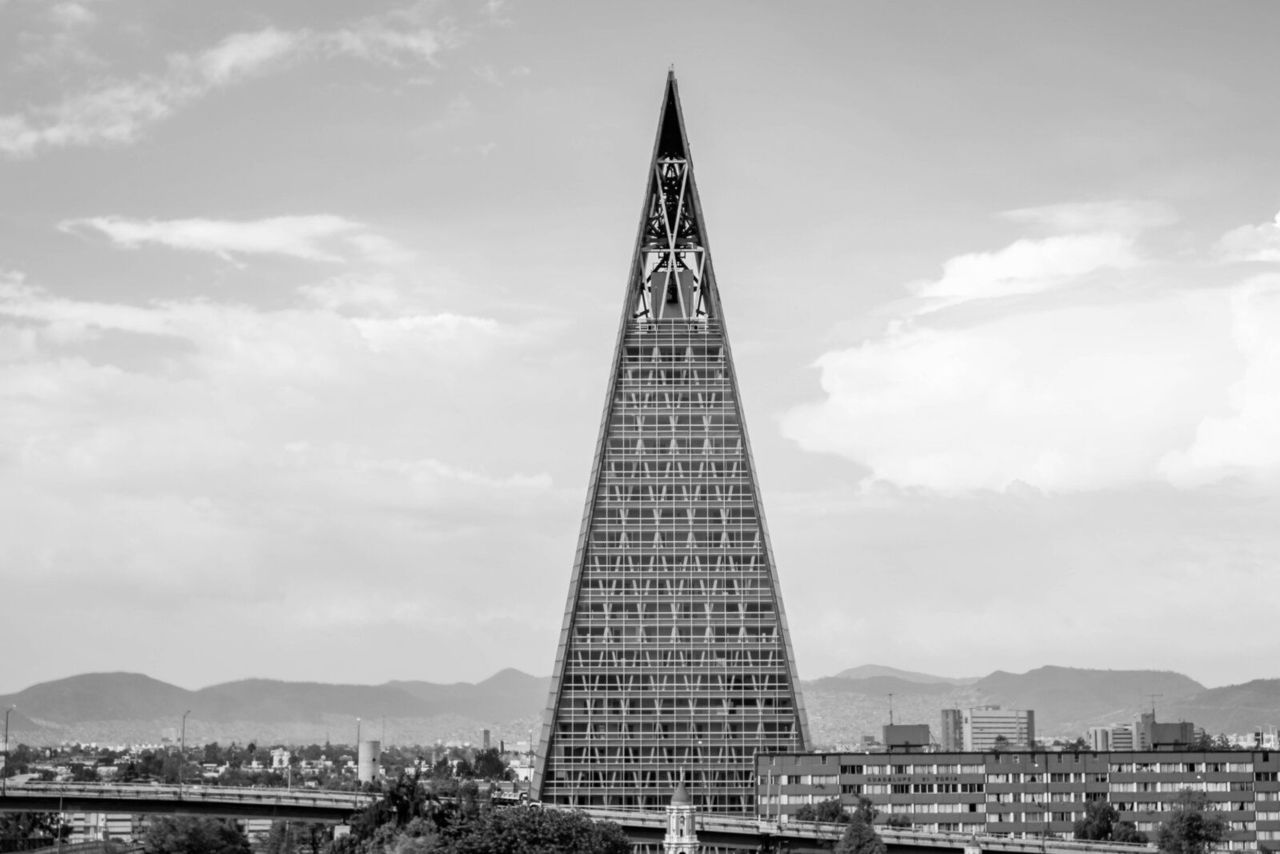 Architect Mario Pani's 1962 Torre Banobras was built as part of the Nonoalco Tlatelolco Housing Project, the second-largest complex in North America. At the time, it was the second-tallest building in the country.

It's a disservice to try to reduce the work of architect and urbanist Mario Pani to just one building. Torre Banobras, or Insignia Tower, is only one skyscraper among the 100-plus buildings that comprise the Nonoalco Tlatelolco Housing Project in northern Mexico City. That's right, a housing complex of more than 100 buildings-the second largest in North America after New York's Co-op City.

Tlatelolco was a redevelopment project with an aim of introducing a new way of life. The independent city-within-a-city would integrate diverse socioeconomic classes and hold schools, hospitals, and grocery stores for some 70,000 residence. Each block would offer all services one could need, and at Torre Banobras, that meant banking.

Completed in 1962, it served as the headquarters of the National Bank of Public Works and Services. Today its 24 floors serve as office space. The triangular prism is made of reinforced concrete, glass, and aluminum, and while the 1985 earthquake caused much damage to the housing complex at large, Torre Banobras endured-and is considered one of the safest tall buildings in the city. Fun fact: It is home to the largest carillon in the Americas with 47 bells.


Museo Casa Estudio Diego Rivera y Frida Kahlo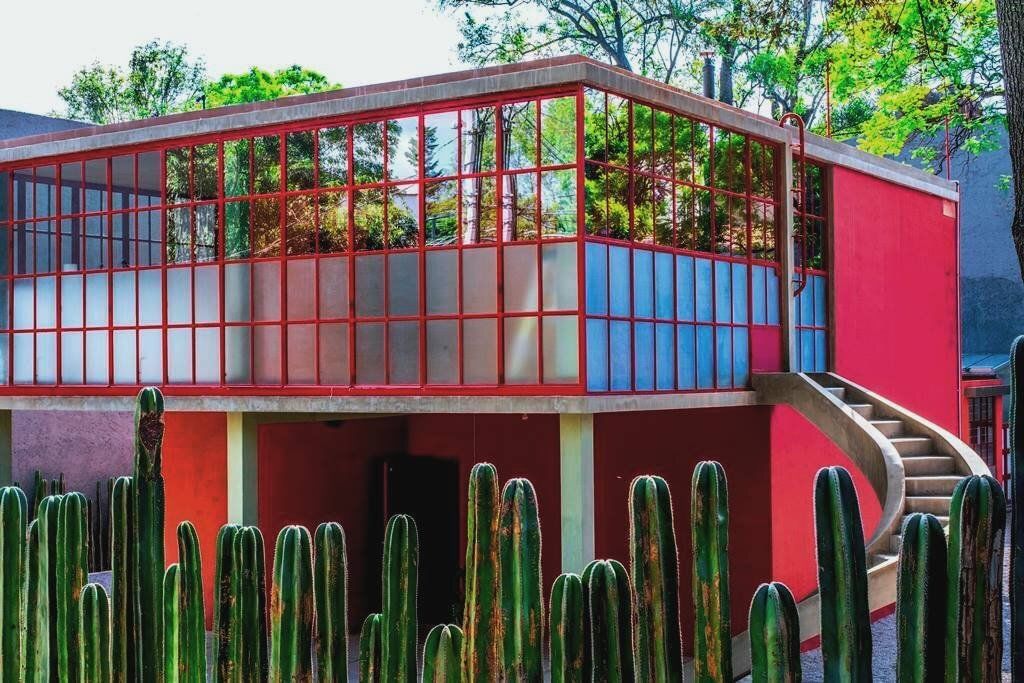 A view of Diego Rivera's home studio at Museo Casa Estudio Diego Rivera y Frida Kahlo features a subtle replica of the grand helicoid stair that spirals from the adjacent main house.

While many visitors rightfully flock to the famed La Casa Azul, or the Frida Kahlo Museum, the lesser-known museum of Kahlo and Diego Rivera sits a mere 15 minutes away, and is an icon in its own right.

Architect and painter Juan O'Gorman designed Museo Casa Estudio Diego Rivera y Frida Kahlo at just 26 years old in 1931, making it far ahead of its time. Here you'll find the functionalist influence of Le Corbusier, but with undeniable modernist Mexican aesthetics and artistic flourishes. Rich hues, the use of clay, a helicoid stair, and a signature cacti fence complete the three home-studios. O'Gorman went on to design many modernist structures, including the famed Central Library at the Universidad Nacional Autonoma de Mexico (UNAM), which we'd be remiss not to mention-and brings us to our next stop.


Ciudad Universitaria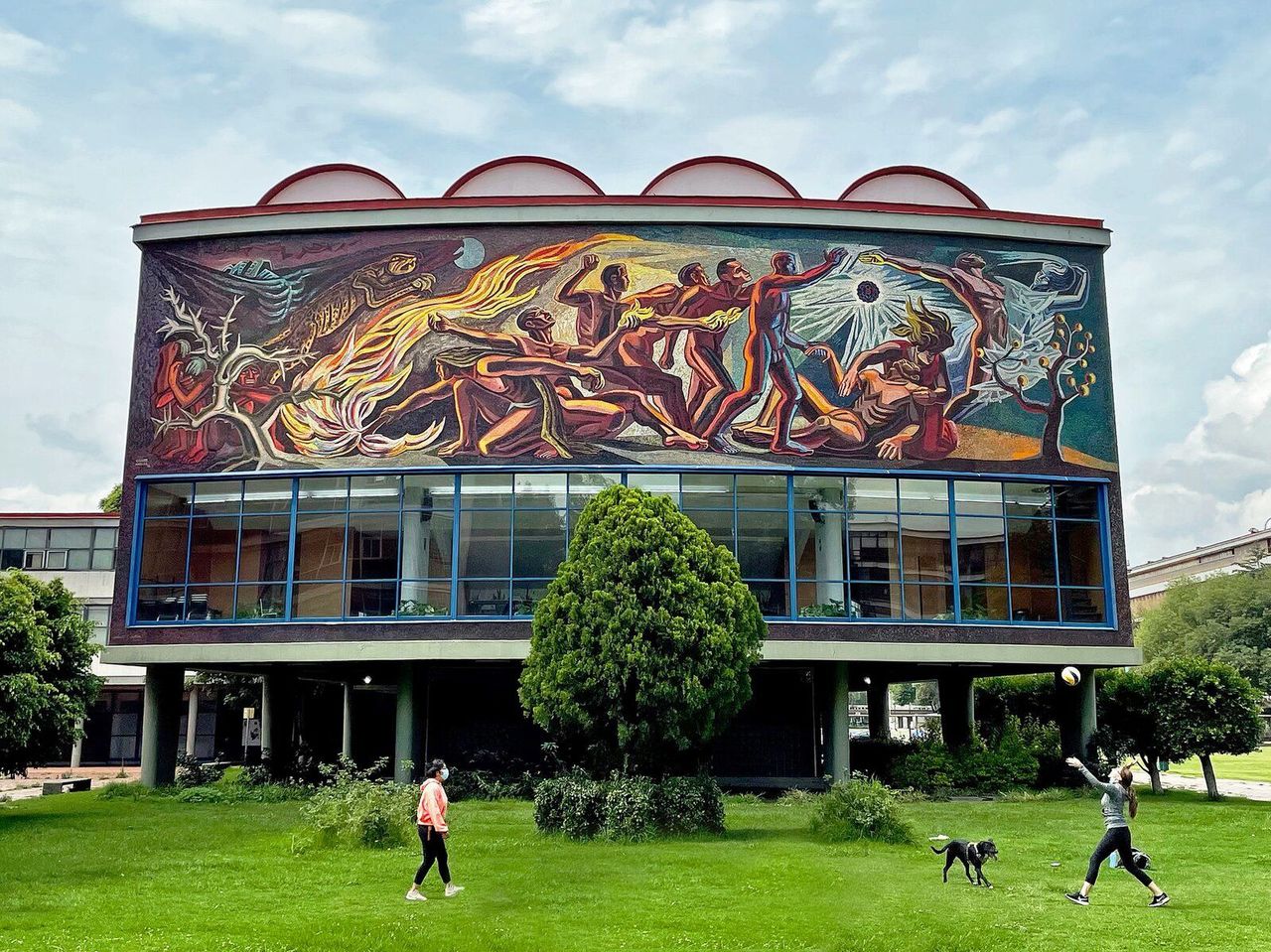 The Alfonso Caso Auditorium within Ciudad Universitaria was designed in 1954 and widely recognized for its glass mosaic mural by José Chávez Morado. It's one of the many examples of art's intersection with architecture on the campus. Named "La Conquista de la Energía," or "The Conquest of Energy," the mural depicts new cycles of human life and pays homage to the former sciences and labor building.

There's not one building, but rather the entire campus that makes Universidad Nacional Autónoma de México (UNAM) a modernist icon and a must-see. A UNESCO World Heritage Site, UNAM comprises over 2,000 buildings spread across 2,500 acres. And here at the main campus, Ciudad Universitaria, design has an even more monumental presence.

Created by more than 60 designers and master planned by Mario Pani and Enrique del Moral, the site touts a veritable who's who of famed midcentury architects and artists. "The most important architects of Mexican modernity took part in Ciudad Universitaria," says Dr. Juan Ignacio del Cueto Ruiz-Funes, director of the Faculty of Architecture at UNAM. Teams of three architects developed the executive projects, and he says: "This makes it choral-a collective work with very clear guidelines set by Pani and del Moral, but with different expressions in each of the projects. This also makes it very rich. It provides it with architectural wealth."

Everywhere you look, there are entire facades made of steel-framed windows, painted blue on one building, yellow on another. Again, we see cues from Le Corbusier with many of the structures lifted on stilts, expanding the vistas and creating greater human scale and community.

"When we talk about Ciudad Universitaria, the architects had been-for 15, almost 20 years-in this process of internalizing these ideas that came from Europe," says del Cueto. "It's a very Mexican expression of the principles of modern architecture and modernity."

Artists like Diego Rivera, David Alfaro Siqueiros, José Chávez Morado, and Francisco Eppens produced some of the most significant murals in Ciudad Universitaria. Totaling more than 100, the artworks capture time, place, and history. Says del Cueto, "The pre-Hispanic buildings, architecture, painting, and even sculpture are integrated, so the idea was to bring back these principles."


Los Manantiales Restaurant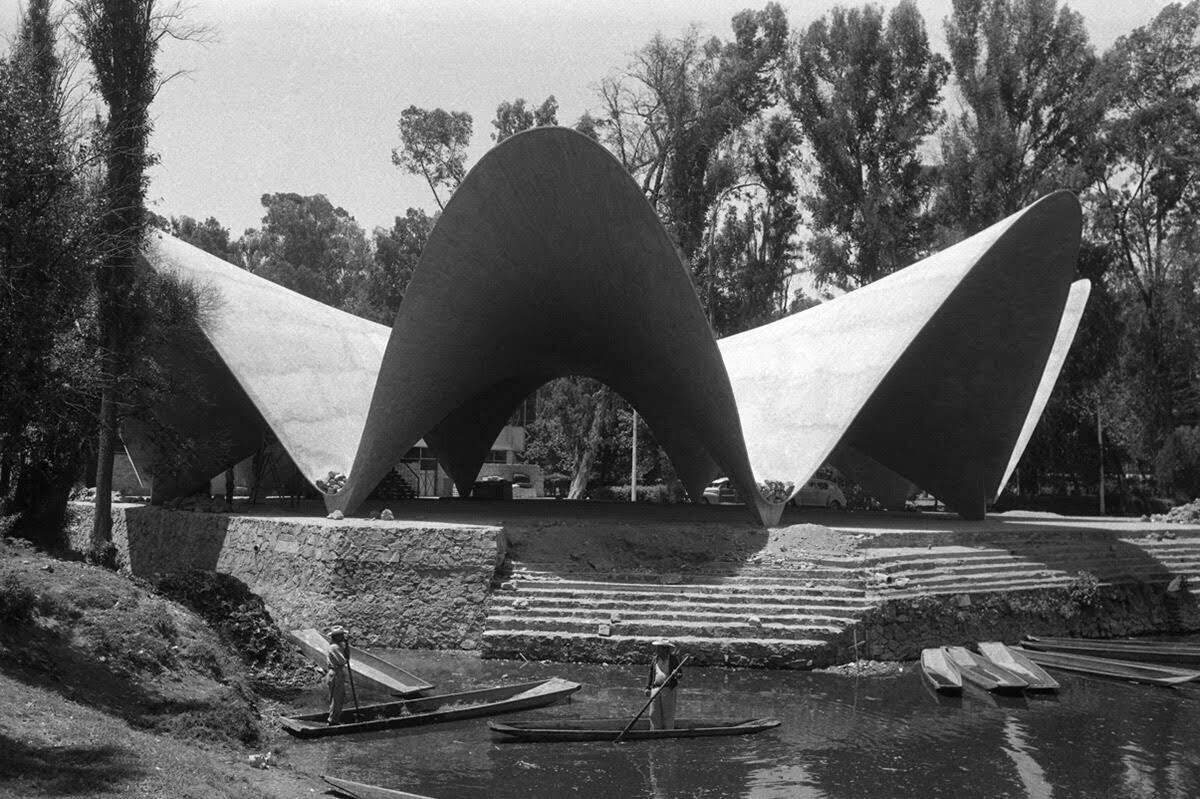 Félix Candela, Los Manantiales Restaurant, Xochimilco, Mexico City, 1958

Locals and tourists alike know Xochimilco for its beloved floating gardens, enjoyed while lazing in a colorful trajinera, or wooden boat, alongside mariachis. Yet within this UNESCO World Heritage Site, you'll discover a striking juxtaposition-a hyperbolic paraboloid, of all things, amid lush pre-Hispanic riverbeds.

Designed by Joaquín Álvarez Ordóñez and engineered by Spanish exiled architect Félix Candela in 1958, Los Manantiales Restaurant touts eight petals of concrete with canted edges as thin as two inches. Dr. Juan Ignacio del Cueto had the opportunity to interview Candela when he was 92 years old. "He told me he had a lot of doubts about what to study," says del Cueto. "A friend of his father convinced him to study architecture. He said he had trouble drawing-he didn't have a good hand for it-but he was very good with structural calculus, and what he liked most were the reinforced concrete shells made in Europe during the interwar period."

When Candela arrived from Spain, he was just 29 years old. A decade later, he designed his first experimental shell, "and from that moment on, he began to become famous," says del Cueto.

While structurally intact, the now-defunct restaurant is in the midst of restoration-with the help of Álvarez and del Cueto. For now, it is best enjoyed along a canal ride with a cold cerveza.