Essential oil diffusers are a simple way to fill a room with refreshing, natural scents, but the benefits go beyond mere fragrance. These devices can also help you experience the benefits of aromatherapy at home with just the push of a button.

Research shows that certain essential oils can have a significant impact on your mood and brain function, helping you feel calm and relaxed or alert and energized, depending on the blend you choose. Diffusers turn essential oils, such as lavender, eucalyptus, or peppermint, into a fragrant mist that spreads throughout a room, allowing you to reap the benefits of aromatherapy while working during the day or winding down before bed.

These compact devices are perfect for a desk, countertop, or bedside table, and there are even car essential oil diffusers you can use on the go. Read on to learn about the different types of essential oil diffusers and what to look for when buying your own.


Types of Essential Oil Diffusers

Diffusers can disperse essential oils into the air in a variety of ways. The two most popular types of diffusers are ultrasonic and nebulizing. Ultrasonic essential oil diffusers create small vibrations that turn a mixture of water and oils into a fine mist. This model can also help humidify dry air. Emitting little to no noise, ultrasonic diffusers are great for nighttime use or at times when you need to focus.

Typically more expensive, nebulizing essential oil diffusers use pressurized air to break oils down into particles without the need for water or heat. Because the oil is undiluted, these diffusers require more oil but offer a more concentrated scent. They also tend to be noisier than other models.

While many of the most affordable essential oil diffusers are made of plastic, you can also find versions made of wood, ceramic, and glass. The capacity and running time are also important factors to consider, especially if you're using the diffuser at night or in a large space. Here are some of our top picks for the best essential oil diffusers you can buy on Amazon, based on thousands of glowing reviews.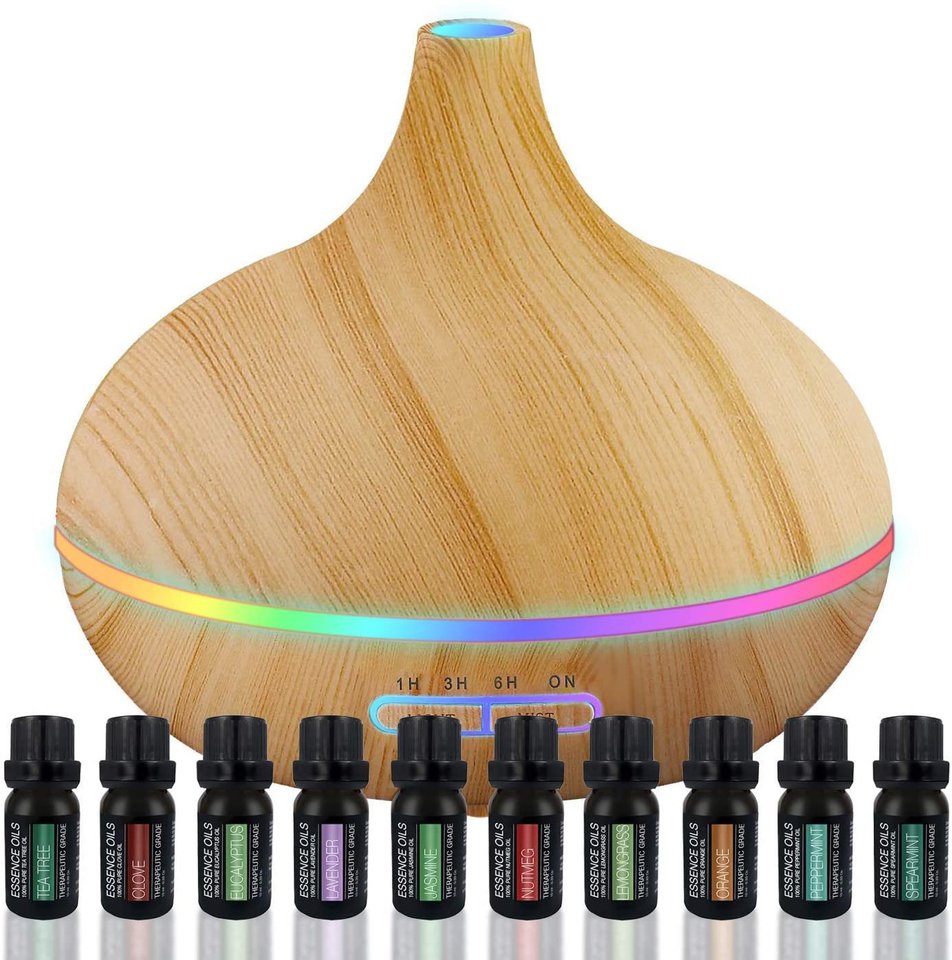 Best Ultrasonic Essential Oil Diffuser

Get everything you need to enjoy aromatherapy at home with this top-rated essential oil diffuser. The ultrasonic device boasts a 4.6-star rating from more than 22,000 reviews. It comes with 10 different essential oils, including favorites like lavender, jasmine, and orange, so you just need to add water and turn it on. The faux-wood design lights up with seven colors, so you can choose your favorite or cycle through them all for a color-changing rainbow effect. It includes four timer settings and two mist output modes, and the device will automatically shut off when the 300-mL water tank is low.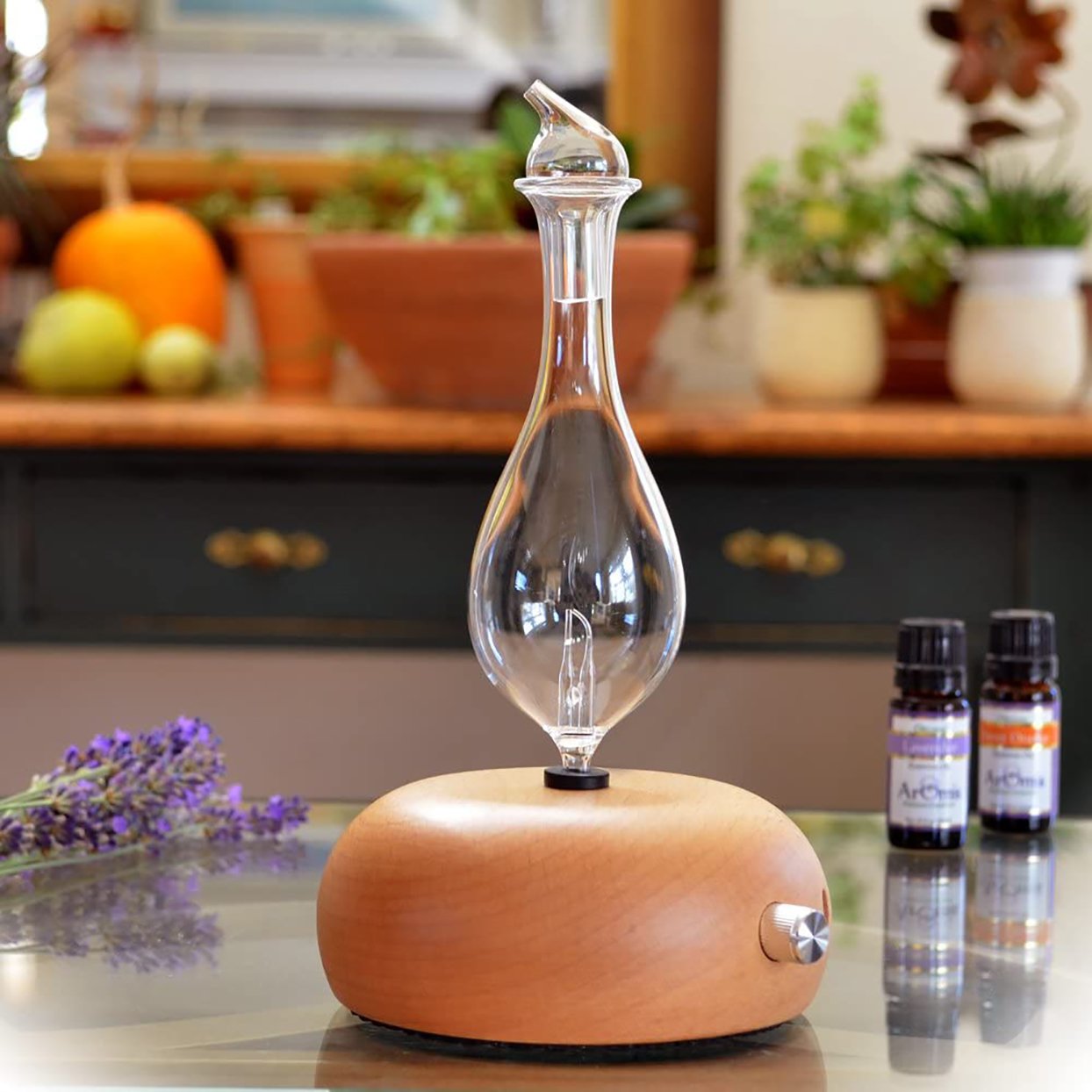 Best Nebulizing Essential Oil Diffuser

Made of natural beech wood and hand-blown glass, this nebulizing essential oil diffuser creates a pure, powerful scent without using water or heat. Designed for use in spaces up to 900 square feet, the device runs for four hours, alternating on and off in 10-minute intervals, before automatically shutting off. One reviewer writes, "The diffuser makes a very very faint hum when turned up to the maximum setting but it is less noticeable than the sound of a wall clock." Both the glass and base come in a variety of shapes and finishes.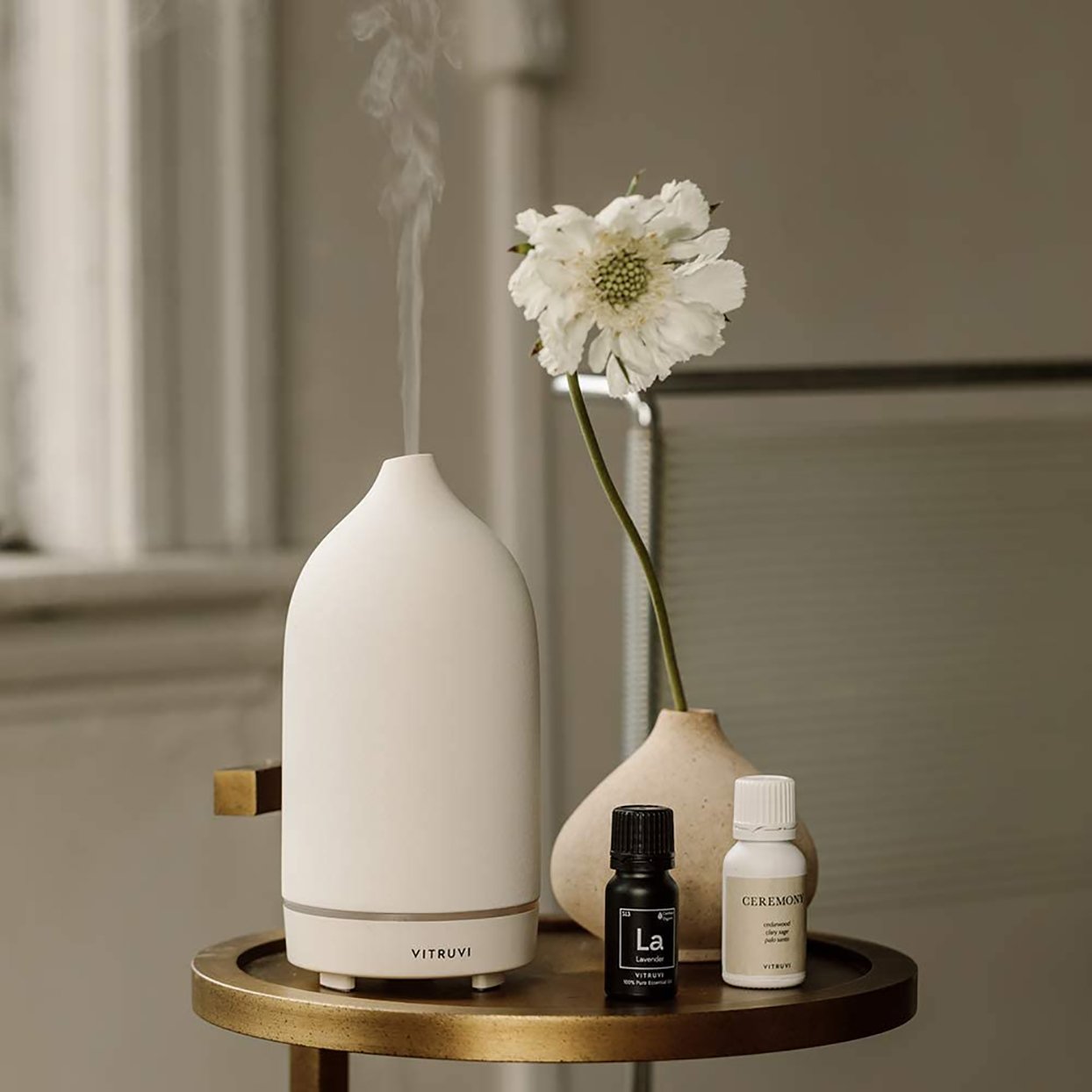 Best Ceramic Essential Oil Diffuser

With its sleek shape and matte finish, this ceramic ultrasonic diffuser doubles as a beautiful decorative accent on a side table, nightstand, or countertop. Choose between a 3-hour continuous mist or an interval setting that lasts seven hours, ideal for nighttime. The device has a light that you can turn off if desired and comes in white, black, charcoal, and terra-cotta colors.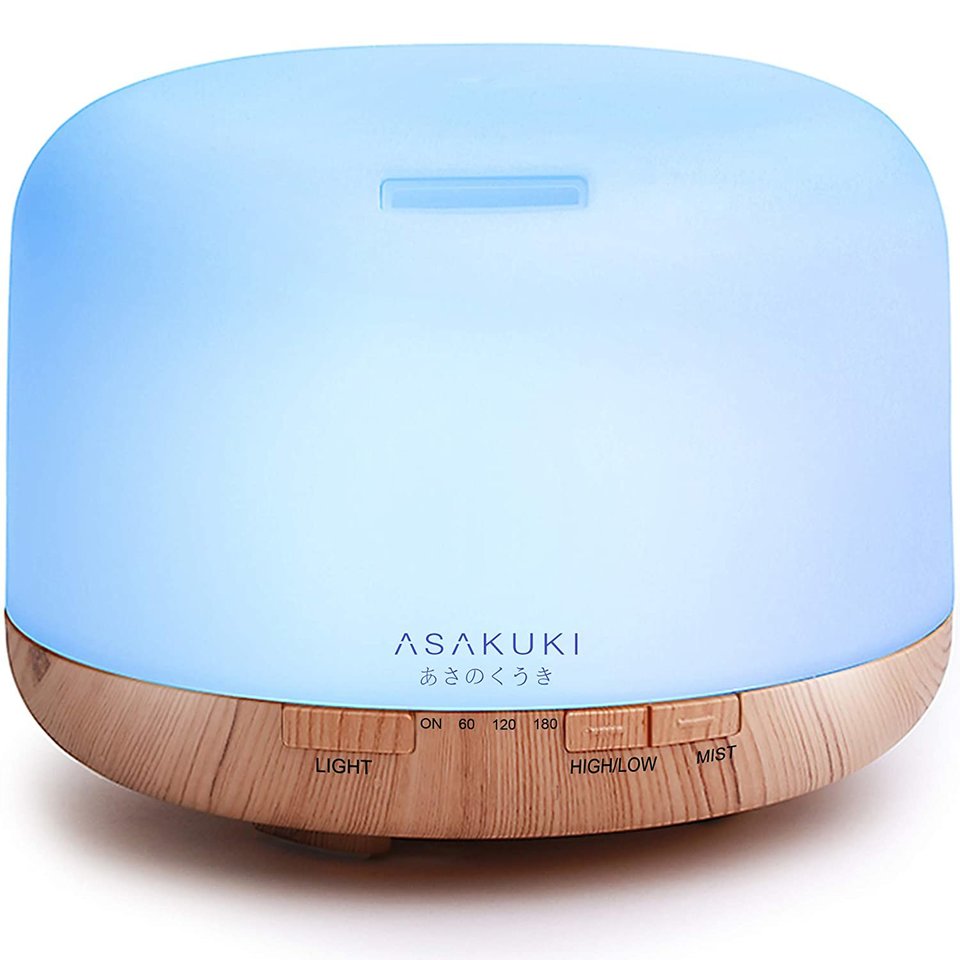 Best Essential Oil Diffuser for Large Spaces

Nearly 15,000 reviewers gave this diffuser five stars for its extra-large water capacity and long run time, with one happy customer noting that the fragrance spreads throughout her entire 1,200-square foot ranch home. The ultrasonic device has a 500-mL water tank and can run continuously for up to 16 hours. You can choose between three timer settings and seven LED colors, and the device will automatically shut off when it's out of water.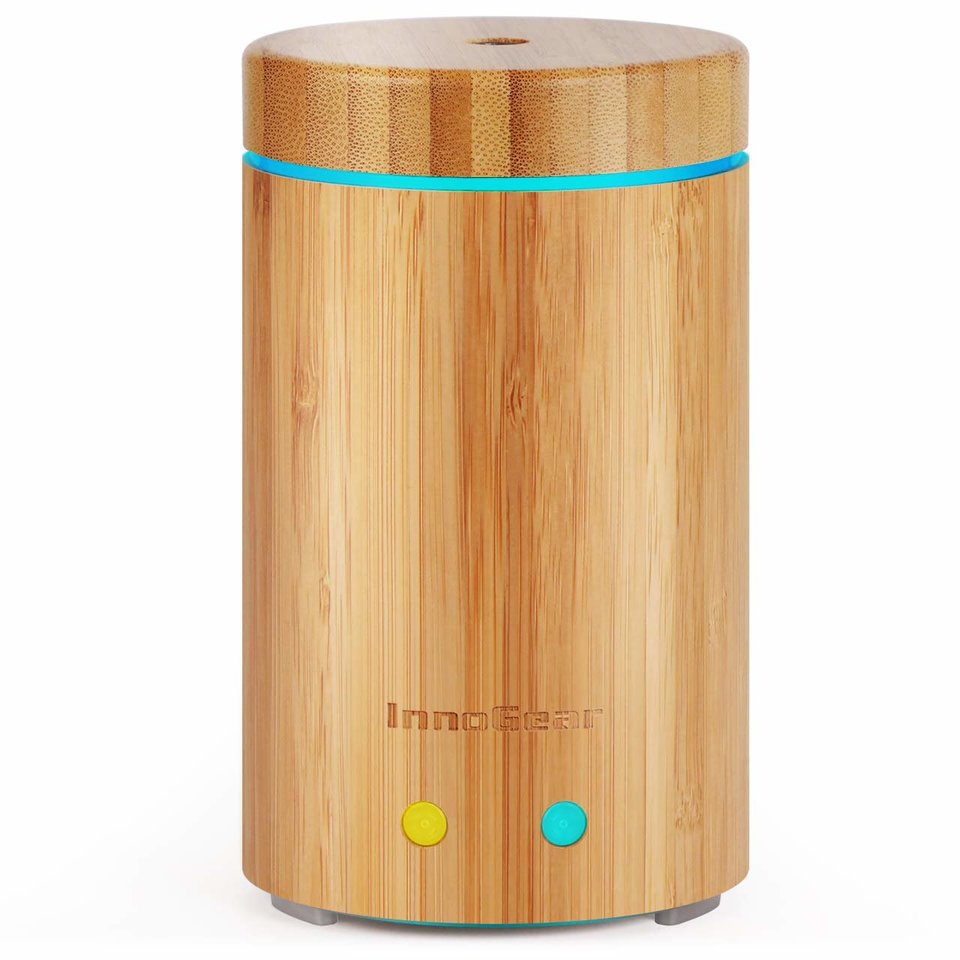 Best Wood Essential Oil Diffuser

Many essential oil diffusers are printed with faux-wood patterns, but this one is made of genuine bamboo with a protective lacquer finish. The compact design features a 160-mL water tank and intermittent or continuous misting modes. You can set a timer for one or two hours or simply leave it on for up to seven hours.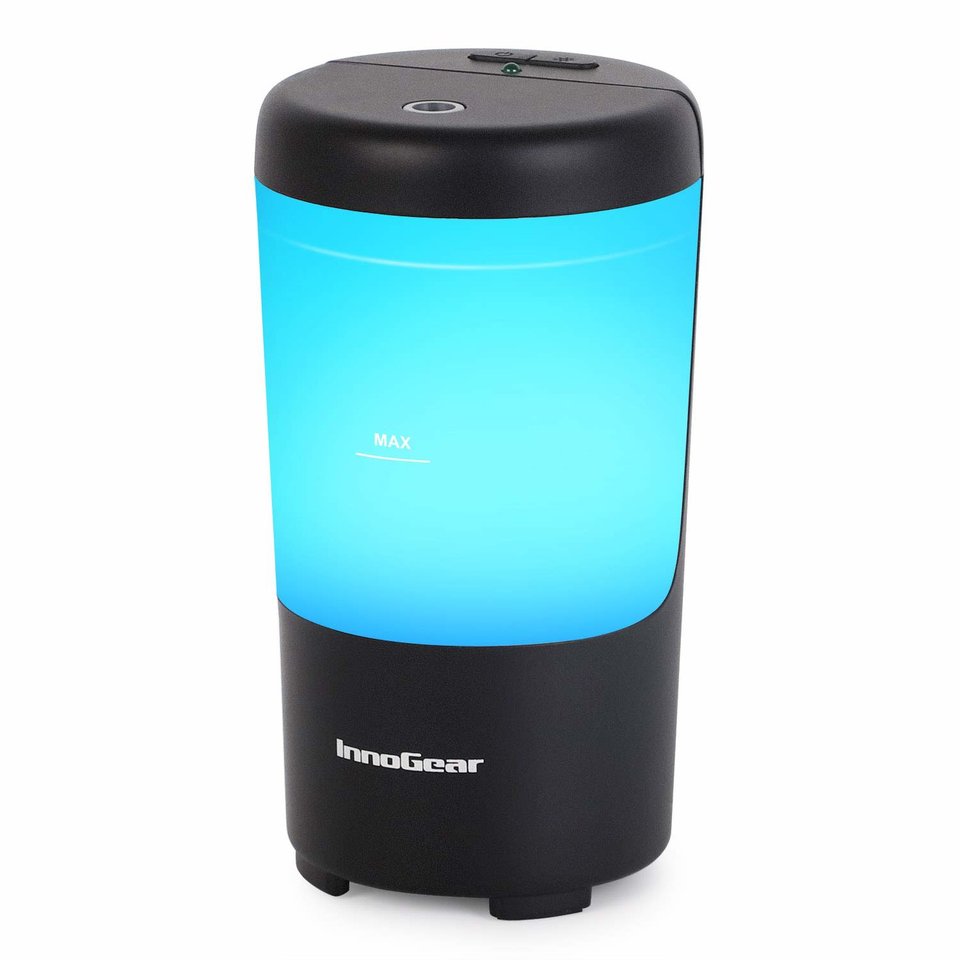 Best Essential Oil Diffuser for Your Car

Take aromatherapy on the go with this portable essential oil diffuser. Perfect for use in the car, the 6-inch-tall device plugs into a USB outlet and fits neatly inside cupholders. It features intermittent or continuous misting modes and an automatic shut-off. One 5-star reviewer writes, "Using it has made a huge difference in how I feel while driving home and I feel much more relaxed once I get home. That brain fog and tension from my workday just melts away."