To honor Father's Day, we're spotlighting our favorite builds completed with the help of Dad. In the case of 12-year-old Hannah Cutler and renowned architect Jim Cutler, it was a chance for the older generation to pass on life lessons and spark a passion for architecture; in the case of Anthony Belluschi, who renovated his father Pietro Belluschi's masterwork nearly 80 years after its construction, it was a way to carry on a family legacy. Whatever the case, the projects here suggest that sometimes, design is in the DNA.


A Father-Daughter Duo Lovingly Revamp a '70s Airstream on Vancouver Island

On British Columbia's Cortes Island, interior designer Markie Miller and her dad, Lance Price-the furniture builder behind Ironwood Furniture Co.-revived an "old tin can" they found for sale on the side of the road. "This was a special father-daughter project for a couple of people who have a habit of falling in love with things that need fixing," Markie says.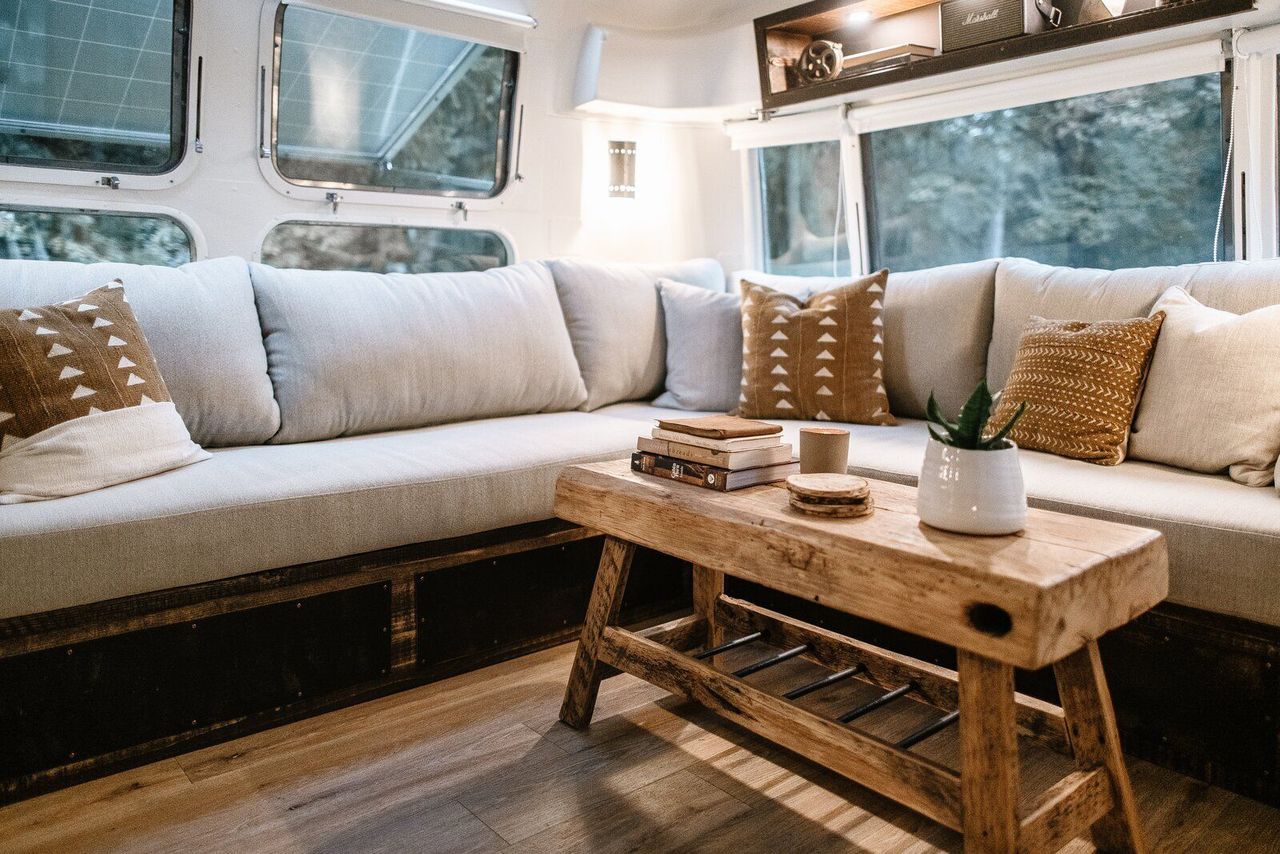 The living room area is outfitted with upholstered sofa cushions in a pet- and kid-friendly performance fabric with FibreGuard; this ensures the furniture can hold up against wear and tear.

Today, the 1972 Airstream Sovereign Land Yacht calls Vancouver Island home. Appropriately named Cortes, the 31-foot trailer has been transformed, and its gleaming silver exterior makes for a dramatic contrast to its verdant surroundings. Lance's wood-and-metal furnishings take center stage in the open-concept, 200-square-foot space. Wood and decorative touches were sourced locally to give the Airstream "an island vibe" that pays homage to its new location. This peaceful refuge is used by Lance and his wife Sharlene, who share that it was a safe haven particularly during the pandemic.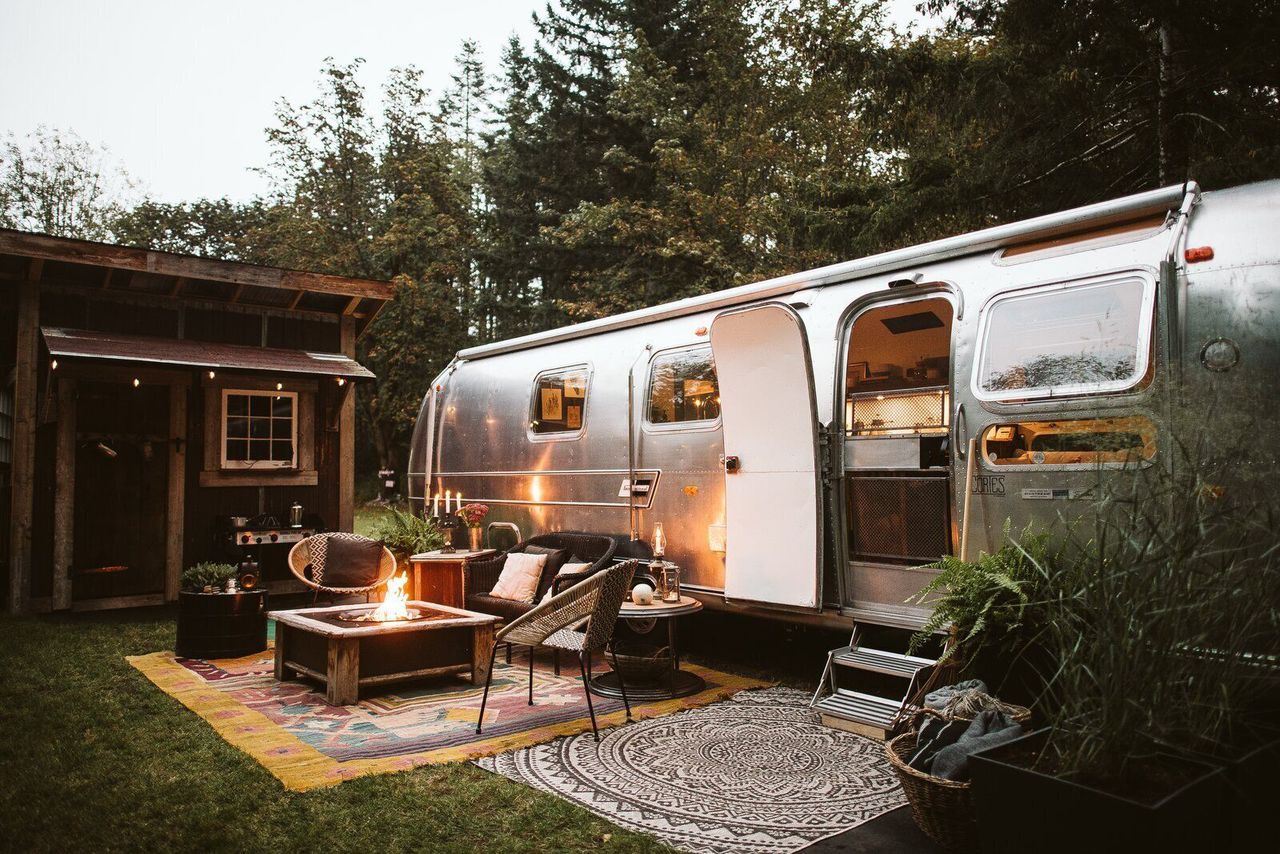 The family omitted a bathroom in the trailer and instead set the trailer beside an outhouse, giving them more living space in the Airstream.


An Architect and His Preteen Daughter Built This Tiny Backyard Retreat Together

On an island in Puget Sound, 12-year-old Hannah Cutler and her father, architect Jim Cutler, built a small cabin that could serve as both his studio and her bunkhouse to use during sleepovers.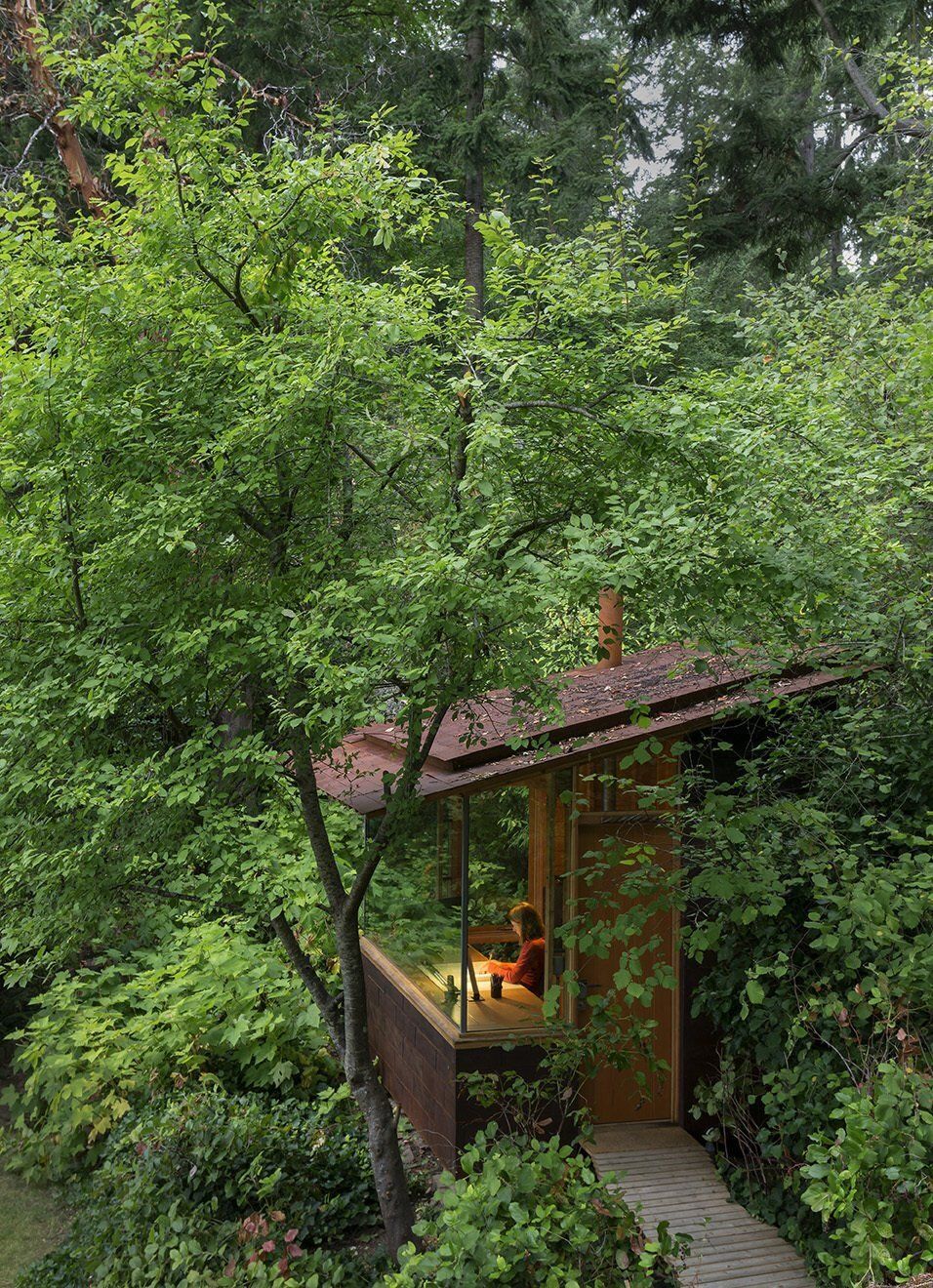 Architect Jim Cutler's wife, Beth, draws inspiration from her surroundings while working inside the family's tiny cabin on Bainbridge Island.

Over eight months, the duo erected the 80-square-foot-structure less than 30 feet from the family's home. Enveloped in evergreen Salal shrubs, the cabin's glass and wood composition makes it stand out against its emerald surroundings and offers panoramic vistas of their waterfront. Exuding Scandinavian minimalism, the wood-clad interior feels both airy and cozy with multipurpose features such as a fold-down bed and workstation.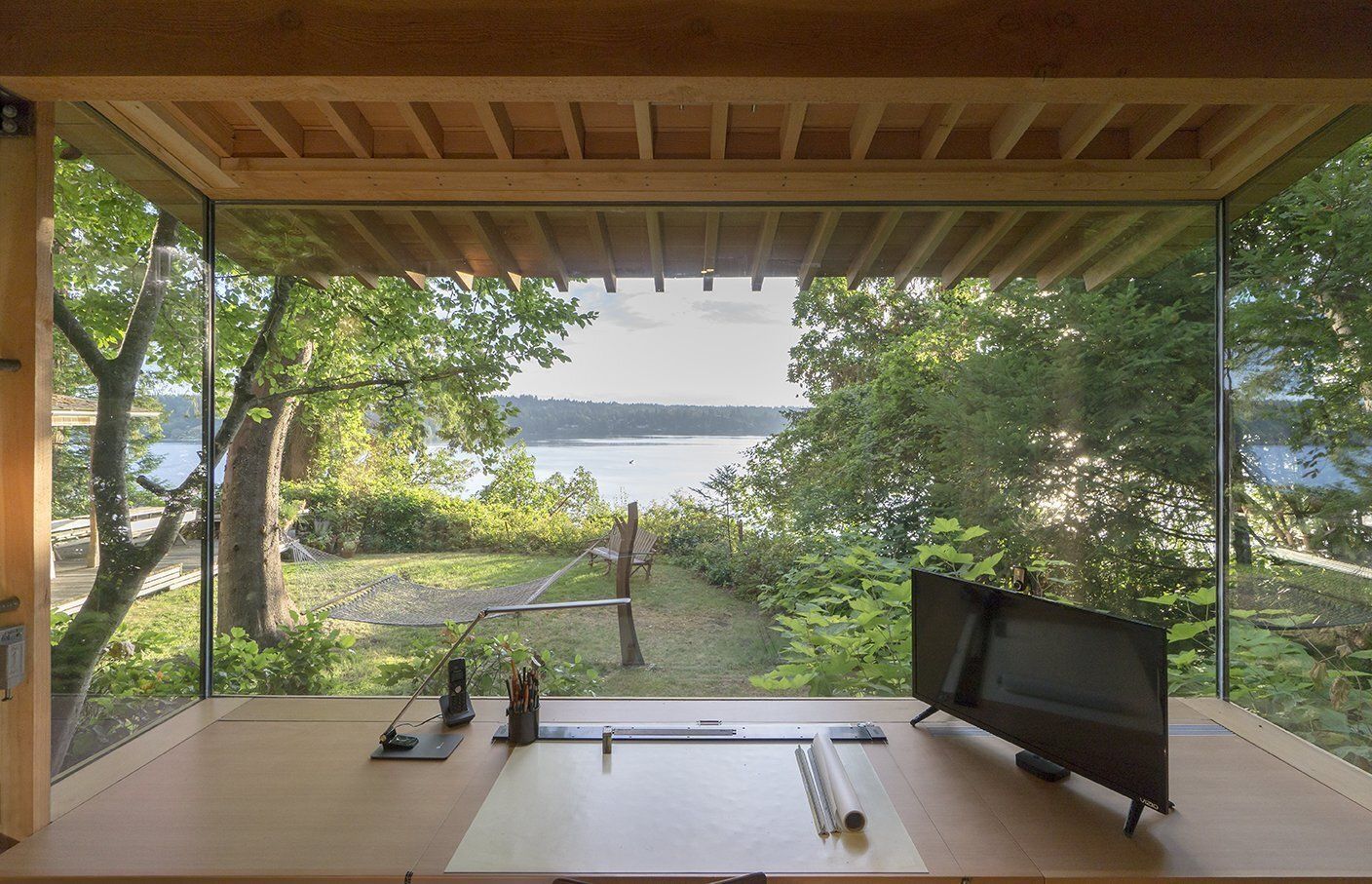 This enchanting cabin features an expansive, 10-foot-wide insulated panel of glass which frames a panoramic view of the water from the workstation. The desk and cabinets are by Korben Mathis Woodworking; the desk lamp is from TaoTronics.


A Rookie Designer and Her Builder Father Create an Artist's Sculptural Loft in the Desert

Despite being a student earning her master's in architecture at the time, designer Molly Bell was looped in by her father, contractor Ed Bell, to create a new residence for owner Lois Rodin. The five-acre property, situated outside Taos, New Mexico, is a sandy-hued visage composed of what appears as "sculptural clusters" that congregate in front of the stunning Sangre de Cristo Mountains.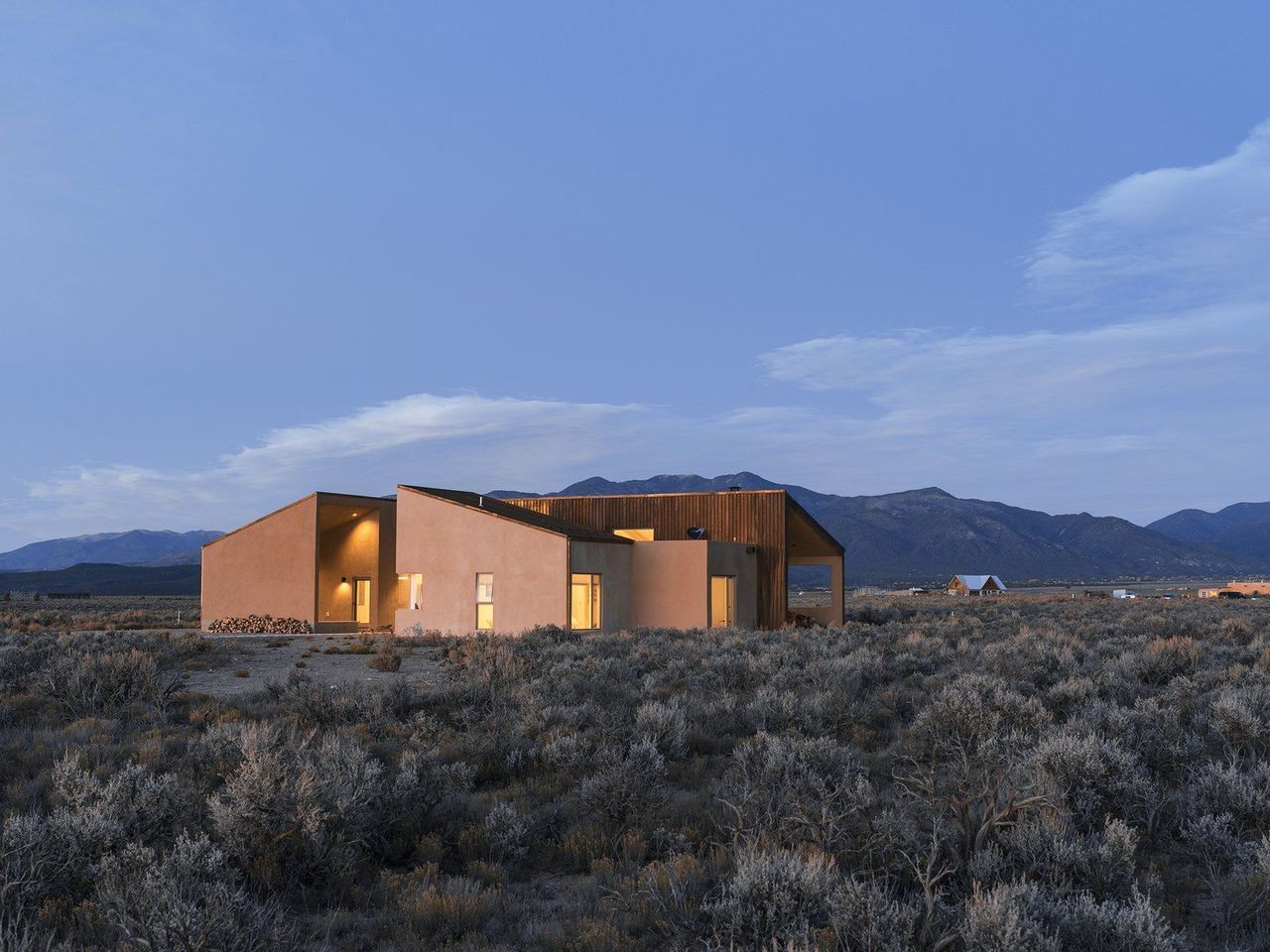 On a five-acre property outside Taos, New Mexico, designer Molly Bell worked closely with her father, builder Ed Bell, to create a new residence for owner Lois Rodin. "Lois requested that it appear as a grouping of individual masses, so that it read more like a cluster than a solitary shape," Molly says. "I hope it shows that it's OK to do something modern in such a traditional environment, and not to be afraid of it."

Topped by three shed and two flat roofs, the 2,500-square-foot structure has a loft-like feel with a long space for the living/dining room and kitchen, a wing for the guest bedroom, laundry, and main bedroom, and another wing for the studio. Since Lois wanted this to be her "forever" home, Molly incorporated elements like lever handles, a curbless shower, and easy access from the carport to the studio.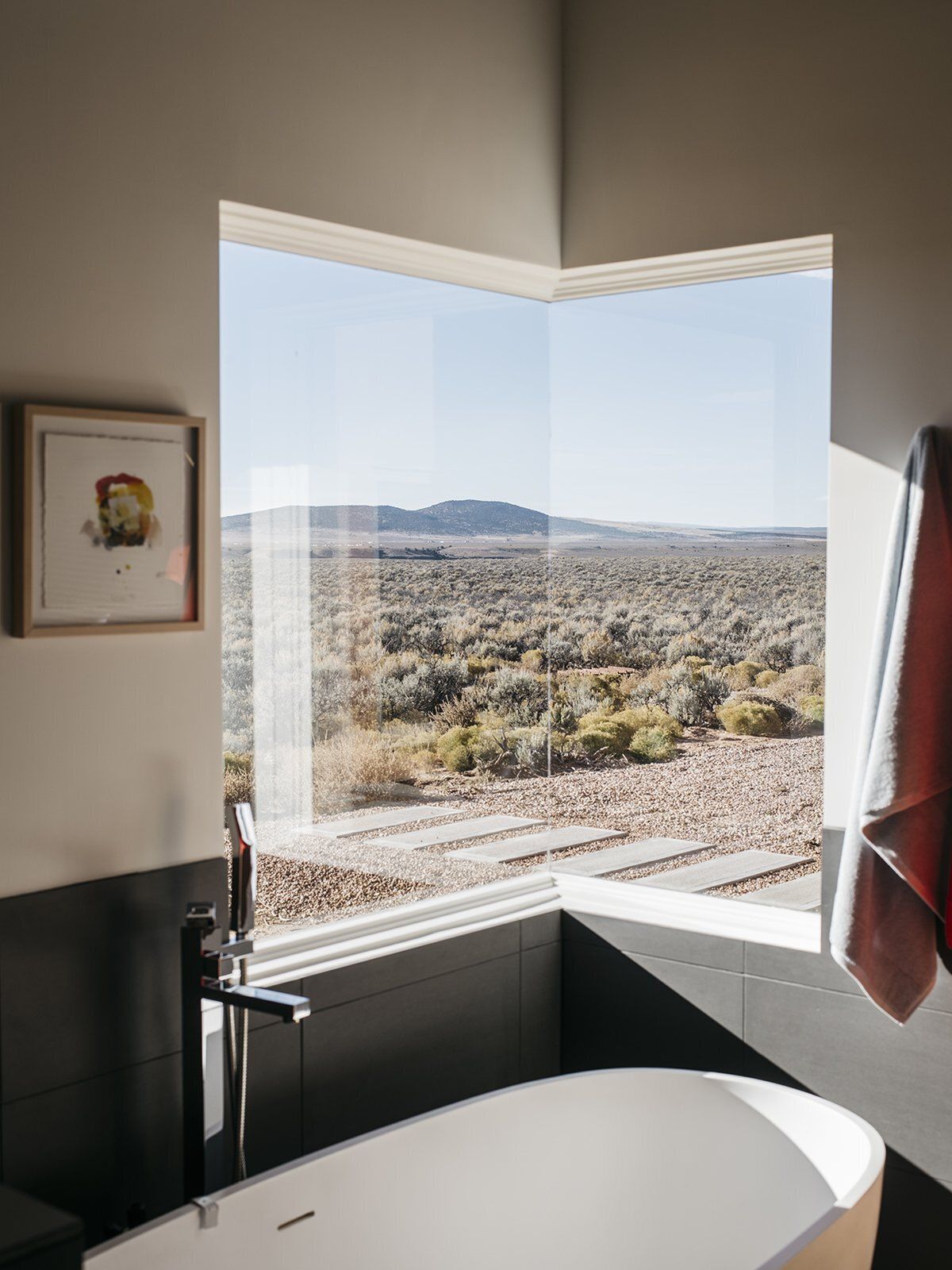 The main bathroom features one of two corner windows in the house. Lois adds that "at night, when I take a bath, I can see the moon and the stars."


Nearly 80 Years Later, An Architect Rescues a Japanese-Inspired Masterwork Designed by His Father

Anthony Belluschi, the son of renowned architect Pietro Belluschi (1899-1994), refurbished his father's 1938 Sutor House with the help of general contractor Pat Kirkhuff, nearly 80 years later.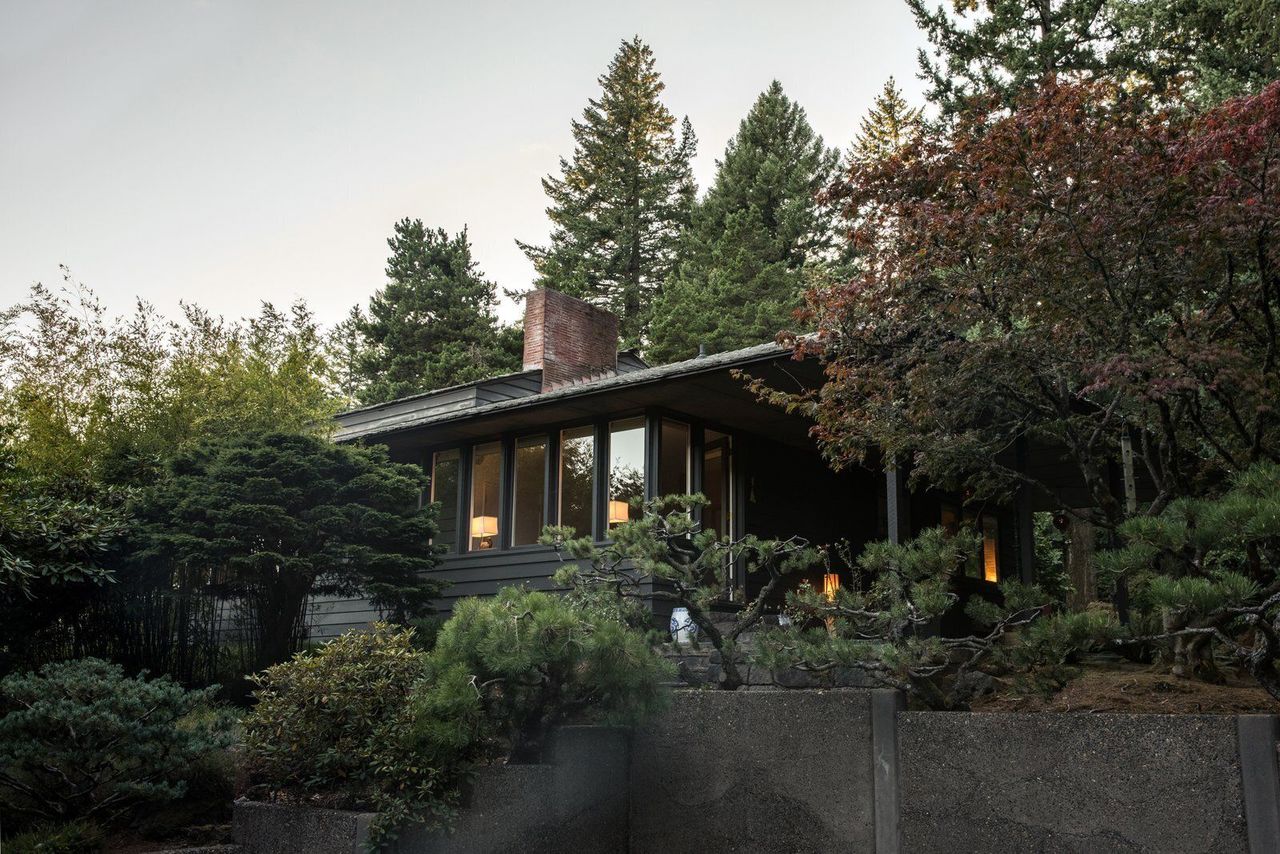 Though located in Portland's West Hills section near downtown, the Sutor House feels like a secluded oasis, thanks to its four-acre site teeming with native plants like azaleas and barberry, selected by the original landscape architect, Florence Holmes Gerke. While designing the Sutor House, Belluschi befriended Jiro Harada, a professor at the Imperial Household Museum in Tokyo and author of numerous books on Japanese gardens and architecture who was in town as a visiting professor at the University of Oregon. Influenced by Harada, Belluschi and Gerke created an elegant, Japanese-style strolling garden at the house that in later years disappeared through neglect.

For new owners Aric Wood and Erin Graham, the home was love at first sight. The first thing the couple prioritized were the Japanese-style strolling gardens, which had long been neglected. Inside, the challenge was to restore. To provide bedrooms for both children-13-year-old Tucker and 11-year-old Madeleine-the couple hired Anthony to reconstruct the former maid's quarters, which had been turned into a breakfast nook. The kitchen was also modernized, with space gained by moving a wet bar to the dining room.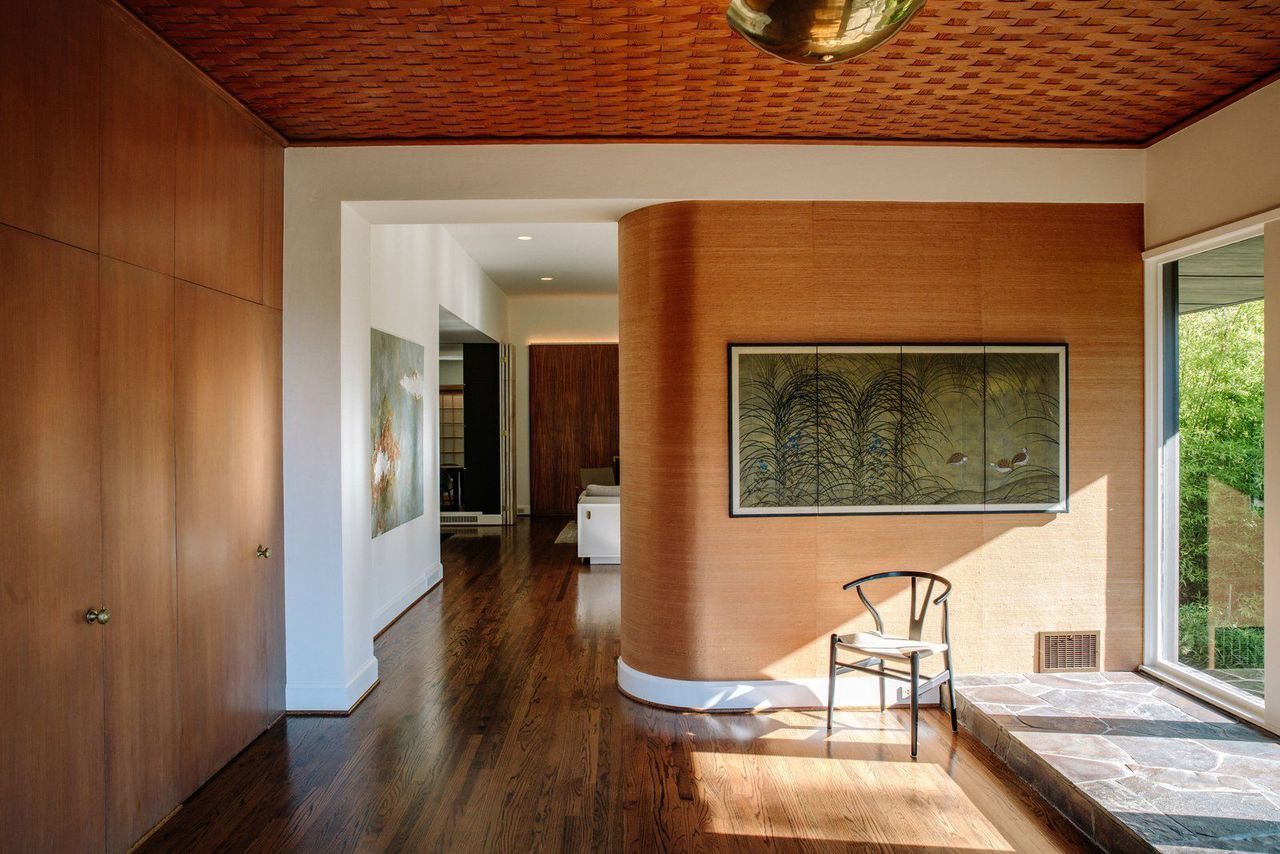 The home features a curved zebrawood walls, which greets visitors in the foyer.


Camping With Dad Just Got Cooler

A vision of an archetypal little cabin in the woods-reinterpreted with a contemporary aesthetic and a sustainable footprint-inspired Bill Yudchitz and his son, Daniel, both architects, to put their years-long dedication to the small home movement into action.

"Everything we saw was ugly, corny, and Spartan," says Yudchitz. "We wanted to prove that architecture can be artful and soulful, but still tiny, affordable, and green." With Yudchitz's practice, Revelations Architects/Builders, in Stevens Point, Wisconsin, and Daniel working for architecture and engineering firm HGA in Minneapolis, the experiment would also yield a pair of weekend retreats for their families.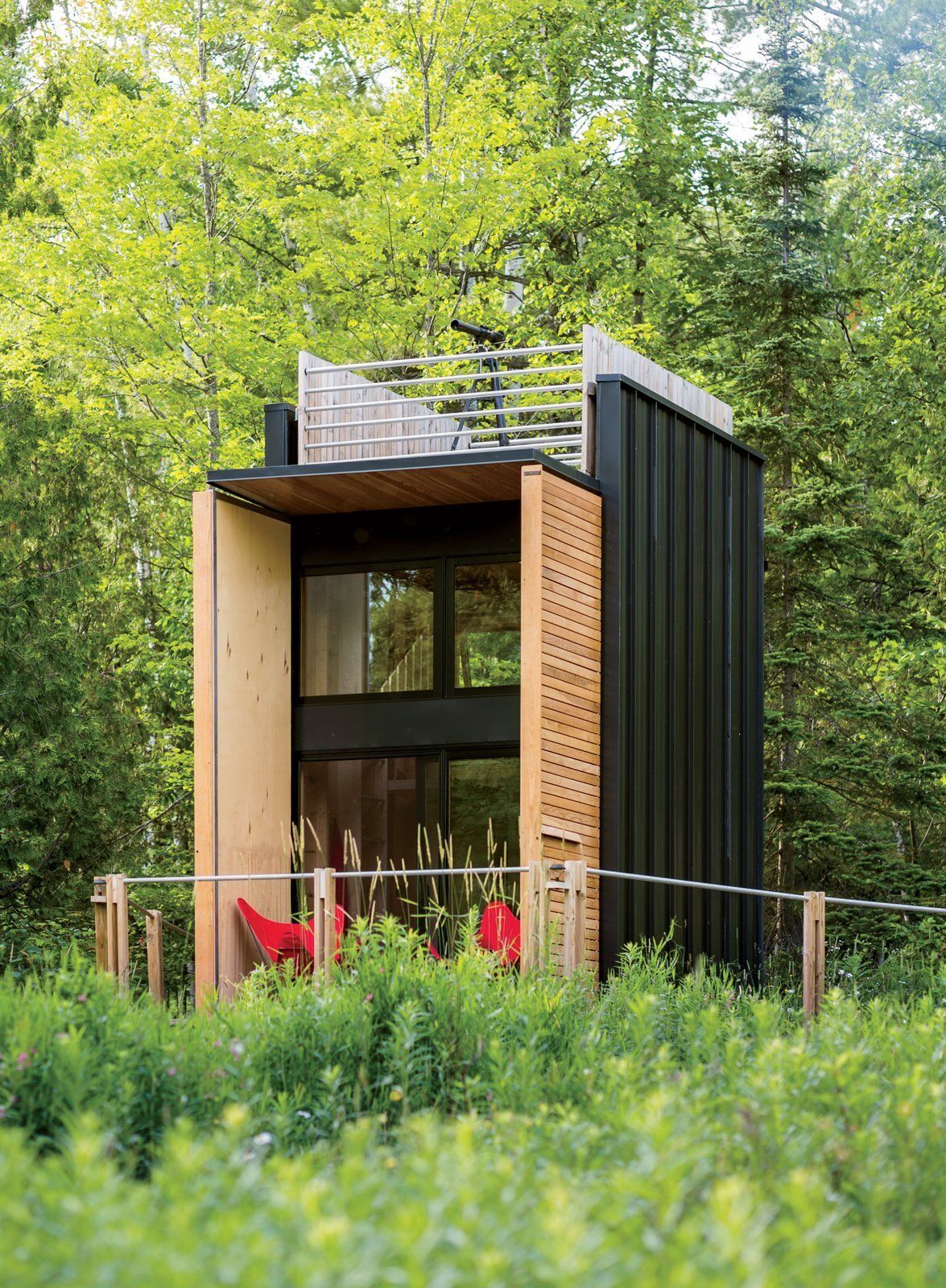 Architect Bill Yudchitz asked his son, Daniel, to help him create this self-sustaining multi-level family cabin in Bayfield, Wisconsin.

After scouting dozens of spots, they settled on a sublime lot with water access on a wooded bluff overlooking Lake Superior's Chequamegon Bay for $52,500. Within four months, they built the cabin they christened the EDGE (Experimental Dwelling for a Greener Environment). Topped with a playful butterfly roof, it sports integrated multifunctional furnishings that double the livability of its 325 square feet (plus two 85-square-foot sleeping lofts).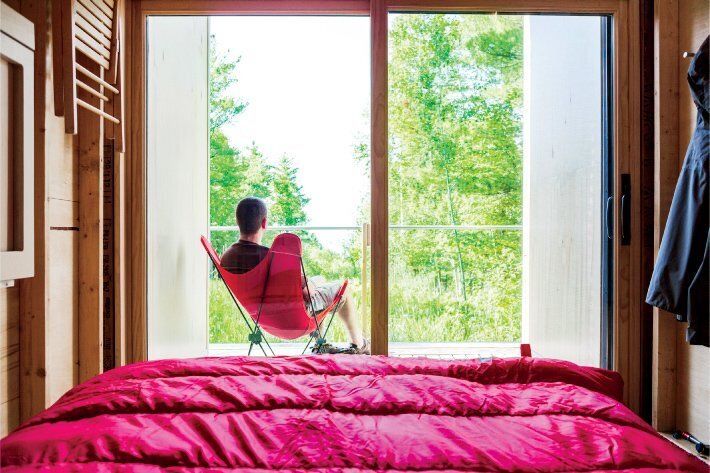 The living area on the main floor doubles as a bedroom, thanks to their use of a Murphy bed. The sleeping bag is from Gander Mountain.

But because of the two men's admiration for Pritzker Prize winner Peter Zumthor's exquisite construction details, it was built with the painstaking precision of a Swiss watch-and it was pricey. "It cost at least $100,000 to build because the materials were crafted to within .002 inches, so it's expensive for what it is," says Yudchitz.

"As an antidote, we built Nest," he quips. They started work on the structure-about 130 feet away from their EDGE cabin, but hidden by the woods and plopped on a platform of treated framing lumber supported by concrete piers-in July 2013. Working only on weekends, the pair completed Nest in a little over a year. To mitigate costs, they used leftovers from prior projects and filled it in with newly purchased supplies, making an exact budget tough to pin down. "Not counting time, it will take between $15,000 and $25,000 to build the Nest, depending on materials selection," says Yudchitz, who believes almost anyone can do the job from their plans.