Although there was likely a period of time when moving into a house filled with patterned wallpaper meant a real need for major renovation, these days it feels like wallpaper is most often a win. Whether you want a traditional design or something more wild, a standard roll or a peel-and-stick option, everything is out there. Adding a patterned wallpaper to an entire room, an accent wall, or tiny powder room is a great way to refresh a space. We rounded up five amazing examples from a striped spare room in London to a moody flamingo moment in a D.C. hallway. This trend isn't going anywhere, so get that patterned wallpaper into your home.


Adding More Walls Was the Secret to This D.C. Apartment Renovation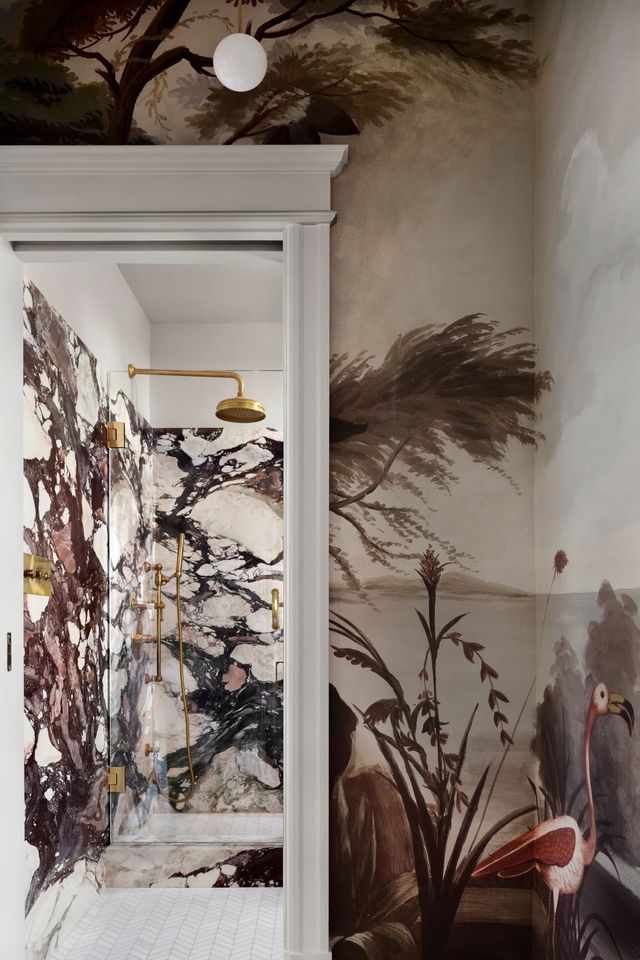 Nicholas chose the bold but perfectly balanced Calacatta Viola Grande by ABC Stone for the bathroom.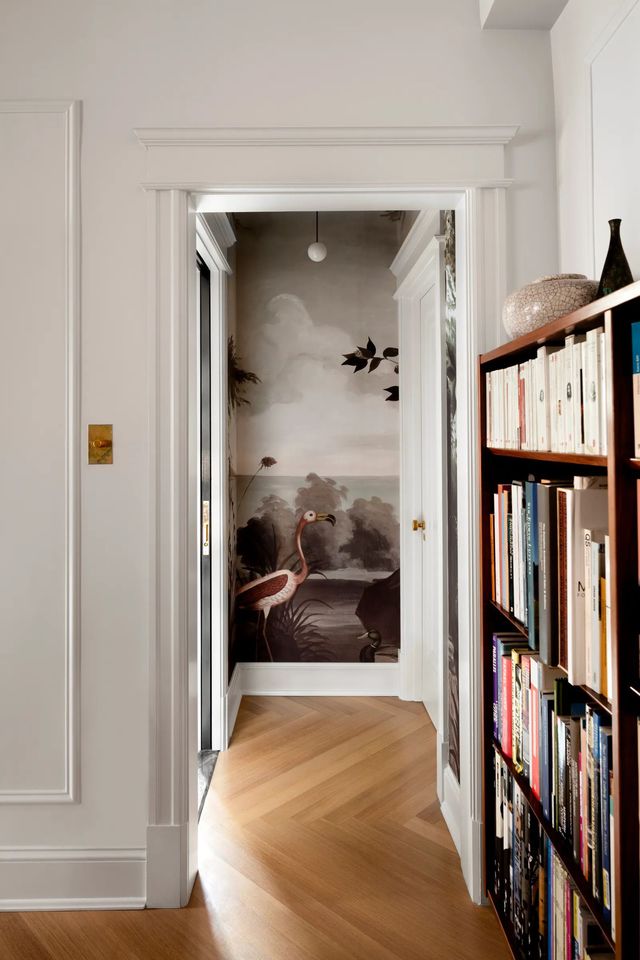 In the hallway, outside of the bathroom door, the incredible moody flamingo patterned wallpaper by Ananbo adds a whimsical moment.
Architect Nicholas G. Potts and National Gallery of Art curator Aaron Wile lucked into finding a dream apartment to renovate just one floor above them. The 950-square-foot property was originally constructed in 1925, and Nicholas and Aaron imagined what it could look like if modern choices complemented the richness of that era. "We've both lived in New York and Europe, and we wanted those prewar details alongside more contemporary materials," Nicholas says. "It's not a lot of square footage, and the existing plan was fairly chaotic. So this sort of 1920s fantasy [we had] was also about articulating areas, reintroducing walls, and approaching every square inch with intention."

Aaron's curatorial knowledge came in handy for one particularly striking accessory: The flamingo wallpaper in the vestibule. "The vestibule is this tiny space, and the wallpaper creates this whimsical moment that makes it special—it's a happy accident that its colors match the stone in the bathroom so well," he says.


This Turn-of-the-Century Minneapolis Craftsman Features Rooms That Represent Each Season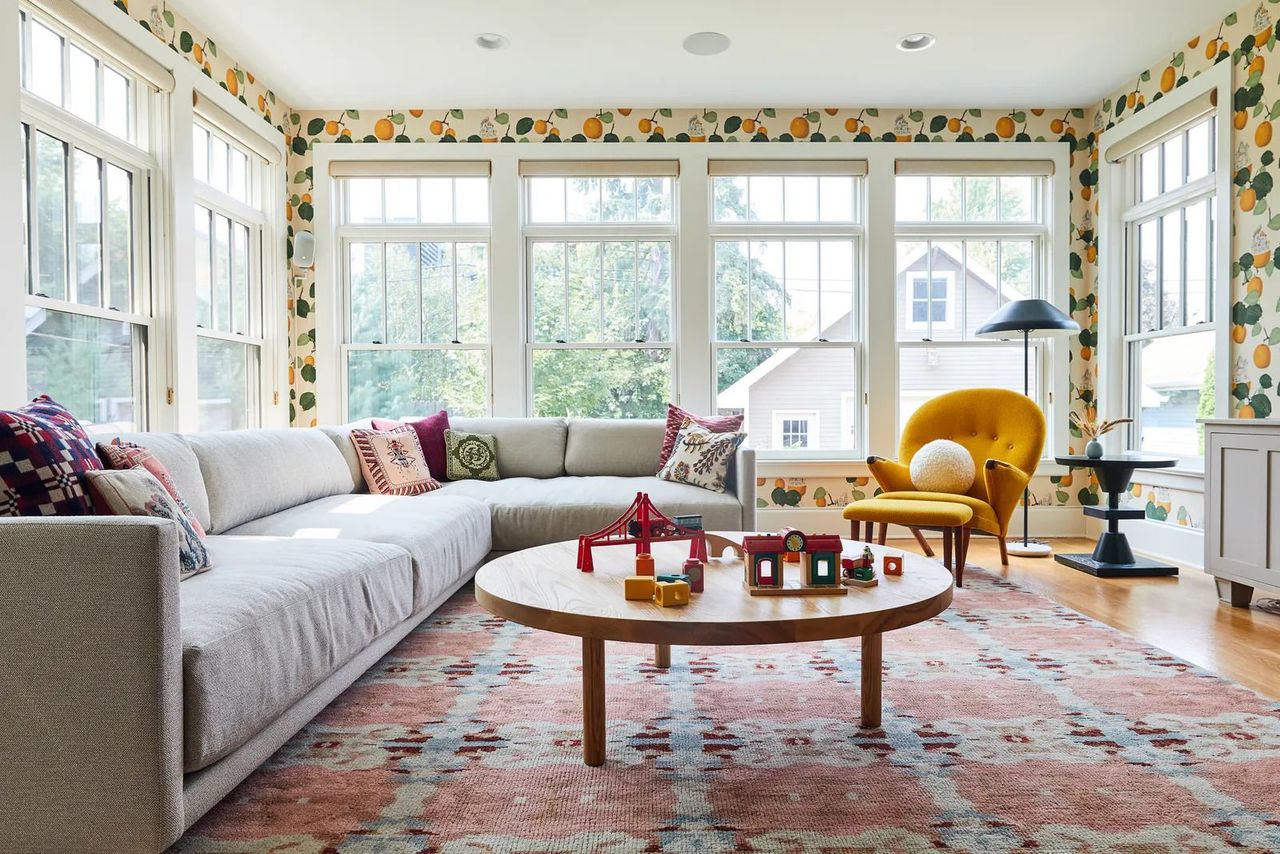 The citrus patterned wallpaper and yellow chair lend a sense of cheer to the light-filled family room. "As with most young families with small children, open floor space is prime real estate, so we made sure not to overfurnish the room," Victoria says.

Homeowners Adam and Beth, along with their two elementary school-aged sons, were recent transplants from the Bay Area when they bought this 1906-built Craftsman in Minneapolis. It checked all the boxes: Historic and charming, yet updated. Since they weren't expert DIY'ers and wanted to bring in some modernizations, they called in the help of Victoria Sass, principal and design director of Prospect Refuge Studios. Together they decided to decorate each room to represent a season. Toward the back of the house is the family room, a sun-drenched spot that screams summer. The citrus wallpaper from Jennifer Shorto reminded Adam and Beth of Monty Python's Flying Circus, and the reupholstered vintage chair by Georg Thams is a dose of sunshine.


This Nashville Home Was Designed by Country Music Royalty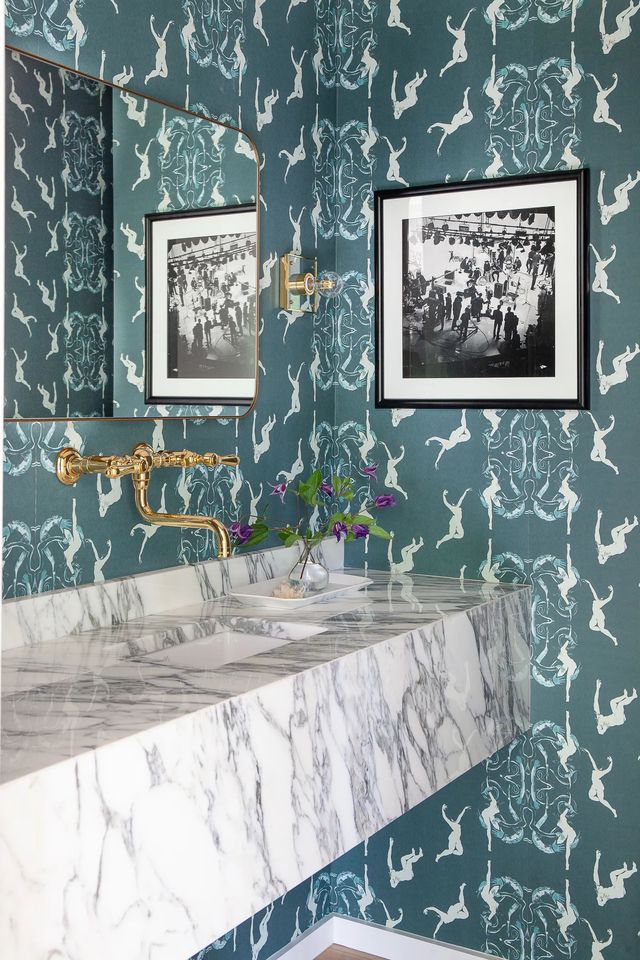 The patterned wallpaper in the powder room is designed by Jordana Globerman.

Pam Manela's home, a midcentury-modern ranch in Nashville that was designed in 1956 and built in 1964, had a lot of great history and character, but still needed some refreshing. Despite the central courtyard and slew of windows, the home always felt a bit dark. So Pam and her husband John hired interior designer Hannah Crowell to help them brighten and update the space. The team removed a shower from one bathroom—allowing for more flow to other parts of the house—and turned it into a fun powder room. The teal-and-white patterned wallpaper completes the look.


This South Pasadena Craftsman Bungalow Shows Off a Passion for Collecting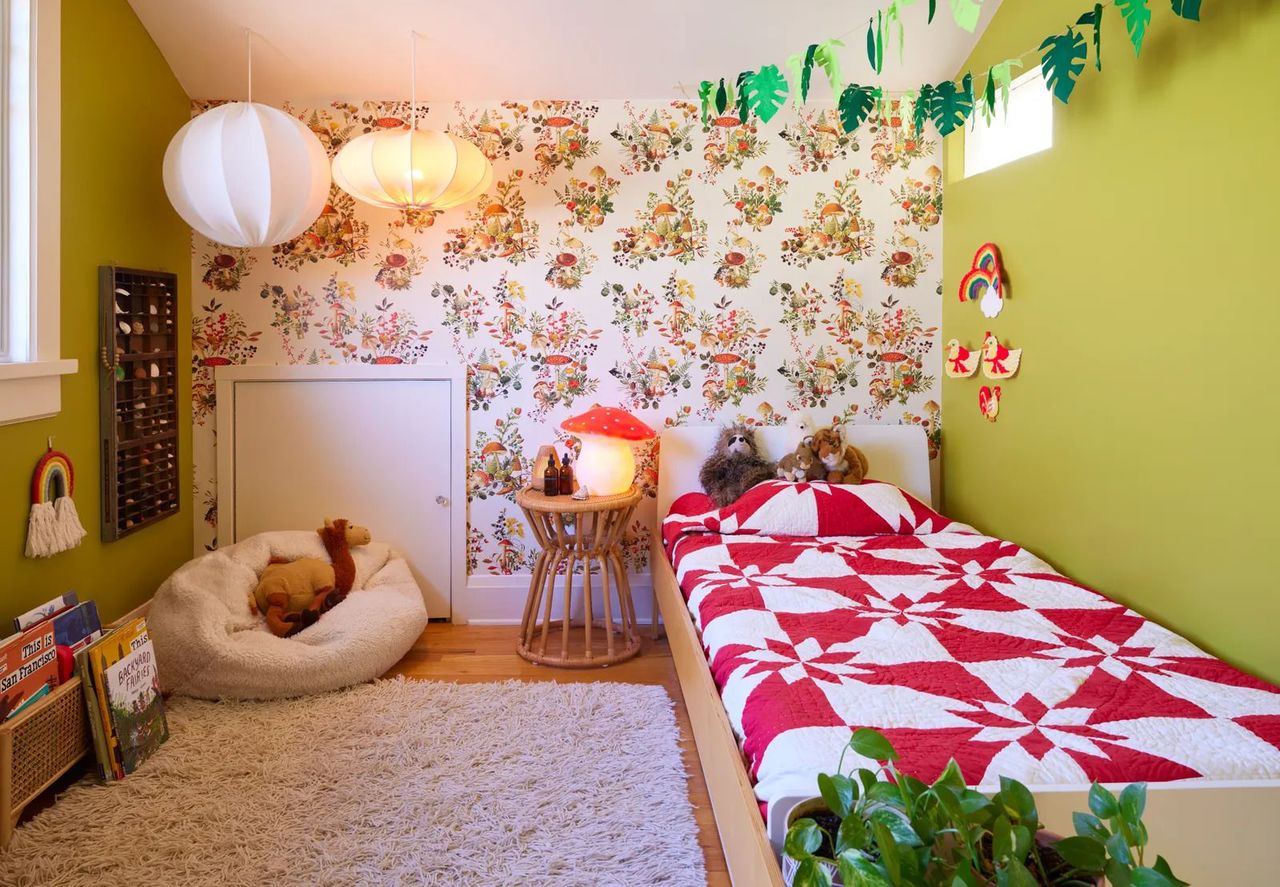 This child's bedroom has a magical cottagecore aesthetic. The mushroom patterned wallpaper completes the look.

In Kristen Pumphrey and Thomas Neuberger's Southern California home, one of the main decorating maxim reveals a healthy skepticism towards rules. "Every room has to have one weird thing so it doesn't get too serious," Kristen says. Upstairs, their daughter Poppy's bedroom was a mother-daughter design collaboration. "I wanted it to be a magical fairyland," Kristen says. "This is probably the last time I'll get more of a say." The Thistle and Fox mushroom landscape wallpaper and avocado green accent walls successfully hit peak childhood cottagecore goals. Accessories like a mushroom lamp Kristen found in a local shop in South Pasadena, a garland she made herself, and a cross-stitched village vignette complete the vibe.


A Dilapidated Workshop Becomes a Pattern-Covered Home and Office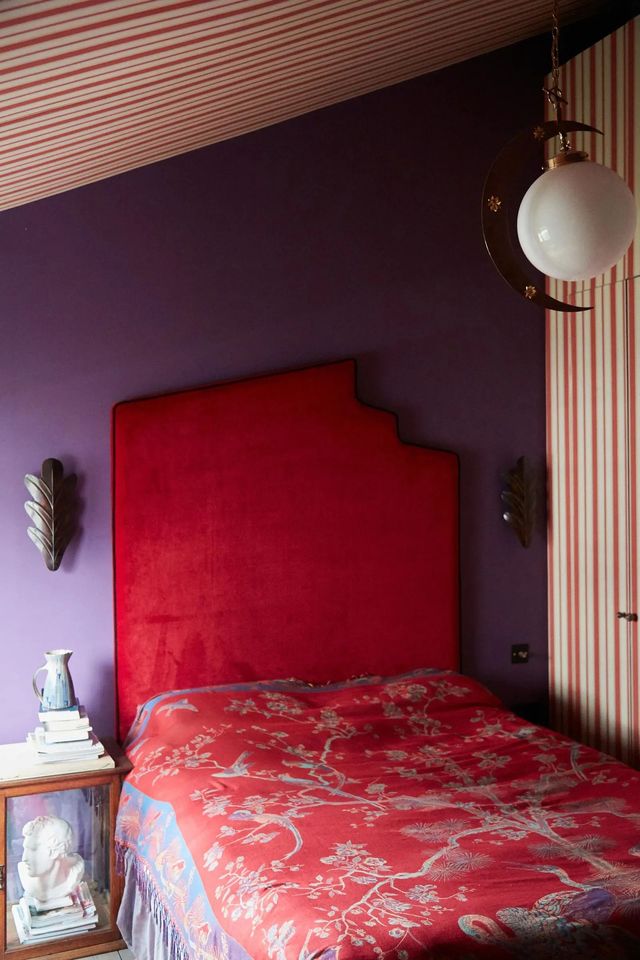 "The spare bedroom is where I had loads of fun," Rachel says. "Since it's just for guests, it can be really interesting." She used striped patterned wallpaper to highlight the shape of the ceiling and the angles in the room.

Rachel Chudley and her husband Nico Kaufman transformed their East London abode from a dilapidated building into a colorful home and office. The plot had been derelict for over 20 years, and the former stable was in ruins, yet Rachel and Nico were intrigued and got to work. Even though it wasn't a quick process—just a mere seven years of renovations—the result is a pattern-covered wonderland. Moving through the spaces, it's clear Rachel was passionate about every piece of furniture, fabric choice, and paint color. "I always try to work with the natural surroundings and make the most out of things," she says. In the spare bedroom, a delightful red-and-white striped wallpaper completes the purple space.