Could your deck area work a little harder and become the inviting space where everyone wants to be for a garden get together this summer? We think the answer's yes. The quickest way to create a sociable garden that's does the trick for alfresco drinks is to follow our favorite garden bar ideas and set up a comfortable seating area around a firepit. Add a cover such as a pergola and you can even use it on days when the weather isn't so great.

If you feel a project coming on it could be time to try a transformative paint makeover, generally do-able in an afternoon. Then move on to styling things up, which is the best part. Whether it's introducing a fun element such as a garden bar with high stools for alfresco cocktails or creating an easy chilled zone with a low table, floor cushions and candles for that relaxing holiday vibe, rethinking a space with a fresh new look is just so rewarding. Don't forget to layer up the accessories, and add one of the best gas barbecues, speakers and lights, and your space will be the hot ticket.

Read on for five quick fixes that will get your outdoor space in shape for a summer of soirées in no time.


1. Create an inviting garden space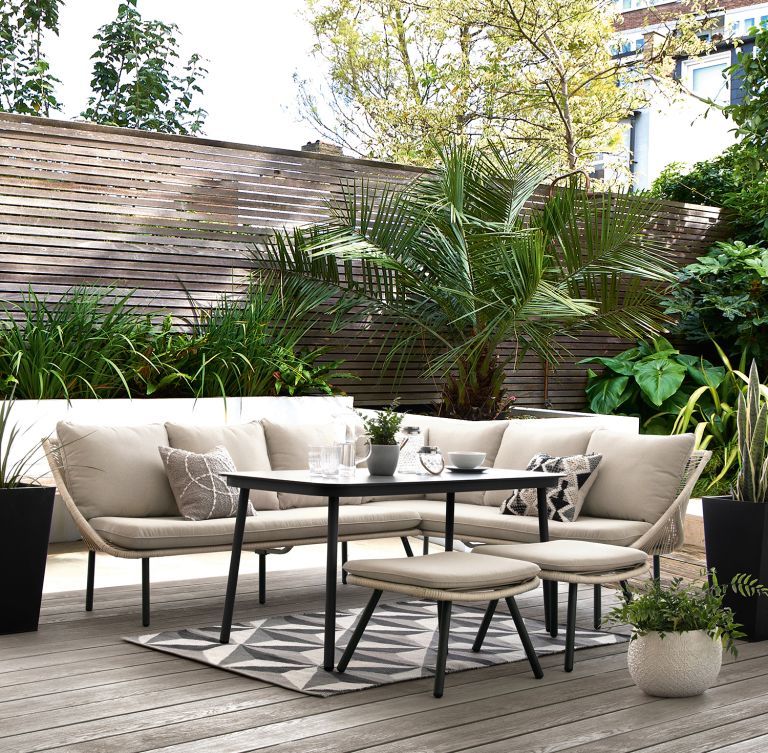 Whatever the size of your garden you can never have enough seats, preferably in different areas so you can chase the sun (or shade) as required. After all, even the smallest space needs to mix it up occasionally to keep things fresh.

Comfortable chairs for lounging are a must to make things welcoming for your garden get-together. The classic L-shaped outdoor sofa arrangement around a fire pit or table works every time, especially when layered up with lots of comfortable cushions and rugs to enhance that indoor-outdoor feel.

Choose corner style or modular sets that you can add to if need be, and which come with plenty of deep cushions for added comfort. Many are now shower proof and won't fade in strong sunlight, so can be left out. No hunting for missing cushions when the guests arrive then.


2. Make serving drinks a breeze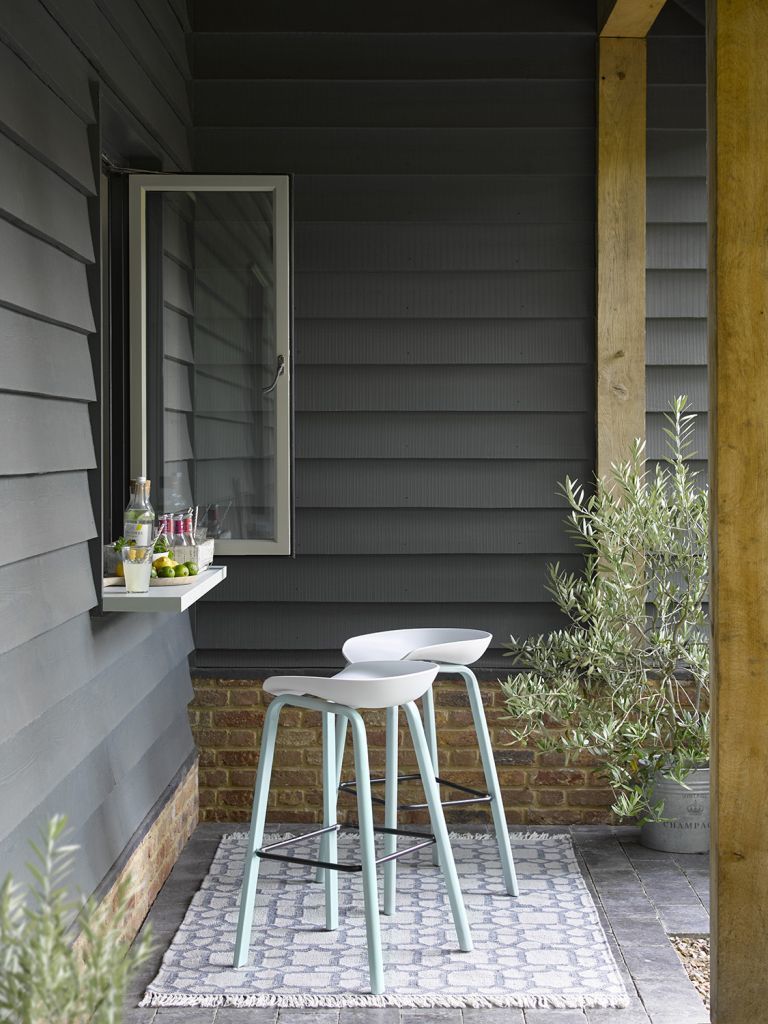 This falls almost under the garden room ideas category - you're creating a dedicated space to prepare and serve drinks where you have everything on hand you could possibly need. Choose an off the shelf bar design that's robust yet lightweight in case you decide to move it around according to the occasion. Some designs even come on wheels. If space is tight opt for a foldaway model instead.

Another idea is utilizing the space you've already got by working a tight corner. It can be as easy as using a windowsill with a couple of tall bar chairs for that Club Tropicana aesthetic. That way you can keep things flexible without a big outlay.

Make sure your dedicated outdoor bar area has plenty of space for drinks and accessories. If you're expecting a crowd you'll need plenty of small tables too. After all, nothing's worse than having to nurse warm drinks when there's nowhere to park them. Or take the drinks right into your lounging space by adding a fully stocked bar cart or swish butler's tray so everything's on tap right where you need it.


3. Light up the night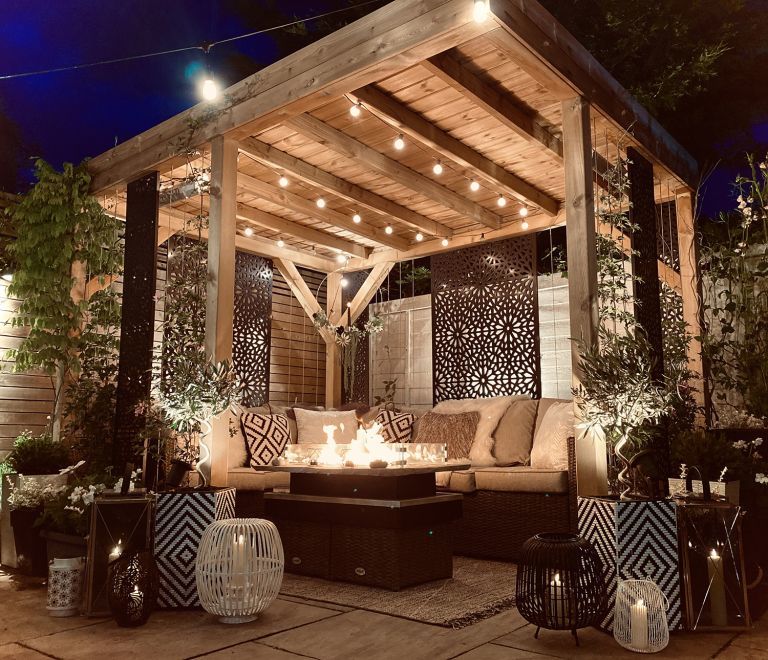 Good lighting helps create the right mood and is a must for entertaining in the night time garden. Choose a selection of ambient lighting to add that all-important glow at dusk, incorporating layers at different heights. The quickest way to introduce atmosphere is with a string of lights festooned around a pergola or looped along a fence. No-flame candles powered by batteries add instant atmosphere especially when grouped together, while uplighters are effective to add drama to sculptural plants as a backdrop to your entertaining space.

Low level lighting set into your deck helps to illuminate the space and adds a cool contemporary vibe for entertaining. They're particularly good for framing an outdoor bar area to 'step into', as well as being practical. Choose durable stainless steel ones that are weatherproof and can be left outdoors all year round.

Alternatively speaker lanterns are another popular choice. 'The portable lighting option can be repositioned throughout the seating area as required to cast a gentle glow which is great for a relaxed evening with friends,' says Dusk Lighting's Design Consultant Jamie Moxey. 'The lantern doubles as a speaker which eradicates the need for outside power sources, while also helping to create a laidback atmosphere.'


4. Transform a tired backdrop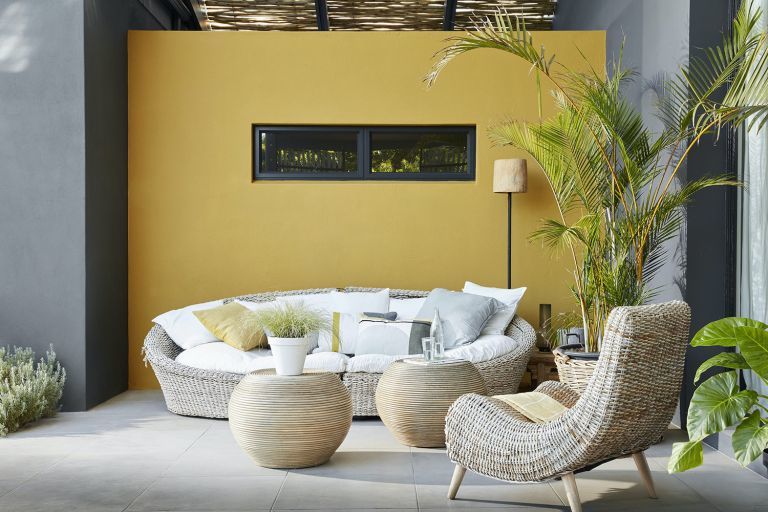 If you fancy a little weekend project to get your outdoor space ready for entertaining, a quick paint makeover should do the trick. Choose an on-trend colour that will instantly revamp a fence, wall or other boundary to add a contemporary look that brings things bang up to date.

Colours such as warm coral pink and terracotta, soft yellow and classic grey are trending this year. Think big and revamp a wall or fence with a vibrant shade. If you're less confident about colour pick out details instead by updating garden furniture or planters with a fresh pop of paint.

"We have all learnt to appreciate our outdoor space, whether it's a balcony, small patio or larger garden," says Anna Hill, brand director at Fenwick & Tilbrook . "There is a trend this year to create an outdoor space using uplifting paint colours. People are also continuing to make good with paint and not just buying new." So, it's good therapy for you (painting is so soothing) and good for the environment too.


5. Add a welcoming glow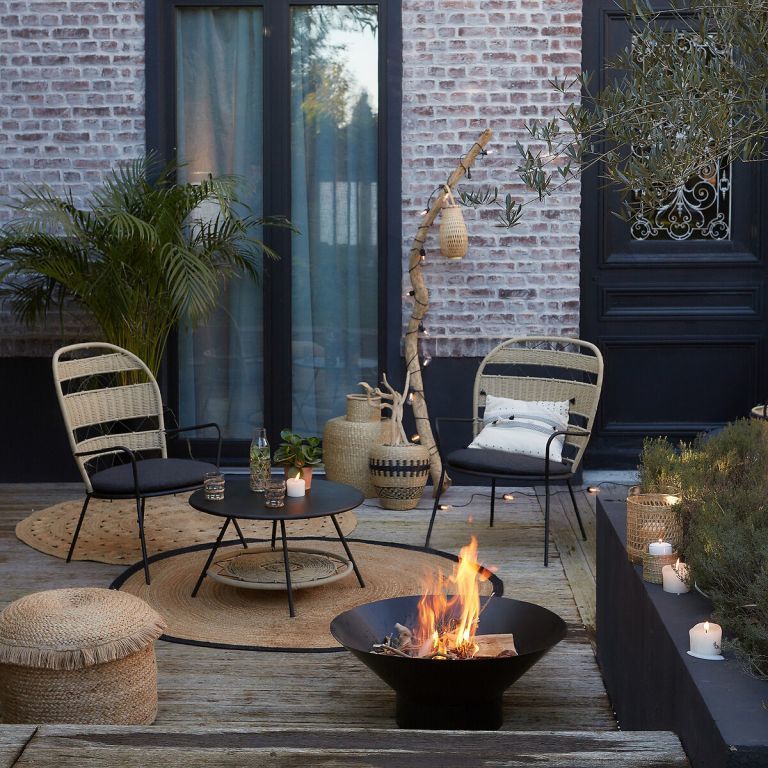 If you want to make your outdoor space more inviting at night or add a glow when the evening cools down, introduce some warmth with a stylish yet practical fire pit, log burning brazier or chimenea. There are styles available to suit all tastes, from modern and minimal to rustic and hand thrown.

When paired with the right seating, a firepit creates a central spot to gather and relax around, and will make a focal point. Many come with covers and can be switched to use as tables when you don't want a fire, which is a great idea for compact spaces.

Just add some throws, and keep those drinks coming long into the night. This is the finishing touch, as nothing beats the pure joy of flickering flames under a starry night sky for a peak garden get-together experience.