There are endless ways to bring summer to life on your reception tables, the magic of which typically lies within the centerpiece. You can always go the standard route and arrange floral centerpieces with in-season blooms, like orchids, sunflowers, or poppies for a classic summer look.

Looking for a vibe that's more unexpected? Go for something reminiscent of a warm climate, like wildflowers from the mountainside or tropical greenery. While florals and leaves are an easy way to bring vibrancy to summer wedding centerpieces, there are plenty of other ways to add a pop of brightness. Think colored candles, patterned vases, or exotic fruit for a summertime twist.

A vivid jewel-toned or sunny palette nods to summer's bright side, but don't be afraid to go for a more muted palette to play to the season's softer nature. Whites, subtle pinks, and taupes can mimic the serene, quiet elegance that settles during summer's golden hour as you sit down for evening dinner.

Below, 35 stunning summer wedding centerpieces to inspire your own.


1. Employ a Citrus Palette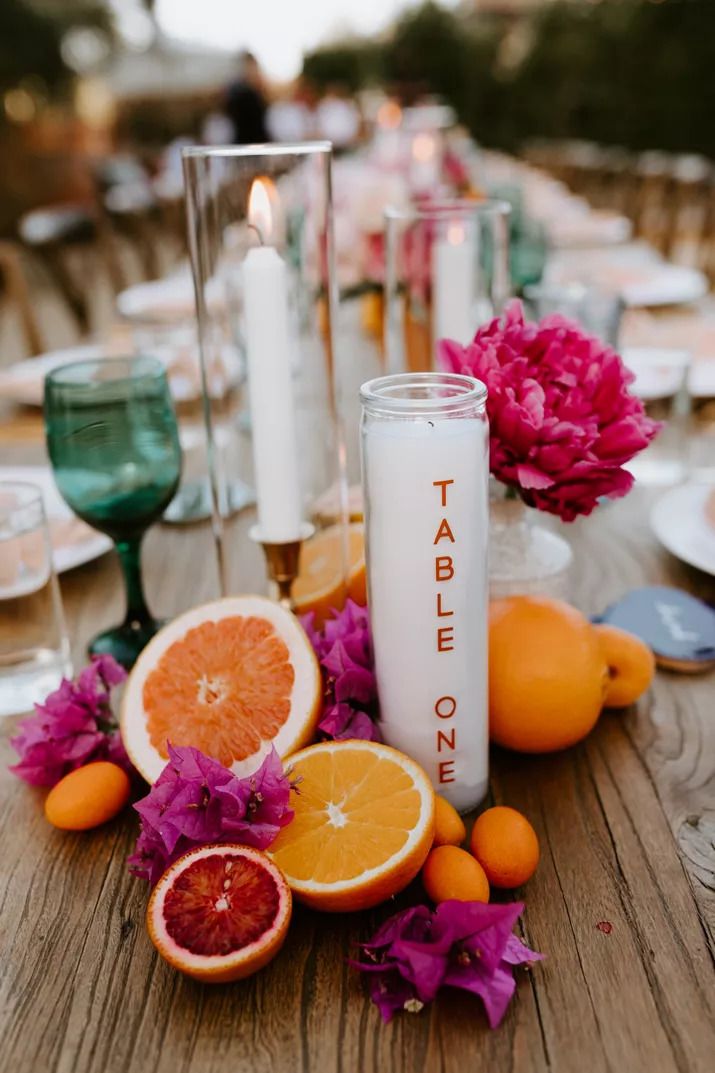 There's no better way to make a farm-style table pop than with a burst of citrus colors. Magenta florals and sliced oranges add some vibrancy to this tablescape. We love how clear candleholders tie in the color palette by doubling as table numbers with orange lettering.


2. Add Wildflowers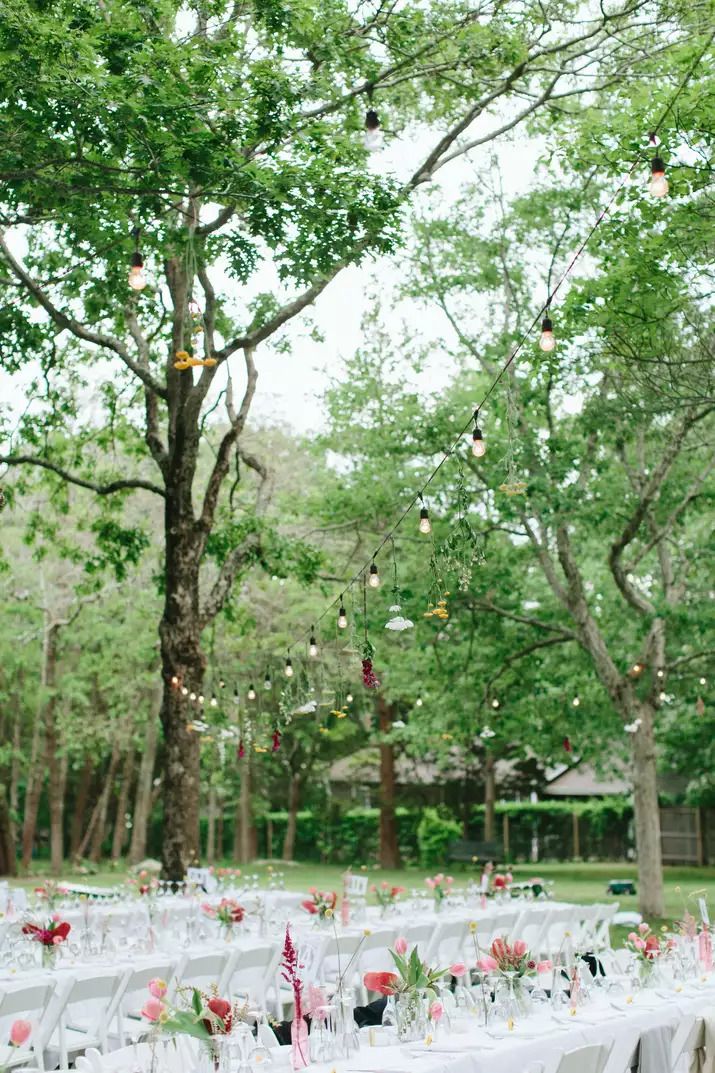 Colorful wildflowers like astilbe and yarrow add vibrant bohemian flair as summer wedding centerpieces. Mirror them with an overhead centerpiece of bistro lighting strung with matching foraged blooms to bring the look full circle.


3. Focus on Colored Candles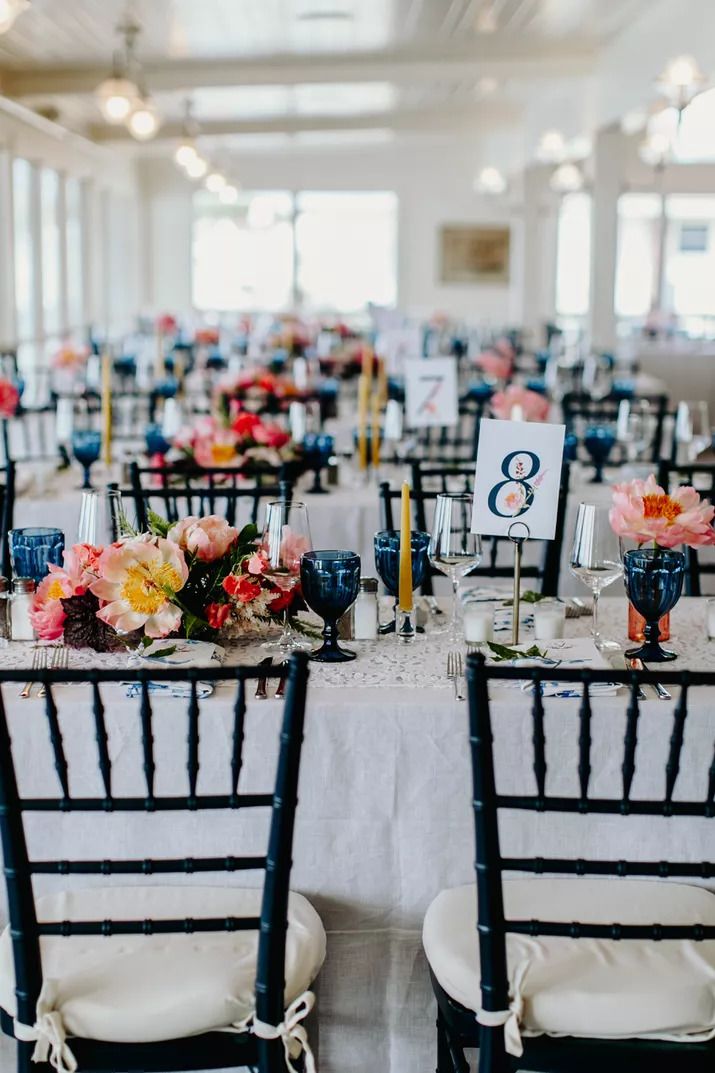 Yellow candles, blue water glasses, and pink floral arrangements add a pop of color to long all-white tables topped with lace linens. Adding color is a smart way to add a summery component to a more traditional, classic interior.


4. Use Tonal Flowers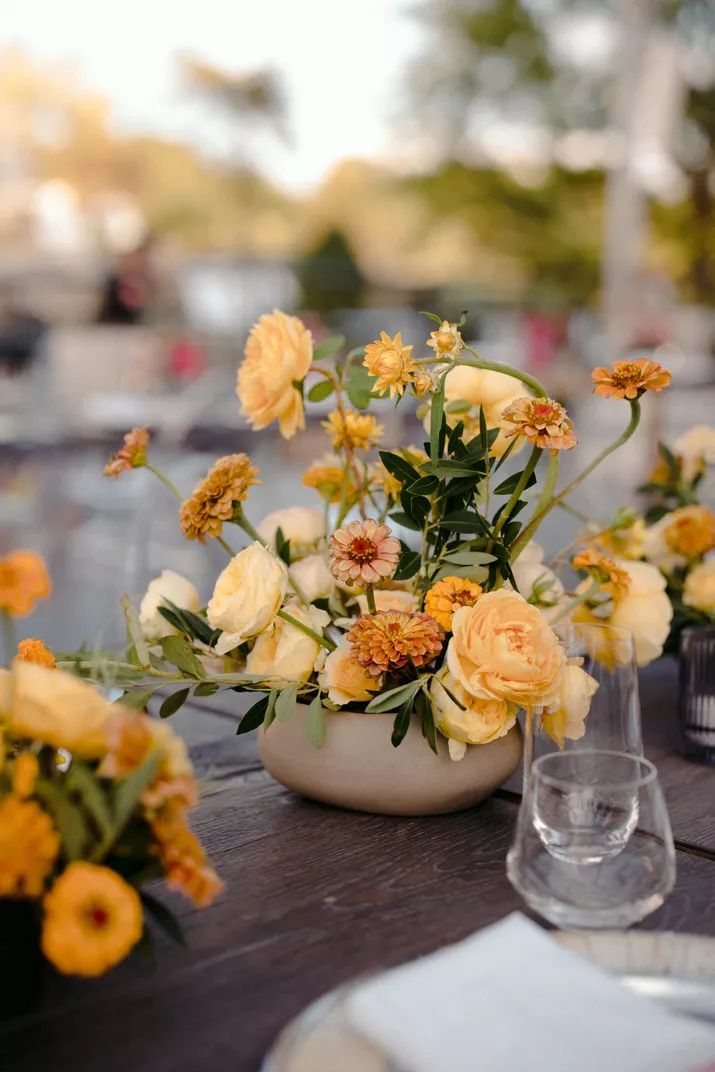 Sometimes, color can be more powerful when presented in tonal shades rather than a rainbow mix. Look no further than this sunny yellow centerpiece, which sets off a pastel glow.


5. Arrange Hydrangeas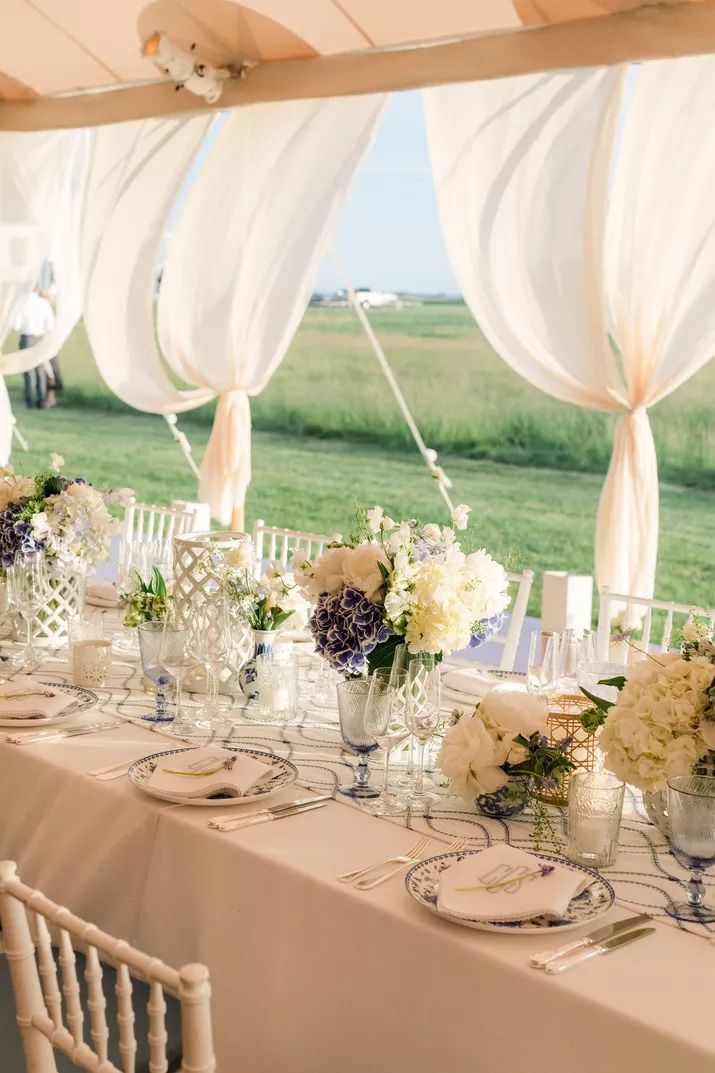 The bride behind this wedding wanted the reception to feel like stepping into her family's house for Sunday supper. To pull off the look, she arranged hydrangeas and local blooms in shades of blue and white in lattice vases. Coupled with a matching runner and plateware, we'd say the setting is a summertime classic.


6. Try a Muted Palette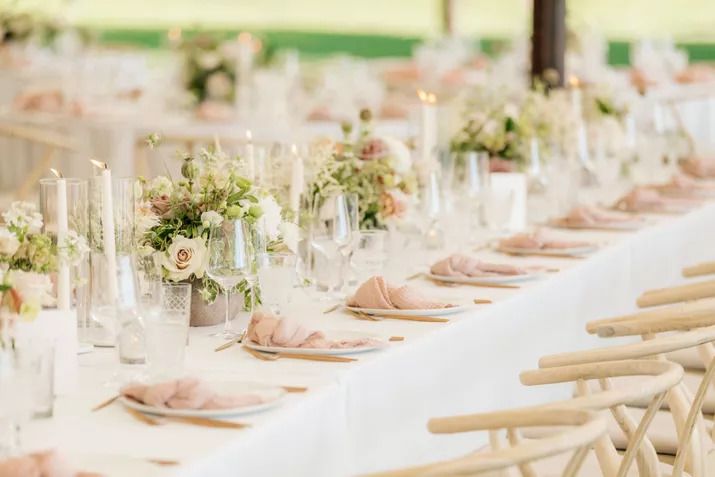 A palette in muted hues plays to summer's softer side. Low arrangements interspersed with taper candles, sleek crystal stemware, and blush linen napkins create an air of classic, romantic elegance.


7. Hand-Paint Mini Lamps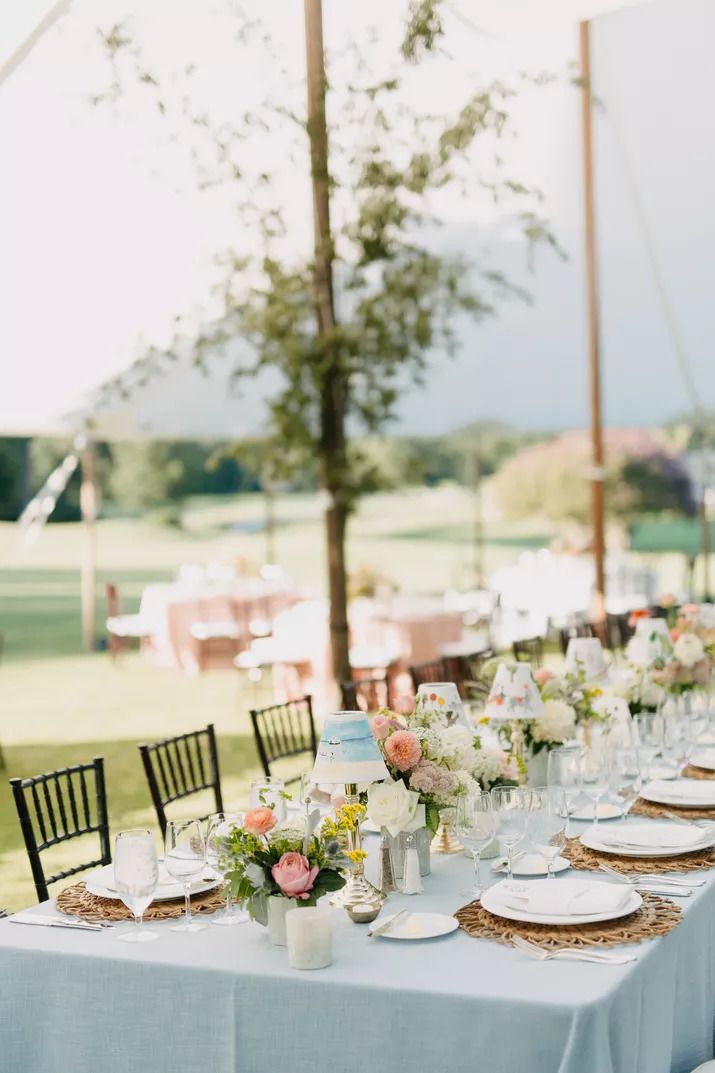 Forget candles for light and florals for summer wedding centerpieces—this wedding proves that mini lamps are the only way to go. The couple was inspired by their favorite New York bar, Bemelmans Bar at The Carlyle, and had 12 lampshades hand-painted with depictions of significant places from their life together. When it comes to a wedding, it's all in the details.


8. Break Out the Garlands
A garland of greenery effortlessly adds an organic summery touch to white-washed farm tables. Pillar candles surrounded by roses, dahlias, peonies, and hydrangeas keep the look minimal with a soft palette of blush and white.


9. Get Woodsy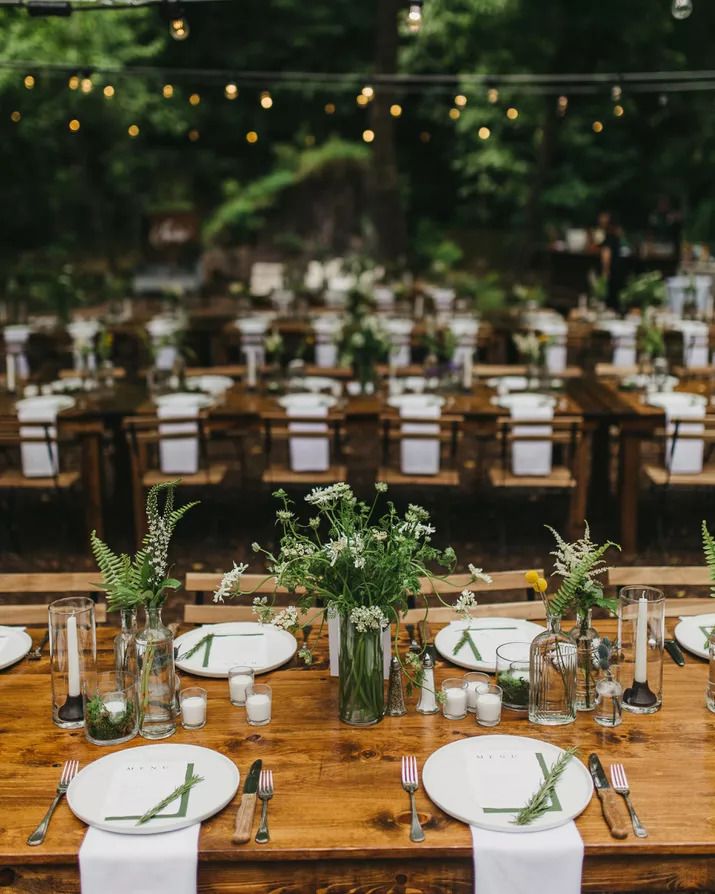 Arrange ferns and white buds in slender glass vases on a wooden farm table for an earthy, woodsy-inspired look that screams elevated summer camp. Accent them with moss-laden votives and tapered candles in matching vases to complete the magical effect.


10. Think Wild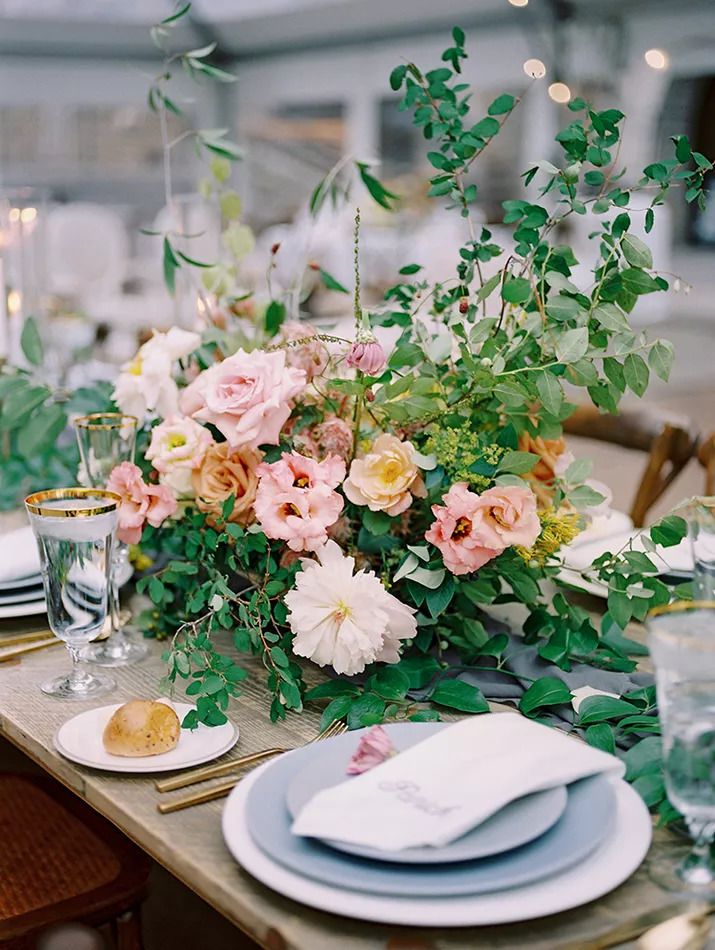 Pink roses, lisianthus, tea roses, and sprawling branches combine for a lush, overgrown arrangement that calls to mind wild summertime mountainsides. Soft gray plates, modern gold flatware, and linen napkins add a contemporary touch.


11. Dye Baby's Breath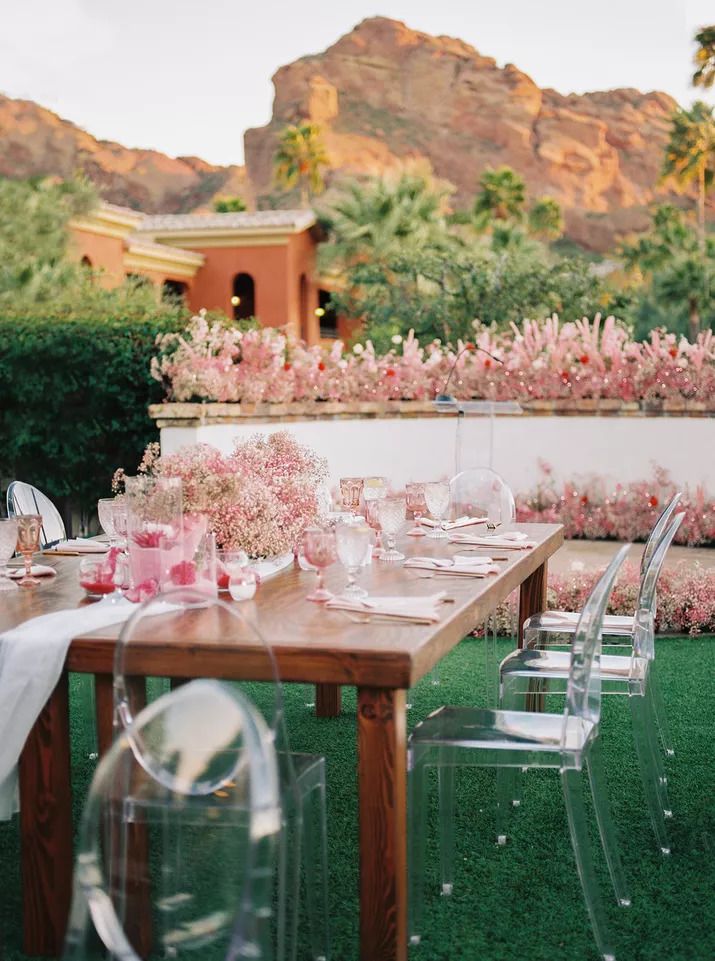 Put a summery spin on traditional baby's breath by spray painting them pink for a dreamy, fantastical feel. Line reception tables with small vases overflowing with the frothy pink baby's breath for a burst of unexpected whimsy.


12. Add a Tropical Twist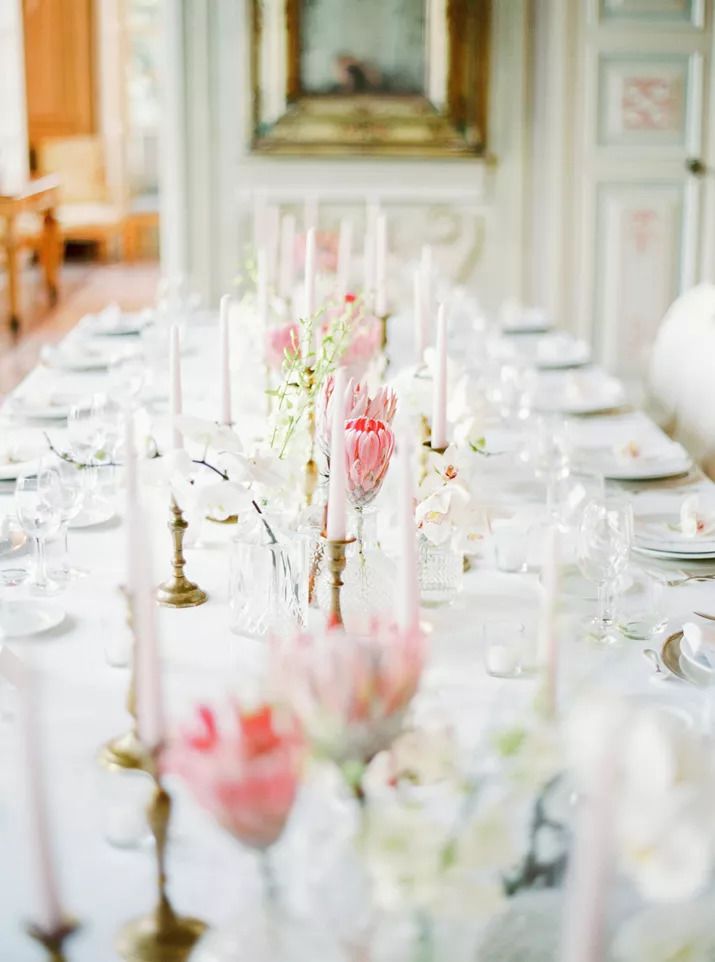 Small arrangements of proteas and orchids in cut-crystal vases bring a soft tropical flair indoors. Blush candles in antique brass holders add another dash of pink to an otherwise white tablescape.


13. Break Out the Palm Fronds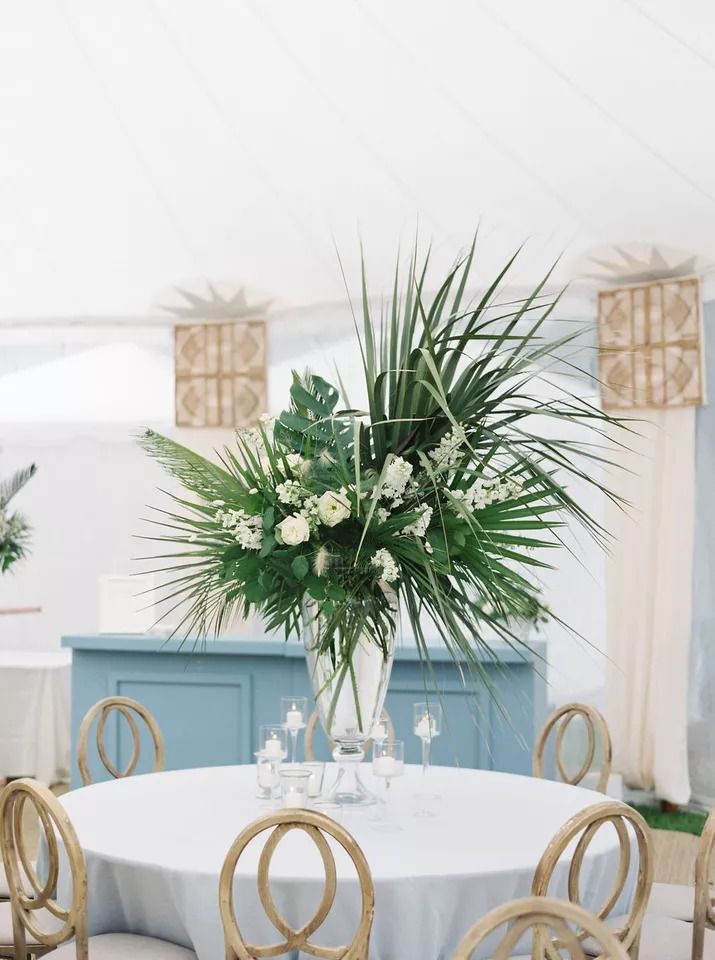 Palm frond centerpieces combine coastal and classic with a hint of modern. While the palm fronds themselves have a beachy energy, the white florals and glass vases balance the effect with their minimalistic elegance.


14. Flaunt Peonies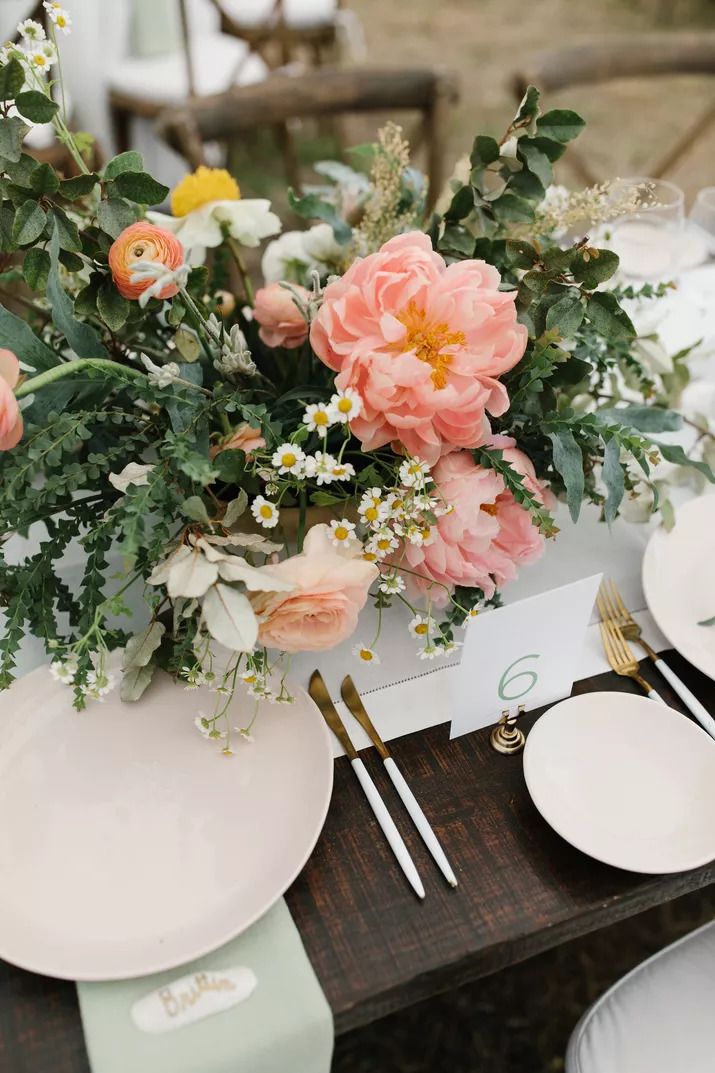 Cream chargers, white and gold flatware, and mint green napkins speak of simplicity, allowing the natural beauty of the centerpieces to shine. Branches and grass pair with peach peonies and ranunculus for a wild, Low Country vibe.


15. Use Vibrant Anthuriums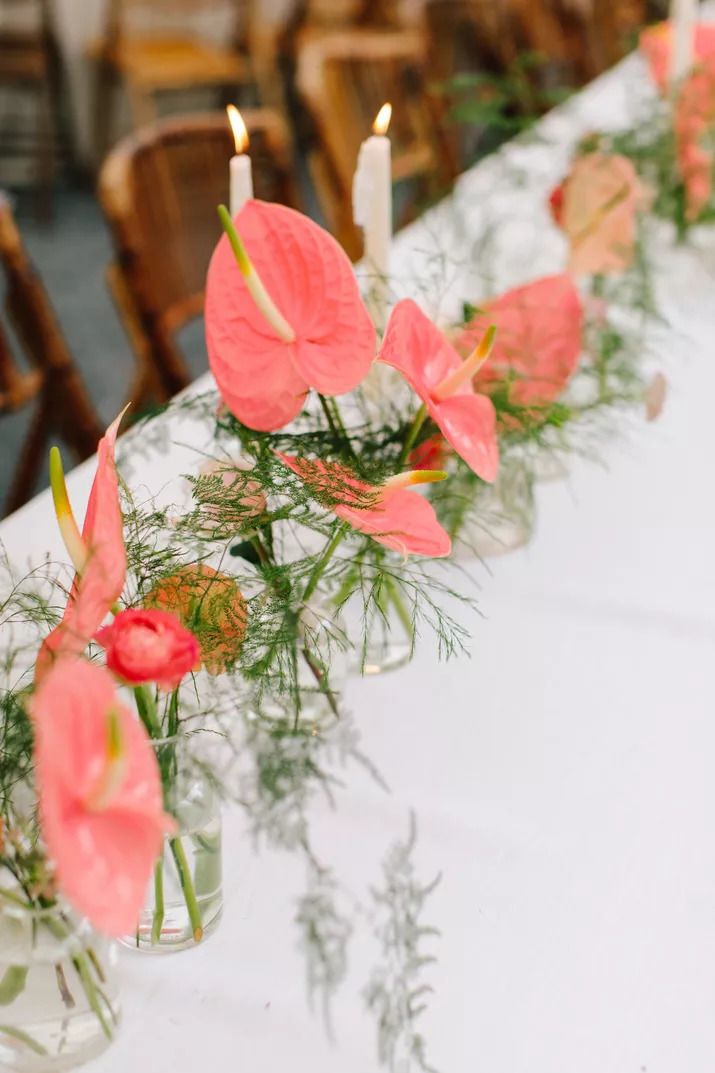 Bright anthuriums are chic and eye-catching. Line them up in pairs or trios (rather than in large arrangements) along a family-style table for a minimalist effect that's rather playful.


16. Get Colorful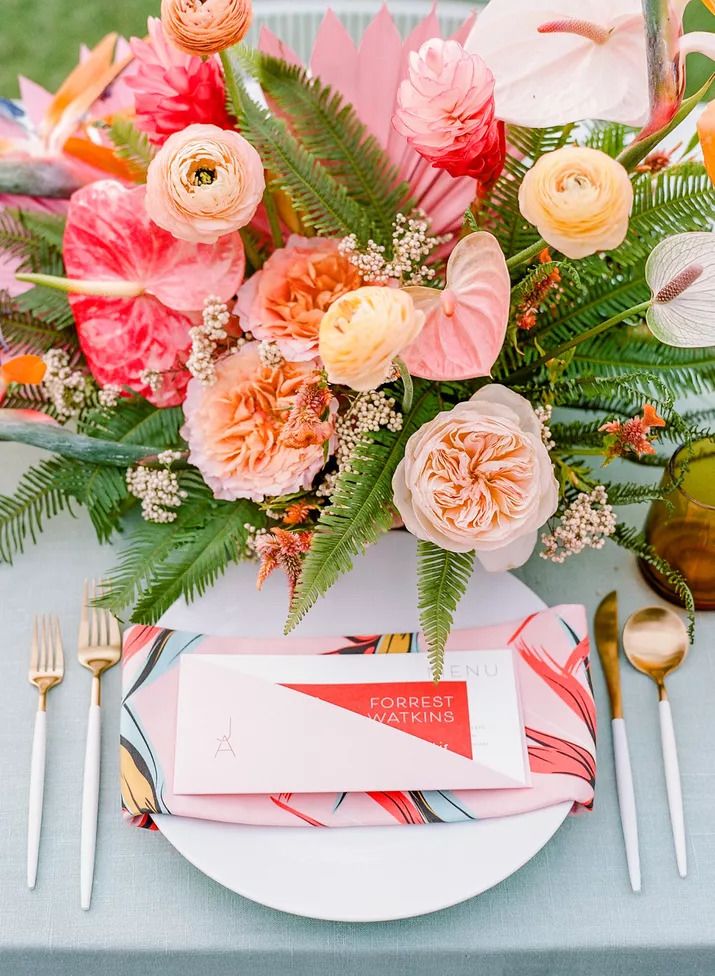 Fuse tropical foliage, like birds of paradise, with traditional wedding blooms like garden roses for maximum brightness. Mix the centerpieces with boldly printed linens and copper silverware for an added emphasis on texture.


17. Decorate With Sunflowers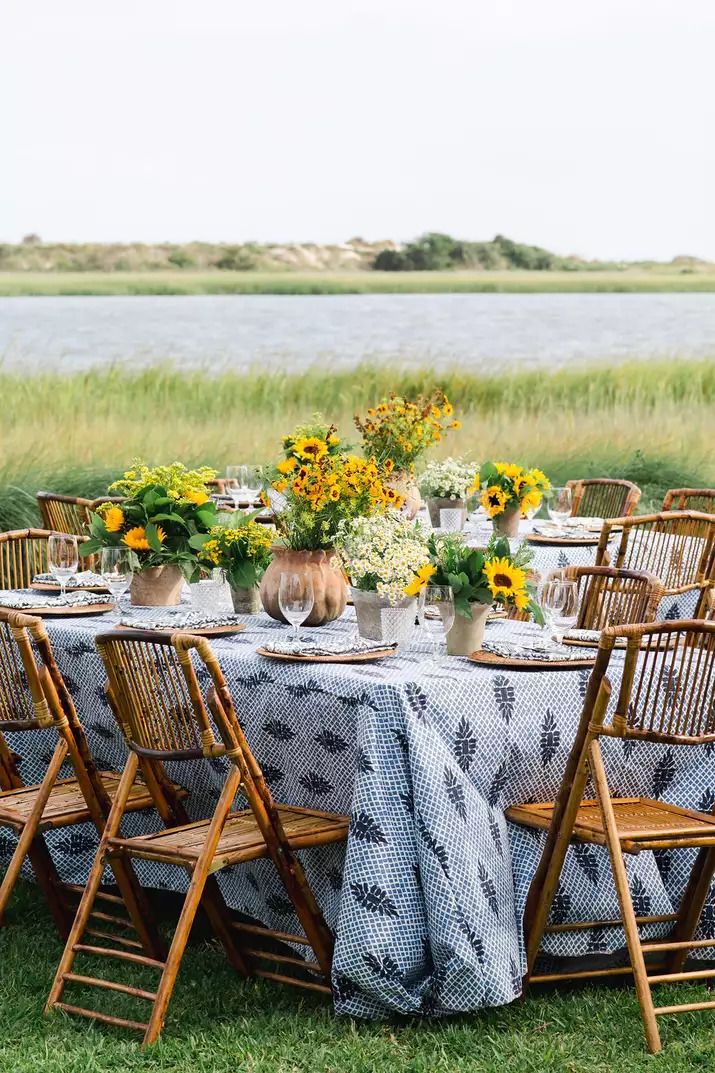 Pots of sunflowers and chamomile flowers bring a splash of happiness to these reception tables. Blue patterned linens and rattan chairs complete the look with a sense of rustic sophistication.


18. Lay a Lush Floral Runner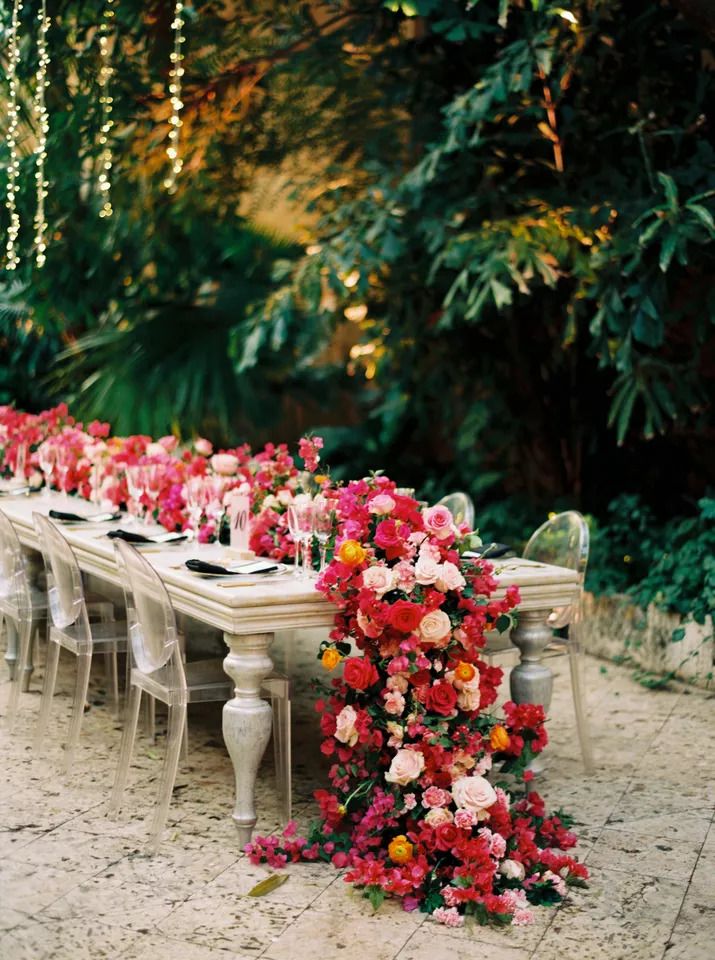 Make a bold statement with a luscious centerpiece, like this overflowing runner of bougainvillea flowers. We're loving these rich tones of magenta, pink, and red for a summer destination wedding in South America, where bougainvillea is native.


19. Turn to Fashion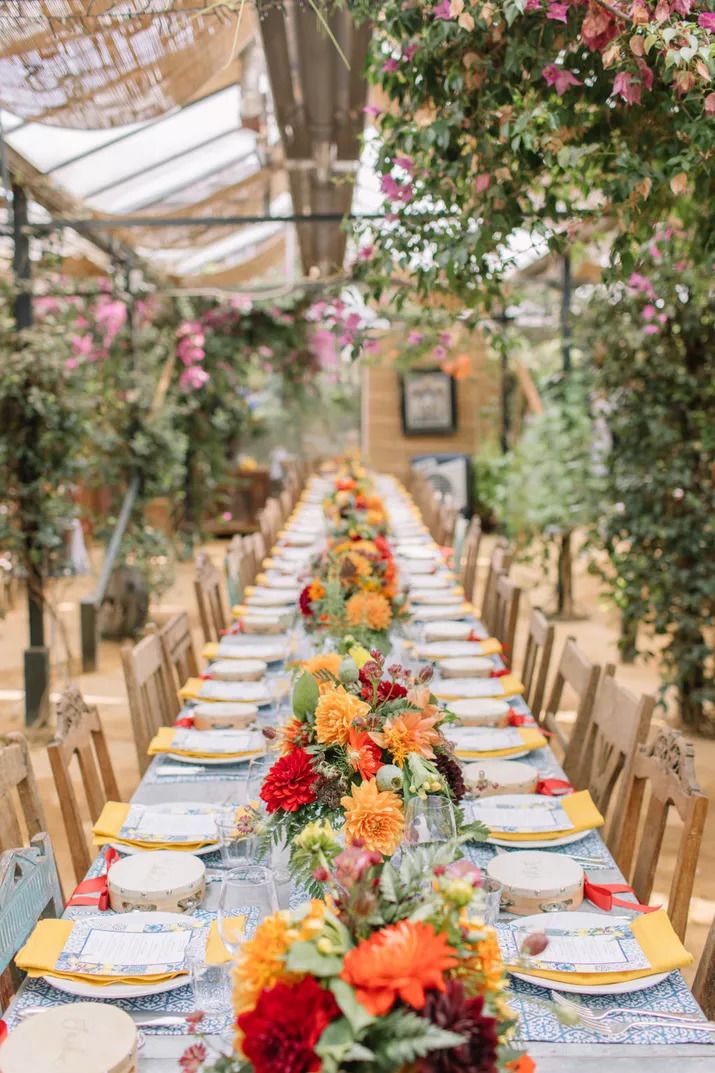 When in doubt, turn to fashion for wedding decor inspiration. This bride took cues from Dolce & Gabbana advertising campaigns for her reception tables, which featured printed linens reminiscent of the Italian coast and low arrangements of bright red, yellow, and orange blooms. We're loving this deep palette for a late-summer wedding, complemented by mismatched wooden chairs for a rustic touch.


20. Pick Fresh Fruit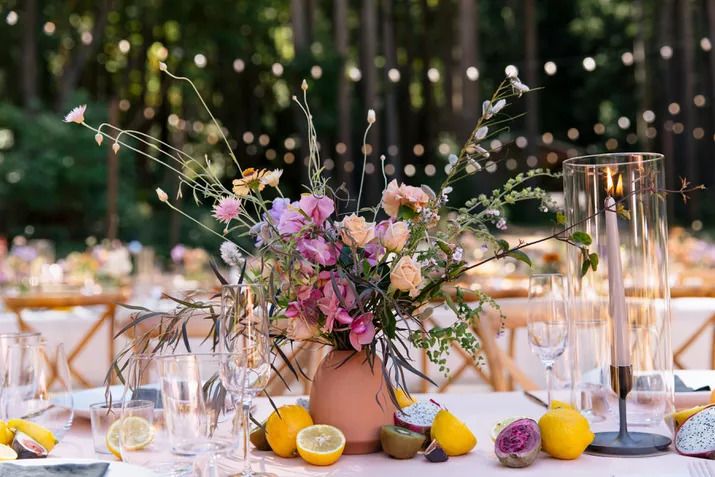 Nothing's more summery than flowers and fresh fruit, so why not combine them into one vivid centerpiece? Combine blush roses and purple wildflowers with sliced kiwis, lemons, and pomegranate for a hot summer vibe that pairs well with bright linens.


21. Use Pampas Grass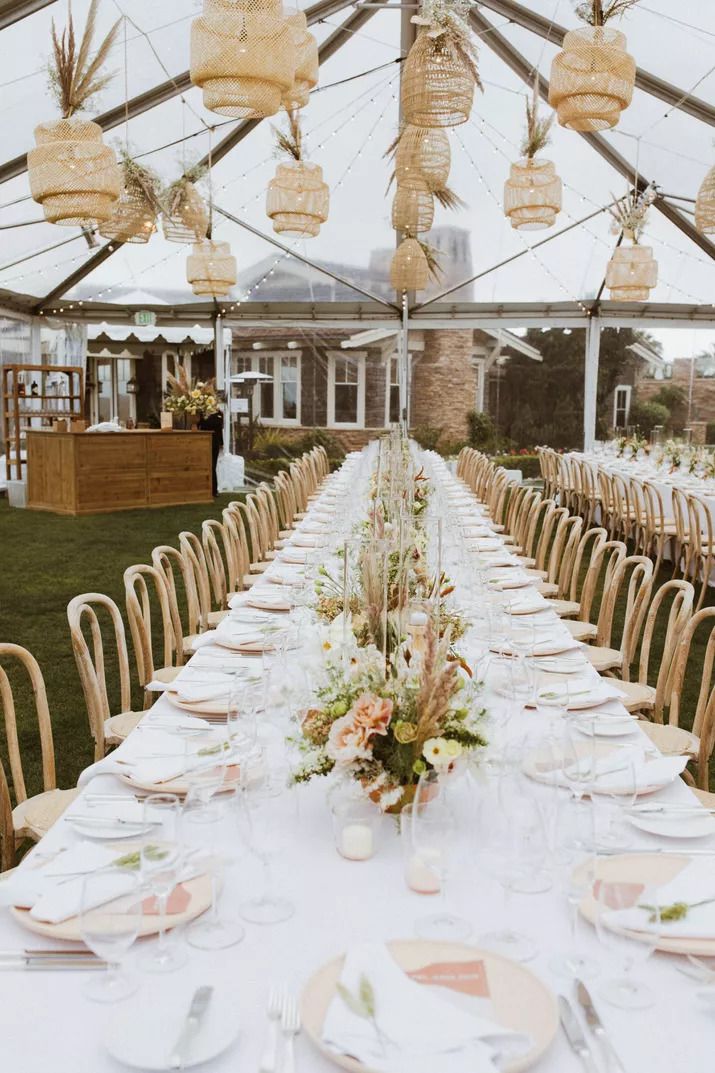 Bring a bohemian vibe to a beachside wedding with centerpieces of pampas grass, buttercup, peach, and blush florals. Woven light fixtures with dried grasses act as ceiling centerpieces, replicating the indie feel from high above.


22. Place Florals in Brass Vessels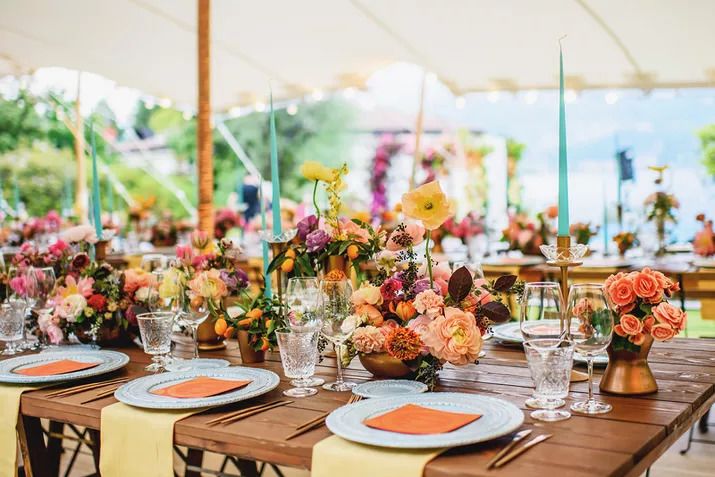 Brass vessels liven up what could otherwise be a boring vase by adding a shimmering touch to the table. These ones are overflowing with orange, yellow, and pink blooms. Complete with an oak table, the whole color scheme emits a sunny gold ambiance.


23. Liven Up a Black-and-White Palette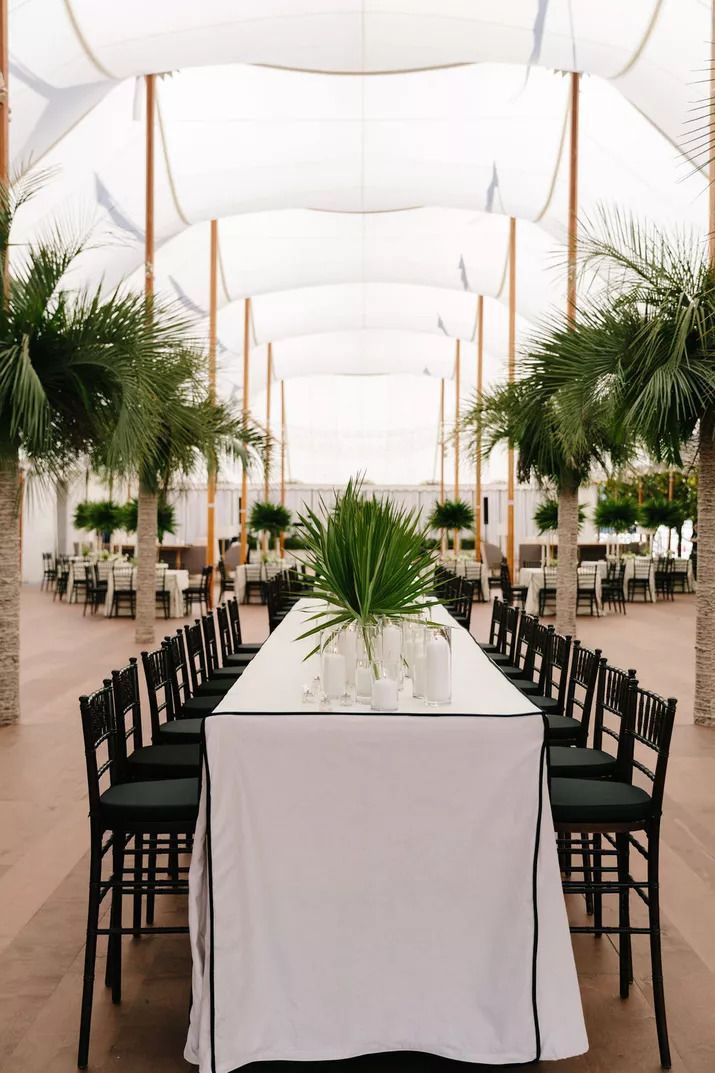 Give your summer wedding a sophisticated vibe with sleek centerpieces of palm fronds that pop vibrantly against the black-and-white scheme. The green comes alive against custom linens of bone-hued velvet with a black velvet welt and white candles.


24. Embrace the Desert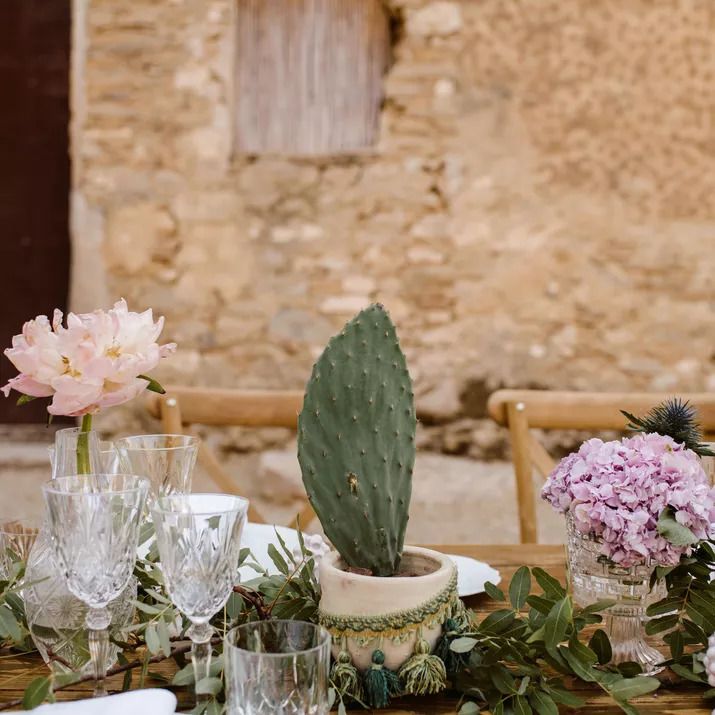 When it comes to summer, it's all about the sunshine. What's more reminiscent of a bright, sunny day than desert cactus? Add a simple centerpiece to embrace the warmth.


25. Create Fiesta Vibes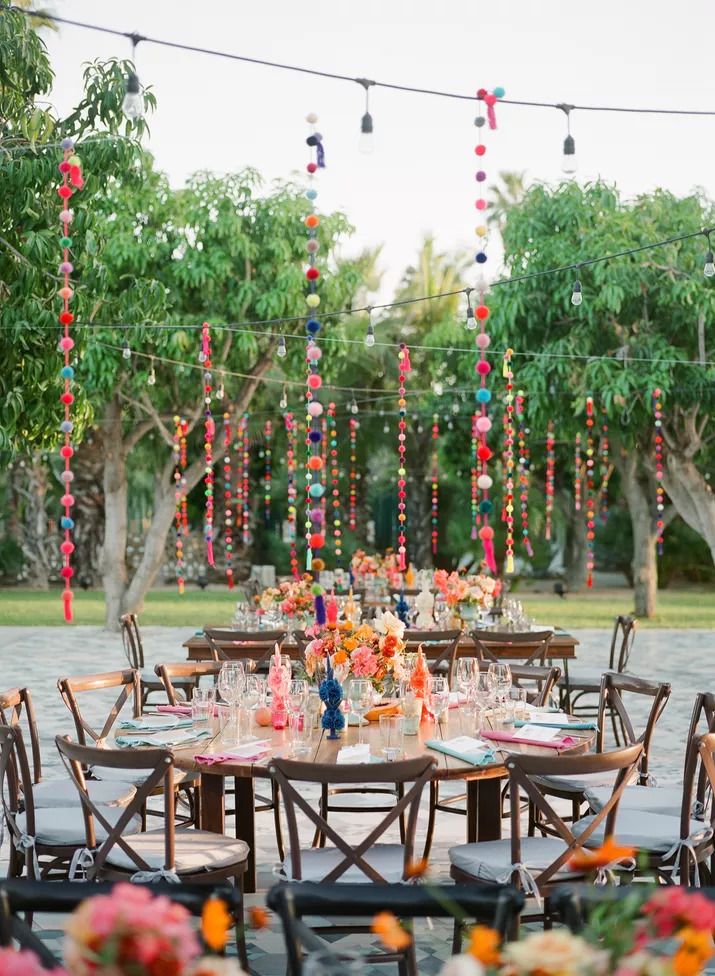 Who's ready for a summer fiesta? This space has an authentically Mexican feel, with pom-poms dangling between the trees in a mango grove. Aqua vases holding clusters of peach, pink, and orange flowers combine with sculpted marigold candles—a Dia de los Muertos tradition—and guavas and persimmons to play up colors and textures.


26. Stick With Classics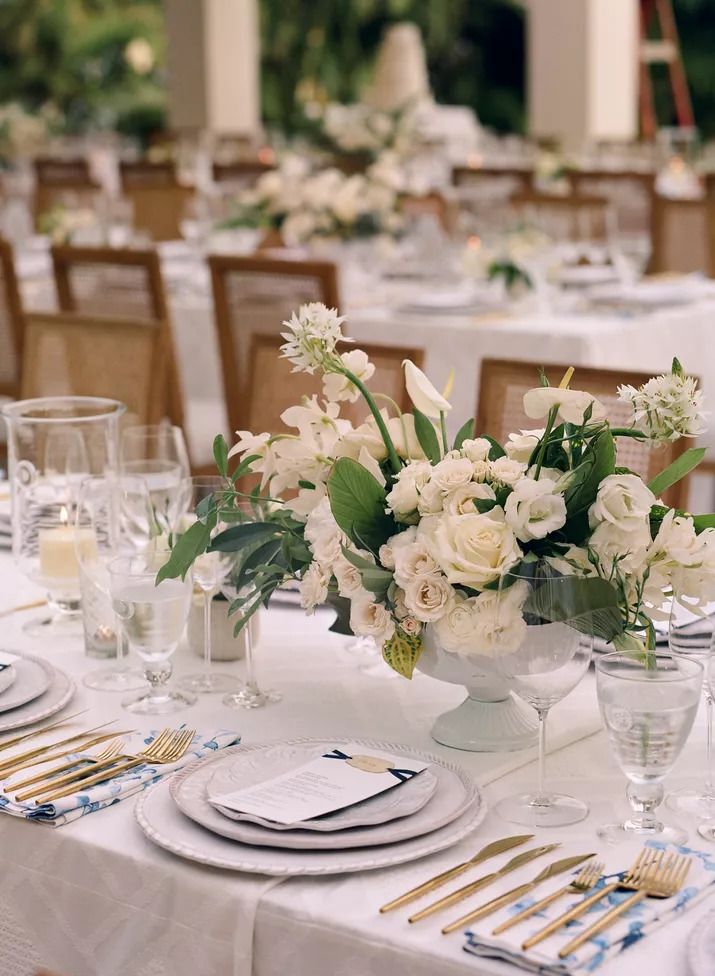 We're all for creativity, but classic white summer wedding centerpieces can go a long way in creating garden elegance. Pair them with a more unconventional table setting like washed terra-cotta plates, gold flatware, and personalized napkins featuring a custom watercolor design for a slight twist.


27. Opt for Orange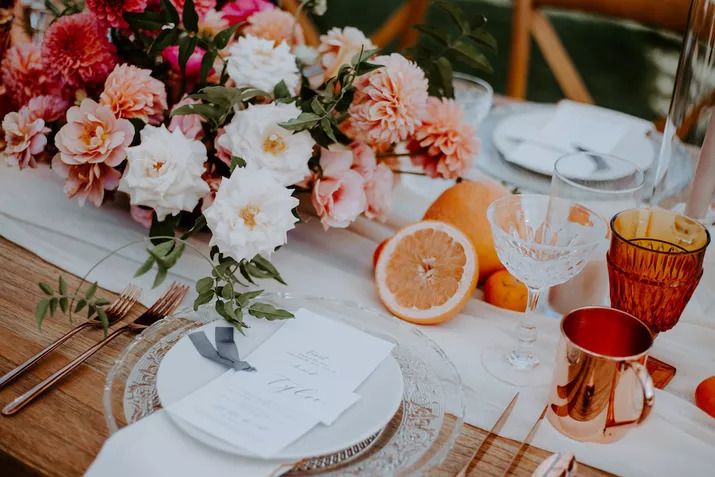 We're loving all the orange accents in this romantic tablescape, from the copper mugs and specialty coupe glasses to the sliced grapefruits and low arrangements filled with heirloom hydrangeas, roses, and jasmine. Sheer runners, pillar candles, and cut glass chargers bring a bit of neutrality to the table to let the rest of the decor really pop.


28. Go Green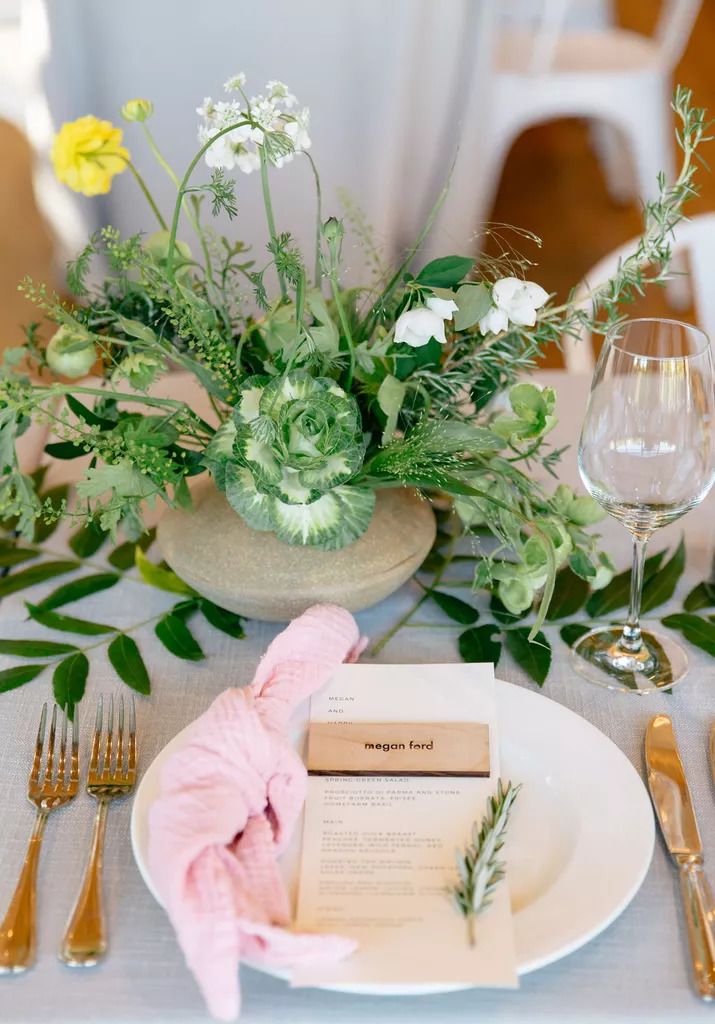 Simple white vases boasting vibrant sprawling greenery evoke summer at its peak when the grass is most lush. A simple runner of matching greenery, candles, and laser-cut wooden place cards complete the look.


29. Showcase Statement Blooms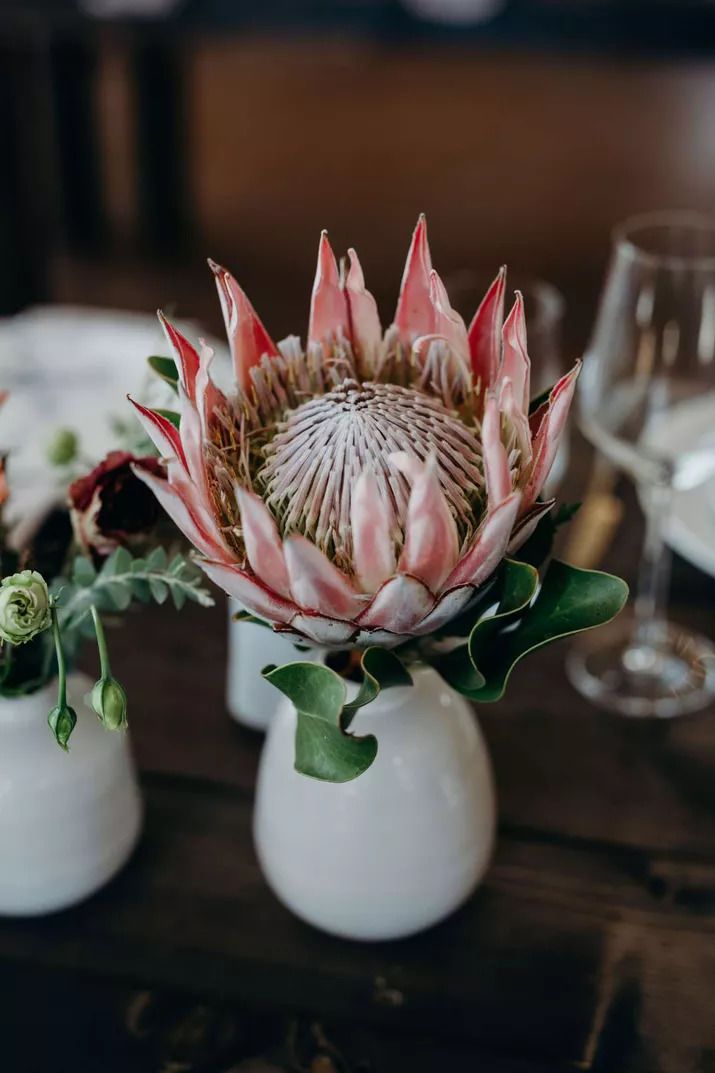 There's just something so pretty about a solo bloom in a simple vase. But for a summer party? Kick it up a notch with king protea for a tropical or desert-inspired vibe.


30. Play With Peaches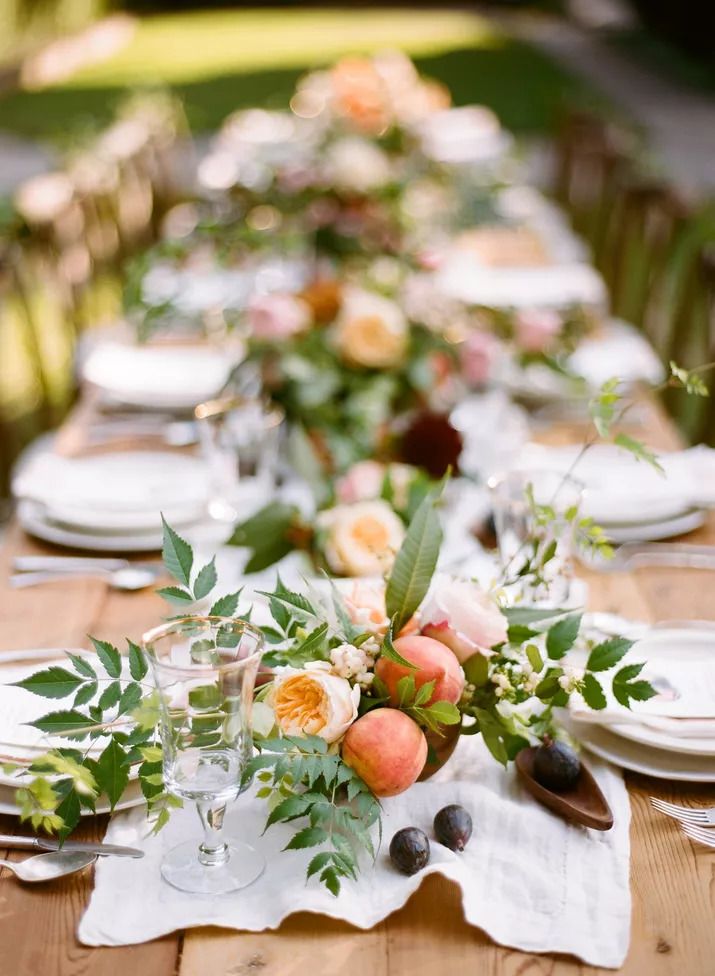 Is there anything sweeter than biting into a fresh, juicy peach during the summer? Bring that love of stone fruit into play on your wedding day. We love the combination of plump peaches and a bit of greenery.


31. Pot a Few Plants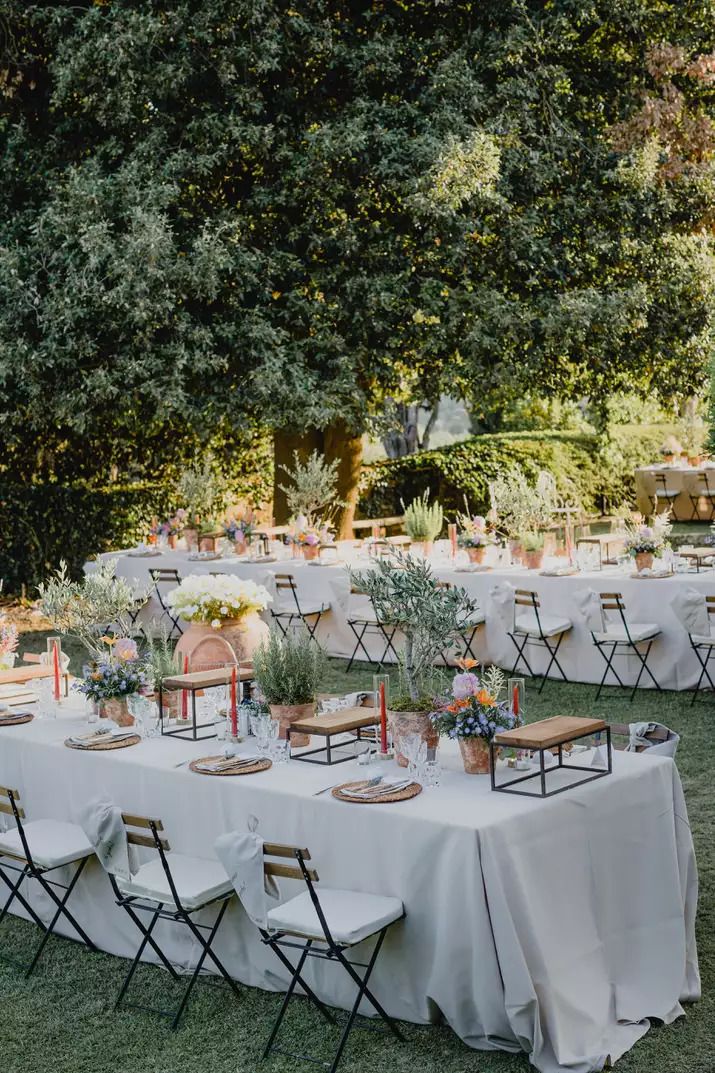 Nothing screams "summer day" like flourishing plants and terracotta pots. These potted centerpieces couldn't be more perfect—or more fragrant. Plus, guests can literally pick their own garnishes for cocktails!


32. Marry With Marigolds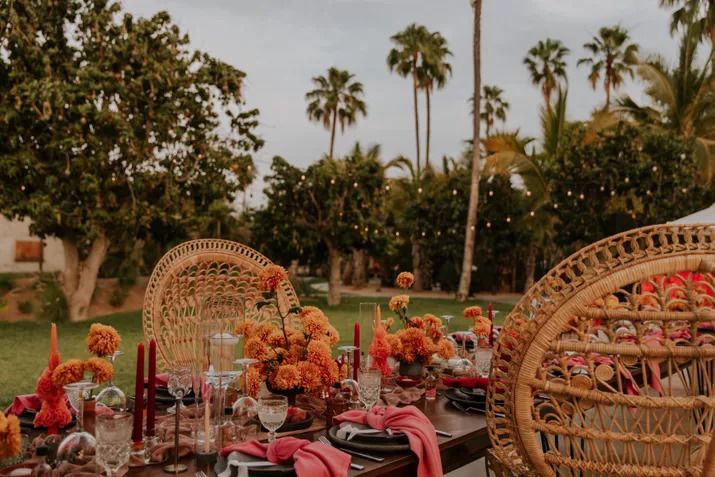 Oh so friendly and warm, marigolds give us all the warm fuzzies. But these bright blooms don't just evoke a happier state of mind, they have a special cultural significance, too. "Marigold is the flower of love in India—that was my biggest priority," says bride Priya of her vibrant Baja California nuptials.


33. Play With Pastels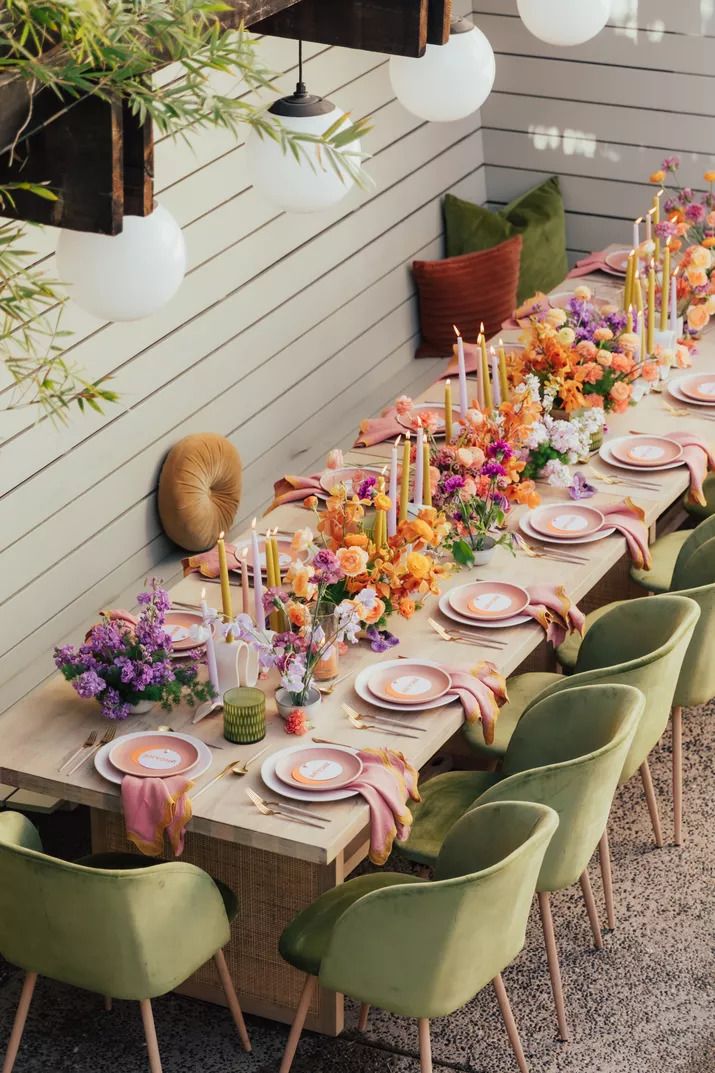 Who knew such a verve of mixed pastels could pair so well together? Plentiful purple and peach-hued florals are punctuated with green and lilac taper candles for a pretty centerpiece. Pink and terra cotta linens and green velvet chairs finish off the look for a decadently retro reception.


34. Embrace the Ethereal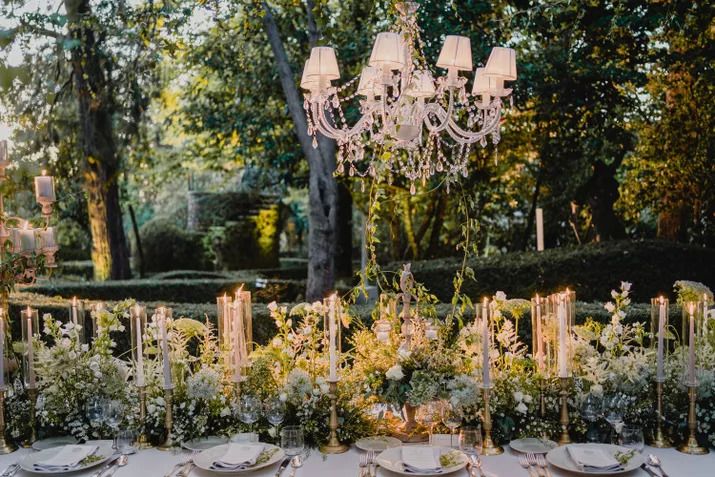 It's all about ethereal elegance at this Tuscan destination wedding. White taper candles illuminate a lush and verdant flowing centerpiece that looks like it's grown from the forest floor itself. Opulent chandeliers hang just above to bathe everything in a romantic glow.


35. Spotlight Juicy Cross Sections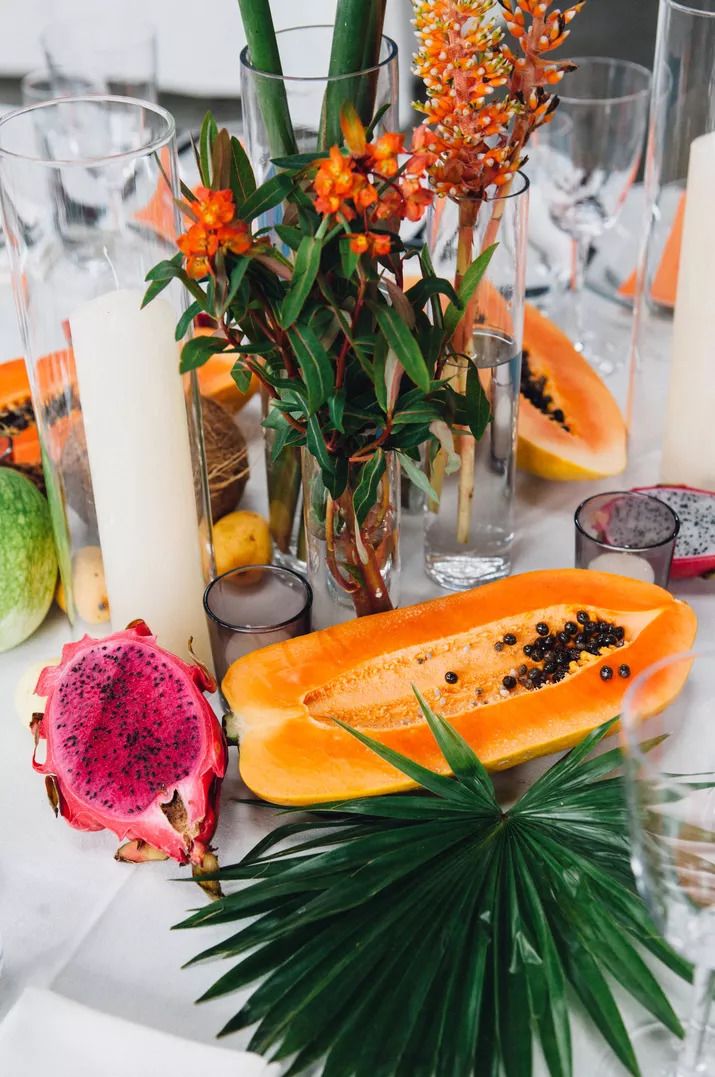 Halved papayas and other tropical fruits as summer wedding centerpieces bring a dash of tropical whimsy to this reception table. The bride looked for uncommon decor to create a one-of-a-kind aesthetic, and we think she nailed it. She called the resulting vibe for her Brooklyn wedding a "literal concrete jungle."