The eye-catching style infuses virtually any sized area with cozy warmth, creating a refuge you'll look forward to coming home to. Ready to try it? Find inspiration in these boho living room ideas.


Boho Style Living Room Basics

To really nail this look, it's important to understand the basics of the boho design trend. Our What is Boho Style? guide breaks down the nuances of this style, but here are few key takeaways:

* It's all about mixing fabrics, textures, and colors to create a totally unique look.

* No minimalism here—more is more.

* A boho color palette uses earthy tones or bright accents.

* Your furniture doesn't need to (and probably shouldn't) match.

* Textures and textiles should be layered for visual interest.

* Accessories should be eclectic and come from places like antique stores and estate sales.


Boho Living Room Ideas

Now that you know the tenets of boho style, it's time to take action. Copy these ideas exactly for your own space or borrow elements for a boho-esque vibe.


1. Tone-on-Tone Neutrals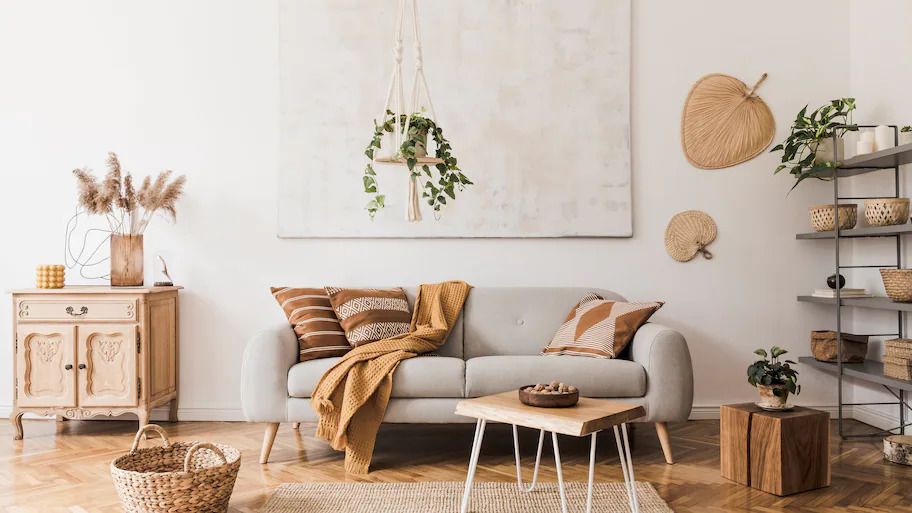 For a muted bohemian look, opt for a tone-on-tone color pallet by choosing a neutral color for the walls and sofa. Layer in features like artwork or rugs that are the same color tone, but have lighter or darker hues.


2. Woven Rattan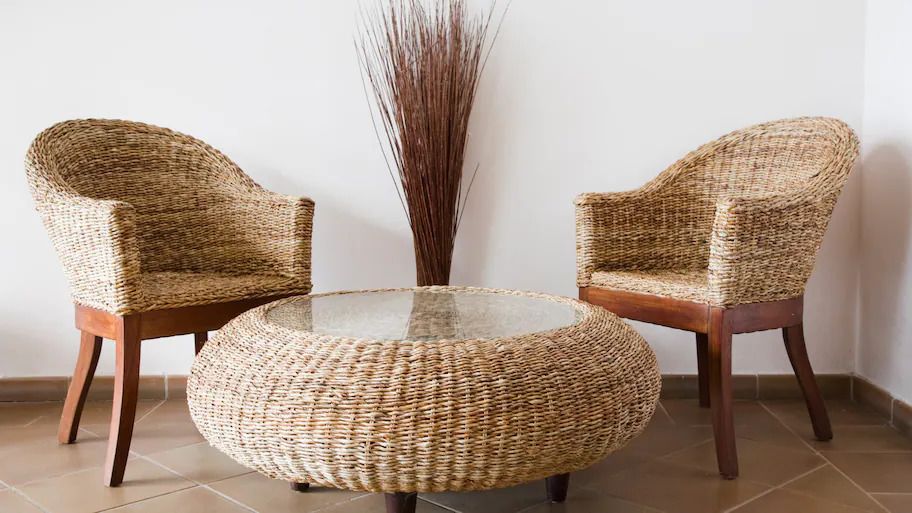 Rattan is a type of palm that is woven into different patterns to make furniture, baskets, and even light fixtures. Rattan is a staple in bohemian interior design, so choosing a chair and table set in this material can complete the look.


3. One-of-a-Kind Vintage Treasures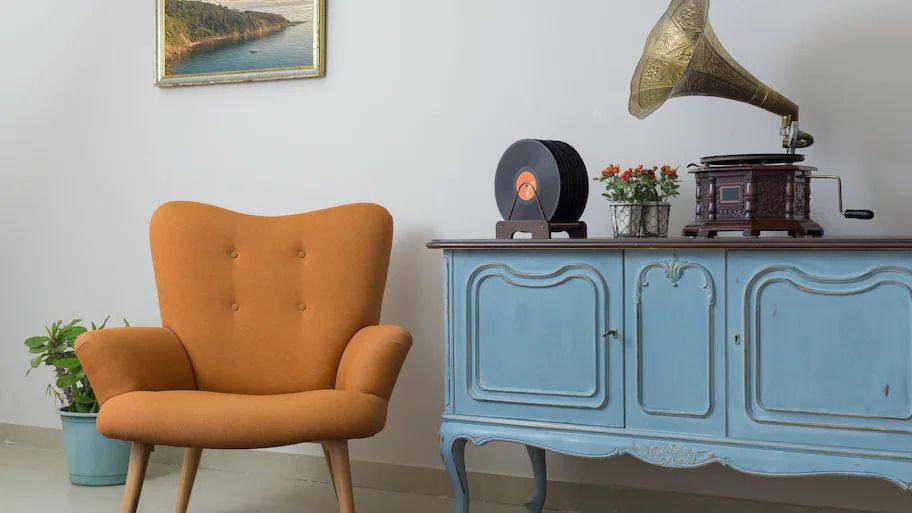 Go on a flea-market adventure and pick out unique vintage pieces to incorporate into your space. The original Bohemians that this style is named after didn't stay in one place for too long, so stick to a nomadic motif by changing up your trinkets from time-to-time to keep things fresh and interesting.


4. Textured Pillows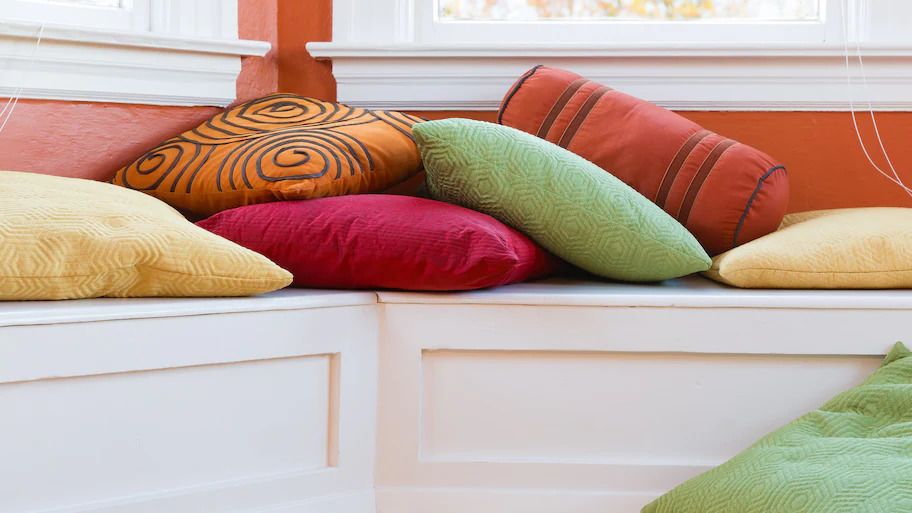 Bring unexpected colorful and textured fabrics into your space using an assortment of throw pillows. Toss them on a window seat to create a nook perfect for daydreaming. Embrace playfulness by choosing rich jewel tones mixed with neutral textiles to mimic genuine boho style, devoid of rigidity.


5. Sumptuous Velvet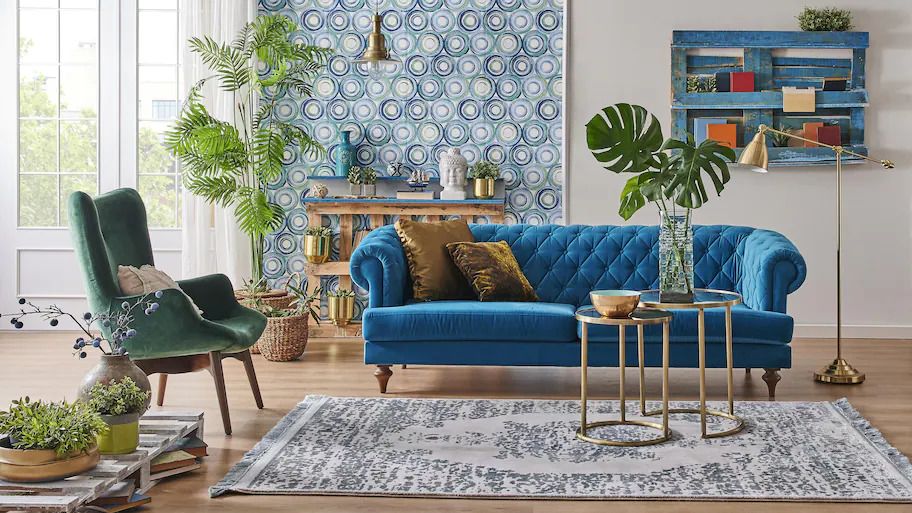 Creating a bohemian look involves mixing and matching textures and colors. Embrace luxurious velvet fabric with a brightly colored accent chair or couch. Mix it with rugged pallet shelving, glam metallic coffee tables, and a playful accent wall for a whimsical, yet put-together feel.


6. Monochromatic Black and White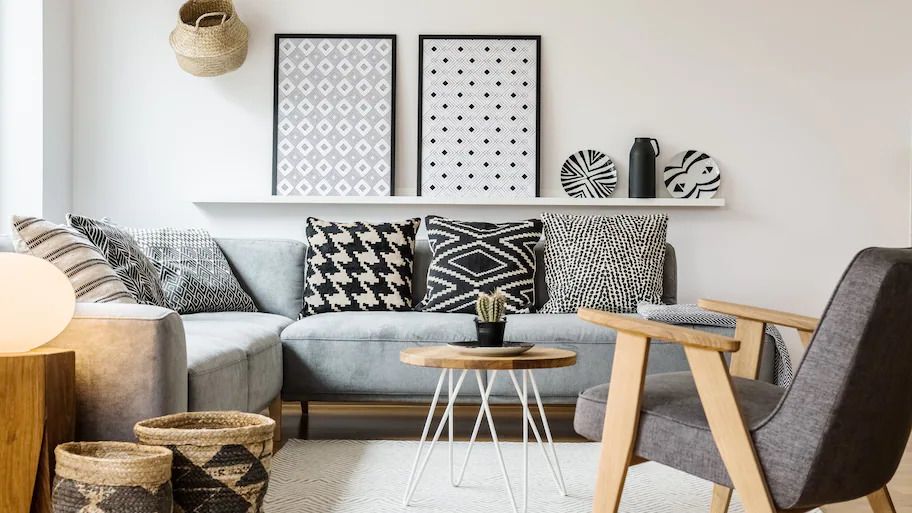 While you may associate boho living spaces with bright colors, you can also achieve the look using a monochromatic black, white, and gray color palette. Use varying shades of gray furniture pieces mixed with black and white wall art. Add in natural wood elements to complete the look.


7. Earthy Dried Flowers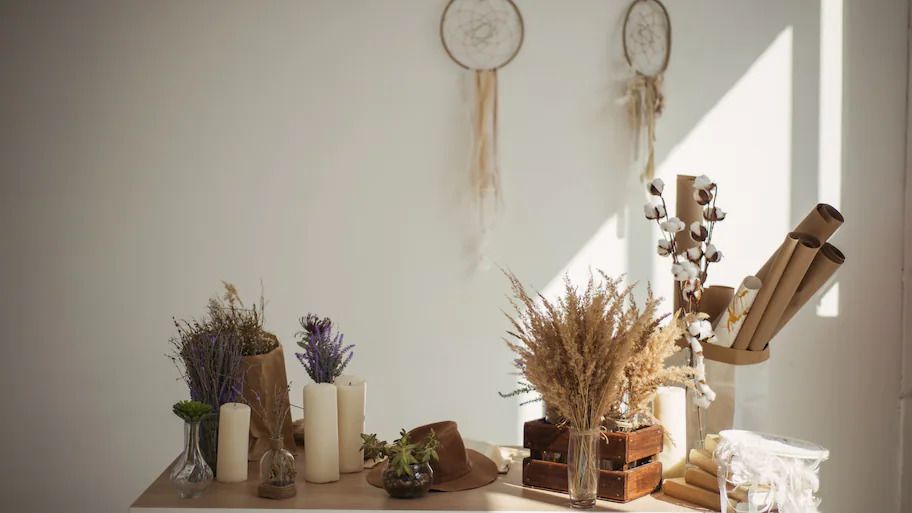 Enjoy flowers year-round by incorporating dried-out plants into the room. Mix and match bunches of lavender, baby's breath, cotton stems, and pampas grasses, and put them in glass vases that vary in height and width.


8. Dusty Pink Hues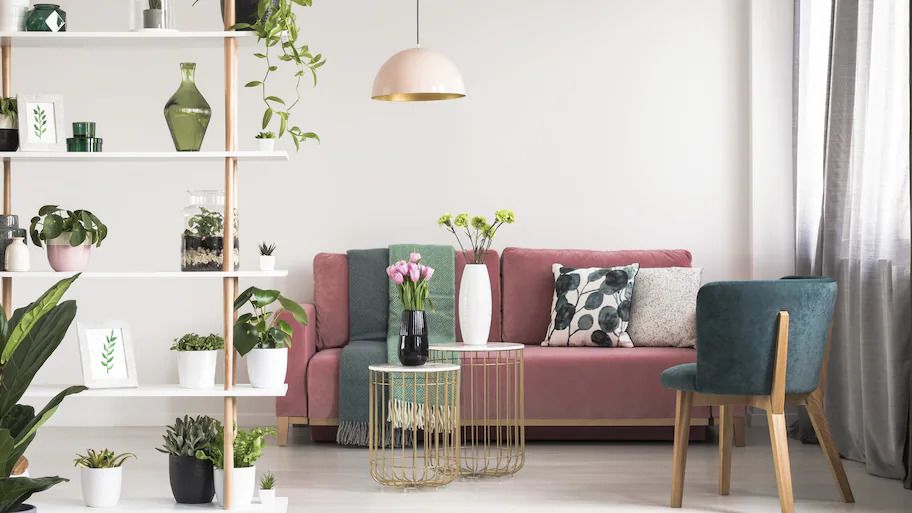 Bring soft hues into your space with a dusty pink couch. This elegant shade pairs well with neutral wall paint and pillows, as well as copious amounts of greenery.


9. Lustrous Copper Elements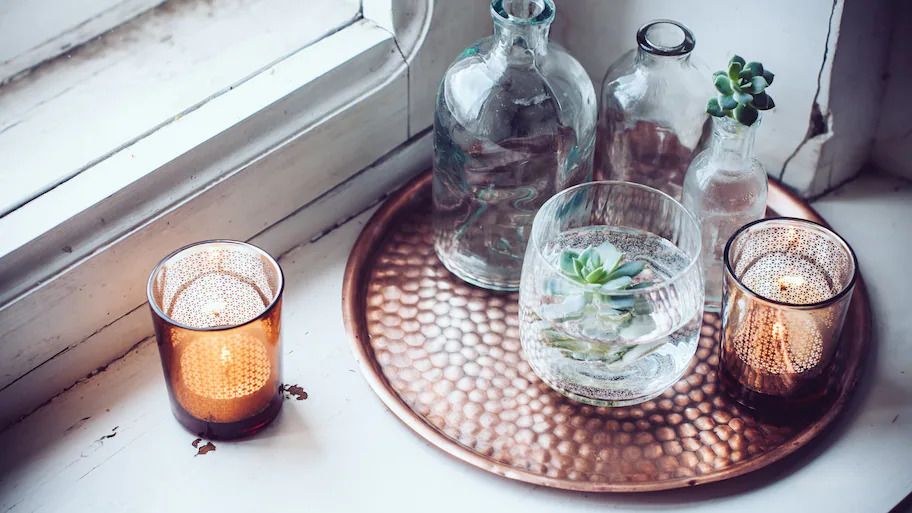 Mix varying metals in your home decor for a glamorous, eye-catching look. Place antique glass jars and old-world candles on a hammered-copper serving tray in an inviting corner of the room.


10. Hanging Swing Chair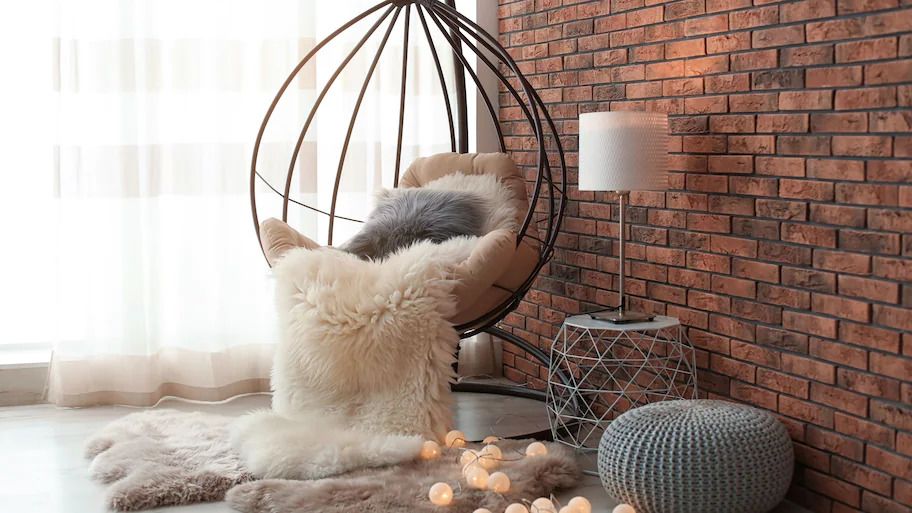 Bring unconventionalism into your living room design using a free-standing hanging swing chair. This type of chair blends together the perfect amount of play and coziness to create a nook you can look forward to snuggling in everyday. Drape warm furry blankets over the chair for maximum relaxation.


11. Straw Pouf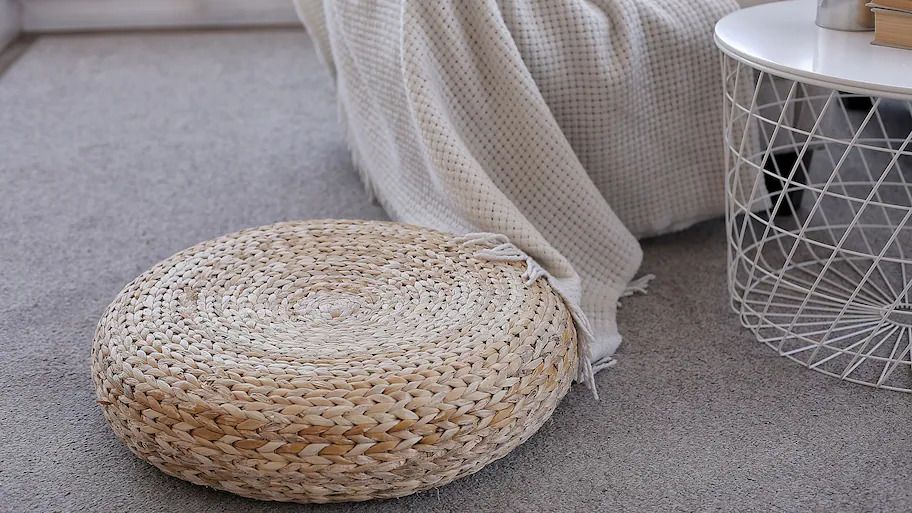 A natural straw pouf adds global elements into the space. Use this floor cushion as a decoration or footstool, or even sit directly on it while you're hanging out in the room.


12. Stacked Throw Pillows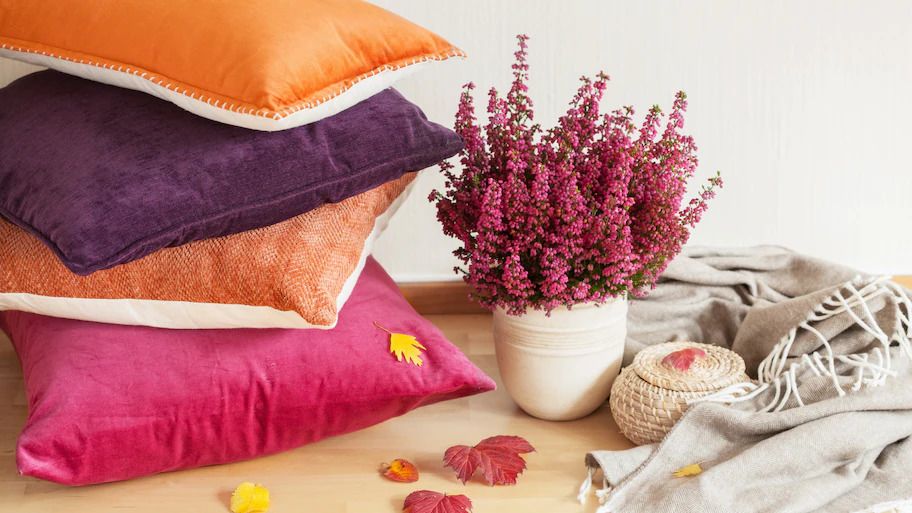 Who says pillows need to be on the couch? In authentic bohemian fashion, stack colorful pillows on the ground, and use up vertical space to provide a visually interesting focal point.


13. Blended Bold and Neutral Tones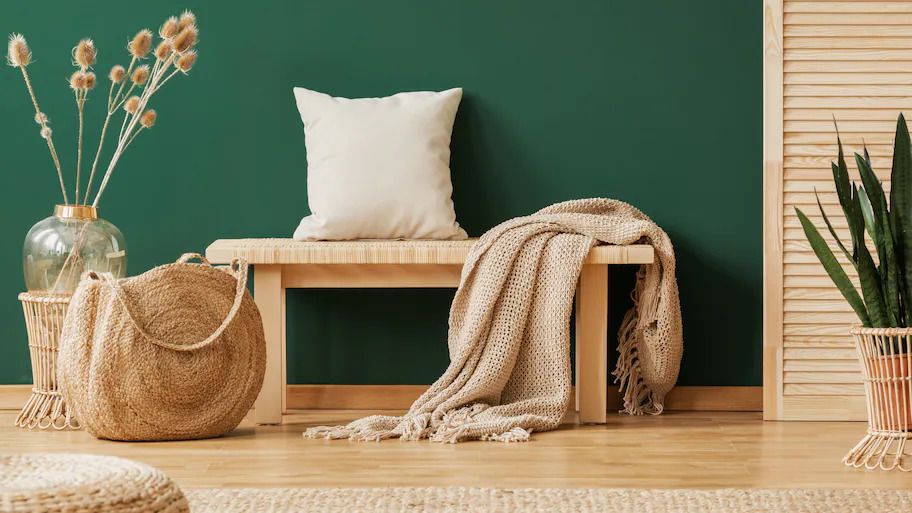 Pick an unexpected paint color like bright emerald green to pair with neutral taupe and beige elements, coupled with natural wood accents.


14. Low-Level Seating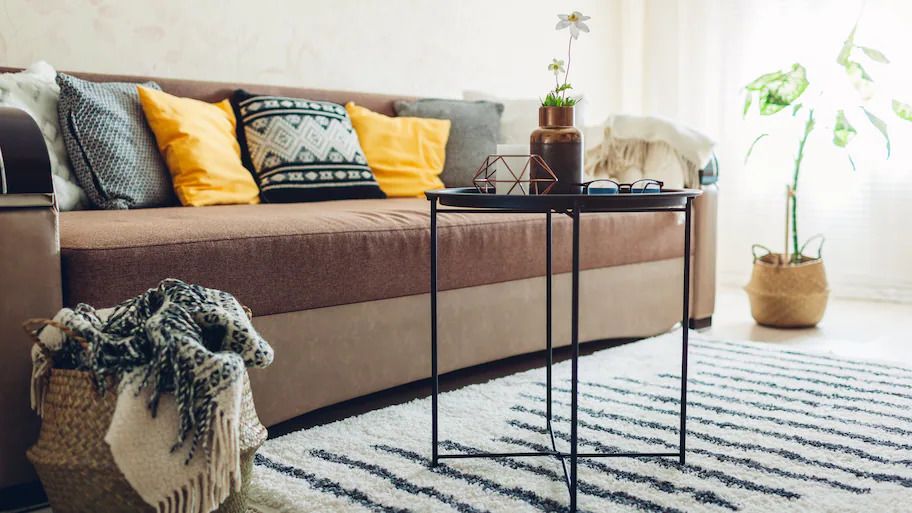 Use furniture to create a welcoming space by opting for seating that is close to the ground. Place a matte black tray table in front with woven baskets to keep blankets within reach so you can kick back and relax.


15. Rustic Blanket Ladder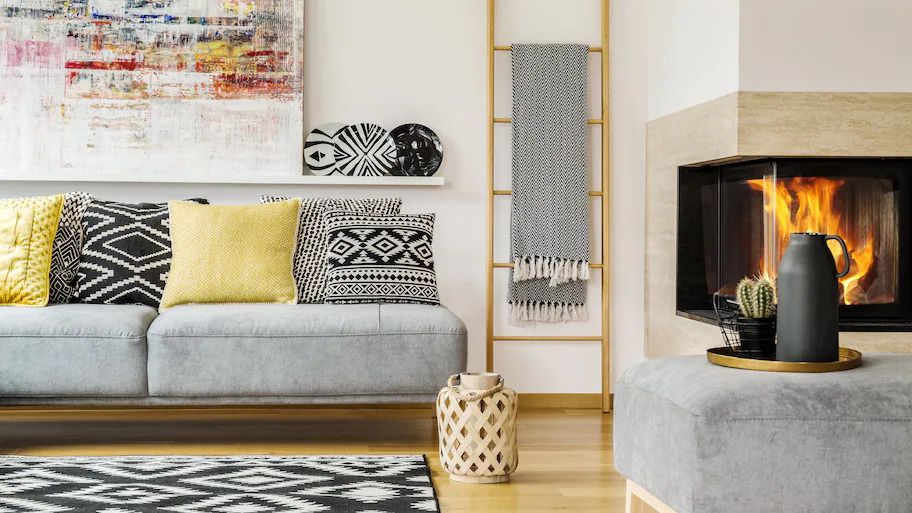 While blanket ladders may often be associated with rustic or modern farmhouse interior design, they also have their place in boho decor. Use this as an opportunity to showcase your favorite textiles using the rungs on the ladder. Add in shaggy throw pillows and colorful wall art for more opportunities to mix patterns.


16. Eclectic Baskets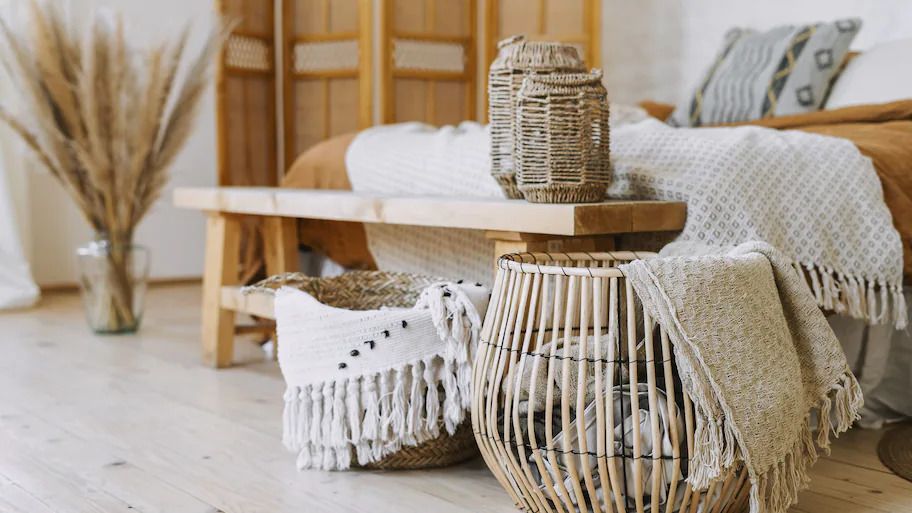 Woven eclectic baskets are another staple in bohemian interior design. Use them to store blankets and other odds and ends to keep your floor space free of clutter.


17. Free-Spirited Floor Pillows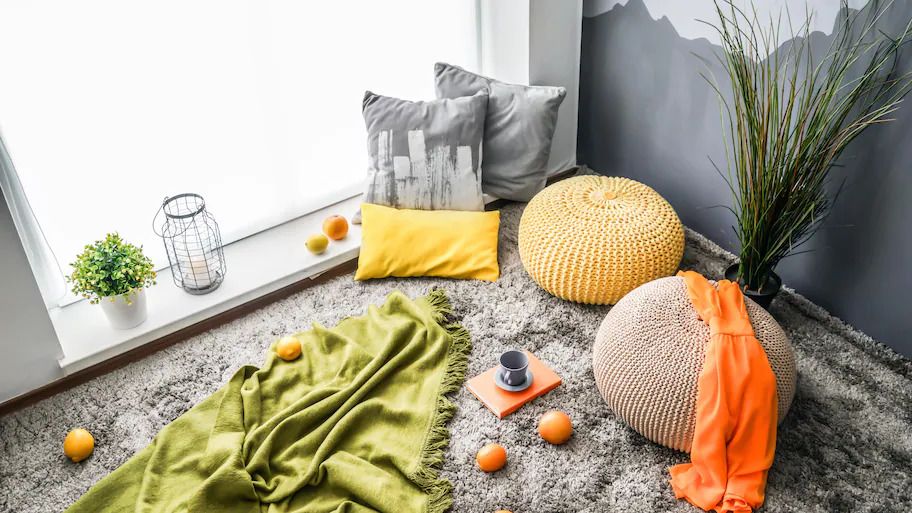 Create a laid-back atmosphere and encourage company to sit back and stay awhile. Keep poufs and pillows on the floor in a separate area. Even better if you can prop them up by a window with lots of natural light. Floor pillows work especially well in small spaces as extra seating.


18. Lived-In Look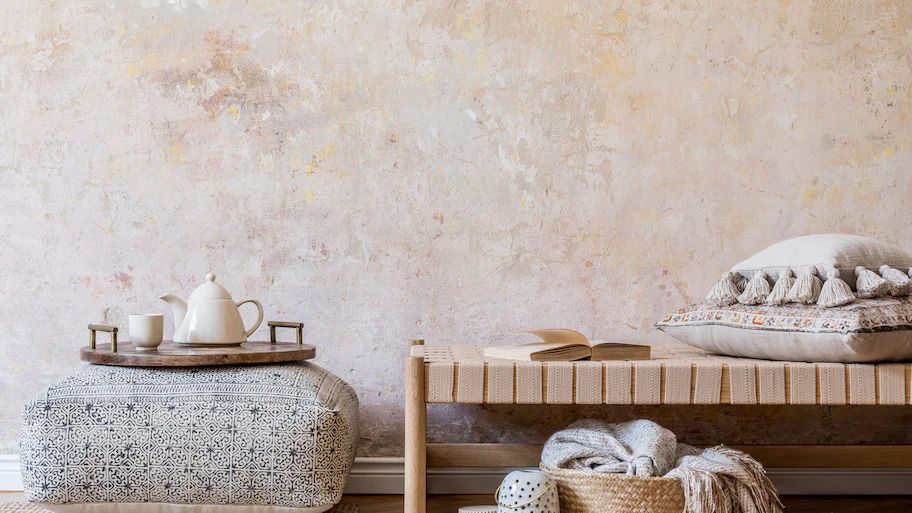 For a more subtle bohemian interior look, use a muted color pallet. Choose textured wallpaper, and set up a beige bench seat. Use an oversized pouf as a makeshift coffee table, and set a wooden tray with a teacup and teapot on top.


19. Bright Complementary Colors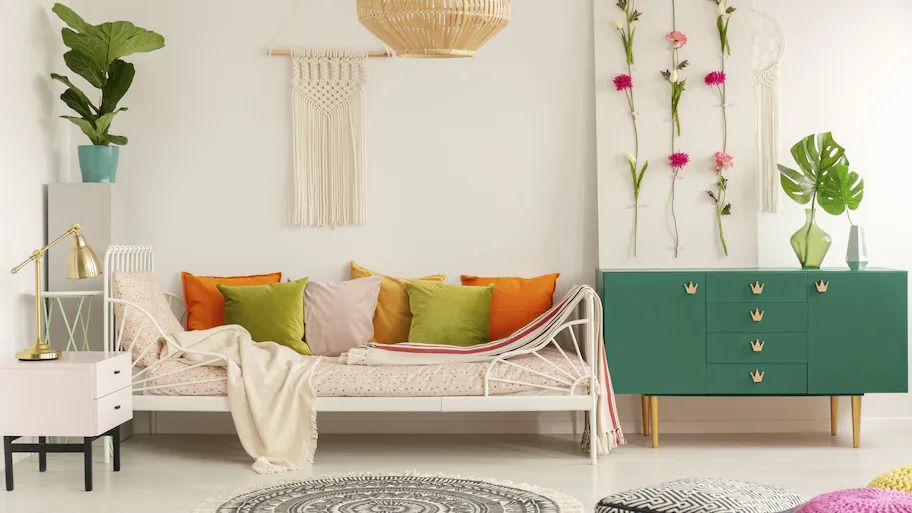 Don't be afraid of combining different saturated hues when choosing pieces for your room. Pick bold jewel-toned furniture and mix it with vivid pink, orange, and green pillows to embrace bright colors in the space.


20. Retro Vinyl Records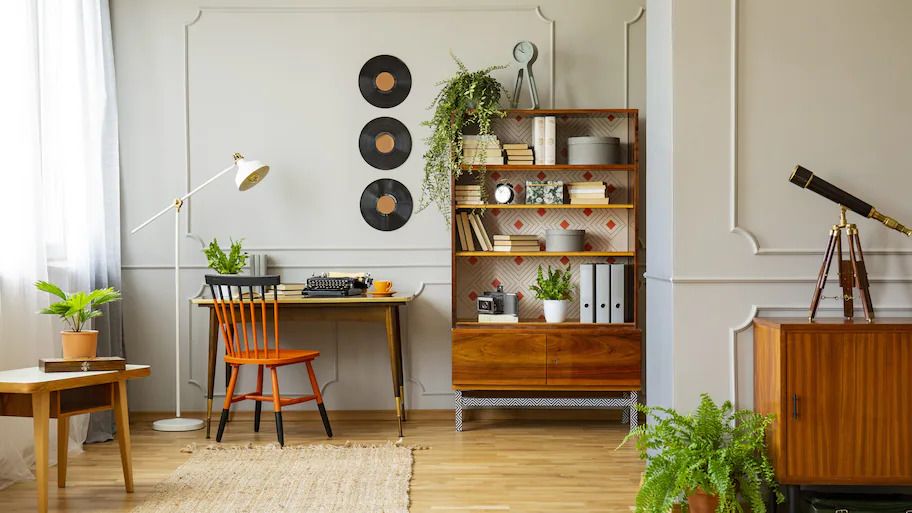 Hear that sound? While records might not be the most common way to listen to music in modern day, they still have their place in eclectic home decor schemes. Hang vinyl records on the wall to serve as wall art. Bonus points if you use era-authentic records.


21. Sunny Yellow Accents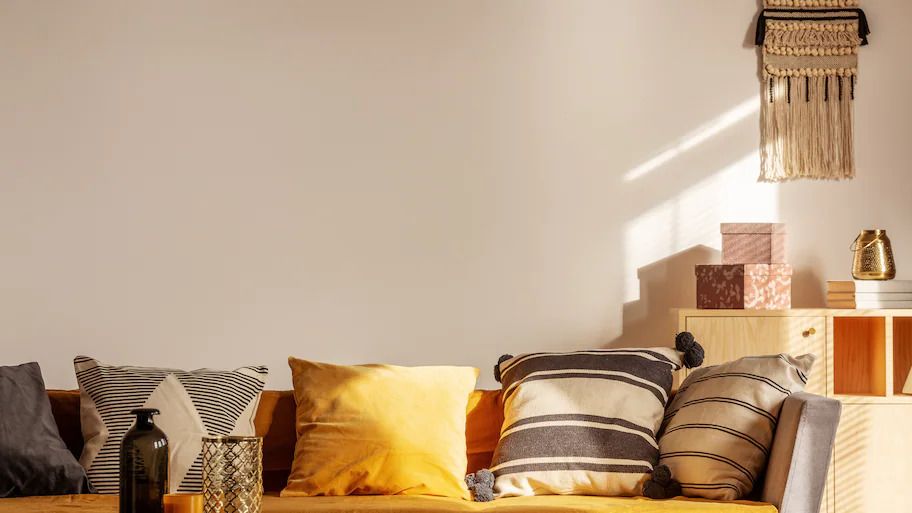 Pull inspiration from natural and earthy elements when choosing a color scheme. Opt for a sandy beige wall color mixed with bold yellow textiles to add sunny warmth.


22. Textured Macrame Tapestry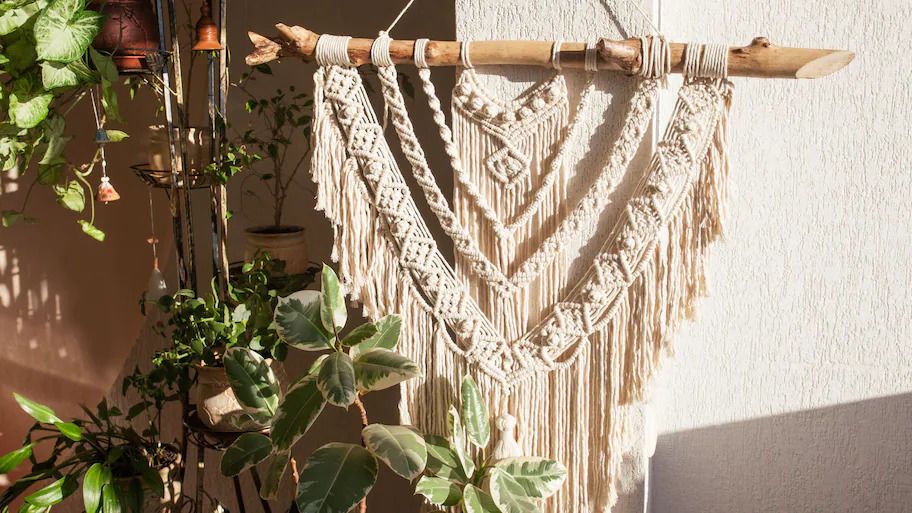 Macrame, a type of textile produced by tying decorative knots, is a key design element in bohemian spaces. Macrame can be used to make pillows, blankets, and baskets alike, but you can also simply hang a tapestry on the wall for a carefree look.


23. Dimensional Wall Baskets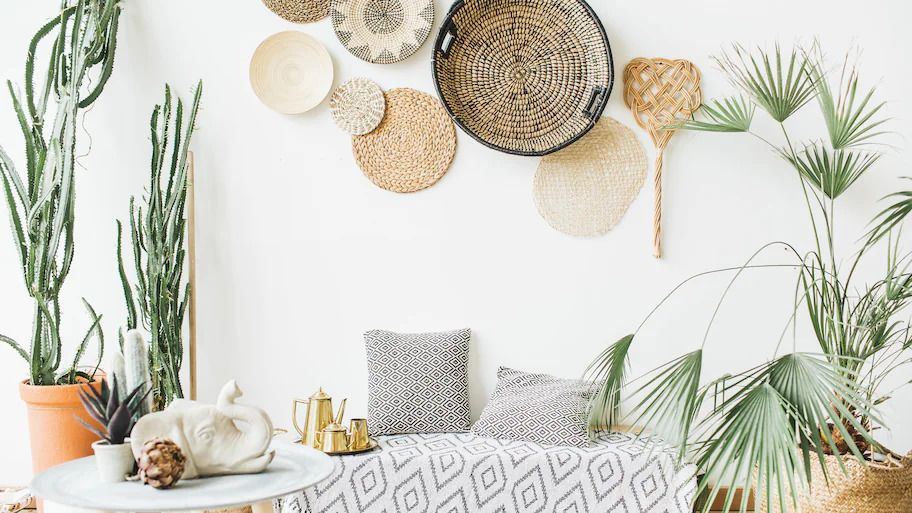 While baskets may be more commonly used to hold items, you can take advantage of their naturally interesting aesthetic and hang them on the wall instead. Use different-sized baskets that range in patterns and colors to serve as unique wall art.


24. Colorful Maximalism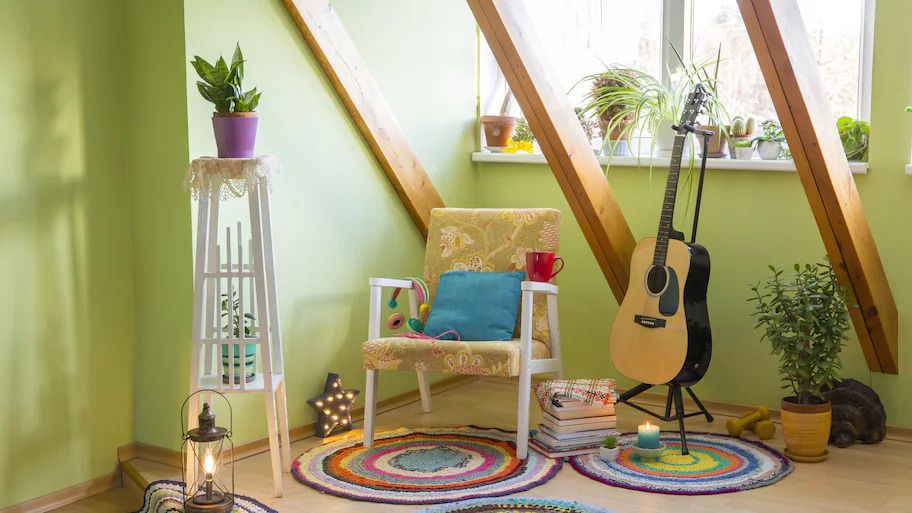 Throw caution to the wind, and break some design rules by combining bold colors, like lime green and yellow, mixed with vibrant patterns. A maximalist-mindset allows you to get creative and experiment in your space without feeling restricted.


25. Vertical Hanging Planters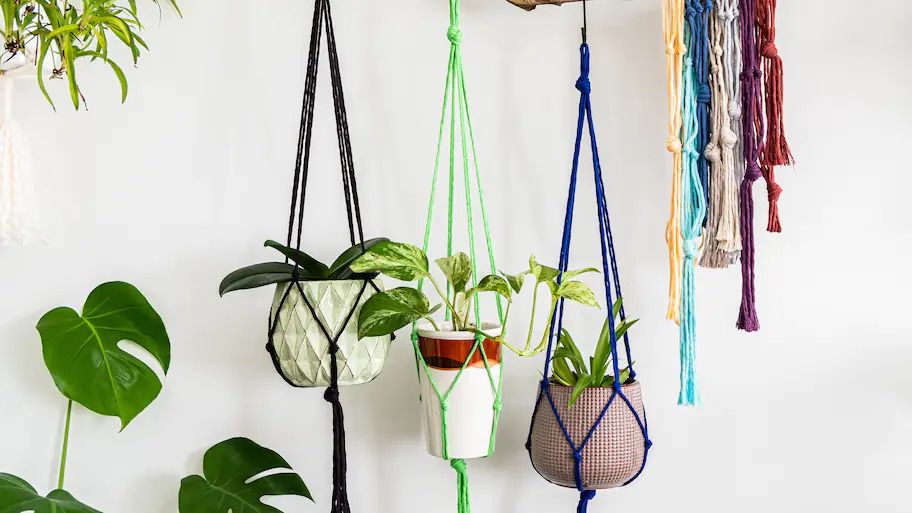 Including plants in your design is a must when creating a boho chic living room. But you don't need to stack them all on a table. Instead, hang potted plants from the ceiling using brightly colored macrame holders.


26. Decadent Brown Leather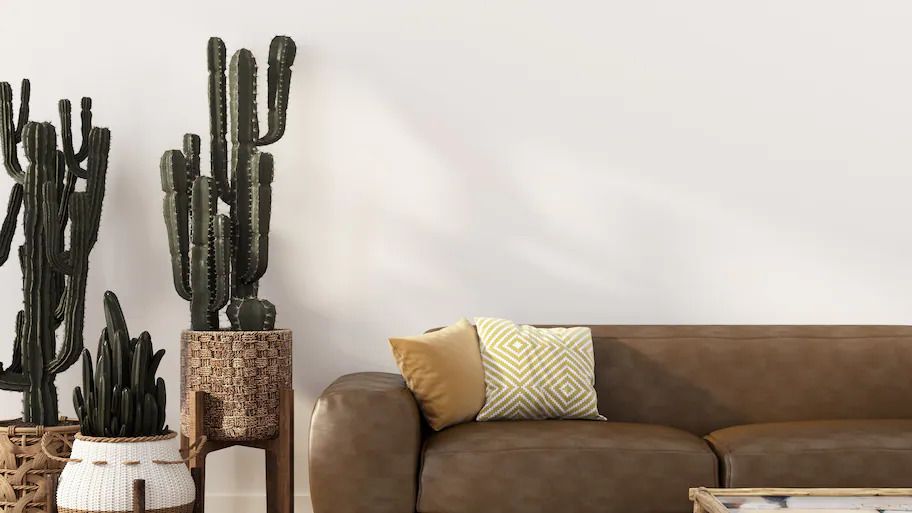 Bring warm tones into your room with a rich and versatile brown leather sofa. Plant cacti in raised, woven planter pots, and pair with textured throw pillows for southwestern boho vibe.


27. Boho-Chic Ottoman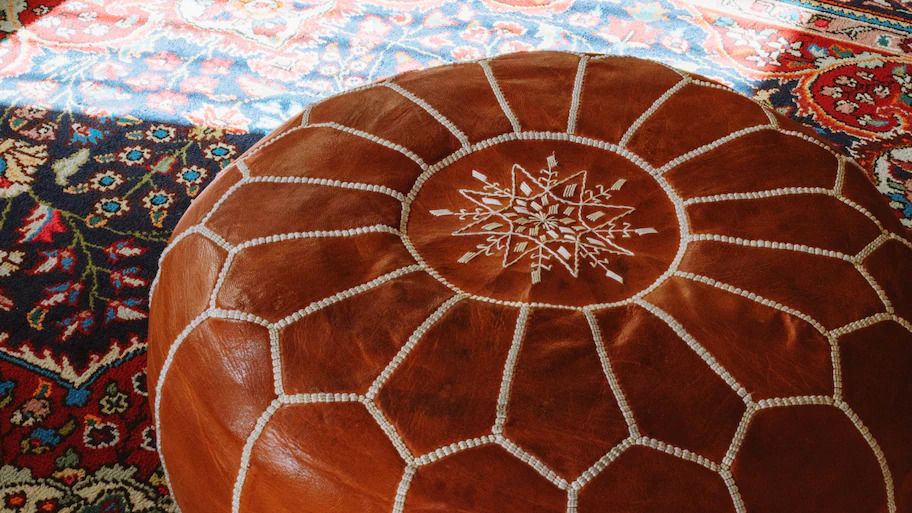 If you like the look of leather, but aren't in the market for a new couch, opt for a brown leather pouf. Choose one with a woven pattern for a homemade, folksy vibe.


28. Trendy String Lights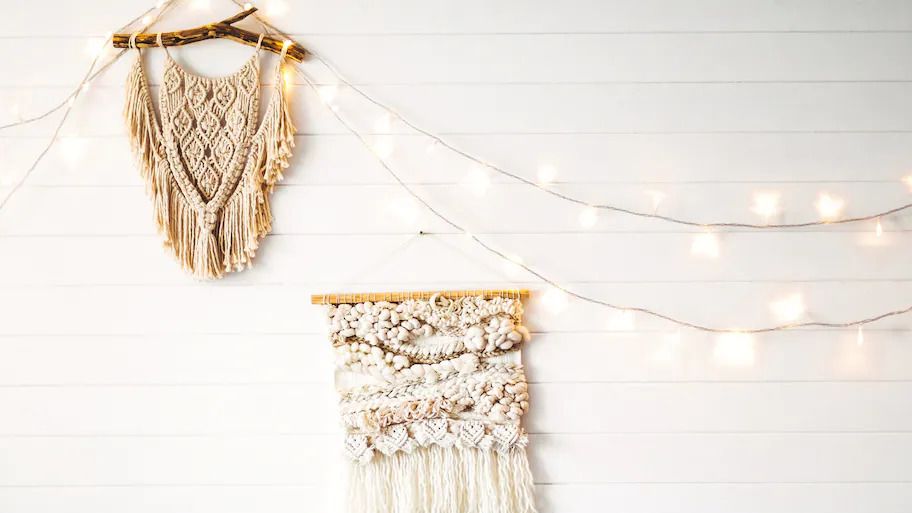 Accentuate the space by adding different sources of lighting. Illuminate macrame tapestries with trendy string lights against a shiplap wall to make the room glow.


29. Natural Light Sources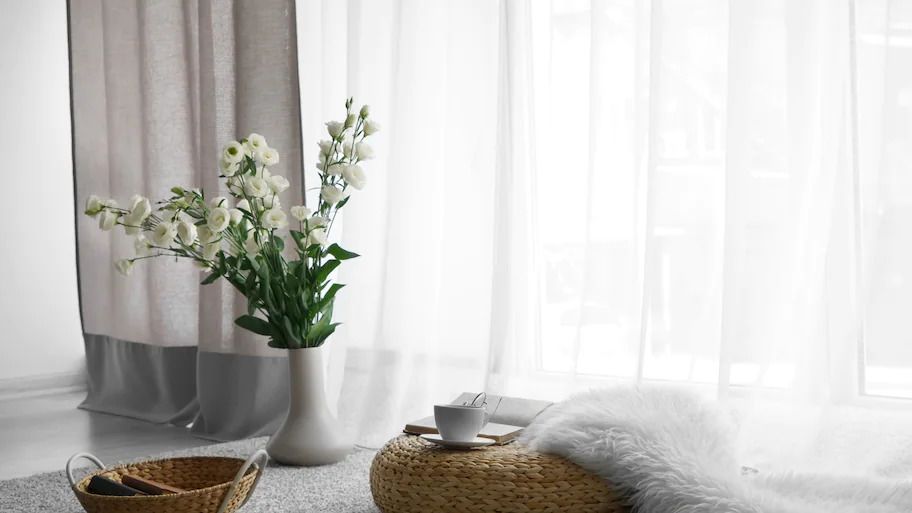 Take advantage of natural light sources you have in the space, and create a nook for reading or relaxing in front of a window. Set up a straw pouf with cozy blankets, and keep your favorite reads in a nearby basket so you have a designated place to unwind.


30. Layered Rugs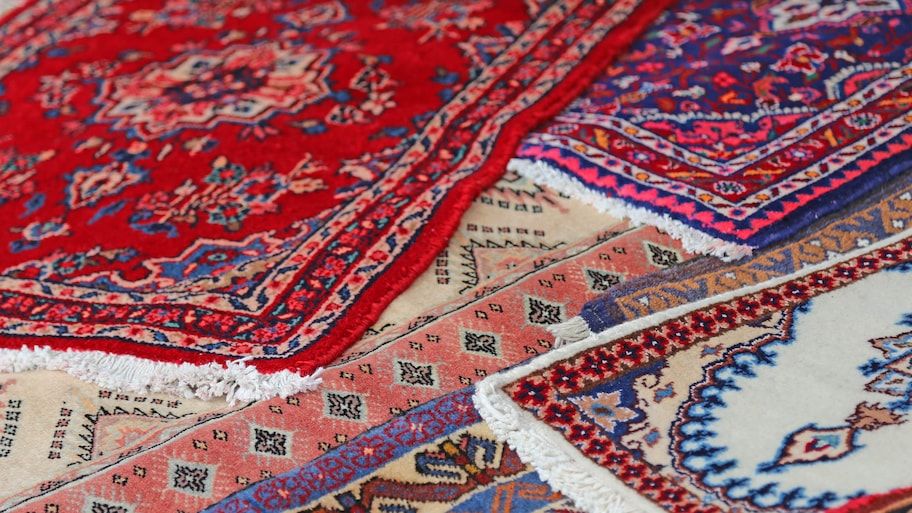 Layer soft rugs on top of one another or on top of carpet as another way to mix patterns and textures. Start with a muted rug on the bottom, then toss an attention-grabbing patterned rug at a jaunty angle on top. Rug styles that work well with this aesthetic include southwestern and Oriental rugs.


31. Natural Wood Accent Wall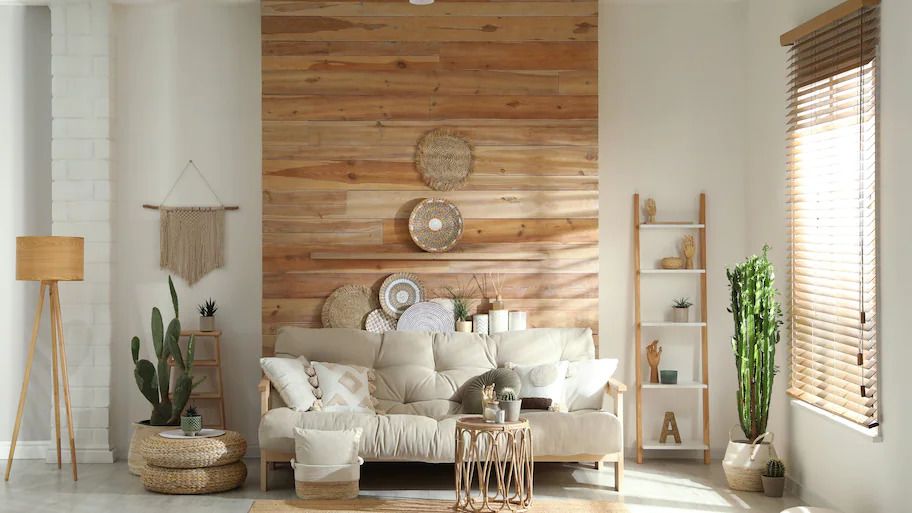 Create a focal point by using a natural wood accent wall. Build up horizontal planks behind your couch, and adorn the finished wall with boho wall art. Sprinkle in green accents in the form of potted plants to complete the look.


32. Incorporated Pet Bed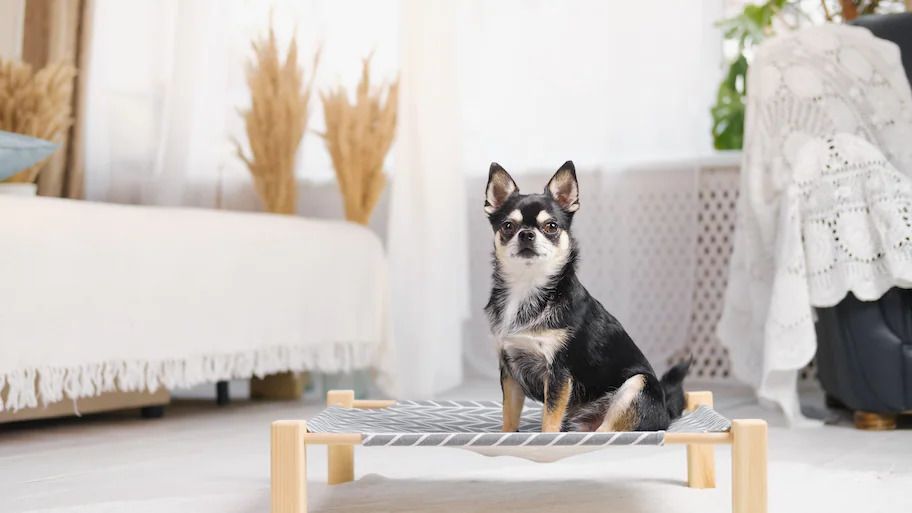 Don't forget about your furry friends when planning your design. Pick coordinating pet accessories, like this pet bed, so even your four-legged companion has an adorable boho place to rest.


33. Hanging Tapestry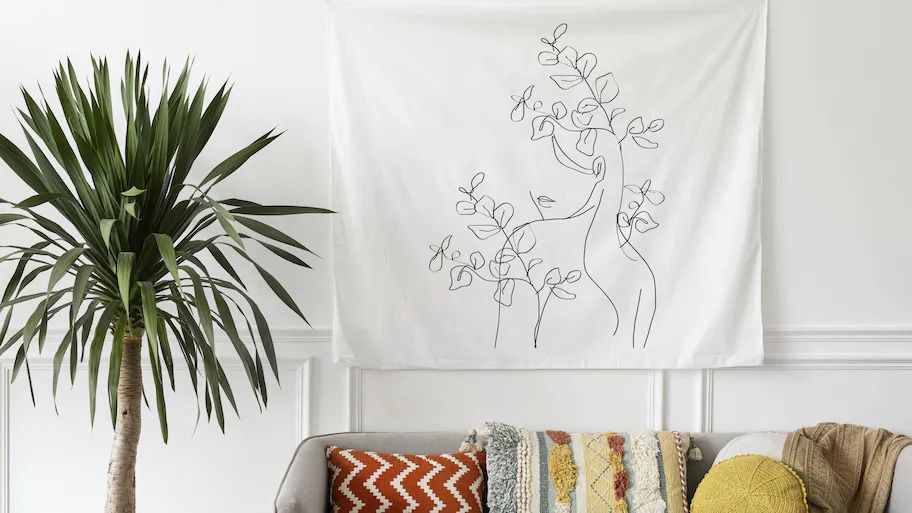 Do you have bare walls that you don't want to paint? Hang a tapestry to serve as a visually striking centerpiece on the wall.


34. Vast Bookshelves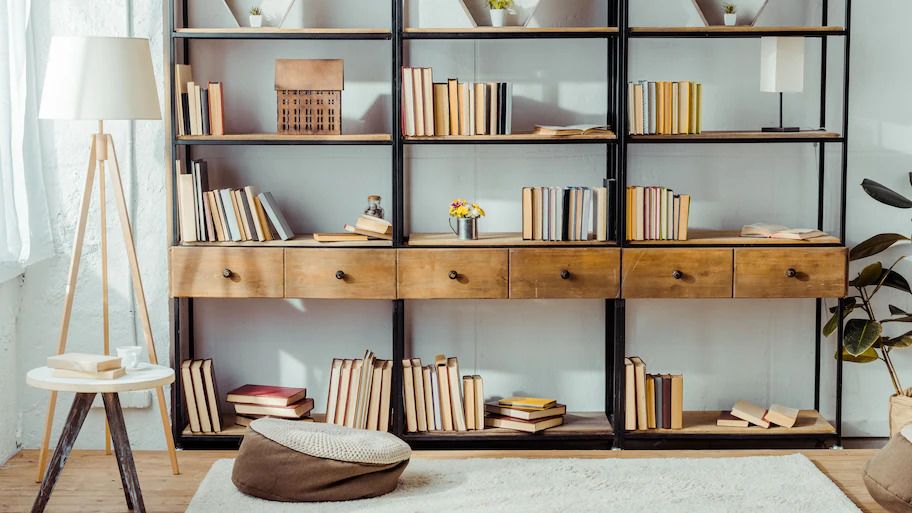 The bohemians in eras past consisted of artists and writers, so pay homage to them by displaying a collection of books on open shelves.


35. Repurposed Furniture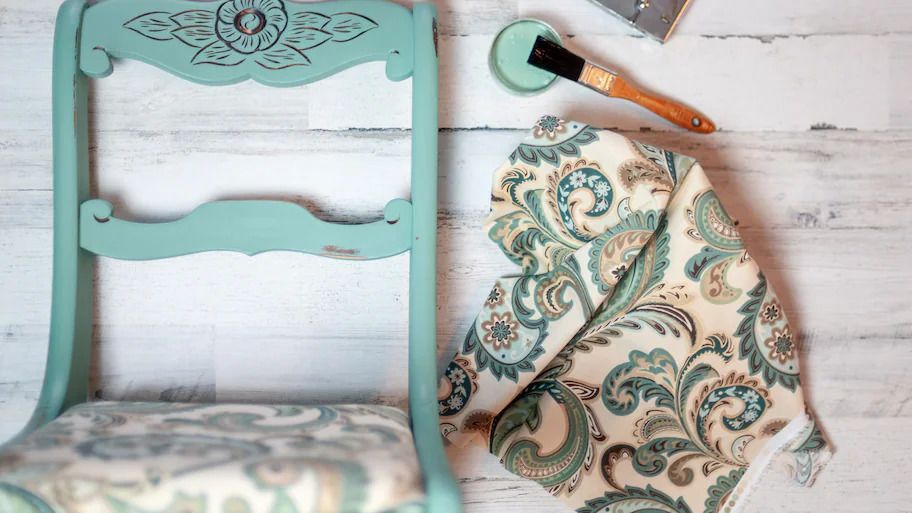 If you're outgrowing a piece of furniture, find ways to repurpose it rather than get rid of it. Paint over worn wood, and use this as an opportunity to add your own personal touches to the piece. Reupholster fabrics with a patterned textile of your choice for a boho chic update.