Jack-o'-lanterns might be an integral part of any Halloween decor setup, but we have to admit that they don't have the most stylish reputation. Since almost every household will have a carved pumpkin on its stoop come October 31, this spooky staple can make your carefully designed space feel basic. Plus, nobody wants to handle a rotten pumpkin the next day.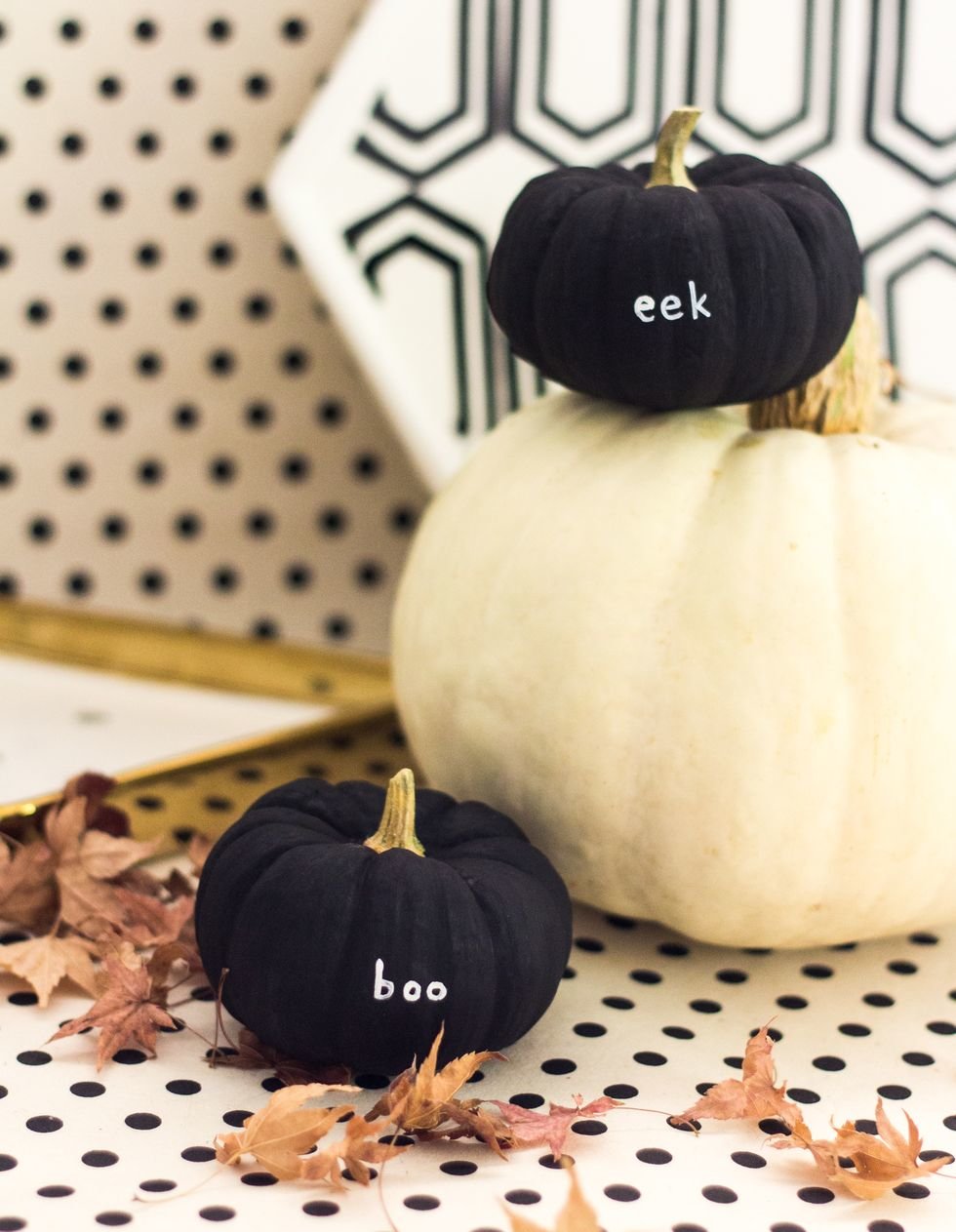 Wordsmith Pumpkin

Consider this project from Lovely Indeed a minimalist approach to the pumpkin decor. The neutral color palette is versatile enough to fit in any home, while the subtle, painted words will give this project a cheeky flair. Pumpkins are a staple for any spooky stoop, and we'd argue this is one DIY project you can enjoy all year.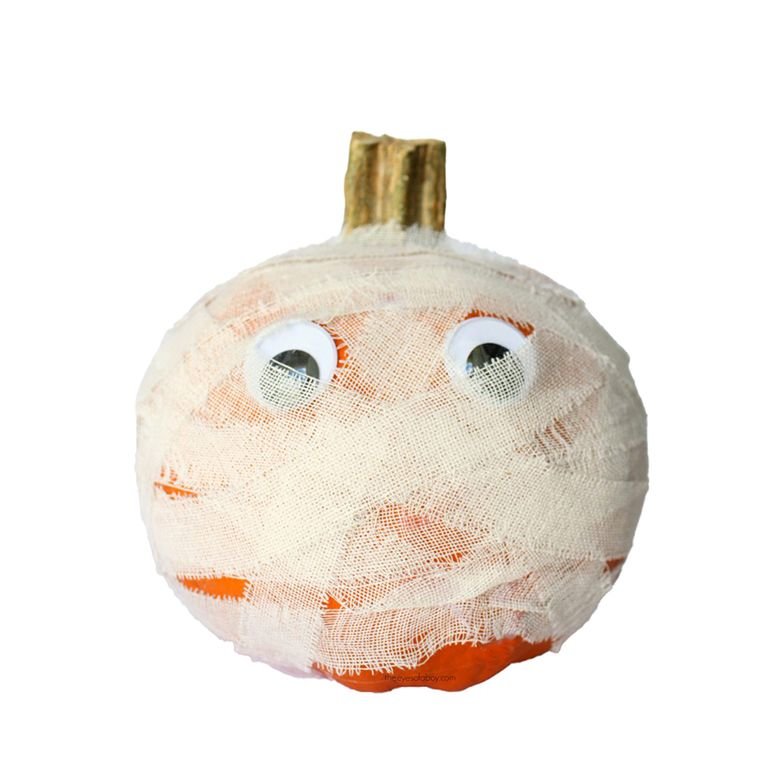 Mummified Pumpkin

Blend two Halloween traditions into one, with the help of blogger Melissa Ann's project. The layers of gauze ribbon mimics a mummy's dressings without feeling cheesy, while the googly eyes will give your DIY project some personality. The result? A festive pumpkin that offers plenty of curb appeal.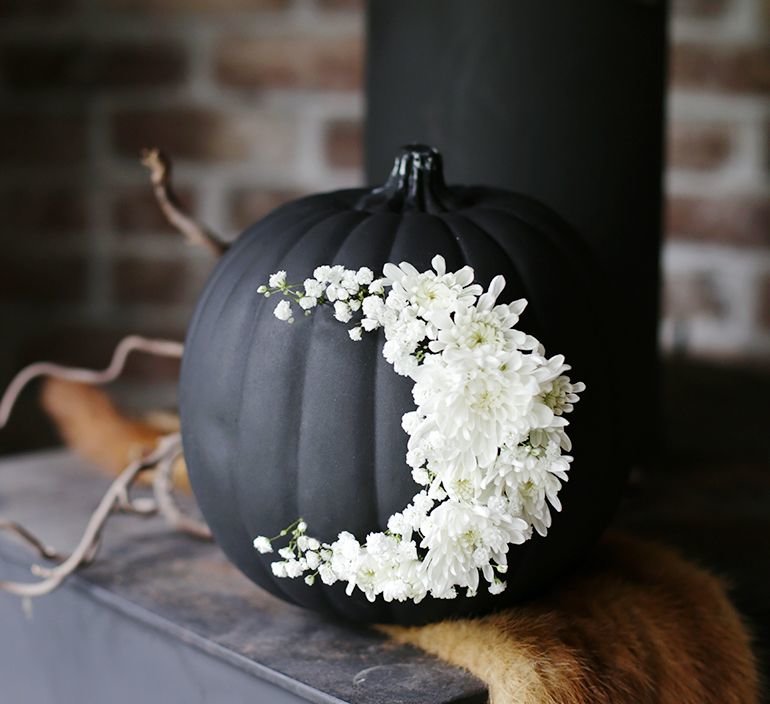 Flower Power Pumpkin

The Merrythought takes flower power to a whole new level with this stylish setup. Instead of breaking out the carving kit, simply drill or poke small holes into your pumpkin-and fill them with your favorite blooms. While this idea would look good in any color, the high-contrast palette keeps the focus on the texture of the flowers.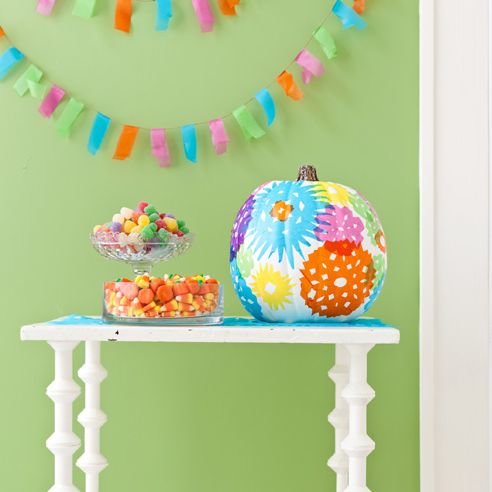 Color-Coated Pumpkin

If traditional Halloween decorations aren't your aesthetic, take a cue from Annie Selke. The designer pays homage to the Mexican Día de los Muertos celebration by attaching colorful tissue paper with a thin layer of Mod Podge. Looking for a fun project the kids can also enjoy? Cut out different patterns beforehand and let your little ones apply the tissue paper as they see fit.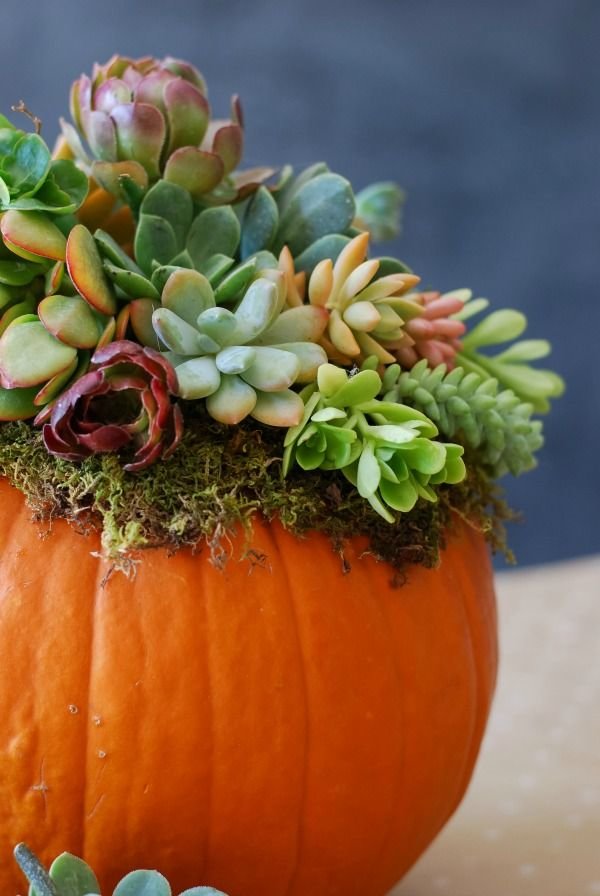 Pumpkin Succulent Harvest

Keep your decor all organic with an adorable succulent-topped pumpkin. Whether you style it at your front door or around the house, really lean into the harvest aesthetic with this lush autumnal piece from Simply Happenstance.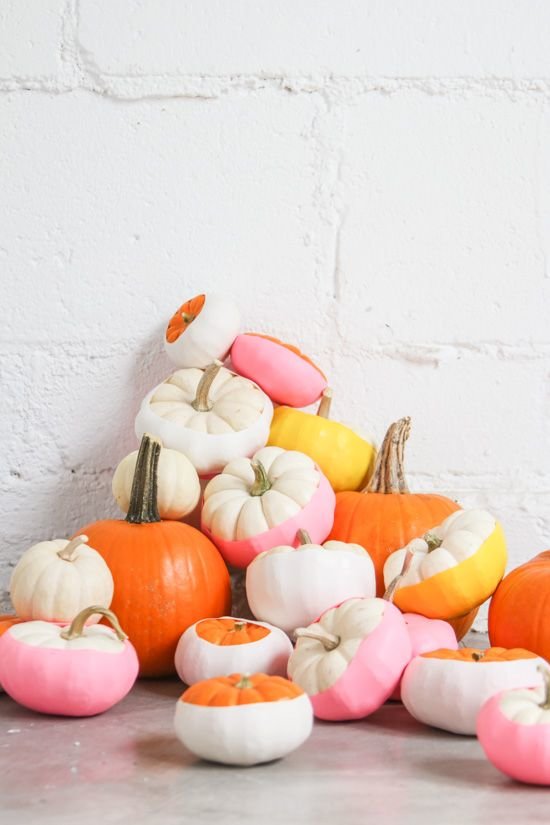 Balloon-Dipped Mini Pumpkins

Balloons are a must at every birthday party, but what about adding them to your fall decor repertoire? According to Paper & Stitch, if you take mini pumpkins and cover them in colorful balloons you'll have a fun, no-fuss table decoration to remember.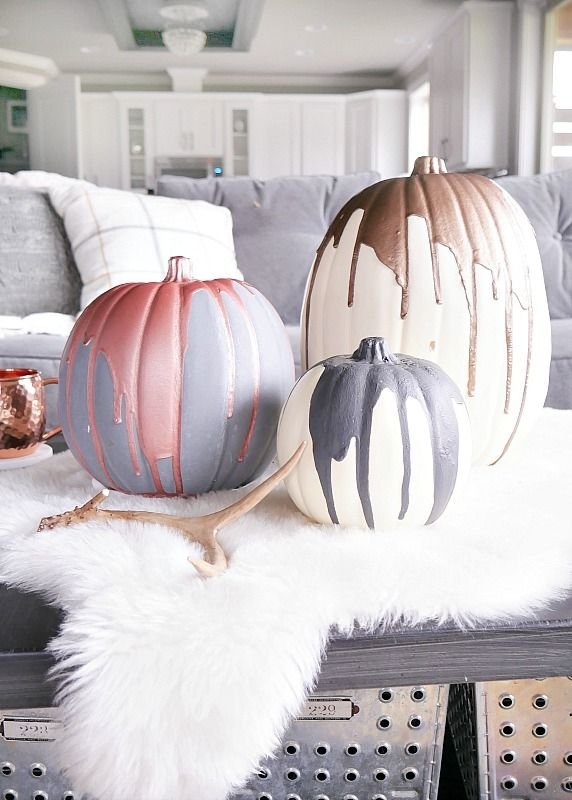 Metallic Pumpkins

Skip the usual autumn color palettes and recreate these unique metallic pumpkins from Taryn Whiteaker. All you need are a few shimmery paint options and some pumpkins to decorate (real or faux!). They make for the perfect center piece at a glam fall dinner party that isn't too thematic.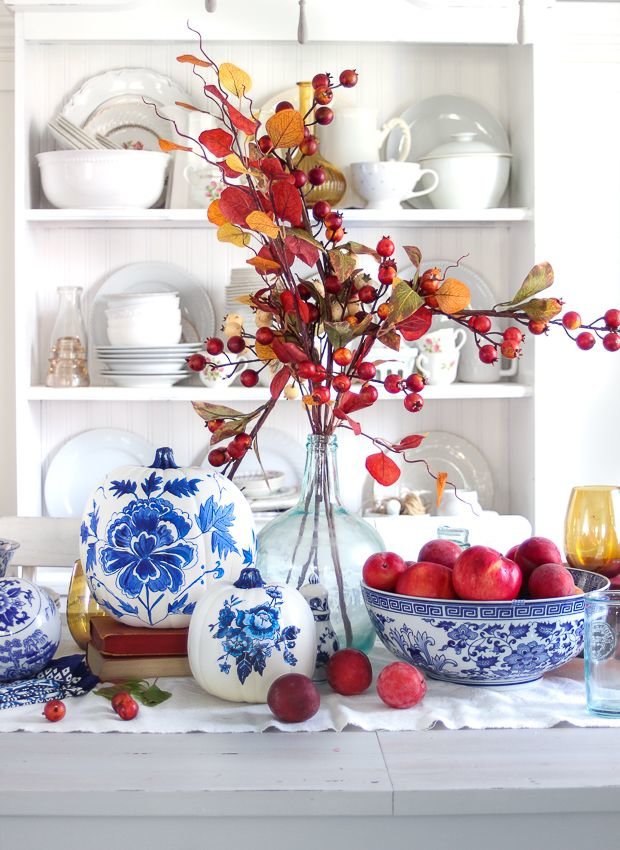 Blue Porcelain Pumpkins

Draw decor inspiration from unlikely places this fall, like your porcelain dish-ware. These intricate blue-and-white pumpkins from Craftberry Bush are perfect for those who love to push the boundaries of traditional holiday decor. Pair them with a bouquet of autumnal foliage and a white tablecloth, and you've got a dreamy fall tablescape fit for a chic seasonal party.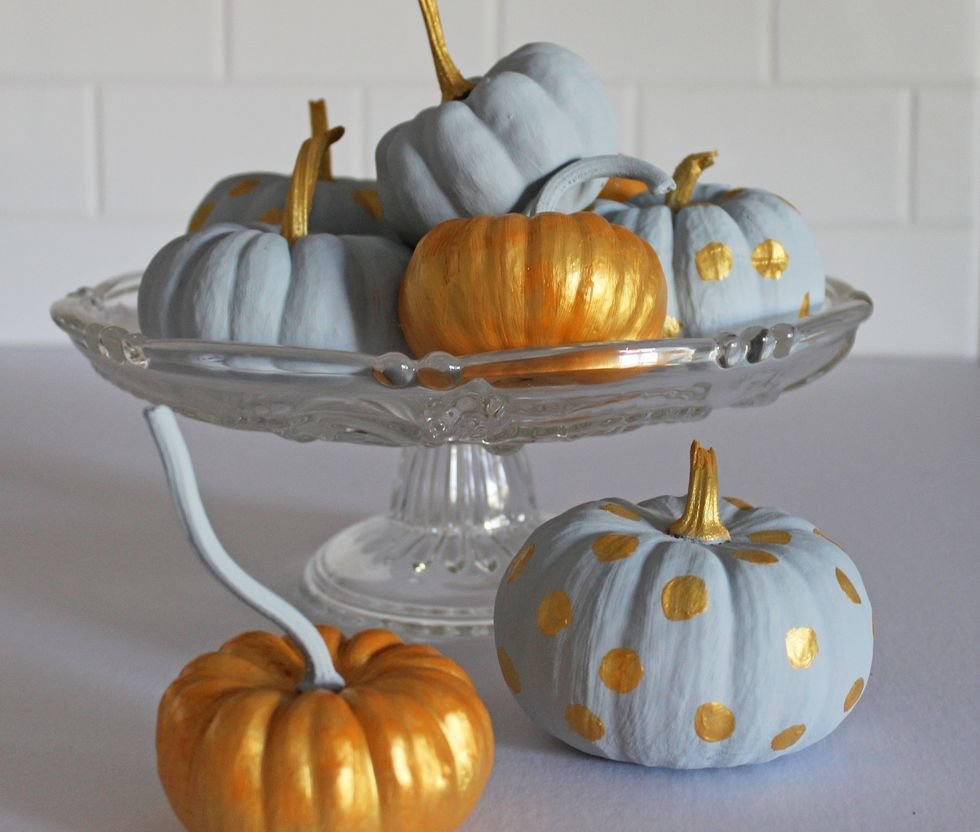 Matte Blue And Gold Pumpkins

This quick pumpkin paint project from Marcus Design couldn't be easier. All you need is chalk paint in baby blue and gold acrylic paint, and you're ready to adorn your pumpkins in a very unconventional, but incredibly festive way.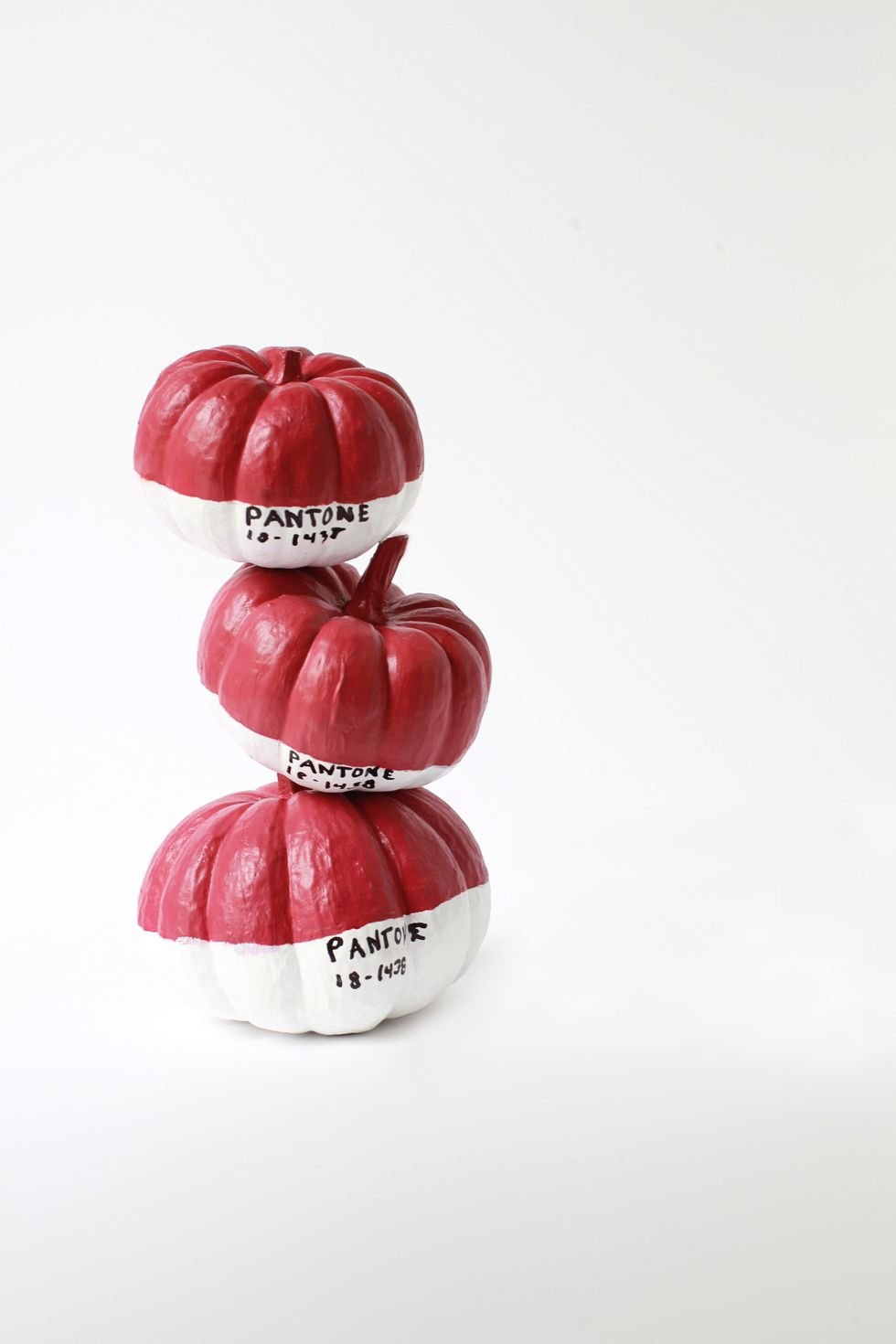 Pantone Pumpkin

Admit it: If you're a design addict, you're totally fawning over these Pantone pumpkins right now. In this genius nod to paint color love, Posh Little Designs paints the top of a pumpkin in a bright color, the bottom in plain white, and adds a nifty little label for the top color. (We're thinking this could be a handy trick for testing paint swatches too.)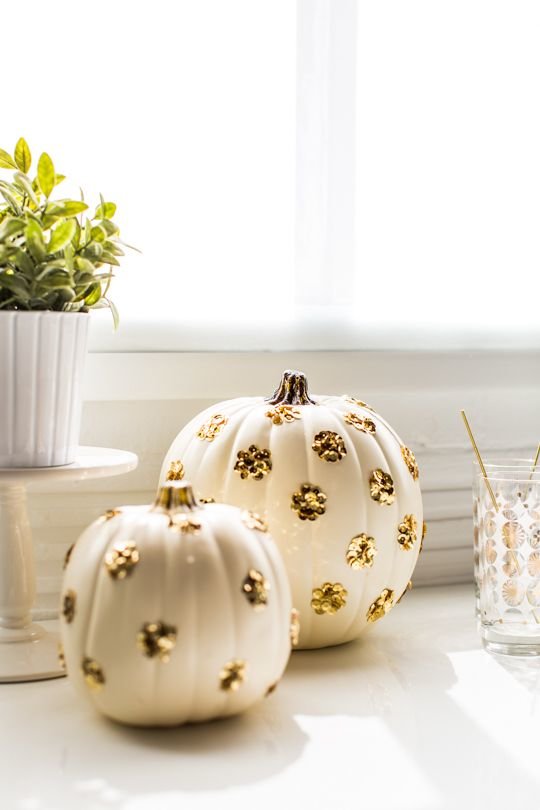 Glittery Polka Dot Pumpkin

Sure, we've all seen plain, black and white polka dot pumpkins. But it's the glittery polka dots that really snag our attention. All it takes to make these pretty pumpkins from Sugar And Cloth is some glue and loose sequins.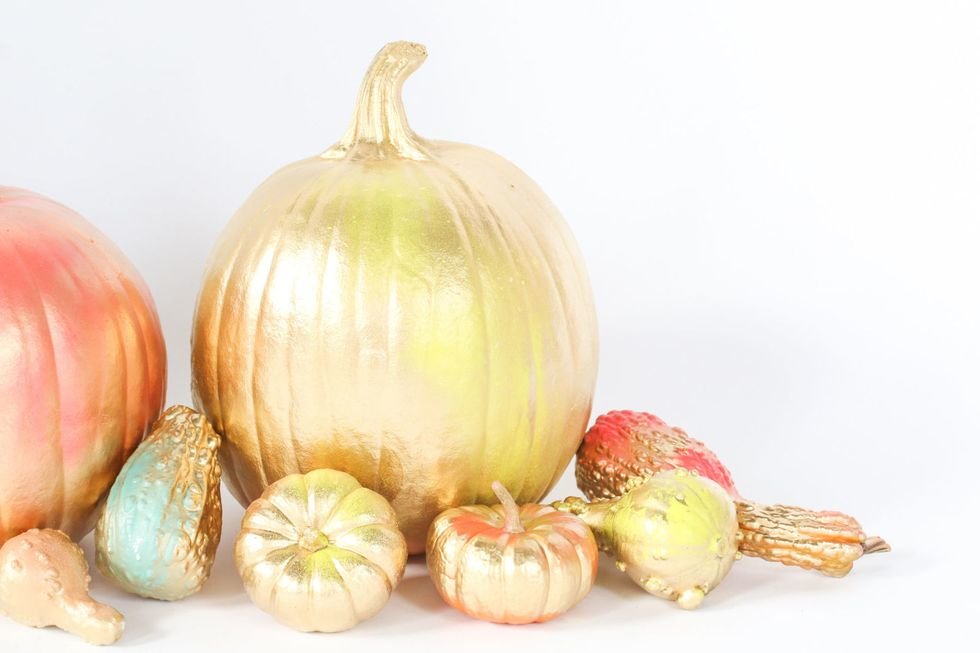 Gold And Neon Pumpkin

It looks super complicated. But is it? Of course not - we wouldn't do that to you. For these awe-worthy pumpkins from For The Makers, all you need to do is spray the pumpkin with gold spray paint and top with one pop of color.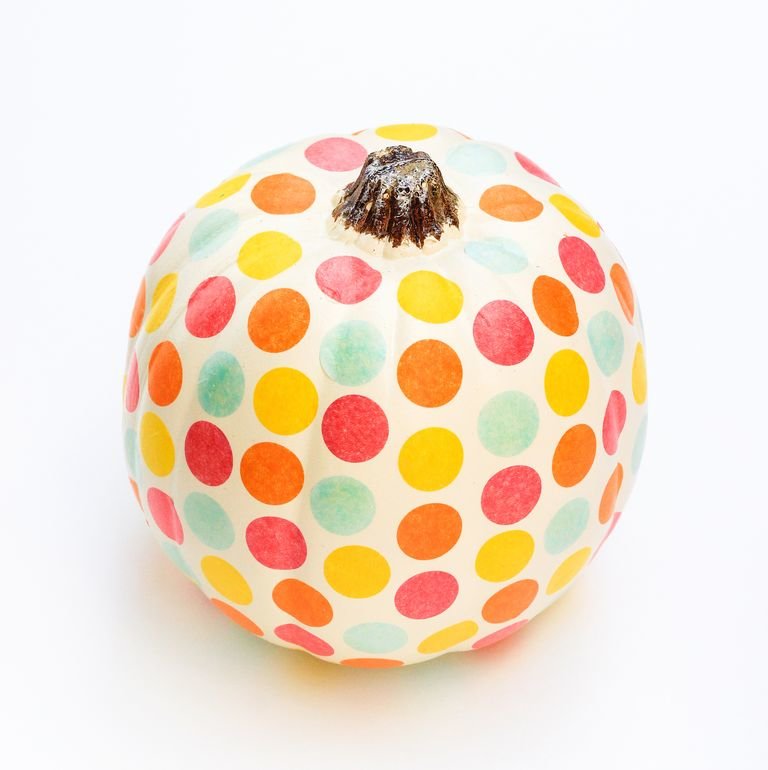 Confetti Pumpkin

Some of the sweetest things in life involve confetti, from confetti cake to this oh-so-cute confetti pumpkin from The Crafted Life. In just 30 minutes, you can adhere confetti dots onto a white pumpkin for a bubbly addition to your seasonal decor.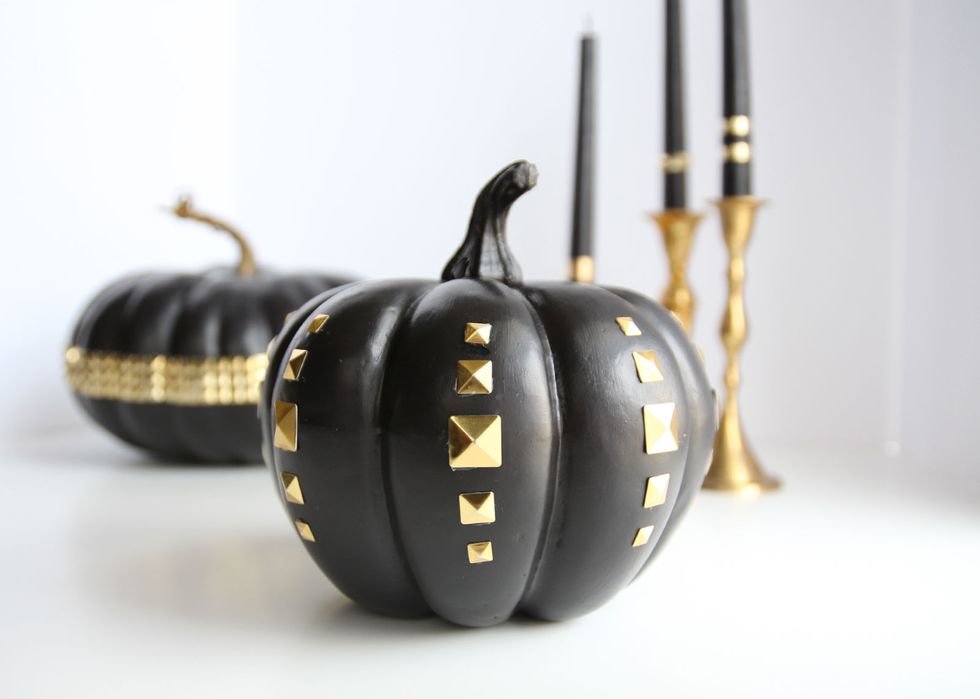 Stud Pumpkin

These pumpkins are glam chic thanks to the striking combination of gold studs and black paint. Spray Paint & Chardonnay used black acrylic craft paint and pyramid studs to give this fall decor an unmistakable edge.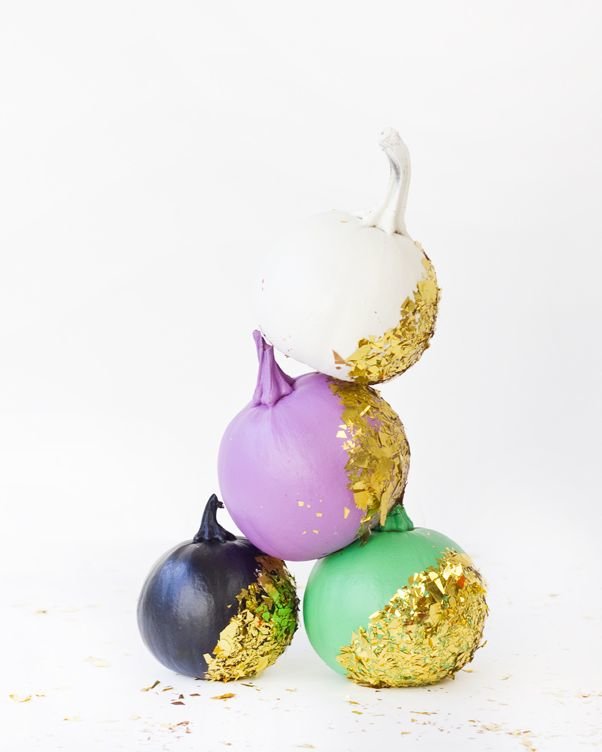 Glitter Pumpkins

Paint, glue and glitter. This Studio DIY pumpkin craft is so easy you'll forget you made it yourself - plus, glitter and bright pops of color are an undeniable combination for personalized festive cheer.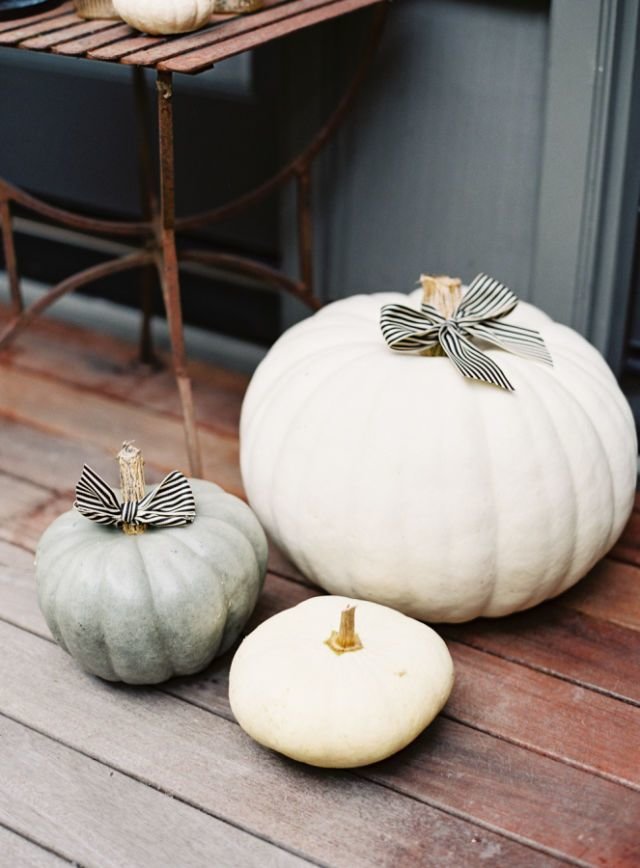 Ribbon Pumpkin

Let's say you're not a crafter: You don't like to paint, and you don't like to glue. That's OK! Just take a tip from Abby Larson, founder and editor of Style Me Pretty and tie a pretty ribbon around the stems of your pumpkins. Seasonal cheer, achieved.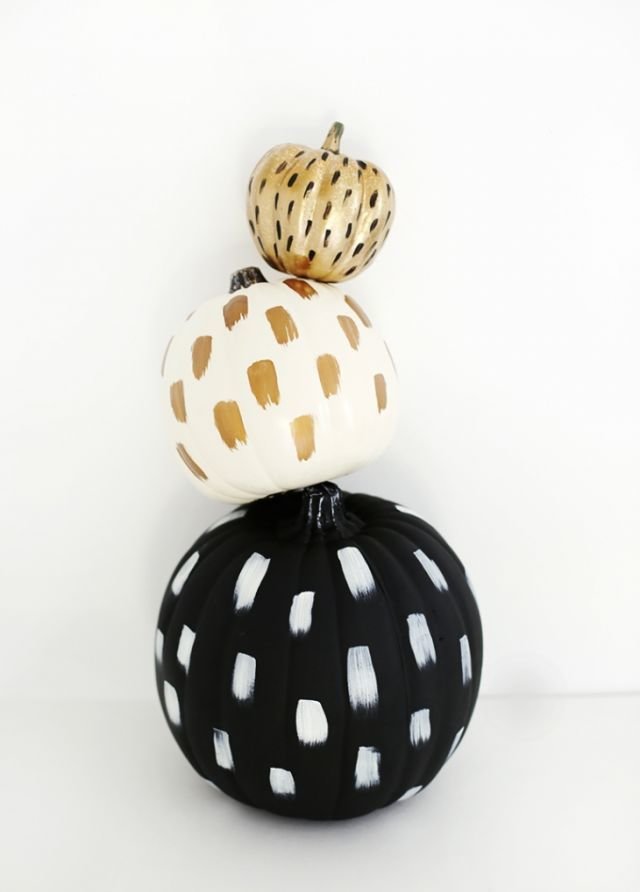 Brushstroke Pumpkins

This may look akin to a designer pattern, but here's a secret: All you need is a single paint brush. For this project from The Merrythought, simply dab strokes of paint on a craft pumpkin of a contrasting color.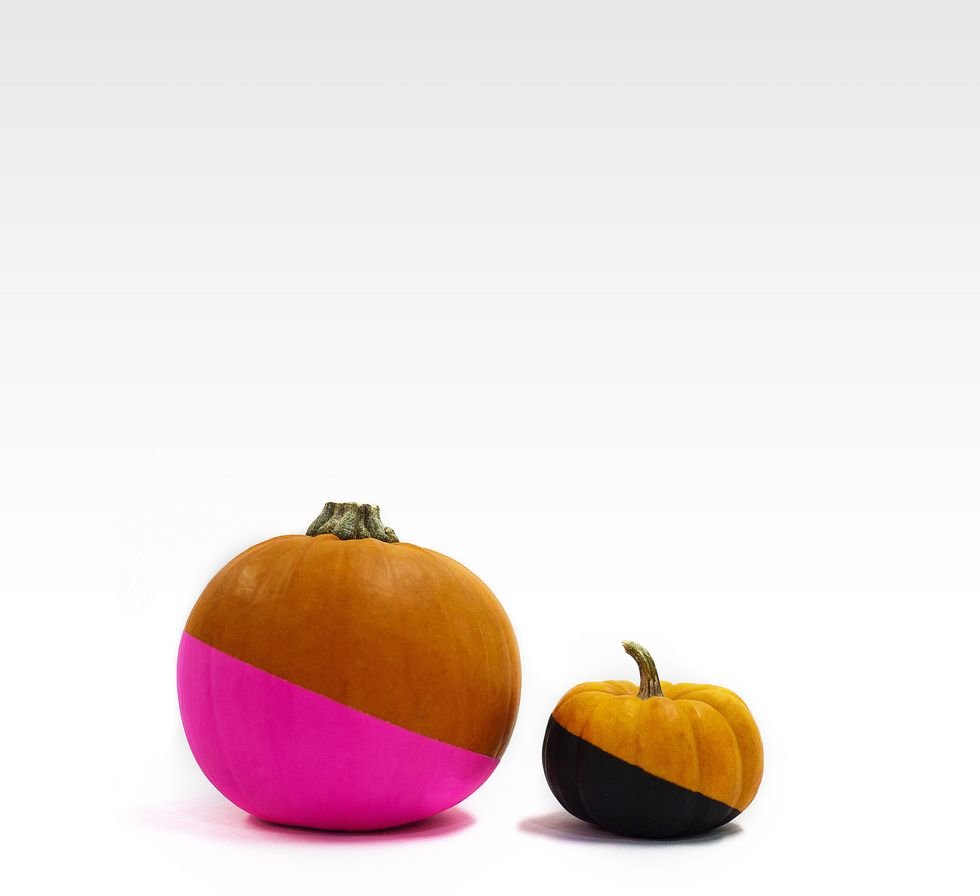 Modern Pumpkin

Into minimalism? Opt for a paint-dipped pumpkin. In this simple craft from Ciera Design, a strip of tape helps create a clean, crisp "dip" for the gourd.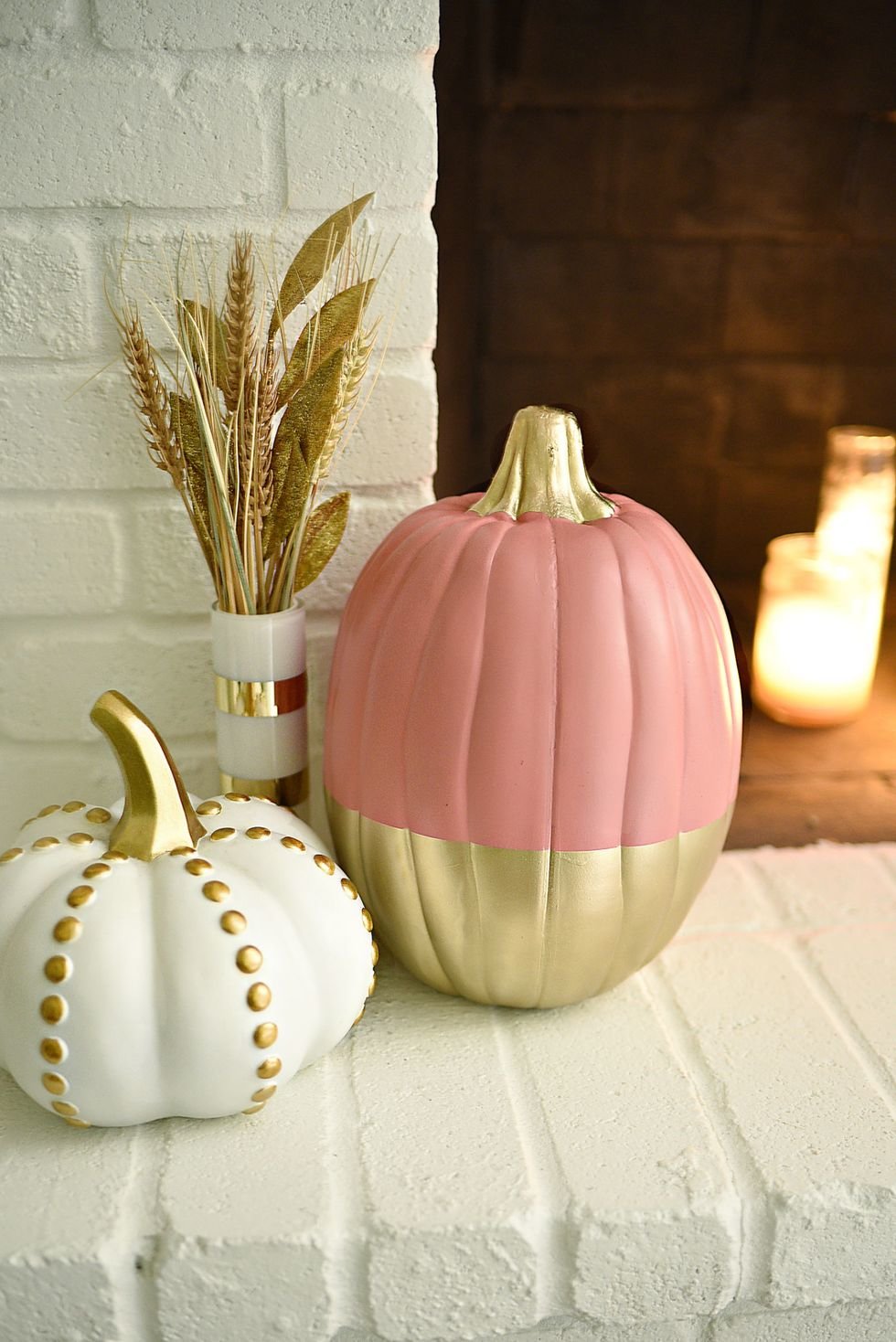 Two-Tone Pumpkin

Pick a base color for your pumpkin, and then use an accent color (bonus points for something shiny) on the bottom of the gourd and its stem. In this fall vignette from Monica Wants It, a two-toned pink and gold pumpkin is paired with a complementary gold studded pumpkin.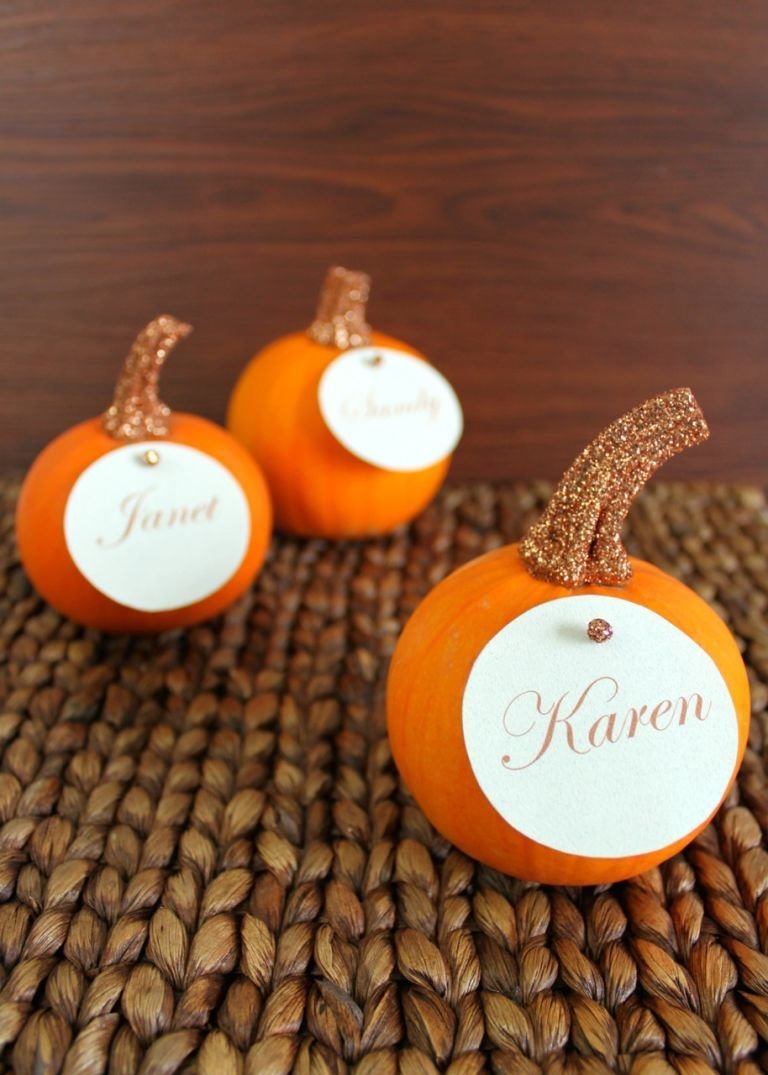 Nameplate Pumpkins

Nameplates are always better when creative, so don't just take a Sharpie to a baby pumpkin. In this project from Oh My! Creative, the pumpkins' stems and pushpins for the name tags share the same bronze glitter.